Have you ever been asked, "how do you fix a broken tuba?" If you've answered this question by responding "with a tuba glue," we've got one thing to say to you.
Welcome! Here at Brass n Wind, we're all about everything that has anything to do with brass and woodwind instruments. You may be someone who spent your childhood at band practice instead of soccer practice. Or, you may be someone who picked up learning how to play clarinet to chase after a lifelong passion you've had for music. Whatever your situation is with your instrument, it's essential for you to keep practicing and learning new things about your instrument of choice.
Our experts are here to help you with that goal. They are experienced musicians; many work full-time teaching or playing music, while others are passionate hobby musicians who love that playing music is still a part of their lives even as adults. They've all spent countless hours learning their respective instruments and understanding music theory. We all have at least one bad practice experience and know exactly what it's like to stress the night before a performance. Don't get started on the obnoxious band uniforms we had to wear.
Our Mission for Musicians
As a musician, you know that you will never stop learning and growing on your musical journey. But we know that even when you have mastered some aspects of your journey, it can be frustrating to move on to others and learn more about your chosen instrument. Our mission is to give you the best advice on playing your instrument, caring for it, and of course, the best products out there.
Each instrument is unique and requires dedication and patience to master. That's why we strive to offer advice from industry experts who have had years of experience playing and caring for their respective instruments. Whether you are looking for your first flute or have played the trumpet for years, we can help you on your journey.
Our team of musicians has nearly an unlimited amount of knowledge for all of our enthusiastic musicians. Our biggest goal is to provide you with all the information and support you need to accomplish your next goal!
What We Bring To The Stage
To achieve our mission, we offer a variety of guides, from student instruments to professional instrument guides, specific model reviews, and accessories guides. From finding the bests student saxophone or wooden clarinet to the best reed or correct type of lube, we have a guide for just about everything. We also want to ensure you know how to take care of your instrument, from cleaning and storing it to transporting it.
With our team of talented musicians, we can give you the best tips on techniques and basic techniques while also offering some secrets and tricks to mastering your instrument. From breaking down techniques like double tonguing or offering advice and suggestions on improving your intonation, our team of musicians can help you!
How We Practice and Create

The first step in your content process is to allow our music experts to showcase their personal experiences and talent. From prestigious symphony musicians to community conductors, we have musicians with expertise in all aspects of music. Each writer brings their own experience to the table and allows them to provide content for readers in a different part of their musical journey, whether you are a beginner or an experienced musician!
When it comes to products, we take our time to get to know each instrument or accessory and recommend the ones we use in our day-to-day life. We know that it takes time for an instrument to speak its true voice, so we seek out those who already have long-term experience with these instruments or are willing to thoroughly test them.
Our close-knit team of talented and creative editors is the next step in our process. They spend their time reading through every article fixing small things and making sure the content is authentic but factually accurate, grammatically correct, and aesthetically pleasing. They also work to ensure that content is up to date and with writers to make changes when articles no longer meet our overall standards.
Lastly, our readers help us improve our processes and content. Your comments and suggestions help us improve and grow much faster. We always want to improve what we offer and offer our readers what they are looking for. Never hesitate to leave feedback or suggestions on how we can improve our site and what we offer!
Our Core Values
Accountability
Improvement
Leadership
Passion
Creativity
Dedication
Our Featured Writers
While we have a large team with varying talent, these are some of our top writers and musicians!
Ben Van Wyk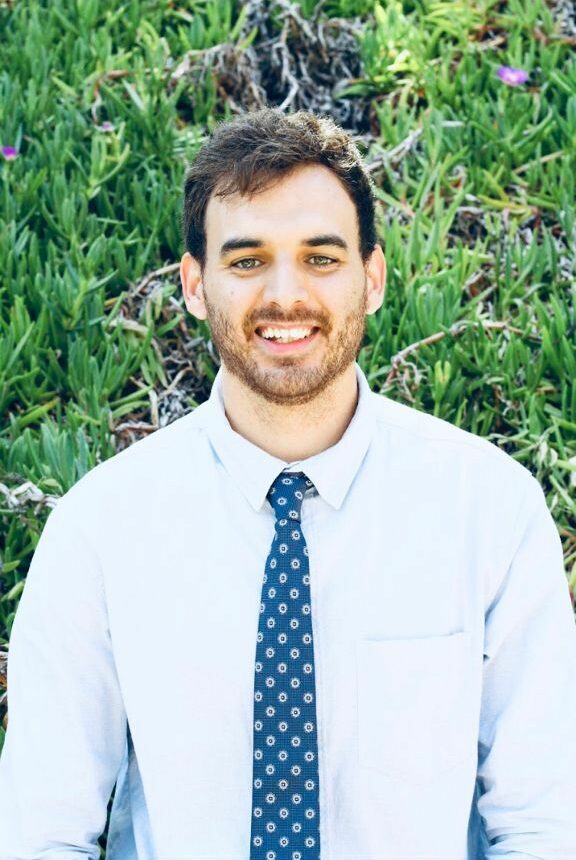 Ben has been playing music since he was young; like many of us, he first picked up the recorder in general music class. But soon, he started to play the clarinet only because he mistook it for a soprano saxophone. Eventually, he fell in love with the alto and tenor saxophone with some inspiration from his grandfather, who was a saxophonist.
Today Ben holds an undergraduate degree in music and a post-graduate certificate in education. He's working towards his honors education with a thesis focused on music education. He also works as a music instructor and has a vast knowledge of musical theory. 
Ben uses his knowledge and passion to create engaging and informative articles. If his educational background and music education experience weren't already impressive, Ben has worked as a musician for various ensembles and bands. He's performed as a conductor and soloist, so he knows the industry's ins and outs and performance. 
He credits Stan Getz, Paul Desmond, John Coltrain, and Joshua Redman as his primary musician inspirations. His favorite piece to play is Giant Steps by John Coltrane.
Hannah Haefele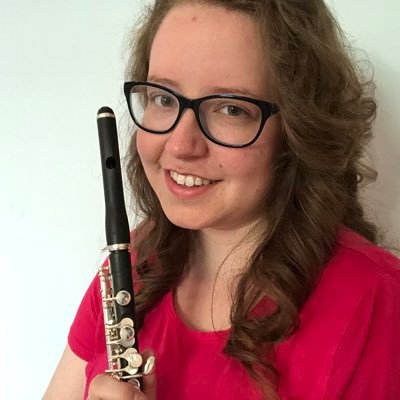 Hannah has been playing an instrument since she was just six years old. As an adult, her choice of instrument is the flute, but she has experience with the violin and most brass and woodwind instruments. 
Hannah loves the flute because of its versatility; you can play anything from Bach and Mozart to Jethro Hull and Lizzo. She credits Gabriel Faure and Cecil Chaminade as primary musical inspirations, along with modern artists Ariana Grande and Selena Gomez. 
Hannah runs her own music blog and Youtube channel where she shares her thoughts on different instrument models and tips and tricks for becoming a better musician and caring for your instrument. 
On her Youtube channel, she shares original compositions, arrangements of her favorite songs, and the occasional musical tip or instrument review. She loves to share knowledge with others and help them on their musical journey! 
Lacey Jackson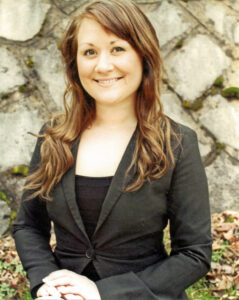 Lacey began playing the piano when she would spend time with a friend after school playing dress-up and singing. They loved dressing up and singing songs from The Sound of Music. 
Since then, she has participated in various school, church, community choirs, and acapella groups. In high school, she traveled through Europe, performing at venues like the Sistine Chapel and Julliard with guests like Bobby McFerrin. 
Currently, Lacey directs the same church and community choirs she once participated in while writing and publishing her own fiction and nonfiction work. 
She credits her mother for her dedication to music; while her family didn't have much money growing up, her mom always ensured her thirst for musical knowledge was met. Along with showcasing her dedication by chasing her musical dreams! 
She credits her major musical inspirations to her high school directors. One which ran a very tough program that instilled professionalism and time management skills, something Lacey admires greatly and sees as a significant asset in her career. Her other high school director helped her learn various techniques and skills while offering advice and support throughout her journey. These memories Lacey still holds dear and keeps many of his words of wisdom in her music folder to this day.
Miah Schmahl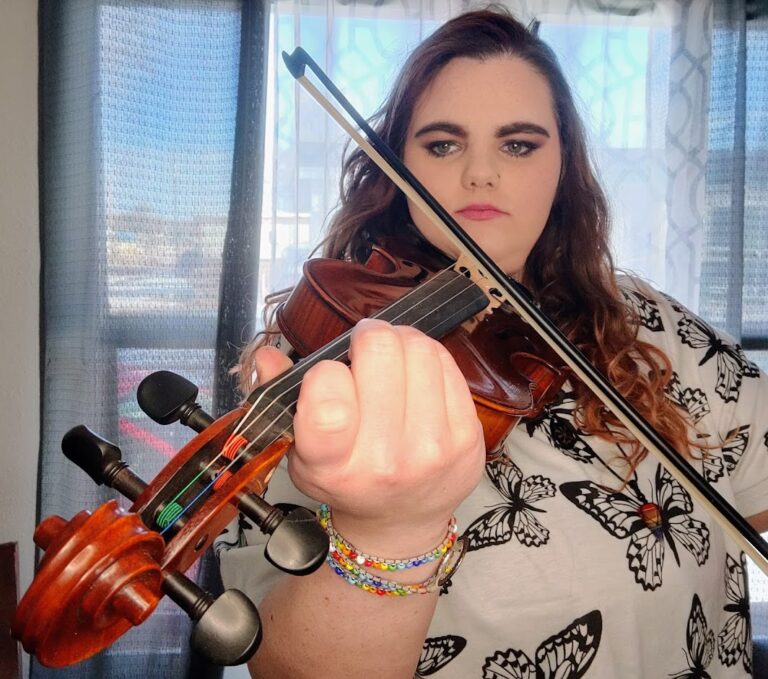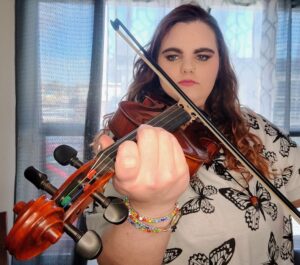 Miah started playing percussion in sixth grade but quickly moved to playing the clarinet throughout the rest of middle and high school, along with participating in various choirs. Music always provided a calm place for her brain to relax, and even now, headphones are her best friend.
As an adult, music is a passionate hobby. She's always dabbling in something, trying to find a way to bring it to the forefront of her journey. While she hasn't touched the clarinet in years, Miah keeps busy with the violin and keyboard. 
The violin has quickly become her favorite instrument; playing it has taught her a lot about perseverance over the years. Fretless instruments are hard. She continues to sing, mostly in the shower, but it's something. 
Miah has had many musical inspirations and loves people who can break the mold, like Lindsey Stirling and Emilie Autumn. She loves a variety of music; no one has ever been bored completely by one of her playlists. When it comes to composers, she's a huge fan of Danny Elfman and Johannes Brahm. 
Over the years, Miah has had quite a few musical opportunities, including performing at the Colorado Jazz Festival with her after-school choir group and participating in All-City Band. She's had the pleasure of meeting many of her favorite artists, like Mary Lambert, and attend concerts at unique venues like Red Rocks Amphitheater in Colorado. Music will always be a central part of her life.