Latest posts by Mark Mumm
(see all)
What do history museums, vintage trumpets, and your ancestors have in common?
Yes! They are all things that annoy Barney Stinson, for new is not always better!
That being said, I cannot vouch for the quality/ethics of all history museums. I mean, how many memes have been made about the British Museum having such an impressive array of artifacts simply because the British empire stole them from their former colonies?
Or your ancestors! Maybe they're terrible people! I mean, how many of our ancestors had terribly warped morals/ideas of right and wrong?! Are we just supposed to believe that the terrible people from history simply didn't reproduce? Though, who's to say what our descendants will think about us? Will our morals/decisions today stand the test of time?
Wait.
What is this article about? Vintage trumpets? Oof…yea, maybe I should stick to writing about what I know…
Well, this is awkward.
Trumpet History
The trumpet is a contemporary instrument with one of the richest histories. King Tut had a couple of trumpet-like horns, one silver and one bronze, buried with him in his tomb. Trumpet-like horns have also been discovered from the Oxus River civilization dating back to 4-5,000 years ago and mentioned in ancient texts like the Bible! The earliest trumpets were incapable of changing pitch outside their natural harmonic range (ie. no valves).
The trumpet, as we recognize, classify, and name it today, began its evolution in the 14th century (the English word for 'trumpet' entered the lexicon then). The late Middle Ages and Renaissance brought forth technological leaps that pulled the trumpet off battlefields and ushered them into the music halls of its days and it hasn't slowed down in the centuries since. The first valves for the trumpet were invented towards the start of the 19th century: the Stölzel valve, named for Heinrich Stölzel, was invented in 1814 and a few years later, a Stölzel collaboration with Friedrich Blühmel brought the first rotary valve into existence.
Today, trumpets are designed with three or four valves. Piston valves are the most common, but rotary-valved trumpets play an important part as well (pun intended). Trumpets with rotary valves are preferred among musicians, often classical, who play lyrical passages and require a smoother transition between pitches.
Disclaimer
I will be writing about the quality and tone of these trumpets. I will also make some hints in general terms about how they tend to rank in comparison to each other. However, a vintage trumpet must be a certain number of years old. I confess that I don't know the exact year that acts as the boundary between modern and vintage, but, in any instance, a vintage trumpet has been around for years. There will be no 2021 vintage trumpets in this list* because they can't possibly exist.
As such, this list is not accounting for the quality of ALL trumpets of a specific make and model. Instruments require consistent care and upkeep. A neglected instrument of the same make and model as a cared-for (i wRite goOd) instrument is likely going to sound worse. By the same token, this list is not a specific ranking of the vintage trumpets currently up for sale. The list of vintage trumpets for sale/auction changes frequently and it would require a Herculean effort and a Lhotse-sized budget to update this article frequently enough to account for the best vintage trumpets currently available.
*article is written in September 2022
Without further ado…
1. Bach Stradivarius

So, a proper vintage Bach Stradivarius is the crème de la crème. It's the Mark VI of trumpets…except the Stradivarius is still in production…lucky bastards…
Why are the vintages so revered? Well, company founder, Vincent Bach made them; the man just knew what he was doing.* A particular line, the Bach Stradivarius from the 50s and 60s is the most revered. There was a noticeable dip in the quality of Bach instruments when good ol' VB sold the company in 1961 to Conn-Selmer. As such, it is the horns made pre-1961 in the Mount Vernon factory that horn collectors are really after. These are the trumpets that can sell for thousands of dollars. However, trumpets from the 20s and 30s with their #6 bell and lead pipe are popular in their own right.
Bach Stradivarius trumpets produce a rich, dark tone. (Dare I say, creamy? …no. No, I don't dare. That's a ridiculous adjective for tone). They are wonderfully centered and have great projection.
In my opinion, the great news about Vintage Bach Stradivarius…es is they have been revered since their creation, meaning there has been extra incentive by trumpeteers to continue to play and take care of these horns. As such, there are many vintage Bachs still in good condition. However, the large supply doesn't necessarily bring down the price across the board and a vintage Bach will still cost a pretty penny.
*You think I was going to let myself get away with using a semicolon? Really? Who do I think I am…?
2. Martin Committee Model Trumpet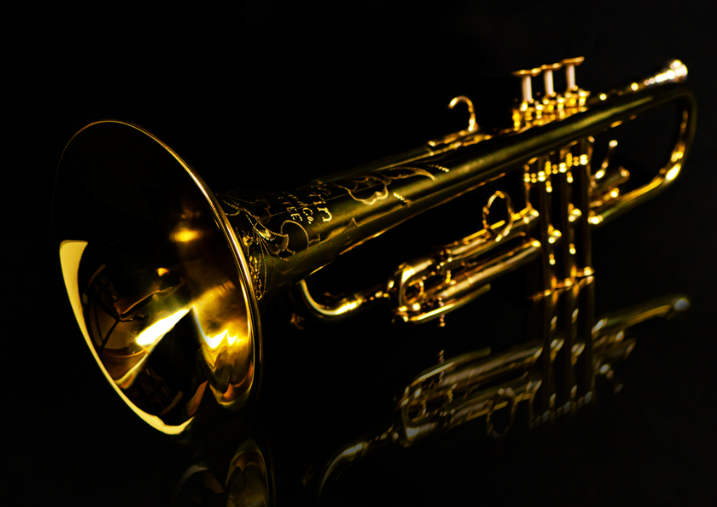 The great-great-grandson of founder John Henry Martin has revived the family business, the Martin Brasswind Company (originally named The Martin Band Instrument Company), a premier instrument engineering company for (primarily) brass instruments. The Martin Band Instrument Company was perhaps most famous for their Martin Committee Model.
The name of the trumpet implies its engineering by a committee of artists, but chief designer Renold Schilke fervently maintained that the committee truly consisted of him and only him. Legendary designer Vincent Bach has also been linked to this committee.
The Martin Committee Model spread far and wide through the jazz world thanks to its "dark and smokey" tone. This trumpet was played by the likes of Chet Baker, Dizzy Gillespie, and Miles Davis, of whom the latter played custom Committee Models throughout his career.
Martin Committees can go for upwards of $10000.
3. French Besson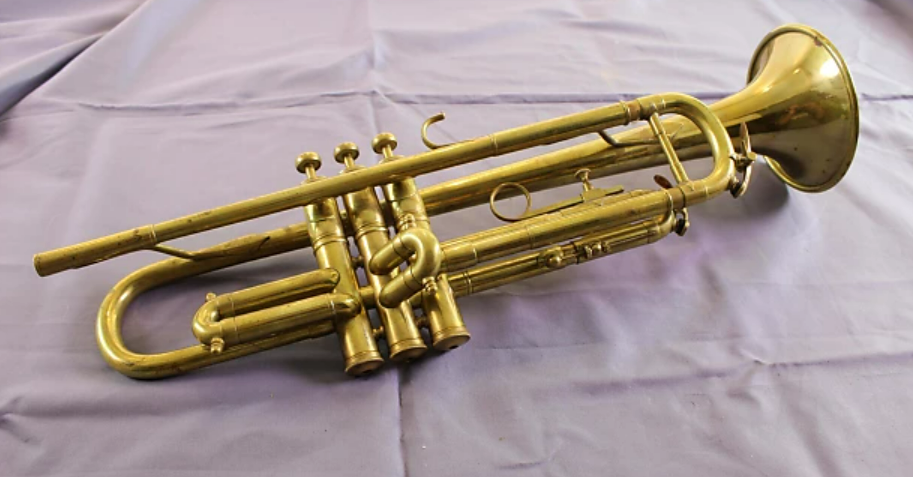 This is not a couple of paragraphs about the best vintage trumpet. It's a couple of paragraphs in Tribute to the best vintage trumpet.
Founded in 1837, Besson instruments quickly rose to prominence with a cornet that left its contemporary counterparts in the dust. By the time of founder Gustave Auguste Besson's death less than 40 years later, Besson instruments would spread all across Europe, the company would open distribution centers across the continent, open a factory in London, and healthily compete in each new market they distributed to.
The French Besson may not be the best vintage trumpet, but it might be safe to say that they are the inspiration for the best trumpets out there. Their sound can be described as classic. They are full of character and vibrant. They have a wonderful playability and even tone across all registers.
Be very careful when purchasing a Besson as numerous counterfeits were produced and introduced into the markets. The differences are pretty easy to spot, but we all have our off days, right?
4. Conn 22B – New York Symphony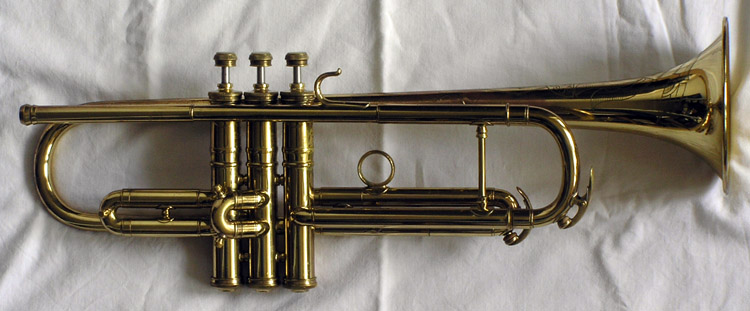 The Conn 22B may refer to the New York Symphony model which began production in the 1920s. It may also refer to the 22B Victor which began production in the mid-50s. We'll be focusing on the former because, in terms of this article, the vintage-r, the better.
Even the New York Symphony model had some key differences that warrant a separate categorization between "early models" and "later models". Early models were generally silver-plated and its valve casings were (frequently) composed of solid copper. The brass threads were soldered onto the valve case. The "later models" were produced with some extra bells and whistles that weren't on the early models: a leadpipe pinky ring was added towards the end of the 1920s, followed by bottom-sprung valves at the turn of the new decade, and a main tuning slide brace about 5 years after that.
Over an 11-year span starting in 1942, the bell on the 22B shrunk by ~2 oz. They also dropped the aforementioned tuning slide brace in 1946.*
So how do they sound? Besides the usual caveat of the potential impact of decades of neglect and wear on vintage instruments, the 22B has a YUGE sound. These instruments can really blow (in the cool, jazz sense of the word) with really clear projection. When the instrument is properly maintained, they have excellent intonation. Their softer sounds do not lose the unique tone of the trumpet while a trumpeter playing at the loudest they can doesn't have to worry about cracking and can rely on the instrument's easy response.
The 22B was the preferred horn of charismatic trumpeter and bandleader, Bunny Berigan.
*WWII may have had an impact on the production of the 22B, like so many (brass) instruments of the time. The War Machine demanded sacrifices of all kinds of metals and brass was no exception. To deal with this decreased supply, instrument makers made less dense instruments.
5. Conn Connstellation 38B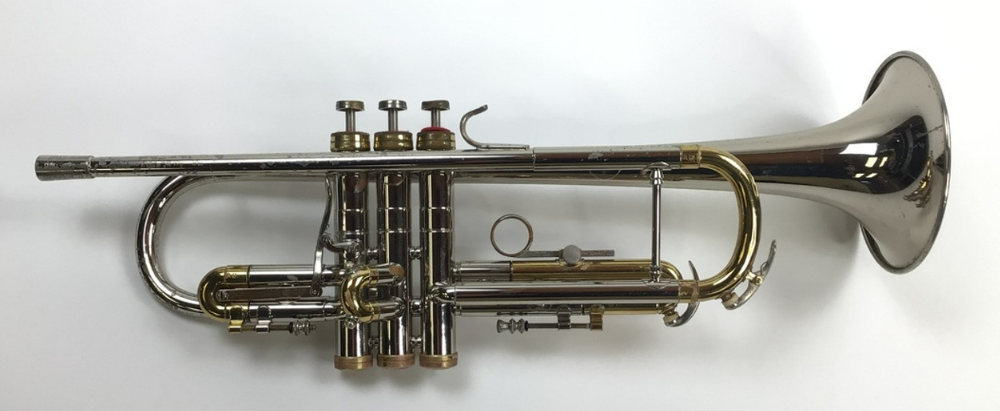 The 38B Constellation has a number of variants produced in a short period of time. Initially, it made its debut in the mid-50s as the follow-up to the 28B Connstellation. The 38B is nickel-plated with brass trim. It has a large bell and a small bore size (.438″). Like the 28B, it also contained the first slide trigger. The earliest 38Bs were constructed with a felt-less top valve. In 1958, Conn engineered all their valves on trumpets (and cornets) with (red)* felt and the valves were either nickel-silver plated or lacquered brass.
From 1956 through 1960, the 38Bs lack a stop screw on the third slide. From 1960 through the end of the decade, Conn engineered the 38B with a third slide stop screw. Between 1969 and 1978, Connstellations have both an end screw and two adjustment screws on the first and third slide. Connstellations from 1978 onward have only the end screw.
An alternate to the 38B, the 36B lightweight Connstellation came out in 1961. Compared to the 38B, it has a smaller bell and looser bracing than the 38B. Their Nylon piston guides on the 38B reduced valve noise (which is great for quieter environments) and also put less stress on the piston, which added longevity to the piston and, thus, the instrument. The trigger mechanism on the trumpet's first valve improved flexibility across all registers.
Conn advertised their 38Bs by emphasizing the difference between it and their 28A cornet, stating that the 38B was great for "larger groups and solo work"
*They switched to brown/beige felt in the late 1970s
6. Getzen 900 Severinsen Model Eterna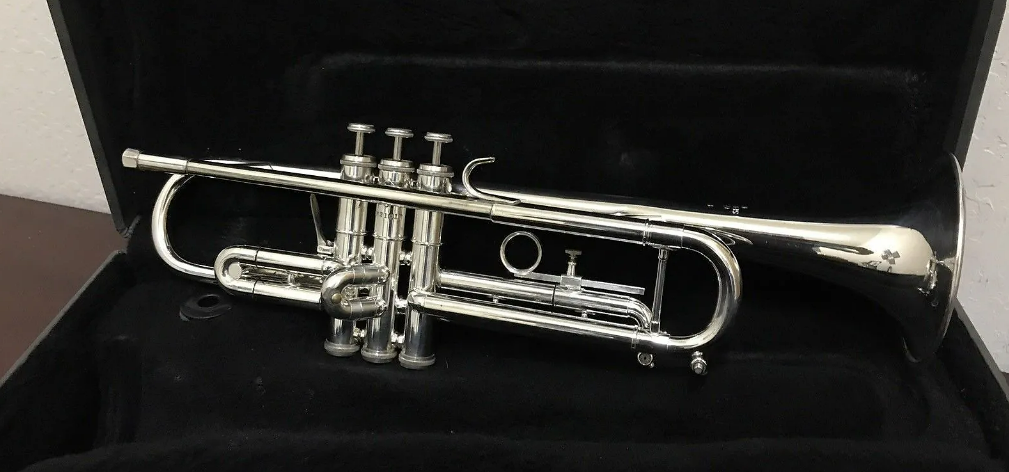 Anthony James Getzen had learned instrument repair with C.G. Conn and was hired as a plant superintendent for the Frank Holton Company. Building upon these experiences, in 1939 he founded The Getzen Company, an instrument repair shop in Elkhorn, Wisconsin*. It wasn't until post-WWII that The Getzen Company would begin manufacturing instruments, starting with trombones in 1946. But this is a trumpet article! We don't care about trombones! Get out of here with that!
The Getzen Company produced its first trumpets in 1947 but had to undergo a series of pretty drastic changes before arriving at the titular trumpet. In 1960, the son of Anthony James, J. Robert Getzen, who had assumed leadership duties a little over a decade prior, left to found Allied Music. His brother, Donald, took over and acquired Hoosier Band Instrument Company, but shortly after sold the company to Harold M. Knowlton, an attorney. Knowlton pursued a collaboration with
Doc Severinsen of The Tonight Show fame to produce this trumpet.
This was the first trumpet produced by Getzen intended to be used by professional players. Up until then, they had been focused on beginner instruments. Early Severinsen trumpets came with both .460″ and .458″ main tuning slides. As a personal touch, the extra slide was packaged in a manila envelope with a note from Doc detailing the versatility that two tuning slides presented. The trumpet traded forged braces for the original cast S-braces. Getzen also changed the chemical formula that was used to clean off excess solder that accumulated during production. The change in formula no longer required an extra step of heat treatment to avoid cracking. 
The Severinsen horns often had a silver finish, allowing horn players to really articulate. The valves are fast and responsive. It's got a wonderful, classic brassy tone that renders it great for playing in jazz bands.
*The second Frank Holton factory was opened in Elkhorn, Wisconsin.
7. FE Olds – The Olds, The Olds Standard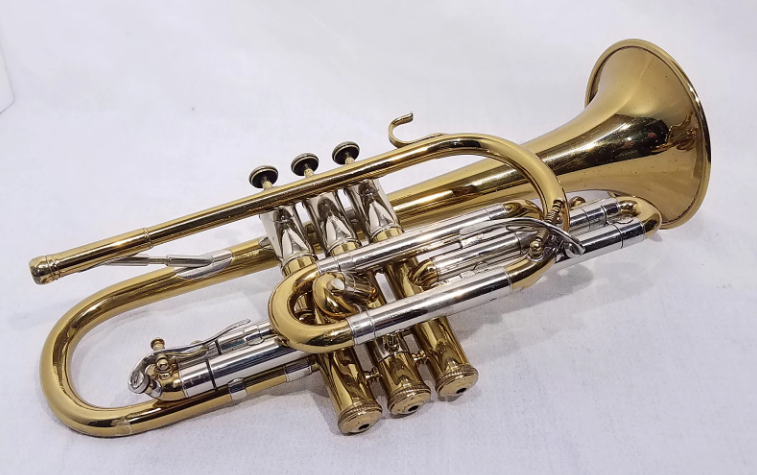 The founder of F.E. Olds, Frank Ellsworth Olds, studied how to make brass instruments at ultra-successful manufacturers, C.G.Conn. Olds spent decades as a bicycle and automobile repair person. All the while, he tinkered with the design of trombones and brass instruments, even patenting a few ideas that are still implemented today. The company's first trumpets wouldn't be released until after Olds' death in 1928.
The Olds has a bracing system that allows the trumpet to tune down a half-step to A, a useful mechanism to achieve a slightly lower range and slightly darker tone. It also comes equipped with a third slide stop, another bit of engineering to quickly adjust the intonation of your trumpet. The Olds has a slightly bigger flare leading to the bell which is great for a darker tone with a mellower bite. This kind of trumpet might be useful in an orchestra setting if you're looking to blend your tone in with the instruments around you.
The Olds Standard does not come with the shiny bells & whistles (well, bracing system and slide stops) of the Olds. It also has a smaller flare elevating the Olds Standard to be brighter and more piercing.
No matter which you might choose/come across, both are nice horns in their own right.
8. Frank Holton Model Llewellyn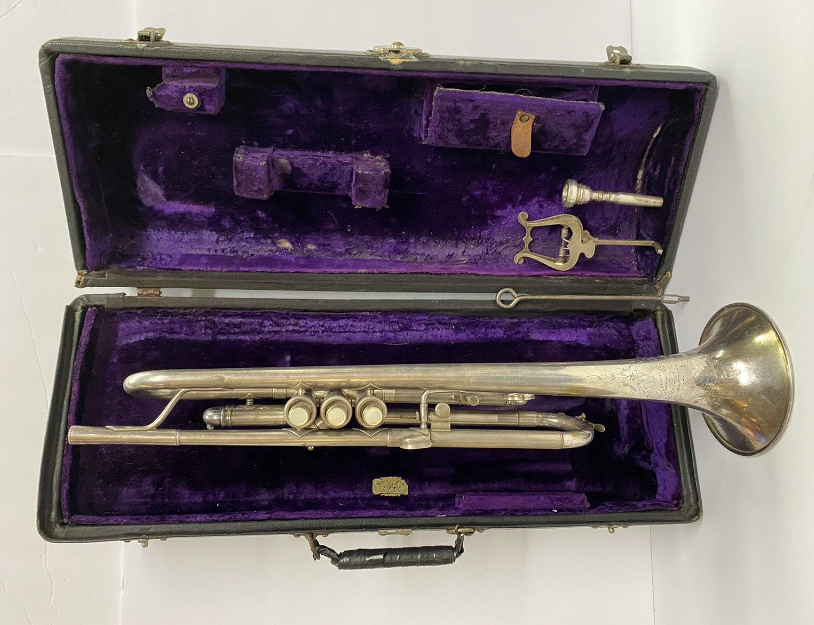 Today, the Frank Holton brand is under the Conn-Selmer umbrella, but in the early 20th century was its competitor. Frank Holton was a trombonist, at one point holding the principal trombone spot in the Sousa band. He began his business ventures as a shopkeep for a used instrument shop in Chicago. While Holton never personally wore the instrument-engineering hat, he expanded his company in that direction and led its efforts from a managerial standpoint, a role that he managed for over 40 years.
Edward Llewellyn was one of the most prolific trumpets of the era. He was the principal trumpet of the Chicago Symphony for about two decades starting in the 1920s. In 1919, Llewellyn joined the Holton company as an artist. Together, they designed the Frank Holton Model Llewellyn.
The Llewellyn is silver-plated with a brass lacquer, giving it great intonation and a clear tone across all registers. The trumpet responds well with minimum resistance. It has the tone necessary to blend in with a full orchestra, but thanks to its large bore and reversed leadpipe (similar to a Martin Committee) can easily kick it into high gear and provide separation to stand out for solos.
Fun fact: Renold Schilke, of the above Martin Committee trumpet, was a student of Edward Llewellyn.
9. Vega Artistone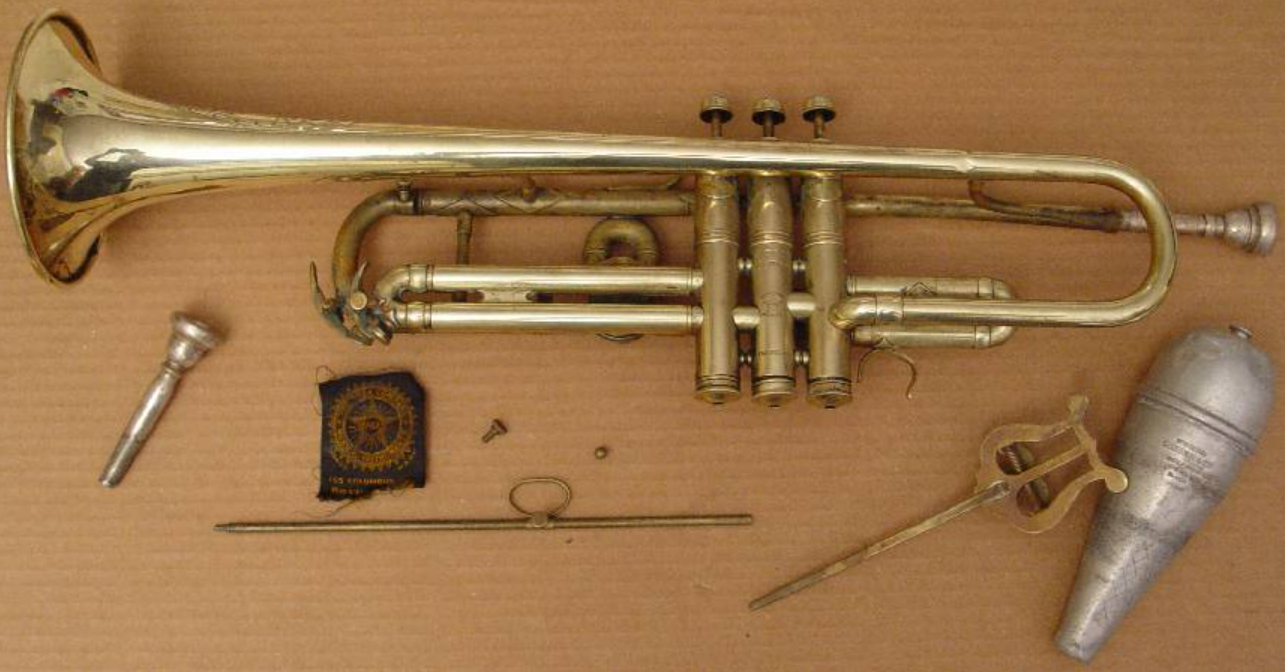 While they are best known today for plucked instruments (guitars, banjos, mandolins), Vega and their Artistone Trumpets have a rich history. 25 years or so after founding, like a musical PacMan, they began to gobble up instrument manufacturers, including the Standard Band Instrument Co in 1909. It wouldn't be until 1917 though that they introduced their first trumpet.
The Vega Artistone has a bright, piercing tone, making it an excellent choice for soloing artists, jazz bands, or marching bands.
Pros and Cons of Vintage Trumpet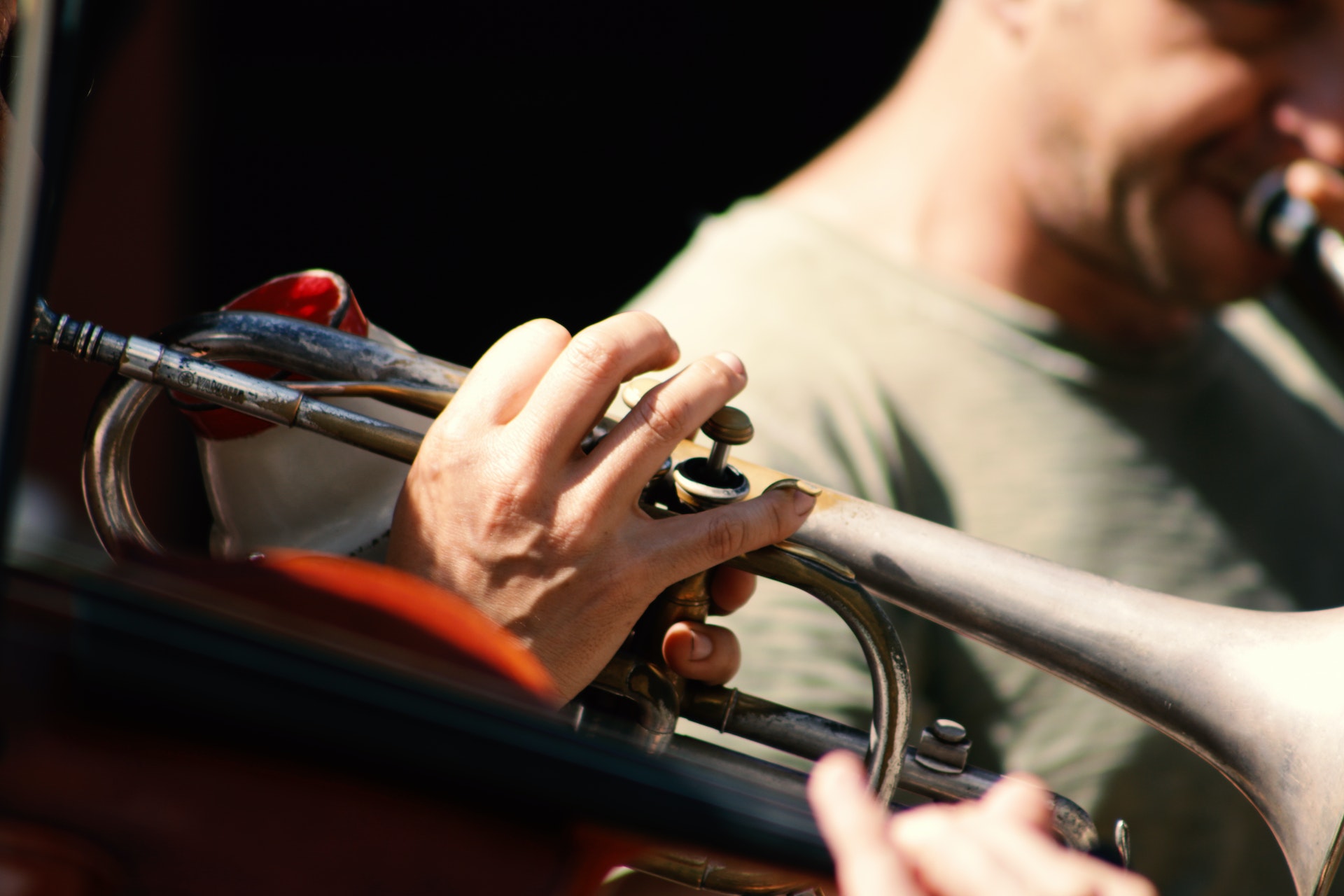 Pros
If you're looking to make waves in your compositions, incorporating new and unique sounds into your track is a must-do. And, ironically enough, a vintage horn can be a "new and unique" sound for contemporary audiences
"Vintage" does not mean "old". 'Old' is just a measurement of time. 'Vintage' implies a certain level of quality sustained over that time. These trumpets have been proven to stand the test of time.
Similarly, "vintage" implies a certain level of initial quality too. Joe Schmo might have made a bunch of trumpets a century ago, but if they didn't initially sell well then, then who would have bothered to not melt them down for metal?
There is a certain 'cool' factor of having an instrument that potentially nobody else in the world has…or at least nobody else in your local music community.
Cons
Just because (the general idea of) an instrument is still revered today, it doesn't mean that any specific trumpet has stood the test of time. Instruments need consistent upkeep to retain quality over time.
Vintage trumpets might have a great timbre, but will be missing decades/a century's worth of advancements in ergonomics and playability.
Price. Vintage trumpets that have been taken care of are in limited supply. High demand and low supply drive up prices.
FAQ
Question: Do older trumpets sound better?
Answer: There is no definitive, objective answer. How do we define 'better'?
On the one hand, no. The advancements in technology and science over the past decades allow us to create higher-quality instruments with more precise measurements of every aspect and to also manufacture them consistently. Yes, there's something that makes us feel warm and fuzzy about a hand-crafted instrument by somebody pouring their heart and soul into the mold, but instruments are just tools to apply the physics of sound. The more precisely you can manufacture an instrument, the better.
But on the other hand, who's to say that the ideal physical sound of the trumpet is what we crave? We're always looking for sounds and timbres that stand out and catch somebody's ear. Decades of music have been written with these specific timbres in mind. A trumpet composition written in the mid-20th century was composed with the trumpets of the mid-20th century in mind and these vintage trumpets may be better suited to play these compositions. In terms of contemporary music production, unique timbres can help an instrument stand out and draw a crowd, so to speak.
Question: What is the rarest trumpet?
Answer: *shines a flashlight up from underneath chin* Who knows? There might be a trumpet so rare that nobody has ever heard of it, not even the one who engineered it! dun Dun DUN
King Liberty produced a limited number of Mini-Trumpets as gifts for their workers. Nonetheless, they are fully functional trumpets and, as they are so rare, can sell for thousands of dollars.
However, instrument manufacturers are always experimenting with the 'classic' instrument designs to create new timbres and see what sticks. For instance, Harrelson Trumpets made 5 VPS Summit Steps. Depending on how "successful" they are, they may choose to expand it into a full production run or they may quietly junk it and never bother making a press release.
Question: Are old trumpets worth money?
Answer: Often! But not every vintage trumpet will be revered based on brand name and age alone. Some instrument collectors swear that instruments with a certain range of serial numbers are the only ones worth investing in. Physical condition plays a big role too. Decades of neglect/abuse can render even the best-sounding instrument of its day as a pile of metal not even worth its weight.
Conclusion
There is no shortage of great instrument manufacturers who produced unique and legendary instruments over the past 100 years. If you can find a trumpet that has seen consistent care and upkeep, you'll have yourself a great horn with a great sound. The most revered vintage trumpets are the Bach Stradivarius, the Martin Committee, and the French Besson.
Sources
https://www.collectorsweekly.com/musical-instruments/trumpets
https://www.horntrader.com/product-category/vintage-trumpets-and-cornets/
wikipedia.org
https://www.austincustombrass.biz/ultra-rare-small-medium-bore-late-ny-bach-d-trumpet-ec-106/
https://reverb.com/item/8400941-pre-war-french-besson-bb-trumpet-perfect-condition-made-c-1924-sweet-player
https://www.quora.com/What-are-the-best-vintage-trumpets
https://www.trumpetherald.com/forum/viewtopic.php?p=1427777
https://www.trumpetherald.com/forum/viewtopic.php?p=1412192
https://cderksen.home.xs4all.nl/Conn38B1957image.html
https://cderksen.home.xs4all.nl/Conn36B1959image.html
https://mail.google.com/mail/u/0/
Looking for more interesting readings? Check out: