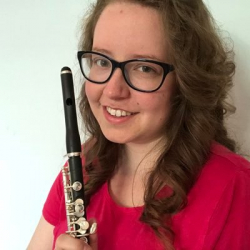 Latest posts by Hannah Haefele
(see all)
Do you want to play in a marching band? How about a big band? You should learn how to play the sousaphone so that you can play your favorite music. The sousaphone is a big brass instrument, and it's a close relative of the tuba. But you don't need to be an advanced tuba player to learn the sousaphone.
As long as you have the discipline and motivation, you can become a good sousaphone player.
At a Glance: Best Sousaphone
| Product Image | Primary Rating / Price | Primary Button |
| --- | --- | --- |
| | | |
| | | |
| | | |
| | | |
09/24/2023 08:25 pm GMT
What Is The Sousaphone?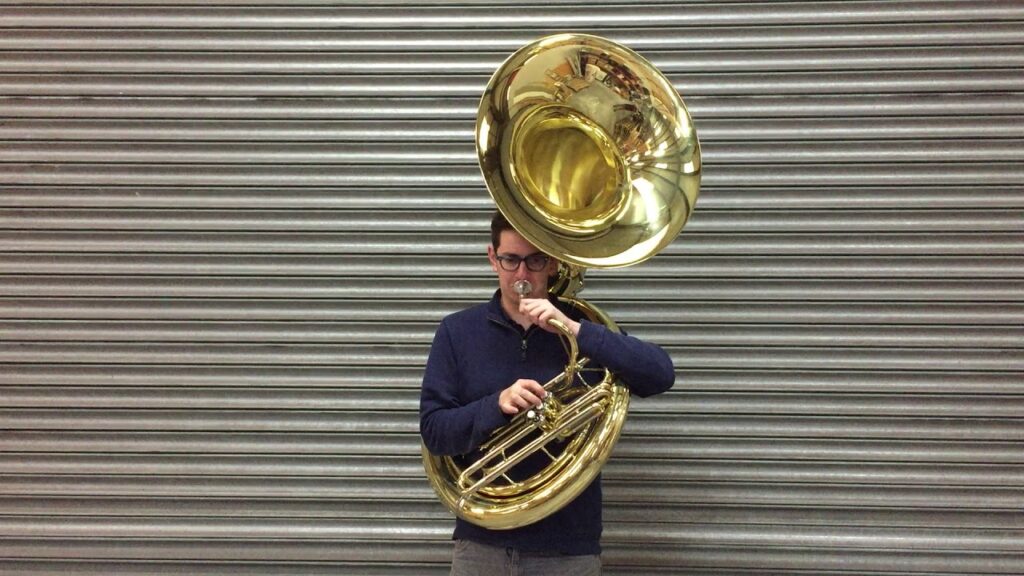 The sousaphone is a type of tuba that you typically find in a marching band or pep band. It's the same length and has the same range as the tuba, which is in an orchestra and concert band. A sousaphone has a circular shape, and it fits over the player's body, while the bell is over the player's head. Most of the instrument's weight rests on your left shoulder, and you can stand and walk as you play.
Sousaphones got their name from the composer John Phillip Sousa, who wrote a lot of music for bands. Like the tuba, the sousaphone plays the bass line, and it can project well thanks to the design.
Best Sousaphones
If you want to learn how to play the sousaphone, you need a good quality instrument. Finding a good sousaphone can be difficult, especially if you don't have access to one through a school or some other organization.
However, you can find a sousaphone to buy for yourself. Then, you won't have to borrow one any time you need to practice or perform on the instrument. Consider some of the best first sousaphone models to try.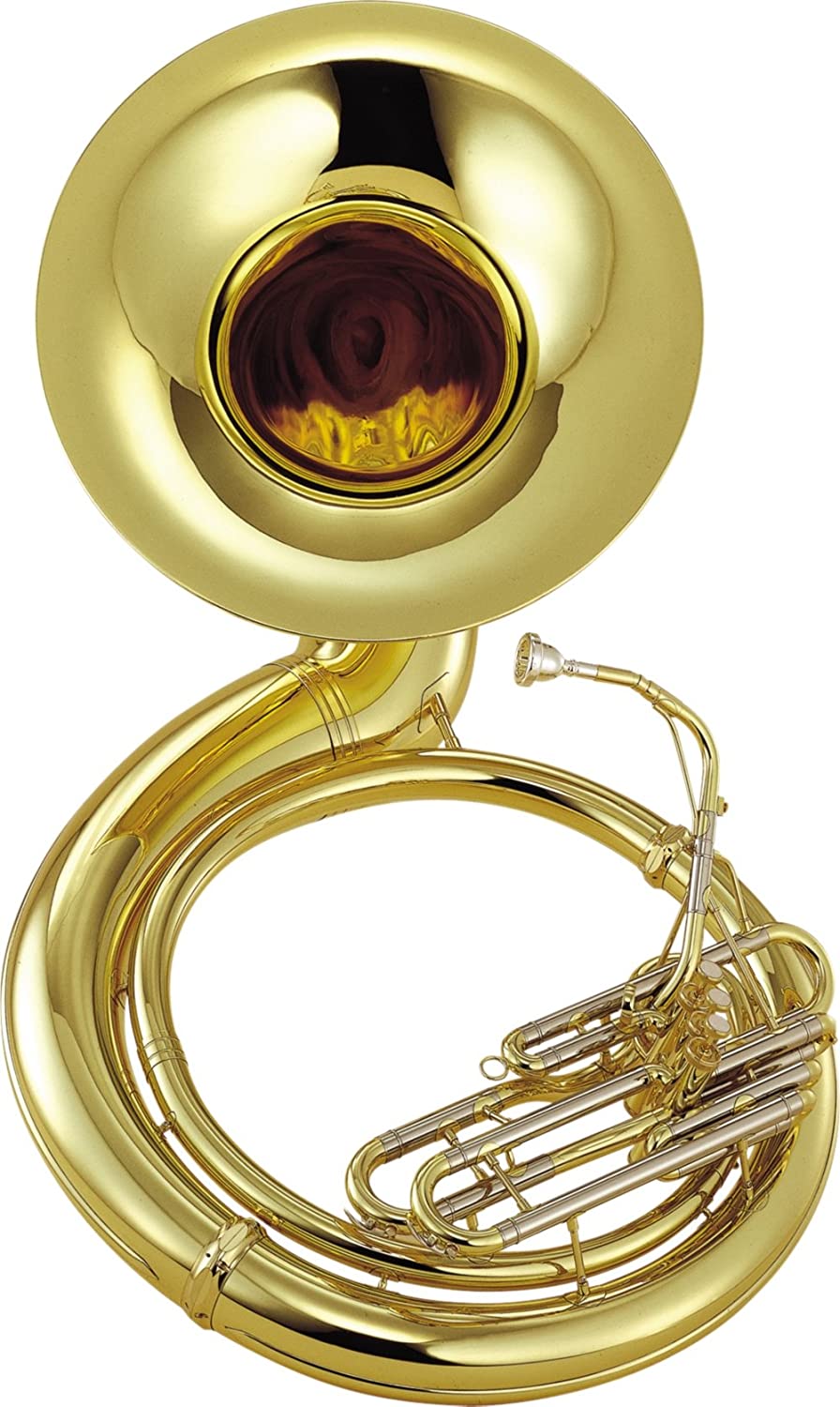 The Yamaha YSH-411 is an excellent sousaphone for beginners and advancing players. It has a nice balance, so it's easy to rest on your shoulder and play without a ton of discomfort. This model also has heavy bracing, and the fiber-reinforced plastic keeps it from being too heavy. Pressure-formed tubing helps the instrument keep its shape so that you can play it for a long time.
It has hand-lapped valves and slides that are easy to press and use to create different notes. Air flows smoothly through the instrument, which can help you get a good, consistent sound.
Yamaha YSH-411 | Amazon
The Yamaha YSH-411WC Series Brass BBb Lacquer Sousaphone features a brass body and bell for an incredibly rich almost orchestral sound. The bell front design enhances tonal projection, while the intonation is state-of-the-art.
Buy at Amazon
We earn a commission if you make a purchase, at no additional cost to you.
Pros
Good design
Quality materials
Great for all levels of players
Cons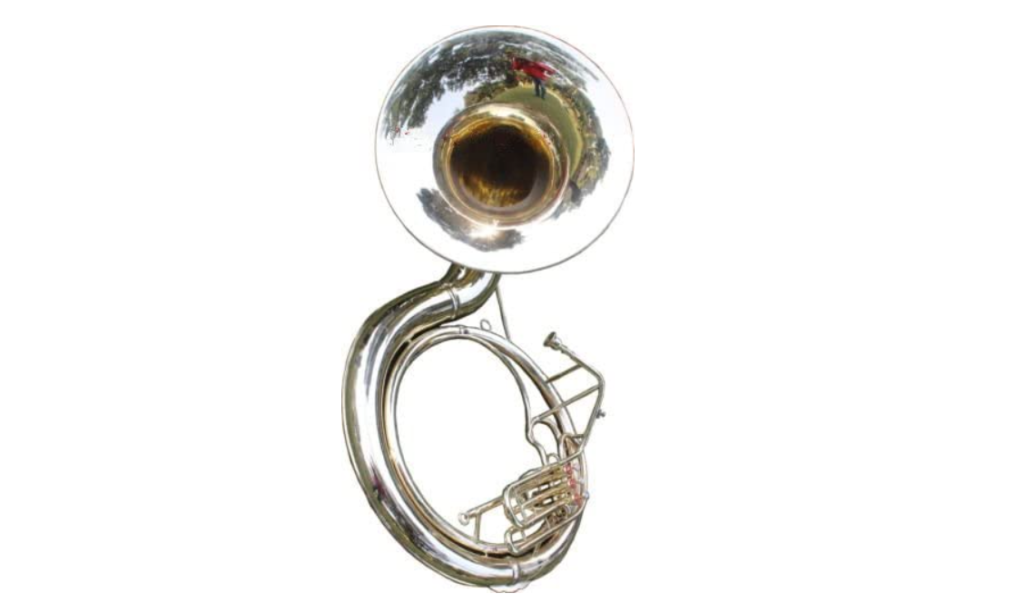 Another great option to consider is the Queen Brass Sousaphone. It plays in concert pitch, which is standard for sousaphones, so you can read music easily. You can remove the bell when you finish playing so that it's easier to store and take to rehearsals or performances. The instrument comes with a silver finish, which can help the instrument stand out visually and acoustically.
It's a great value for beginner sousaphone players who can't borrow an instrument. While it's not the best quality, the instrument can help you learn the basics.
Queen Brass Sousaphone | Amazon
The sousaphone is a type of tuba. The sousaphone is a valved brass instrument with the same tube length and musical range as other tubas.
Buy at Amazon
We earn a commission if you make a purchase, at no additional cost to you.
09/24/2023 08:25 pm GMT
Pros
Great value
Easy to learn on
Affordable
Cons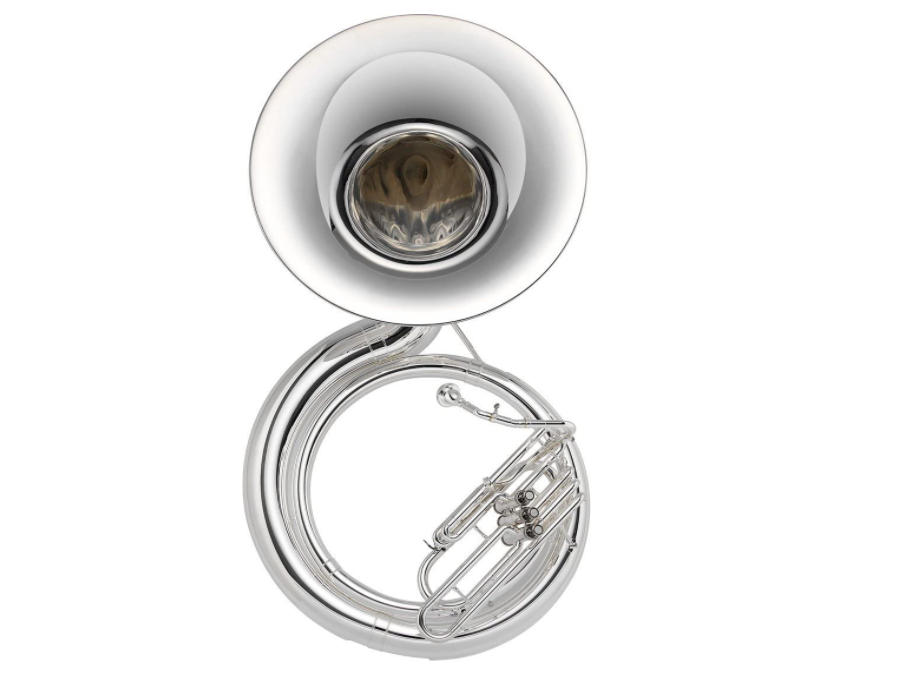 The Jupiter Deluxe JSP1100S is a fantastic choice for players who want a durable instrument they can use for years. It uses brass and silver plating, which helps provide a bright tone that the audience can hear. There are stainless steel piston valves that move easily, so you can play fast if necessary. When you need a repair, a professional can remove the valve section to access more of the instrument.
It comes in a plastic case with wheels, so it's easy to transport and store. And the sound and response are amazing for beginners and players with more experience.
Jupiter Deluxe Silver BBb Sousaphone | Amazon
The Jupiter JSP1100S Quantum Sousaphone features a full brass body and bell with a .687 inch bore and 26 inch bell designed for outstanding response and projection. The JSP1100S also features a removable valve body for easy maintenance.
Buy at Amazon
We earn a commission if you make a purchase, at no additional cost to you.
Pros
Good quality
Removable sections
Great sound
Cons
More expensive than average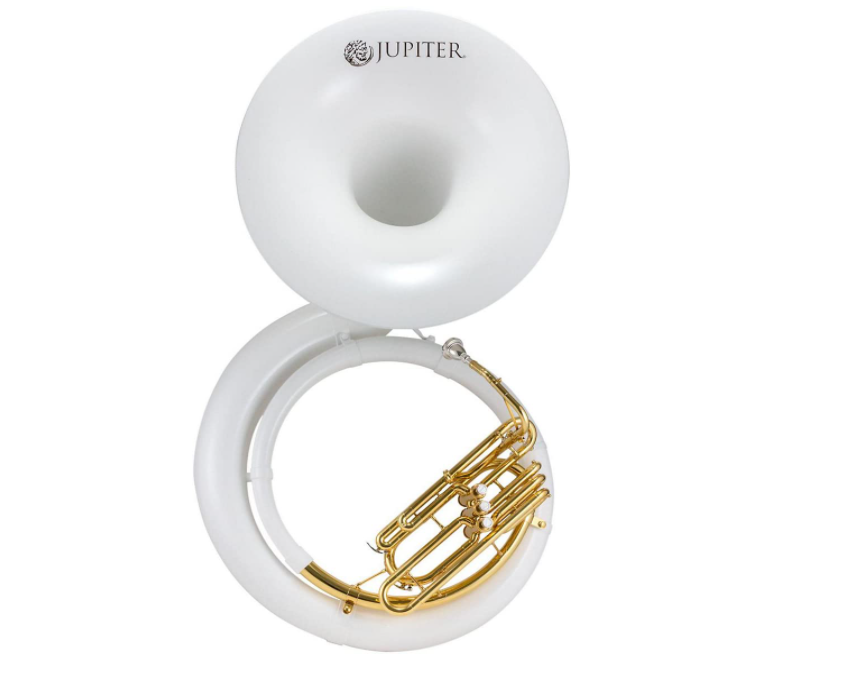 Jupiter also makes the JSP1000B, which is a fiberglass sousaphone. The fiberglass makes the sousaphone quite a bit lighter, so it's great for people with joint pain or similar issues. It's also more affordable than similar sousaphones, so it's suitable for beginners on a budget. Like the other Jupiter sousaphone, this one has a removable valve section, making maintenance and repairing easier.
It comes in a nylon carrying bag so that you can avoid scratches during transportation and storage. And you'll get everything you need to start playing as soon as you get the sousaphone.
Pros
Lighter weight
More affordable
Good sound and design
Cons
The case isn't the sturdiest
Sousaphone Accessories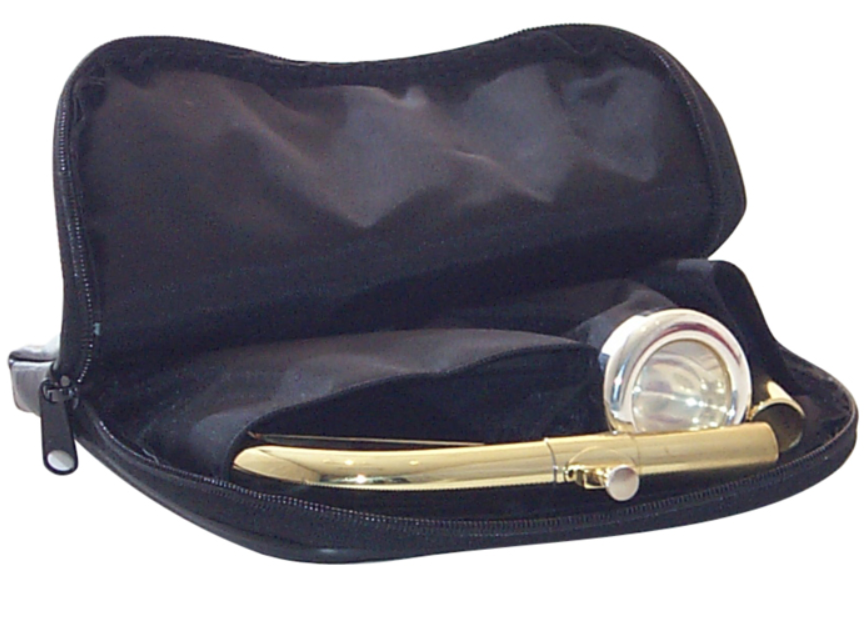 You may be ready to start playing the sousaphone, but it might not come with everything you need. Before you pull out your sousaphone, make sure it comes with a few accessories. If it doesn't, you'll need to buy those accessories yourself. You can also buy accessories separately if you want to upgrade them, such as if you don't like the mouthpiece you get.
Some sousaphones come with a mouthpiece, but some may not. If you're borrowing an instrument or buy a used one, the previous player may not have left the mouthpiece. But you can't play the instrument without a good mouthpiece, so consider buying one yourself. The mouthpiece is what your lips will touch and where you'll blow into the sousaphone.
A good sousaphone mouthpiece should be big enough to help you form your lips to play low notes. But it also needs to fit in the body of your instrument without any leaks.
Like other brass instruments, the sousaphone has valves to make different notes. When dirt or dust gets in the valves, they can start to stick and make it harder for you to play. Fortunately, valve oil can help you lubricate the different valves on your instrument. You can use the oil after you play or whenever you notice the valves aren't moving as easily.
Make sure you use valve oil and not some other household oil. Valve oil is specifically for brass instruments, so it won't harm the tubing or valves when you use it.
Moozikpro Polishing Cloth | Amazon
Moozikpro premium instrument polish cloth. Made of double-sided super soft velour to protect your precious instrument. Scratch-free design - thanks to the non-hemmed edge will not ball up dirt like microfiber cloths.
Buy at Amazon
We earn a commission if you make a purchase, at no additional cost to you.
While not essential, you may want your sousaphone to look its best. If you get a lot of fingerprints on it or other signs of wear, you can use a polishing cloth to fix it.
Use the cloth on the outside of the instrument to get rid of dust and fingerprints and make it look shiny and new. If you have a silver-plated sousaphone, you can also use a silver polishing cloth to help protect the surface and avoid tarnish.
You can also use a cotton cloth to polish your sousaphone. But having a specific polishing cloth means you can keep it in your sousaphone case for easy access.
How To Play The Sousaphone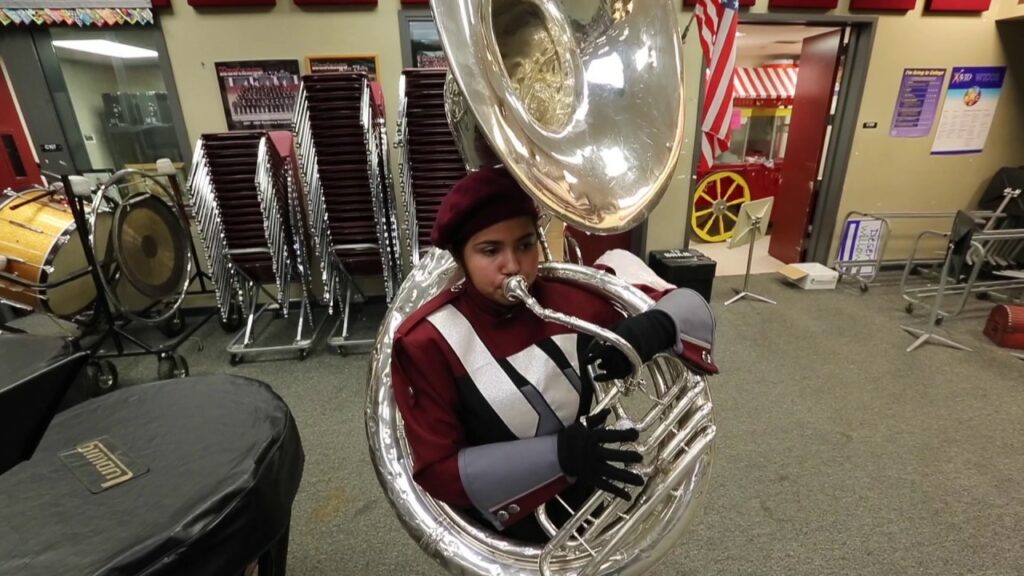 Once you have a good instrument and some essential accessories, it's time to start learning the basics. Mastering how to play the sousaphone can take some time, but it doesn't have to take long before you can play something.
Whether you've played the tuba, another instrument, or this is your first instrument, you can do it. Put your mind to it and follow some steps to help you learn how to play the sousaphone.
Forming An Embouchure
The best place to start when learning the sousaphone is with your lips. Keep your instrument in the case as you learn how to form a sousaphone embouchure. Say "oh" and feel how your entire mouth feels and where everything sits. Then, bring your lips together as if you were saying, "ooh." Touch your lips to each other while keeping the same overall shape.
Next, you can practice blowing air through the lips to create a buzzing sound. The buzz is what will help you make a sound when you add the mouthpiece and instrument. Practice blowing and buzzing until you're comfortable with it. You may need to practice this for a while before you can get a consistent buzz.
Assembling And Holding The Sousaphone
When you open the sousaphone case, you may see the instrument in two pieces. Take the main part of the body and screw the bell onto the end. Next, grab your mouthpiece and attach it to the smaller end of the sousaphone body. Set the sousaphone on the ground and hold it with the bell at the top.
Grab the sides of the sousaphone and lift it over your head and left shoulder. Make sure the instrument sits comfortably and that your right hand can trigger the three valves. You should also be able to blow into the mouthpiece without having to stretch your body too much. If you do feel uncomfortable or in pain, take a break and put the sousaphone down.
Your First Notes
Now, you're ready to start playing a few notes on the sousaphone. Make sure you can blow into the mouthpiece and that you have enough air to get a sound. If you've learned the tuba, you may recognize these notes because they're the same on the sousaphone. First, you'll learn how to play the note F, which doesn't require you to press any valves.
After you get the hang of that note, add your first and second fingers to the first two valves to get G. The third note you'll learn is A, which only uses the second valve. Use a tuner to make sure these notes come out because a lot of different notes share the same fingerings. You may need to adjust the air pressure and change your lips to get the right pitch.
Your First Song
Once you learn a few notes, you can start to play some songs on the sousaphone. Whether you've played the tuba or not, it can help to figure out how to play songs with a different design.
Hot Cross Buns is a great first song to learn, and you only need three notes to play it. The notes you'll use are:
A G F
A G F
F F F F
G G G G
A G F
Another great song to learn with three notes is Mary Had a Little Lamb. Then, you can practice your first few notes and keep things interesting.
Get A Good Book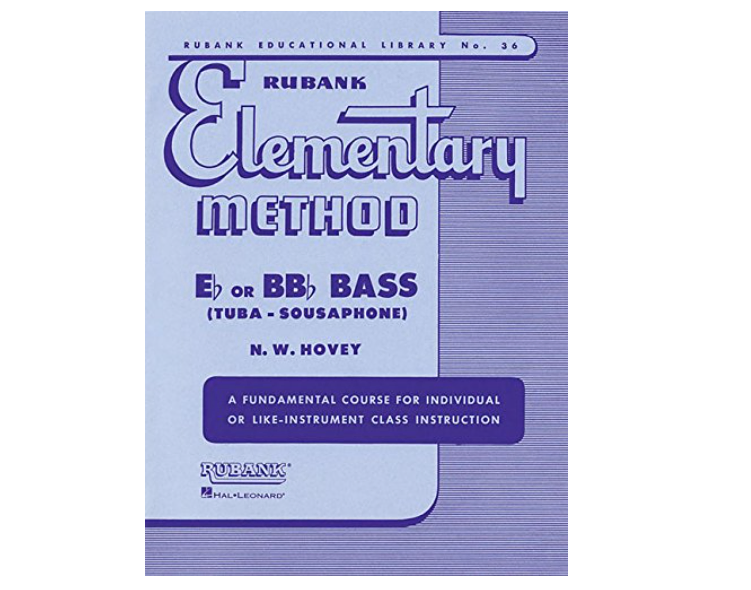 Next, you can start to learn more notes and songs, and a sousaphone or tuba method book is a great resource. You can use the Rubank Elementary Method for both instruments, so you can learn the sousaphone and the tuba if you want.
The book takes you in order as you learn new notes and songs, so you won't get ahead of yourself. While you can learn the notes online, it can be hard to figure out which order to go in. However, a method book will guide you, and many method books are part of a series. Once you finish the beginner level, you can move to an intermediate book by the same publisher.
You can always supplement a method book with other resources, such as videos or lessons. And you can use the book alone or if you want to learn the instrument with someone else.
Rubank Elementary Method - Bass/Tuba | Amazon
This book creates a solid foundation for people learning how to read music but it does not do much for people who know music and are switching instruments.
Buy at Amazon
We earn a commission if you make a purchase, at no additional cost to you.
09/24/2023 09:55 am GMT
Consider Taking Lessons
Another thing to think about when learning how to play the sousaphone is taking private lessons. You may not find a sousaphone teacher, but you can find a tuba or low brass teacher who can help.
A private teacher will guide you even more than a book because they can assess your skills and progress. Your teacher can help you determine when it's time to move to the next page of the book and when you need to review something.
Private lessons can occur once a week, or you may be able to find a teacher who will work with you once or twice a month. That way, you can work lessons into your overall schedule, and you can afford them. While you can learn to play the sousaphone without a teacher, it will be harder. But it is an option for people with self-discipline, and it can be a good choice for current tuba players.
FAQs
Question: What's the difference between a tuba and a sousaphone?
Answer: The sousaphone and tuba are pretty similar in size and note range. However, there are a couple of important differences. First, tubas usually have four valves, while many sousaphones only have three to cut down on weight.
A tuba is suitable for ensembles where people sit, such as an orchestra or wind ensemble. The design of a sousaphone is better for marching bands and pep bands, where players stand and move around.
Question: Why would you play the sousaphone instead of the tuba?
Answer: You can play both instruments so that you can play more music or in different settings. However, you might want to play the sousaphone first if you're in a marching band.
Some sousaphones are also in big bands and other jazz groups, so you can open yourself up to that music. But playing the tuba can be just as fun.
Question: Is the sousaphone hard to play?
Answer: It can be hard to play the sousaphone because of its size and shape. You need to be able to rest the instrument on your shoulder and reach the valves and mouthpiece.
The sousaphone also requires a lot of air, and you need to be able to buzz to form your embouchure. But if you have the motivation to practice, you can learn how to play the sousaphone.
Question: Why is the sousaphone so hard?
Answer: As mentioned, the shape and size make the sousaphone hard to play. It can also be hard to play because it's not that easy to find one.
A good sousaphone is expensive, and many players don't own one. If you only get to play it during marching band, it can be hard to keep up your skills and improve each year.
Question: Can you learn sousaphone on your own?
Answer: You can learn how to play the sousaphone without a teacher, but it may take more time. You'll need to figure out the different notes and how to produce various pitches with the same fingerings.
If you have the desire to learn, it will be much easier. Then, you won't have to worry about not wanting to practice.
Question: What key is a sousaphone in?
Answer: You may find sousaphones in the key of BB flat or E flat, though E flat sousaphones are less common. However, sousaphones of any key play in concert pitch, meaning the notes you read are the notes you hear.
The difference between sousaphone keys relates to the overall length or size of the instrument.
Question: Do you need to play the tuba first?
Answer: If you've played the tuba, you may have an easier time learning how to play the sousaphone. All you'll have to learn is how to hold the instrument.
But you will already know how to blow and play the different notes. If you haven't played the tuba, you may need to spend more time learning the other elements of playing the sousaphone.
Question: Is it common to own a sousaphone?
Answer: An advanced or professional player may own a sousaphone, but you don't have to have your own. They can be expensive, and you may not want to invest that much if you aren't sure you'll continue with it.
A lot of players may first learn the sousaphone while in a marching band. The band or school might have sousaphones for people to borrow, so you can learn without paying for an instrument.
Question: How do you transport a sousaphone?
Answer: You can store and transport a sousaphone in its case, and many sousaphones have detachable bells. That way, the case won't take up as much space.
If you're worried about the weight, you can look for a case with wheels so that you can move the sousaphone more easily.
Question: Why are sousaphones so expensive?
Answer: Sousaphones are expensive because they require a lot of materials. Brass can also be expensive, so it can increase the overall price.
Luckily, you can find fiberglass or plastic sousaphones. While they aren't cheap, they can be more affordable than metal models, and they won't weigh as much.
Final Note On How To Play The Sousaphone
Learning how to play the sousaphone can be a great way to learn new music and have fun. Whether you've learned another instrument or not, you can play the sousaphone in marching bands and other groups. Before you start learning, make sure you have a good instrument, some accessories, and the desire to improve. Then, you can start to enjoy the thrill of the bass line.
| Product Image | Primary Rating / Price | Primary Button |
| --- | --- | --- |
| | | |
| | | |
| | | |
| | | |
09/24/2023 08:25 pm GMT