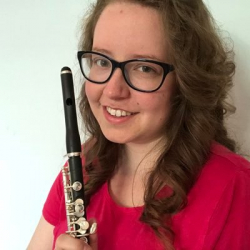 Latest posts by Hannah Haefele
(see all)
Do you like to be a lone wolf but still play with other musicians? Consider learning how to play the tuba because there's often only one player in a group. The tuba may not be the most common instrument, but that can be a good thing. You won't have to compete for solos, and you can learn a lot of music and serve an essential purpose in a band or orchestra.
Whether this is your first or fifth instrument, give the tuba a try.
What Is The Tuba?
The tuba is the lowest-pitched brass instrument, and it's popular in concert and wind bands. You may also hear and see the tuba in the orchestra, and it's a member of the brass quintet. Because of the size, many tuba players choose to sit, even when playing as a soloist. However, you can stand if you have something to support the tuba, usually by placing your leg on a chair.
Its closest relative is the sousaphone, which shares much of the tuba's range, but the sousaphone is common in marching bands. Tuba players will usually play the sousaphone in those groups.
The Best Tubas For Beginners
One of the most crucial steps for how to play the tuba is to acquire a good quality instrument. If your tuba can't stay in tune or has other issues, it will be almost impossible to learn and improve. Fortunately, there are a few fantastic tubas on the market. Whether you choose to buy or rent one, you can get a tuba that suits your needs and plays well.
Consider a few excellent tuba models to start learning on.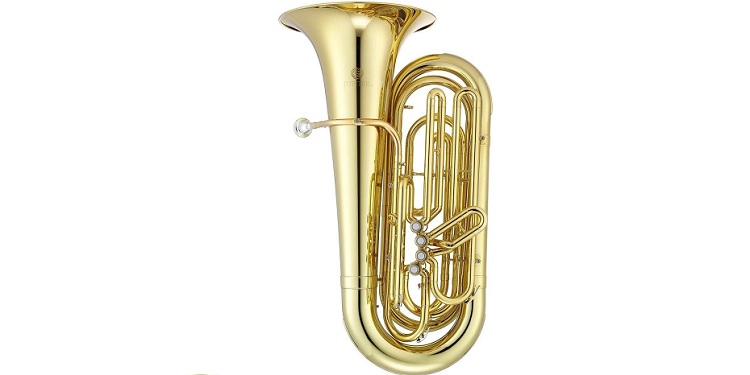 The Jupiter JTU1010 series includes two different models, a full-size tuba and a compact one. Both models share the same features, but the compact one is slightly smaller and better for smaller players to hold. These tubas are in the key of BB flat, so they're the lowest pitch a tuba can be. The compact model is 7/8ths the size of the full-sized tuba, and it shares the same range.
Each tuba has a lacquered brass body, and there are four stainless steel piston valves. They also both feature a removable valve section that makes repairs and maintenance easier.
Pros
Different sizes

common key

good quality
Cons
Not the best for players with experience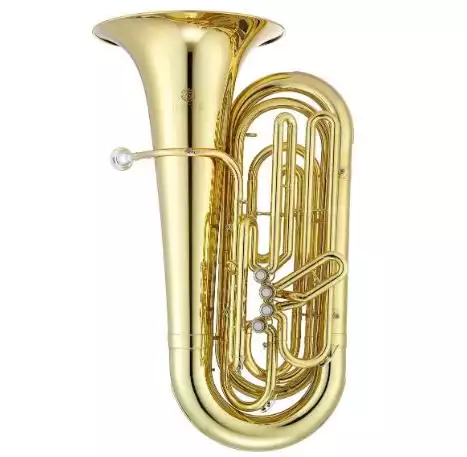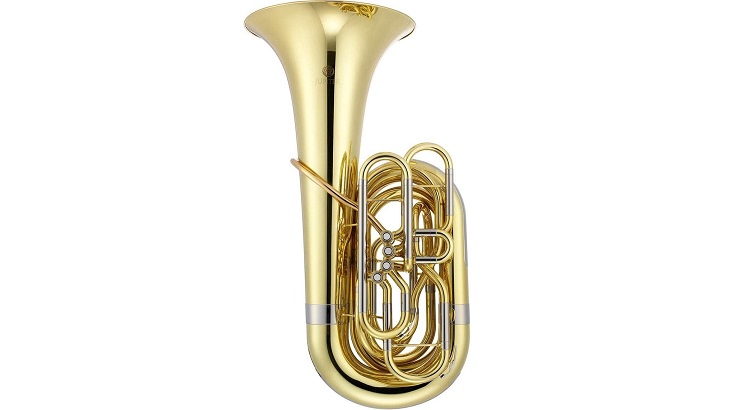 The Jupiter JTU1110 has a similar design to the 1010 series, and it's a full-sized model. This tuba is in the key of BB flat, and it uses lacquered brass for the body and stainless steel for the valves. Those materials make the scale accurate and easy to play with, and the valves are durable. You'll receive a protective case to use when you aren't playing the tuba, and the case has wheels, so it's easy to move.
It has a big bore and bell, so the sound will carry well when playing in a band or orchestra. If you've played the tuba but are looking to buy your own, this can be a great first option.
Pros
fantastic tone

good price

full size
Cons
Not great for people with no playing experience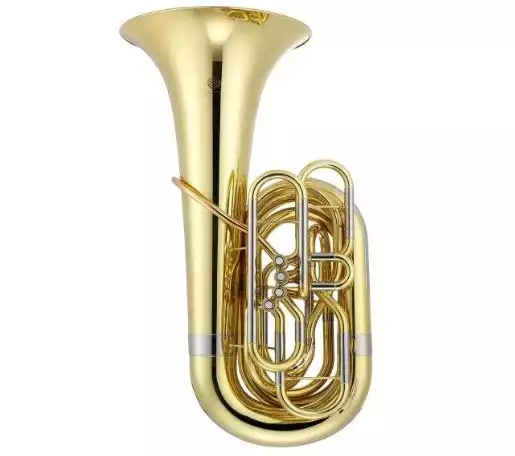 Jupiter JTU1110 Tuba Concert Model | Amazon
With it's big bore, big bell, and 4 front-piston valves, the innovative design of the Jupiter JTU1110 tuba is unique. The valve tubing is an open wrap, unlike anything seen before on the market.
Buy at Amazon
We earn a commission if you make a purchase, at no additional cost to you.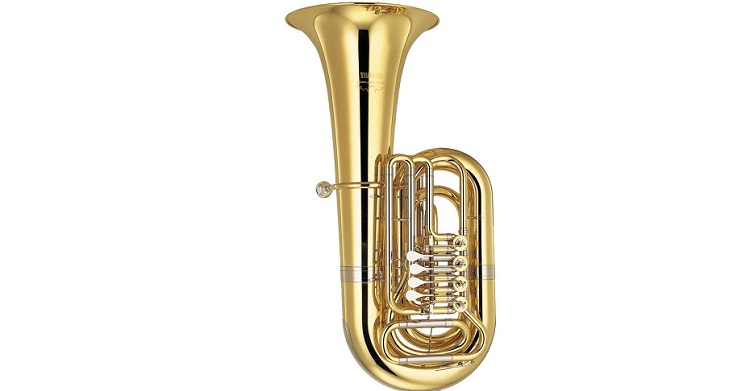 Another excellent tuba to consider is the Yamaha YBB-641. It's a full-sized model in the key of BB flat, so it's one of the most popular tuba sizes available. Unlike some tubas, this one uses rotary valves instead of piston valves. The valves have an excellent fit because of a process called hand-lapping, which also helps with tone changes and response.
This tuba is gold brass with a yellow brass finish, and it's not as heavy as some tubas. It's an excellent choice for the committed tuba player, and it can last you for years.
Pros
great tone

good value

For players of all levels
Cons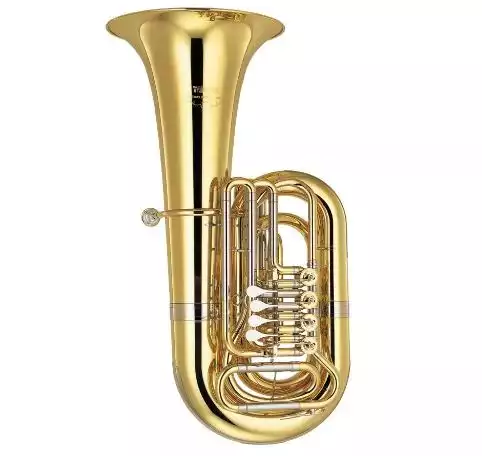 Yamaha YBB-641 Professional Rotary Tuba | Amazon
The Yamaha YBB641 Series 4 Valve 4/4 BBb Tuba is a fine instrument built in the German tradition and modeled after the early Meinl Weston models. This tuba features a .812" bore with 4 rotary valves designed for superior sound and excellent valve action.
Buy at Amazon
We earn a commission if you make a purchase, at no additional cost to you.
Tuba Accessories
While having access to quality tuba matters, you also need some accessories to learn how to play the tuba. Not only will that help you play the instrument, but it will make learning a little easier. From mouthpieces to storage and transportation gear, consider getting a few of these items. Some will come with a good tuba, but it can't hurt to have an extra mouthpiece, for example.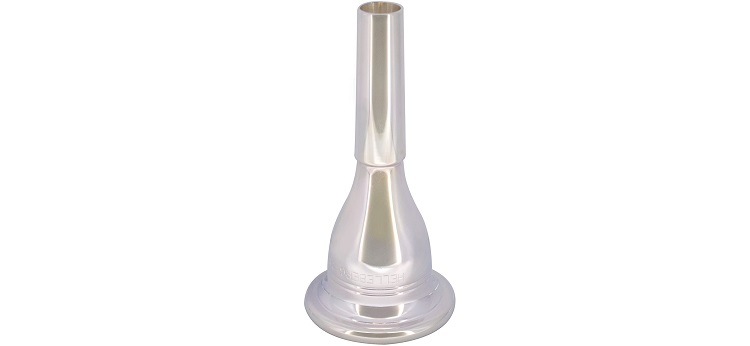 A mouthpiece is the part of the tuba where you put your lips and make a sound. You should get a mouthpiece with a tuba, so you don't need to buy a separate one. However, you may not get a mouthpiece if you borrow a tuba or buy a used model. The owner may want to use the mouthpiece with a different tuba.
Buying a mouthpiece is also an easy way to upgrade your tuba. You can get a different one to help change the overall sound without having to buy an entirely new instrument.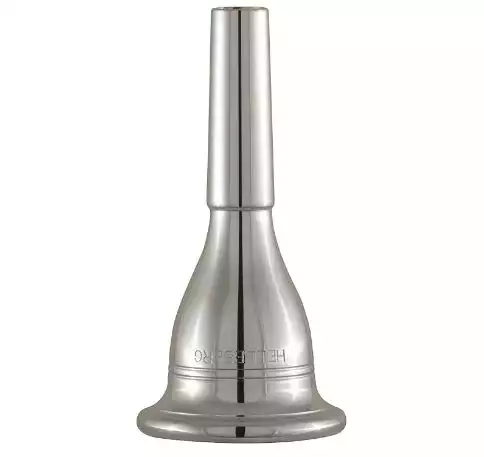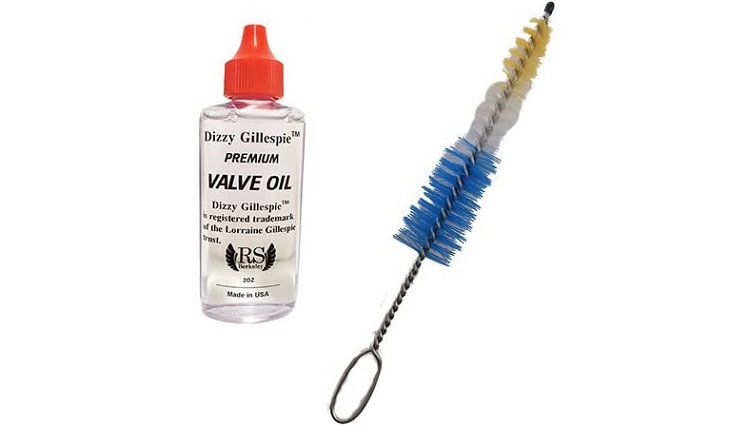 If you don't keep your tuba clean, condensation can accumulate, and so can bacteria. When that happens, the tuba may be harder to play, especially if the problems happen near the valves.
Valve oil is an excellent tool to keep the valves moving, so you can play different notes. And you should have a mouthpiece cleaner to help get the spit out of that part, especially if you have to play when you have a cold and the virus can spread.
You can buy these tools separately, or you can look for a cleaning kit. Then, you'll have what you need to keep your tuba in good shape as you learn.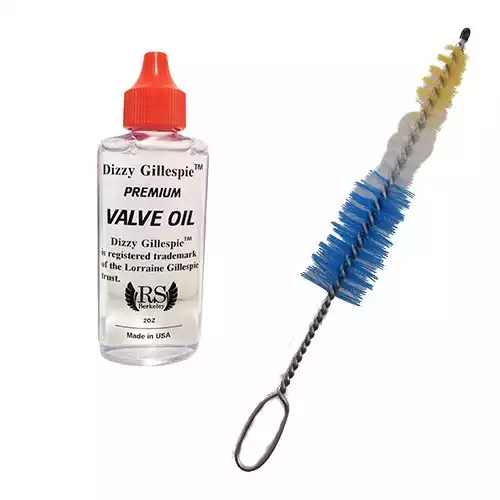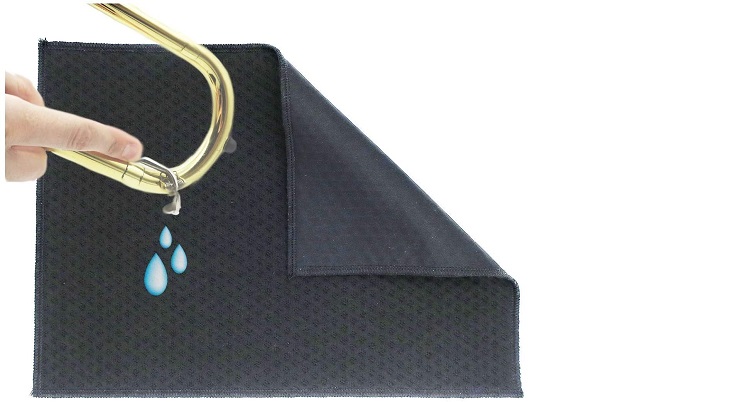 Like many brass instruments, the tuba has a spit valve or water key that you use to get rid of excess spit. But you don't want to release the spit just anywhere. You can carry a towel in your case or use a specific spit cloth for rehearsals or other practice sessions. Then, you don't have to clean the spit off the floor, but you don't have to worry about spit affecting your sound.
After each use, you can throw the cloth in the wash to keep it clean and avoid the buildup of bacteria and other germs. And you can put it back in your case so that you have it for the next time you want to play.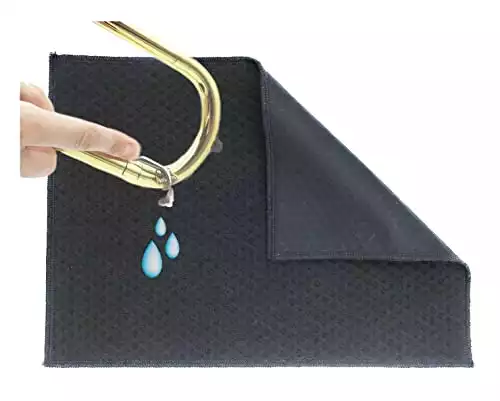 The Original Spit Catcher by Brasstache For Brass/Wind Instruments | Amazon
With this, there will be no more puddles of spit after each playing session. The Spit Catcher is made up of three layers of high quality fabric. The top absorbent layer can soak up to 10x its weight while the waterproof layer underneath keeps your floors clean.
Buy at Amazon
We earn a commission if you make a purchase, at no additional cost to you.
11/29/2023 02:55 pm GMT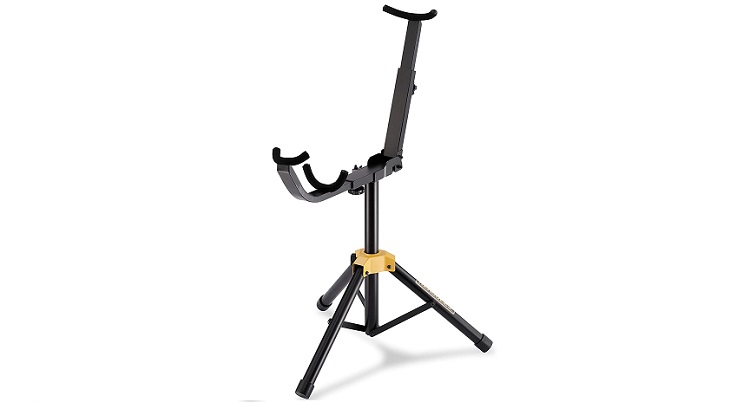 Another accessory that you don't need but can come in handy is a tuba stand. If you have a long rehearsal or want to practice throughout the day, the tuba stand can protect your instrument. You don't have to put the tuba in its case, but you don't have to leave it in a chair or on the floor. A good quality stand can hold the weight of the instrument, so you can go get a drink of water or walk around and stretch.
Having a tuba stand is also convenient if you play in an orchestra. There may be pieces that don't call for the tuba, so you can set it down and don't have to hold it in your lap.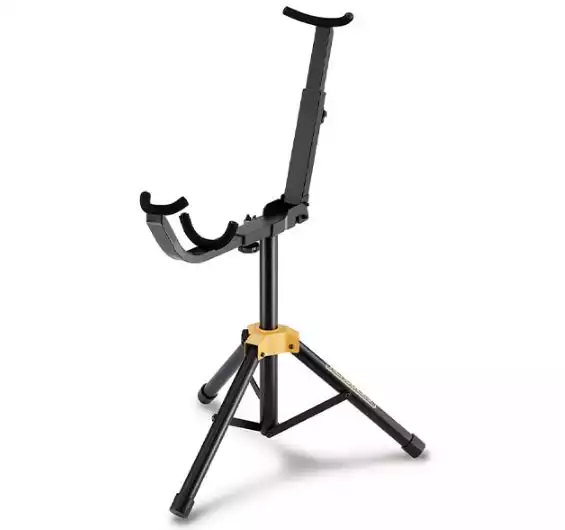 Hercules Tuba Stand | Amazon
This tuba stand features a sturdy all-in-one compact design with extended supports for different sized instruments. Heavy-duty construction and tripod legs provide stability and security.
Buy at Amazon
We earn a commission if you make a purchase, at no additional cost to you.
11/29/2023 02:11 am GMT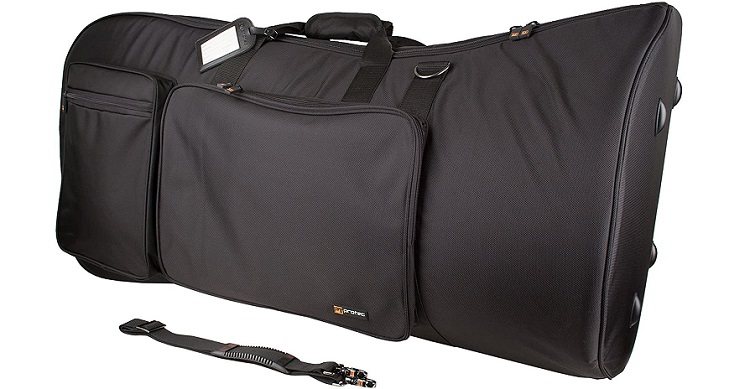 You should also have a good way to protect your tuba when you aren't playing it or taking a short break. The bag or tuba case is an excellent way to keep your instrument out of the elements. Tuba bags are great because they aren't as heavy or bulky as the cases, but they may not be as protective. Meanwhile, the case is more protective and better for traveling with your tuba.
However, cases can be bulkier and more expensive. While you should get a bag or case with your tuba, getting a different one might help you cut down on weight or improve the overall protection.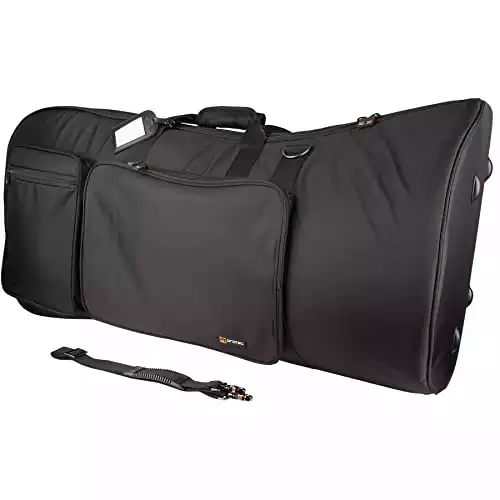 Protec Deluxe Tuba Bag | Amazon
The ultimate in tuba transportation. The 1680 Ballistic exterior is extremely rugged and water-resistant. Each bag features 2 exterior pockets, backpack straps, shoulder strap, oversized zippers, padded handle, and lined with soft velvoa.
Buy at Amazon
We earn a commission if you make a purchase, at no additional cost to you.
11/29/2023 01:00 am GMT
How to Play the Tuba
Once you have the right instrument for you and a few accessories, you can start to learn how to play the tuba. Whether you've learned another musical instrument or not, you should approach the tuba as a beginner. It can be hard to learn the basics, so be patient with yourself. Soon enough, you'll be able to master the basics, and you can move on to more complex techniques.
Forming an Embouchure
Before you pick up your tuba, you should learn how to make an embouchure, which is how you'll make a sound. Your embouchure is the shape of your lips, and the tuba embouchure is similar to that of other brass instruments.
Bring your lips together to make an "oh" sound and keep your tongue low in your mouth.

Adjust the shape of your lips as if you're saying the "oo" sound, and make sure your tongue doesn't move.

Move the corners of your lips into the center as if you need to squeeze the tube.

Take a deep breath and blow air through to create a buzzing sound.
You can practice making the tuba embouchure and blowing a good stream of air with and without the instrument. And practice it with just the mouthpiece so that you can see how it feels without the weight of the tuba.
Assembling and Holding the Tuba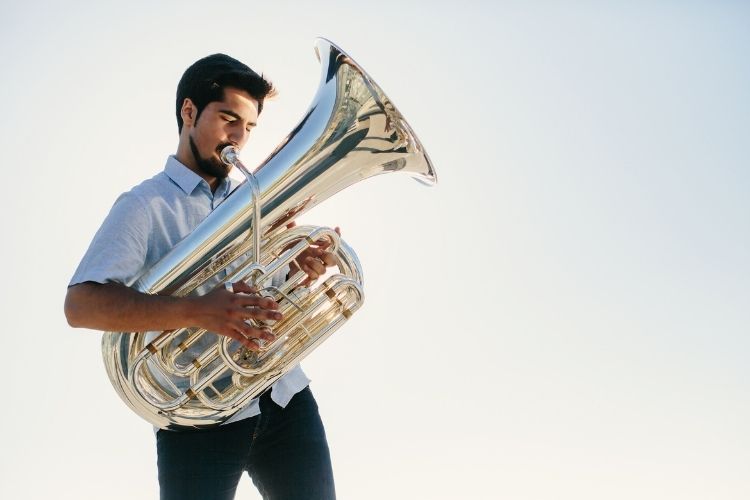 After you get the hang of creating the tuba embouchure, you should learn how to assemble and hold the instrument. Fortunately, putting the tuba together is quick because you just need to put the mouthpiece into the small end of the tuba's tubing.
Holding the instrument can be a bit difficult, especially at first. Find a chair to sit in and take the tuba with the bell up. See which side of the tuba the mouthpiece is on, and make sure the mouthpiece is in front of your mouth. Place the body of the tuba on your leg for support. Usually, this will be the left leg, but you may come across some tubas that playoff to the right.
Finally, place your right-hand fingers on the valves and bring the mouthpiece to your lips so that you can make a sound. If you want to stand, you can follow these same steps but put the chair off to the side and place your leg on it for that support.
Your First Notes
Now, you're ready to learn a few notes on the tuba. If you've learned how to play the sousaphone for marching band, you'll be able to use the same fingerings and notes.
However, if you haven't played the sousaphone, start with the note F. This note is easy to play because you don't need to press any valves to get that pitch, but you may need a tuner to get the proper note. Because there are only four valves, many notes on the tuba share the same fingerings. Use a tuner to make sure you play the right frequency and adjust your airflow or embouchure to get the pitch F.
Next, you can learn how to play G, which is one note above F, and it involves pressing the first and second valves. Again, be sure to use a tuner to help you play.
The third note you can learn on the tuba is A, and you only need to press the second valve to play it. If you want to challenge yourself, you can learn the B flat above that, which shares the same fingering as F, so you'll need to move your lips to change the pitch.
Your First Song
After you learn a few notes on the tuba, you can start to play some songs. Even if you only get to play F, G, and A, there are plenty of songs that only use those notes.
Hot Cross Buns is an excellent song to learn first. You can use your knowledge of the rhythm and play the following notes.
AGF
AGF
FFFF
GGGG
AGF
Practicing a song can be much more interesting than trying to play each individual note. Another song you can learn with three notes is the beginning of "Mary Had a Little Lamb."
AGFGAAAGGG
Switch between these two songs as you learn. Then, you can move on to more notes and pieces as you study how to play the tuba.
Get a Good Book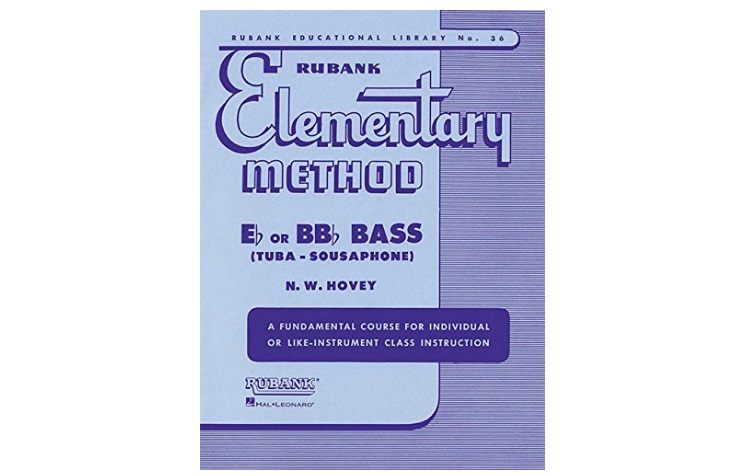 While you can do a lot with a few notes on the tuba, you should keep learning. A good tuba method book is a fantastic resource to teach you more notes and songs.
The Rubank Elementary Method is affordable and can teach you a lot of the basics. Once you complete the first book, you can move to the next book in the series.
The good tuba book will also come with a full fingering chart that you can refer to when learning and reviewing notes. While some books, like the Rubank, can be a bit boring, they lay out the lessons in order so that you don't get ahead of yourself.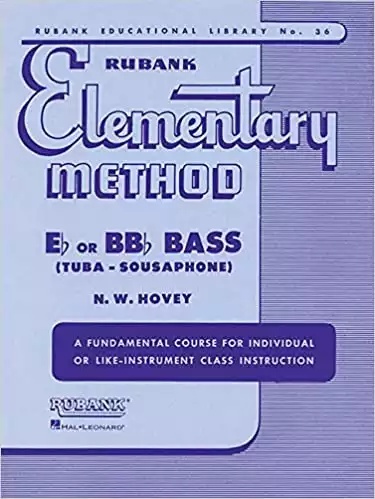 Rubank Elementary Method - Bass/Tuba | Amazon
This book creates a solid foundation for people learning how to read music but it does not do much for people who know music and are switching instruments.
Buy at Amazon
We earn a commission if you make a purchase, at no additional cost to you.
11/29/2023 03:42 pm GMT
Find A Teacher
You may be able to make a lot of progress on the tuba when you teach yourself. However, you may get to a point where you need to hire a private teacher.
The right tuba teacher can give you even more guidance than the best method book. Your teacher will be able to watch you play and help you correct any bad habits you may develop.
They can also teach you how to breathe well and how to switch between notes that share fingerings. If you don't have the time or money for weekly lessons, look for a teacher who can meet you once or twice a month so that you can still learn from them.
FAQs
Question: Is the Tuba Hard to Play?
Answer: The tuba can be very hard to play, especially if it's the first wind or brass instrument you've ever played. You need to be strong enough to hold the tuba, even when sitting down.
It also requires a lot of air because of all of the tubing. Plus, you should have good control of that air to get a good range of notes on the instrument.
Question: Why are Tubas Expensive?
Answer: Tubas are expensive because of their size and the fact that they can be difficult to make. You need a lot of materials to create the tuba, and you also need the right machines and some experience.
Because of that, companies can charge a lot more for a tuba that's of similar quality to a trumpet, for example. Tubas are also not the most common, so bulk production may not be available at lower overall cost.
Question: What Does the Tuba's Key Mean?
Answer: A lot of tubas are in the key of BB flat, but that can be confusing because it's not quite accurate. All tubas are in the key of C, meaning that the notes sound the same as written.
However, the BB flat tuba is bigger than the other sizes, which are C, E flat, and F.
Question: What Does the Tuba Size Mean?
Answer: The tuba's size doesn't affect the pitch, but a smaller tuba can be suitable for smaller players. With a 3/4 or 7/8 tuba, the tubing is more compact than a full-size (4/4) instrument.
Consider how big you are and if you can reach and handle a full tuba. If not, you can shop around for a more compact model.
Question: How Do the Tuba and Sousaphone Differ?
Answer: The tuba is an awesome instrument for playing in an orchestra or concert band, but it's not very practical for marching. Luckily, the sousaphone shares the tuba's range but has a different shape that is useful in the marching field.
The sousaphone has a circular shape and rests on the player's left shoulder while the bell points forward. That helps project the sound and makes it easier to carry the instrument while playing it.
Question: Can You Play the Tuba as Your First Instrument?
Answer: You can play the tuba without playing having another instrument, but it may take longer to learn the basics.
Not only will you have to memorize the fingerings, but you'll have to work on managing your breathing, and you need to learn how to read the notes.
If you've played another brass instrument or even a woodwind, you may find the process of learning how to play the tuba is easier. You won't have to learn as much, so you can focus on holding the instrument and playing different notes.
Question: Should You Switch to the Tuba?
Answer: If you play another instrument, switching to the tuba can be a good option. The tuba isn't as popular, so you may face less competition in ensembles or music schools if you want to go to college for music.
Switching to the tuba can be easy for people who already play the euphonium or the flute. Those instruments also require a lot of air, so the tuba can come naturally.
Question: Can you Teach Yourself the Tuba?
Answer: You can teach yourself how to play the tuba, but that doesn't mean you should. If you don't have a teacher, you risk developing bad habits regarding your posture, breathing, and other fundamentals.
Consider taking at least one or two lessons to learn the basics. Then, you can take that information and study more on your own.
Question: Who is the Most Famous Tuba Player?
Answer: The most famous tuba player of all time is Arnold Jacobs. He was the main tuba player for the Chicago Symphony Orchestra, and he taught a lot of musicians, even some who didn't play the tuba.
Jacobs was an expert in breathing and stage fright, so musicians would come to him for advice on those concepts. He's an inspiration for many tuba players, and his legacy lives on in his students.
Question: What's the Name for Someone who Plays the Tuba?
Answer: You can call someone who plays the tuba a tuba player or a tubist.
Final Note on How to Play the Tuba
Learning how to play the tuba isn't easy, but it can be very rewarding. Once you master the basics, you can join a concert band or orchestra, and you can fill out the bottom with a good bass line. Whether you want to be the next Arnold Jacobs or play for fun, the tuba is a great instrument. It's not too competitive, like the trumpet or flute, but it has plenty of music for you to enjoy.