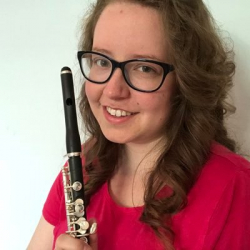 Latest posts by Hannah Haefele
(see all)
If you've watched any Spongebob Squarepants, you've probably heard Squidward play the clarinet. While he isn't the best player, the character can inspire a lot of people to learn how to play the clarinet. Fortunately, you can sound much better on the clarinet than a squid. But you will need a good instrument and the right tools to start your clarinet journey.
Then, you can learn how to play the instrument well, and you can keep improving over time.
At a Glance: Best Clarinet for Beginners
| Product Image | Primary Rating / Price | Primary Button |
| --- | --- | --- |
| | | |
| | | |
| | | |
| | | |
09/20/2023 07:19 pm GMT
What Is The Clarinet?
The clarinet is a single-reed woodwind instrument, meaning that it uses a mouthpiece and reed to make a sound. It's common in orchestras and concert bands, and the main clarinet is in B flat. However, there are other members in the clarinet family, including the smaller E flat clarinet and the bigger bass clarinet. Clarinets are transposing instruments, so the notes a player sees on the page aren't what a listener hears.
You can change notes by adding or removing your fingers from the keys and key rings. Most clarinets are African blackwood (grenadilla), but many beginner models are plastic, which is cheaper and more durable than wood.
The clarinet developed from the chalumeau, which was a similar woodwind. Early clarinets only had two to five keys, but over time, the clarinet has had more keys and other changes that improved its playability.
Best Clarinets For Beginners
When you first learn how to play the clarinet, you'll most likely learn on the clarinet in B flat. It's the most common and easy-to-find model, so it's great for beginners.
The B flat clarinet is also not too big or too small. Most players should be able to reach all of the keys. But you need a good quality clarinet to help you learn well.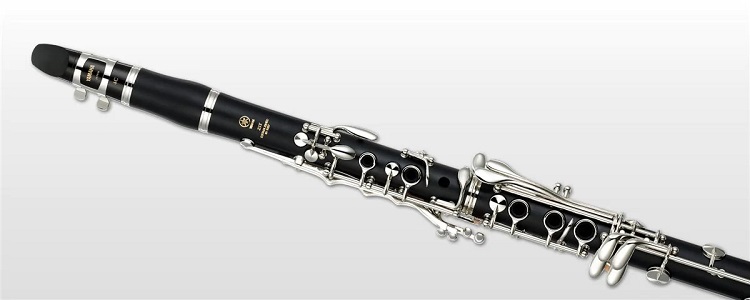 Yamaha makes excellent instruments for beginners, and the YCL-255 clarinet is no exception. The clarinet is made of an ABS resin body and silver-plated keys.
While it's an entry-level model, it has the same quality and features as higher-end clarinets. And even though it's plastic, the instrument has a similar tone to wooden clarinets, but you can play it without worrying about the wood cracking.
The material isn't as heavy as some other clarinets, which can make it easier to hold. Plus, the clarinet comes with a mouthpiece and ligature, so you don't need to buy those separately.
Yamaha YCL-255 | Amazon
The Yamaha YCL-255 is a newly redesigned Bb Clarinet with a matte ABS resin body, nickel-plated silver keys, 65mm barrel, and an adjustable thumb-rest with strap ring. It ships with the CL-4C mouthpiece.
Buy at Amazon
We earn a commission if you make a purchase, at no additional cost to you.
Pros
Good quality
Easy to hold
Comes with what you need
Cons
A little expensive for beginners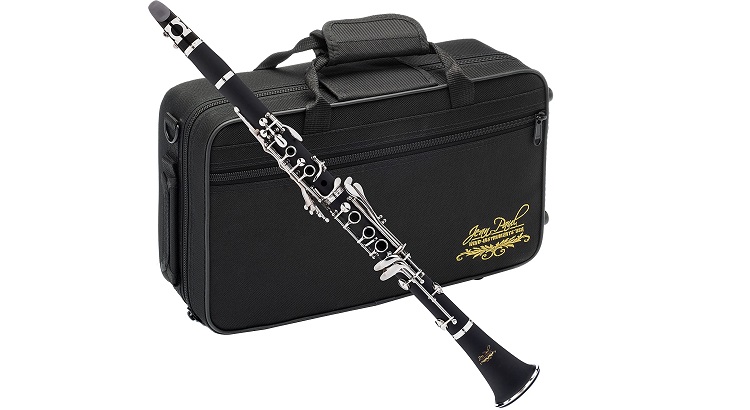 Another excellent model to consider is the Jean Paul USA CL-300. It has an ebonite, plastic body, which looks and sounds like wood. But the plastic makes it more durable and good for playing inside and out. The clarinet comes in a sturdy case that's perfect for storage and transportation. And you'll get a mouthpiece, ligature, and reed to help you start playing as soon as you get the clarinet.
This model is easy to play and reliable, so you can play it as much as you want when you start learning how to play the clarinet. It even comes with cork grease and a cleaning cloth to help you keep your clarinet in good shape.
Jean Paul USA CL-300 Student Clarinet | Amazon
Combining an elegant ebonite body with nickel keys, The Jean Paul USA CL-300 clarinet boasts beautiful design and sound while maintaining a low price point.
Buy at Amazon
We earn a commission if you make a purchase, at no additional cost to you.
09/20/2023 07:19 pm GMT
Pros
Easy to play
Good quality
Comes with accessories
Cons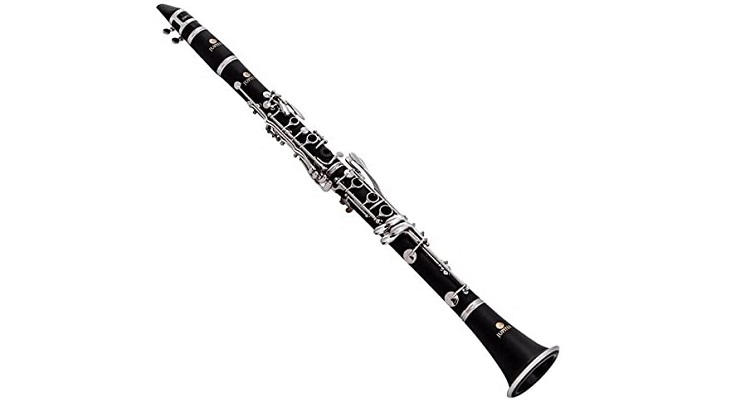 The Jupiter JCL700 clarinet is another fantastic option for beginners. It uses ABS resin for the body, so you can play it often and in different places without risk. But the resin can still sound like a wood instrument.
This model has silver-plated keys that are easy to reach and use to produce different notes, and the keys look good. Another benefit of this model is that it uses a French configuration to keep moisture from building up inside the clarinet.
While Jupiter isn't the most common clarinet brand, this model is great for beginners. It's not too expensive, so you can start learning to play, even on a budget.
Jupiter JCL700N Bb Clarinet | Amazon
The Jupiter JCL700N is a student model clarinet, perfect for the beginner or the advancing student. It features a 14.80mm bore, ABS resin matte finish, nickel silver bell ring, Comfortable C/G key riser, undercut tone holes and adjustable thumb rest.
Buy at Amazon
We earn a commission if you make a purchase, at no additional cost to you.
09/20/2023 03:06 am GMT
Pros
Good quality
Durable
Affordable
Cons

If there's one brand you should know as a clarinet player, it's Buffet. The Buffet Crampon E11 clarinet is technically an intermediate model, but it can be a good option for beginners who know they'll stick with it. It's a wood model, so it uses African blackwood (grenadilla) instead of plastic or a type of resin. Once you start to learn about it, you can keep using the clarinet for years.
The clarinet's pads on the keys are of excellent quality, so they can last a long time. And while this model is a bit expensive, it can be a great investment over the long term.
Buffet Crampon E11 | Amazon
We are happy to offer our customers the E-11 Bb clarinet, now with Silver Plated keys. Silver keys not only offer a more dynamic appearance, but they also benefit the player with a more usable key surface while playing.
Buy at Amazon
We earn a commission if you make a purchase, at no additional cost to you.
09/20/2023 01:24 am GMT
Pros
Excellent quality
Good sound
Great for beginners and intermediate players
Cons
Best Clarinet Accessories For Beginners
Having the best clarinet you can afford will help you learn, but you also need some accessories. Unfortunately, the clarinet won't make a sound without a good mouthpiece or reed.
But those aren't the only accessories you should have. Here are some of the best clarinet accessories to help you learn how to play.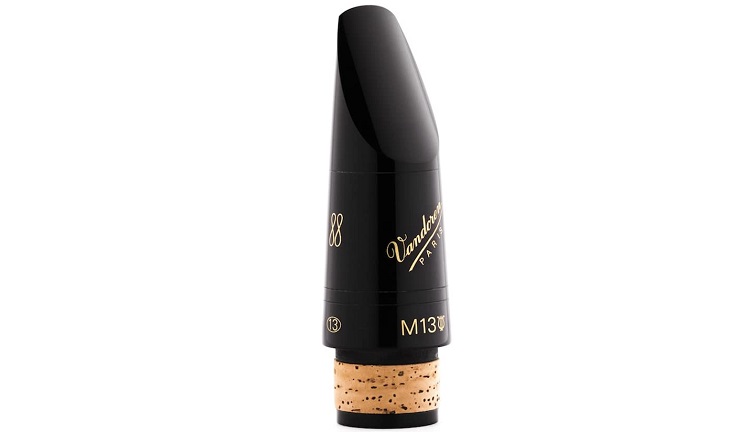 Most beginner clarinets come with a mouthpiece, and it's essential for playing the clarinet. The mouthpiece is where you'll blow to produce a sound. While many beginner clarinets come with good mouthpieces, you can upgrade to something better. If you find that you struggle to get a good sound, getting a mouthpiece, like the Vandoren M13, may help.
Some mouthpieces can help you in the lower or higher registers. And even though the clarinet doesn't play much jazz, a good mouthpiece can help you when you do want to play jazz music.
M13 Lyre 13 Series Profile 88 Bb Clarinet Mouthpiece | Amazon
M13-Lyre Bb Clarinet Mouthpiece Profile 88 is a little more open than the M13 mouthpiece. It permits easy blowing with harder reeds and produces a rich and centered sound. The M13 Lyre is recommended for symphonic and chamber music.
Buy at Amazon
We earn a commission if you make a purchase, at no additional cost to you.
09/19/2023 11:54 pm GMT
The ligature goes over the mouthpiece to keep the reed in place, which is another accessory you need. As with the mouthpiece, most beginner clarinets come with a ligature. But if you upgrade your mouthpiece, you may want to upgrade the ligature as well. If the ligature doesn't have the right design or use the best materials, it can affect your sound.
A good ligature should be adjustable to fit on and off of the mouthpiece. But you should also be able to secure it in place to keep the reed from moving around.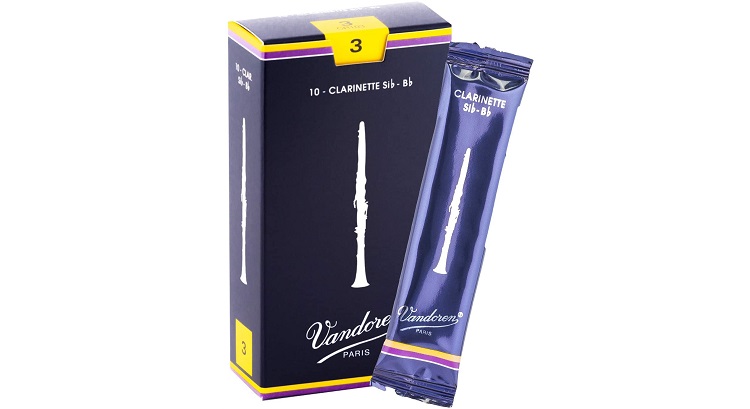 One of the stressful parts of playing the clarinet is that you have to rely on having good reeds. If you use a reed that has problems, it can make your instrument squeak or be unplayable. In most cases, you'll need to buy reeds separately from a clarinet, but that does mean you can choose the right reeds for you. Reeds come in different strengths, and lower strengths are good for beginners.
Unfortunately, not every reed you buy will be good, so you may need to buy a few at a time. And you'll have to keep buying reeds as your current ones wear out.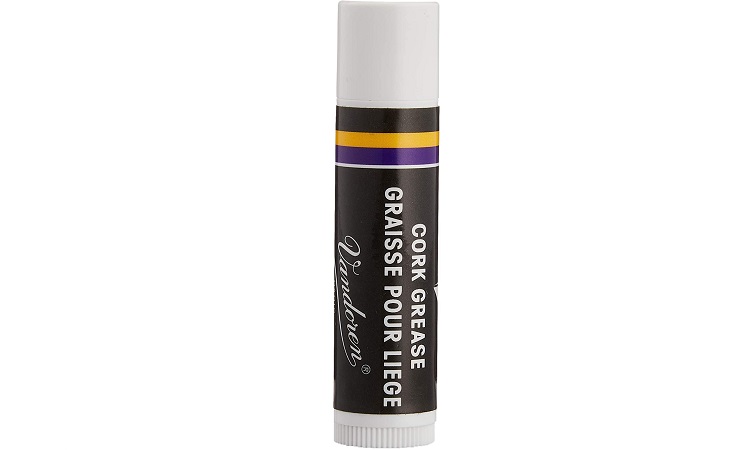 When you assemble your clarinet, you may notice the different joints have cork on the ends. The cork is what allows you to connect the different parts, and the cork needs to be flexible. If the cork dries out, it can be hard to assemble or disassemble the instrument. You may also accidentally pull the cork off when disassembling the clarinet, so you'd need to pay to repair it.
Be sure to rub the cork grease on each joint before you put them together to keep them in good condition. But also keep the cork grease away from your lip balm because the packaging looks almost identical.
Vandoren CG100B Clarinet Cork Grease | Amazon
Pleasantly scented with apple-blossom fragrance, this grease lubricates and protects instrument cork, keeping it supple and perfectly airtight. Vandoren cork grease has long been a favorite among students and professionals.
Buy at Amazon
We earn a commission if you make a purchase, at no additional cost to you.
09/20/2023 12:25 am GMT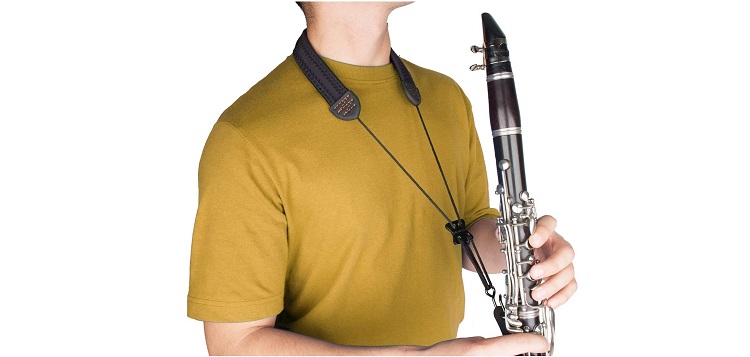 While not necessary, a neck strap can take some of the weight off of your right hand when you play the clarinet. You can wear the neck strap like a necklace, and it has a hook that fits into a hook hole on the instrument. I've had issues with my right thumb while playing the clarinet, but I haven't tried a neck strap. However, I'm sure it could help relieve at least some of the pain I've experienced.
If you feel pain when playing, consider getting something like the Protec Clarinet Neck Strap. It may be all you need to keep playing comfortably.
Pro-Tec Clarinet Neck Strap | Amazon
Protec's clarinet neck strap features a non-elastic cord, comfortable neoprene neck pad, easy grab slider, metal hook, & 2 leather thumb rest tabs.
Buy at Amazon
We earn a commission if you make a purchase, at no additional cost to you.
09/19/2023 09:19 pm GMT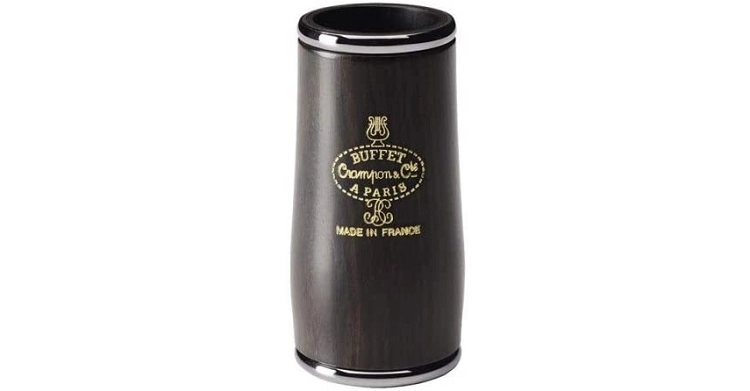 Another upgrade you can make to your clarinet is to buy a different barrel, which is the joint that connects to the mouthpiece. A good barrel can help you get a better sound on the clarinet without a full upgrade. The wood in the barrel may help add some warmth to your sound, so it's a good option if you've already upgraded your mouthpiece but can't afford another instrument.
Buffet Crampon's ICON barrel is an excellent option for many players. If you do upgrade to a new clarinet in the future, you can use the same barrel.
Buffet Crampon ICON Clarinet Barrel | Amazon
The ICON barrels were introduced by Buffet Crampon in 2013 and are designed to fit all B-flat and A clarinets, regardless of bore design or manufacturer. They feature an inverse conical bore and body design that are the culmination of the latest acoustic research carried out by Buffet Crampon.
Buy at Amazon
We earn a commission if you make a purchase, at no additional cost to you.
09/20/2023 06:05 am GMT
How To Play The Clarinet
Now that you have a good instrument and some accessories, you can start to learn how to play the clarinet. The clarinet can be hard to learn at first, but it's also very rewarding. Whether the clarinet is the first instrument you've played or not, be patient with yourself. You may not sound great at first but stick with it until you can get a good, consistent sound.
Here are some steps to follow as you learn the basics.
Assemble The Clarinet
Before you can play the clarinet, you need to assemble it correctly. When doing this, be careful not to bend any of the keys or rods, which can make notes hard or impossible to play.
Make sure you apply cork grease to each cork before you put the pieces together. Then, do the following:
Grab the lower joint (the piece with keys and only one cork) in one hand and the bell (the bottom part) in the other hand, and put the bell over the cork.
Take out the upper joint (the piece with keys and two corks) and find the end with keys hanging over it.
Place that end into the top of the lower joint and rotate until the rods line up.
Get the barrel and put it over the upper joint.
Set the clarinet down carefully and take out the mouthpiece, ligature, and a reed.
Take the ligature off the mouthpiece and place the reed on the flat edge of the mouthpiece.
Replace the ligature and tighten it over the reed.
Grab the clarinet and place the mouthpiece in the barrel.
Now, the clarinet is ready to play, and you can learn to get a sound and play a few notes.
Forming An Embouchure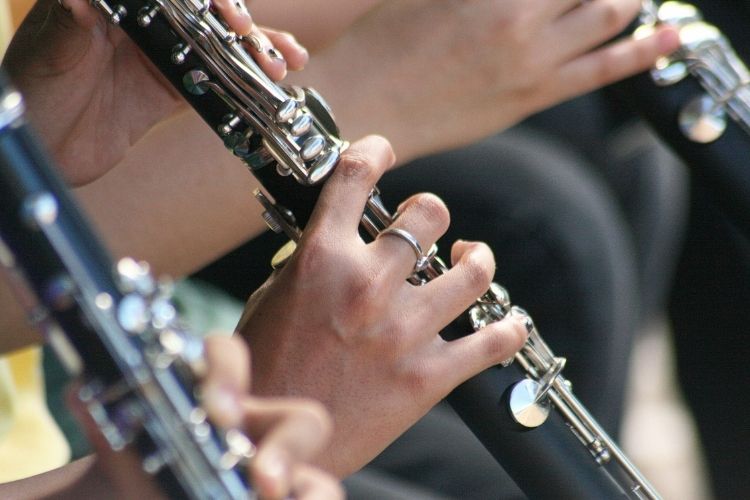 To play the clarinet, you'll need to form your lips to create an embouchure. You should use your bottom lip to cover the teeth and place the reed side of the mouthpiece on your lip. Take your top teeth and lip and put them on the other side of the mouthpiece and bring the corners of your mouth in. That way, you'll form a seal to keep air from escaping and affecting your sound.
The clarinet mouthpiece goes in at a 45-degree angle so that the instrument can lay comfortably in your mouth. And it will be in the right position for you to play.
Your First Notes
Next, take a second to blow into the clarinet without closing or opening any of the keys. When you do this, you'll hear the note F, but the note you'll read on paper is a G. This note should be relatively easy to produce your first time. If you're struggling, be sure to take a deep breath and blow a consistent stream of air into the clarinet.
Now, you can add your left thumb by closing the key ring on the back of the instrument but not the other key above it. That will give you the written note F. Adding your left index finger to the top ring over a whole will give you an E.
If you close the other keyring with your second finger, you can play a D. Use your ring finger to completely cover the remaining hole to get a C. When you add fingers, your fingers need to cover the hole completely to produce the right note. Be patient with yourself as you learn the right position of each finger.
Your First Song
After you get the hang of those five notes, you can start to play a few songs. One of the best first songs to learn on the clarinet is Hot Cross Buns. Here are the notes you'll play:
E D C
E D C
C C C C
D D D D
E D C
Mary Had a Little Lamb also uses those three notes, and there are tons of songs that only use the notes C, D, E, F, and G. If you learn the note A, which you play by opening the key on the front and at the top of the clarinet, you can play Twinkle Twinkle Little Star.
Get A Good Book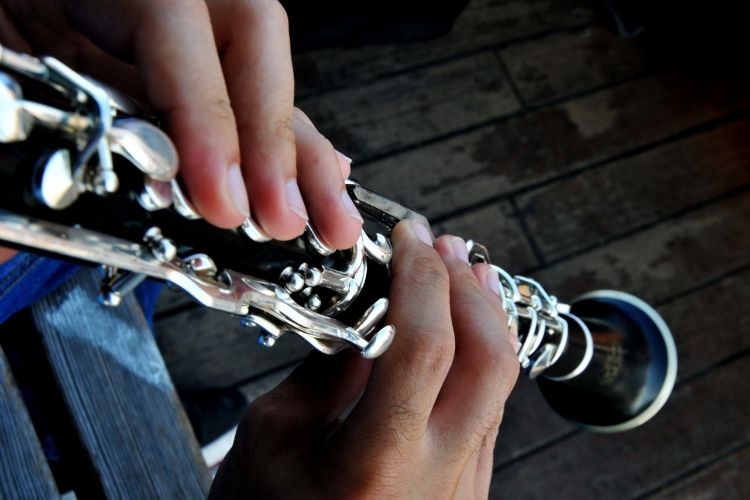 While you can learn a few songs with the first five notes on a clarinet, you should get a clarinet book to learn even more. A good clarinet book, such as the Rubank Elementary Method, has tons of songs to help you learn and play. It also includes a fingering chart to help you learn more notes as you improve your playing. That way, you won't have to worry about if you're playing the correct notes.
Whether you decide to learn the clarinet on your own, with a private teacher, or in a group, a book is a necessity. You can refer back to the book any time you have questions or issues and need to review the basics.
Consider Lessons
Many people can learn how to play the clarinet independently, but lessons are a great option. You can find a private clarinet teacher online or in your area, and your teacher can help you learn and play well. That way, you can keep from developing bad habits that can make it harder to improve. Some bad habits you may develop include not covering the holes entirely or using the wrong type or strength of reed.
Of course, lessons can be expensive, but you don't have to take them every week. You can take lessons as you first start playing the clarinet, and you can teach yourself later or vice versa.
FAQs
Question: Is the clarinet easy to learn?
Answer: The clarinet can be easy to learn, but it can also be difficult. If you've played another instrument, especially another woodwind, you won't have to learn how to read the notes or how to blow.
But the clarinet takes a lot of air pressure, so it can be hard to get a good sound. I struggled with getting a sound, and it got even harder once I started learning some of the higher notes and the really low notes.
Question: Can you teach yourself the clarinet?
Answer: Like any instrument, you can learn the clarinet without someone else teaching you. However, you'll need to have quite a bit of discipline and/or motivation.
Set aside time to play at least a few times a week, if not every day. That way, you can make consistent progress and keep from losing what you learn.
Question: Is clarinet easier than sax?
Answer: This can be a hard question to answer because it depends on the player. Personally, I find the saxophone to be easier than the clarinet, but I learned the saxophone first.
If you learn the clarinet first, it may be an easier instrument for you. The clarinet can also be easier for smaller players because the saxophone is bigger.
Question: Is playing clarinet bad for your teeth?
Answer: Playing a lot of clarinet, particularly at first, may be bad for your teeth. When you play, you have to put a lot of pressure on your lower teeth to form an embouchure and support the clarinet.
But as long as you're careful, it shouldn't be a huge risk to your dental health. Don't be afraid to take breaks and listen to your body when you experience pain or tension in your teeth and jaw.
Question: Why is clarinet so hard?
Answer: Having to use a lot of air pressure can make the clarinet hard to play. It can also be hard to learn and memorize the fingerings because of the register change.
Instruments like the flute and saxophone have the same fingerings between two octaves. However, the clarinet shares the same fingerings across a 12th (an octave plus a 5th). For example, the C you've learned has almost the same fingering as a G.
Question: How expensive is a clarinet?
Answer: Some clarinets cost less than $100, but most of them aren't good quality. Good student clarinets start at about $200 for a new instrument and can exceed $1,000.
Professional clarinets can cost up to $9,000 on average, but some may cost less. If you decide to also learn the bass clarinet, you may need to spend $2,000 to $16,000 or more.
Question: Are wood clarinets better than plastic?
Answer: Wood clarinets are more common among professional and intermediate models, and they can offer a better sound. However, a good plastic clarinet can imitate the sound of a wooden instrument.
Plastic clarinets are also great for outdoor performances because the material is impervious to weather. If you played a wood clarinet in extreme heat or cold, the wood could crack and require an expensive repair.
Final Note On How To Play The Clarinet
Learning how to play the clarinet is exciting, but it can also be difficult. You need to get a good quality instrument and a few accessories to help you play. Then, you need to take it slowly as you learn some of the first notes. That way, you can make good progress and keep improving in the short and long term.
| Product Image | Primary Rating / Price | Primary Button |
| --- | --- | --- |
| | | |
| | | |
| | | |
| | | |
09/20/2023 07:19 pm GMT