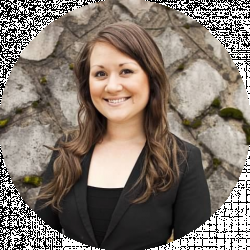 Latest posts by Lacey Jackson
(see all)
I didn't know about a double bell euphonium until I took a music history class. I thought the class would be really fun and a good break from my music theory teacher, who had just emigrated from Japan and would regularly, accidentally, write solfege in kanji. To be clear, it didn't make it any easier to understand, and she couldn't understand why the class was staring at her, confused.
So as I made my way out of her classroom, praying to every god that her new baby would be tone deaf as retribution, I prepared myself for a music history class that focused a lot more on folk music, tubas, and music around the turn of the century than I was prepared for.
Still, it was here that I learned about the double bell euphonium, and I'm very grateful for that because it is a fascinating instrument that went out of vogue for a while but is coming back.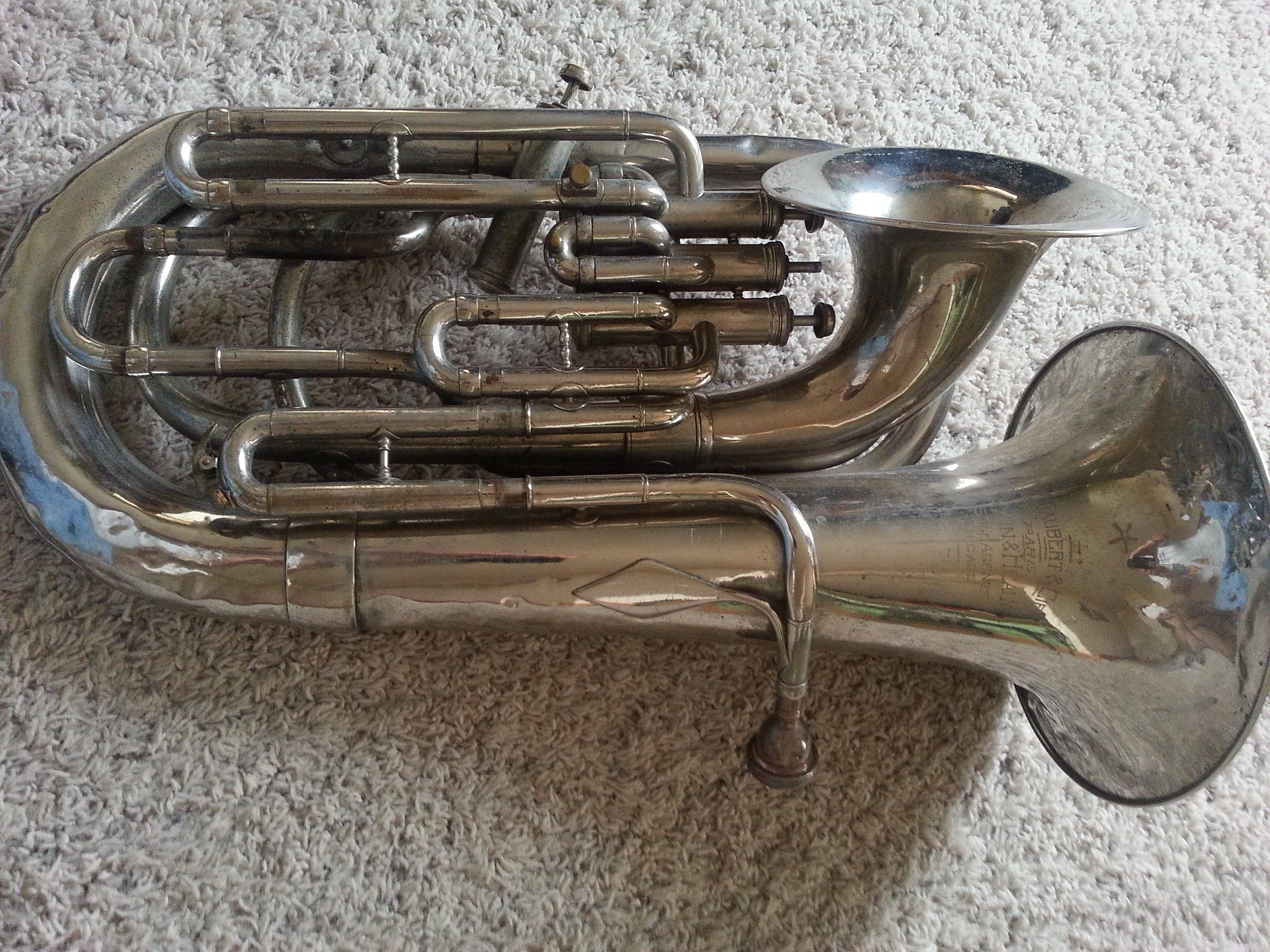 Bottomline Upfront
You won't find a lot of newly manufactured double bell euphoniums because they fell out of production by the 1960s. One British company, Wessex, is working on changing that, but their stock is currently sold out. So, I recommend finding a vintage Conn. Conn was one of the more reputable brands, and you can find vintage double bell euphoniums in good shape from a lot of third-party sellers.
Double Bell Euphonium
The double bell euphonium, sometimes called the duplex, was originally produced in the 1880s. It maintained its popularity from the 1890s through the 1920s, but people lost interest in it after the prohibition era. In fact, they stopped making the double bell euphonium in the 60s. It wasn't until recently that companies started producing them again, thanks to growing interest in the versatility and benefits of the instrument.
Simone Mantia composed a song just for this instrument, called "Priscilla." You can listen to it below:
You can find a lot of fascinating history (and some impropriety) involving the Double Bell euphonium, particularly from the Conn company. Conn made a lot of these euphoniums during the 1920s and 1930s.
There is one on display at the Met, which Julius Stenberg made at the Conn factory. It was a gift for his son, which makes the fact that it is covered in a collection of composer portraits, patriotic images, and nude women a little weird. I am still not sure what message he is sending to his son other than a link between music, patriotism, and virility (although I am sure most modern euphonium players would beg to differ about that last part, at least while they are still in high school).
Double Bell Euphonium vs. Regular Euphonium
As the name suggests, the double bell euphonium is very similar to a regular euphonium, but it has two bells. It also has four or five valves. You can use the valve to switch between the two bells.
Larger bell: This bell is responsible for producing the traditional mellow, warm sounds you get with a euphonium. It functions in much the same way as a standard euphonium.
Smaller bell: This bell gives you a brighter sound akin to a trombone.
So, with the double bell design, you can switch between two different sounds while playing the same song. Many people prefer the double bell euphonium because of the way the smaller bell produces a higher, brighter sound. This stands in beautiful contrast to the traditional tone of the larger bell.
Benefits of the Double Bell Euphonium
Given that you have two bells, you also can play a wider range of music, covering lower and higher notes that you wouldn't otherwise be able to achieve with a standard euphonium.
You can also change seamlessly between the two sounds, creating echo sound effects. With the two tones, you also have the option of creating a call and response effect.
Wessex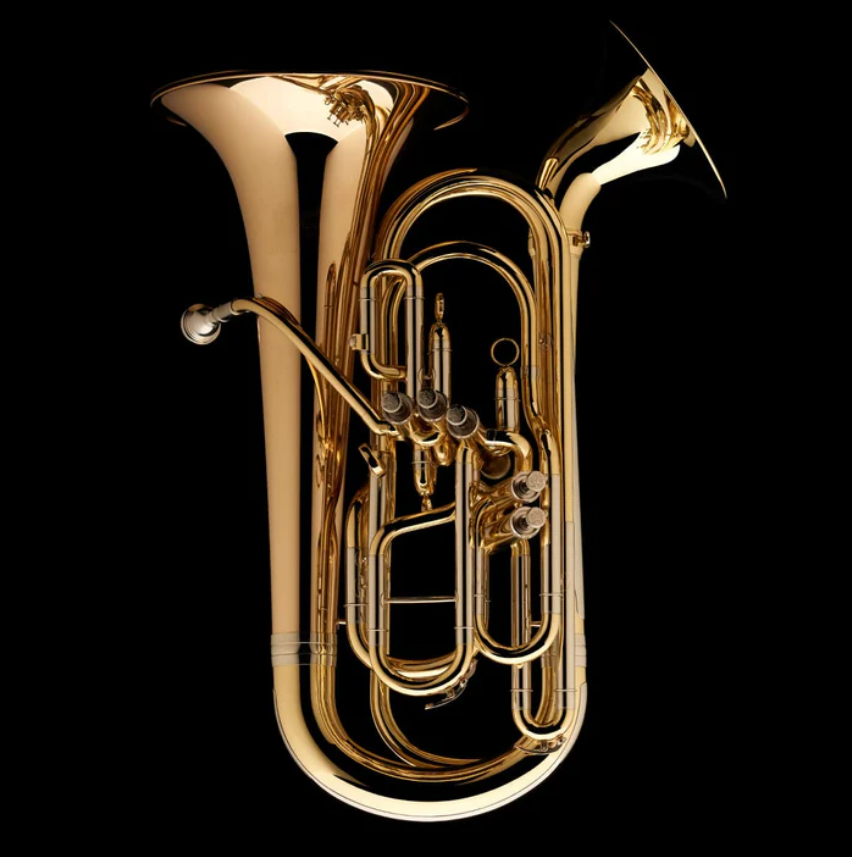 There really aren't any modern manufacturers of the double bell euphonium; however, one British company, Wessex, has recently taken up the call. They have a duplex, double bell euphonium. However, at present, both the silver plated and lacquered finish models are sold out because there are really no other names producing new duplex euphoniums.
You can, of course, sign up to be notified via email once they have a new shipment readily manufactured. These new models are only a few thousand dollars Which is less than you would pay for a vintage model on sites like eBay or Reverb.
Horn Hospital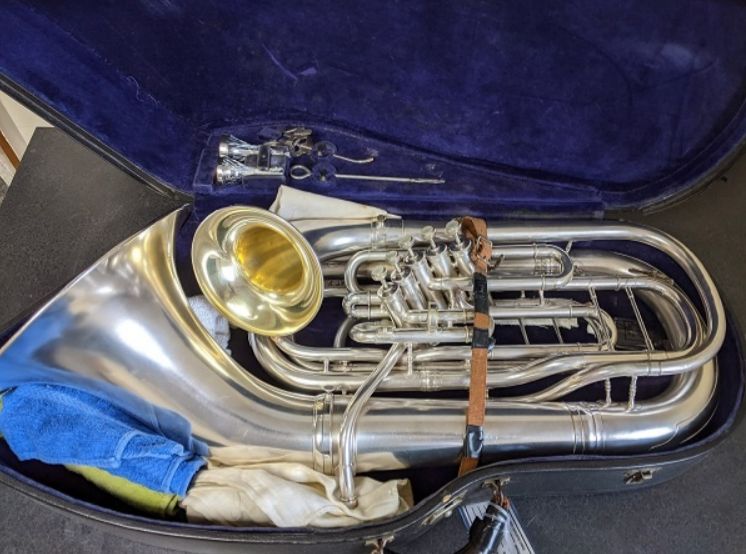 You can find vintage Conn Double Bell Euphoniums online in bright silver with a satin silver finish. This model comes with a hard case, valve oil, and two mouthpieces. It costs nearly five thousand dollars and is almost one hundred years old, but Conn is one of the best vintage producers for the double bell euphonium.
eBay
Unfortunately, because production was halted for a long time, it is very difficult to find new double bell euphoniums. As such, your best bet is to find used models from the turn of the century on sites like eBay.
eBay has a lot of used Conn models in excellent condition, as well as Holton and King. You can find them for as little as a few thousand dollars up to five thousand dollars depending on the condition of the horn.
Reverb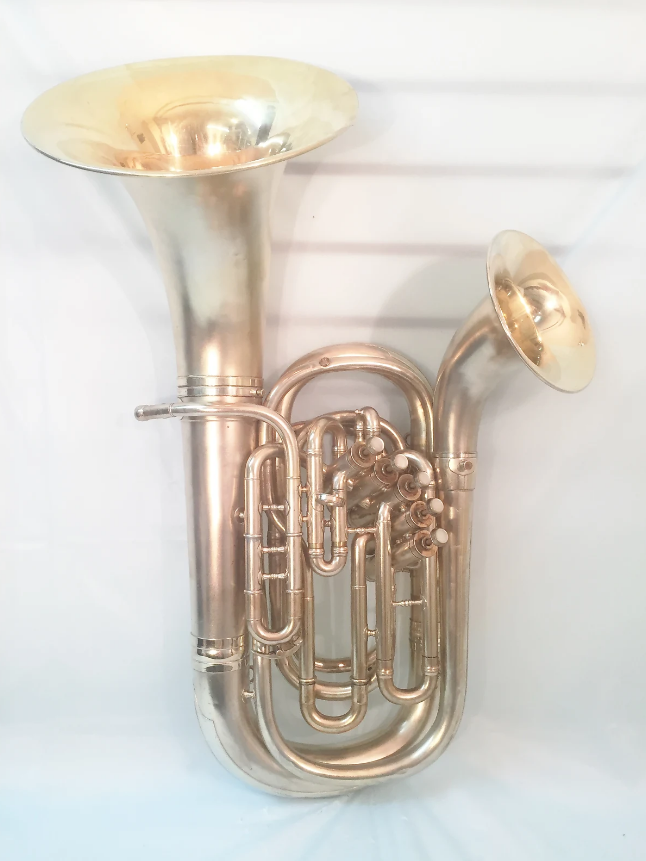 Reverb is a great site for used brass instruments, particularly vintage double bell euphoniums. Sometimes they don't come with a mouthpiece, and unfortunately, there might be minor signs of use that one would expect from a hundred-year-old instrument. That said, names like Conn, Holton, and King were top producers among brass instruments at the turn of the century, so finding a used model is a great investment.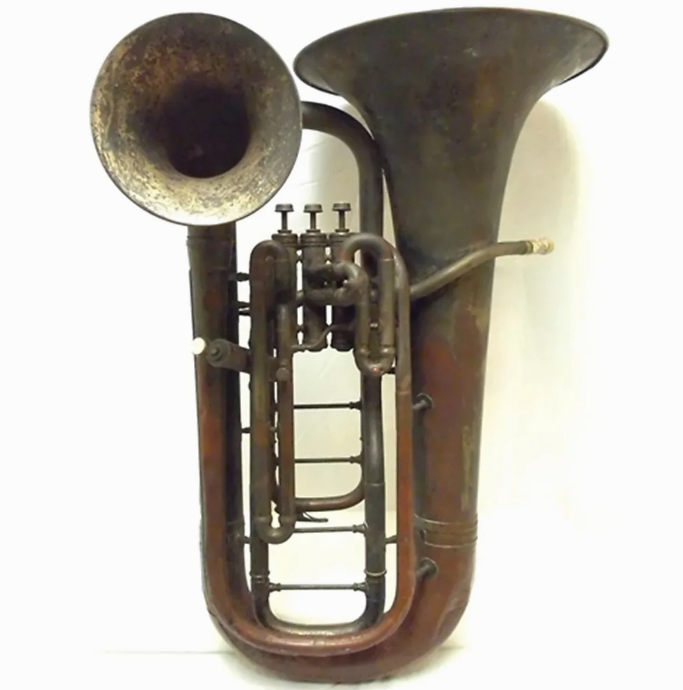 Double Bell Alternatives
Obviously, finding a double bell euphonium can be difficult, even if you are willing to spend the cash. Given that Wessex doesn't have any updates on when they are manufacturing more or when they might be available, your only alternative is to hope that there is a vintage model online that has been well-maintained.
If you aren't willing to wait, there are great double bell alternatives that you can master while you continue your search for a double bell option.
Traditional Euphoniums
First is a traditional euphonium. There are a lot of great manufacturers out there for regular euphoniums like Besson, Yamaha, and Blessing. No matter which of these manufacturers you choose, the traditional euphoniums they produce look almost exactly like a double bell euphonium save for the fact that they only have one bell.
I strongly recommend starting with a traditional euphonium if you don't already know how to play it because this will help you develop the fingering and embouchure you need whenever you find that perfect double bell online.
If you already play the euphonium, I still recommend upgrading to something like a Besson Prestige line because it will give you a higher-quality instrument with which you can practice until you find a double bell you can play on the side.
I happen to prefer Besson because they have been around for a long time, reliably producing brass instruments. Their company manufactures traditional euphoniums fit for beginners, intermediates, and professional performers. In fact, they are known for their International 767 model, which is the most popular and expensive model for advanced players.
Marching Euphoniums
Another alternative is a marching euphonium. If you go with a marching euphonium, you can play it while in a marching band. Traditionally the bell on a standard euphonium faces upward toward the ceiling, and the majority of the instrument rests in your lap while you are sitting. But if you are in a marching band, The bell faces out toward the audience, and it's a slightly smaller design so that you can carry it while standing and walking.
The fun thing about a marching euphonium is that the direction of the bell, compared to the direction of the bell on a traditional euphonium, both represent where the double bells face on a double bell euphonium. So if you take the time to practice with both instruments, it will help prepare you for the direction the bells face on a duplex.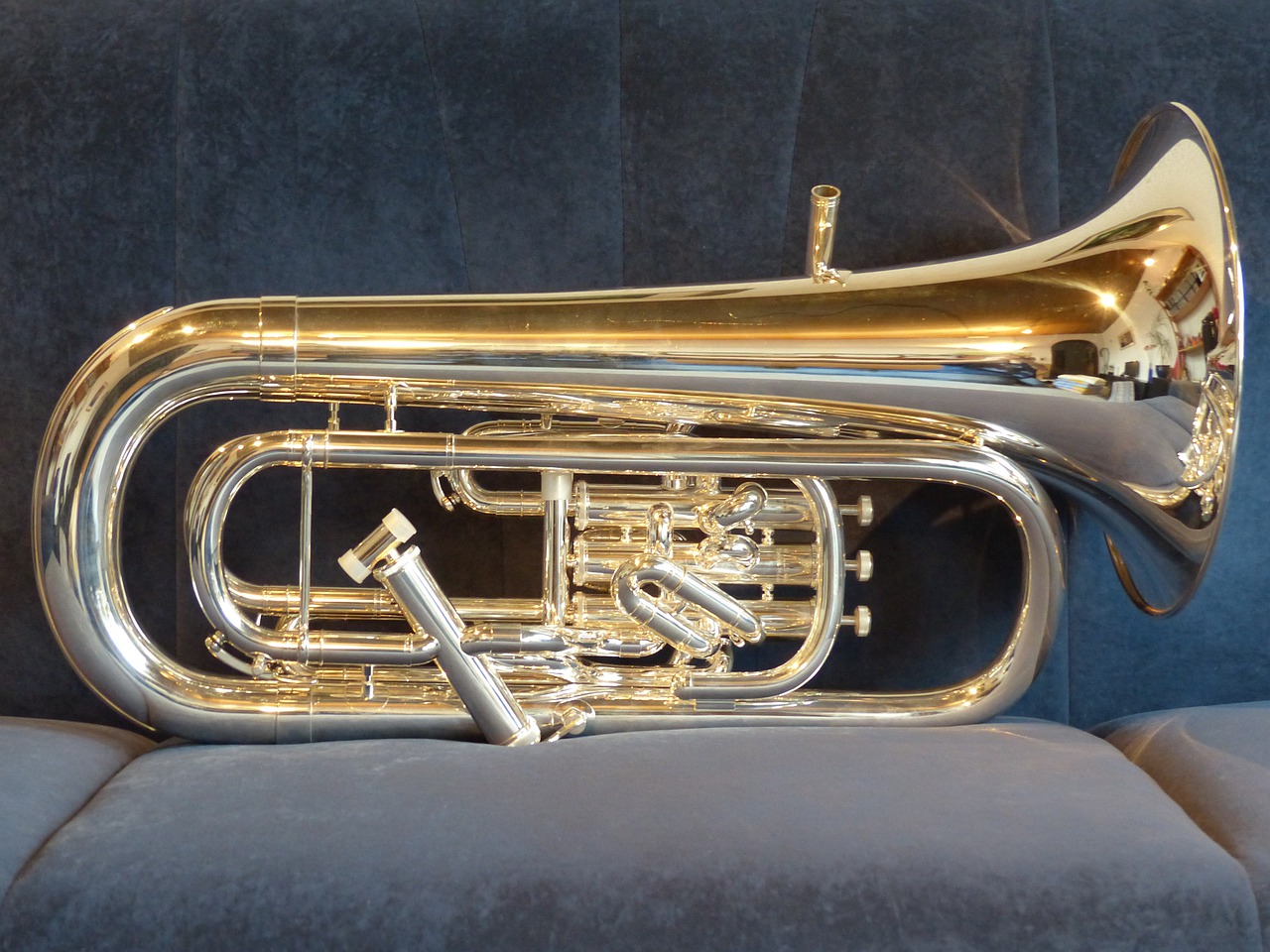 FAQ
Question: How many valves are on a double bell euphonium?
Answer: This depends on the model, but usually four or five.
Question: Who first made the double bell euphonium?
Answer: C.G. Conn made the first mass-produced double bell euphonium in America. Production from the company took place in Indiana and peaked from the 1890s through the 1920s.
Question: Can you play both bells at the same time?
Answer: No, you cannot. Each bell has a tuning slide loop, so you can't use them at the same time. The last valve is used to switch between the two.
Question: What does a double bell euphonium sound like?
Answer: The double barrel euphonium produces a mellow tone very similar to a regular euphonium through the large bell. But the smaller belt produces a brighter tone, very similar to a trombone or a baritone horn.
Question: Is the double bell euphonium a real instrument?
Answer: Yes. While some people view it as a novelty or a joke instrument, I assure you it is very real. It has a small following, though because it is not as popular today as it was at the turn of the century. Still, at that time, there were a handful of professional musicians who relied on the double bell euphonium as their primary or secondary instrument.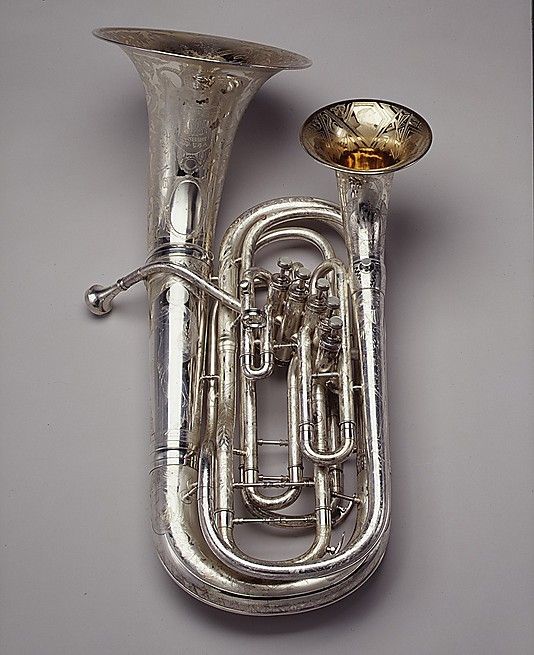 Bottomline
I recommend finding a vintage Conn. Conn was one of the more reputable brands, and their vintage instruments are widely available online from used dealers and third-party vendors. If they are well taken care of, expect to spend around four thousand dollars, but if that doesn't seem feasible, you can always wait for Wessex to produce a new one.
Looking for more interesting readings? Check out: