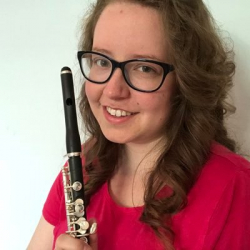 Latest posts by Hannah Haefele
(see all)
Did you just open your last reed? Before you buy another box of your current reeds, read a Vandoren clarinet reeds review and guide or two. Vandoren is one of the most well-known clarinet reed companies. But are their reeds right for you? If so, which type of reed should you get?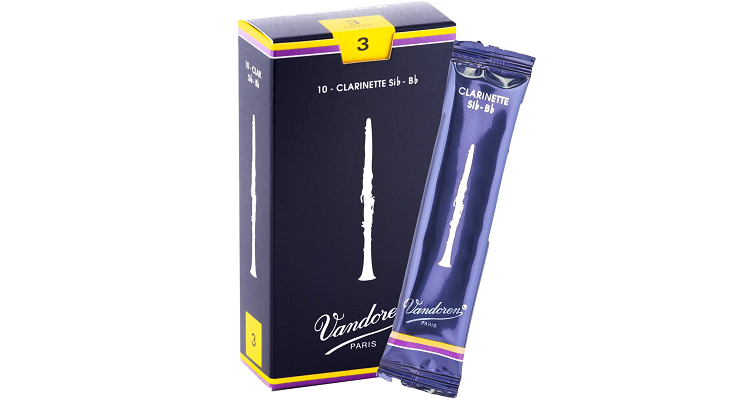 Vandoren Traditional reeds are the standard reeds from the company. They come in a nice, blue box, and each reed has its own packaging, so you can open them one at a time to maintain their freshness.
You can get a smooth response throughout the range of the clarinet, both from low to high and loud to soft. These reeds are also very flexible and let you play legato and staccato. Large intervals are easy to execute, so you can play almost any clarinet music you might encounter. The reeds offer a rich sound, so you can keep from sounding too squeaky.
Traditional reeds come in a variety of strengths, from 1 to 5 plus some strengths in between whole numbers. Like with other reeds, the stronger reeds offer more resistance and are better for experienced players. If you want to play the Eb clarinet, you can also use these reeds but you'll need the right size. The same is true if you want to play the bass clarinet and love these reeds on other clarinets.
Because of the variety of reeds, this lineup works for beginners, professionals, and everyone in between. If you don't like one strength, there are plenty more for you to try.
Pros
Variety of strengths and sizes
Great quality
Helps with your sound
Cons
Can be overwhelming for beginners to choose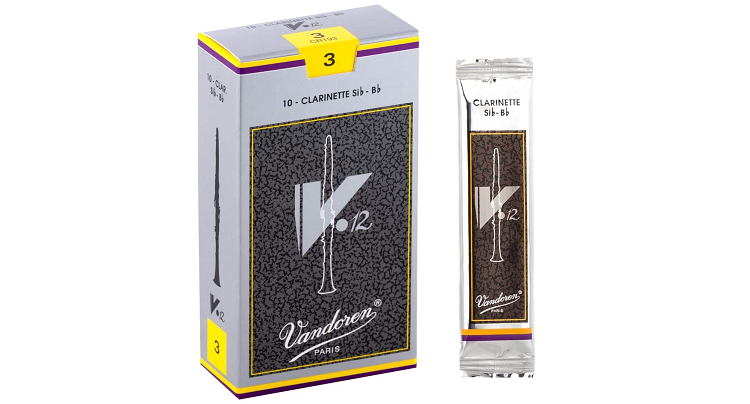 If you're tired of your reeds wearing out quickly, give the Vandoren V.12 reeds a try. They have a thicker tip to help them last longer, which can help you save time and money on getting new reeds. That thick tip also helps you produce a rich and deep sound and get nice attacks on your clarinet. Like the Traditional reeds, these come in individual seals to keep the reeds fresh until you're ready to play them.
You can purchase them in packs of 10 all the way up to packs of 50. That's super useful if you love the reeds but go through them quickly because you can keep from having to buy reeds as often. The design of the reed helps it vibrate more easily, which can help you get a good sound throughout the range. Vandoren uses the same cane for these reeds as alto saxophone reeds.
Since the cane is slightly bigger than clarinet reed cane, it can offer a bigger sound. If you can play the alto saxophone and want to learn the clarinet, these reeds might help. As with the other reeds, these are available in multiple strengths. However, the strengths only range from 2.5 to 5, with some half strengths. You can also get these reeds for your Eb clarinet or your bass clarinet.
Vandoren V.12 Reeds | Amazon
V.12 Bb Clarinet reeds are manufactured from cane tubes with the same diameter as cane used for alto saxophone reeds. As a result, they have a thicker heel and are cut on a longer palette with a slightly thicker tip than Traditional reeds.
Buy at Amazon
We earn a commission if you make a purchase, at no additional cost to you.
Pros
Variety of reeds available
Big, deep sound
Easy to play
Cons
Not as many strengths available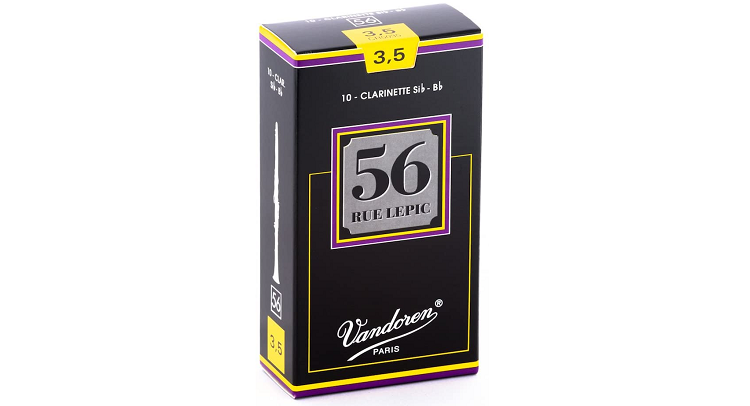 The Vandoren 56 Rue Lepic reeds use thick cane and a heel taper that gives them a similar design to German reeds. You can use the reeds to get a good, pure sound on your Bb clarinet. These reeds respond quickly, so you don't have to struggle to start playing. They're also very stable, and the small differences between strengths allow the reeds to be consistent.
If you want a better quality reed, you should consider using these. You can play them as a soloist or in an ensemble, and you can play them as a beginner or advanced player. That way, you don't have to look for new reeds when you outgrow your first set. Instead, you can get a box of stronger reeds from the same line.
Unfortunately, these reeds aren't as readily available for clarinets of other sizes, like the Eb or bass clarinet. Still, you can use these reeds on your Bb or A clarinet, so they're great for orchestral playing. The reeds come in strengths from 2.5 to 4.5, which is a decent range. But it's not as big of a range as other reeds from Vandoren or other brands.
Pros
Great quality
Easy to play
Good for Bb and A clarinets
Cons
Not available for Eb or bass clarinets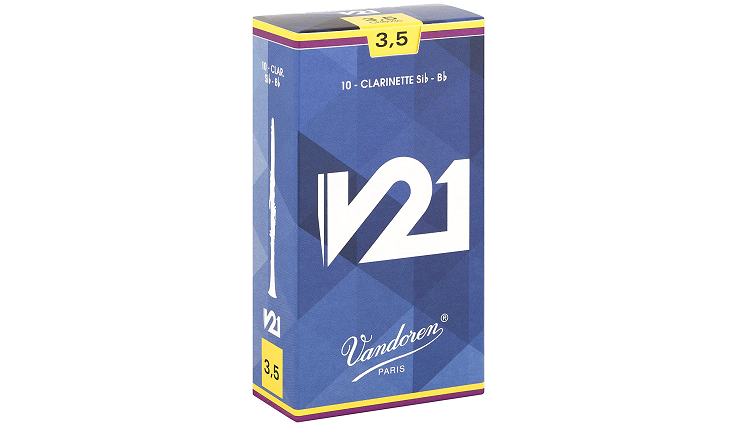 Another line of Vandoren reeds you should consider is the V21 reeds. If you can't choose between the V.12 and 56 Rue Lepic reeds, these are a nice compromise. These reeds feature the profile of the V.12, so you can get a nice full sound. You also get the same shape as you get on a 56 Rue Lepic reed, which can help improve your tone.
The V21 reeds are perfect for playing large leaps without sacrificing tone quality. Your clarinet will sound rich from the low register to the highest notes. Like other Vandoren reeds, these come in individual packages within a box. That way, your reeds can last longer since you only need to open them when you're ready to use them.
If you need versatile reeds, you can't go wrong with the V21 line. They come in various strengths, from 2.5 to 5, so you can get the right amount of resistance for your playing style. You can also choose the right size based on your clarinet. That way, you can use the same type of reeds on an Eb clarinet and a bass clarinet.
Vandoren V21 Reeds | Amazon
This unique combination makes all registers of the clarinet more accessible with warmth and a depth of sound. It will allow you to play with an amazing presence and immediate response.
Buy at Amazon
We earn a commission if you make a purchase, at no additional cost to you.
09/24/2023 07:40 am GMT
Pros
Versatile sound and feel
Easy to play
Works well on different clarinets
Cons
Not the best for beginners
Other Alternative to Consider
While Vandoren reeds are some of the best out there, they aren't your only options. If you find you don't like how they sound with your clarinet, you can test reeds from different brands.
Here are a few alternative brands you should look at when shopping for clarinet reeds.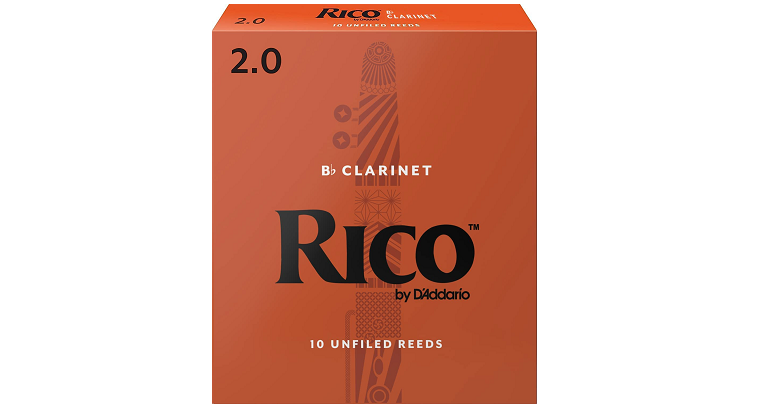 Rico reeds are great for all clarinets. They use a thin cane, which can make it easy for beginners to get a sound on the clarinet without much effort. Students who struggle to play Vandoren reeds may enjoy Rico. These reeds can be especially useful if you have a Rico mouthpiece, since there's a good chance the gear will work together.
Rico reeds are also a little more affordable, which is nice when you're on a budget. You can from strengths ranging from 1.5 to 4.0 so that you can get the right resistance for you.
Rico Bb Clarinet Reeds | Amazon
Featuring a thinner vamp and unfiled cut designed for ease of play and a traditional blank for a clear sound, Rico by D'Addario B♭ clarinet reeds are ideal for a wide array of playing situations.
Buy at Amazon
We earn a commission if you make a purchase, at no additional cost to you.
09/24/2023 07:29 pm GMT
Pros
Versatile
Affordable
Great for students
Cons
A little thin for some players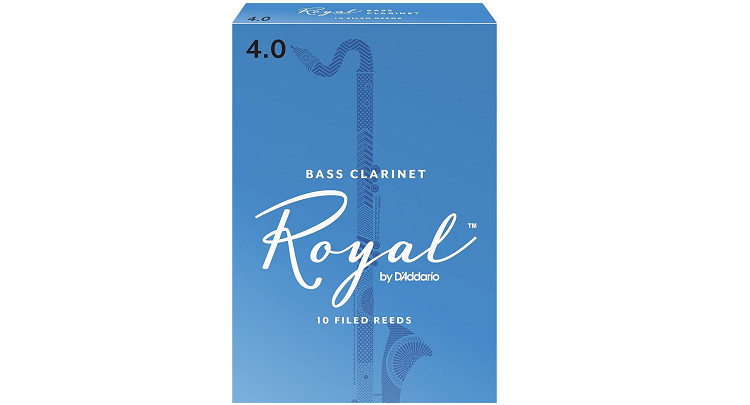 D'Addario Woodwinds reeds are some of the best you can get. The reeds are very similar to Rico, so they're a nice alternative if you can't get Rico reeds quickly. You can use these reeds to play both classical and jazz music, so you don't need to have different reeds for each genre. And if you like these reeds on your Bb clarinet, you can get them for your other clarinets and saxophones.
The reeds are perfect for beginners, and they come in various strengths. So if you have playing experience and want more resistance, you can go up to a 4.
D'Addario Woodwinds Clarinet Reeds | Amazon
A favorite among beginners and advancing players, Royal reeds are the next step in refining your sound. Filed and featuring a thinner profile, they're revered by players and educators worldwide for their ease of response and clarity of sound.
Buy at Amazon
We earn a commission if you make a purchase, at no additional cost to you.
09/24/2023 08:40 am GMT
Pros
Great for beginners
Easy to use
Versatile
Cons
Not the best for professionals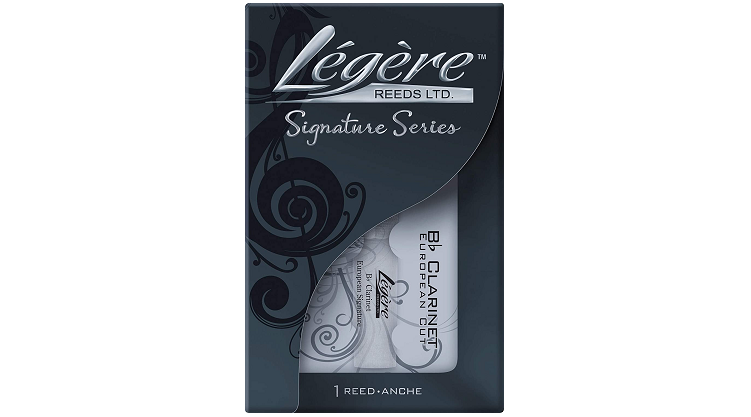 If you don't want to deal with the unpredictability of cane, consider trying Legere reeds. They're synthetic reeds that sound similar to regular cane reeds. However, you don't have to worry about them drying out or having other issues. When you buy a synthetic reed, it will work, while some cane reeds will need adjustments.
Unfortunately, these reeds are more expensive than cane reeds. If you have the money, though, you may find these reeds last longer.
Legere Clarinet Reeds | Amazon
The European cut signature Series for soprano is the next advancement in synthetic reed development. The reed is characterized by a slightly shorter and wider vamp that is comfortable in the embouchure.
Buy at Amazon
We earn a commission if you make a purchase, at no additional cost to you.
09/25/2023 01:34 am GMT
Pros
Durable
No adjustments
Last longer
Cons
How To Choose The Right Vandoren Clarinet Reed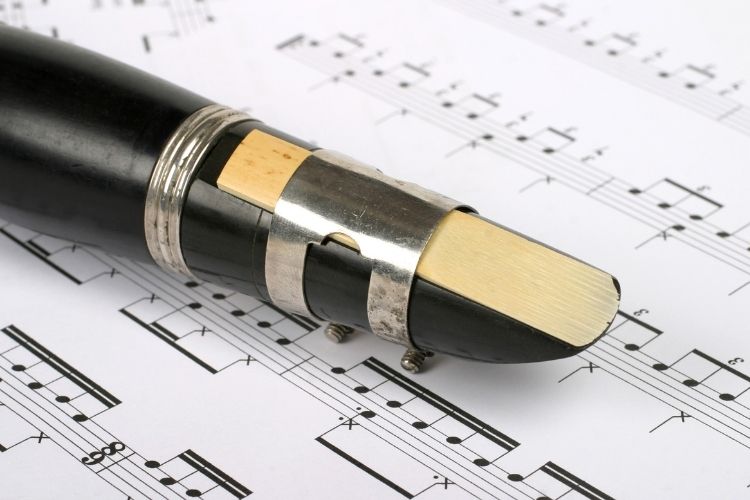 Whether you're a beginner or a professional, you need to know how to select clarinet reeds. If you narrow your search to Vandoren reeds and ignore other brands, you still have plenty of choices to make. And it doesn't help that what works for your clarinet teacher or another player might not work for you. Just like the clarinet itself, reeds are very personal.
Sadly, you can't try reeds before buying them, so each box will be a risk. However, you can consider a few factors to minimize the risk each time you shop for reeds.
The Instrument
One of the easiest ways to narrow your search is to consider the type of clarinet that you need reeds for. You can find reeds for the Bb clarinet as well as the Eb and bass clarinets, as well as other sizes. However, reeds that work on one size won't work on another, with the exception of the Bb and A clarinets. So if you need reeds for your Bb clarinet and bass clarinet, you'll need separate reeds.
Be sure to check the size of clarinet that reeds will work with before buying. That way, you won't waste your money on something you can't use.
You may also want to consider if you use a Vandoren mouthpiece or one from another brand. Vandoren reeds can work with any clarinet setup. But you may find that Rico reeds are better if you play on a Rico clarinet mouthpiece.
The Music
Another factor to think about is the music you play, both in terms of the genre and the group size. As you experiment with Vandoren reeds, you might find that one suits your playing better in an orchestra, for example. A different type or strength of reed might work better when you play in a jazz band or as a soloist. Fortunately, you can collect different types of reeds and use them when they work the best.
Take the 56 Rue Lepic reeds, which are stable and consistent and offer a quick response. That can be necessary when playing in an orchestra because you sit towards the back, and your sound needs to reach the audience fast. On the other hand, you may be able to use a softer reed or one with a different response when playing alone. Then, you can get the best tone quality to help you sound great.
The Strength
Reed strength doesn't matter as much when you reach an intermediate or advanced level. However, it can make or break your playing when you're a beginner. When you first start playing the clarinet, you should get softer reeds since they aren't as resistant. Then, you'll be able to get a sound without having to force your air too much.
As you get more experience, though, you might need more resistance to get a good sound. At that point, you can get the same type of reed but in a higher strength. You may also want to experiment with different types of clarinet reeds. Then, you'll find the type and strength that best meets your needs.
The Quality
Unfortunately, you may not get a full box of reeds that work well. Some reeds may play well right out of the box, while others will take some adjusting. Vandoren is one of the best clarinet reed brands out there, so the overall quality is better than some brands. However, you still have to deal with less-than-perfect reeds.
If you want to make the most of your reeds, consider getting a reed knife. Then, you'll be able to shave off bits of the reed to increase the quality. As a beginner, you can hold off on getting a reed knife. Instead, take your reeds to a clarinet teacher or technician, and they should be able to make your reeds sing.
FAQs
Question: Are Vandoren Reeds the Best?
Answer: Vandoren reeds are the best for some clarinet players but not for everyone. You need to consider the sound you want and choose reeds that will make that happen.
In some cases, that can mean getting a different type of reed from Vandoren. But in other cases, you may need to experiment with reeds from Rico or D'Addario to find one that works well for you.
Question: How Many Reeds Should You Have?
Answer: You should have about three to five reeds at a time, if not more. Having multiple reeds ready to go means you don't have to worry about your one reed breaking or not working during a performance.
Fortunately, Vandoren makes it easy to buy a bunch of reeds and only use a few at a time. When a reed wears out, you can grab your box of reeds and take one out of the box and its freshness seal.
Question: How Long do Clarinet Reeds Last?
Answer: Beginners may be able to use the same clarinet reed for up to six months. Intermediate and advanced players who don't practice that much may also get reeds to last that long.
However, serious players who practice and perform for hours a day may only get reeds to last a month. In some cases, a reed might only last a couple of weeks.
Question: How Much do Reeds Cost?
Answer: A box of 10 reeds usually costs around $25 to $40, depending on the strength, brand, and clarinet size the reeds are for. While that does add up over time, it's worth it to spend a bit more on good reeds.
That way, you'll get a better sound from your clarinet. As a beginner, getting a good sound is already hard, and you need everything you can get to help.
Question: Why are Reeds so Expensive?
Answer: Reeds are expensive because they require a lot of materials. They come from Arundo donax cane, and the reed-making process involves a lot more cane than what you get with the final result.
You can also expect to spend money to cover the time it takes to make the reed. Luckily, clarinet reeds aren't as expensive as oboe or bassoon reeds, which can cost as much as $20 for a single reed.
Question: What if You Don't Like a Reed?
Answer: The more reeds you test as a clarinet player, the greater the odds are that you'll play one you don't like. Before throwing the entire box out, try the other ones in there, and you might like the other ones.
If that doesn't work, you can look for reeds from the same brand but in a different strength. With Vandoren, you might also try a different line, such as the V.12. Finally, you might need to try another reed brand.
Question: Do You Need to Use a Vandoren Mouthpiece to Use Their Reeds?
Answer: You should use the mouthpiece and reed combination that works the best for you. For some players, that means using the same brand for reeds and mouthpieces.
But other players may get just as good of a sound when they mix and match the brands. If you play a mouthpiece from a different company, give Vandoren reeds a try before writing them off.
Final Note On The Vandoren Clarinet Reeds Review And Guide
When looking for your next box of reeds, be sure to consider a Vandoren clarinet reeds review and guide. Then, you can determine if Vandoren reeds are the right fit for you and your playing. Be sure to try the Traditional, V.12, 56 Rue Lepic, and V21 reeds on your Bb clarinet. The more you try, the greater your chance will be of finding reeds that work well.