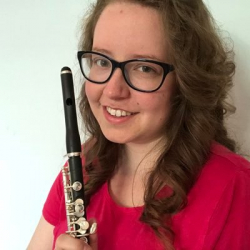 Latest posts by Hannah Haefele
(see all)
Do you want to play in a jazz band? Are you looking to buy a new tenor or switch from the alto sax? Consider how to find the best tenor saxophone within your budget and that suits your needs. Whether you want to pursue music as a career or for fun, you should have the best instrument you can get. That way, you can play it for years to come.
What Is The Tenor Saxophone?
The tenor saxophone is a member of the saxophone family, and it sits between the alto saxophone and baritone saxophone. Along with the alto, the tenor sax is one of the most common saxophones.
It's in the key of B flat, and it sounds a major ninth (an octave and a second) below the written notes. Like other saxophones, the written tenor saxophone range is the B flat below middle C to the F or F sharp an octave above the treble clef.
The tenor saxophone is common in jazz music, but you can also play it in classical music, such as in a concert band. You can play the instrument as a soloist as well as in a group.
How To Find The Best Tenor Saxophone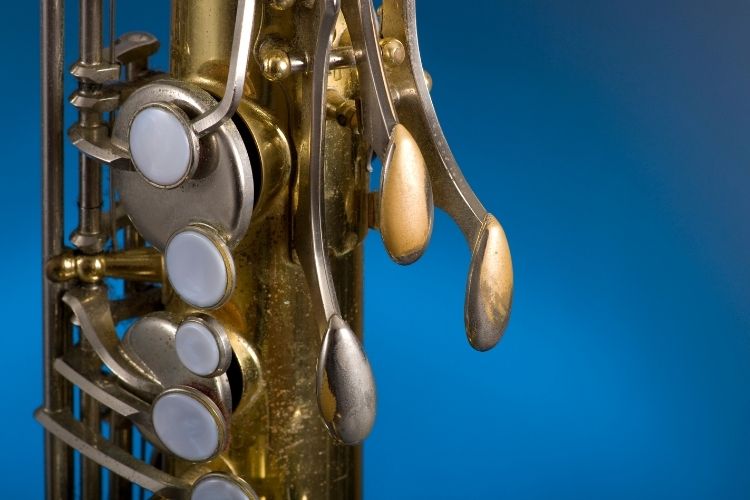 Whether this is your first saxophone or you're looking to upgrade, knowing how to find the best tenor saxophone will help you learn the basics and make progress. You don't need to spend a ton of money on a good instrument. But you should consider a few factors to help find the best saxophone for you. That way, you can enjoy playing and learning new music.
Consider The Specs
Many tenor saxophones have basic specs that cover the range of the instrument, such as a brass body and comfortable table keys for your left-hand pinky. But you can find tenors with a high F sharp key that makes it easier to play a half step above the normal range.
If you want or need to play higher notes, it can help to look for a tenor sax model with that extra key. While you can play the note without it, doing so takes a lot of practice.
Another spec to consider is the metal and lacquer of the body. Along with brass, you can find nickel or silver saxophones. Many saxophones feature a clear lacquer, but you can also find saxes with copper, bronze, gold, and silver lacquers.
Compare Levels
Next, think about the level of tenor saxophone you want to buy. You can find intermediate and professional level horns, and they tend to have more specs and customizations than beginner instruments.
But more advanced models can also be more expensive, so they aren't the best if you're new to the saxophone. You may want to start on something more affordable as you learn. Beginner models are also usually easier for new players.
While there aren't a ton of beginner tenor saxophones, you can learn on an intermediate model. And if you've played the alto saxophone before, learning the tenor on a more advanced instrument shouldn't be too hard.
Determine Your Budget
As you consider the specs and level of the instrument to get, you can set a realistic budget. Many tenor saxophones cost between $1,000 and $5,000, though there are some exceptions. On the other hand, if you have a strict budget, you can use that to decide on the level of specs to get. If you don't have much money, but don't want to compromise on an instrument, consider looking for a used model.
Renting may also be an option if you want a beginner tenor saxophone. Some music stores offer rental programs, and you may even be able to buy the instrument after making enough monthly rental payments.
Try Them Out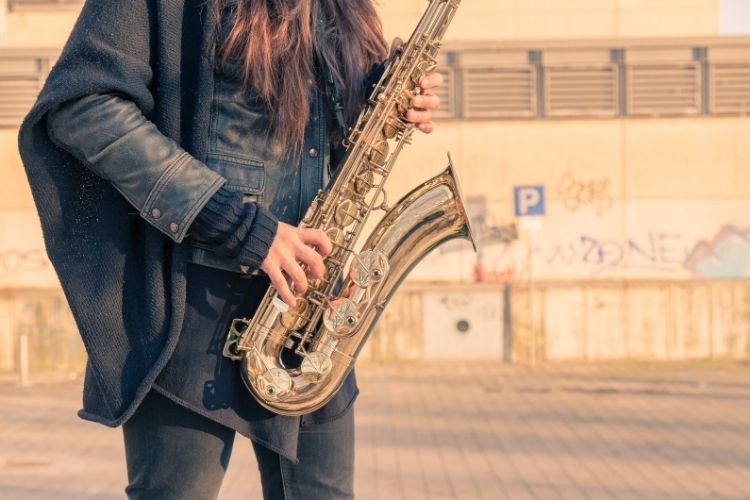 After you choose a budget and figure out what kind of tenor saxophone you want, you should try a few. You may be able to try a tenor saxophone and decide that it's the best one for you.
If so, you should still try a couple more instruments to compare them. That way, you can get an idea of ​​what you like or don't like in a tenor sax. Testing instruments can also help you figure out how the tenor sax feels and sounds.
Visit the music store where you can try out different saxophones in one session. Or find a music store that will ship trials to your home so that you can compare a few models over a week or so.
Use Your Current Mouthpiece
If you already play the tenor saxophone, use the mouthpiece and ligature you already own to test each horn. While they may not have a huge effect, you want to make sure you like the instrument and not the mouthpiece it comes with.
When switching from the alto to the tenor saxophone, see if you can find the same mouthpiece, ligature, and reed for the tenor that you use on your alto. The test won't be quite the same, but you can help control for any differences in the sound.
If you haven't played any saxophone before, you can use the setup that comes with each instrument. Then, you won't have to buy another mouthpiece or ligature.
Wear A Comfortable Neck Strap
Another great way to make trying saxophones easier and more consistent is to find a good quality neck strap. The neck strap will help support the weight of the tenor saxophone, and it can help you focus more on playing than on positioning.
Most neck-straps are compatible with different tenor saxophones, and you can find straps in different sizes and thicknesses. That way, the strap you use works well for you as you test out multiple instruments.
Compare And Contrast
Set up a trial with as many tenor saxophones in your budget as you can. If you currently play the tenor sax, bring your instrument as well to compare it to the new ones you try. Find some music and exercises to use on each tenor sax. Like with the physical setup, you want to keep the music the same so that you can really decide which tenor saxophone you like the most.
Use the same exercises and pieces to play the different horns. Have a notebook or your phone on hand to take notes about how each instrument feels and sounds.
Test The Low And High Notes
When selecting the music to use the test material, make sure you have something to cover the lower and higher notes. That way, you can figure out how easy or hard those notes are to play. Similarly, find something slow and lyrical to play so you can test the tone. You should also find something more technical to get a feel for the mechanism.
Suppose you like to play both jazz and classical, test pieces in each genre. Then, you can see how the instrument performs when playing the different styles.
Use A Tuner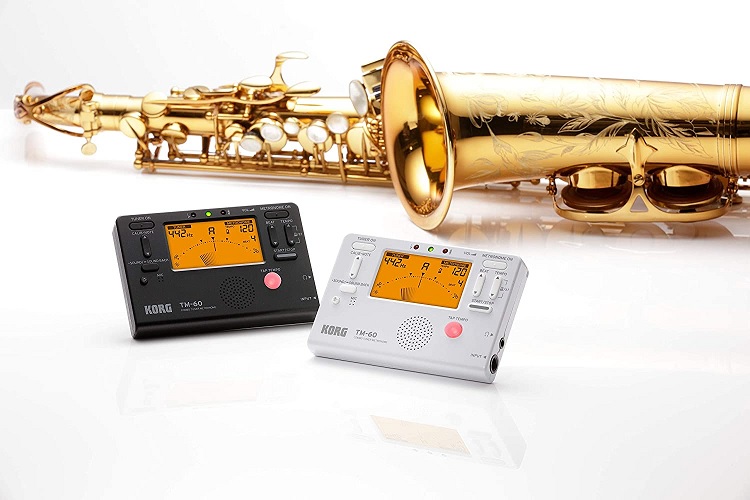 Make sure you bring a tuner to your trial session so you can check the instrument's intonation. You can use a physical tuner or tuner app on your smartphone. Either way, the device should be able to tell you if your instrument is in tune.
If not, you need to figure out why move on to a different saxophone. Even if everything else is perfect, you shouldn't get a tenor saxophone that won't stay in tune.
When that happens, you'll have to work harder to sound good when playing with other musicians. Sometimes, you may be able to adjust the mouthpiece to tune the saxophone, but other times, it may not be the right instrument for you.
Take Breaks
It can be tempting to go to the music store and spend all day playing tenor saxophones. But you should listen to your body and know when you need to take a break.
If you record yourself during the trial, you can use your break to listen back and help decide which sax to buy. You can also use the break to look at tenor sax accessories or talk to a sales associate about paying for a new instrument.
Whatever you do, you should take breaks. That way, you won't burn yourself out and cause pain or discomfort before you even start to learn how to play the tenor sax .
Ask Someone To Listen
When you try a bunch of tenor saxophones, you may find it hard to choose between them. At some point, the sounds can blur together, so you might want to ask another person for their opinions.
Ideally, you would ask another saxophone player to listen to you try instruments. If you don't know another sax player, you can ask a musician you know, and they can listen from close up and far away and give more specific feedback.
Then, you can get a better idea of ​​how the instrument sounds to you and others. When you narrow your search down to two tenor saxes, having that second opinion may help you choose one.
The Best Tenor Saxophones
Knowing how to find the best tenor saxophone is one thing, but you should also consider what saxophones are good. You can find a ton of tenor saxophones online, but they aren't always of the best quality.
From Selmer to Yamaha, you can look at a few brands to find the best tenor saxophone for you. Then, you can compare them during a trial.
Here are a few tenor saxes to shop for, whether you want to buy your first tenor or your fifth.
Selmer Tenor Saxophone TS711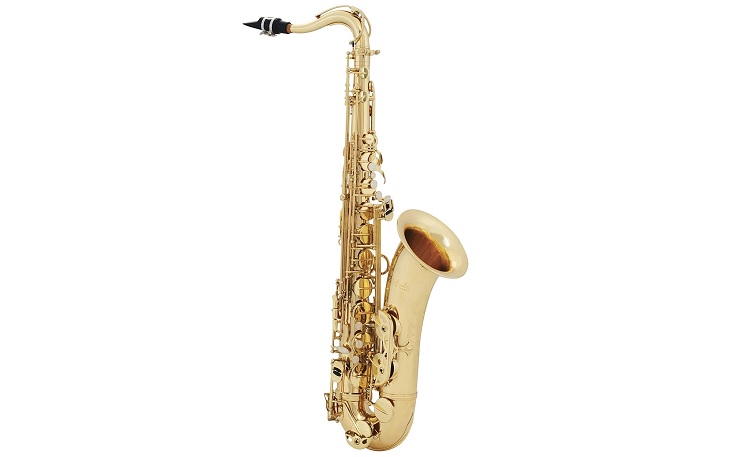 The Selmer Tenor Saxophone model TS711 has a yellow brass body with ribbed construction. It also features a reinforced connection from the body to the bow that makes the instrument more durable and strong. This model has a high F sharp key, and it comes with a mouthpiece, ligature, and cap. A dark lacquer makes the saxophone look unique and has a good sound.
It's easy to move your left pinky between the different keys, and the model is affordable. Beginners can learn on this model, and players with some experience can enjoy it as well.
Pros
Durable

Affordable

great design
Cons
Yamaha YTS-480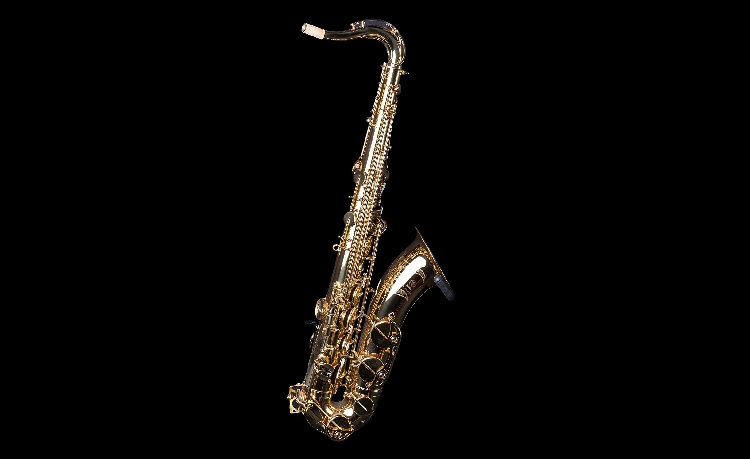 Another excellent tenor sax to try is the Yamaha YTS-480 .The saxophone is an intermediate model, so it's suitable for advancing students and players. It offers a quick response and a warm sound, so it's great for jazz and classical music. This model has a keyguard to protect parts of the instrument, and you can switch out the neck to change the sound.
You can easily move your left pinky between the different keys, so playing lower notes is straightforward. And the lightweight design makes the instrument easy to hold and play for long practice sessions and performances.
Pros
great sound

Easy to upgrade

Comfortable
Cons
Yamaha YTS-82Z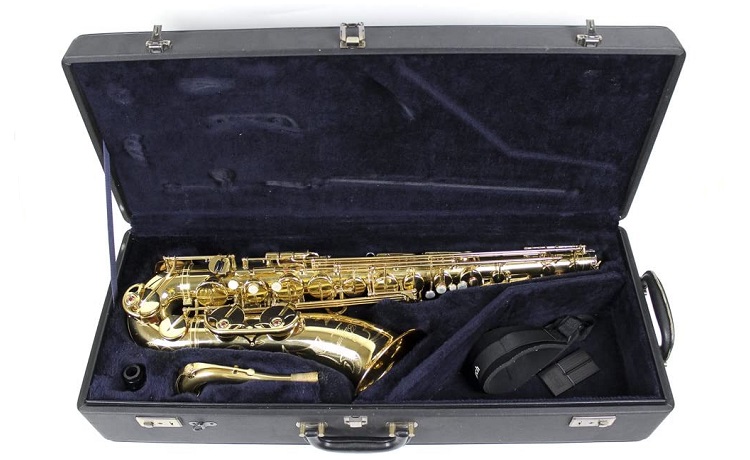 Yamaha is one of the best tenor saxophone brands, and their YTS-82Z is perfect for advanced players and professionals. It's a custom tenor sax with a unique brass alloy to help with tone and response. The sax has good key leverages, which helps the keys move quickly so that you can play fast. There's also the rib construction, and it can help your tone, response, and strength.
You get a hard rubber mouthpiece with the saxophone, so you don't need to own one. But you can keep your current mouthpiece if you want to switch up the sound.
Pros
great features

Comes with a mouthpiece

good response
Cons
Crampon 400 Series Buffet
The Buffet Crampon 400 Series tenor sax is a professional instrument with a brass matte finish. This model features Pisoni pads and metal resonators, which help produce a great sound. It has double arms on the keys that produce low C, B, and B flat, making those notes feel and sound good. And you won't have to worry about those notes not speaking properly.
There's ribbed construction on the body, and it comes with a mouthpiece, neck strap, and some cleaning and storage accessories. It's a great choice for players with some experience but not a ton of money.
Pros
unique look and sound

sturdy design

great pads
Cons
Jean Paul USA TS-400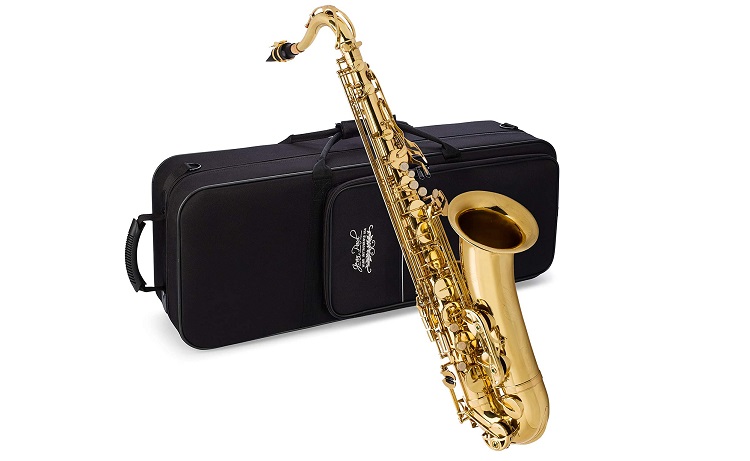 If you're on a tight budget but want to play the tenor saxophone, consider the Jean Paul USA TS-400 .The intermediate model comes with a brass body and a lacquer finish, so it's durable and looks good.
You can use the instrument as a beginner or advancing player, and it can play well solo or in groups. This model comes with a sturdy case for storage and transportation, and you even get a reed to use when you first start to play it.
While it's not as popular of a model as the others, it's a fantastic alternative. You don't need to spend a ton of money on the instrument, but you can still get a good sound.
Pros
versatile

great value

Durable
Cons
FAQs
Question: What is The Best Tenor Saxophone to Buy?
Answer: The best tenor saxophone to buy can depend on your current playing level. You need an instrument that has a good response and enough resistance to help you get a good sound.
If you're looking for a brand to start with, you can't go wrong with Yamaha. They make all kinds of saxophones at different levels, and the tenor range is suitable for beginners and professionals alike.
Question: How Much Does a Tenor Saxophone Cost?
Answer: Some tenor saxophones cost less than $1,000, like the Jean Paul USA model. However, you can find some tenor saxophones that cost over $6,000, like the Yamaha custom model.
The price you can expect to pay will vary based on the level and specs you want. Luckily, you can save money by buying a used tenor saxophone, no matter what level of instrument you want.
Question: What is the Tone Quality of the Tenor Saxophone?
Answer: The tenor saxophone has a deep and mellow sound. It's quite a bit richer than the alto or soprano sax, but it's not quite as deep as the baritone.
You can adjust the tone quality by choosing a saxophone with a different lacquer or by swapping out the neck or mouthpiece. Then, you don't need to buy a whole new horn to improve your playing.
Question: Is the Tenor Saxophone Easier Than the Alto?
Answer: If you've played the saxophone before, you may have played the alto. When learning the tenor, you can use a lot of the same skills, but that doesn't make it easier.
Someone who learns the tenor saxophone before the alto may struggle at first to use enough air. Once you get the hang of the tenor sax, you may find that it's not much harder than the alto.
Question: Should You Start on the Tenor or Alto saxophone?
Answer: Before you first learn to play the sax, you have to decide if you want to start on the alto or tenor. The alto sax is typically better for kids and anyone else with a small frame because the alto weighs less and is easier to hold.
However, the tenor saxophone is a great instrument to start on when you're big enough. If you know you want to focus on jazz music, playing tenor right off the bat can save you a lot of time since you can learn more jazz music and solos on it.
Question: Can You Teach Yourself the Tenor Sax?
Answer: Yes, you can teach yourself how to play the tenor saxophone. Learning on your own will be easier if you've already played the alto sax or another instrument because you'll know some of the basics.
But teaching yourself the tenor sax as your first instrument is possible. As long as you have the discipline and motivation to learn, you can play the tenor.
Question: What Genres Can You Play on Tenor Sax?
Answer: The tenor sax is more common in jazz than in classical music, but you can play both. If you want to play classical, you might need to find some arrangements and transcriptions of famous works because there aren't a ton of saxophone pieces.
You may also be able to play the tenor sax in rock and pop music. Like in jazz, the tenor sax is great for playing solos or adding some color to an ensemble.
Question: Can You Play Tenor and Alto Sax?
Answer: Answer: A lot of saxophone players can play multiple sizes within the family, and the alto and tenor are the most common. No matter which one you learn first, you can learn the other.
Then, you can play on both saxes, so you can expose yourself to more music. If you want to pursue the saxophone at the professional level, playing both is almost a necessity.
Question: How do You Switch From the Alto to the Tenor Saxophone?
Answer: If you first learn the alto and want to learn the tenor, you don't have to learn a new set of fingerings. But you will need to find the best tenor saxophone for you.
You'll also need to get a new mouthpiece, ligature, and reeds. Give yourself time to get used to the bigger instrument, and try not to give up before you can make a good, consistent sound.
Final Note On How To Find The Best Tenor Saxophone
When you decide to play the tenor sax, you have to go instrument shopping. But before that happens, you need to learn how to find the best tenor saxophone to help you learn and enjoy playing it.
Then, you'll be able to grow and improve, and you won't have to worry about wasting money on an expensive sax. And you won't have to waste money on a bad-quality instrument either.