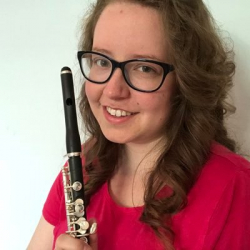 Latest posts by Hannah Haefele
(see all)
Imagine you're taking a trip but don't want to stop practicing the trumpet. Unfortunately, you have to check your instrument, and it gets knocked around and needs repairs. So you decide to look for the best pocket trumpets for your next trip.
Then, you won't have to put the trumpet below the plane. Instead, you can make sure no one throws it around, and you can keep practicing like normal.
Pocket Trumpet Guide: How It Compares
When looking for the best pocket trumpets, make sure you're buying the right type of trumpet. Fortunately, it's easy to distinguish the pocket trumpet from the standard B flat trumpet.
The pocket trumpet has more compact tubing, so it's shorter and weighs slightly less. But it can look very similar to the piccolo trumpet, which is another small brass instrument.
Piccolo trumpets play an octave higher than the regular trumpet. However, the pocket trumpet plays the same notes as the regular trumpet, despite the difference in size.
How To Choose A Pocket Trumpet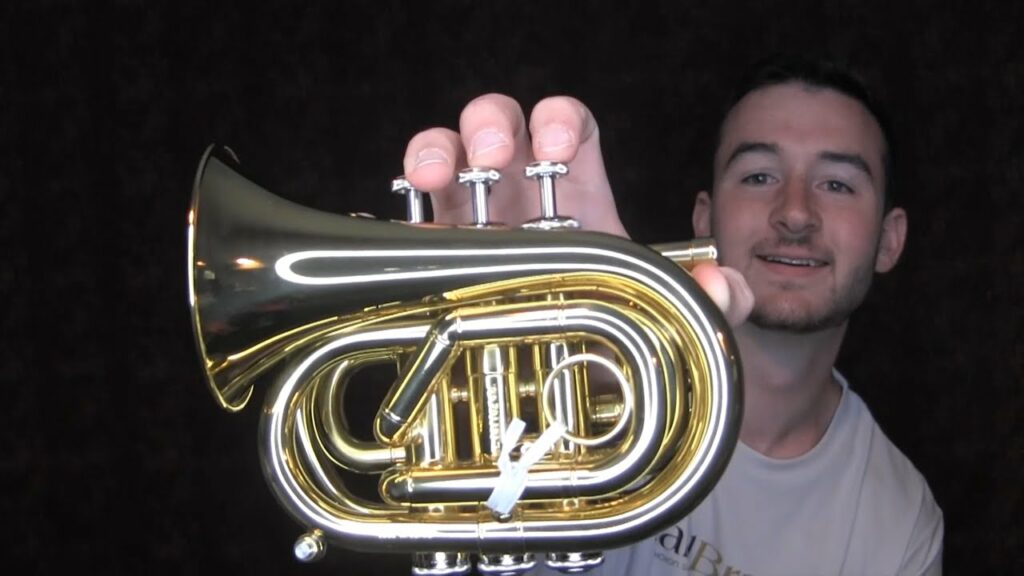 After you determine that the instrument you're looking at is a pocket trumpet, you need to consider if it's the best pocket trumpet for you. Some pocket trumpets have different materials or other features that make them easier or harder to play.
And like any instrument, your choice is subjective. The best pocket trumpets for you might not work well with another player.
Whether you want to try instruments in person or with an online trial, keep the following in mind.
Know Why You Want It
Some of the best reasons for buying a pocket trumpet include:
Practicing while traveling
Teaching young kids
Reducing the instrument's weight
The reason why you want a pocket trumpet should affect the model you buy. For example, a young child should have a beginner model since they probably haven't played the trumpet before.
If you plan to practice while traveling, you may want a pocket trumpet with a similar sound quality to your trumpet. That way, you won't have to adjust as much when switching instruments.
Think about if you want to play the pocket trumpet occasionally or if you want to take it more seriously. A serious player might want a more advanced model than someone who wants to play for fun.
Compare Materials
Like the standard trumpet, the pocket trumpet comes in a variety of materials, such as:
Brass
Silver
Gold
Nickel
Stainless steel
The material can have an effect on the instrument's sound. For example, a gold pocket trumpet can sound warm and mellow, while brass will give it the traditional brassy sound of a trumpet.
If you can try pocket trumpets made of different materials, you can decide which sound you like best. While brass is common, it isn't always the right option.
Consider Your Budget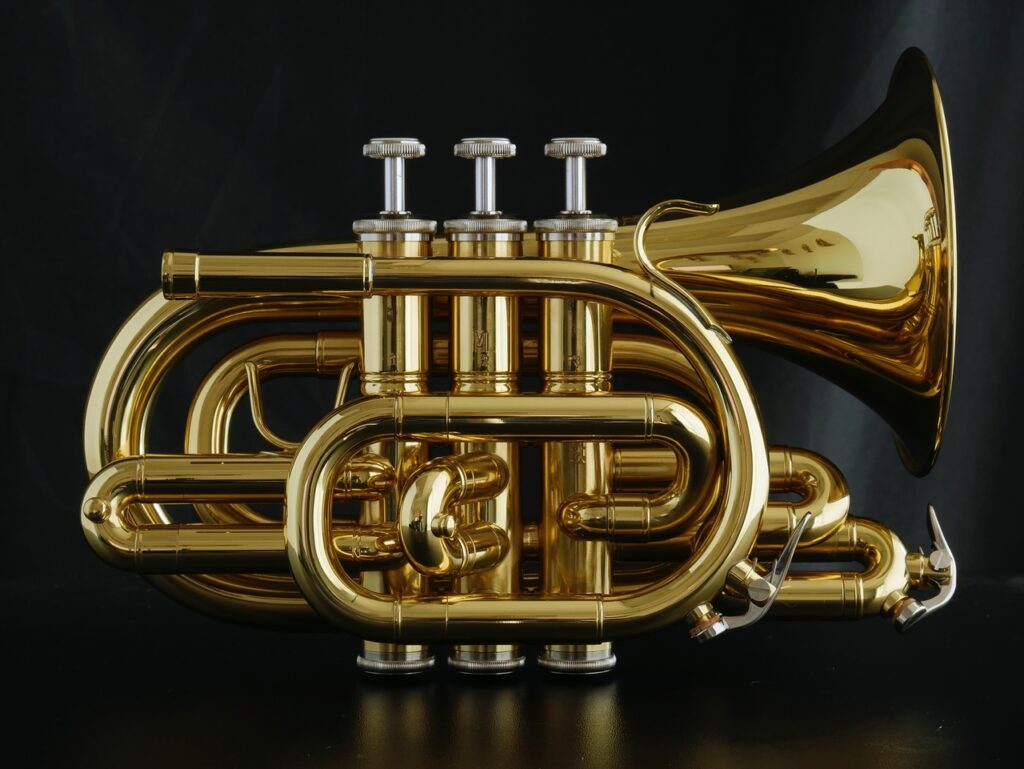 Of course, you should have an idea of how much money you have to spend on a pocket trumpet. Luckily, many of the best pocket trumpets are available for less than $1,000, similar to the average cost of a student trumpet.
Still, there are some great instruments that cost a little more than you might expect. Do some research before you start trying pocket trumpets so that you can set a realistic budget.
If you don't have much money now, you can look into financing a pocket trumpet. Then, you won't have to wait to receive the instrument, but you can et the best instrument for you.
Shop New And Used
Whether you have a small budget or not, you may want to look at new and used pocket trumpets. You might be able to find an excellent model on the used market and get a great deal.
As long as the seller took good care of it, you shouldn't need to take the trumpet in for maintenance soon. And the used market may have more models available than shopping for the new pocket trumpets.
Considering new and used pocket trumpets means you can try more of them. The more you try, the more likely you'll find a pocket trumpet that works well for you.
Best Pocket Trumpets
If you want to make the most of your time and money, you don't want to test just any pocket trumpet. For better or worse, some models aren't as good as others.
On the one hand, narrowing your search will save you a lot of time. However, it can also make it hard if you don't have much money.
Still, spending a bit more on a pocket trumpet is worth it for the better quality.
Bach Prelude PT711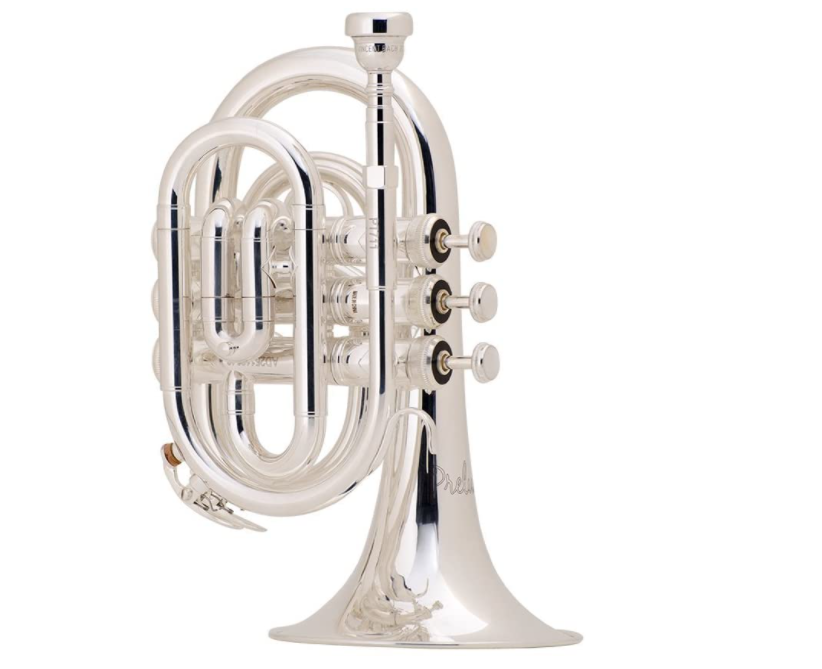 The Bach Prelude PT711 is one of the best pocket trumpets, and it's of the same quality as other Bach instruments. It sounds similar to a standard trumpet, and you can choose from silver plating, red lacquer, and black lacquer.
There are three stainless steel piston valves that move easily for fast and slow playing. The rose brass leadpipe helps warm the sound a bit, so it won't sound so harsh.
You'll get a Bach 7C trumpet mouthpiece to use with the pocket instrument, and everything comes in a nylon case. That way, you can take the trumpet on the go for a quick practice session or a long tour.
Pros
Good sound
Easy to play
Great for beginners
Cons
The case isn't of great quality
Stagg TR245
Another fantastic instrument to mention in a pocket trumpet guide is the Stagg TR245. It uses brass for the body and has stainless steel pistons to help with technical passages.
You can use this pocket trumpet to practice when traveling, and you don't have to worry about checking it on a plane. And it even works with standard trumpet mutes.
This model has a mellow sound, and it's an amazing value for the price. While it's not perfect, you do get a nice case to protect the instrument when you aren't playing.
Pros
Compact
Easy to play
Great value
Cons
Valves can take a while to work well
Jupiter JTR710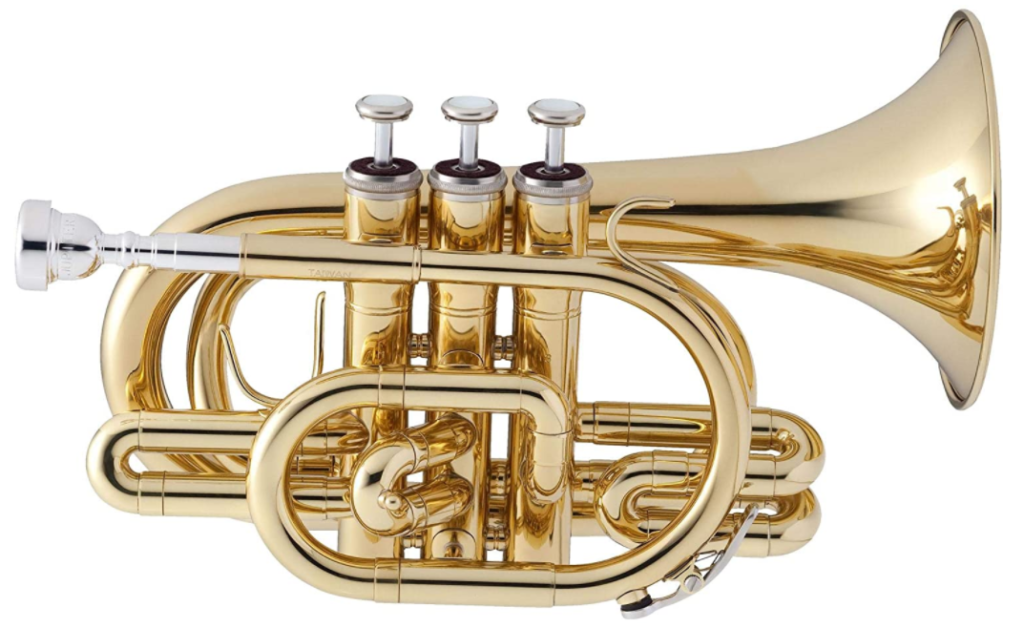 The Jupiter JTR710 is an amazing choice for anyone looking to play the pocket trumpet. It has a lacquered brass body, and the company uses a special process to make the instrument easy to play and keep in tune.
Like other models, this one has stainless steel piston valves, making fast passages smooth to play. The bell is nice and big, so you can get a good sound out of the model.
You'll get a quality case to protect the trumpet during storage and transportation. And while it's not the cheapest pocket trumpet, it's not too expensive.
Pros
Looks good
Valves move nicely
Great sound
Cons
Not the best for beginners
CarolBrass CPT-1000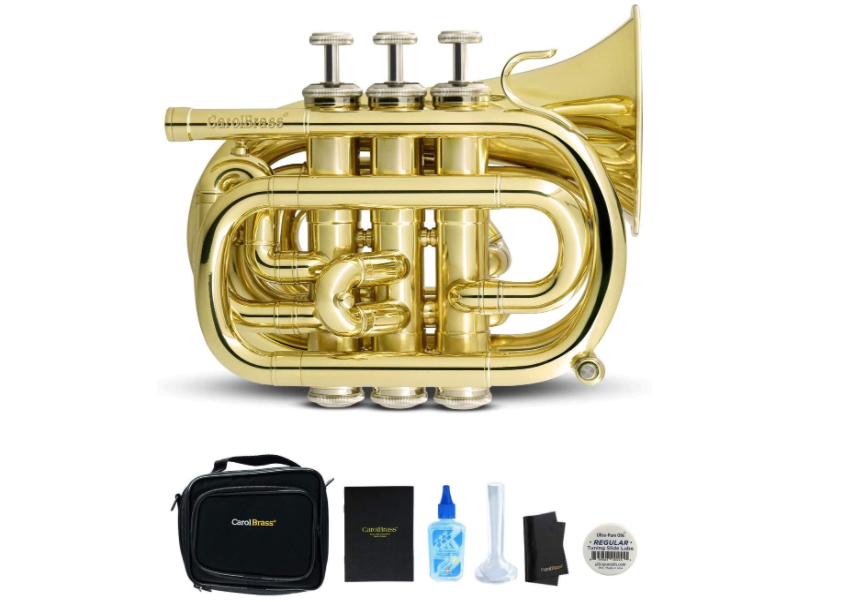 Another great pocket trumpet to try is the CPT-1000 from CarolBrass. This instrument is available in both the key of B flat and C, which is another common key for trumpets in general.
It sounds almost identical to a regular trumpet, so you can use it for practicing and performing. Kids and anyone with small hands can use the instrument to start learning the trumpet.
You get everything you need with the model, including a mouthpiece and cleaning and care supplies. That way, you'll be able to keep it in good condition.
Pros
Available in different keys
Sounds like a trumpet
Comes with what you need
Cons
Low register is hard to play
Phaeton PHTP-3030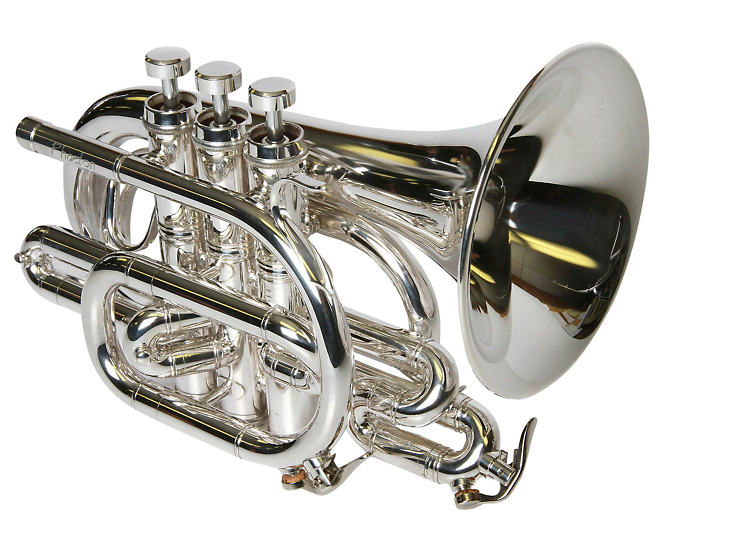 Professionals who want a pocket trumpet should try the Phaeton PHTP-3030 model. It's a custom instrument with plenty of features to help you play and maintain the instrument.
The silver plating is of great quality, and the pistons are easy to press to produce different notes. You get three water keys to help release condensation and spit, and the tuning slides are adjustable.
This model sounds rich, and the weighted top and bottom caps help make the instrument easy to hold. Plus, it comes in a case to protect it when you aren't playing.
Pros
Great design
Easy to play
Fantastic size
Cons
Pocket Trumpets To Avoid
While you can find some of the best pocket trumpets online, not every listing is legitimate. If you want to make sure you buy a pocket trumpet that will last and serve you well, you should avoid some popular brands.
Many of these brands look like good deals because they're much cheaper than others. However, those lower prices are too good to be true.
Mendini
Mendini makes all different kinds of instruments, from brass to woodwinds. It can be easy to believe that makes the company reliable and that the models must be worth buying.
Unfortunately, Mendini prices prove otherwise. The Mendini pocket trumpets cost much less than those from Bach, Jupiter, and Stagg.
And the price even includes other accessories, like a metronome, which can cost a lot on its own. I'd recommend staying away from this brand.
Eastar
You may also see some pocket trumpets from Eastar, but steer clear of them. Like Mendini, Eastar prices are much lower than other brands, but they claim to offer the same quality.
These pocket trumpets also come with accessories, some of which make sense. However, combining the price of everything means the cost of the pocket trumpet is even lower.
Unless you're on a tight budget and need something short-term, Eastar isn't for you. It's not worth sacrificing quality to save money.
Sky Band
When looking at Sky Band instruments, you'll see they all have the word "approved" in the product listing. However, they don't explain who or how they approve the instruments.
And you won't find anything about approval in the listings for reputable pocket trumpets. Odds are, it's a marketing tactic to try to get you to buy Sky Band instruments.
Don't fall for it. Instead, stick to popular brands, from Bach to Phaeton. Then, you can make sure you get a good quality pocket trumpet.
FAQs About The Best Pocket Trumpets
Question: How big is a pocket trumpet?
Answer: The average pocket trumpet is about 9.5 to 13 inches long, though some models are shorter or longer. They have just as much tubing as a regular trumpet, so the two instruments would look the same if you laid them out flat.
However, the compact design means there's less space between the coils of the tubes. That can make it hard to clean the pocket trumpet.
Question: How do you hold a pocket trumpet?
Answer: You hold a pocket trumpet in the same way as a regular student or professional trumpet. As a right-handed player, you'll place your left hand around the left side of the trumpet by the valves.
Place the first three fingers of your right hand on the three-piston valves on the top of the instrument. Then, bring the pocket trumpet up to your lips and put your lips together to form a trumpet embouchure and blow.
Question: Can you fly with a pocket trumpet?
Answer: One of the most significant benefits of playing a pocket trumpet is that it's easier to travel with than a regular trumpet. In a lot of cases, you'll need to check your trumpet and have it go into the cargo hold.
However, the mini trumpet is small enough to put in your carry-on bag. That way, you can keep it with you and not have to worry about losing it or waiting at baggage claim.
Question: Does the pocket trumpet sound different from the standard trumpet?
Answer: Some pocket trumpets sound like the regular trumpets from the same company. However, other models have a more refined sound due to the different designs.
Other factors, like the materials and manufacturing process, can also affect the sound. So the pocket trumpet might sound unique but not only because it's compact.
Question: Can you learn the pocket trumpet first?
Answer: Young kids who want to learn the trumpet but can't hold it may start on the pocket trumpet. Then, they can learn how to blow and use air support, and they can learn the basic notes.
Even adults who can't hold a lot of weight for very long may want to learn the pocket trumpet. It's not much lighter, but it can be easier than the standard trumpet in B flat.
Question: Do you need a different mouthpiece?
Answer: You can use any standard trumpet mouthpiece on your pocket trumpet. That can make it much easier to switch between the two instruments before and after a trip.
However, you can get a second trumpet mouthpiece to keep with the pocket version. Then, you won't have to worry about losing or forgetting it.
Final Note On The Best Pocket Trumpets
When looking at a pocket trumpet guide, you should learn what it is and what the best pocket trumpets are. Now that you know a bit about them, you can get a pocket trumpet and learn it.
I'd recommend the Bach Prelude PT711 if you can get your hands on one. Bach is one of the best trumpet brands, so you know you'll get a quality instrument.