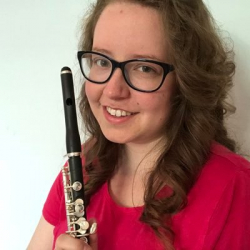 Latest posts by Hannah Haefele
(see all)
If you've ever watched a marching band, you may have wondered about the big trumpets. They aren't actually trumpets, but they are close. You're probably referring to some of the best marching baritone horns.
The brass instruments play lower notes, but they aren't quite as big or low as sousaphones. That can make them a good option for some players who can't handle a ton of weight, and they give euphonium players a chance to march.
At a Glance: Best Marching Baritone Horns
Why Marching Baritone Horns Matter
Marching baritones are an important part of a marching band because they fill the tenor voice. They aren't quite as low in pitch as the tuba or sousaphone, but they're lower than the mellophone, alto horn, and trumpet.
In general, they look like big trumpets in that you hold them in front of your face instead of against your torso. Most marching baritones have a bell that faces forward to help project the sound across a big field.
The design also makes it easier to play while standing or marching in a line or in any other formation. You don't have to worry as much about dropping it like you would with a standard baritone or euphonium.
What To Look For In A Marching Baritone Horn
If you like to play low notes but can't or don't want to play a sousaphone, the marching baritone is great. You can help add sound to the lower end of the band, and you can march like any other musician.
But you need to make sure you get a good quality marching horn. That way, it will last through extreme weather conditions, and you can play it for a long time.
Consider some of the following factors to narrow your search to the best marching baritone horns for you.
Number Of Valves
Just like euphoniums, marching baritones can have three or four valves. You press different valves to play different notes, and you can play multiple notes with the same fingering.
On an instrument with three valves, you have access to eight different combinations. Adding a fourth valve will double that to up to 16 combinations, which can make it easier to play certain notes.
However, four valves aren't necessary for a good marching horn. Think about your current skills on brass instruments or with music to determine how complex of a horn you want.
Materials
Another critical thing to think about is the material of the baritone. While the main material is almost always brass, you can choose between a brass lacquer or silver plating for the exterior.
These materials can sometimes affect the sound, with silver adding a bit of brilliance. Brass lacquer will provide a more traditional brass sound.
However, you should also consider how those materials look. If you want to join a competitive or professional marching band, they may only allow brass lacquer horns to keep a consistent sound and appearance among the entire baritone section.
Design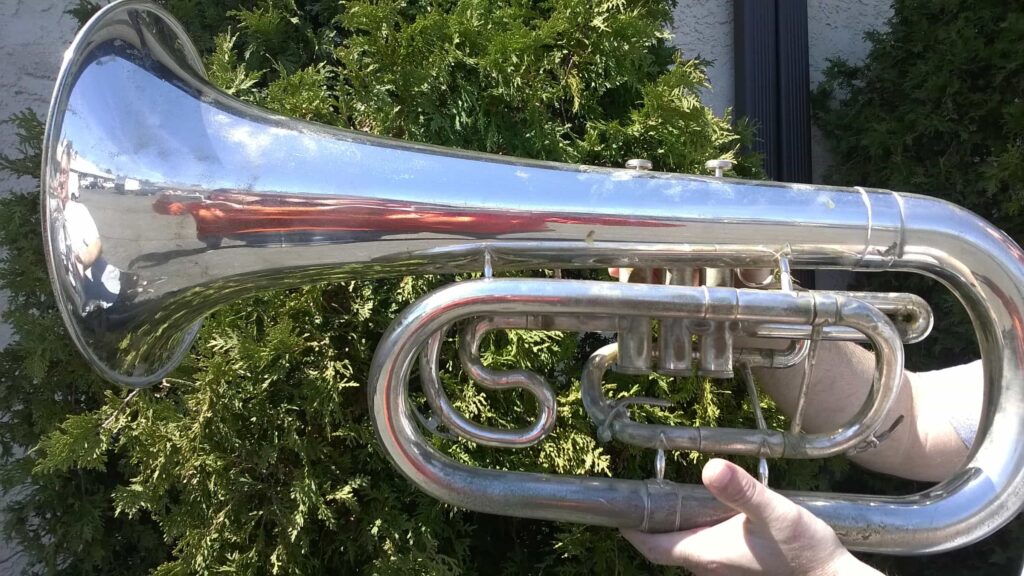 Since it's a marching instrument, your baritone horn needs to be able to handle a lot. It should be playable in extreme heat and extreme cold, and it should be able to take some rain.
I've marched in a variety of conditions, and you don't want that to limit your ability to play your instrument. You might also want to be able to put your baritone horn on the turf during a rehearsal break.
Make sure you can do these things without worrying about the lacquer or plating coming off. When setting the instrument down, you don't want the leadpipe or any of the valve slides to bend out of shape.
Bore
The bore of the baritone horn refers to how big the diameter of the tubing is. A bigger bore can offer a darker and mellower sound, while a small-bore will sound brighter.
Think about the type of sound you want from your marching baritone horn. If you're in a marching band, you can ask your director or other members of your section what they would recommend.
Most baritone horns have a cylindrical bore, which means the diameter of the tubing is the same for most of the instruments. However, it will flair out toward the end so that the bell can be big enough.
Bell
Another consideration that is pretty standard but can deviate is the bell. Most marching baritone horns have bells that face forward toward the audience on a field or to the front of a parade.
Concert baritone horns tend to have bells that go up, which can work in that performance setting. However, you should look for a front-facing bell for your marching instrument.
That way, you'll be able to get a good sound, and people will hear it more easily. And you won't have to struggle with trying to balance the horn as you march.
Response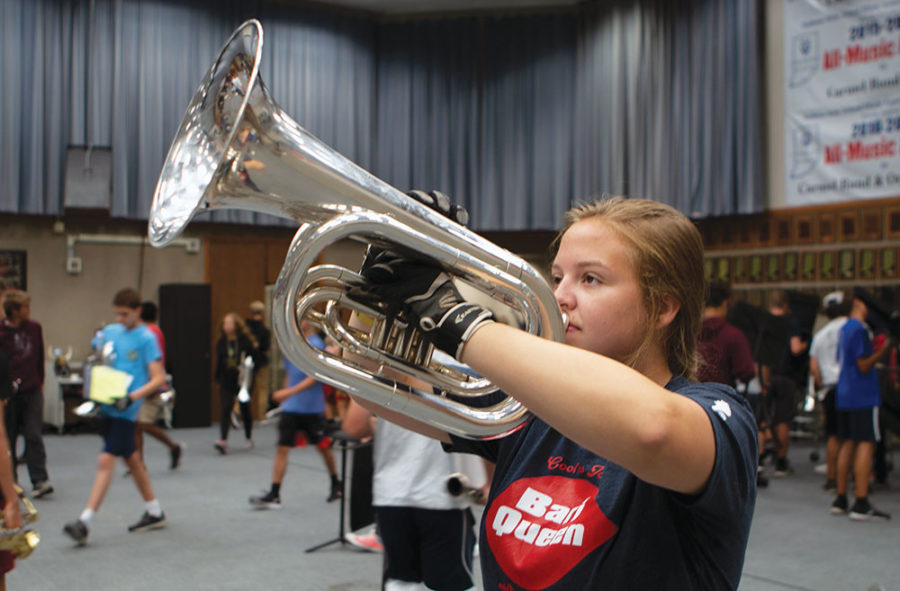 As with any instrument, the best marching baritone horns should have a good response. The valves should move quickly and smoothly in case you need to play more technical passages with fast notes.
You also need to consider how easy it is to switch between partials without moving your fingers. If you struggle to hit certain notes, that instrument may not be for you.
Marching takes a lot of effort already, so your instrument shouldn't complicate it. While it can take time to build endurance to march well, the best marching baritones will respond easily so that you don't need to use all of your energy to play.
Price
Marching baritone horns can be pretty expensive because they're big, and they're a niche instrument. You can find some instruments that cost way less than the average marching baritone.
However, those instruments may have problems, from a lack of durability to not being responsive. Whether you look for a new or used marching baritone horn, you should consider the price.
Some good deals are good, but others are too good to be true. Prepare yourself to spend a bit more on a good marching baritone horn so that you can make it last through many marching seasons.
Best Marching Baritone Horns
Whether you're an individual looking for your own instrument or a music teacher who needs more baritones, you should know where to start. Some marching baritone horns are much better than others.
Think about how you'll use the instrument and either your playing level or the level of whoever else might play it. That way, you can consider which features are the most important, and you can be happy with your purchase.
Here are some of the best marching baritone horns on the market.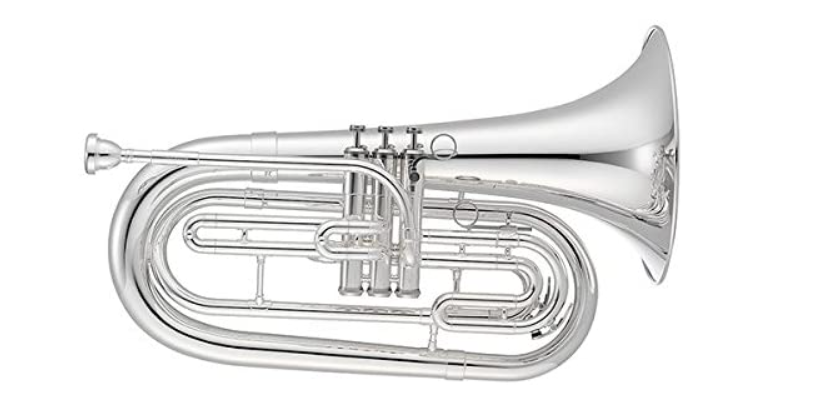 First up is the Jupiter Qualifier 560S baritone, which features a brass body and silver plating. The instrument has a brilliant sound, and it's easy to play.
It has stainless steel piston valves that help with the playability and response you get. You can adjust the tuning while playing using the finger ring on the third valve slide.
The bell is 10 inches, so it's big enough to help project your sound while you play. And everything comes in a molded case to protect your horn when not in use.
Pros
Easy to play
Can tune well
Nice sound
Cons
Not the best for professionals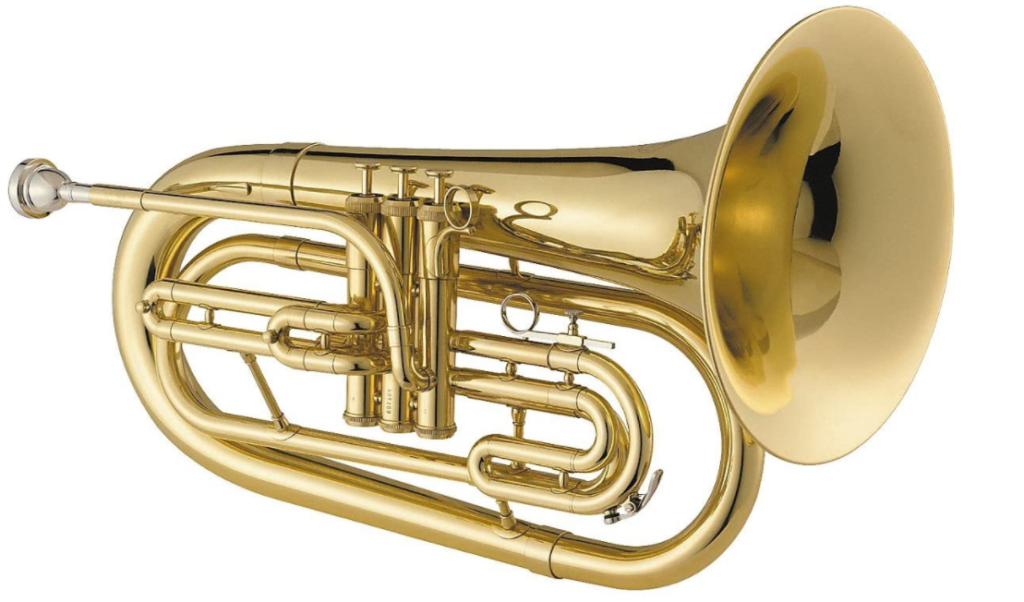 If you like the idea of the previous model but need something with a brass lacquer, check out the Jupiter 560L. It has a 0.5-inch bore that offers a great sound.
You get the same adjustable slide to help tune your instrument before and while playing. It also comes with a sturdy case and a good mouthpiece, so you'll have everything you need to learn to play.
The valves move smoothly, and the instrument resonates well. You shouldn't have to worry about the instrument going too out of tune, so you can focus more on the music.
Pros
Looks good
Plays well
Easy to keep in tune
Cons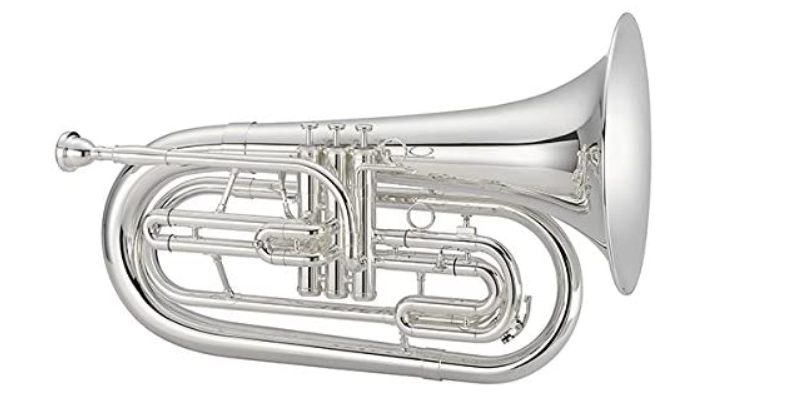 Another Jupiter marching baritone horn to try is the Quantum 5060S. It's pretty similar to the 560S, and it shares the same silver plating over a brass body.
Other similarities include stainless steel piston valves and a bright and brilliant tone. However, the bore is slightly bigger at 0.531 inches, which can mellow the sound a bit.
You also get a first-finger slide trigger, so you can adjust both the first and third valve slides more easily. It's a great choice for advancing players and ensembles that need a group-owned instrument.
Pros
Very flexible
Easy to play
Great for individuals and groups
Cons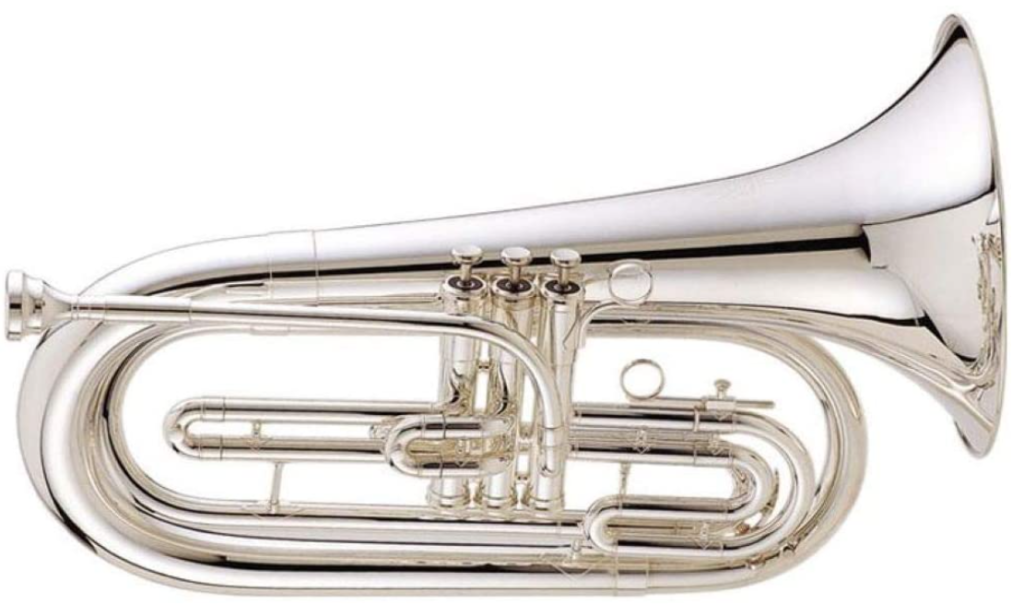 The King 1127SP is a fantastic choice for serious players who need something they can play for a long time. Despite its low price, it has professional features and a great design.
There are nickel-plated piston valves that are easy to press and depress to help change notes. This model has a standard 1o-inch bell, and the bore is 0.5 inches.
You also get a good quality baritone mouthpiece, and everything comes in a case for storage and transportation. Beginners and anyone on a budget should give it a try.
King 1127SP Marching Baritone | Amazon
The Model 1127SP is very centered when held, this baritone has an intense baritone voice with excellent pitch center and intonation. Large shank mouthpiece receiver.
Buy at Amazon
We earn a commission if you make a purchase, at no additional cost to you.
Pros
Professional quality
Affordable
Versatile
Cons
Might not work in all bands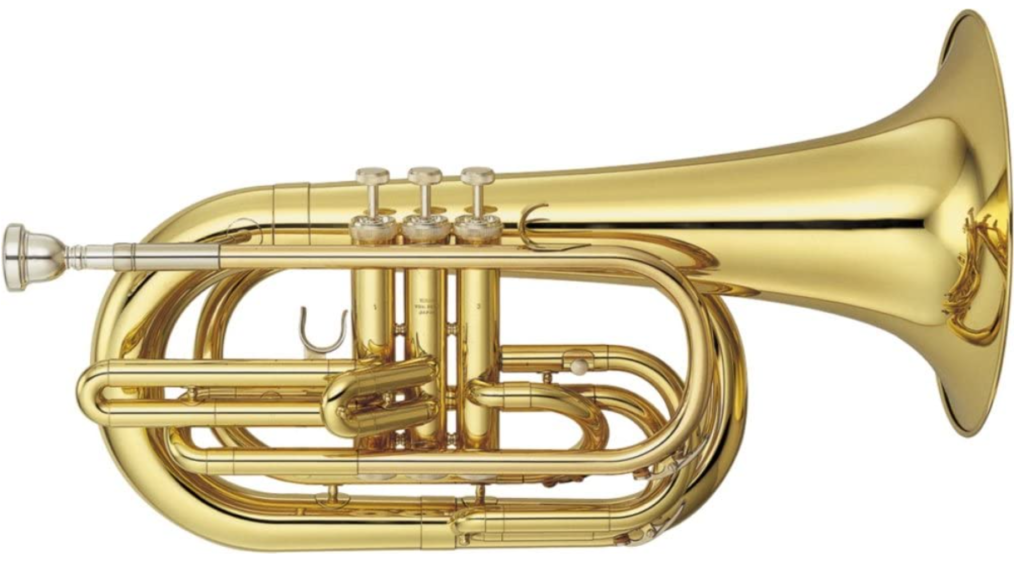 Yamaha is another fantastic musical instrument company, and you can't go wrong with the YBH-301M. The model is yellow brass, and there's no silver plating on the outside.
It features nickel-plated piston valves that are easy to press, so you can play the entire range of the instrument. At 0.571 inches, the bore is a bit bigger than other models, so you can get a rich sound.
You also get a large shank mouthpiece, which is similar to what you'd play on a euphonium, to help ease the switch. The 10-inch bell is the same size as other marching baritones, so it won't look out of place.
Pros
Good design
Big bore
Excellent sound
Cons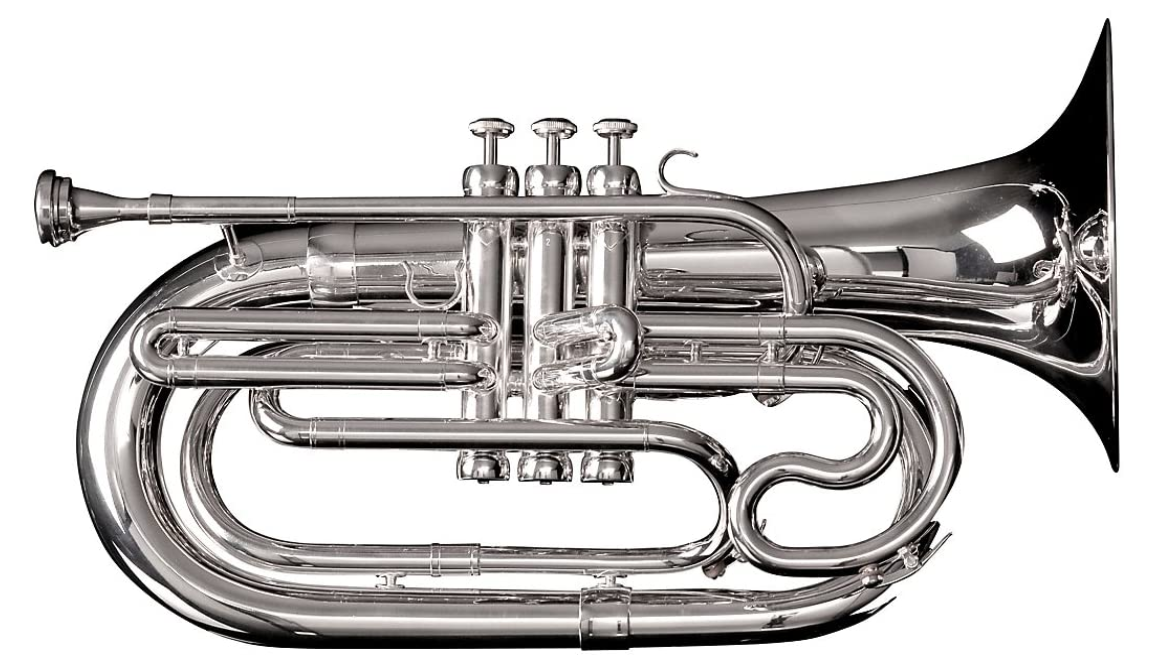 The Adams MB1S is an excellent model for players in bands that don't require a specific appearance. It has a dark yet shiny layer of silver plating over the brass body that makes it look and sound good.
There are stainless steel valves, so you don't have to worry about them corroding and becoming unplayable. Those valves also help make the instrument easier to play at different speeds.
And this model is lighter than some other baritones, so it's great for people who can't hold as much. You also get a mouthpiece, case, and care kit to keep the baritone in good condition.
Adams Marching Baritone | Amazon
This has a .4571" bore, a 10" bell, and stainless steel pistons. It weighs a mere 5.6lb and comes with a case mouthpiece and maintenance kit. Available in silver plate or brass lacquer finish.
Buy at Amazon
We earn a commission if you make a purchase, at no additional cost to you.
05/29/2023 11:10 am GMT
Pros
Lightweight
Good sound
Fast response
Cons
The unique look doesn't always fit in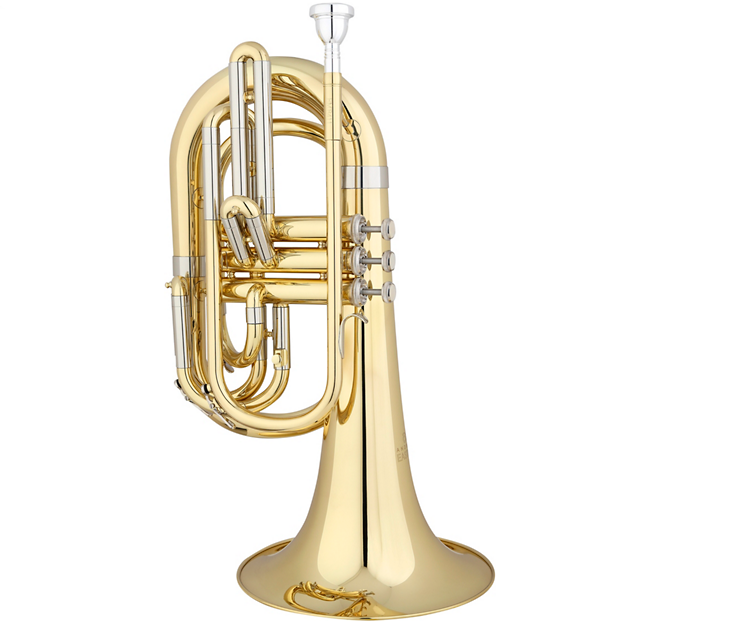 You should also give the Eastman EMB411 a try, especially if you need a baritone without any silver plating. This model has a brass body and an 11-inch bell, so it's a bit bigger than some other horns.
While it doesn't have any adjustable slide rings, that does mean your fingers won't get caught in anything. That can make it easier to get in and out of playing position quickly.
The bore is 0.571 inches, which can provide a dark and rich sound. Plus, you get a mouthpiece and case, so you have everything you need to play.
Pros
Big and rich sound
Easy to play
Affordable
Cons
No adjustable slide rings
FAQs About The Best Marching Baritone Horns
Question: How does a marching baritone horn differ from a euphonium?
Answer: A marching baritone horn has a cylindrical bore, so the bore stays the same diameter for most of the tubing. That gives it a bright sound, even though it can still sound mellow. The bell also usually faces forward, and it's easy to march with.

However, a euphonium features a conical bore, meaning the bore slowly gets bigger throughout the entire tubing. Most euphoniums also have bells that face up, so it can be hard to project the sound far away.
Question: Who should play a marching baritone horn?
Answer: The marching baritone horn is the standard choice for euphonium players who want to join a marching band. Even though there are differences, the two are almost the same in terms of the music and parts you play.

However, you don't have to play the euphonium to play the baritone horn. I've know flute and clarinet players who have switched to the baritone horn for marching band, and they've done well.
Question: Can you play it outside of a marching band?
Answer: You may be able to play the baritone outside of a marching band, but it's not the most practical. In a concert band and other classical settings, euphonium is the more common option.

Some players might play a non-matching baritone, which is similar to the euphonium. However, the marching instrument is best for the field and parades.
Question: How big is the baritone horn?
Answer: It's about nine feet long if you stretch out all of the tubings, but it's much more compact. That way, it's easier to hold and carry as you play.

The average marching baritone horn weighs about six pounds, though some weigh more and others less. Either way, the instrument can feel much heavier once you take it on the field and start to play and march.
Question: What's the baritone horn range?
Answer: The marching baritone plays notes that sound as low as E1, which is the lowest E on the piano. On the high end, it can play up to F5, and that note sits on the top line of the treble clef.

However, you probably won't need to play that full range for most music. Especially in a band setting, baritone parts tend to cover the lower range.
Question: How do you read baritone horn music?
Answer: You can read baritone music in either bass or treble clef. If you have a bass clef part, it will be in concert pitch, so what you see on the page is what you'll hear when you play.

However, if you choose to use a treble clef part, it will be in the key of B flat, and it will sound an octave and a second lower. The treble clef part can be good for people switching from trumpet, but the bass clef can eliminate your need to transpose.
Question: Why are baritone horns so expensive?
Answer: Baritone horns are expensive for a few reasons. For one, they're big and so require a lot of materials, so they're going to cost more than a trumpet or cornet.

Marching baritones are also specific to one playing situation, so they aren't that common. And people need to have the right skills and tools to make a high-quality baritone.
Final Note On The Best Marching Baritone Horns
Whether you're a student or a band director, you need to know about the best marching baritone horns. That way, you and your fellow musicians can make the best music possible without instruments holding you back.
Some of the best marching baritones include the Yamaha YBH-301M and any of the models from Jupiter. Test a few of them to figure out which you like the best.