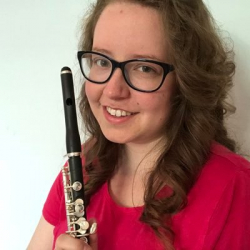 Latest posts by Hannah Haefele
(see all)
Are you looking to buy your first or next saxophone? Consider some of the best Jupiter saxophones! You can find a saxophone, regardless of your playing abilities and interests. By selecting the best instrument for you, you'll be able to motivate yourself to practice and get better. Then, you can buy even more saxophones to continue learning new things.
How To Choose A Jupiter Saxophone
Jupiter saxophones may not be the most popular brand, but the company still offers a good selection of instruments. Because of that, choosing the best model for you can be difficult.
You have to consider your current playing ability, future goals, and budget. If you can, you may also want to play a few Jupiter saxophones before you commit to one to make sure you like it. Either way, here are some things to think about when shopping for the best Jupiter saxophones.
Type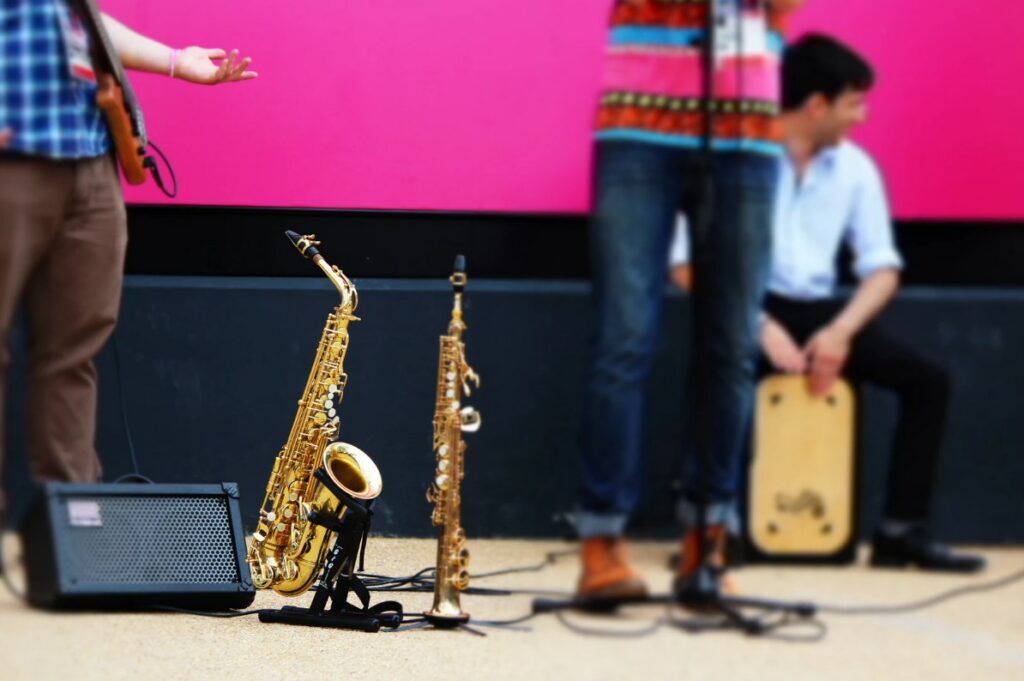 The most important thing to decide is what type of saxophone you want to buy. Alto and tenor saxophones are the two most popular types, and they're both suitable for beginners. However, as you advance as a saxophonist, you may decide to learn the soprano or baritone saxophone as well. Jupiter sells each of the four types of saxophones.
Deciding which you want to learn before you buy means you can get the right accessories and music. That way, you'll be able to make good progress, and you will have a lower chance of regretting your purchase.
Level
Next, you should determine what level of saxophone you want to buy. If this is your first time playing the instrument, you should choose a beginner saxophone since it will be easier for you to play. Once you have some experience, you can look for intermediate or professional models. These saxophones have more features or more resistance, so they take some skill to perform on.
Playing saxophone at the right level will help you learn and grow as a musician. You can always upgrade later, so buying a student sax now won't necessarily limit you later.
Materials
Yellow brass is the most common material for saxophone bodies and necks. Similarly, many saxophones have a clear lacquer to help protect the brass. But you can look for different materials if you want a different sound or appearance. Silver, copper, and bronze saxophones are available, and they can darken or brighten your sound.
Colored lacquers are also available, and they can change how your saxophone looks. These lacquers include vintage finishes, nickel, and black nickel lacquers.
Neck
While many saxophone players will first look at their reeds, mouthpiece, and ligature when they want a small upgrade, changing necks is another possibility. Different necks can have an impact on the response and tone of the instrument. If you've tried different mouthpieces and reeds without the results you want, consider the neck.
After you buy a Jupiter saxophone that you like, you can swap out the neck to change the sound. Then, you won't have to spend as much on a new instrument.
Construction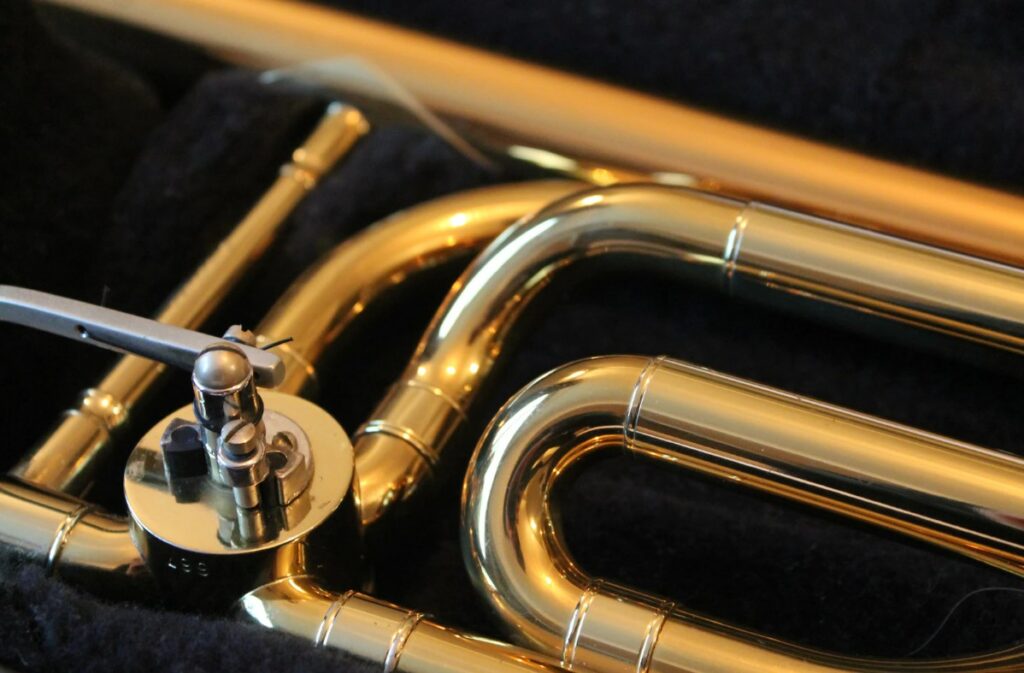 The body construction is another factor to think about when choosing between the best Jupiter saxophones. You can buy a ribbed or non-ribbed saxophone. Many beginner instruments are non-ribbed, which can help make them easier to play and less heavy. Ribbed instruments weigh a bit more, but they won't need maintenance as often.
A lot of modern saxophones at the intermediate and professional levels have a ribbed construction. But the non-ribbed design of older saxophones and beginner models has its place.
Extras
The basic written range of the saxophone is the B flat below middle C to the F an octave above the treble clef staff. However, you can play above this, which is called the altissimo register. You can use special fingerings to play these higher notes, but the notes can be hard to produce. So some saxophones have special keys that allow you to play the F# and even the G above the top F.
On the other end, baritone saxophones sometimes include a low A key, so you can play a half step lower than on most saxophones. That way, you can play more bass lines, and you don't have to play up an octave to get the correct pitch.
Cost
You may also want to consider your budget for a new saxophone. Some instruments can cost thousands of dollars, and it can take time to save up for the purchase. As a beginner, you may want to look into renting to save money and give you time to get used to the sax. Then, you can know if it's worthing buying the instrument.
Advancing players also need to consider when they're ready to upgrade to an intermediate or professional model and if they can afford it. No matter how much experience you have, compare the costs of a few saxophones so that you can set a realistic budget.
The Best Jupiter Saxophones
Whether you've played for years or are looking to become a saxophone player, you should consider some of the best Jupiter saxophones. These instruments are of good quality, and they can help you learn and improve. You don't need to buy the most expensive model just to make a good sound. And with the right mouthpiece, ligature, and reed, you can make even the most basic Jupiter saxophone sound fantastic.
Here are a few saxophones to consider of all sizes and levels.
JSS1000
Starting with the smallest common saxophone, there's the JSS1000. This soprano saxophone is in the key of B flat, and it has a brass body with gold lacquer. It has a straight neck, and it can play up to a high G. The thumb rest is adjustable, making it easy to play comfortably, and the blued steel strings help keep the mechanism working.
You get plastic tone boosters that can help improve the sound, and the tilting table keys make it easy to move your left-hand pinky between keys. This instrument comes with a mouthpiece, neck strap, cleaning cloth, cork grease, and case.
Pros
Includes accessories
Excellent materials
High G
Cons
JSS1100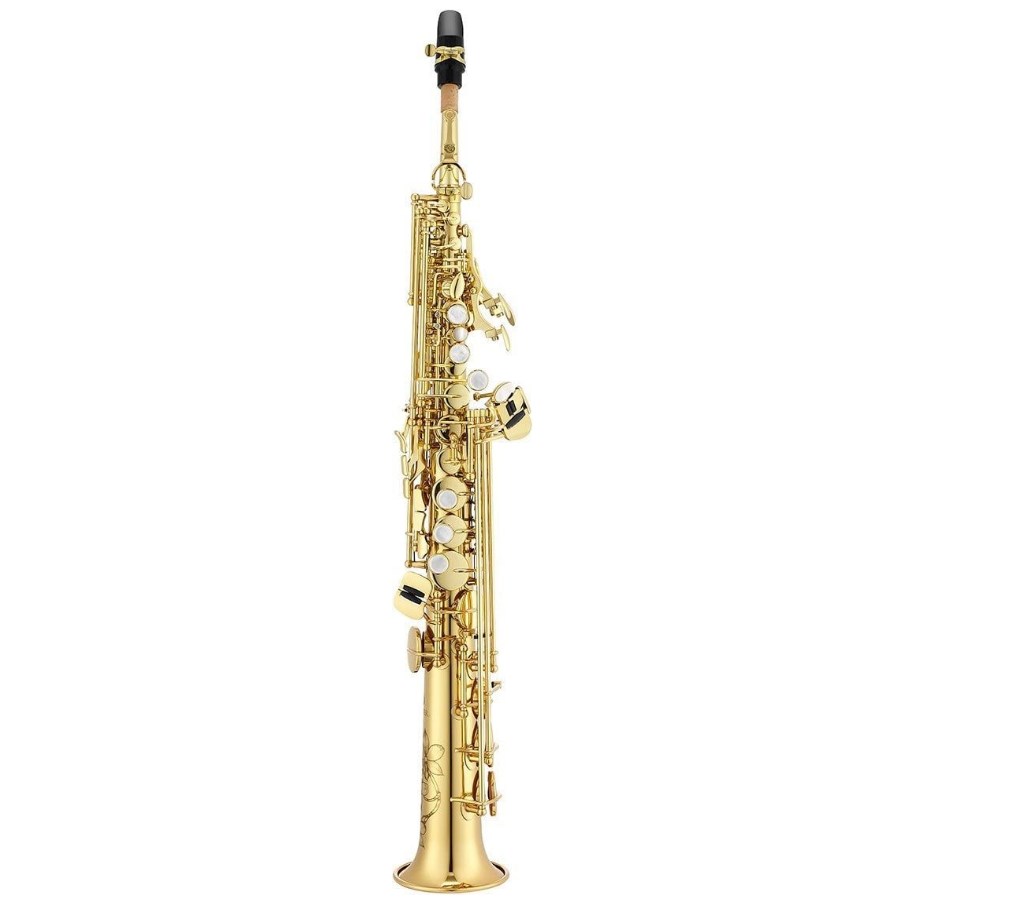 Another excellent soprano saxophone is the Jupiter JSS1100. It's in the key of B flat, it has many of the same features as the JSS1000. The brass body has a gold lacquer, so it can last a long time as. you learn and play. There are tone boosters that help seal the keys as you close them, and they can make the instrument sound bright.
It also features the same tilting keys to make it easy to switch from the G sharp to the low B. This saxophone has a high G key and a front F key, so playing high notes isn't as difficult.
Pros
Great quality
Extra keys
A good seal on the keys
Cons
Not that different from the JSS1000
JSS1100SG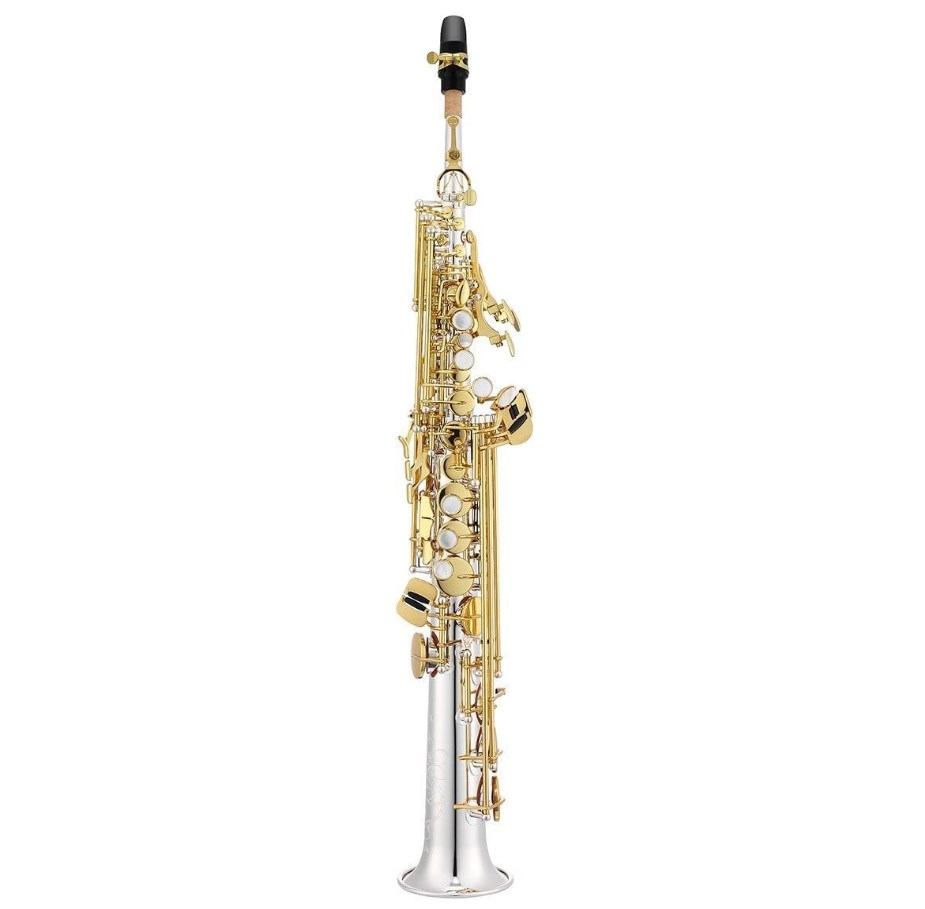 The JSS1100SG is another intermediate-level soprano saxophone in the key of B flat. It has a brass body with silver plating, which can make it have a different tone quality from other models. This model also features tone boosters that further add to the brilliant sound of the instrument. And they can help the keys seal well to make getting a good sound easier.
It comes in an excellent case for storage and transportation, and it's a great option for the advancing player. You get all of the accessories you need to play it, except for a reed.
Pros
Sounds bright
Keys seal well
Unique look
Cons
JAS710GN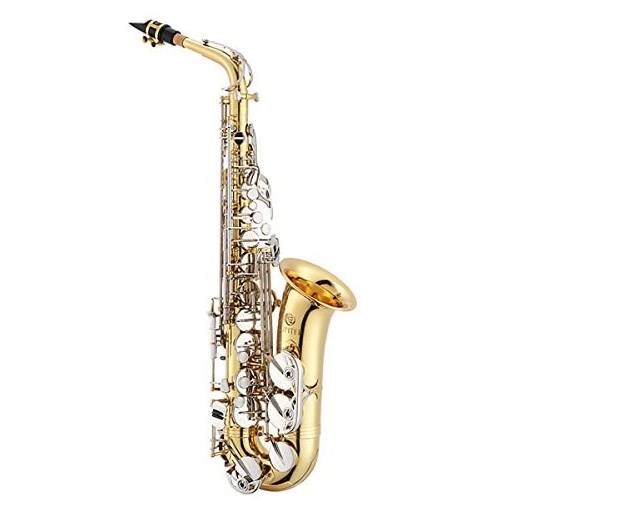 One of the best Jupiter saxophones for beginners is the JAS710GN. It's in alto saxophone, and it's in the key of E flat. Like the soprano saxophones, this alto has a brass body with a lacquer finish.
That design makes this instrument easy to play and keep in tune. Meanwhile, the nickel-plated keys are brass, so they're durable and strong.
The table keys on the left hand are easy to reach, and you can switch between them comfortably. There's also an adjustable thumb rest, so you can put it in the best place for you.
Pros
Comfortable design
Easy to play in tune
Looks good
Cons
JAS1100SG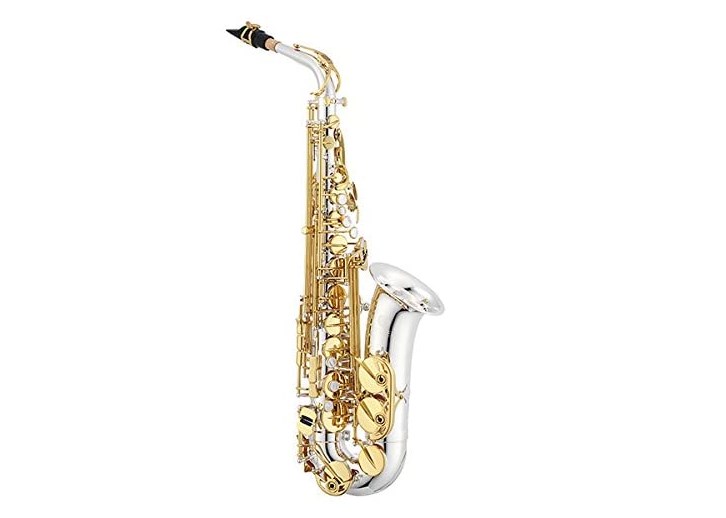 Another excellent alto saxophone to consider is the Jupiter JAS1100SG. The saxophone features a brass body with silver plating, and both materials are of high quality.
It sounds bright and is easy to play well. There are tilting table keys, so your left pinky can move between them comfortably. But this model doesn't contain the extra keys that make playing high notes easier.
This alto sax is perfect for players with a bit of experience, but you may grow out of it and need something with more specs. Still, it can be a good instrument as you transition from beginner to advanced.
Pros
Great design
Comfortable to play
Good with some experience
Cons
JTS1100SG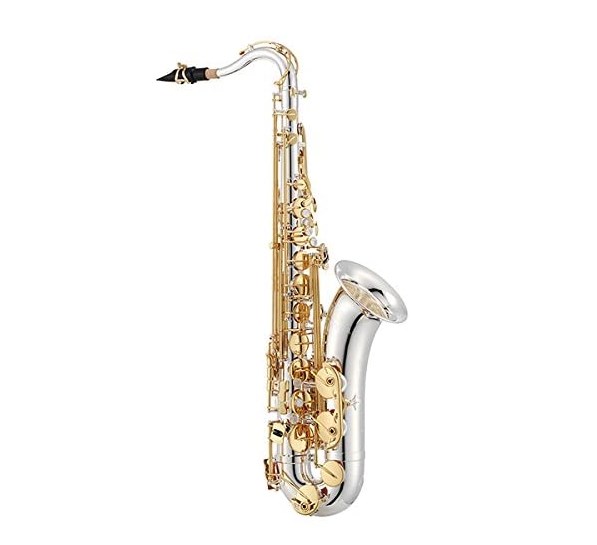 If you want to play the tenor saxophone, the Jupiter JTS1100SG is a great option. Like the other silver-plated Jupiter saxophones, this one offers a brilliant tone. However, it has a special neck design that can make the tone darker and similar to vintage saxophones. The left-hand table keys are comfortable to reach, so you can play each note.
This model is in the standard key of B flat, like most tenor saxophones. You can use any tenor saxophone mouthpiece and reed to create the perfect setup for you.
Pros
Good quality
Unique sound and design
Comfortable
Cons
Not the best for beginners
JBS1000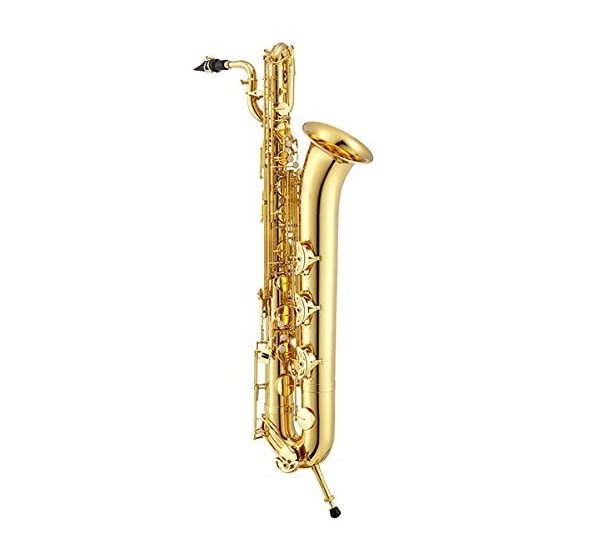 Another excellent model to consider is the Jupiter JBS1000 baritone saxophone. The bari sax has a brass body with gold lacquer, which makes the instrument sound and looks good. It's durable and of good quality, so you can play it for a while without issues. Like other bari saxes, this one is in the key of E flat, and you can play it in various groups and as a soloist.
You can even adjust the height of the palm keys, so the keys are easy to reach without getting in the way. And you can move them if you ever need to share the instrument with someone else.
Pros
Adjustable keys
Durable
Great design
Cons
FAQs
Question: Are Jupiter saxophones any good?
Answer: Jupiter makes good beginner and intermediate instruments, but they aren't super popular at the professional level. However, you can still play a professional-level Jupiter saxophone.
Another thing to note is that the newer models are of better quality than older ones. But they can still lose their resale value more quickly than other instruments.
Question: How much do Jupiter saxophones cost?
Answer: Some Jupiter saxophones cost around $2,000, whereas others are over $4,000. It depends on various factors, including the type, level, and other specs.
For example, the baritone saxophone is more expensive than the other models. However, the beginner alto saxophone costs less than the intermediate soprano saxophones.
Question: Where do they make Jupiter saxophones?
Answer: Jupiter makes their saxophones in China, and they assemble the intermediate and advanced models in Taiwan. The company then ships and sells the instruments all over the world.
Question: What do the model letters and numbers mean?
Answer: When you look at the best Jupiter saxophones, you'll notice a pattern with the letters and numbers. For example, the different types of saxophones follow a lettering system.
JSS: soprano saxophone
JAS: alto saxophone
JTS: tenor saxophone
JBS: baritone saxophone
GN means that the instrument has nickel plating, while SG refers to silver plating. If you find other Jupiter saxophones, you may see BL, which stands for black, or GL, which means gold lacquer.
The numbers of each saxophone model refer to the level of that instrument. For example, the 700 series is a series of instruments for beginners. Instruments in the 1000 to 1100 range are at the intermediate level.
Question: Can you rent a Jupiter saxophone?
Answer: If you can find a local or online music store that carries Jupiter saxophones, you may be able to rent one. Renting a saxophone is helpful, particularly for beginners.
You can rent an instrument to try it out before you have to pay for one in full. In some cases, the store may even apply your rental payments to the cost of the saxophone, so you can buy it later.
Final Note On The Best Jupiter Saxophones
The best Jupiter saxophones span the range from beginner to professional and soprano to baritone. Overall the best Jupiter saxophone is the JAS710GN.
It's a beginner model, and it's not too expensive, so you can use it to learn the basics. Plus, it's comfortable to play, and it's durable and will last for years as you improve your playing.