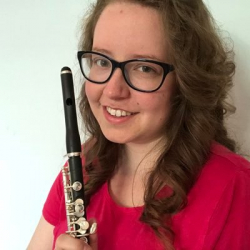 Latest posts by Hannah Haefele
(see all)
When you think of the tuba, you probably think of it as one size. But there are multiple sizes and pitches, so consider how to find the best contrabass tuba. The contrabass tuba is the most common type, and you can't go wrong with it as a beginner or professional. But you need to know which brands are good and what to look for when trying different models.
At a Glance: Best Contrabass Tuba
| Product Image | Primary Rating / Price | Primary Button |
| --- | --- | --- |
| | | |
| | | |
| | | |
| | | |
| | | |
| | | |
| | | |
What Is A Contrabass Tuba?
The contrabass tuba comes in two varieties in different keys: Bb and C. Both instruments play in concert pitch, so the letters refer to the lowest note the instrument can play. Tubas in Bb (or BBb tubas) are slightly bigger and can play one pitch lower than C (or CC) tubas. Both contrabass tubas are bigger than the bass tuba in Eb and F.
The BBb tuba is probably the most common, but each type can be fun to play. For example, you may want to start on a smaller tuba if you don't want to deal with the size and weight of a contrabass model.
How To Find The Best Contrabass Tuba
Knowing how to find the best contrabass tuba is crucial in learning how to play the instrument. If you don't have a good instrument, you can struggle unnecessarily when it comes to getting a sound and keeping the instrument playable.
There are some cheap tubas out there, and you'll get what you pay for. Make sure you avoid those scams by shopping for reputable brands. Whether you're a beginner or are looking to upgrade your tuba, you should consider a few factors. Then, you can take steps to find the best contrabass tuba for you.
Consider The Key
As mentioned, contrabass tubas come in two different keys. While both play the same written notes, the concert tuba you get can affect how you play it. For one, the BBB tuba can play a whole step lower than the one in C, which can be important when you advance. Even as a beginner, you have to consider the pitch so that you learn the correct fingerings.
All of the fingerings for the same written notes differ on the two tubas. So if you get a CC tuba but learn the BBb fingerings, you'll play a lot of wrong notes.
Set A Realistic Budget
Unfortunately, the contrabass tuba can be quite expensive, so you may need to save thousands of dollars. If you don't have that much money, you have to consider if you want to wait to save more or if you want to finance the orchestral instrument.
Either way, make sure you have the money to afford the best tuba for you. Prepare to spend about $5,000 or so on your first tuba and even more if you want to upgrade to an intermediate or professional model. While you can look for ways to save on your tuba, you can only save so much. Luckily, you have options if you want to save money now or over time.
Buy Or Rent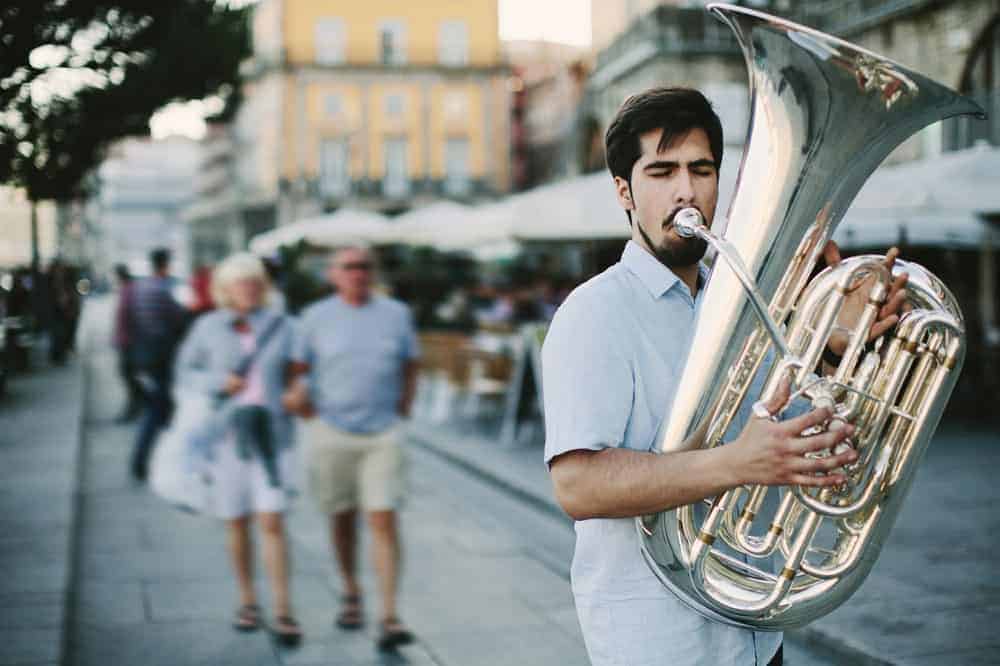 If you have the money, it can make sense to buy a contrabass tuba outright. The instrument will be yours, so you can keep it for years as you learn and progress as a musician. However, it's not a bad idea to look into renting a tuba as a beginner. You may not want to spend thousands on an instrument when you aren't sure if you'll like it.
Many music stores offer instruments to rent, and some even have a rent-to-own program. If you keep playing, you can apply your rental payments to the cost of the tuba.
Used Or New
Another way you can save money on a contrabass tuba is to buy or rent a used model. Used instruments can be just as good as new ones as long as the owner has treated their tuba well. But they can sell for quite a bit less than what a similar model would cost new. And when renting the instrument, you might find the monthly rate is lower on a used model.
If you want to buy or rent a used tuba, make sure to try it out before you purchase it. Then, you can make sure the seller isn't lying about the condition or value of the instrument.
Start On The Mouthpiece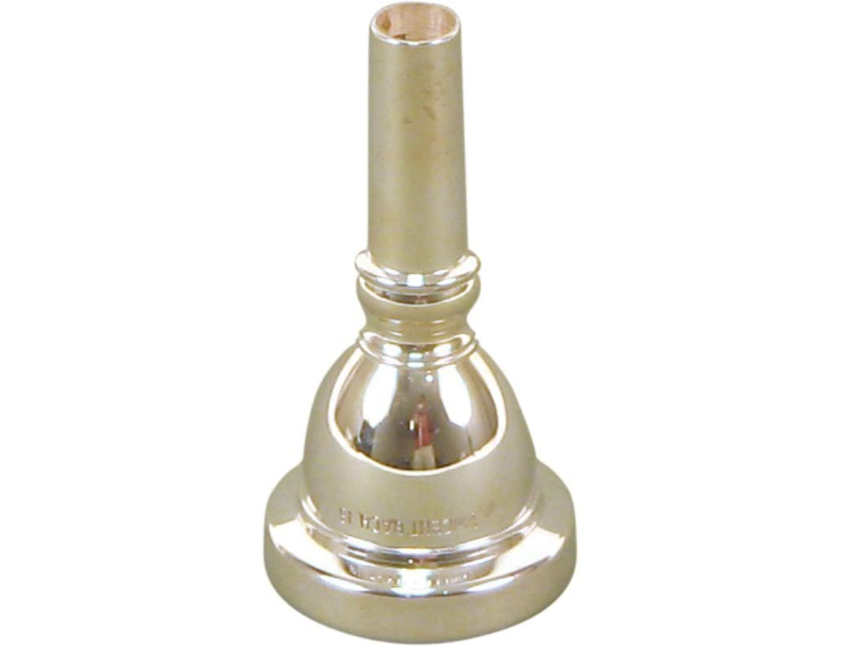 If you want to start learning the tuba but can't afford to get an instrument yet, consider buying a tuba mouthpiece. The mouthpiece is a critical part of the entire setup, and it can take a while to get used to forming a tuba embouchure. Buying a tuba mouthpiece first will allow you to get used to using it and also help build the muscles around your mouth to help with your embouchure. 
Bach Tuba Mouthpiece | Amazon
This is a best-selling mouthpiece for all-around work. Has an even high register, substantial tone of excellent carrying power.
Buy at Amazon
We earn a commission if you make a purchase, at no additional cost to you.
09/24/2023 09:34 am GMT
When you're ready to buy or rent a tuba, you can apply those skills as you test out a few models. You won't have to spend time figuring out how to blow into the instrument to get a sound. While you may not get the best sound as a beginner, a good mouthpiece is still useful for comparing tubas. And you can use it with multiple different tubas.
Test The Variety
Once you're ready to start trying contrabass tubas, find as many as you can within your price range. If possible, test them back to back to help compare each feature.
However, you can take notes as you try each one and refer to the notes for comparison. Be sure to test things like:
High and low notes
Playing loud and soft
Lyrical and technical passages
Find some exercises or short pieces to use while trialing tubas, and keep those selections the same. That way, you can minimize the differences to help choose which model you like the best.
Check The Intonation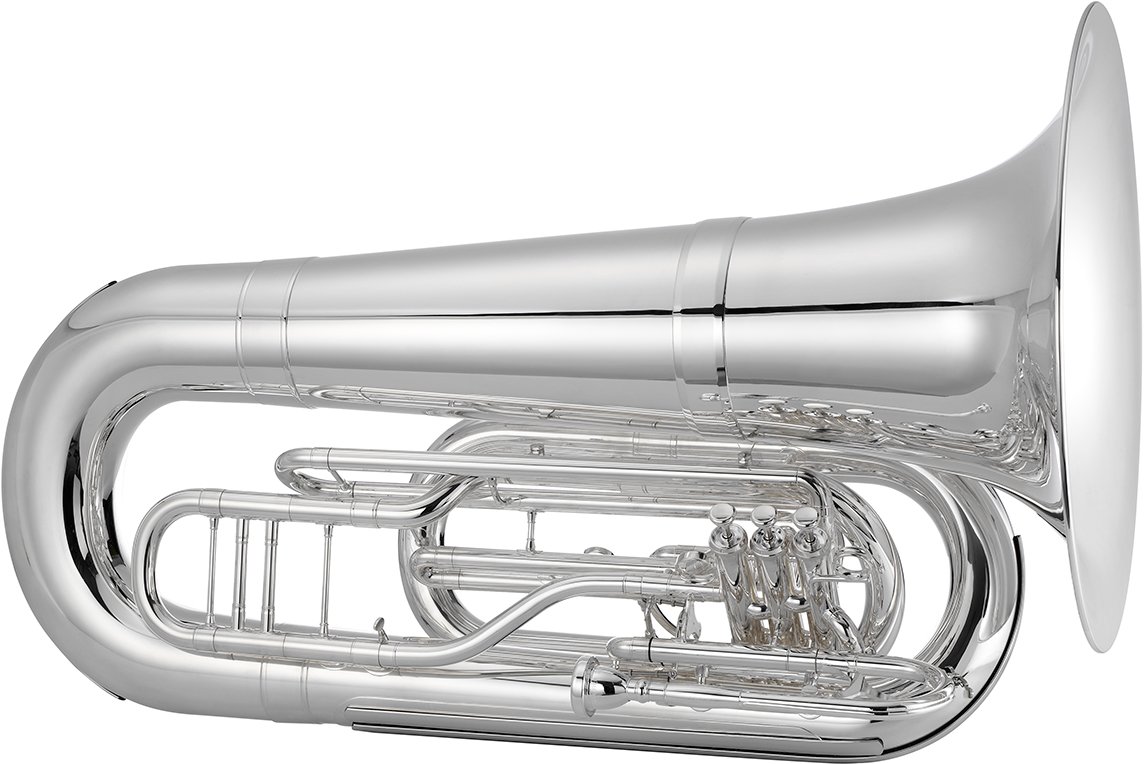 Intonation refers to how in tune an instrument is with itself and with other instruments. Because the tuba is the lowest instrument in a concert band or orchestra, it's the easiest for other musicians to hear and match. That means you need a contrabass tuba that's easy to tune and keep in tune. Make sure you can adjust the tuning slides and that your pitch doesn't change drastically while you play.
If you're like me and don't have the best ear, bring a tuner to try instruments. You can set the tuner on a stand to visually see how in tune each tuba is.
Record Your Playing
Whether you can try tubas back to back or not, you should record yourself playing each one. If you have to go to different music stores, you can listen back to the recordings one after another to compare the models. Also, the recordings may help you hear things you can recognize when playing. You might be more focused on getting a sound and breathing often enough, so it can be easy to miss things like weird vibrations.
If you want to get feedback from a band director or tuba teacher, you can send them the recordings. Keep the file names neutral so that the person doesn't let the brand or model number affect their thoughts.
Take Breaks
You can also listen to your recordings while you take a break during a tuba testing session. The tuba takes a lot of air and can be hard to play after a while, so give yourself time to stretch and take deep breaths. Use the break to listen back to the recordings you've taken of different tubas. Get up and walk around as you listen and get some water or a small snack.
Once you feel good, you can return to the tubas and keep testing them out. Your tests don't have to last that long, but you also don't want to overwork yourself while playing.
The Best Contrabass Tubas
Whether you're looking for an entry-level or professional model, you should know about some of the best contrabass tubas on the market. Many brands make good instruments, and a lot of them make models at different levels.
So if you don't like the models on this list, try others from the same brands. You may just find the perfect contrabass tuba for you. However, here are few tubas to try as you start your search.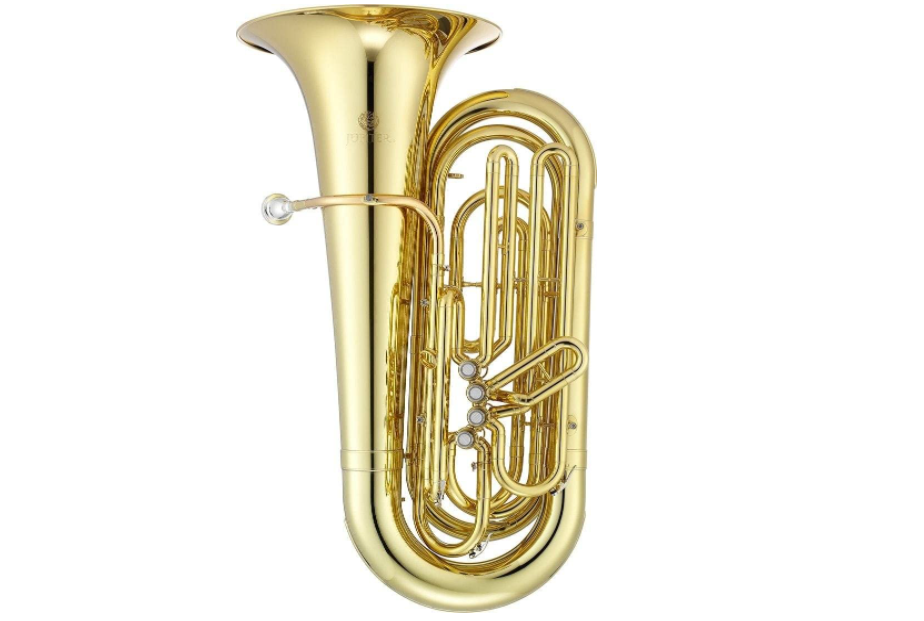 The Jupiter JTU1010 is a pretty standard BBb tuba, and it features a brass lacquered body. It has four stainless steel piston valves that move easily to help with technical music. You can take off the removable valve section, which is great for making significant repairs. With a 15-inch bell, this tuba isn't too big, so players of different ages and sizes can play it.
Everything comes in a protective case, so you can take the tuba on the go without breaking it. It's a great choice for beginners and intermediate players.
Pros
Great for beginners
Easy to play
Looks and sounds good
Cons
A little basic for professionals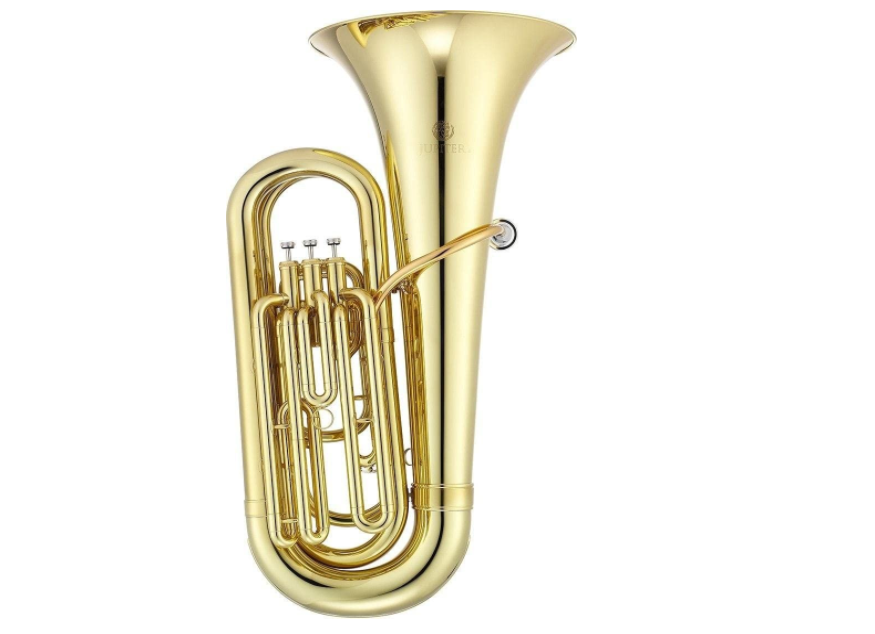 If you want a slightly smaller BBb tuba, consider the Jupiter JTU1000M. The model is a 3/4 size tuba, so it's not quite as big as a full instrument, but it has the same range as bigger models. Its smaller size also makes it not quite as heavy, so it's perfect for beginners and anyone who doesn't want to deal with the full size or weight.
Unfortunately, there are only three valves on this model, so you may need to use alternate fingerings for some notes. Still, it's a fantastic option for people on a budget or who just want something smaller.
Pros
Good size
More affordable
Standard tuba range
Cons
Jupiter JTU1000M | Amazon
JTU1000M Qualifier Series 3/4 Size Convertible BBb Tuba Lacquer. Jupiter marching brass instruments are the durable, affordable choice for budget-minded programs.
Buy at Amazon
We earn a commission if you make a purchase, at no additional cost to you.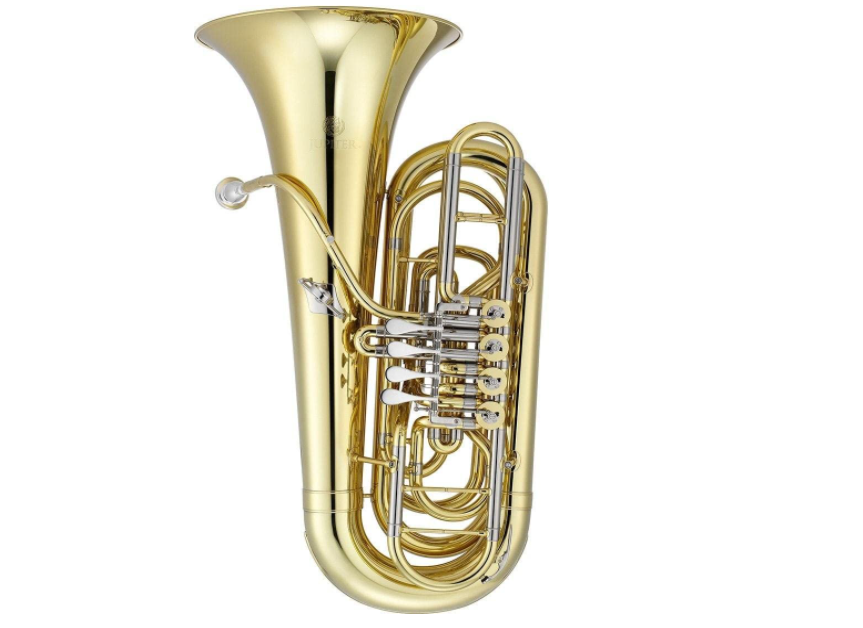 Another Jupiter tuba to try is the JTU1140 performance series model. It has four rotary valves, which look like the valves on a French horn rather than like on other brass instruments. You can get this model in a 3/4 size, so it's not as big as some contrabass tubas. Like the other Jupiter tubas, this one has a removable valve section that helps with repairs and maintenance.
This model features a rose brass leadpipe which can add some warmth to the sound. However, it is more expensive than some Jupiter tubas.
Pros
Good design
Nice sound
Removable valve section
Cons
Jupiter JTU1140 | Amazon
The Jupiter JTU1140 3/4 4-Valve BBb Tuba offers excellent performance in a 3/4 size. The 780 Series features a .661-inch bore plus four mechanical linkage, tapered rotary valves and removable Rose brass leadpipe.
Buy at Amazon
We earn a commission if you make a purchase, at no additional cost to you.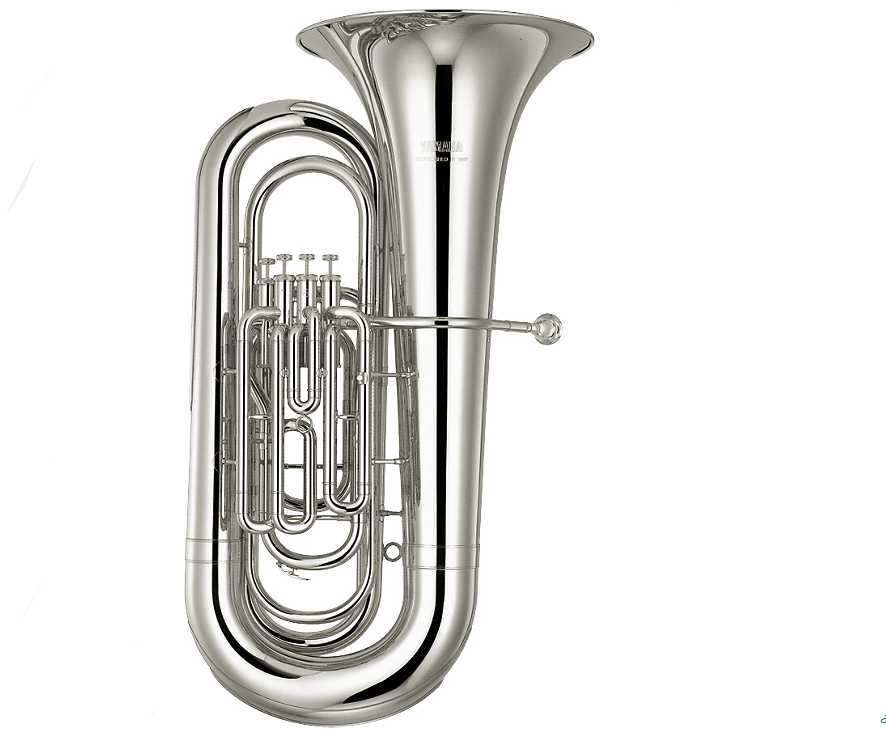 The Yamaha YBB-321WC is another fantastic contrabass tuba in BBb. It has a gold brass leadpipe and a body with silver plating, so it sounds warm yet bright. A 4/4 tuba, this is a full-sized model, so it's not the best for younger or smaller players. There are four nickel-plated top-action piston valves, and they move well to help you play faster.
This tuba comes with a mouthpiece and a case, so you have what you need to get started. And the case is great for storage and transportation.
Pros
Good sound
Easy to play
Comes with a mouthpiece
Cons
Yamaha YBB-321WC | Woodwind & Brasswind
The Yamaha YBB-321WC Series 4-Valve 4/4 BBb Tuba integrates a wonderful, centered tone with excellent resonance and projection.
Check Price
We earn a commission if you make a purchase, at no additional cost to you.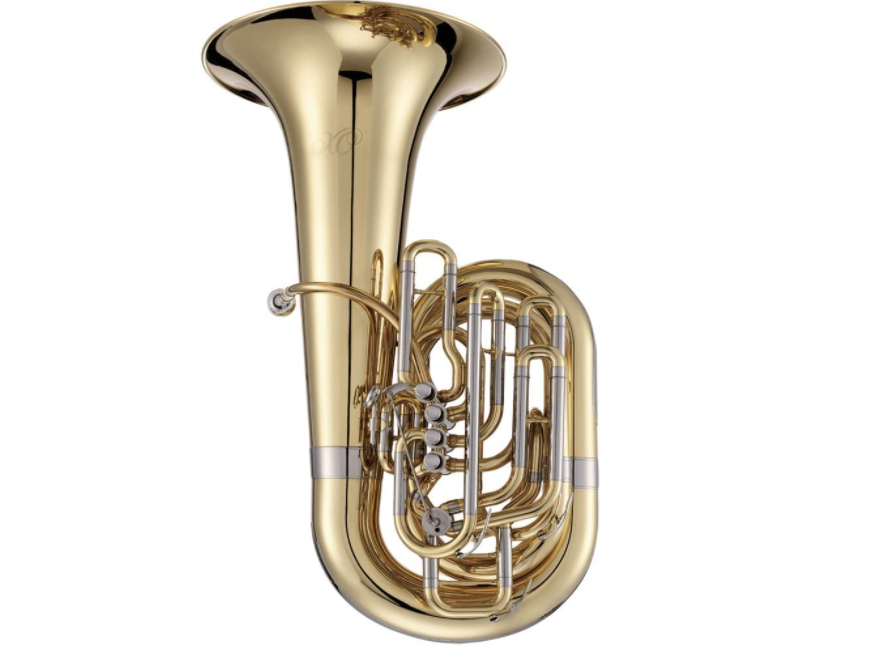 If you'd prefer to try a CC tuba, consider the Jupiter XO 1680S. This model has a yellow brass body and silver plating, so it sounds nice and warm. You get four-piston valves and one rotary valve, so you can use different fingerings to play the notes more easily. Being in the key of C, it's smaller than some tubas, and its range is a bit higher.
But the 17.4-inch bell offers plenty of space for the sound to project while you play. Unfortunately, this model is more expensive than many other tubas.
Pros
Good sound
Smaller
Nice projection
Cons
Jupiter XO 1680S | Amazon
These fine quality XO instruments continue to amaze players with their ease of playability, superior intonation, and breadth of dynamic range. Specially designed features like elliptical tuning slide foster greater responsiveness improved tonal quality, and enhanced projection.
Buy at Amazon
We earn a commission if you make a purchase, at no additional cost to you.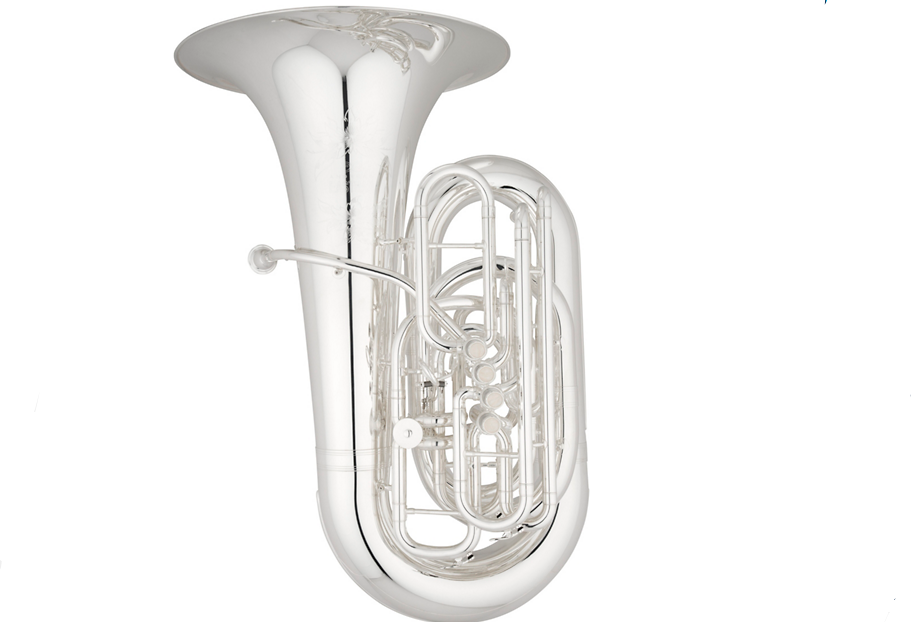 The Eastman EBC632 is another professional CC tuba, and it offers different features from the Jupiter. Like the other CC tuba, this one has four-piston valves and one rotary valve. However, the bell is a couple of inches bigger, so it can help the instrument sound louder. The tuba is also versatile and works well in orchestras, solos, and chamber groups.
You can choose between a clear lacquer and silver plating, so you can get the appearance and sound you want. Its tuning slides are easy to adjust, so you can make sure the instrument sounds in tune.
Pros
Versatile
Sounds good
Easy to tune
Cons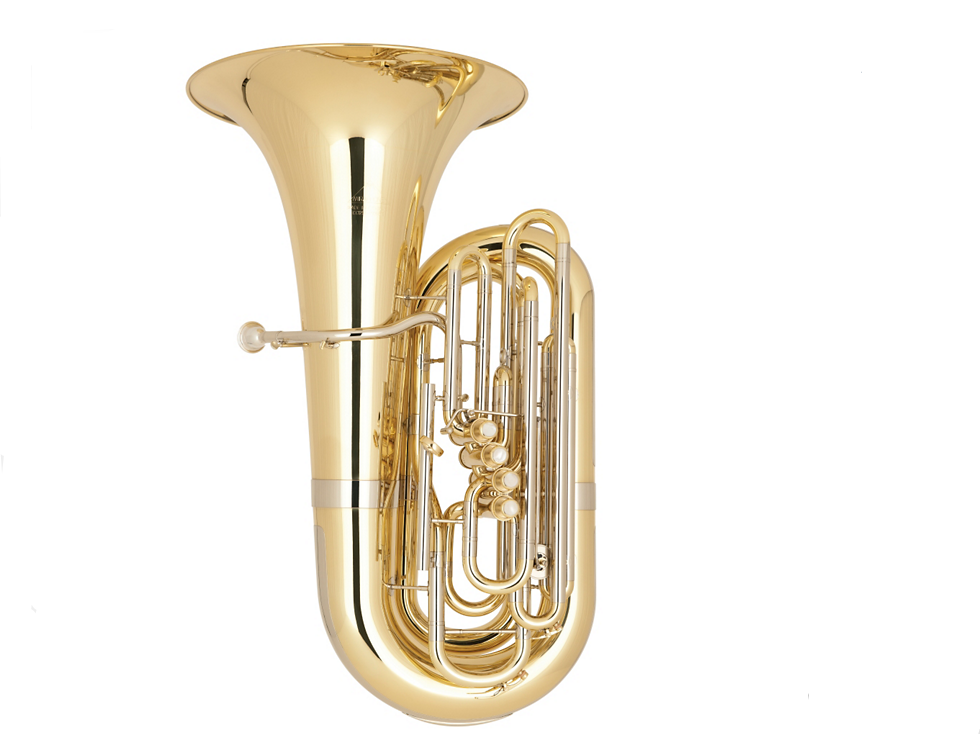 Another fantastic concert tuba to consider is the Miraphone 1293 Series model. It's a massive instrument, so you do need to be an adult and be pretty strong to hold it. The CC tuba features a large bell to help project your sound, and the fifth valve makes playing certain notes easier. Plus, you can choose between a medium and medium-large lead pipe to get the sound you want.
It uses piston valves that move easily, so you can play more technical passages. Unfortunately, it's pretty expensive, and it doesn't even come with a case.
Pros
Good sound
Projects well
Easy to customize
Cons
Miraphone 1293 Series | Woodwind & Brasswind
The Miraphone 1293 Series 5-Valve 5/4 CC Tuba is the newest edition to the popular 1290 series from Miraphone. It features a big 19.685" bell and a larger 5th valve than previous models.
Check Price
We earn a commission if you make a purchase, at no additional cost to you.
FAQs
Question: What's the difference between the tuba and contrabass tuba?
Answer: There isn't a huge difference between the tuba and contrabass tuba, especially because the most common tuba is the contrabass model in BBb. However, there are tubas in Eb and F that don't count as contrabass tubas.
The term contrabass refers to the two lower-pitched members of the tuba family. It just so happens that those two are also a bit more common than the smaller instruments.
Question: What is the difference between a bass tuba and a contrabass tuba?
Answer: There are a few differences between the two, the most notable being their pitch. Bass tubas are pitched in F and Eb, while contrabass tubas are pitched in CC and BBb. Contrabass tubas are also slightly larger. 
Question: How old do you have to be to learn the contrabass tuba?
Answer: In general, you need to be about 10 to 12 years old to start becoming a tuba player. However, your size matters more than your age, as some younger students who are taller might start earlier.
Someone short for their age may need to wait an extra year. If you want to play something in the meantime, the euphonium can be a good option since it's smaller but uses a similar playing technique.
Question: What clef does the contrabass tuba read in?
Answer: The contrabass tuba reads in the bass clef, as do all other tubas. Additionally, the contrabass tuba isn't a transposing instrument, so the music can't be transposed into different keys.
Question: How big is a contrabass tuba?
Answer: If you spread out the BBb tuba's tubing, it would measure about 18 feet long. The tubing for a CC tuba is about 16 feet long if you lay it out.
These tubas can weigh close to 30 pounds, depending on the size, pitch, and materials. So make sure to test each model out to see if it feels comfortable.
Question: How much does a contrabass tuba cost?
Answer: You can find some contrabass tubas that cost around $5,000 and others that cost well over $10,000. The price depends on the level, materials, and amount of handwork vs. machines.
A concert or marching tuba costs a lot because it requires a lot more materials than smaller instruments, even the bass trombone. But you can save money when you buy a used model or get a smaller tuba.
Question: Should you get a BBb or CC tuba?
Answer: As a beginner, you should start on a BBb tuba because it's more common than the other sizes. It will be easier to find a BBb tuba, so you don't have to spend as much time shopping around.
Once you get the hang of it, you can choose to learn the CC tuba to experiment with its range and sound. However, you don't have to learn both if you don't want to.
Final Note On How To Find The Best Contrabass Tuba
Whether you're a beginner or looking to upgrade, you need to know how to find the best contrabass tuba for you. Sure, your friend may love their tuba, but you might not like how it sounds or feels. Be sure to try as many models as you can from brands like Jupiter and Yamaha. Then, you can get the size, pitch, and material you want so that you can enjoy your contrabass tuba for years to come.
| Product Image | Primary Rating / Price | Primary Button |
| --- | --- | --- |
| | | |
| | | |
| | | |
| | | |
| | | |
| | | |
| | | |