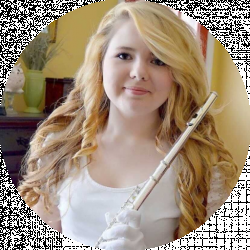 Latest posts by Annalise Swain
(see all)
Do you want a flute that has a great tone? Do you want it to be able to last a long time? Then you must purchase a flute from one of the most reputable manufacturers. Now that you've decided on the flute as your instrument of choice, there's only one thing left to do: find the ideal flute. 
This is, however, easier said than done. After all, there appear to be numerous fluting choices available. However, the truth is that you only need to be familiar with a few companies. In light of this, we've compiled a detailed list of the best flute brands to be aware of.
Reputable flute brands 
Choosing and purchasing your first flute, or even your second is usually an exciting experience. As a result, you must get it properly. One of the most important steps in finding the correct flute is to shop from a well-known brand. Otherwise, you might as well get a cheap flute. In light of this, the greatest flute brands available to flutists are listed below. 
Gemeinhardt 
Kurt Gemeinhardt, the firm's founder, founded the company in the mid-1940s, is the name of the brand. Gemeinhardt has made a name for itself as a top maker of high-quality flutes. One of the main advantages of purchasing a Gemeinhardt flute is that they are typically less expensive. This is not to suggest, however, that they skimp on the quality of their instruments. They do, in fact, have one of the finest sounds around. 
As a result, they are ideal for someone who is just getting started with the flute. Flute tones of excellent quality can be acquired without breaking the wallet. Furthermore, Gemeinhardt flutes require less care, making them perfect for the beginning flutist.  
Our recommendation for a Gemeinhardt flute:
Gemeinhardt 2SP Flute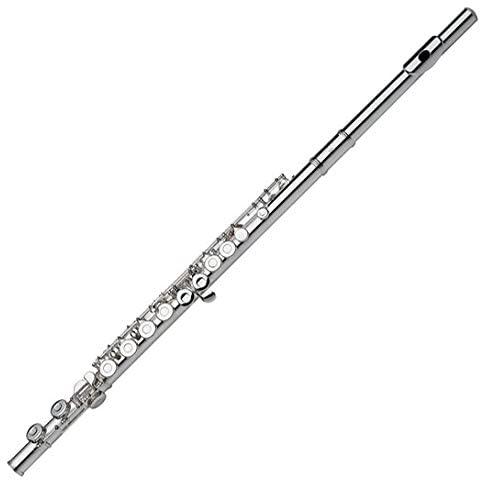 This flute features a beautiful triple-plated silver design and a fantastic head joint. The shape provides stability when playing and aids in the production of a dark and lovely tone. The flute has an offset G key and a closed key design rather than an open key configuration. For novices, the offset G key is beneficial since it makes playing the flute simpler.
Pros:
The silver-plated metal body and solid construction assure reliability and function.
Flat keys and an offset G key make it easy to play and handle, especially for young students.
Cons:
The case the flute comes in is made of poor quality.
Jupiter 
Jupiter, formerly known as Jupiter Band Instruments Inc., is a Taiwanese company that was founded in 1980. They make instruments for brass, woodwinds, and percussion. Of course, this includes flutes. They also have a presence in Austin, Texas. 
If you're searching for a reason to choose a Jupiter flute, consider their mission statement, which states, "A world of excellence goes into each musical instrument." These aren't just terms for the business. They make high-quality flutes with a warm, rich tone. They also feature a straightforward intonation that aids pupils in producing precise and on-pitch sounds. 
Our recommendation for a Jupiter flute:
Jupiter Plateau Offset G Silver-Plated Flute 115S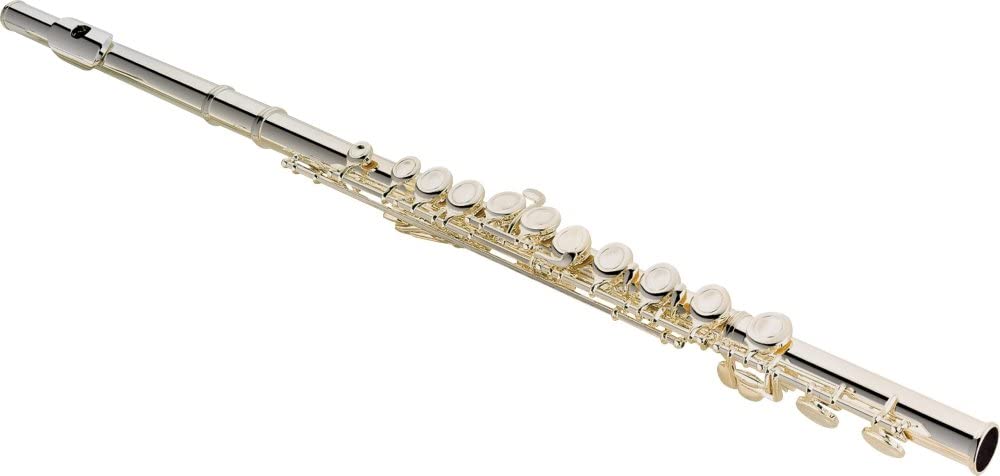 Jupiter is a brand that produces a wide range of beginning and intermediate instruments. This flute might be a good starter instrument that will last a few years. It is of sufficient quality for a beginning or intermediate learner who intends to play for several years. It's nickel and silver-plated closed-hole flute with an offset G. 
Pros:
Sterling silver plating.
Open keyhole design.
Offset G
Cons:
This flute doesn't come with cleaning supplies.
Yamaha 
If you've been around the music scene for a while, you've almost certainly heard or seen Yamaha. Their reputation is not unjustified. Yamaha is the world's largest musical instrument maker, including keyboards and guitars among its products. They are, however, behind in their flute skills. This brand is also a top-notch flute manufacturer with superb tones and a wide pitch range. 
If you're a student seeking to acquire a flute, a Yamaha model could be ideal. Lip plates on their student flutes assist novices in mastering proper breathing methods. The placement of their keys also facilitates stress-free playing by ensuring great balance in terms of flute balance. 
Yamaha was one of the first manufacturers of musical instruments in 1887. The reed organ and pianos were the first instruments they used. They currently manufacture more than only musical instruments, as well as household appliances and even recreational equipment. This isn't to suggest they haven't made progress in the instrument world. They're still as vivid as they've always been. 
There's an adage that says knowledge comes with age. Yamaha, without a doubt, agrees with the veracity of this statement. Given the length of time Yamaha has been around, it's reasonable to assume they know what they're doing. Furthermore, we may assume that they do since their tools and equipment are in high demand. 
A Yamaha flute is a great choice for both beginners and advanced players. They have a lot of flute-building experience, which they put to good use in creating each instrument a melodic masterpiece. So, if you want to get the most bang for your buck, this is one way to do it. 
Our recommendation for a Yamaha flute: 
Yamaha YFL-222 Flute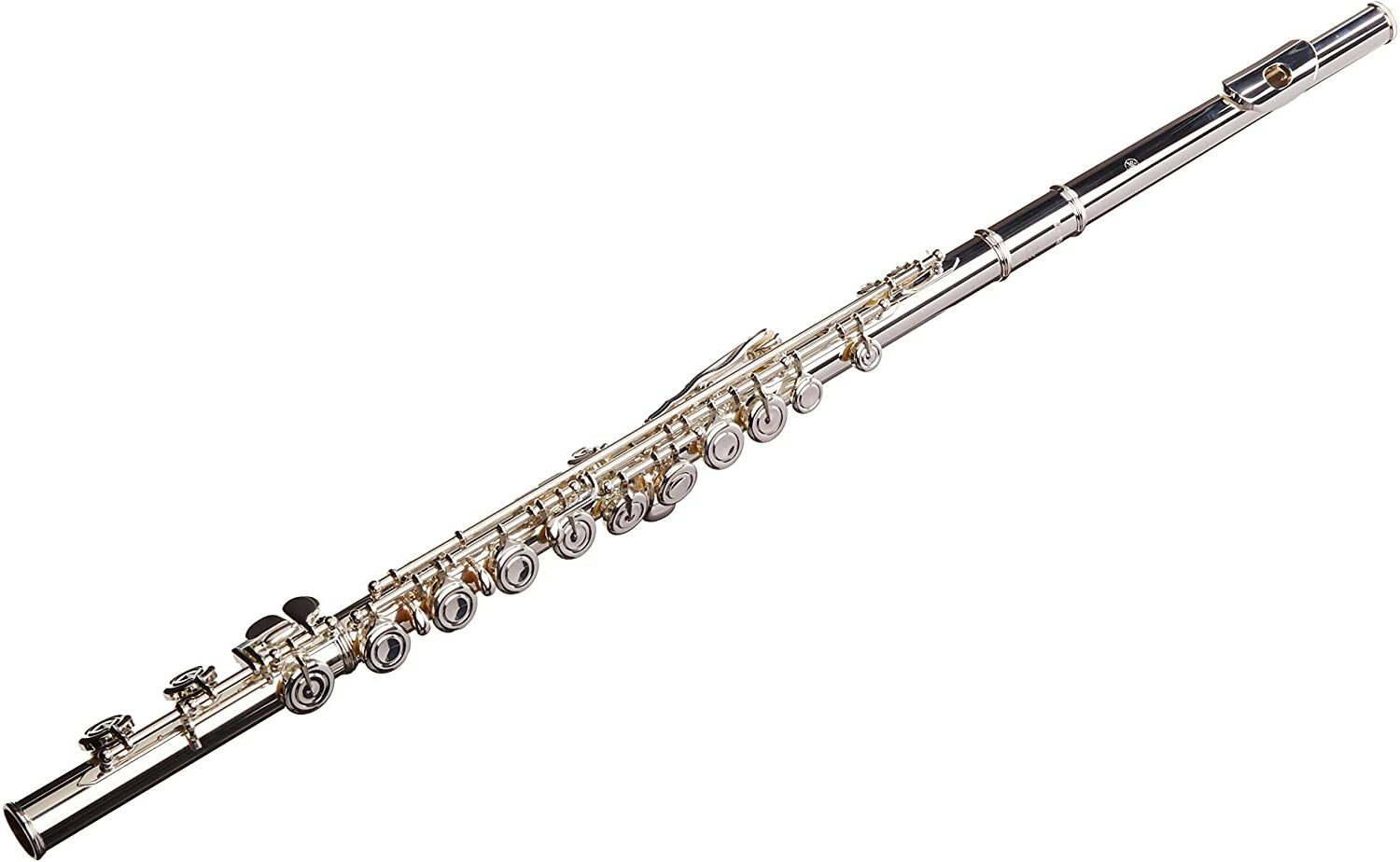 This Yamaha flute is well-known among beginners and students, and it is considered one of the greatest flute brand models in this category. It has a fantastic tone and is designed specifically for learners. 
This flute has a stunning look in addition to its tone. It has pointy arms on the non-fingered keys, which make the keys both stronger and more attractive. Closed hole keys, an offset G, and foot joint markings on the flute allow for appropriate fitting for young flute players. 
In addition to its extensive list of functions, the flute is made of nickel silver, making it extremely robust and less prone to breaking.
Pros:
Has durable silver plating.
Inline G
Comes in a hard case and a polishing kit.
Cons:
A bit expensive compared to other brands.
Armstrong 
Armstrong comes in next on our list of the top flute brands. The origins of Armstrong as a flute brand may be traced back to an outstanding artisan named William Teasdale Armstrong. William founded a little flute repair shop in 1931, but that was only the beginning of his remarkable journey. Today, that shop has evolved and expanded into Conn-Selmer Inc., although Armstrong flutes are still made there. 
Armstrong flutes come in a variety of sizes and styles that are suitable for both students and professionals. The Armstrong flutes have a clear tone that only the student flutes have. Furthermore, these flutes have an offset Key G that fits the natural shape of human hands, making them easier to learn and play for pupils. 
In the mid-'70s, William Armstrong devised a unique scale for flutes, which is one of his most significant accomplishments. However, he did it in collaboration with Albert Cooper. Flutists had to retune the A=435 by filling head-joints at their ends to raise the pitch to A=440 before their creation. However, while this fixed the pitches in the middle registers, it left the remaining octaves out of sync. 
Our recommendation for an Armstrong flute:
Armstrong Model 104 USA Student Flute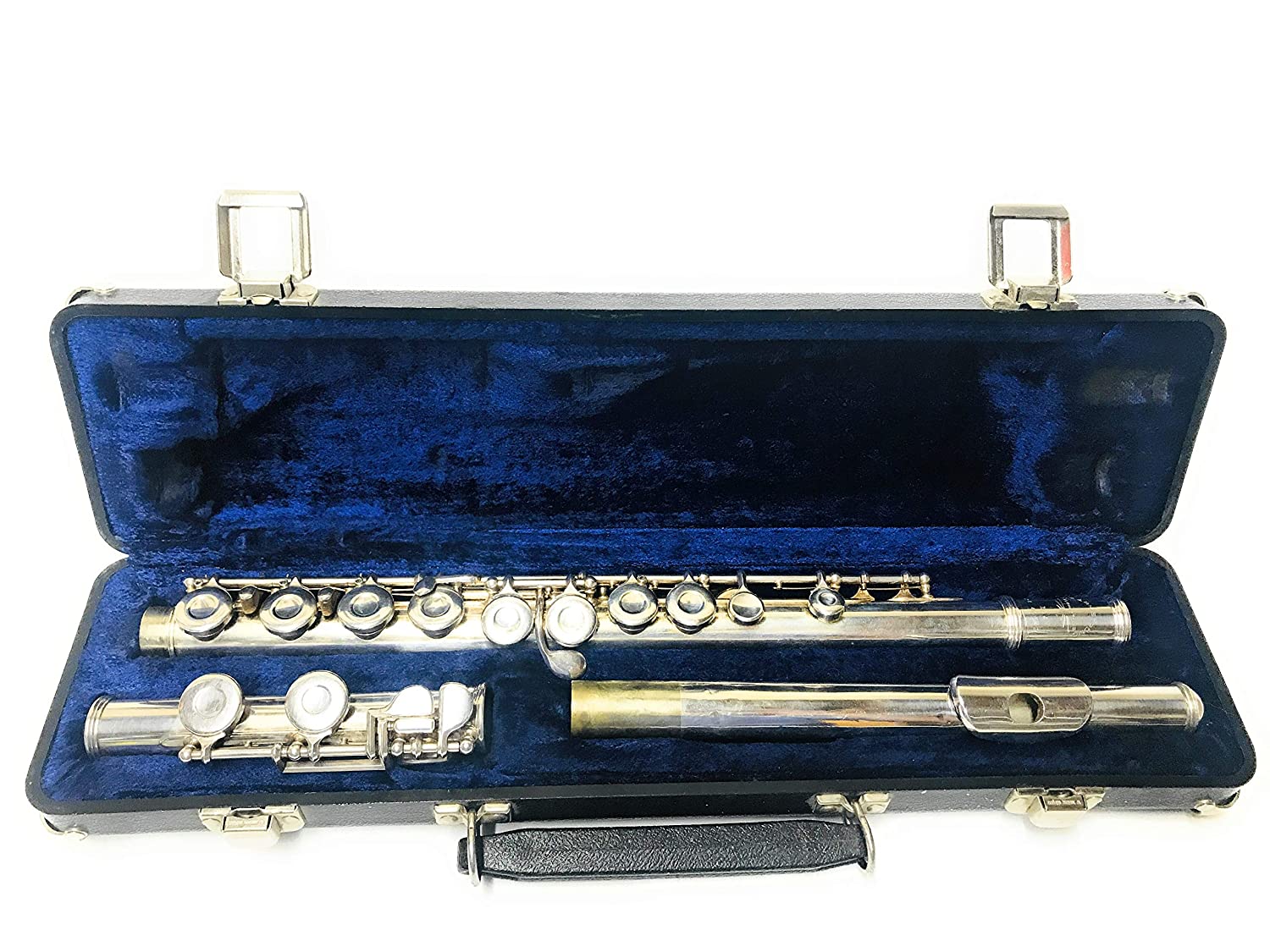 For beginners, the traditional Armstrong 104 closed-hole type is excellent. This type has been played and recommended for decades in the American tradition of studying the flute. This silver-plated model features a progressive-style head joint that has been recommended by flute teachers for its crisp responsiveness and ease of play. 
Air leakage is prevented by the flat key cups. Your student will be able to enjoy this model for years to come because of the heavy plating and robust mechanism. The offset G mechanism is suspended on a separate rod, ensuring its stability. 
Pros:
Flat keys for easy playing.
Long-lasting and durable.
Closed hole design.
Cons:
The silver plating may wear over time.
Emerson 
Unlike the majority of the flute brands listed in this article, Emerson is entirely made in the United States. Emerson DeFord, the company's founder, is well-known for his flute-making skills. He also produced musical instruments for symphony orchestras and The Lawrence Welk Show. 
Emerson's flutes have a particular quality in that they always have that clear, rich tone that we all enjoy. The flutes also have a lovely intonation, which is a bonus. 
Our recommendation for an Emerson flute:
Emerson EF88BOF Open Hole Flute 
This flute is produced in the United States and is ideal for students who are ready to progress to a more advanced instrument. Made in the Selmer/Emerson facility, your instrument will be made by the top craftsmen in the country. 
The Emerson step-up flute in the French style (open hole) is ideal for the developing flutist. The future flutist will benefit from the silver-plated body, French cups, and sensitive head joint choices.
Pros:
Open hole design.
Silver plating finish.
Ideal step-up flute.
Cons:
Pearl 
When searching for flutes, this is another musical brand to keep an eye out for. Following WWII, Pearl became a musical instrument brand in Japan. Their original factory, which specialized in hand-crafting flutes, was located in Chiba, Japan. They've come a long way since then, though. Pearl is now regarded as one of the top flute manufacturers in the world. 
They've demonstrated amazing degrees of inventiveness in their flute crafting using Pearl. Of course, this has a lot to do with the fact that the majority of their artisans have worked in the industry their whole lives.
One of the reasons Pearl has become so popular is the ease with which their student flutes may be used. A curved head-joint was employed, which decreased the distance between flute keys. As a result, younger flute players do not have to stretch their arms to reach the correct notes. 
The music company also looked for ways to enhance the flute's head-joint and keys. They eventually came up with a pinless system for which they filed a patent. 
You get almost five decades of knowledge and better craftsmanship with a pearl model. In other words, you'll receive a flute with a rich sound and typically correct pitches. Furthermore, they are ideal for beginners who have just begun their flute adventure. Not to mention the fact that their flutes contain a split E element! 
Our recommendation for a Pearl flute: 
Pearl 525RB1RB Quantz Series Flute 

We'll have to settle with a model from the Quantz series for the Pearl brand. The Pearl Quantz line is known for producing high-quality student flutes. This flute is a fantastic choice for any learner because of its dependability and ease of use. 
The Pearl 525 has a key with an open hole design, a silver body, and a sterling silver lip plate. All of this contributes to a deep and fantastic sound.
Pros:
Budget-friendly.
Pearl is a reputable flute brand.
Case, cover, and cleaning supplies are included.
Cons:
Only has a one-year warranty.
Altus 
This brand is perfect for musicians who are passionate about musical emotions, according to Shuichi Tanaka, the founder. As a result, he stressed the importance of Altus flutes revealing the player's true personality. That was the foundation of Altus as a brand for him. 
Altus has been around for almost two decades and doesn't seem to be going anywhere. They introduced their Azumi series of flutes in 2006, which is a model intended particularly for student flutists. These versions had the added benefit of being more inexpensive, in addition to being simple to operate. This isn't to suggest you'll sacrifice quality to save money. The flutes are still excellent. 
Our recommendation for an Altus flute:
Azumi AZ 3000RBS Flute 

If you're a serious beginner or student, this flute is worth considering. Shuichi Tanaka alone created this flute. It allows you to witness the skill, workmanship, and quality that goes into the creation of an Altus flute. The flute has a Britannia silver body, a B foot, and an offset G key system. Not to mention that it's an open hole flute with an Altus handcrafted Z-cut.
Pros:
Great as an ideal step-up flute.
 Open-hole key design.
Inline G
Cons:
Doesn't last as long as high-end flutes.
Types of flutes 
The flute is one of the world's oldest instruments, second only to the drum. To offer pitch variety, ancient flutes were made of bone or hollowed sticks with holes carved in them. The modern flute was invented by Theobald Boehm in the nineteenth century. The primary body of the flute was still constructed of wood at this period, making it extremely exhausting to play. The metal flute was not developed until the late nineteenth century.
Bass flutes 
The bass flute is mostly utilized in flute groups in traditional band and orchestra music. Flute quartets, quintets, and flute choirs are highly popular among intermediate to advanced students because of the familial groups. 
The bass flute has a tough time maintaining excellent intonation due to its size. It necessitates a high degree of ability as well as a well-developed ear for pitch. There are flute family members with lower tuning; however, they are more unusual. The contrabass and sub contrabass flutes add to the range of flute choirs. These flutes lie on the floor due to their size, and the player stands or sits on a tall stool to play them. 
Concert flutes 
The principal instrument in the flute family is the C flute. A musician does not generally specialize in an alto, bass, or piccolo, unlike other instrument families such as the saxophone. A flutist, on the other hand, must master the concert flute as his or her primary instrument and learn the other instruments as subsidiary instruments. 
The other flutes aren't utilized all of the time, but they do lend some color to the composition. As a result, learning to play the concert flute is by far the most important step for pupils. 
Alto flutes 
The alto flute's low timbre lends a smooth, pleasant tone to the upper woodwinds, and it's used in many symphonic compositions. The alto flute, despite having the same fingering as the concert flute, plays in the key of G, sounding a fourth lower than the normal C flute. 
Due to its size difference, the flute sounds the pitch G when fingering a C since it is in a different key. Many orchestral solos are composed particularly for the warmth of the alto; thus, an alto is required for professional-level performing.
Piccolo 
The piccolo is the tiniest of the flutes, sounding one whole octave higher than the concert flute. The piccolo, like the normal flute, is in the key of C. Although the piccolo resembles a small flute in size, the two instruments are vastly different. 
Many other flutes are considerably easier to play than the piccolo. The piccolo's exceptionally high sound necessitates a highly energetic air stream, which a beginner player is not trained to create. The tight arrangement of the keys, in addition to the lung support required to make the music, can be difficult for novices' hands.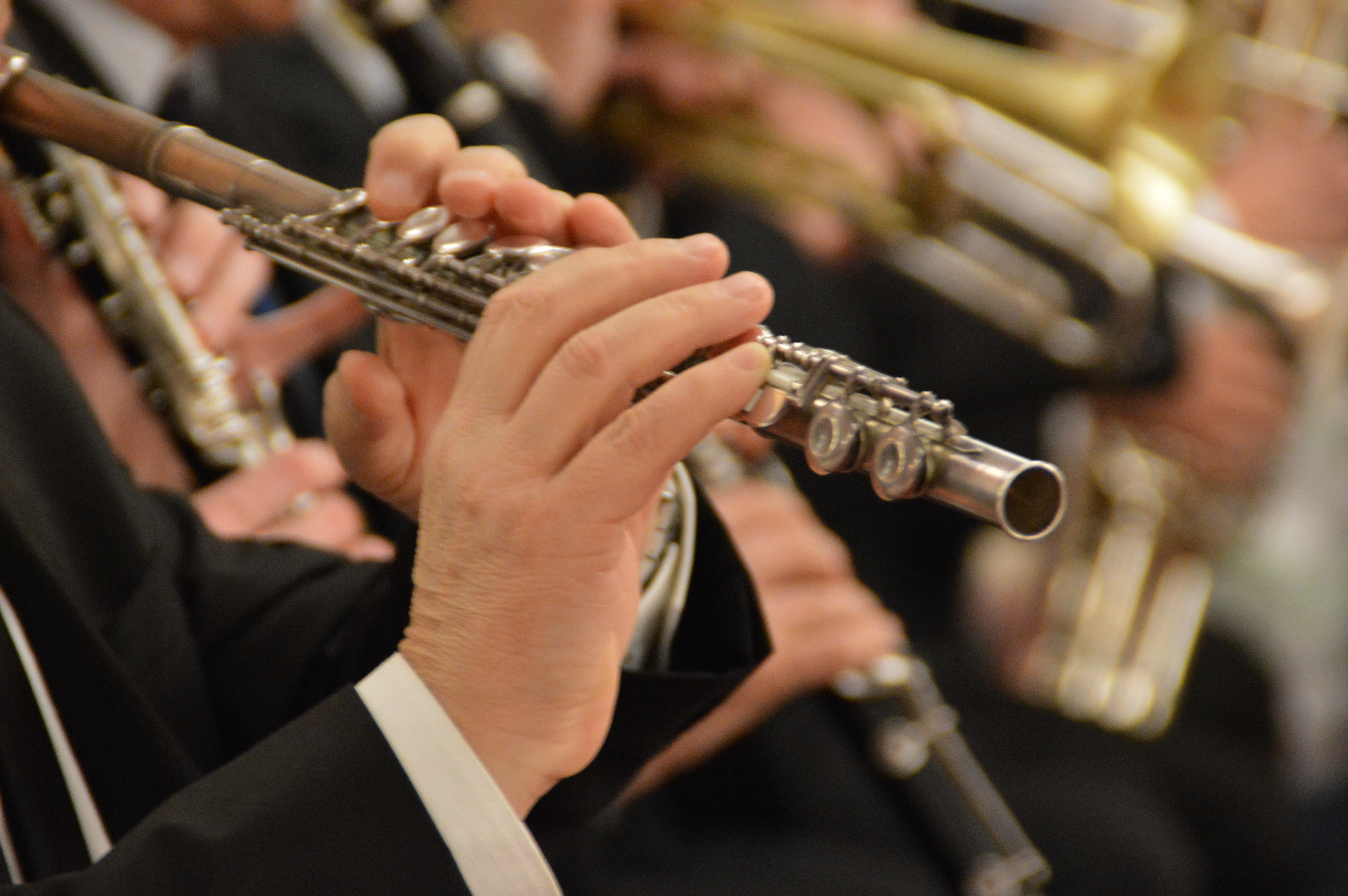 Anatomy of a flute 
When buying a flute, you need to know its anatomy. Having an understanding of each piece will allow you to be able to buy the right flute that will suit your needs. 
The head joint 
The lip plate and embouchure hole are located at the top of the instrument. The cork at the tip of this component should be handled with care while cleaning the instrument. The cork seals the flute, ensuring that air only passes through the body and not out the incorrect end. 
Damaged corks provide an inconsistent, airy tone that must be fixed by a professional instrument repair facility. As we'll see later, the head joint may be changed to improve the instrument's overall tone quality. 
The body 
The primary mechanics that govern the bulk of the keys are located in the instrument's midsection. The key springs are extremely precisely tuned and should be handled with extreme caution. 
Offset vs inline G keys
The G key is one of the most common variations when looking for a flute. An inline or offset G key is available on flutes. Despite the fact that only one key has been changed slightly to the left, the whole playing position of the hand has been significantly altered. Professionals who play both models say that one allows for faster trills than the other, but ultimately it boils down to which posture is most comfortable. 
The foot joint 
All of the keys on the foot joint are controlled by the right pinky finger. There will be more keys on an advanced flute to increase the range. The foot joint's keys allow the player to expand the range's bottom end. There may also be a gadget key that helps to produce a clear high C note easier. 
How to properly care for and maintain your flute 
Taking care of your flute is the top priority when it comes down to it. If you don't, a lot of things will start to go wrong, like your keys sticking, buildup, etc.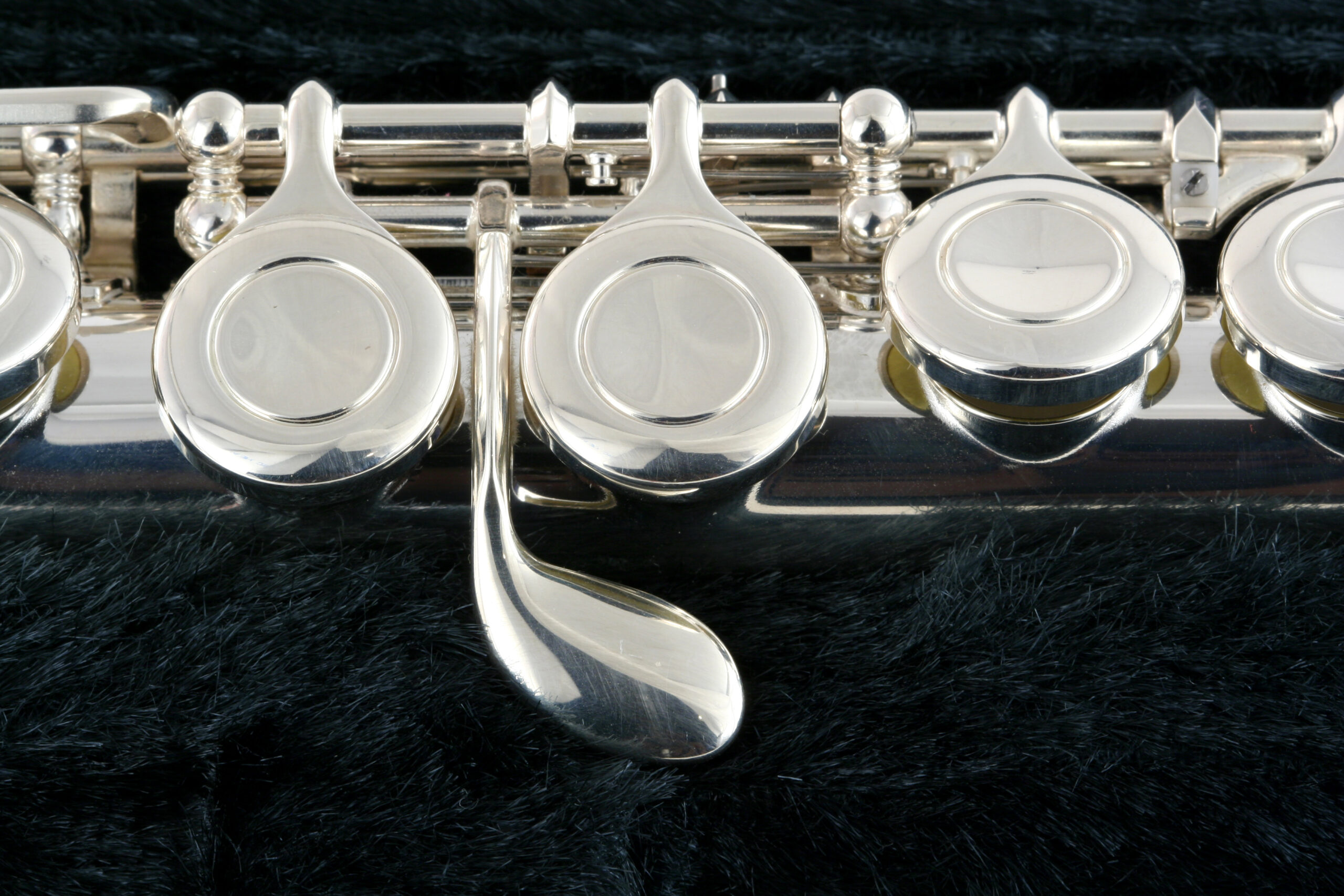 Swabbing 
The preservation of your keypads and the avoidance of accumulation within depends on removing moisture from your instrument. A needle and a cleaning cloth will be included with your flute. Feed the cloth's tip through the needle, thoroughly coating it, and then through the three sections of the flute, eliminating any moisture. You should be careful how deep you push the swab into the head joint since there is a cork in the tip, and jabbing it with the swab might break the cork's seal.
Clean your mouth 
Any leftover food or sugar from beverages is blasted through your flute since wind instruments require you to blow through them. Rinsing your mouth before playing has sanitary benefits, but it also improves the health and longevity of your pads. 
Stinky keys 
Even if you clean your lips before playing, your keys will most likely become sticky owing to humidity and weather conditions. Blowing strong bursts of air on the sticking pad may help to resolve the issue.
If the sticking persists, insert a clean piece of paper and softly press the key down—do not press the key down and drag the paper out from beneath the pad. The pads on a flute are extremely delicate and costly to replace, and using too much effort might destroy them. 
Assembly of the flute 
When disassembling or assembling your flute, it is critical to always follow the right instructions. All of the keys are connected by delicate springs and mechanisms that might be broken and result in costly repairs if handled incorrectly. 
Never grasp the keys or mechanism of the flute.

Always twist the pieces together rather than pushing or shoving them together.

The uncoated metal at the bottom of the body portion is the most readily bent, so start with the foot joint.

Use the first key as a reference point for the embouchure hole when putting on the head joint following the foot.
FAQs 
Finding the right flute for you is a must. If you still have more questions regarding flutes, that's okay; we're here to help!
Question: What flute should a beginner buy? 
Answer: For novices, the concert flute is the best option. The flute is generally introduced to beginner school bands in fourth or fifth grade. Young players must be tall enough to reach the keys without straining their necks or hands. 
Question: Can you teach yourself how to play the flute? 
Answer: It is certainly possible to learn to play the flute on your own. However, how simple or difficult it will depend on your prior musical experience, the amount of time you have to devote to studying, your age, physical ability, and the amount of money you have to invest.  
Question: Is the flute hard to play? 
Answer: Learning to play the flute is not tough, but it may be if you don't keep your concentration or devote enough time to practice what you've learned. The difficulties you will confront during the procedure will not only be technical but also physical. 
Best flute brands 
There are many flute manufacturers to choose from, and if you're not careful, you might wind up with a defective or weak flute that breaks just days after purchase. The brands listed here are some of the top flute brands available. They are not only long-lasting, but they also have a beautiful tone that you won't get in low-cost, unknown brands. Always prioritize quality above cost. As a flutist, you should always save for a nice flute rather than purchasing a cheap one that will not endure. What do you think?