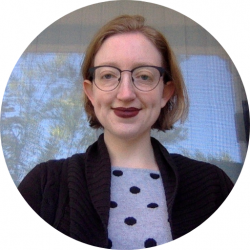 Latest posts by Melanie Griffin
(see all)
Whether you're toting an instrument between practices, performances, lessons, or wherever else your music takes you, you want to make sure it's safe, secure, and convenient. Your clarinet warrants a few special considerations that you should keep in mind as you're shopping for its case.
We'll go into details about what to look for, then link you to our top choices and where to buy those. We've decided on our favorites by picking the top contenders in several usage categories, as well as one all-around best pick for the average player.
First, let's talk about what you should know about your personal clarinet, playing environment, and preferences before you dive into shopping for a case.
Features to Consider
Internal Material
Most beginning clarinet players use instruments made of treated plastic because they are cheaper and require less maintenance. These plastic clarinets will be fine resting in the felt or other lower-grade interior materials found in less expensive cases.
However, many players upgrade to wooden clarinets once they reach a certain skill level (usually either if they enter a music major program in college or start playing with a professional orchestra), and those instruments require gentler handling.
This is not only because wooden clarinets are more expensive but also because their material runs a greater risk of getting scratched by fibers that are too harsh to the touch.
External Material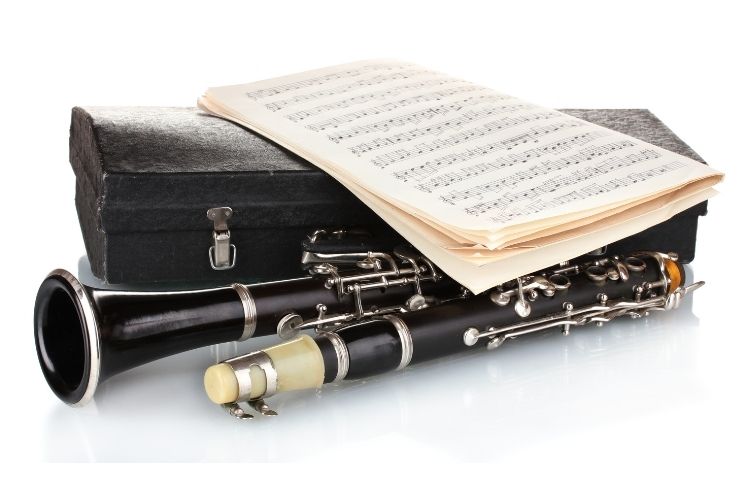 This is easy to figure out once you track where all you take your clarinet. There are two types of exterior materials to consider. A soft case, or "gig bag," is not actually completely pliable like a stand-alone piece of cloth.
Instead, it's reinforced canvas or another strong-woven material that is stretched across a rigid framework, like a rolling suitcase. Soft cases are lighter to carry and a little easier to store because the material has a tiny amount of giving built into it.
They are also cheaper, and if you're looking for a case to take to private lessons, singular orchestra rehearsals, or other places that don't require a lot of movement or crowding once your case is put aside, soft cases may be your best bet. On the other hand, hard cases are built for maximum protection.
They are generally constructed of a molded material like hardened plastic and act more like briefcases than shoulder bags. This means they are heavier than soft cases and can withstand more jostling and rough handling.  Hard cases are recommended for players in school ensembles, marching bands, and anywhere they may be used in large, moving crowds.
Theft Protection
Hard cases close with latches to either side of their handle, and some come with a locking mechanism between those. Some musicians like to use these as an extra security precaution for their instruments.
Locked cases also work to keep their non-musical necessary valuables safe during performances without needing to carry another bag such as a purse. Soft cases do not have the right material for built-in locks, but you can buy an exterior lock that hooks together the case's zippers to approximate the same effect.
Musical Accessories
At the bare minimum, your clarinet case needs a storage space for your extra reeds and a mouthpiece cleaner. If the reed on your instrument breaks during a performance and you don't have another at hand, you're out of luck for the rest of the music.
Likewise, if you don't clean the interior of your mouthpiece after each playing session, you run the risk of building up bacteria that could make you sick and degrade your instrument's performance.  All clarinet cases will have some form of storage, ranging from a simple extra depression in the interior material to a number of exterior pockets big enough to hold reams of sheet music.
It's tempting to immediately go for the maximum storage space offered, but remember that will bulk up your case as well, so it's preferable to go with what will fit your needs. If those grow, you can always upgrade your case or buy exterior sleeves that go over your existing case and add pockets.
Number of Instruments
Many professional orchestral clarinetists bring more than one instrument with them to performances. That is partially for backup and sometimes to differ their sound on certain performance pieces.  If you're in the same situation, a double case will keep both instruments safe and able to travel without you having to juggle an extra tangle of straps.
Double cases for clarinets come in hard and soft options, and you can even choose cases that carry a variety of wind instruments to keep your clarinet company. You can find double cases with wheels and pull-up handles as well to take the carrying pressure off your shoulders.
With those features in mind, we've compiled a list of our top five best clarinet cases to hold and transport your instrument base on the cost, protection, and portability. Note: all of our choices here fit a standard B-flat clarinet, but most brands have the equivalents for different sizes of instruments. 
Best Clarinet Cases
Best Overall Case: Protec Micro-Sized ABS Protection Clarinet Case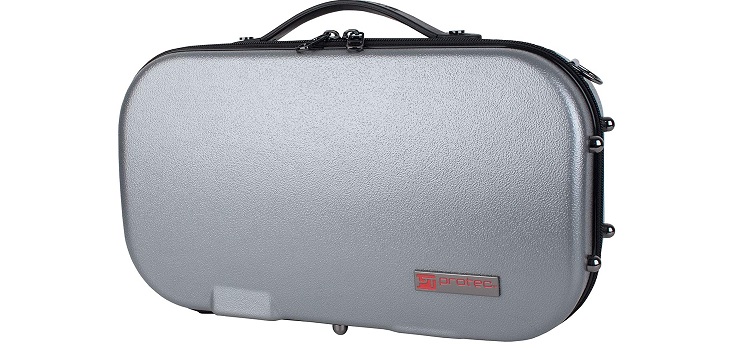 This case wins our top spot because it combines a number of advantages from both hard and soft cases into one.
Pros
Compact Dimensions: This case is made for stowing away in small places, like a book bag. It measures 13.25 x 7.5 x 4 inches and weighs less than two pounds. That means it's great for any musician who will be carting their clarinet around frequently.
ABS Plastic Protective Shell: ABS is a polymer, or mix of different types of plastic, and it's specifically created to create structural integrity that protects your instrument while staying lightweight. 
Retractable Handle and Detachable Padded Strap: Like hard cases, the Protec Micro-Sized ABS Protection case has a briefcase-like handle on its long edge. Like soft cases, it also has a detachable shoulder strap that can hook onto the case's built-in D rings. Whichever way you want to carry it, you can then put the other method out of your way by retracting the handle or detaching the strap, ensuring your case stays streamlined.
Available in Three Colors: Unlike many hard cases, the Protec Micro-Sized ABS Protection gives you the option to choose between silver and navy along with the traditional black. We like the silver because the shine makes it easy to stand out in crowded storage spaces. 
Cons
No Built-In Lock: Like soft cases, this case closes with a zippered edge. This means it doesn't have the latches or potential for an internal lock. You can add an exterior key or combination lock to secure the zippers, but keep in mind that it will add a little extra bulk and weight that may be noticeable on such a light case. 
Reports of Handle Breaking: Several Amazon reviews mention that the handle on their cases broke after a few months of usage. This is most likely because the structure points that make it retractable are weaker than stiff handles. However, if you don't plan on relying solely on the handle, you may still find this case worth it.
Not a Lot of Storage: A small area is carved into the interior that is big enough for an extra mouthpiece and a few reeds, but not anything else. If your clarinet travels with a lot of accessories, Protec has a larger case with a built-in exterior storage pocket in the same series. (However, the larger one is about $30 more than the Micro-Sized.) 
Price: $72.60 – $99.00 (depends on color)
Where to Find It: Amazon
Best Soft Case: Gator Cases Lightweight Polyfoam Clarinet Case with Removable Strap and Rubber Interlocking Carry Handle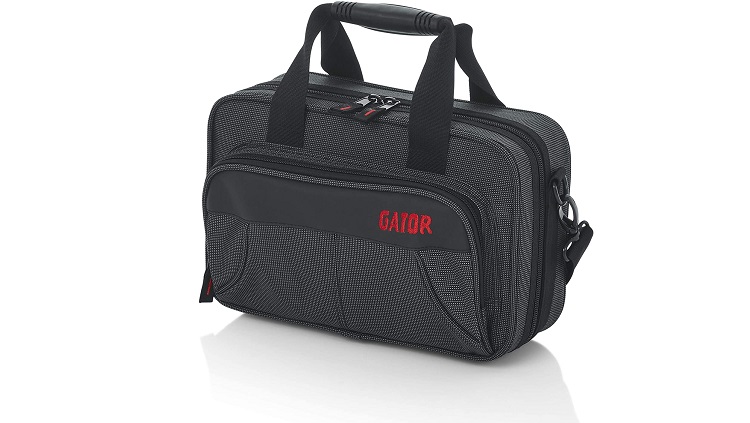 This soft case has several reinforcement features combined with clever storage solutions. 
Pros
Water Resistant: Made from reinforced nylon, this case lets water roll right off its back. It keeps the case's shape and is great at repelling dust and other exterior irritants. 
Two Zippered Storage Compartments: You can store sheet music and other accessories in this case's two zippered pockets — one on the front and one on the back, which also keeps the case balanced. They're roomy without adding to the bulk of the case. 
Internal Mouthpiece Holders: In addition to its two exterior storage pockets, this case has extra interior molds designed just for spare mouthpieces. That allows you to store your backups without needing to rummage through the rest of your accessories when you need them. 
Cons
Made from Nylon: Nylon is a great material to keep out weather, dust, and other natural disasters. However, it's not the sturdiest. This case has a few reinforcements built-in, so your instrument will still be protected, but if you're going to be storing your clarinet with a lot of other people's instruments (like in a school band room), you may want to consider a hard case instead.
Plush Interior: Although plush is good for your clarinet, it tends to shed a bit and cling to dirt that gets in, so be prepared to add a little extra attention to its upkeep.
Weight: At over two pounds, this case is one of our heavier picks. That's the payoff for more storage space, so keep in mind which one will be more important to you as you choose your case. 
Price: $54.99
Where to Find It: Amazon
Best Hard Case: Buffet-Crampon Traditional Clarinet Cases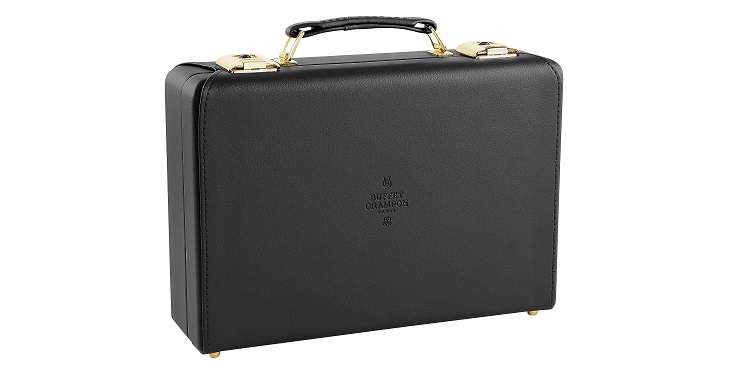 Buffet-Crampon is a famous clarinet maker based in France, and its stand-alone cases reflect the high-quality materials used in its instruments. 
Pros
Materials: These cases are made of plywood wrapped in vinyl or leather, shielding your instrument from direct physical contact and exterior messes. 
Durability: Because they're made with essentially two layers of protection, these clarinet cases last forever. The plywood gives a sturdy foundation, while the smoothed cover material can be easily wiped clean. 
Built-in Locks: Buffet-Crampon clarinet cases come with locks built into its edge on each side of the handle. That makes them the most secure cases you can buy, complete with keys to take with you so your valuables will be secure.  
Cons
Price: A basic Buffet-Crampon clarinet case starts at around $300. That's about six times as much as the cheapest case on this list. The construction is worth it if you are a professional player or want to keep your clarinet for a long time. However, if you're a beginner or still figuring out if you want to stay with the instrument, we recommend trying something less expensive first.  
No Shoulder Strap: If you opt for the company's traditional hard case

, there aren't any D-rings or other attachments to secure a shoulder strap, which may be an issue if you need to carry your case with other things. However, Buffet-Crampon does make several styles of gig bags that have strap options. 

Care: Because these cases are so expensive and made of luxury materials, they take a bit more attention than the standard plastic or canvas ones. You'll want to use specialty leather cleaning supplies if you opt for that cover, and a metal polish for the nickel fixtures will keep it looking new for decades. 
Price: $304.99
Where to Find It: Guitar Center 
Best Portability: Paititi Lightweight Vegan Leather Bb Clarinet Case with Shoulder Strap, Backpackable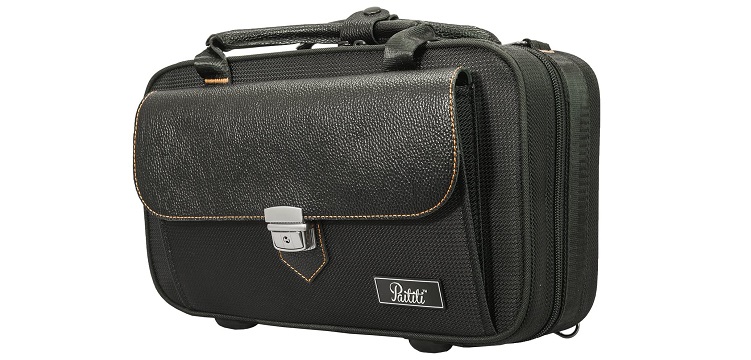 We picked this case for its innovative materials and ways to carry your instrument. 
Pros
Straps to Turn It Into a Backpack: The word "backpackable" in this case's name means it has a pair of straps that will hook to the back top and bottom so you can wear it like a backpack. It's a great way to carry your clarinet in a way that secures your instrument while keeping your hands free. (You can also use the straps to carry it in the more traditional cross-shoulder way, or conceal the straps and use the leather handle.) 
Vegan Leather: Not only does the outside of this case look cool, but it's also a cinch to keep clean. Plus, the combination of vegan leather with reinforced canvas adds structure without bulk. 
Latching Front Exterior Pocket: The vegan leather encloses a front, extendable accessories pocket roomy enough for your clarinet's extra needs. It latches closed, adding extra security to any loose pieces you want to store. 
Price: Despite being made of high-quality material, this case is actually the cheapest one on our list. At under $50, it's worth the investment for beginners and experienced players alike. 
Cons
Strap Length: One review mentioned that although the straps worked well in the backpack position, they were not each long enough to use a single one as a shoulder strap. However, the reviewer said they latched the straps together, and that created plenty of length. 
No Pocket for Full-Sized Music: The front pocket, while excellent for instrument accessories, is not big enough to fit a standard-sized music folder or sheets. If you play in a marching band and cut down your music to fit a lyre book, those should fit. 
Instances of Faulty Zipper: A few reviewers of this case say that theirs came with faulty zippers, which meant they could not close properly around their instruments. The company did seem to be quick in offering replacements, but you will have to let them know if you need one. 
Price: $45.99
Where to Find It: Walmart
Still not sure how to pick the best clarinet case for your needs? Here are answers to a few typical questions to get you started.
FAQs
Question: Why Would I Need to Upgrade From the Case That Came With my Clarinet?
Answer: Typically, the case that comes with your clarinet will not be as high quality as the cases you will buy separately. The case that comes with your clarinet is fine to start with, especially if you're a beginning player. However, your musical and accessories needs may soon outgrow your basic case. That's where this list comes in!
Question: When do I Know it's Time to Upgrade my Clarinet Case?
Answer: We recommend getting a clear picture of how your clarinet will fit into your life before you upgrade your case. Are you going to be playing it at school for a few years, bringing it onto the marching band field, performing with ensembles and orchestras, just for your own enjoyment at home or in solo recitals?
Are you going to be shuttling it around to numerous different places, or mostly leaving it in one place? Are you planning on pursuing higher musical education or a professional career?
All of your answers to these questions will help you figure out exactly what you need in a clarinet case. That way, you'll find what you're looking for without the wasted money and time of trial and error. 
Question: What are the Main Differences Between Hard Cases and Soft Clarinet Cases?
Answer: The main difference between hard cases and soft cases is the material they're made from. Hard cases are made of all-over rigid materials like molded plastics, acting as a shell to protect your instrument. They typically close with latches as you see on briefcases.
Soft cases are made from heavy materials like a canvas stretched over a rigid skeleton that gives the case its shape. They usually use zippers for closures and provide the sort of protection that a wheeled suitcase would. 
Question: How do I Make Sure a New Case Will Fit my Clarinet?
Answer: If you're able, take your instrument with you as you go shopping for a case. That way, you can try out the interior spaces to make sure there's no literal wiggle room.
However, if that's difficult or you're buying online, make sure to measure the length of your clarinet's different parts and mark them down in a place that's easy for you to access. Then, use those measurements to compare with the specifications of each case. That way, you can ensure your clarinet has the perfect-sized home. 
Conclusion
No matter where you are in your clarinet journey, these cases will keep your instrument looking and sounding great!