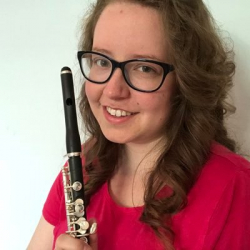 Latest posts by Hannah Haefele
(see all)
Did you know that there are about a dozen brands of saxophones out there? Selmer Paris is one of those brands that you should know, and that can help you determine how to find the best Selmer Paris saxophone for you. While the brand isn't right for every player, you won't know either way until you try it. You can give a Selmer Paris sax a try whether you like to play the soprano, alto, tenor, or baritone saxophone.
What Is A Selmer Paris Saxophone?
Selmer Paris is a well-known professional saxophone brand, so a Selmer Paris saxophone is one from that company. These saxophones will usually have the Selmer Paris logo somewhere, such as on the bell of the instrument.
This company is in France, though they do distribute instruments around the world. Companies like Conn-Selmer work to bring the instruments to saxophonists in the United States. Selmer Paris makes saxophones as small as the sopranino and as big as the bass. However, the alto and tenor saxophones are the most popular and so have the most choices from Selmer Paris.
How To Find The Best Selmer Paris Saxophone
To find the best Selmer Paris saxophone, you have a lot to consider. You need to know what type of music you like to play since that can affect your decision.
Having a budget and knowing if you want to lug something big around also matters. And while it can help to know what models other people play, what works for them might not work for you. Here are a few steps for how to find the best Selmer Paris saxophone based on your needs.
Choose Your Size
Before you do anything else, think about the size of saxophone you can or want to play. If you have smaller hands, you might want to stick with an alto or soprano saxophone. But if you want to play the bass line, a tenor or baritone saxophone might be a better choice. The alto and tenor saxophone are the two most common, but that doesn't mean you have to buy them.
If you want to diversify your skills, you can get a saxophone in a different size than what you already play. That way, you can take on more parts in a concert or jazz band setting.
Consider Your Budget
As you look at different saxophone sizes, compare the sizes to your budget for an instrument. While Selmer Paris saxophones are all expensive, some aren't as costly. This is true with the smaller ones, like the alto saxophone. If you aren't set on a specific size but do have a small budget and need to buy an instrument soon, that might take precedence over the size.
When budgeting, you should think about if you want to pay for a saxophone in full or finance it. Both can be great options, so it's up to you and your needs.
Practice Your Current Saxophone
Practicing your current saxophone can help you prepare for the new one in a couple of ways. For example, if you want to upgrade and get the same size that you have, practicing means you can figure out if you need a new instrument.
You can check for leaks or other issues that are keeping you from playing your best. Get those things repaired if possible, and you can determine if you truly need to buy a new saxophone. However, you might want to look at the best Selmer Paris saxophone in a new size. Maybe you're great at alto and want to play the soprano saxophone occasionally.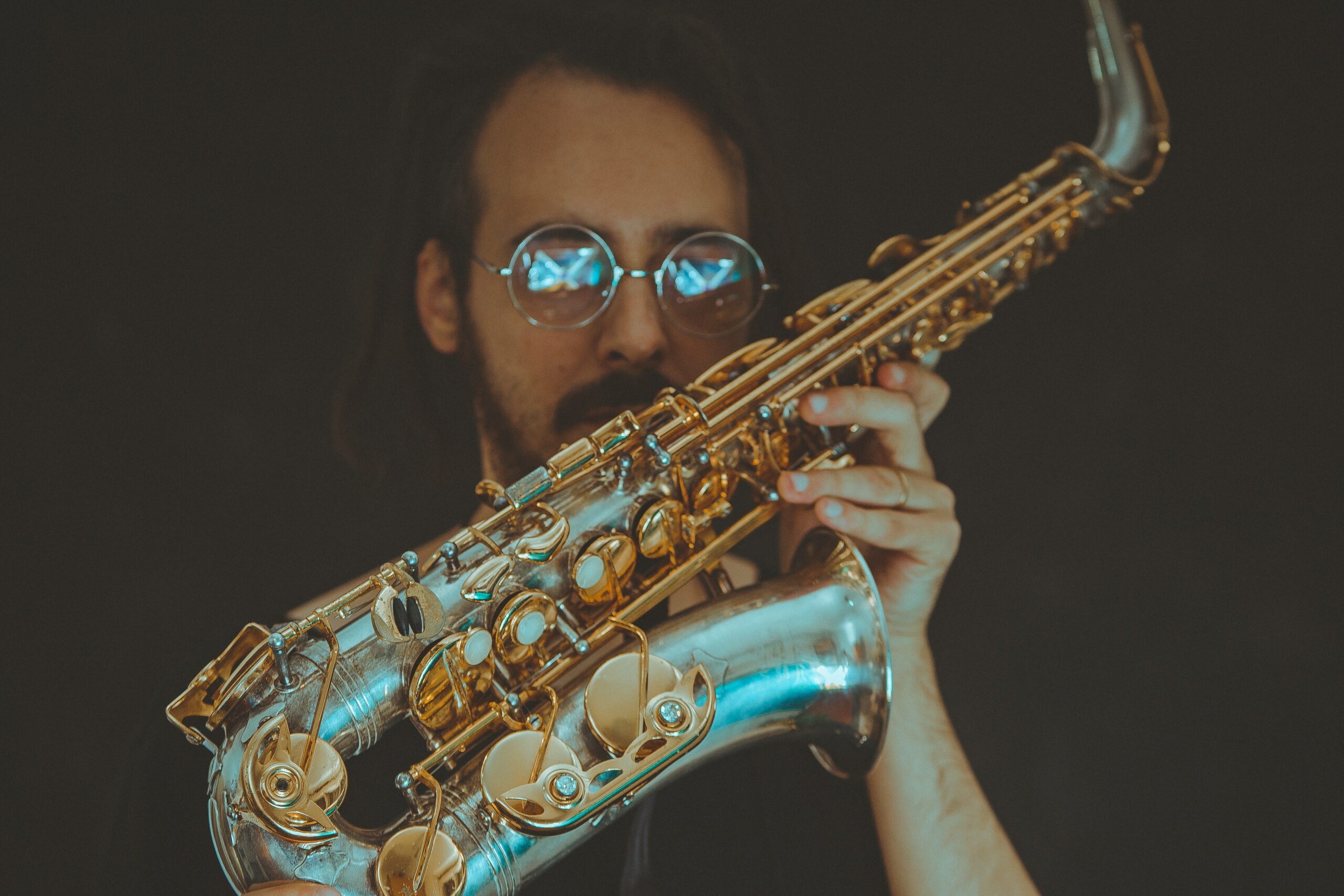 Practicing the alto sax can help reinforce the fundamentals, like reading music, breathing, and fingering different notes. Then, you'll have those skills ready to go when you try new saxophones.
Test Out Mouthpieces
If you're looking to get a saxophone in a size you don't currently own, you may want to start by testing mouthpieces. This can help you get a feel for the embouchure, especially if you want to switch from alto to baritone saxophone or tenor to soprano.
Even if you're upgrading to the same size, you can test out a mouthpiece from Selmer. Play it on your current saxophone to see how it sounds and feels to get an idea of how playing a Selmer Paris instrument might feel. When switching to a new saxophone, such as the soprano, the mouthpiece can help you test out the new embouchure. Then, you can better estimate how hard it will be for you to learn the different size.
Borrow A Saxophone
You can ask other saxophone players if they have a Selmer Paris saxophone you can borrow. A local college or university might also have an instrument available for you to try. Borrowing a sax from someone can be a great, easy way to test out the Selmer sound. You don't have to buy an instrument or commit to a rental or trial period.
If you like it, you can then move to the next steps in purchasing an instrument. And if you don't like it, you can look at other saxophone brands to buy.
Compare Models
Even if you didn't love the Selmer Paris sax you borrowed, don't write the brand off yet. You should try at least a couple of models of the right size if multiple ones exist. That way, you can determine if one sounds better and feels more comfortable for you. If you want to play alto saxophone, Selmer has tons of instruments available.
Unfortunately, this won't be an option for the less common members, such as the sopranino or bass saxophone. Selmer Paris may only have one model available, but you can still see if it's worth the investment.
Try New And Used
Whether you want to try a common or rare saxophone, you can look at new and used instruments. Shopping used gives you more options than the current models that Selmer Paris makes. Used saxophones may also be a bit cheaper than when they were new, so you can save some money and get more features. But it can take time for a good used Selmer Paris sax to hit the market.
If you want to buy an instrument now, you can look at new saxophones available. Test them out and see if you like them so that you don't have to wait for weeks or months.
Play The Same Music
The next step in how to find the best Selmer Paris saxophone is to test the instruments with the same music and exercises. If you can keep the music the same, you can better compare the instrument sounds and ergonomics. Make sure to choose something slow and lyrical as well as something faster and more technical. You should also be able to play the entire range of the saxophone.
Luckily, you can use the same music whether you know what size you want or when comparing multiple sizes. All saxophones are the same written range and fingerings, so the only thing that will change is the sounding pitch.
Listen And Review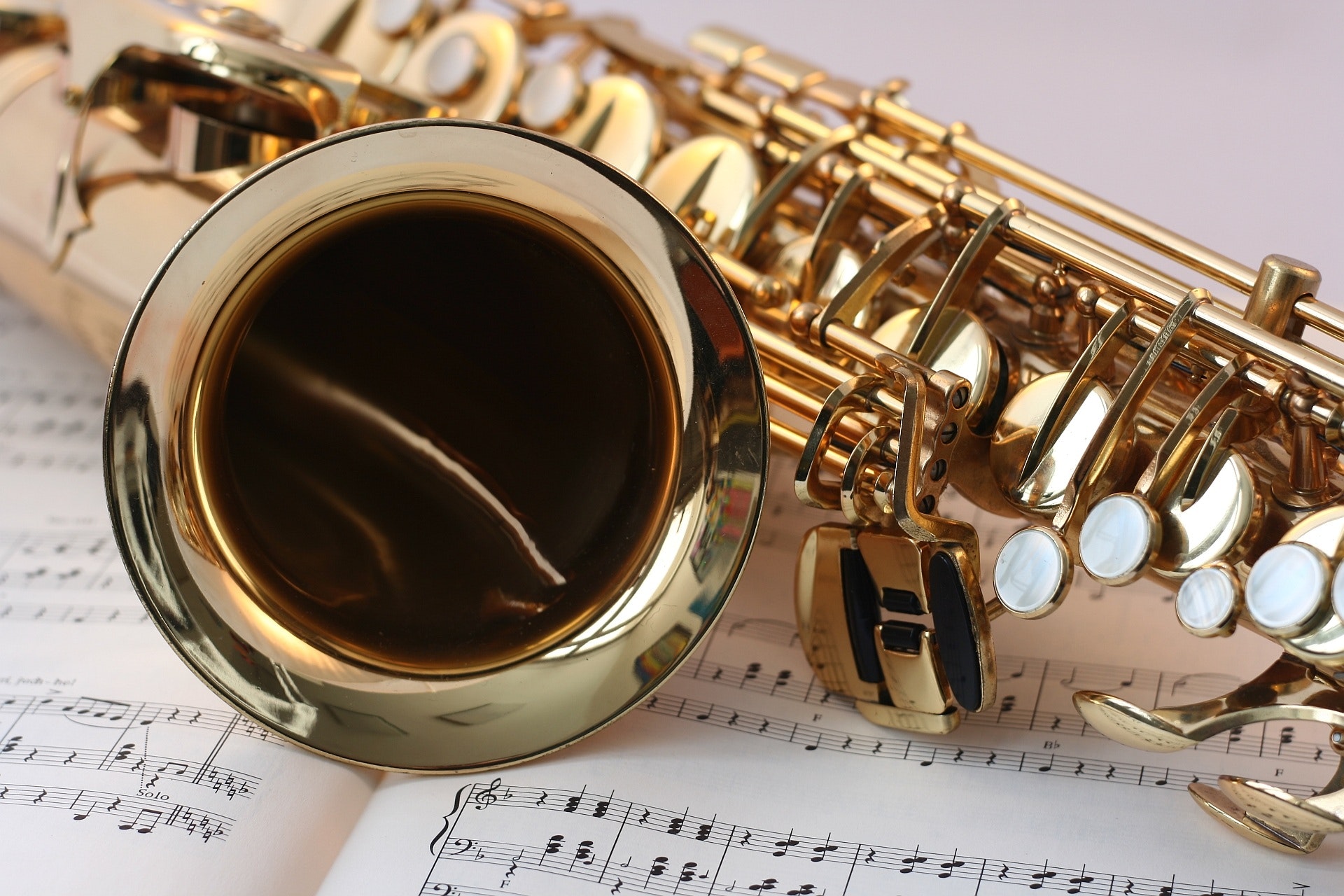 Finally, you should listen to yourself both as you play each saxophone and after the fact. You can use your cellphone or another device to record the audio as you play each instrument so that you can analyze them later. If you know another saxophonist, have them listen to you as you test the instruments. They can give their feedback, and they can even play the instruments for you to listen live.
Listening to the different saxophones you try can help you decide which is the right fit for you. That way, you can buy the instrument that will help you grow as a musician.
The Best Selmer Paris Saxophones
Whether you want to hang low with the bass saxophone or play up high on a sopranino, Selmer Paris has some great instruments. While searching through one brand can help narrow your search, you may still find a huge selection.
As you figure out which saxophones you want to try, you should consider the best of the best. Then, you can give yourself the best chance at finding one you like.
Here are some Selmer Paris saxophones of all sizes that you should try.
Series II 50J Sopranino
Starting off small, the Series II 50J sopranino saxophone is a great option. It's the only one currently available from Selmer Paris, and it has yellow brass body tubing and keys.
The model has a full-ribbed design which helps with durability and alignment, so it doesn't need constant maintenance. You can keep your intonation in line with the rest of the group, and you don't have to work hard to do that.
This sopranino can play up to a high F sharp, and it's in the standard key of E flat. It comes in a light case, and you get a mouthpiece that goes well with the body.
Pros
Good design
Fantastic features
Versatile
Cons
Model 53J Soprano

The Model 53J soprano sax from Selmer Paris is a great choice for the advancing player. It's part of the Selmer Paris Series III line of instruments, so it looks and sounds great. You can play up to a high G on this sax, and the pinky keys are easy to reach to help you hit the low notes. A compact key design keeps keys close to the body, so you don't need big hands to play.
The model comes with an excellent mouthpiece, or you can use a different one. You also get a BAM case, which is durable and can protect your soprano during storage and transit.
Pros
Easy to play
Comes with what you need
Great range
Cons
Series II Model 52 Alto
Moving to the alto saxophone, there's the Series II Model 52. It has a brass body with gold lacquer that adds some warmth to the tone without sacrificing the sax's presence.
The octave neck key is thin and moves easily so that you can quickly switch between octaves. It has the same ergonomics as other Selmer Paris saxophones, making it easy to play and comfortable for long rehearsals and concerts.
This model's light mechanism is great for playing fast, but you can play slow and expressively as well. If you're looking to upgrade your alto saxophone, this might be the one for you.
Pros
Ergonomic and comfortable
Great sound
Easy to play
Cons
Not for anyone on a tight budget
Series III Model 62 Alto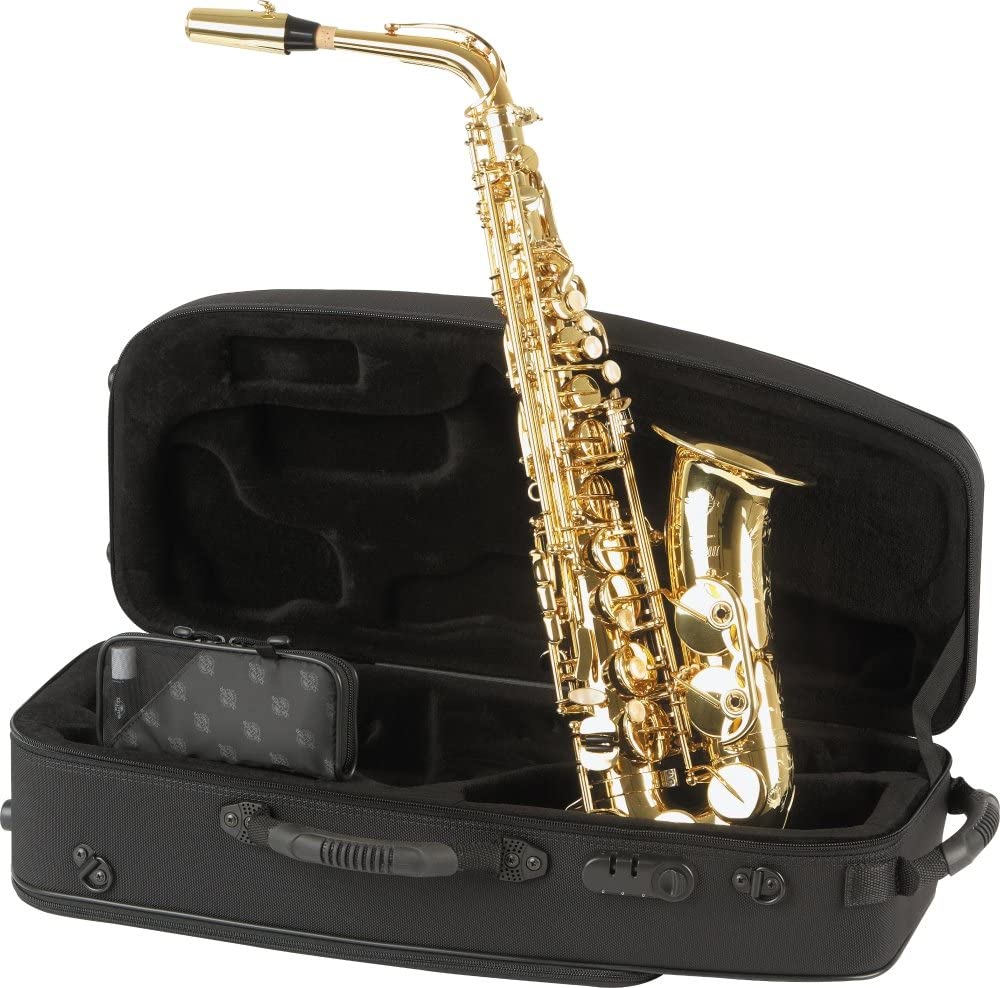 The Series III Model 62 is another alto saxophone to compare. It has all of the same features as the Model 52, so it sounds warm and is easy to play. Part of Series III, there are some subtle differences that make this the standard in professional saxophones. It does cost a bit more than the Model 52, but it's not a replacement for the other one.
You should give both a try to see which one suits your playing better. While the Series III does cost more, it's not always the better instrument.
Pros
Sounds good
Unique look
Great for professionals
Cons
Not much different from the Model 52
Reference 54 Tenor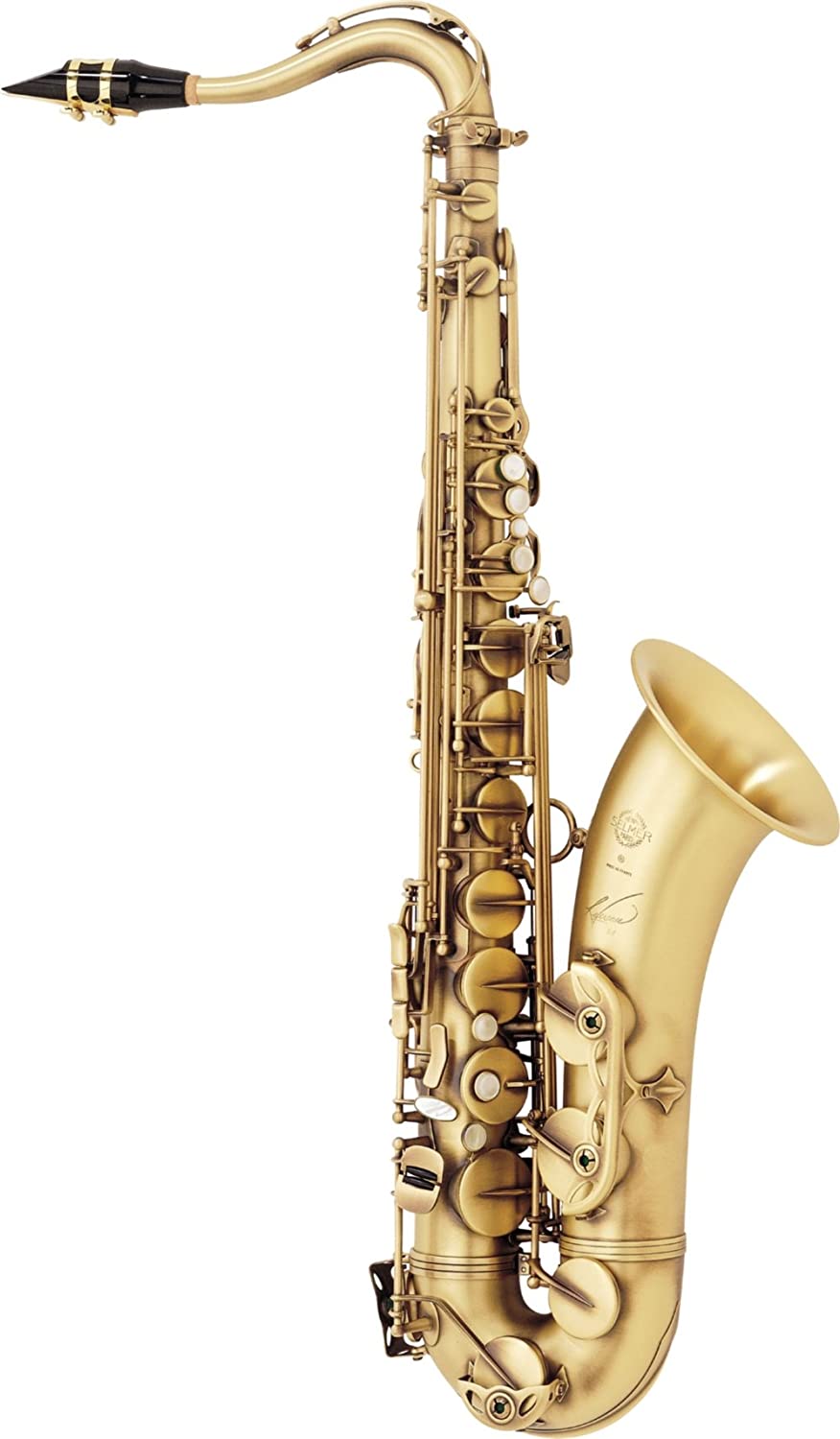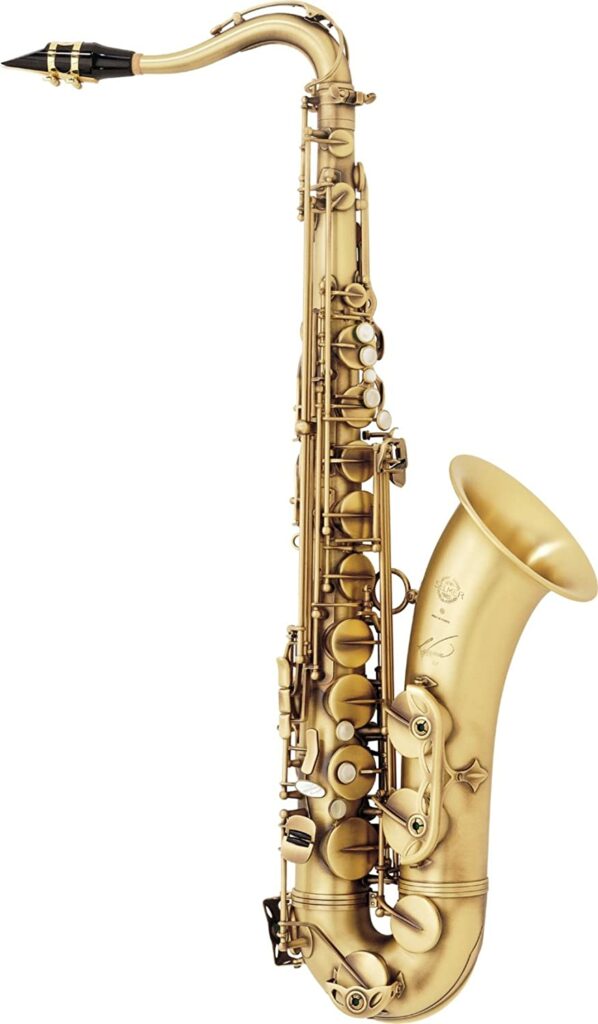 Now, we've reached some of the bigger saxophones with the Reference 54 tenor. This line of saxophones took inspiration from the Mark VI model, so it's of great quality and sounds amazing. You can easily get a fantastic tone on this instrument, so you can play it in jazz, classical, groups, and on your own. When playing the lowest notes, you don't have to worry about losing any of that richness in the sound.
The brushed lacquer makes the instrument look vintage even though it's new. You can keep playing it for years, and it will only get better with age.
Pros
Vintage look
Great sound
Versatile
Cons
Series III Model 64JS Tenor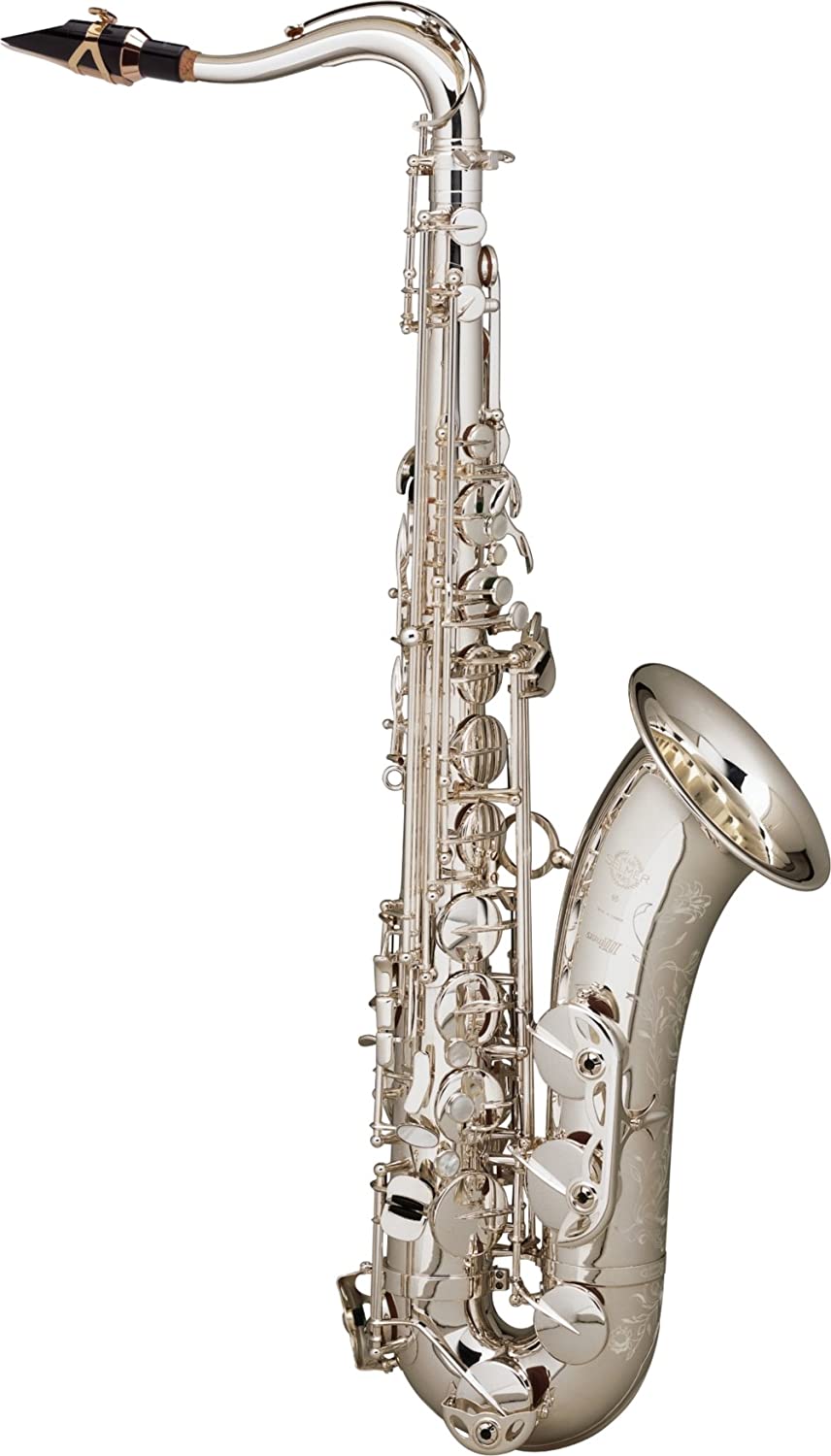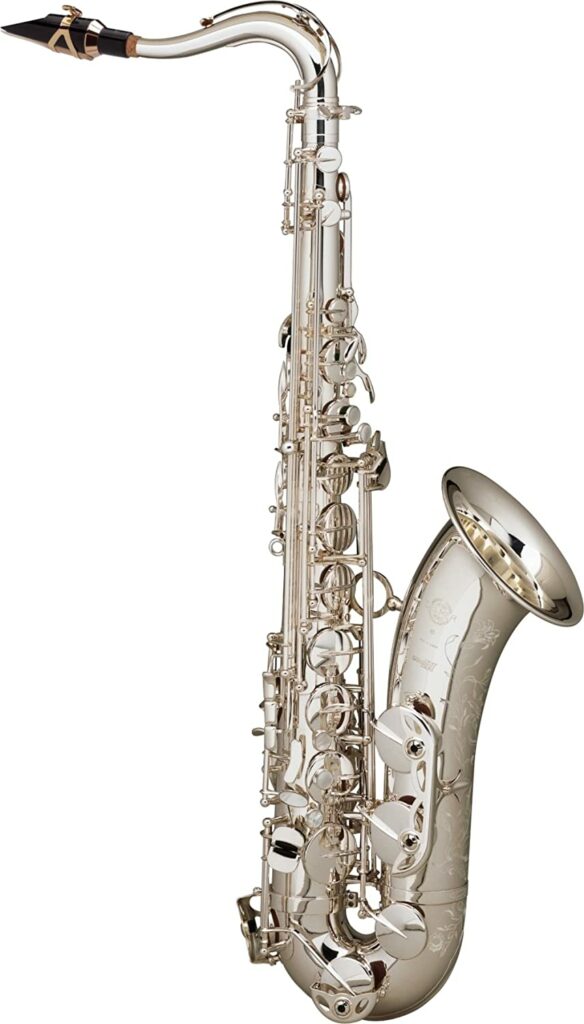 The Series III Model 64JS is also worth trying if you want to play the tenor saxophone. This model has a light mechanism that makes it easy to play fast notes.
And the octave neck key has a thin design so that it can open and close smoothly. That way, you can switch between low and high notes without the risk of cracking notes.
There's a gold-tone lacquer and silver plating to help make the sax sound warm. It's a great choice for playing jazz music, but it can also work in classical settings.
Pros
Great sound
Looks amazing
Nice mechanism
Cons
Model 55AFJ Baritone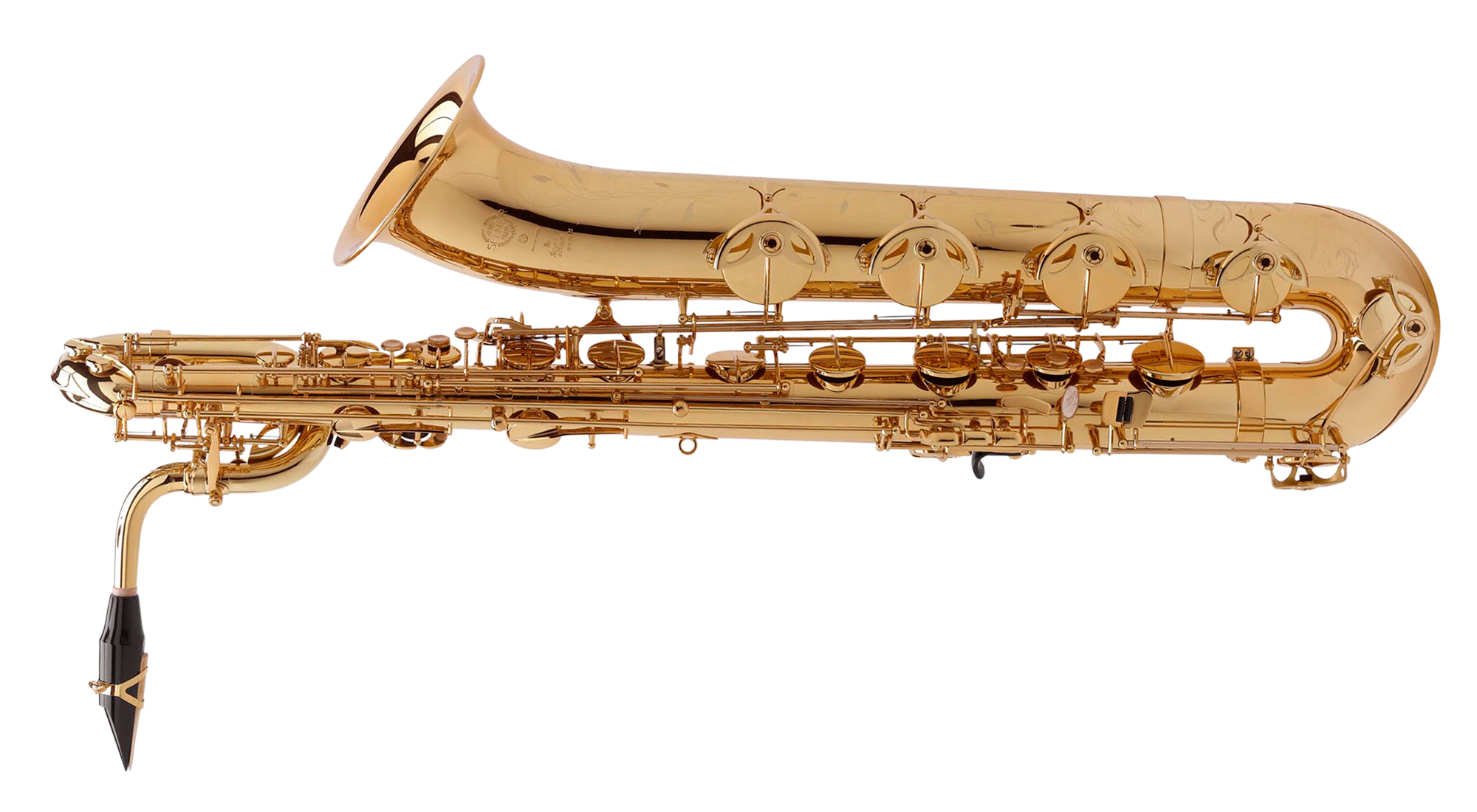 The Selmer Paris 55AFJ baritone saxophone is fantastic for learning the bass line. It has leather pads with metal boosters that help make the instrument sound better. Part of the Series II line, this instrument has a clear lacquer over a brass body. You can play amazing music, and it goes down to a low A, so you can play the full range.
It also comes with a high F sharp key in case you need to play up high. And the whole saxophone comes in a case with wheels, making it easy to transport and store.
Pros
Great design
Easy to play
Full range
Cons
Model 56 Bass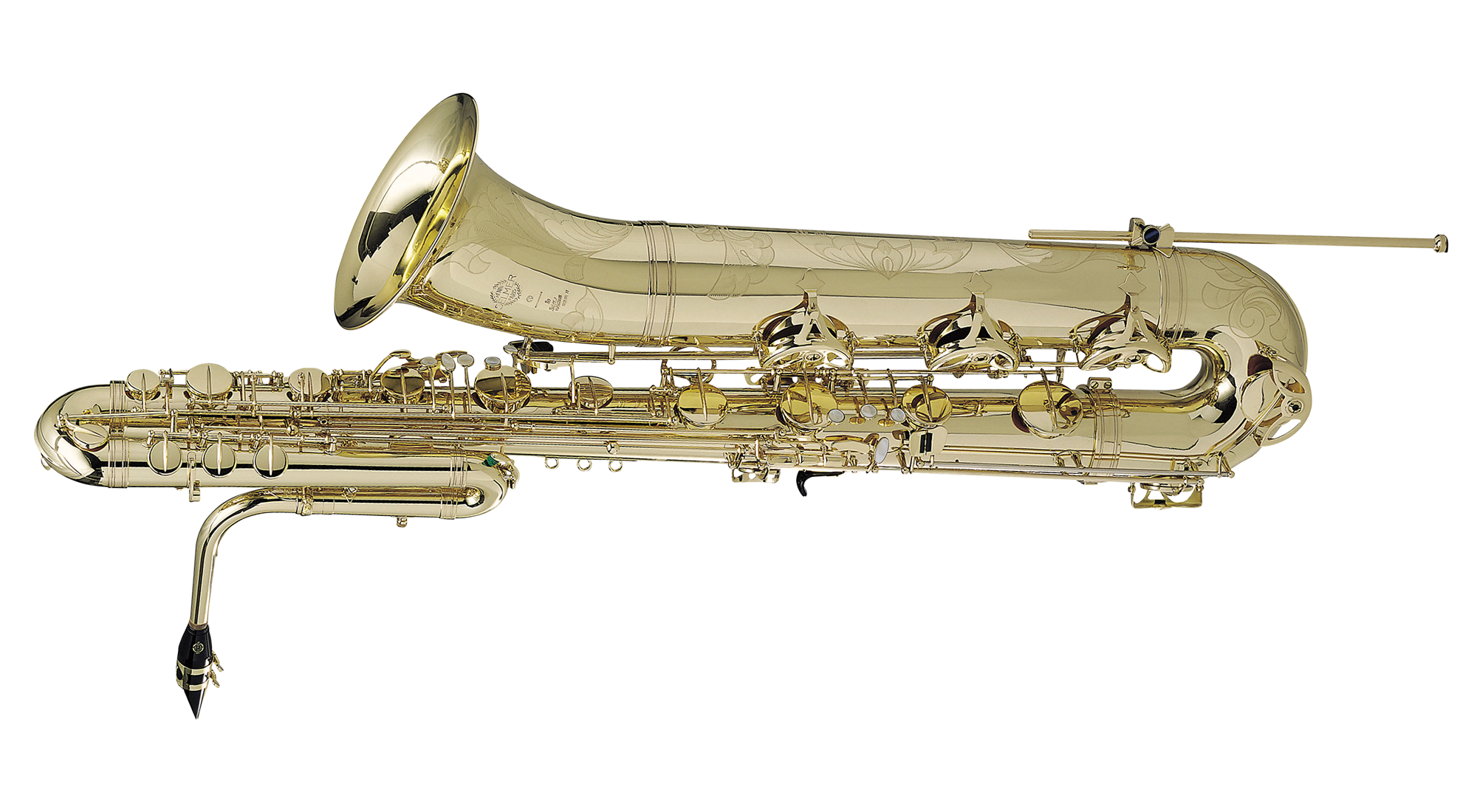 If you want to go really low, you can play the Selmer Paris 56 bass saxophone. The instrument is part of Series II, so it has the same features as many other saxophones. It has a yellow brass body and keys, which give it a warm sound. Unlike other bass saxophones, this one can serve as more than a bass line, so you can play some low-pitched solos.
You get a low A and a high F sharp key, so the full range is available. It comes in a light case, so you can take it between rehearsals and practice spaces.
Pros
Excellent quality
Full playing range
Versatile
Cons
Like any bass sax, it's pretty big
FAQs
Question: Is Selmer Paris the best saxophone brand?
Answer: Some saxophone players would say that Selmer Paris is the best brand. However, it might not be the right brand for you, depending on the music you like to play and the sound you want.
When saxophone shopping, don't be afraid to try Selmer Paris models. But don't ignore models from Yamaha, Yanagisawa, and other brands either.
Question: What's the difference between Selmer and Selmer Paris?
Answer: Selmer Paris is a close relative to Selmer, but they specialize in different types of instruments. If you're looking for a professional saxophone, Selmer Paris will have what you need.
However, beginners and students looking for more basic models should shop for Selmer saxophones. The other brand is usually more affordable and can fit your playing better until you reach an advanced level.
Question: Does Selmer Paris make other instruments?
Answer: In addition to various saxophones, Selmer Paris also makes clarinets. The company makes mouthpieces for clarinets and saxophones as well, so you can make sure your mouthpiece fits with your saxophone body.
Question: Why are Selmer Paris saxophones so expensive?
Answer: Selmer Paris saxophones are expensive because a lot of work goes into them. At the professional level, instrument makers usually spend a lot of time working by hand.
And if you're looking at a tenor or baritone saxophone, those need more materials than smaller instruments, which can also bring up the cost. However, the sopranino saxophone can also cost a lot because it's rare, so not in mass production.
Question: Which saxophone size is best to play?
Answer: The best saxophone size to play depends on you and your interests. Of course, if you have shorter arms or small hands, you should look for an alto saxophone or even a soprano.
However, you can play a tenor or baritone saxophone if you want to play the bass line or other low parts. But you should make sure you can hold the instrument for long periods.
Final Note On How To Find The Best Selmer Paris Saxophone
Whether you're an aspiring professional saxophonist or an advanced amateur, you should know how to find the best Selmer Paris saxophone. The brand makes instruments from sopranino to bass, so you can find one that works for you.
I personally prefer the alto and soprano saxophones, but I love playing higher notes. If you're like me, the Model 53J soprano and Model 52 alto are perfect for you. But consider if you prefer a bigger instrument and a lower sound. If so, you might like the tenor or baritone saxophone better.