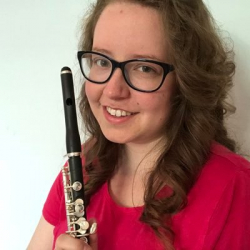 Latest posts by Hannah Haefele
(see all)
Are you having a hard time getting a full sound on your tenor saxophone? While the instrument could be the problem, it might also be the mouthpiece. However, you can find some of the best tenor saxophone mouthpieces to get a clearer sound.
Then, you won't need to buy a whole new sax. Instead, you can swap out the mouthpiece, and you can keep playing the instrument you know and love.
At a Glance: Best Tenor Saxophone Mouthpieces
09/24/2023 11:59 pm GMT
What To Look For In A Tenor Saxophone Mouthpiece
When shopping for the best tenor saxophone mouthpieces, you should consider a few factors. Some mouthpieces are better for specific players or genres, so one model may not work as well for you.
As you test different mouthpieces, you can get a feel for them and how they affect your sound. However, you may want to narrow your search first, and you can do that with the following considerations.
Materials
You can find saxophone mouthpieces that use tons of different materials. Plastic mouthpieces are great for students because they're affordable and durable. Hard rubber (ebonite) ones are great for more advanced players, but they don't project that well.
Another common mouthpiece material is metal, and it can either be plated brass or stainless steel. In both cases, these mouthpieces project well, but they can sound brighter than other materials.
Selecting the best material can help you get the sound you want from your saxophone. In general, hard materials will project more and offer a bright sound. On the other hand, soft materials will have less projection and sound darker.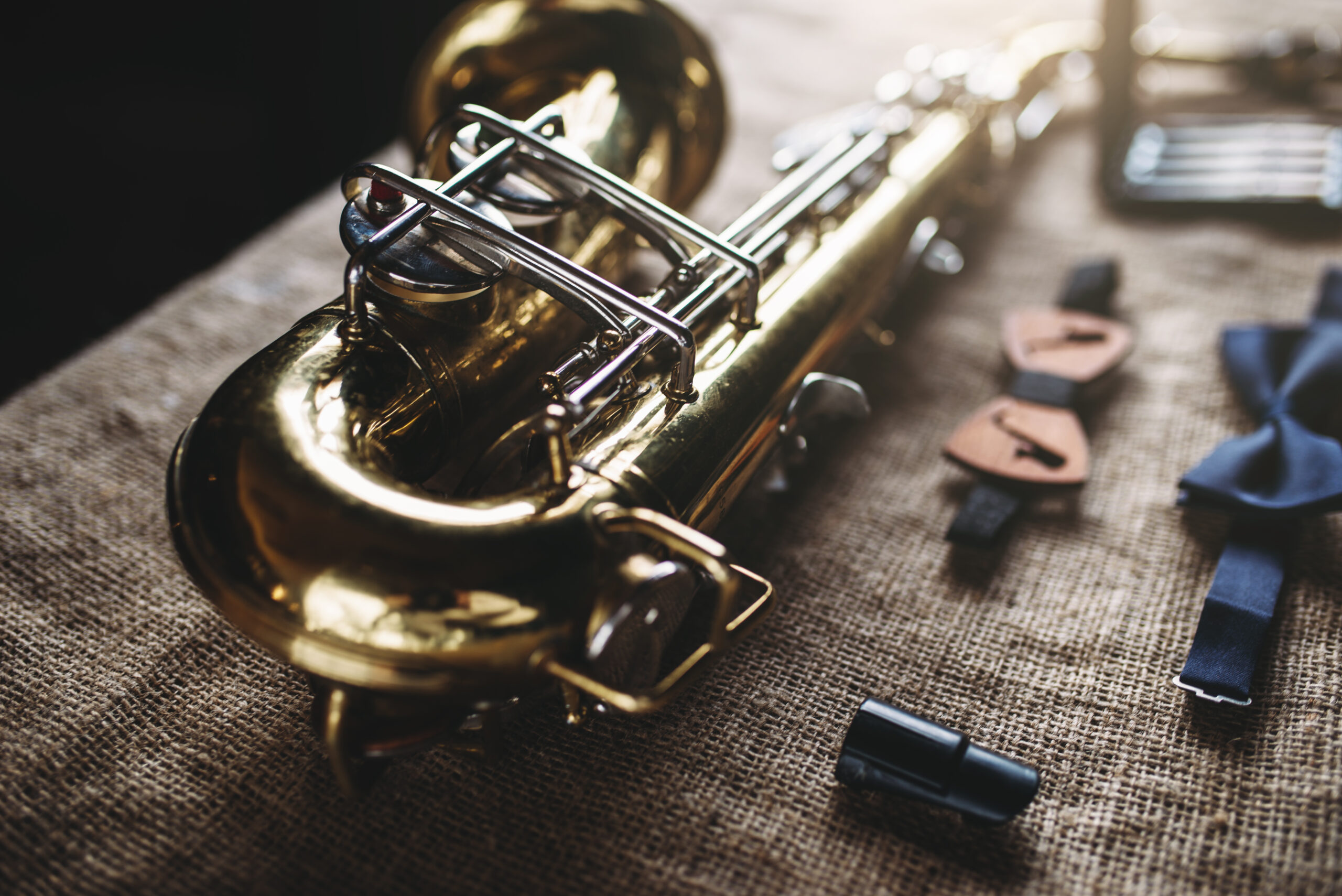 Tip And Facing
The facing on a saxophone mouthpiece is the part that touches the reed, and the tip has space for the reed to vibrate. Having the right design can make a huge difference, especially if you have a favorite reed.
A close mouthpiece tip goes well with harder reeds and offers low resistance. Meanwhile, an open tip is better with soft reeds and provides a lot of resistance. A medium opening falls in the middle in both respects. On the side of the mouthpiece, you will find the baffle. If the baffle is low, it will give you a dark and mellow sound, and a high baffle will sound bright.
Genre
While saxophones are common in jazz, they can also play classical music. And believe it or not, the mouthpiece you use can make it easier or harder to play one of those genres.
If you want to play jazz music, you should consider a metal or ebonite mouthpiece. Good jazz mouthpieces also have a high baffle and an open tip. They require a lot of control, but that means you can use the mouthpiece for different jazz pieces.
Saxophonists who want to play in a concert band or focus on classical music should look for ebonite mouthpieces. The mouthpiece should have a medium or close tip, and they work well with harder reeds.
Reeds
If you've played the saxophone for a while, you may have a favorite brand and hardness of reed. But not all reeds work well with all mouthpieces.
Before you switch to a new mouthpiece, consider if you're willing to buy new reeds. As an example, using a soft reed with a close tip might cause the reed to block the airflow in the mouthpiece.
While advanced players might be able to make that work, it's not a guarantee. If you like soft reeds, you may want a more open tip so that the reed can vibrate freely.
Price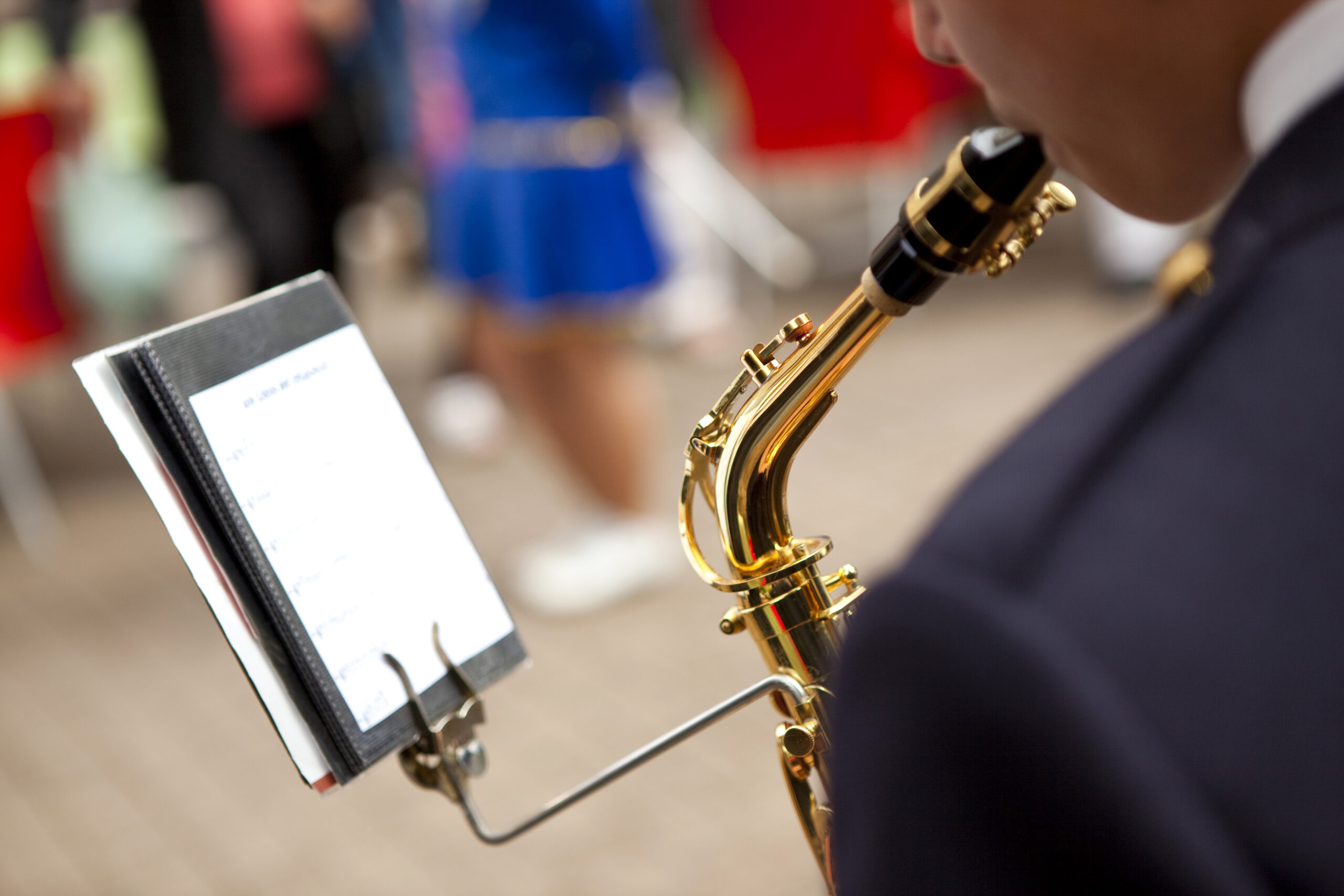 Of course, another thing to think about is how much money you have to spend on a new mouthpiece. Some of the best tenor saxophone mouthpieces cost hundreds of dollars, whereas others are under $30.
As you shop for mouthpieces, figure out your budget for one. But don't be afraid to spend a little more for a better quality mouthpiece that will last you for a while. Then, you won't have to spend more on a new mouthpiece after a month or two.
The Best Tenor Saxophone Mouthpieces
As you learn how to play the saxophone, you need a good set of accessories. And upgrading to a new mouthpiece is an easy way to give yourself more room to grow as a musician. You don't need to spend thousands on a new saxophone, but you may still be able to change your sound. Plus, you can collect multiple mouthpieces to use when playing different genres.
Here are some of the best tenor saxophone mouthpieces to consider.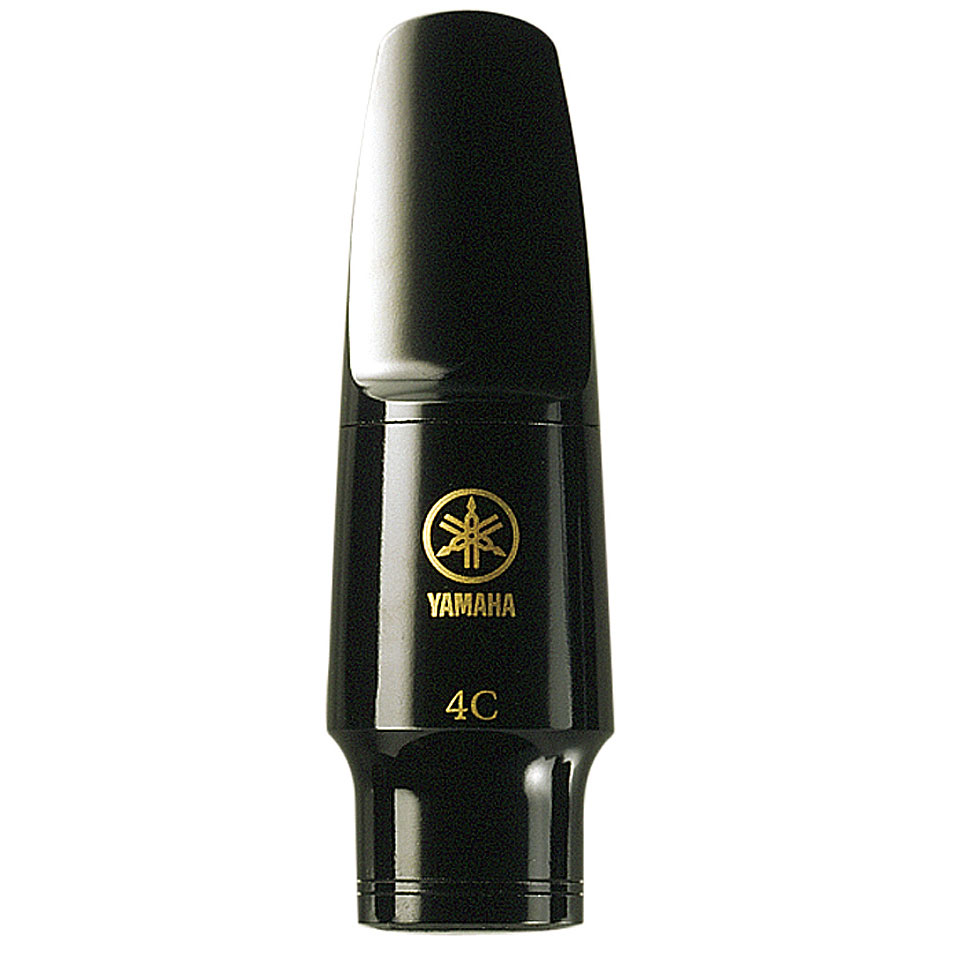 The Yamaha 4C mouthpiece is the mouthpiece you get when you buy a Yamaha saxophone, but you can get it separately. It's an excellent choice for beginners through professionals.
You can use it with any brand of tenor saxophone to get a good sound. The plastic resin is safe and durable, so it's great for playing for long periods, and you can use it inside and outside. Its tip opening is 1.70mm, and the facing is 24.00mm. The design makes it easy to get a clear and balanced sound throughout the saxophone's range.
Pros
Versatile
Great for all players
Good sound
Cons
A little basic for some advanced players
Yamaha 4C Tenor Saxophone Mouthpiece | Amazon
Yamaha's official original-equipment 4C tenor sax mouthpiece is identical to what's included with the new Yamaha standard, intermediate and professional series tenor saxophones.
Buy at Amazon
We earn a commission if you make a purchase, at no additional cost to you.
09/24/2023 11:59 pm GMT


The Yamaha 5C is very similar to the 4C, but there are a few differences that make it worth trying. For one, the 5C has a bigger tip opening, so it offers more flexibility and a rich sound. This mouthpiece is high quality and provides consistency when you play it. Like the 4C, you can use this model on any brand of a tenor saxophone.
It's a plastic mouthpiece with a tip opening that measures 1.80mm, and the facing is 24.00mm. Soloists love this mouthpiece for the variety of colors it can help you produce.
Pros
Good design
Sounds great
More open than 4C
Cons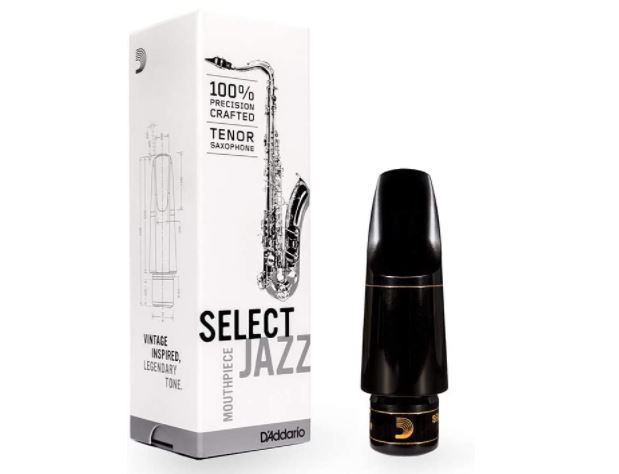 Another option to try is the D'Addario Woodwinds Select Jazz Mouthpiece. It's precision milled and takes inspiration from vintage jazz mouthpieces, making it perfect for the genre.
The facing and chambers are medium-sized, and you can choose between four tip openings. This mouthpiece uses rubber, and it can offer even intonation. Like other jazz mouthpieces, this one has a classic response and overall sound. It's an amazing option for the budding jazz saxophonist.
Pros
Good sound
Consistent
Great quality
Cons
D'Addario Woodwinds Select Jazz Tenor Saxophone Mouthpiece | Amazon
The D 'Addario Select Jazz mouthpiece captures the feel and tone of legendary mouthpieces from years past. Now, today's saxophonists have a chance to discover for themselves the sound that, for decades, set the standard of jazz. The D 'Addario Select Jazz Mouthpiece brings forth a perfect union of tradition and innovation.
Buy at Amazon
We earn a commission if you make a purchase, at no additional cost to you.
09/25/2023 01:29 am GMT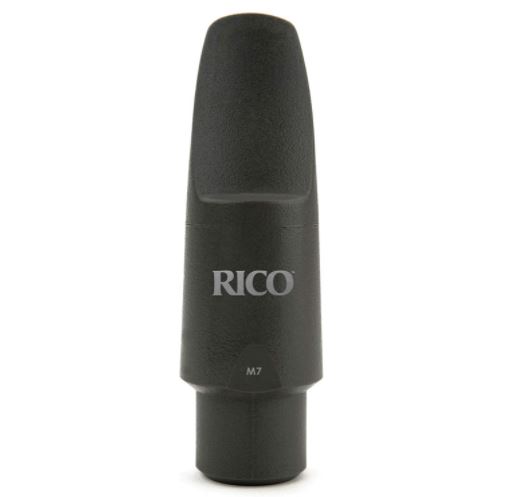 Another one of the best tenor saxophone mouthpieces is the Rico Metalite M7. It comes in three different tip openings, so you can select the best one for the response you want. The composite mouthpiece is free-blowing, and the medium-sized chamber allows for a brilliant sound. It was designed by Arnold Brilhart, who has designed many great mouthpieces.
You can produce different tones and colors with this model. This mouthpiece works particularly well with Rico reeds for players of all ages and levels.
Pros
Affordable
Bright sound
Great for jazz and rock
Cons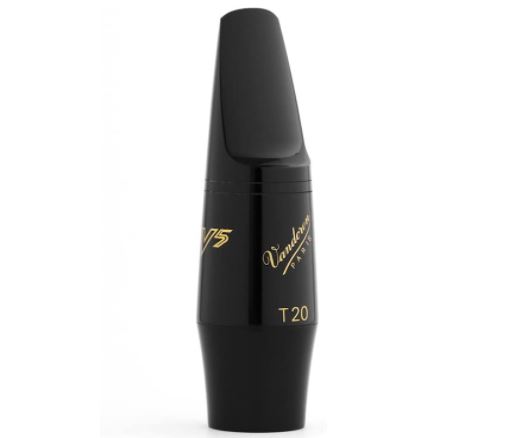 If you've done some reed shopping, you've probably heard of Vandoren, but the company also makes mouthpieces. The T20 model features a medium facing and has a small tip opening. It works well with Vandoren reeds with strengths from 2 to 3.5, but you can use other reeds with the same hardness. This mouthpiece is fantastic for playing classical music or in a concert band.
You can get an open, full sound with the T20, and you can play in a group or solo. And this mouthpiece works with a variety of reeds.
Pros
Easy to play
Versatile
Good quality
Cons
Can take time to get a consistent sound
Vandoren T20 | Amazon
The V5 series is designed to produce a full, round and centered sound with solid articulation. These mouthpieces are designed with flexibility in mind so you can have the freedom to create.
Buy at Amazon
We earn a commission if you make a purchase, at no additional cost to you.
09/24/2023 06:44 am GMT

The Vandoren T7 mouthpiece is another fantastic choice for playing jazz music. It provides a good timbre without sacrificing the projection.
This model has a small tip opening and a long facing, so you need the right reed to make a good sound. But you can use Vandoren reeds between 2.5 and 3.5. While you can use it in classical music, you should select the right reed. Otherwise, it may not offer the colors and projection you want in a classical group.
Pros
Variety of sounds
Good design
Great value
Cons
Vandoren SM823E T7 V16 Ebonite Tenor Saxophone Mouthpiece | Amazon
The V16 series is inspired by the sounds of the greatest jazz players from the 1950s to today! Sweetwater is proud to offer Vandoren saxophone mouthpieces, a favorite among music educators and professional saxophonists alike. The Vandoren SM823E is a traditional-style mouthpiece for jazz and symphonic applications.
Buy at Amazon
We earn a commission if you make a purchase, at no additional cost to you.
09/24/2023 07:10 am GMT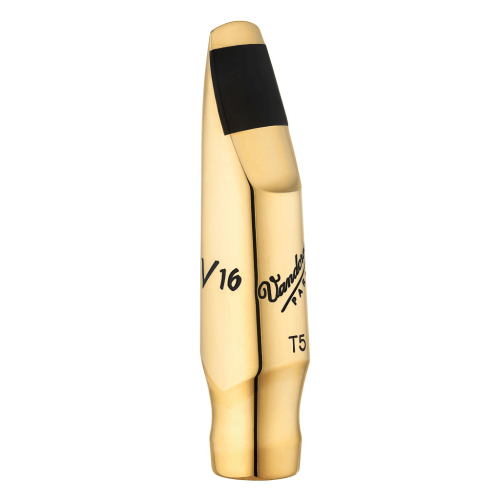 Another Vandoren model to try is the T5 mouthpiece. It has a medium facing and a small tip opening, and it works well with 2.5 and 3 reeds from Vandoren. This mouthpiece combines the features of the T20 with those of the T3, which offers a round sound. You can get a warm and full sound when playing the T5, and it's suitable for beginners and advanced players.
It's an excellent choice for jazz players who want to play classical music. The reed can vibrate at all volume levels, so you can make your sound project far.
Pros
A great first mouthpiece upgrade
Full sound
Suitable for all levels
Cons
Doesn't work with many reeds
Vandoren T5 | Amazon
The Vandoren Tenor Saxophone Optimum Mouthpiece is designed to be more free-blowing and responsive with accurate articulation and total control at all dynamic ranges and precise intonation. This mouthpiece has the same sound qualities of the TL3 with a slightly larger tip opening.
Buy at Amazon
We earn a commission if you make a purchase, at no additional cost to you.
09/25/2023 01:14 am GMT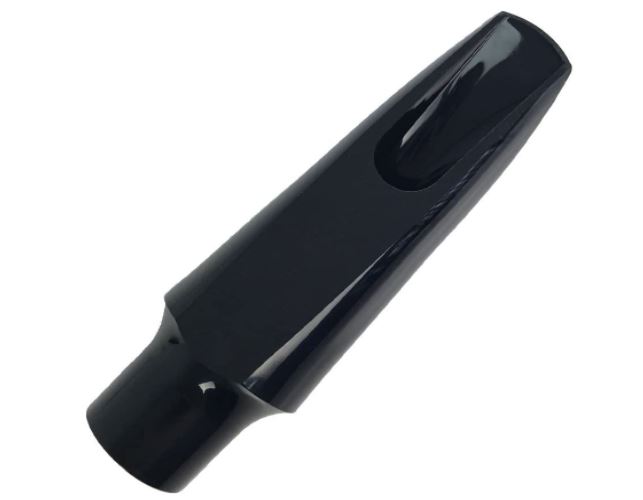 The Selmer Tenor Saxophone Mouthpiece is yet another great choice, especially for students. It uses plastic and has a medium-sized facing that was made precisely. You can use it to get an accurate pitch and focus your tone well. And the mouthpiece responds well to a lot of different playing styles, so you can use it to learn how to play the tenor sax.
However, you may outgrow the mouthpiece as you decide on a genre or if you need more control. Fortunately, this mouthpiece is pretty affordable.
Pros
Great for beginners
Works well
Good price
Cons
Selmer Tenor Saxophone Mouthpiece | Amazon
If you're looking for a great mouthpiece to start your saxophone journey, look no further than Selmer Goldentone Mouthpieces. Goldentone Mouthpieces provide impressive sound and help develop good embouchure habits, making them perfect for young players.
Buy at Amazon
We earn a commission if you make a purchase, at no additional cost to you.
09/24/2023 08:04 am GMT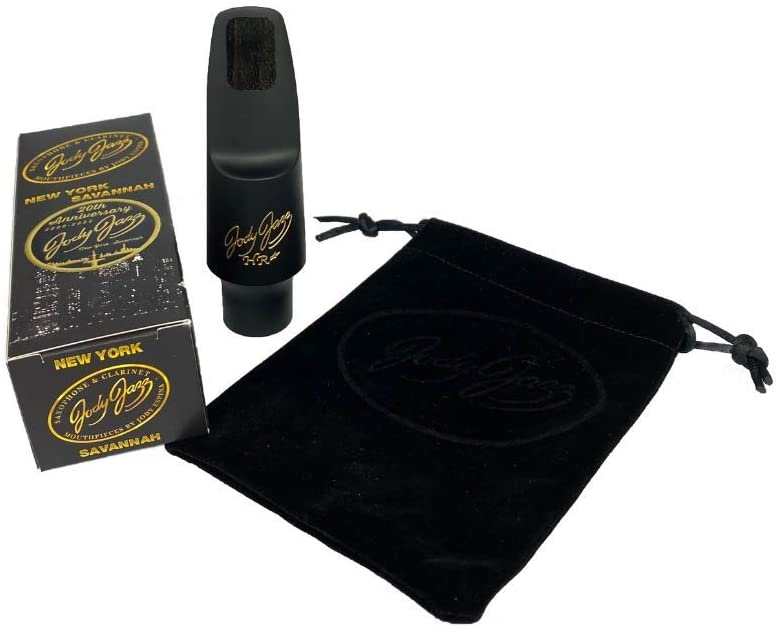 On the high end of the spectrum of mouthpieces, there's the Jody Jazz HR Model 7. This mouthpiece is hand-finished, and the company uses a special machine to create the facing. That means each mouthpiece is unique, so you may need to try a few of them to find what works for you. But the handmade touches can offer more precision than machines.
You should use this mouthpiece if you like the feel and sound of vintage saxophones and mouthpieces. While it is more expensive than some mouthpieces, it can be worth the extra cost for the unique sound.
Pros
Works with various genres
Free-blowing
Has a classic sound
Cons
JodyJazz HR Tenor Saxophone Mouthpiece | Amazon
The HR* Tenor is a hard rubber saxophone mouthpiece aimed at professionals and students looking for a traditional versatile mouthpiece. High-quality control standards, a beautiful warm sound and a nice free blowing feel make these new mouthpieces amazing players.
Buy at Amazon
We earn a commission if you make a purchase, at no additional cost to you.
09/24/2023 08:19 am GMT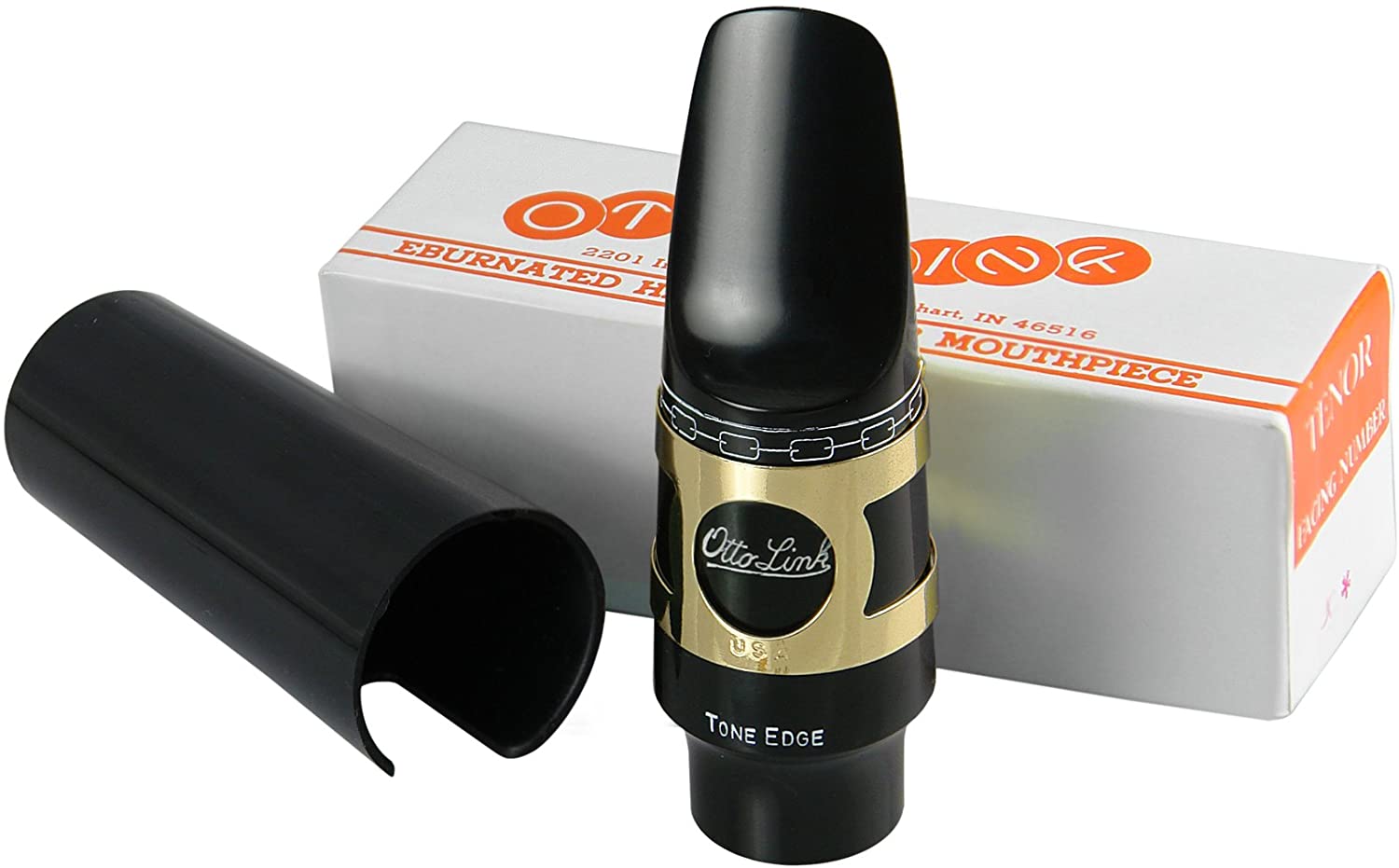 The Otto Link Tone Edge is another excellent jazz saxophone mouthpiece. It provides an excellent tone, and it can project well, so you can play even with loud or amplified instruments.
People have played on this or a similar model for decades, and it remains one of the best tenor saxophone mouthpieces on the market. Unlike many other mouthpieces, this one comes with a ligature and cap, so you can protect the mouthpiece.
This model isn't too bright or harsh, and you can push the limits of the sound. Whether you want to play solo or in a jazz band, the Tone Edge is for you.
Pros
Good sound
Versatile
Comes with what you need
Cons
Otto Link Tone Edge | Amazon
Otto Link is well known for making some of the best jazz mouthpieces over the last 50 years. Many professionals around the world have been playing on Otto Link mouthpieces exclusively for decades.
Buy at Amazon
We earn a commission if you make a purchase, at no additional cost to you.
09/24/2023 09:24 pm GMT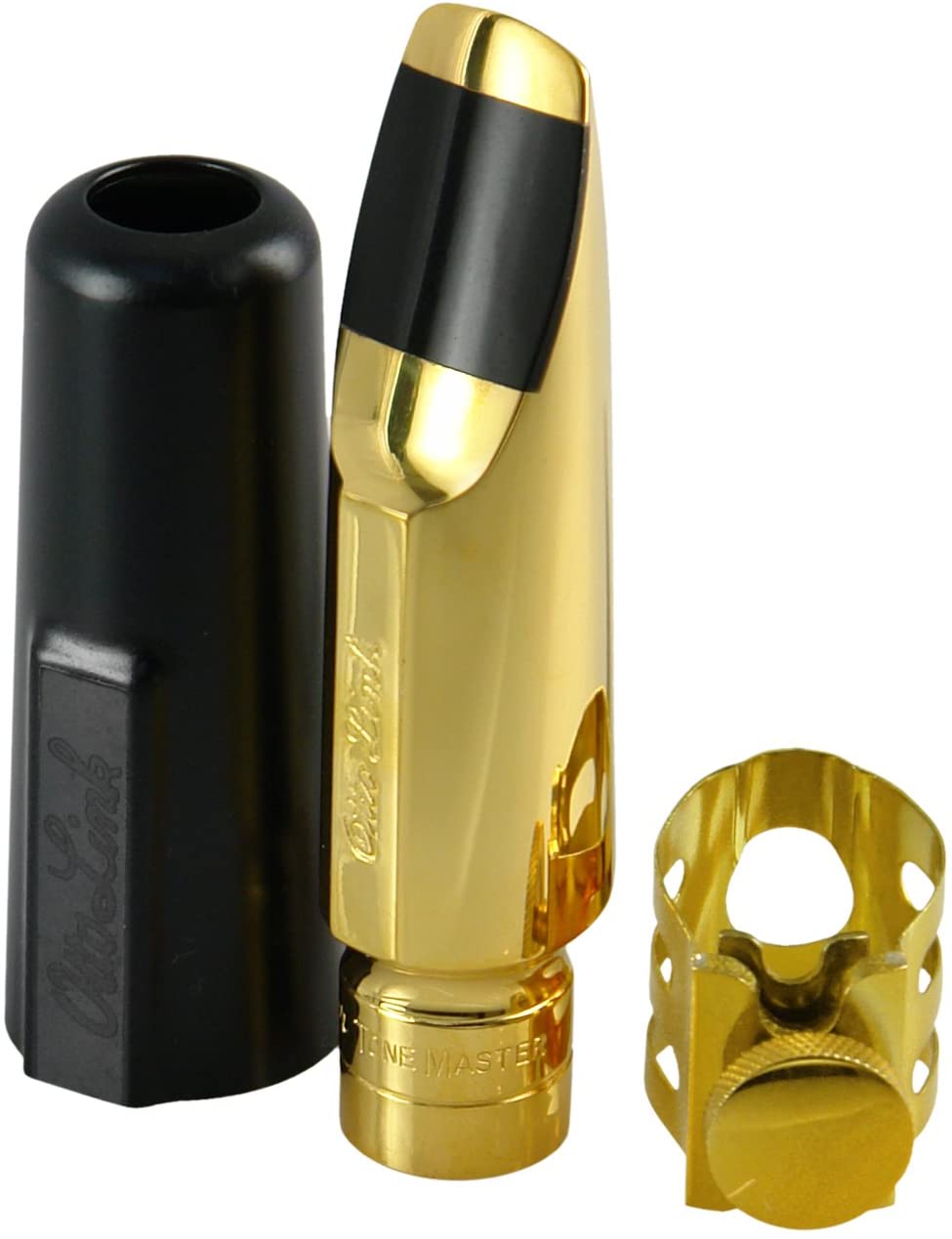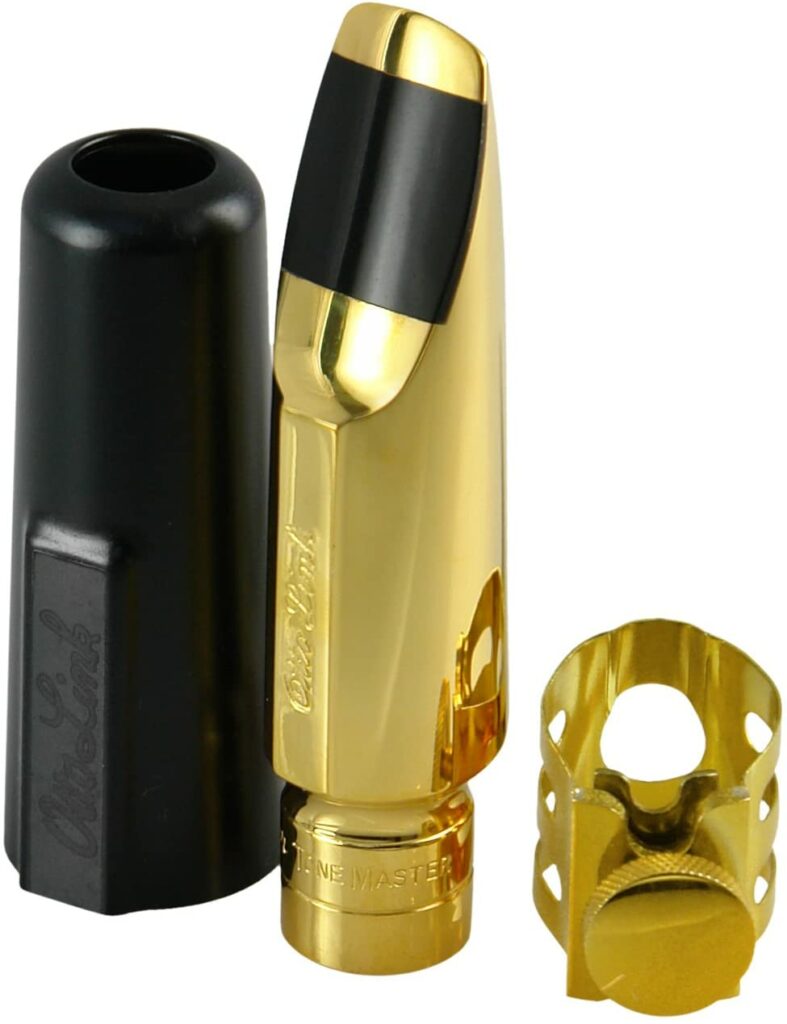 Another mouthpiece from Otto Link, the Tone Master has been around for decades like the Tone Edge. This model comes in different facings, so you can get the sound and response you want. You can use it to get professional-quality sounds, even if you aren't at that level yet. The mouthpiece projects well and can offer different tone colors.
Now, this metal mouthpiece is quite a bit more expensive than others on the market. But it comes with a ligature and cap, so you can save money on those. And the value of the mouthpiece itself is fantastic.
Pros
Great quality
Comes with accessories
Longtime favorite
Cons
FAQs
Question: What is the best tenor saxophone mouthpiece?
Answer: The best tenor saxophone mouthpiece for you depends on your current playing level and future goals. For example, the Otto Link mouthpieces are great for jazz but not so much for classical music.
Overall, the Vandoren T5 offers a balance between classical and jazz. So if you want an easy place to start shopping for mouthpieces, start there.
Question: What mouthpieces do famous saxophone players use?
Answer: Otto Link mouthpieces are common among some of the top jazz saxophonists of all time. Players that have used Otto Link mouthpieces include John Coltrane, Charlie Parker, and Stan Getz.
Michael Brecker, Joe Lovano, Joshua Redman, and Ben Webster have also used Otto Link mouthpieces. But don't feel like you need to use those models just to be like the greats.
Question: Does the mouthpiece affect the saxophone?
Answer: The mouthpiece you use can affect how your saxophone sounds, even if the change is small. Some people can hear and feel the difference when they switch, while others don't notice anything.
If you switch to a different mouthpiece material or brand, you may notice a more significant change. But sometimes, switching from a model like the Yamaha 4C to the 5C can make it easier to play, even if you don't sound different.
Question: When should you change your saxophone mouthpiece?
Answer: You should change your saxophone when one or more things happen. If you struggle to get a clear tone, want to improve your intonation, or play with amplified instruments, you may need an upgrade.
It may also be time for a new mouthpiece if you have to blow a lot of air to get a sound or when you want to play high notes more consistently. But don't get a new mouthpiece thinking that you'll sound better instantly or because you want to be like your favorite player.
Question: How long does a mouthpiece last?
Answer: Another instance where you may need to change your mouthpiece is if it wears out. After about two or three years, a mouthpiece may not be able to offer the best sound.
Like other objects, mouthpieces deal with wear and tear. And your saliva may affect your ability to play the mouthpiece well. So be sure to budget for a new mouthpiece every few years, even if you buy the same model.
Final Note On The Best Tenor Saxophone Mouthpieces
The best tenor saxophone mouthpieces are easy to play and allow you to project and produce the tone colors you want. Overall, the best tenor mouthpiece is the Vandoren T5.
It offers a great sound that's warm and full, and you can use it when playing jazz and classical music. As long as you have a good reed, the T5 is perfect for your playing.
09/24/2023 11:59 pm GMT