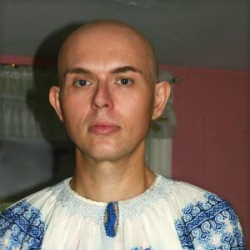 Latest posts by Kenaz Filan
(see all)
You may think of valve trombones as a novelty instrument if you think of them at all. In South America, India, Austria, Portugal, and much of Eastern Europe, valve trombones are more common than slide trombones. Today valve trombones are often used by trumpet players who can use the same fingerings to play an octave below their primary instrument. But many jazz players have taken advantage of the superior speed valve trombones offer to make beautiful music.
If you're interested in buying a valve trombone, you want to make an informed purchase. So let's start from the beginning.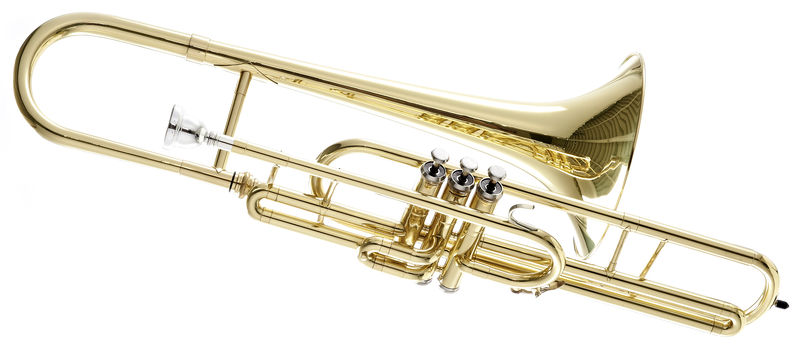 History of the Valve Trombone
Before there were valves, horn players relied on crooks to change their instrument key. By inserting tubing of a different length, they could play a different harmonic series. This whole process was slow and limited the horn's versatility. At some point in the 15th century, musicians began using instruments that changed pitch using a long slide that the player slid back and forth.
These sackbuts were the forerunner of our modern slide trombone. But playing a sackbut could be an enormous challenge. The hand-rolled brass slides frequently dragged, jammed, or leaked air. The hinges that held the tubing in place were uncomfortable to hold, and the biggest sackbuts could only be played with a handle that extended the player's reach. Smaller sackbuts were almost impossible to play, given the tiny spaces between positions.
The 19th century saw the introduction of brass valved instruments. From the 1830s onward, brass makers began connecting lengths of tubing together with valves that allowed the player to change the pitch without crooks or slides. Musicians loved these new instruments, and within a few years, slide instruments and fixed-length horns were rarely seen.
While musicians loved the convenience and extended range of valves, they found valved instruments stuffier than open horns and slides. And the technical advances that made valved instruments possible also allowed for greatly improved slides with better machining and closely fitted slide stockings that made for smooth movement between positions.
As the 20th century dawned, slide trombones overtook valve trombones in most (though, as mentioned above, not all) of the world. In 1905 Boston music professor Louis Elson declared, "The trombone with keys is the easier to play, but the slide-trombone has the better tone." Many music teachers since have followed Professor Elson's lead, treating the valve trombone as a fun instrument for trumpet players to double on. But many musicians are discovering the valve trombone has many strengths in its own right.
Decision-Making Tips
If you're thinking about adding a valve trombone to your collection, here are some things to consider.
Do You Have Trumpet or Slide Trombone Experience?
Many trumpet players pick up the valve trombone as a second instrument. But while the fingerings are the same, the valve trombone's larger mouthpiece will require a different embouchure, and the longer tubing will provide more resistance than most trumpets. You will also need to learn how to read music using the bass clef.
If you have trombone experience, you are already used to the mouthpiece and the music. But almost everything else is different. You will need to learn the different fingerings, and you will have to learn a new grip on your instrument. While you hold onto the slide to play a regular trombone, you keep both hands near the valves on a valve trombone.
No experience in either? No worries. While a valve trombone is more awkward than a trumpet due to its size, you should have no trouble picking up the basics.
Are you Partial to Glissandos?
By blowing continuously while moving the slide, a trombonist can do a glissando which sweeps between notes. They can also perform portamentos, or pitch bends on notes, with slide movements. But these trombone techniques require a slide. A valve trombone shifts the tubing differently and can't give you that slide across tones. These sweeps and bends are a large part of what people identify as the "trombone sound." This is a large part of why many slide trombonists dislike valve trombones.
Do you Like Playing Fast Passages?
Moving a slide with your arm takes more time and energy than pressing a valve with your finger. While professional trombonists can race between positions with great speed, valve trombonists can play the same passages back even faster. Valve trombones are often seen in jazz because the valve trombone can keep up with saxophonists and trumpeters through the most difficult changes.
Best Valve Trombones
Those looking for valve trombones have a smaller selection to choose between than slide trombone seekers. Here are a few of the best valve trombones on the market today for players at every level.

While Bach is most famous for its Stradivarius trumpets, Bach trombones are also highly regarded, and the Bach 16 Strad is one of its most popular slide models. The Bach V16 has the smaller bore of the classic-era Bach 16, giving it a more nimble sound and a tighter wind resistance. If you like a responsive instrument that gives you a lot of feedback, you'll love the V16.
The V16 is great for chamber and soft jazz work but has the presence and power for banda or mariachi. Bach's monel piston valves are among the smoothest on the market and will let you play fast lines with ease and grace. At a bit over $4,000, the Bach V16 is not a cheap instrument, but for that money, you get the best valve trombone on the market. If you're serious about your career as a valve trombonist, the V16 will serve you throughout your career.
Pros
The last valve trombone you will ever need

A great instrument from one of the world's leading brass manufacturers

Versatile sound suitable for many genres
Cons
Specifications
Bore: .485″

Leadpipe: Fixed

Leadpipe Material: Yellow Brass

Bell: 7.5″ one-piece hand-hammered

Bell Material: Yellow Brass

Handslide: Standard

Handslide Material: Yellow Brass

Valves: Monel Piston

1st Valve Slide Adjustment: none

3rd Valve Slide Adjustment: Ring with Rod and Stop

Case: zippered Cordura covered wood shell case

Mouthpiece: Bach 12C

Mouthpiece Shank: Small

Finish: Lacquer

Since the 1960s, jazz trombonists have relied on the King 3B to make sweet music. The 2166 takes the 3B design and adds valves. The 2166 can stand out in a Dixieland ensemble and cut through the feedback at a rock recording. But while 2166 is a great trombone, but it can be a temperamental beast. If your technique isn't up to snuff, you will get subpar sound.
The 2166 and other King trombones can sound harsh and grating if overblown. But if you have the chops or practice diligently until you do, you'll find the King 2166 may be the sweetest-sounding piece of brass in your collection. In the hands of a good player, the 2166 has a warmth that tempers its brightness. This sounds fantastic on solos and helps strengthen the ensemble when you're doing harmony and counterpoint.
Pros
A legendary trombone from a legendary trombone maker

A forward sound that will get noticed even in a big band setting

A school band instrument you can use throughout your pro career
Cons
It can sound harsh if overblown

Not the best choice for beginners
Specifications
.481″ bore

8″ yellow brass bell

Nickel-plated nickel silver pistons

Clear lacquer finish

King 12C mouthpiece

7566C wood shell case
King 2166 3B Valve Trombone | Guitar Center
The legend 2166 3B valve trombone has a .481" bore, 8" bell, lacquer finish, 12C mouthpiece, and wood shell case. It combines the responsive and unique King valve section with the musical characteristics of the King 3B trombone.
Check Price
We earn a commission if you make a purchase, at no additional cost to you.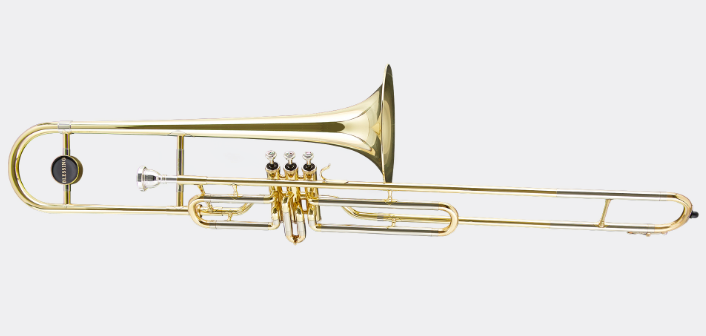 Blessing designed the BVT1470 with trumpet players in mind. The valve block used is identical to the one Blessing uses in its trumpets, so the fingerings will feel just like a trumpet. And if you play baritone horn or euphonium in your marching or pep band, the BVT1740 will let you add trombone to your repertoire without mastering slide positions. Blessing is not one of the larger brass instrument makers, but it has a number of fans who love both its tone and its reasonable price.
The BVT1470's .460″ bore is the narrowest of all the trombones on our list. This makes for a clear, bright sound but also means the Blessing has more resistance and will be harder to blow than trombones with a wider bore. This shouldn't be a big problem for most players, as a valve trombone requires less air than a tuba or contrabass trombone. But if you are used to a more open brass instrument, you may find the BVT1470 feels a bit congested until you get used to the resistance.
Pros
Designed for trumpet and euphonium players who want to double on trombone

Professional sound at an intermediate price

Well-balanced and well-suited to marching and live gigs
Cons
Tight wind resistance may feel stuffy to those accustomed to more free-blowing horns.
Specifications
8" Engraved Yellow Brass Bell

Yellow Brass Mouthpipe

Yellow Brass Outer Slide

Stainless Steel Pistons

460" Bore

Clear Epoxy Lacquer finish

Small Shank Trombone Receiver

Blessing 7C Mouthpiece

Blessing C1470BVT Case
Blessing BVT-1470 Valve Trombone | Woodwind & Brasswind
It is the perfect double for a trumpeter or an affordable alternative for members of the low brass section that prefer the traction valves provide, particularly for fast passages that may be problematic for a hand slide. With its bell-forward projection, the BVT-1470 provides the playability desired in school marching, pep, or jazz band settings.
Check Price
We earn a commission if you make a purchase, at no additional cost to you.
Yamaha's YSL-345 trombone, like many of Yamaha's brass instruments, is widely used by beginning and intermediate students. (See my earlier pieces on the best Yamaha slide trombones and the best Yamaha trumpets for more details on why Yamaha is such an instrument-making powerhouse). The YSL-345V is their student valve trombone, but like their other student instruments, it punches well above its weight.
The YSL-345V has the widest bore of any trombone on this list. This makes it freer-blowing and easier for beginners. The tone quality is excellent, though it may lack some of the depth and complexity of Yamaha's higher-end instruments. And like Yamaha's other student instruments, the YSL-345V is built to take rough handling from young students.
The YSL-345V may not be the last valve trombone you ever need. If you decide to make the valve trombone your primary instrument, you may want to look at a more advanced model. But even as you graduate to another instrument, your YSL-345V will serve you for a lifetime as a backup and rehearsal horn.
Pros
Freest-blowing trombone on this list

Yamaha has excellent quality control and reliability

An excellent student instrument from one of the world's leading student instrument makers
Cons
As you grow more advanced, you will want to step up to a professional instrument.
Specifications
.500″ bore

8″ bell

Gold brass mouthpipe

Yellow brass outer slide

Nickel-plated pistons

Detachable balance weight

Lacquer finish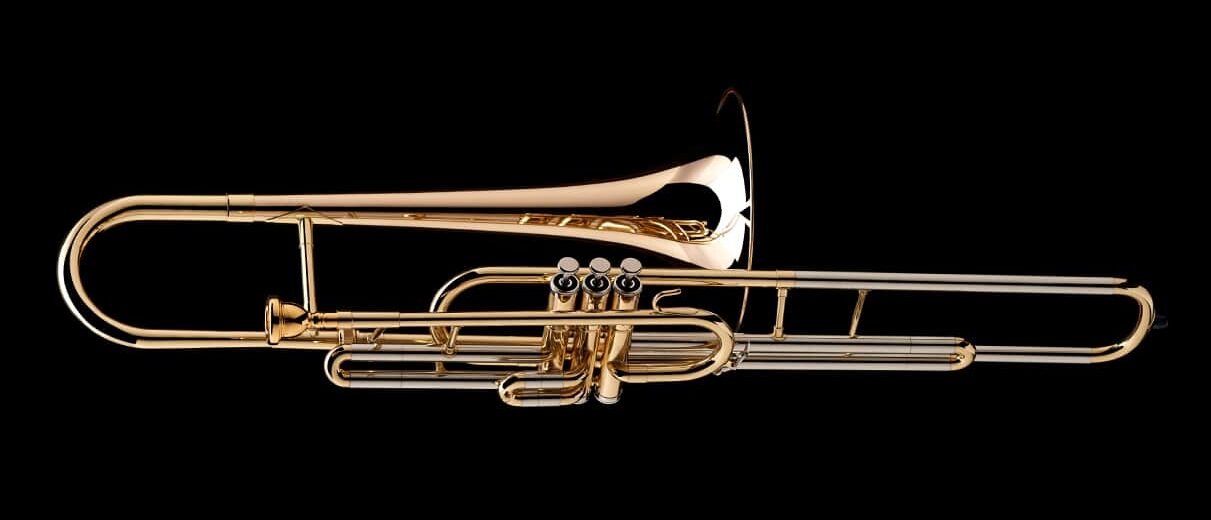 Wessex is a Chinese/British company that provides some very good instruments at very reasonable price points. At under $600, their valve trombone is a solid student instrument that will meet the needs of most brass players looking for a second horn. If you have been thinking about doubling up on a valve trombone, Wessex lets you do it without breaking the bank.
Wessex also makes a C valve trombone which is pitched a step higher than the B♭ model. The PC912 is even smaller and lighter than the PB901 and will be easier to handle for younger or smaller musicians.
Those looking to make the valve trombone their primary instrument may want to look at a more expensive instrument. The PB901 is a serviceable instrument that will do the job, but it is not a Bach or a King. 
Pros
A shorter design makes the PB901 more manageable for marching and small stages

An inexpensive second instrument for any brass musician

Wessex has excellent customer service and returns policies
Cons
Valves can be stiff at first and require regular lubrication.
Specifications
Bell: 8″ (202mm)

Bore: 0.49″ (12.49 mm)

Length overall assembled 28″ (71cm)

Weight: 3.71 lbs (1.65kg)

Gold brass bell

Nickel inner and outer slides

Stainless steel top sprung slides

Lightweight foam body case

6 3/4 mouthpiece
My Recommendations
If you are just looking for a second instrument, you can double on in your band or ensemble, or if you need a valve trombone for marching, the Wessex PB901 will be the best bet for you. Its smaller size makes the PB901 easier to transport and carry on a field, and its comparatively modest price makes it more affordable for musicians on a tight budget.
Jazz players may find the King 2166 3B best meets their needs. Legendary bebop trombonist J.J. Johnson used a King 3B slide trombone, as did many other jazz trombone players. The 2166 3B will give you the 3B's warm but powerful tone and offer you speed advantages when you're trying to keep up with the changes.
If you want the best valve trombone available, the Bach V16 Strad is hard to beat. Bach has been a leading name in brass instruments for nearly a century, and the V16 is a valve trombone that you can pass down to the next generation as an heirloom.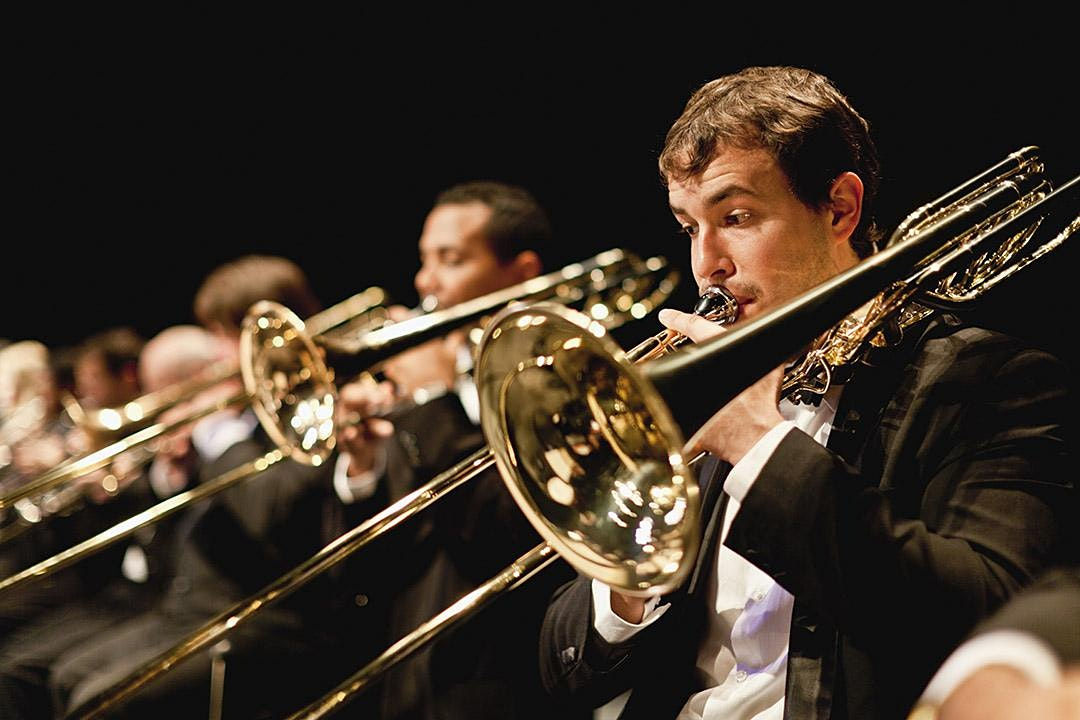 Alternatives
If you are a trumpet player who is serious about learning the trombone, you may want to bite the bullet and buy a decent slide trombone. There will be a learning curve connected with mastering the slide positions, but there are more positions available for slide trombonists than for valve trombone players.
If you are a tuba player who wants to play in a higher range, you may want to pick up a euphonium or a baritone horn. Both these instruments are popular in British brass band music and will let you play higher notes while using many of the techniques you learned playing the tuba.
Frequently Asked Questions (FAQ)
Question: What Music is Written for the Valve Trombone?
Answer: Czech composers like Dvorak, Smetana, and Janacek wrote for the valve trombone, which remains popular in Czechia to this day. Valve trombones were also used by Puccini and Verdi. Verdi helped design and popularized a contrabass rotary valve trombone called the cimbasso. While valve trombones cannot perform glissandos like a slide trombone, valve trombonists can play almost all music written for slide trombone. They can also play music written for the euphonium and baritone horn, and trombonists who can read treble clef can transpose most trumpet music down an octave.
Question: Do Slide Trombones have Valves?
Answer: While slide trombones use the slide to change notes, all modern trombones have a tap called a water key or spit valve. When opened, this valve allows moisture to drain out and helps prevent corrosion in your instrument. Bass and contrabass trombones have an "F valve" which drops the pitch down a perfect fourth and lowers the instrument's range, and some contrabass trombones have a second valve which helps them go down another even further to an A♭0 (a step below the lowest note on the piano). 
Question: Is a Valve Trombone Easier to Play than a Slide Trombone?
Answer: Although it is easier to play fast passages on a valve trombone, making them sound good may be harder than you expect. The great jazz valve trombonist Bob Brookmeyer explained, "Slide trombonists make notes with a straight air column. If you're a valve-trombonist, you have to go to Madagascar to get a tone out of it. So it's actually much harder." So while a valve trombone may be easier to learn at first, mastering the valve trombone may be more challenging than a slide.
Conclusion
Valve trombones don't get as much love as slide trombones, but in a skilled musician's hands, they can make beautiful music. If you are looking for a valve trombone, take your time, do your research, and find the trombone that feels right to you. Here's to happy music-making with whatever valve trombone you finally choose!
Looking for more interesting readings? Check out: