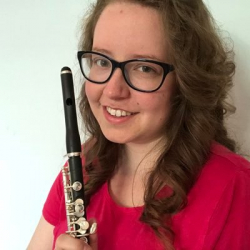 Latest posts by Hannah Haefele
(see all)
Imagine you finally landed the coveted first trumpet spot in a local jazz band. You can't wait to show off your high notes, but you realize you can't get them consistently. So you look for the best trumpet mouthpiece picks to help you out.
Soon enough, you'll be wailing at the top of the register, and your solos will sound amazing. But which mouthpiece should you buy, and does it really matter?
At a Glance: Best Trumpet Mouthpiece
| Product Image | Primary Rating / Price | Primary Button |
| --- | --- | --- |
| | | |
| | | |
| | | |
| | | |
| | | |
| | | |
09/24/2023 03:14 am GMT
Why Does A Trumpet Mouthpiece Matter?
A good trumpet mouthpiece can not only help you make a sound, but it can affect the sound quality. The best trumpet mouthpiece picks will also help keep your lips and embouchure in place.
However, the mouthpiece should still allow you to breathe in while playing. That way, you don't have to move the trumpet each time you have a long-phrase.
Every part of a trumpet mouthpiece, including the rim, cup, and throat, is important. The size and shape of those parts will have an impact on the sound you can make from that particular mouthpiece.
How To Choose A Trumpet Mouthpiece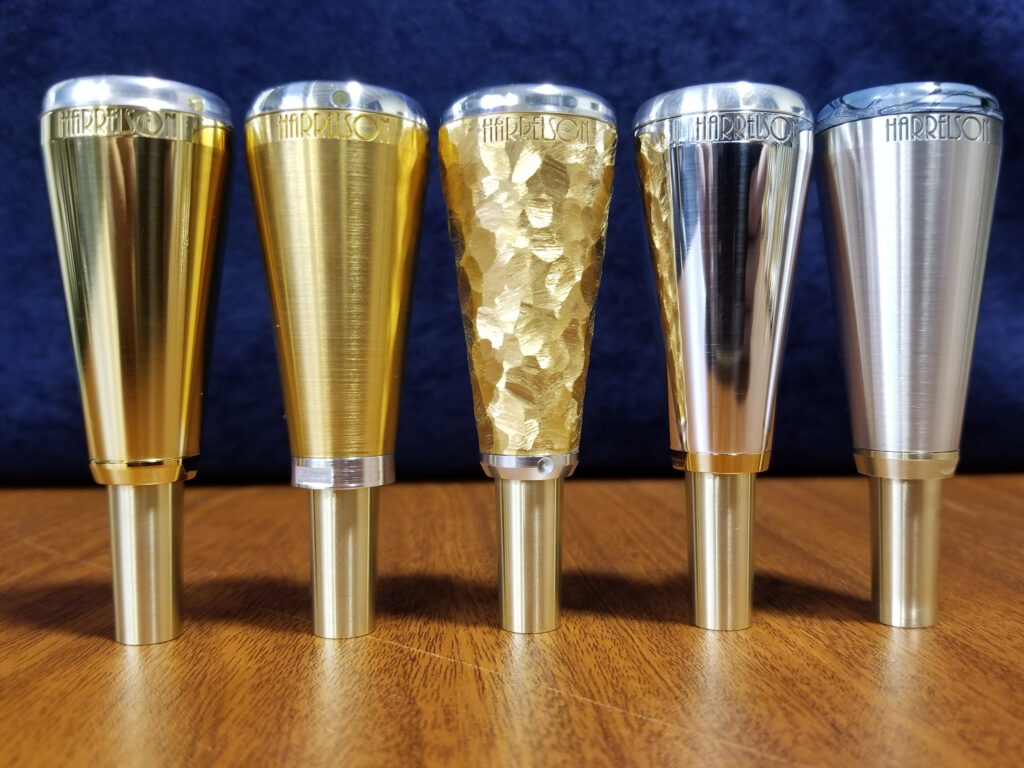 Knowing how to choose from the best trumpet mouthpiece picks may not matter as a beginner. However, buying a new mouthpiece is a quick and affordable way to upgrade your setup.
Some trumpets can be very expensive, so students and casual players can't always justify that expense. While trumpet mouthpieces can vary in price, they all cost much less than a new instrument.
Consider some of the following tips and tricks to help choose the best mouthpiece for you.
Know Your Trumpet
First, you need to make sure you have a trumpet and not a cornet or flugelhorn. All three instruments are similar, but they each use different mouthpieces due to their sizes and what styles they most commonly play.
You should also know what size and type of trumpet you have. Consider if your trumpet is a student, intermediate, or professional model. That way, you'll be able to find a mouthpiece that will fit and match the sound.
And you can consider mouthpieces from the same brand as your trumpet. They'll be more likely to fit, and you can compare them to mouthpieces from other instrument companies.
Consider Your Playing Style
Similarly, you should think about the music you like to play and how you play the trumpet. When it comes to the mouthpiece rim, a wide rim can help your endurance, while a narrow rim improves flexibility.
A round mouthpiece rim is comfortable to play every day and for long rehearsals. However, a sharp rim can help you attack notes more clearly.
Larger mouthpiece cups can play louder and offer more control. But smaller cups can minimize fatigue from long playing sessions.
A mouthpiece with a larger throat is easier to blow, and it can add extra volume. On the other hand, a smaller mouthpiece throat sounds more brilliant, and it's more resistant.
If you play a lot of jazz music, you may want something with a bigger sound. And if you focus on classical, you might want to be able to play softer and as part of a big group.
Prioritize The Rim
Sometimes, you can't find the perfect mouthpiece that fits all of your needs. In that case, you should prioritize the mouthpiece rim because that's what touches your lips.
For example, you may think you need a sharp rim. But that isn't always going to make your lips feel good after you play.
When you need to make compromises, do so with the mouthpiece cup and throat. That way, your lips can stay in playing shape, and you can get the sound you want.
Compare Materials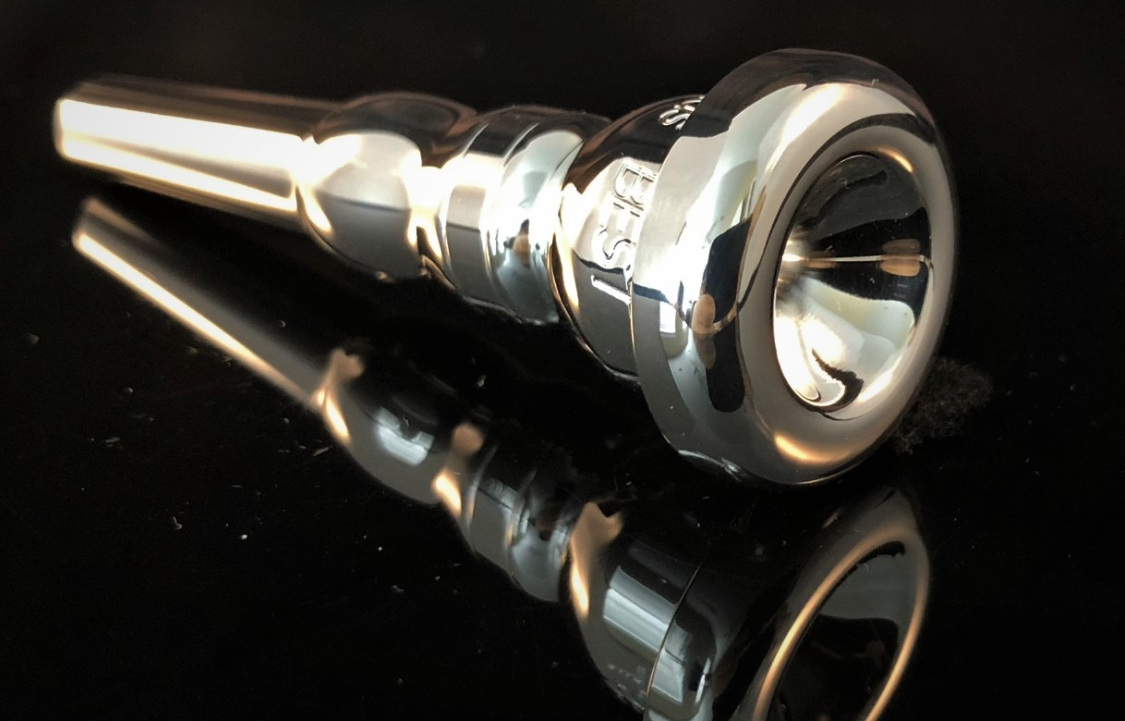 Another critical factor of the best trumpet mouthpiece picks is the materials they use. You can find trumpet mouthpieces that use silver, gold, brass, and even plastic.
These different materials can affect how the trumpet feels to play, and they can impact the sound. In some cases, the wrong material can make you sick or have an allergic reaction.
After all, the material sits on your lips. If you have a silver or nickel allergy, you should avoid mouthpieces with those materials. If those materials offer your ideal sound, you can look for a different mouthpiece design with materials that won't harm you.
Don't Overwork Yourself
You should also avoid trumpet mouthpieces that force you to work too hard to get a sound. Some mouthpieces offer more resistance, which can be great for people.
However, other players need less resistance so that they don't pass out, including many beginners. If you struggle to get a sound on a mouthpiece, it's probably not a good fit for you.
Look for mouthpieces that offer more flexibility and can help with your endurance. Then, you can eventually switch to a model that takes a bit more work to play.
Review Your Current Mouthpiece
Before you rush to buy your next mouthpiece, play with your current one. Give it a chance to show you how it feels and sounds with your current horn.
As you play it, take note of what you do and don't like. After playing, look at the design to see how big it is and what materials it uses.
Consider as many factors as possible so that you can choose some mouthpieces to test. Then, you can select options that have the qualities you like and avoid those you won't enjoy.
Get Recommendations
When you have an idea of what you do and don't like, you may want to ask for recommendations. If you take trumpet lessons, ask your teacher what they think could be a good fit for you.
You can also ask other trumpet players you know or join online groups and forums. Tell them about the mouthpiece you have and the elements you like.
While other players may recommend their current setups, you can try them all. And who knows, you may end up like a brand that you didn't expect to.
Set A Budget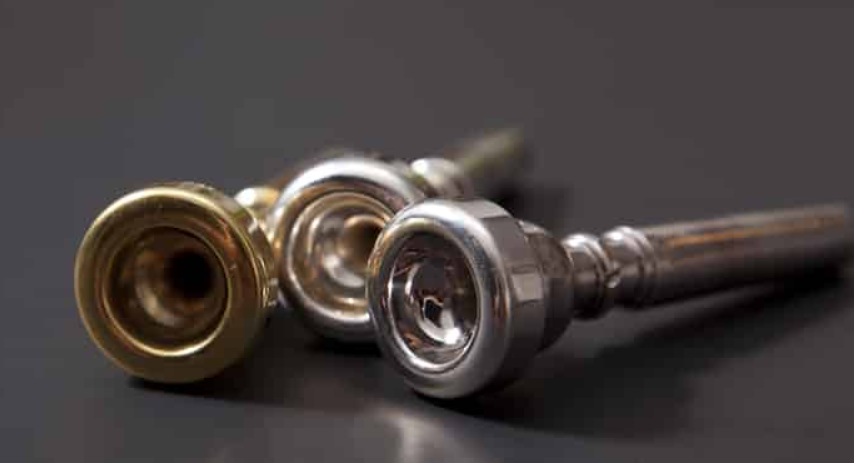 Like any big musical purchase, you shouldn't buy a new mouthpiece without knowing your budget. While the accessory won't cost as much as a trumpet, it can still cost more than you think.
You can research some potential options to get an idea of the average cost. Set aside enough money so that you'll be able to try multiple models and decide on the best fit.
If you're a beginner and need a replacement to get started, you won't need to spend as much. However, as you advance, you can expect to pay more for something at the professional level.
Compare And Contrast
Once you're ready to buy, you should try at least two or three mouthpiece picks. Some players may luck out and choose the first model they try, but that doesn't always happen.
You need to give yourself time to try a few options and compare them with each other and your current setup. Use the same trumpet throughout your trial period and play the same music to minimize the differences.
Then, you'll know if you like the mouthpiece or if you happen to like the music you're playing on it. And that can be crucial when you're trying to decide between two options.
Best Trumpet Mouthpiece Picks
If you're ready to upgrade to some new trumpet gear, you should know where to start. Some mouthpieces are much better than others, and you don't want to waste your time on cheap knockoffs.
Whether you're a beginner or professional, jazz or classical player, you need a setup that works for you. And if you don't have a ton of time to spend trying different options, you can narrow your search.
Here are some of the best trumpet mouthpiece picks.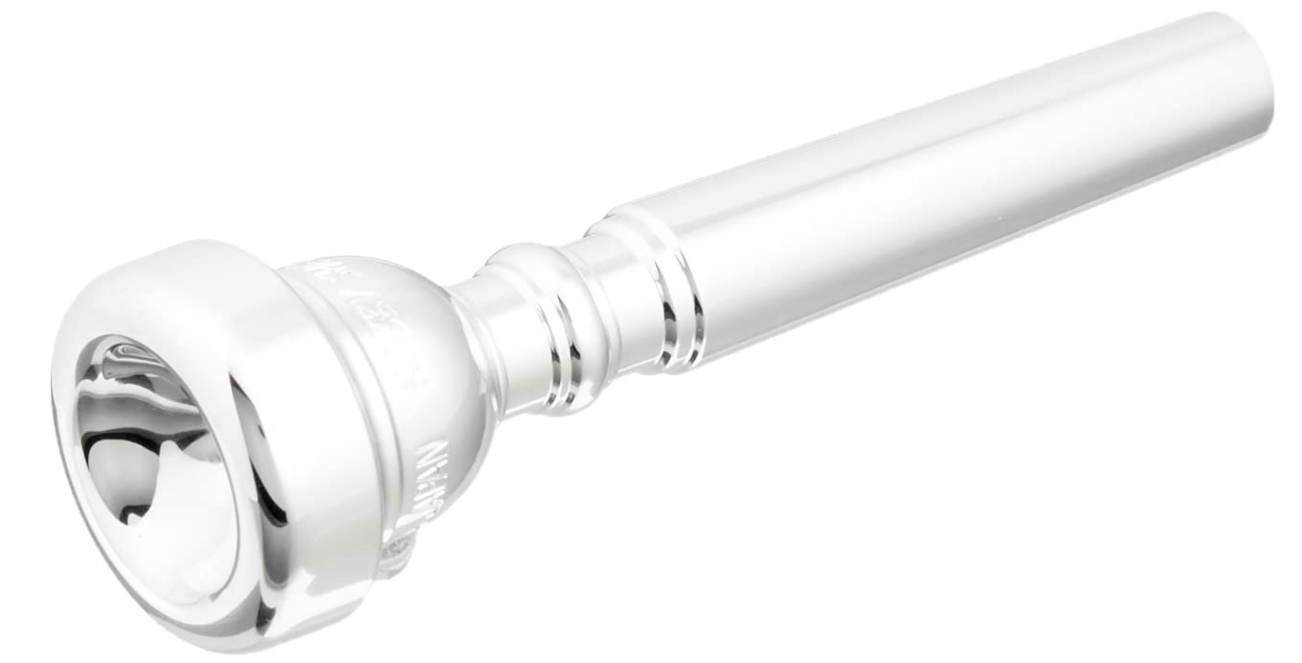 The first option to consider is the Yamaha YAC SHEWLEAD, which is perfect for lead trumpet parts. It sounds great in the upper register, and it can help make your high notes clear.
You get a shallow cup with this model, and the inner diameter measures 16.54mm (millimeters). The thick silver plating won't wear away quickly, and it will last a long time.
There's a semi-thick and semi-round rim and a narrow backbore, which is fantastic for some players. You can use the SHEWLEAD on any brand of trumpet, so you don't have to play Yamaha for it to work.
Yamaha YAC SHEWLEAD | Amazon
The Bobby Shew Signature Lead trumpet mouthpiece gives that extra sizzle and high note clarity for playing demanding lead parts.
Buy at Amazon
We earn a commission if you make a purchase, at no additional cost to you.
09/24/2023 03:14 am GMT
Pros
Great for jazz

Helps with high notes

Can play loud
Cons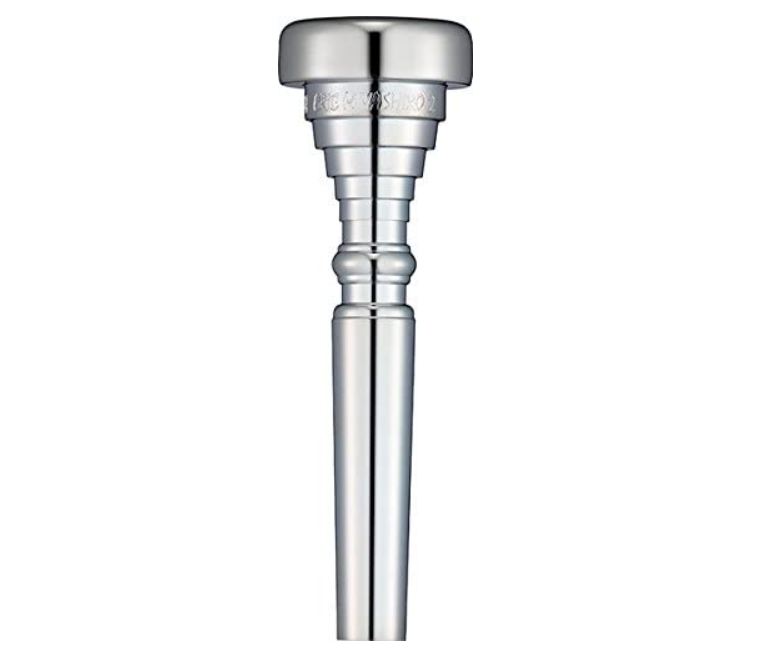 Your mouthpiece trial should also include the Yamaha YAC EM2S, which is great for lead playing. The rim is thin and has a rounded design, and there's a narrow backbore.
Like the other Yamaha model, this one has a heavy layer of silver plating. The plating makes the mouthpiece durable, and you can play it for a long time without peeling.
Its inner diameter is 16.22mm, and it has a shallow cup and a rim bit that won't cause fatigue. You don't need to play a Yamaha trumpet for this accessory to work well.
Yamaha YAC EM2S | Amazon
The Eric Miyashiro Signature EM2S trumpet mouthpiece features a fatigue-free rim bite that makes it a great choice for lead players.
Buy at Amazon
We earn a commission if you make a purchase, at no additional cost to you.
Pros
Suitable for lead players

High notes sound great

Comfortable to play
Cons
Can take a while to break it in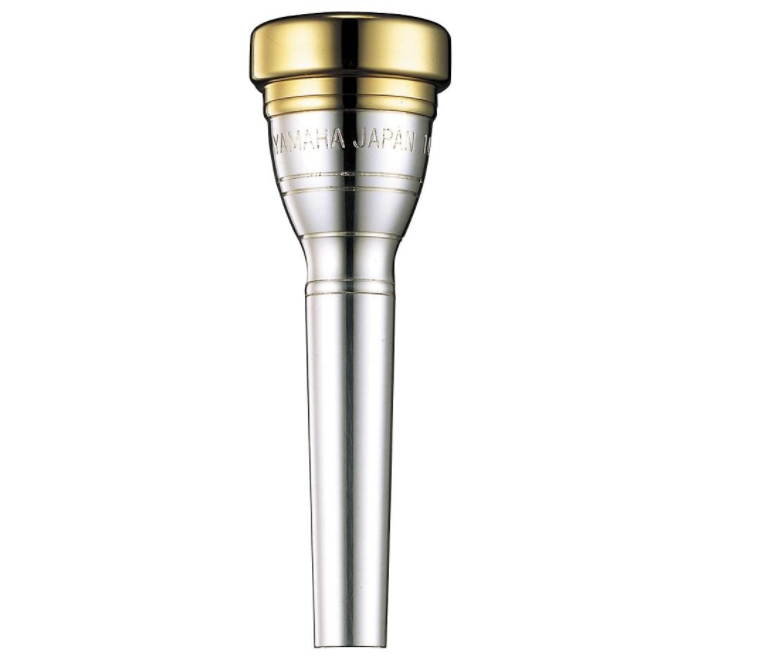 Lead players should also try the Yamaha YAC TR14A4A-HGPR model to get a fast response. It sounds great in the high register, and you can even use it if you want to play the piccolo trumpet.
The weight is ideal for a variety of genres and styles, and you can use it as your main setup. You can also customize it to fit your needs, and it's a great choice for advanced and professional players.
While it's nice for upper notes, it also sounds great in the low register. And you won't have to worry about losing your intonation when playing for a long time.
Yamaha YAC TR14A4A-HGPR | Amazon
Yamaha Standard series mouthpieces have an ideal weight for all-around use and are available in a variety of configurations to suit every player.
Buy at Amazon
We earn a commission if you make a purchase, at no additional cost to you.
09/24/2023 08:40 pm GMT
Pros
Great for professionals

Flexible

Versatile
Cons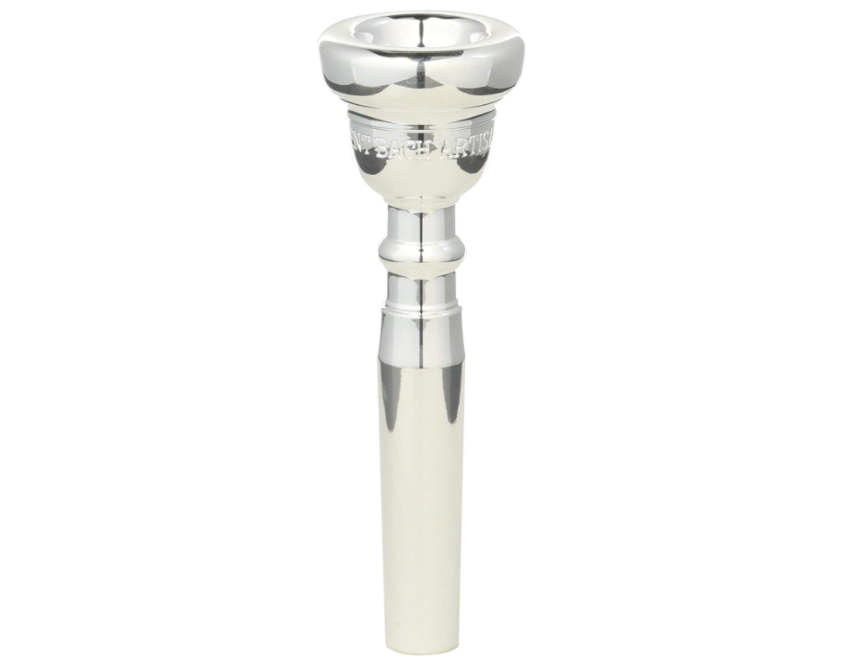 The Bach 3C mouthpiece comes from another fantastic trumpet brand. It features a medium-sized cup with a diameter of 16.3mm, and the depth is also not too big or small.
You can use it to play a bigger range and make your tone better on the trumpet. Intermediate and advanced players will be able to make the most of this model.
The medium rim is great for playing low and high, and it works in different genres. Soloists and orchestral players can enjoy this mouthpiece, and it's of great value.
Bach 3C | Amazon
The Bach A4513C2 Artisan Trumpet Mouthpiece is a standard mouthpiece for intermediate musicians. This model is a size 3C, silver-plated mouthpiece with a medium cup and 16.30mm diameter.
Buy at Amazon
We earn a commission if you make a purchase, at no additional cost to you.
09/24/2023 02:50 am GMT
Pros
Versatile

Great for advancing players

Sounds good
Cons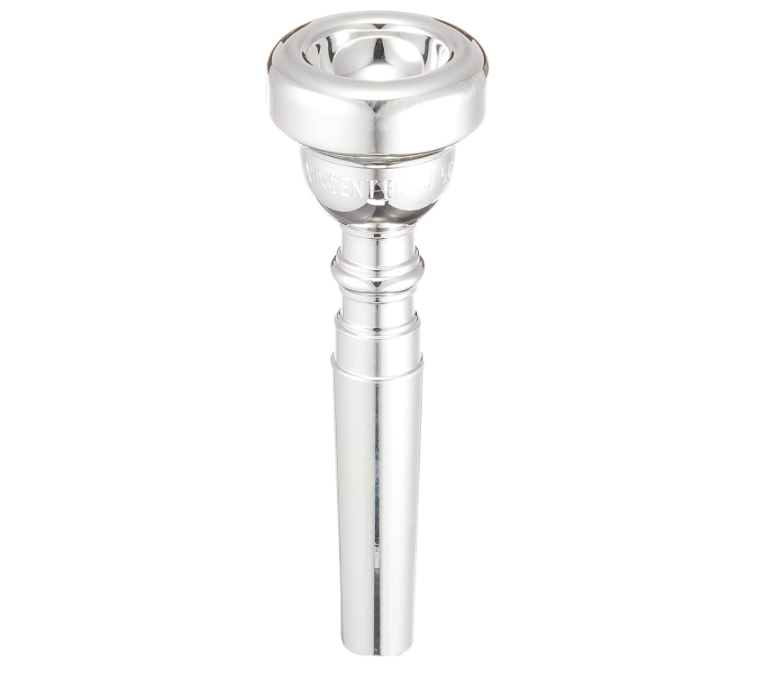 Next up, give the Bach 5C a try for an upgrade. The diameter is 16.26mm, and it features a medium cup depth and medium rim to help with playing in different styles.
Intermediate players will benefit the most from it because it can help with your range. You may also find your tone improves after you switch to the 5C.
The silver plating looks good and helps with the overall sound. So you can use it for a long time and during long rehearsals and concerts.
Bach Trumpet Mouthpiece 5C | Amazon
Bach Standard Series mouthpieces are some of the most popular mouthpieces in the world among both students and professionals.
Buy at Amazon
We earn a commission if you make a purchase, at no additional cost to you.
09/24/2023 07:24 am GMT
Pros
Good quality

Not too big or small

Durable
Cons
Doesn't fit every trumpet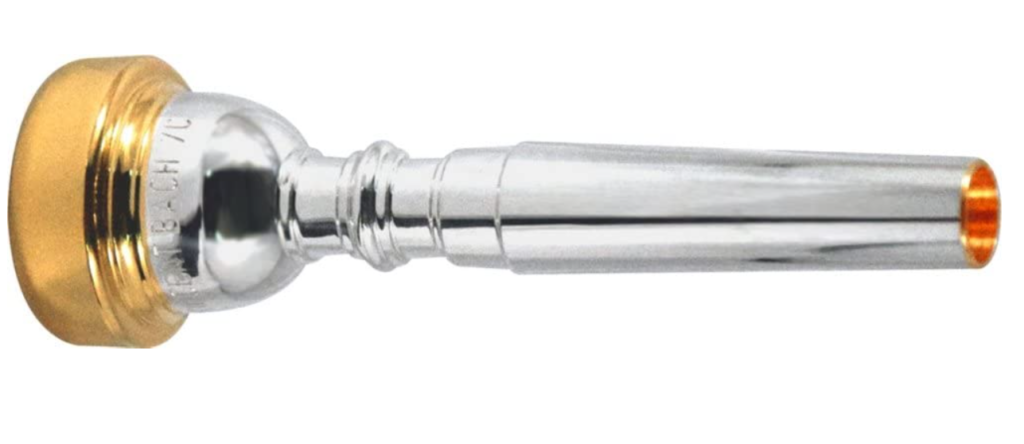 The Bach 3153CGR is another fantastic option to try when upgrading your trumpet gear. It's the same size as the Bach 3C model, so it's versatile and great for advancing players.
There's silver plating on the body, which is common, but the rim is gold. That can help make your sound warmer and more mellow, which is nice for lower trumpet parts.
The inner diameter is 16.30mm, so it's a bit bigger than some mouthpieces but not by much. While it's not cheap, you do get a great value thanks to the design and materials.
Pros
Looks and sounds good

Great value

Versatile
Cons
FAQs 
Question: What mouthpiece do professionals use?
Answer: Professional trumpet players will use the mouthpiece and instrument that work best for them. However, the Yamaha YAC TR14A4A-HGPR is a common choice among some top players.

While it's worth trying that model, it won't necessarily work for you. Try as many options as you can so that you'll have a better chance of getting the best mouthpiece for your playing.
Question: What's the best jazz trumpet mouthpiece?
Answer: The best mouthpiece for jazz, again, depends on the player. However, you can't go wrong with the SHREWLEAD model from Yamaha.

Bach mouthpieces are also great for playing jazz music. Consider if you're on the first through fourth trumpet part and how many high or low notes you'll need to play. That way, your gear will help make playing that part easier.
Question: Does your mouthpiece make a difference?
Answer: The best trumpet mouthpiece picks can make a huge difference. Bigger models are usually better for playing in the lower register, while those will smaller rims and cups are great for high notes.

Materials and manufacturing quality can also impact the results. For example, a cheap silver-plated mouthpiece from an off-brand probably won't be as good as a silver-plated model from Bach or Yamaha.
Question: Can a mouthpiece help with high notes?
Answer: Some mouthpieces can help you play high notes more easily either because of their design or even the mental effects. Think of it like the placebo effect and how a placebo can make you believe something's happening.

Getting a good mouthpiece may simply encourage you to practice more, which will help you play high notes more consistently. But some models do help physically, such as with a smaller rim and cup.
Question: How much does a trumpet mouthpiece cost?
Answer: Most models cost less than $100 though some cost just over that. The more expensive mouthpieces tend to be of better quality, and they may have different materials that affect your sound and comfort.

If you don't have much money to spend, save up at least a little bit. That way, you won't have to settle for a knockoff that won't last and won't improve your sound.
Question: Should you buy used?
Answer: Used trumpet mouthpieces can be good when you need an upgrade but can't pay the full price. As long as the seller has kept the gear in good condition and it's clean, you can play it like normal.

However, you should make sure the seller is willing to refund you if you don't like the mouthpiece. If not, you'll need to sell it or find a way to try it before you buy.
Question: Should you buy online?
Answer: Buying a mouthpiece online is convenient, and it can save you time if you know exactly what you want. Make sure you buy from a retailer with a trial or return period in case you don't buy the perfect model.

And before you purchase, read as many reviews as you can and see if you can listen to someone playing the gear. Then, you can get a better idea of how it will work for you.
Final Note on The Best Trumpet Mouthpiece Picks
The best trumpet mouthpiece picks should include something for everyone. Whether you're new to the trumpet or not, you need the right equipment to learn and get better at the instrument.
Yamaha's YAC TR14A4A-HGPR is probably the best model on the market. However, each of the Bach options I shared are good alternatives, so try them all before you settle on one.
| Product Image | Primary Rating / Price | Primary Button |
| --- | --- | --- |
| | | |
| | | |
| | | |
| | | |
| | | |
| | | |
09/24/2023 03:14 am GMT