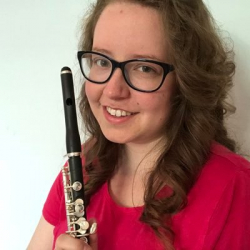 Latest posts by Hannah Haefele
(see all)
Do you want to play the sousaphone? Are you worried about it weighing too much? Then you should look at some of the best fiberglass sousaphones. They're a lightweight, cost-effective option for students, professionals, and everyone in between. You can get a good instrument and play the music you want without having to hold too much weight and risk hurting yourself.
At a Glance: Best Fiberglass Sousaphones
| Product Image | Primary Rating / Price | Primary Button |
| --- | --- | --- |
| | | |
| | | |
| | | |
| | | |
Why Fiberglass Sousaphones Matter
When shopping for the best sousaphone for you, it's important to consider fiberglass models. Of course, brass sousaphones offer the classic sound that you would expect from the instrument. However, they can be very heavy and hard for some people to hold. A brass model can easily weigh anywhere from 20 to 50 pounds, but fiberglass is quite a bit lighter.
Another benefit of the best fiberglass sousaphones is that they're also more affordable than brass models. That makes them an excellent choice for beginners and anyone else without a ton of money.
What to Look for in a Fiberglass Sousaphone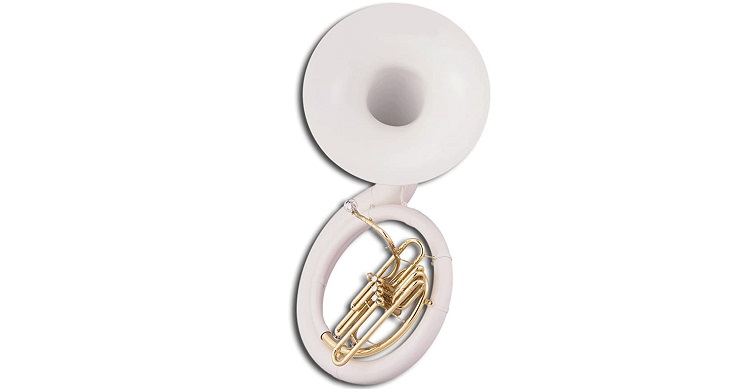 If you want to play the sousaphone but don't want to get a brass model, you have plenty of alternatives. There are a surprising number of fiberglass instruments available. Whether you know how to play the sousaphone or want to learn, you should know what to look for. That way, you can choose from the best fiberglass sousaphones you can find.
Here are some factors to consider before you choose your next instrument.
Weight
While fiberglass sousaphones aren't as heavy as brass ones, they still weigh quite a bit. If possible, test out multiple fiberglass instruments before you buy one to make sure you can hold the weight. Some models can vary slightly based on the other materials involved or even the number of valves. For example, some fiberglass sousaphones have a brass bell, which may add a bit of weight.
You'll have to test the weight and compare it to other features to determine if the extra weight is worth it. If not, you might need to compromise on sound to be comfortable.
Balance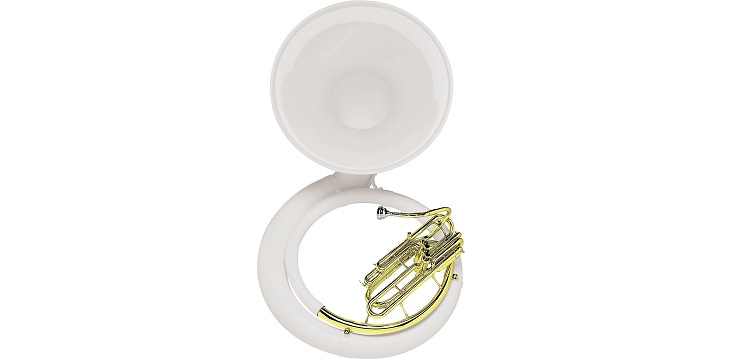 Along with the weight, you should consider how a sousaphone feels over your shoulder. If it seems to always slip out of balance, you'll need to spend more time keeping it in place than focusing on your playing. Your overall comfort is critical because it can make or break your interest in playing the sousaphone. While it can be hard to balance the instrument at first, it shouldn't stay that way.
If you're new to the sousaphone, have an experienced player test out the balance. They know what to expect, so they can tell you if it will take time to get used to or if the problem won't go away.
Price
Like it or not, you have to consider if you can afford a fiberglass sousaphone. They can be more expensive than a lot of smaller brass instruments, but they aren't usually as expensive as brass sousaphones. You should expect to spend up to around $5,000 for a good-quality instrument. That way, you'll have enough money to test out a few different fiberglass models and choose one that works for you.
While you can find some models for less than that, a lower budget can severely restrict your search. So you might have to compromise on the instrument's sound or overall quality just to get something, which you should avoid if possible.
Sound
Another thing to test before buying a fiberglass sousaphone is how it sounds. The instrument should sound good in both the low and high registers, loud and soft, and when playing fast and slow. While it may not sound identical to a metal sousaphone, it shouldn't sound too thin or airy. If you have to struggle to get a good sound out of the instrument, move on to another one.
Consider recording yourself or finding recordings online of fiberglass sousaphones. That can give you an idea of how the instrument sounds, and you can compare the recordings of different models.
Playability
You could buy the single best fiberglass sousaphone in the world, but it won't matter if you can't play it. Think about your current playing level and what music you anticipate playing on the sousaphone. If you're a beginner, you might not need to worry about playing super high or low. But you do want to get an instrument that will respond when you blow into it.
Switching between notes either with the valves or your lips should be pretty easy. Make sure you can play a few different types of music to make sure the sousaphone will be a good fit for you.
Valves
While not a huge factor, you may want to consider the valves on the sousaphone. Of course, they should move up and down without getting stuck so that you can play any note on the instrument. You might also want to consider if you want three or four valves. You can find some sousaphones with four valves, but three valves are more common.
They take off a bit of weight, and it may be enough to make the instrument comfortable. But that does mean that you can't use as many fingerings, so some notes may be more difficult.
Bell
The bell can have an effect on how the entire instrument sounds, and it's also what the audience will see on a field. If you can get any type of sousaphone, consider if you want a fiberglass bell to save on weight or a brass bell to help get a good sound.
Brass bells can be a good idea if you want to get a more traditional sousaphone sound. But you don't have to get a complete brass instrument. Either way, make sure your band director doesn't require specific material. Some bands will have everyone in a section use instruments that look the same so that there's uniformity, and you don't want to break that rule.
Case
While not a part of the instrument, you should think about sousaphone cases and if the instrument you buy comes with one. You can get a case that's more like a bag, or you can get a hard case. Hard cases are more protective, but they can weigh more and be harder to carry. A nylon bag adds almost no weight to the instrument, but it's not the safest when transporting your instrument.
If you get a sousaphone, you can always buy a separate case. Then, you can get the protection you need, but you can get the particular model that you like playing.
The Best Fiberglass Sousaphones
Knowing what to look for is great, but it can still be hard to find the right instrument for you. Luckily, you can find a few of the best fiberglass sousaphones on the market to try and compare. While one might work better for another musician, you might need to play a different model. Be sure to test as many instruments as possible to help decide which you should buy.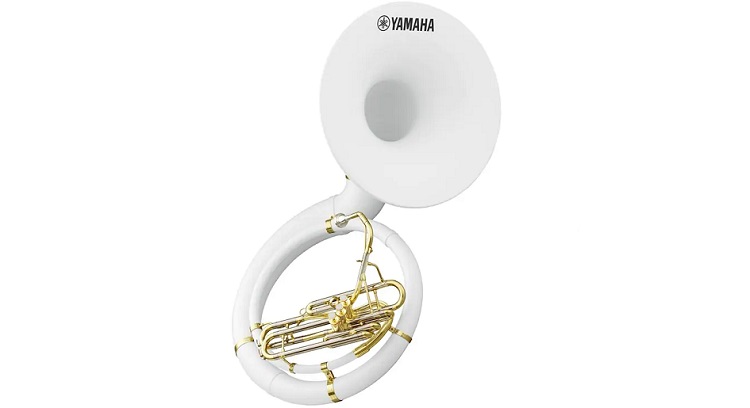 The Yamaha YSH-301 sousaphone is an excellent fiberglass model for beginners and serious players. Its manufacturing process includes pressure to form the tubing so that it's nice and round to provide a smooth sound. This instrument has good balance, and there's heavy bracing throughout to keep the instrument in good shape. That way, it won't fall apart as quickly at some of the more vulnerable parts.
You can get a good tone, and the hand-lapped valves move up and down easily. As long as you take care of it, you can make this sousaphone last through multiple marching seasons.
Pros
Good construction
Easy to play
Affordable
Cons
Schiller American Heritage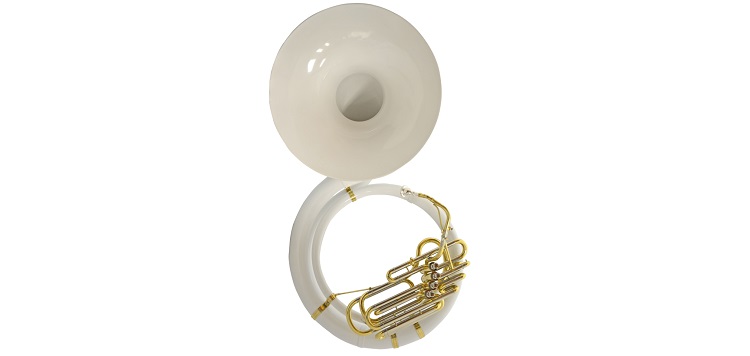 Another model to consider is the American Heritage sousaphone from Schiller. This instrument has four valves, so you can play more notes without needing to use alternate fingerings. It uses durable fiberglass, so you can put this model through a lot without it breaking down. The valves are comfortable to play, and the entire instrument sits comfortably on your shoulder.
There are some brass braces around the instrument, so it can stay in place and not come apart. If you're on a budget, this is a great option to try.
Pros
Four valves
Easy to play
Affordable
Cons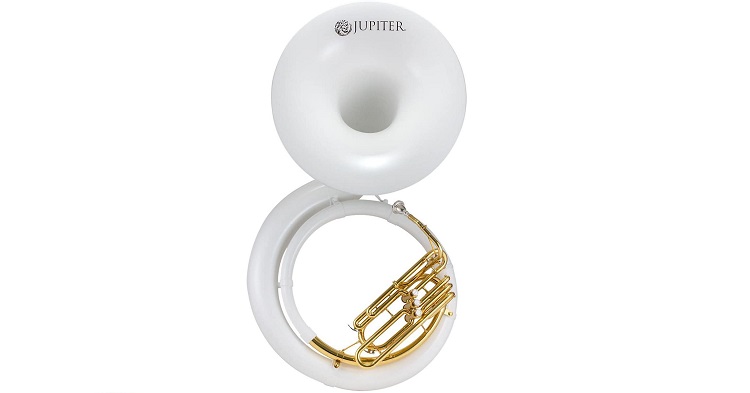 Jupiter makes some fantastic sousaphones, and their fiberglass models, like the JSP1000B, are no exception. The sousaphone has a fiberglass body and bell, but the valves are lacquered brass. That makes the valves feel and sound like any other brass instrument. You get three valves, which is pretty common among sousaphones, and the stainless steel valves move smoothly.
You also get a nylon carrying bag to protect the instrument from scratches. However, the bag isn't as sturdy as a harder case, so you still need to be careful.
Pros
Sounds good
Easy to play
Nice design
Cons
The bag isn't very protective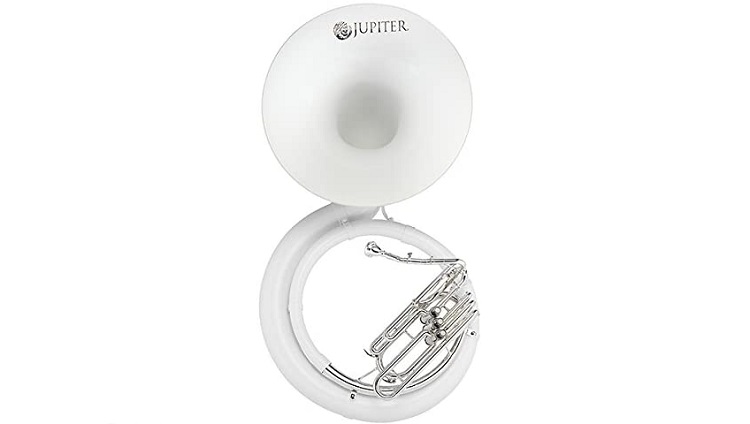 The Jupiter JSP1000SB is very similar to the previous model, except it has silver-plated tubing instead of brass with lacquer. It plays like any other sousaphone with three valves, but the silver adds a bit of brilliance to the sound.
You can use the stainless steel piston valves to play both slow and fast, and the valves can move quickly enough. And since this model is fiberglass, it's not too heavy or expensive. But if you have a sensitivity to silver or simply don't want to worry about tarnish, this probably isn't the model for you. Still, consider testing it against the other JSP1000 to see if there's a difference that helps you choose one.
Jupiter JSP1000SB Fiberglass Sousaphone | Amazon
This comes with nylon carrying bag is one of the more sturdy marching instruments currently on the market. The JSP1000SB features a durable white fiberglass body with a 26-inch bell for great projection plus an easily removable valve and slide body for easy maintenance.
Buy at Amazon
We earn a commission if you make a purchase, at no additional cost to you.
Pros
Good valves
Suitable for many players
Fantastic design
Cons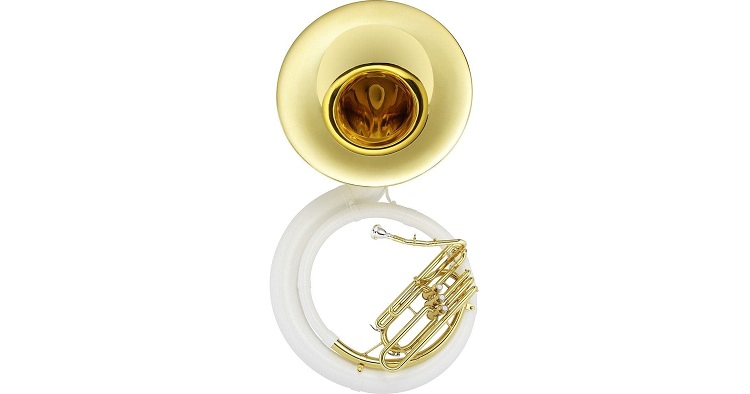 Perhaps you really want to save on weight and money, but your band director requires a brass sousaphone. You might be able to compromise with the Jupiter JSP1010.
It has a fiberglass body, but the bell is brass with a lacquer on top. The audience can see the brass bell, and it can help give a brassier sound, but you don't have to carry as heavy of an instrument. And if you ever need to fix something on the instrument, you can get to it by removing the valve section. That way, you can keep the instrument in good condition for many years.
Jupiter JSP1010 BBb FiberBrass Sousaphone | Amazon
The JSP1010 BBb FiberBrass Sousaphone combines a lightweight fiberglass body with a lacquered brass or silver plated bell for greater resonance and carrying power. It comes with an ABS case with wheels.
Buy at Amazon
We earn a commission if you make a purchase, at no additional cost to you.
Pros
Good sound
Brass bell
Easy to play and fix
Cons
A little heavier than full fiberglass models
FAQs
Question: How do Fiberglass Sousaphones Compare to Brass Models?
Answer: Fiberglass and brass sousaphones can both look and sound great on the marching field and in parades. In general, brass models have more of the sound quality that you'd expect.
The fiberglass can make it hard to achieve that same sound, but it's not impossible. It can even be worth that work to save on weight and money, so you can play sousaphone for longer.
Question: Who Should Play a Fiberglass Sousaphone?
Answer: Anyone who wants to try the sousaphone may want to start with a fiberglass model. It's almost always going to be easier to hold, and it's perfect for people who can't handle as much weight.
Young students may find the lighter instrument more enjoyable, but adults can use it as well. Be sure to compare some fiberglass and brass sousaphones to determine which material you like better.
Question: How do You Choose the Best Fiberglass Sousaphone?
Answer: Consider your budget, allergies, and any other preferences. Choosing between the best fiberglass sousaphones is very similar to selecting another instrument, like the tuba.
It's a very personal decision, so while you can get opinions from others, you need to choose the instrument yourself. That way, you'll look forward to playing it each day.
Question: What Notes can the Fiberglass Sousaphone Play?
Answer: The fiberglass sousaphone has the same range as a brass model, so you can play down to the F an octave below the bass clef (F1). On the high end, you can play up to F4, which is an octave above the bass clef.
Some advanced players can play even lower or higher, but you don't need to do that as a beginner. Give yourself time to learn the more common notes and improve your sound before forcing yourself to extend that range.
Question: How do you Hold the Fiberglass Sousaphone?
Answer: You hold the fiberglass sousaphone the same way as any other sousaphone by placing it over your left shoulder. Then, you'll put the fingers of your right hand on the valves.
Make sure you can reach the mouthpiece with your lips so that you don't have to hold an awkward position. If you can't reach it, you may want to try another model or wait until you're a bit bigger and can reach the mouthpiece.
Final Note on the Best Fiberglass Sousaphones
The best fiberglass sousaphones are all easy to play, durable, and don't weigh too much. Whether you're a beginner or advanced player, you should consider the best model for you.
All of the Jupiter sousaphones are great for people on a budget, and you can even get a brass bell. But if having a fourth valve is more important, you can't go wrong with the Schiller American Heritage sousaphone.
Take some time to test a few different models and compare them. Then, you'll have the best chance of choosing an instrument that you'll love.
| Product Image | Primary Rating / Price | Primary Button |
| --- | --- | --- |
| | | |
| | | |
| | | |
| | | |