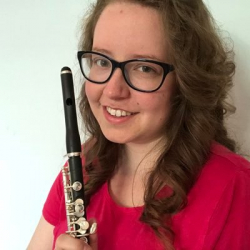 Latest posts by Hannah Haefele
(see all)
Imagine you're in a long concert band rehearsal, and you finally reach a break. You put your cornet on your chair and get a drink of water only to find your cornet fell off the chair. The best cornet holders could have helped avoid that scenario.
A good cornet stand is sturdy, so your cornet will stay in place. Then, you don't have to balance it on a chair or put it in the case every time you need to walk away from it. And if you need something to hold your music during a long marching rehearsal, there are cornet music holders as well. No matter which one you need, they can minimize your stress.
Music vs Cornet Holders
When looking at the best cornet holders, you may come across instrument stands and music lyres. Cornet stands provide a safe spot to put your instrument down when you can't or don't want to put it in the case.
A good cornet stand is great for switching between cornet and trumpet in a rehearsal or concert. Typically, cornet holders refer to instrument stands.
However, you can also find a lyre, which can hold your cornet music. Lyres are most useful in a marching band setting where you haven't memorized your music but can't use a traditional music stand.
How To Choose The Best Cornet Stand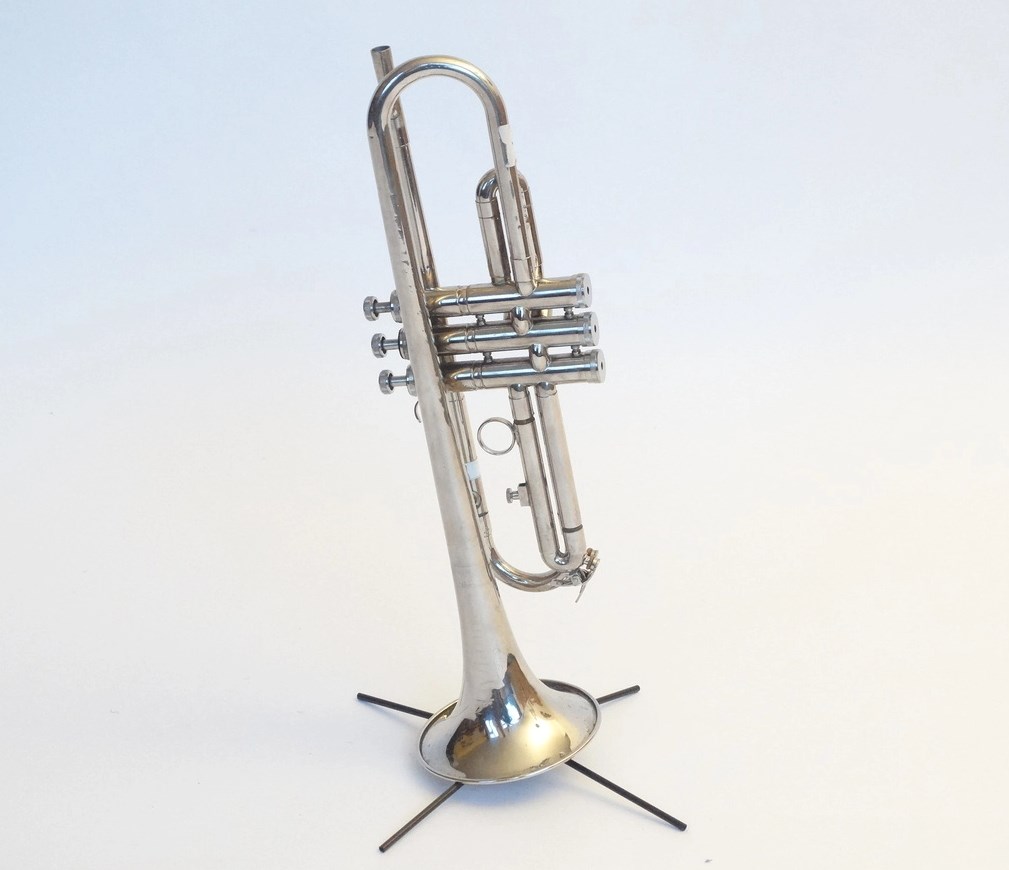 If you want something to use to protect your cornet, you need a good cornet stand. The holder is perfect for students and professionals, but you need to know how to choose a good one. You don't want to spend money on a stand only to find out that your cornet isn't secure. Whether you want something for your home studio or on the go, don't buy the first cornet holder you see.
Consider the following factors to help choose the best one for your needs.
Size
While the cornet and trumpet are similar in size, there are a few differences. The cornet isn't as long as the trumpet, so you may not be able to use the same stand if it's a horizontal stand. However, if the stand is for a trumpet, the peg might be too big for the cornet. Some cornets have a shorter bell than trumpets, while others are closer in size.
Luckily, size isn't a huge issue when shopping for cornet holders. But you should still know how big your cornet is and the size of the bell to make sure your instrument will fit.
Placement
The next thing you should think about is where you want to put the cornet stand. Many players use a cornet stand that sits on the floor next to them, so they can easily grab the cornet. However, you can also get a stand that hooks onto your music stand. That can be useful if you perform standing up a lot because you won't have to bend down to the ground.
Another option to consider if you practice from home often is to mount a stand on the wall. Wall mounts offer the same benefits as putting a holder on a music stand, but you can't take the holder multiple places.
Number
Some cornet players only ever play the cornet and so only need one cornet peg on their stand. However, it's not uncommon to switch between the cornet and the trumpet or even the flugelhorn.
If you do play multiple instruments, you may want a cornet stand that has multiple spots for instruments. That way, you can switch between the horns quickly without having to balance them on your lap or put them on the floor or on a chair.
A cornet holder with spots for a trumpet and flugelhorn can be useful for individual practice and ensembles. You won't have to stress about keeping all of your instruments safe when you aren't playing them.
Portability
Do you play music in different locations? Whether you have more than one practice spot or you're in music groups, you may need a portable cornet holder to take to and from your practice.
A good portable cornet holder will fold up and fit in your case or another small bag. That way, you won't need to carry something heavy or bulky just to have a safe spot for your cornet.
Portable cornet holders are easy to collapse down when you're done with them. While they can take up space during your practice, they won't be so big when you need to store them.
Stability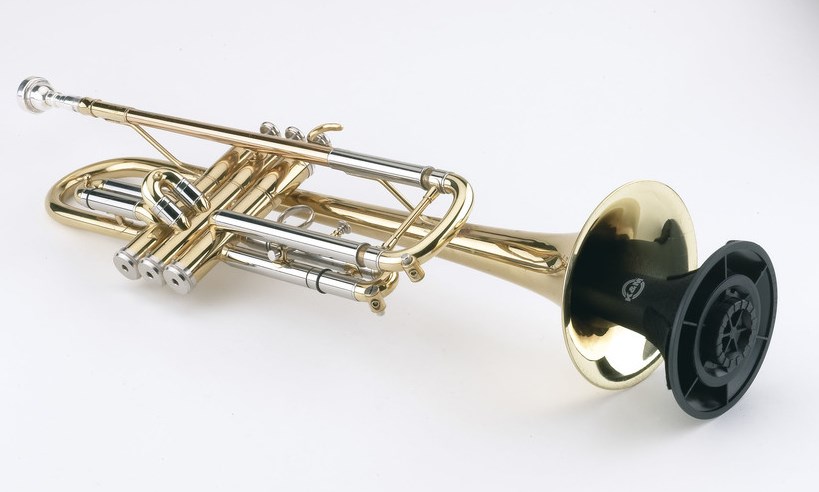 Sometimes, you'll need to choose between portability and stability but not always. If you need a cornet holder for your primary practice area, you should prioritize stability. These holders tend to be a bit heavier and have a good center of balance. That design will help keep your cornet on the stand, and it won't be as easy for your or someone else to knock the stand over.
Even if you travel to rehearsals, you can get a stable cornet holder. It may not be as travel-friendly as a more portable option, but most cornet stands are portable to some degree.
How To Choose The Best Cornet Lyre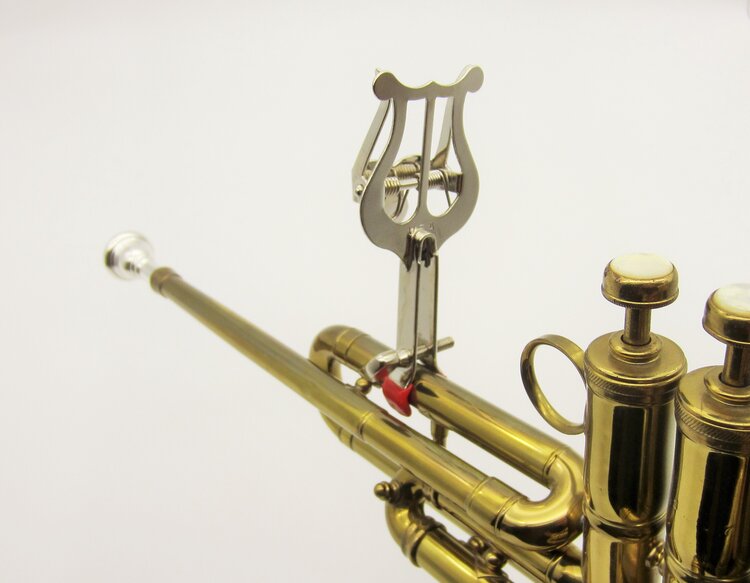 If you need something to hold your music while playing the cornet, you should look for a lyre. They're most popular in marching bands and other groups where you move around.
In those situations, you can't look at a traditional music stand, and it can take a while to memorize your music. You can use the cornet lyre to display your music right on the instrument.
Consider a couple of factors to help decide which lyre is right for you.
Durability
Because the main use for a lyre is in a marching band, it needs to withstand a lot. You need a lyre that won't break easily after the first use, and it needs to hold quite a bit of music at once. A good lyre should be easy to use in different weather conditions. A marching band can happen in extreme heat and extreme cold, and your lyre should be able to handle that.
If you're buying a cornet lyre for a student, the lyre needs to handle whatever a student does. Some students can be rough on their instruments and accessories.
Position
Another consideration is if you want to put the lyre on the cornet bell or lead pipe. The bell is pretty common, and it's close enough for you to see the music without blocking your view of your surroundings. However, putting your lyre on the leadpipe can bring it closer to your face. If you don't have the best vision, putting your music closer to your eyes will help you see it better.
As long as you have decent peripheral vision or aren't marching much at all, the leadpipe can be a good position. But check with your band director or another musician to make sure the group doesn't require one position over the other.
The Best Cornet Holders
Now that you know what to look for in the best cornet holders and lyres, you should consider a few options. While you can search for cornet stands and music holders yourself, some are better than others. As you learn and improve on the cornet, you need to protect it. And you might need to use it in marching band with a lyre, so get some accessories now.
Here are some of the best cornet holders available on the market.
Hercules Trumpet/Cornet/Flugel Multi Stand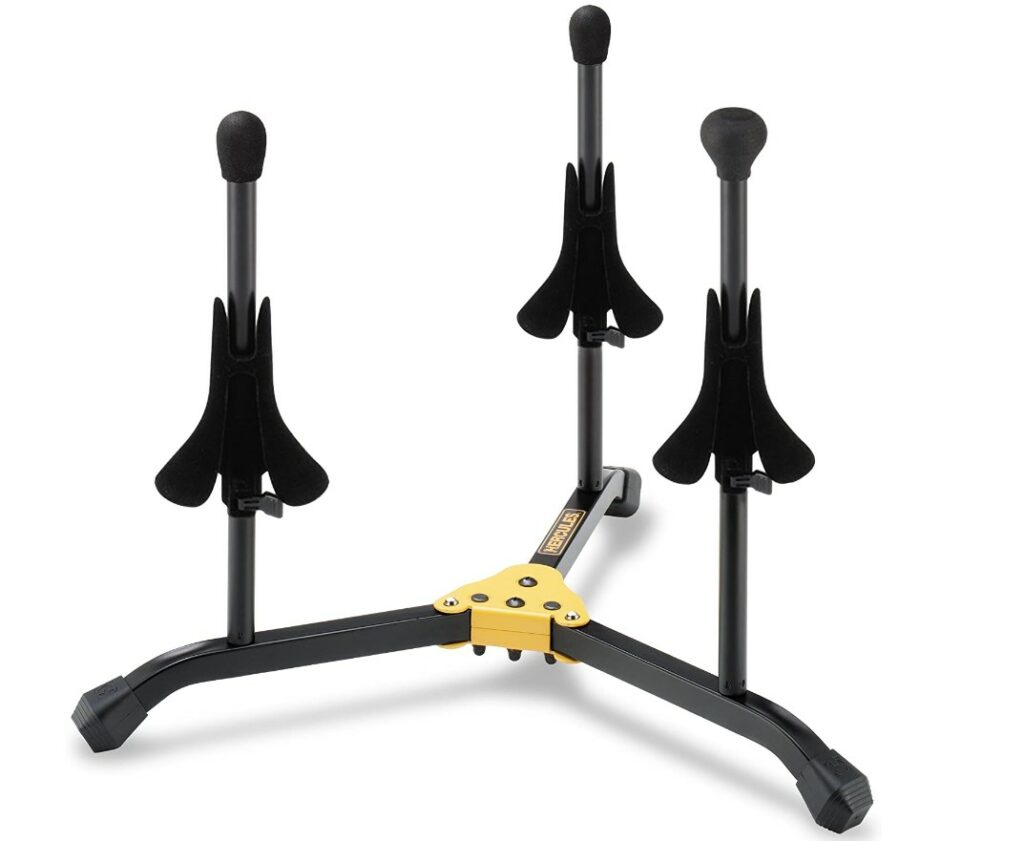 Hercules is one of the best instrument stand companies out there, and the Trumpet/Cornet/Flugel Multi Stand is no exception. The stand comes with three pegs in total, two of which are for trumpet or cornet, and one which is for a flugelhorn.
You can take the pegs off, so you can only use what you need to save space and weight. And the legs swivel in and out, and they lock in place, so you can transport the stand without sacrificing stability.
This stand also comes with an adjustment lever, so you can set the height of each peg. If you sit and stand at different times, you can always have your cornet within reach.
Pros
Multiple pegs

Adjustable

Stable and portable
Cons
Balance can be unequal without three horns
Hercules Travlite Trumpet Stand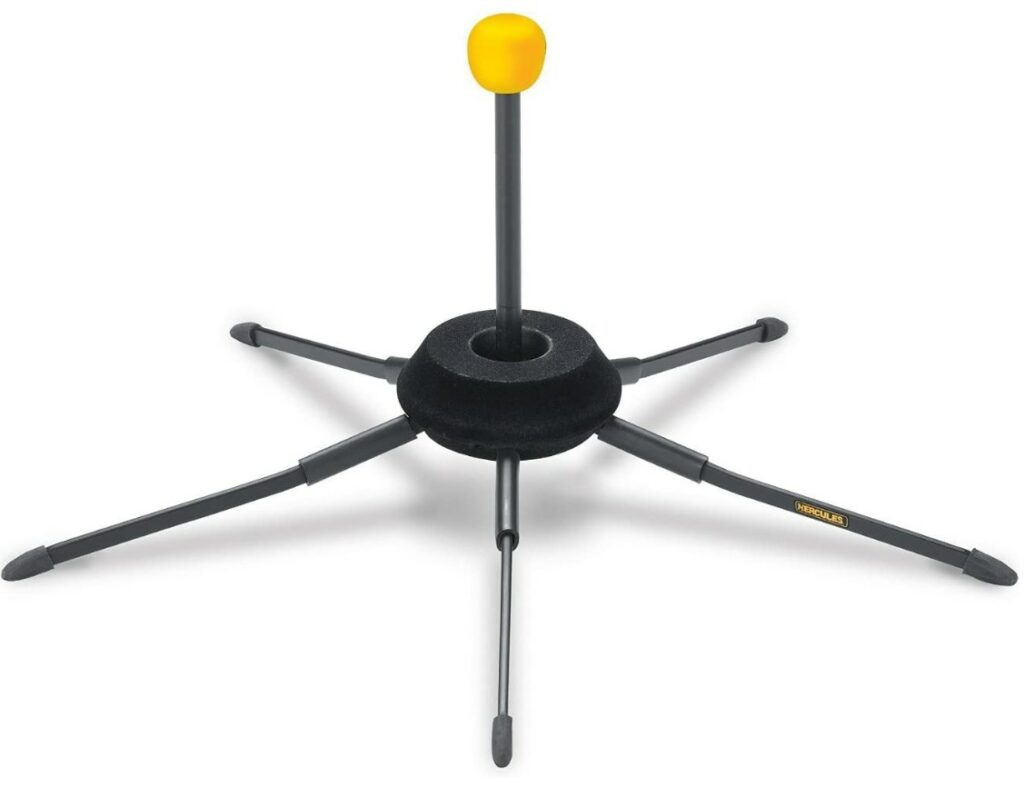 Another, more portable option from Hercules is the Travlite Trumpet Stand, which also works with a cornet. The stand can collapse down and fit in your cornet bell for storage. Setting it up only takes a couple of seconds, and it has a sturdy base to keep your instrument up. The velvet on the base won't scratch the inside of your bell, so you won't need a ton of expensive repairs.
It has a yellow top, which is perfect if you play in dark environments a lot. I used a Travlite stand when playing in an opera pit, and it was super nice for quick instrument changes.
Pros
Compact

Good quality

Easy to see
Cons
String Swing Trumpet Holder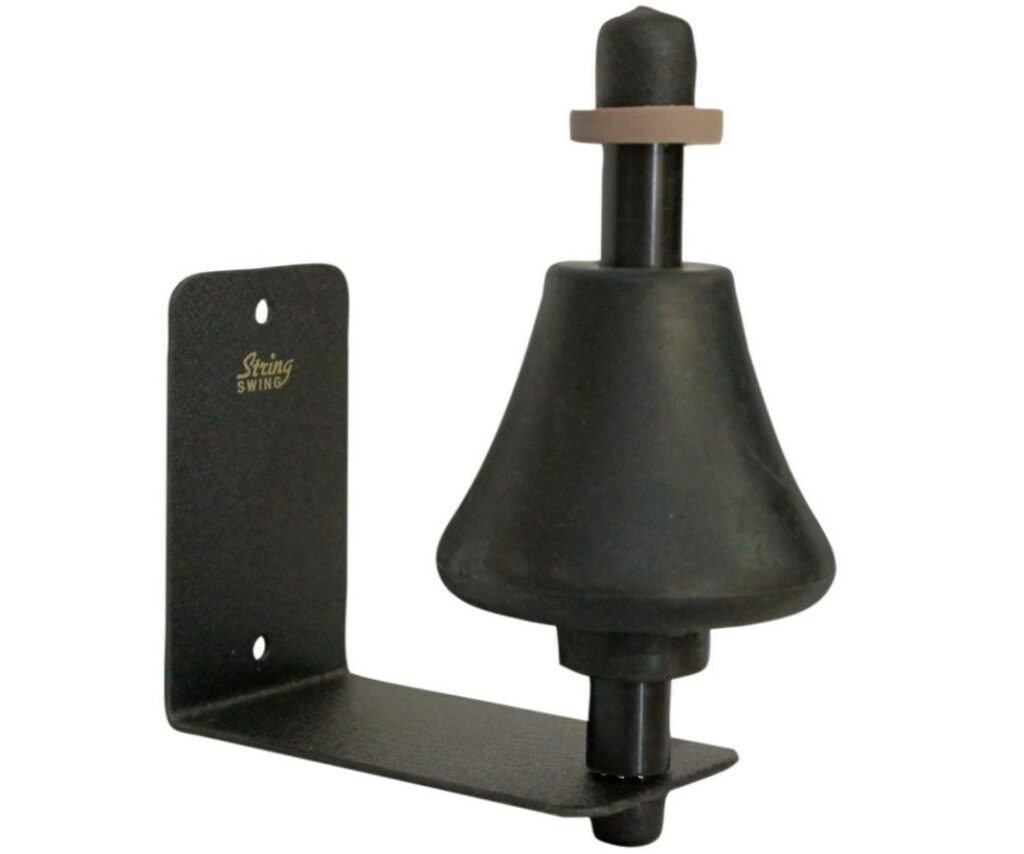 The String Swing Trumpet Holder is a great option if you need a cornet holder for your studio. You can put the stand on the wall, so you can put it as high or low as you want. It features an adjustable bell rest, so you can use it with instruments of different sizes. Whether you want to use it for a quick practice break or to display your cornet, the holder is fantastic.
There are two holes, so you can have extra security after you mount the stand on the wall. Then, you can grab your cornet quickly when you want to practice for a bit.
Pros
Easy to use

Looks good

Adjustable
Cons
String Swing Horizontal Wall Mount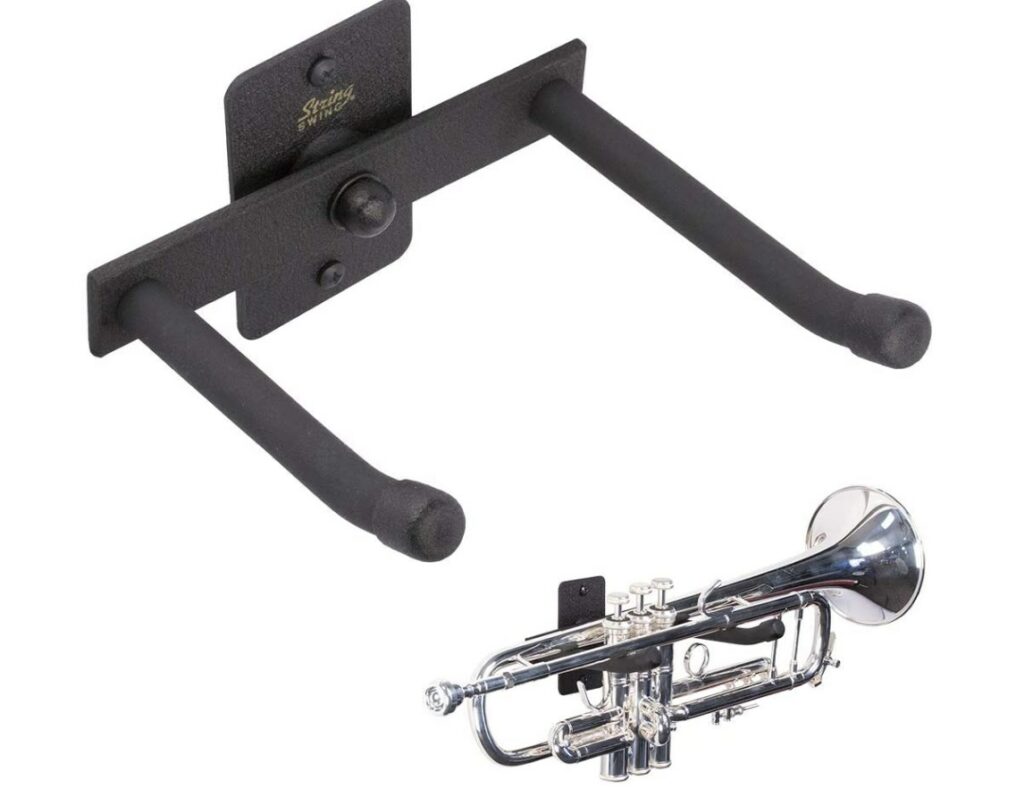 While many cornet holders have the instrument rest upright, the String Swing Horizontal Wall Mount is different. The stand keeps the cornet horizontal, like how you'd play it. You can install the holder on the wall, and you can rest the cornet on it. If you don't want to worry about scratching the inside of your cornet bell, this is a great option.
Like the other String Swing mount, this one is adjustable, so you can use it with a cornet or trumpet. It's a great way to show off your cornet and keep it in view so that you remember to practice.
Pros
Unique design

Easy to use

Looks great
Cons
Can't take it with you to rehearsals
K&M Trumpet Holder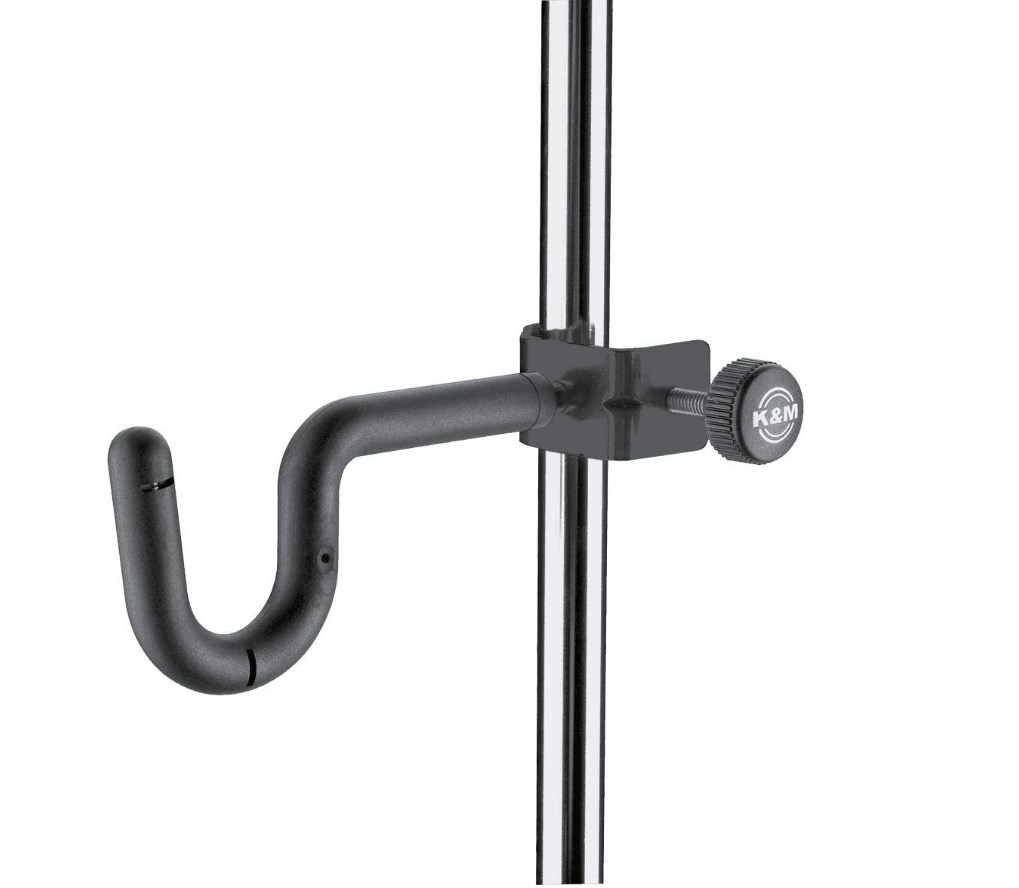 Like the other trumpet stands, the K&M Trumpet Holder works well with a cornet. The holder looks like a hook on one end and has a screw design on the other end. You can screw the holder around the pole of your music stand, and the cornet will hang on the hook. That makes it an easy option for taking to rehearsals and performances.
And you don't need to worry about having floor space around you to grab the cornet. It's also a more convenient option when you need to play while standing up because you can put it at any height on the music stand.
Pros
Adjustable

Doesn't use floor or wall space

Holds a cornet or trumpet
Cons
Can be hard to get the cornet on and off
Bach 1815 Clamp-On Trumpet/Cornet Lyre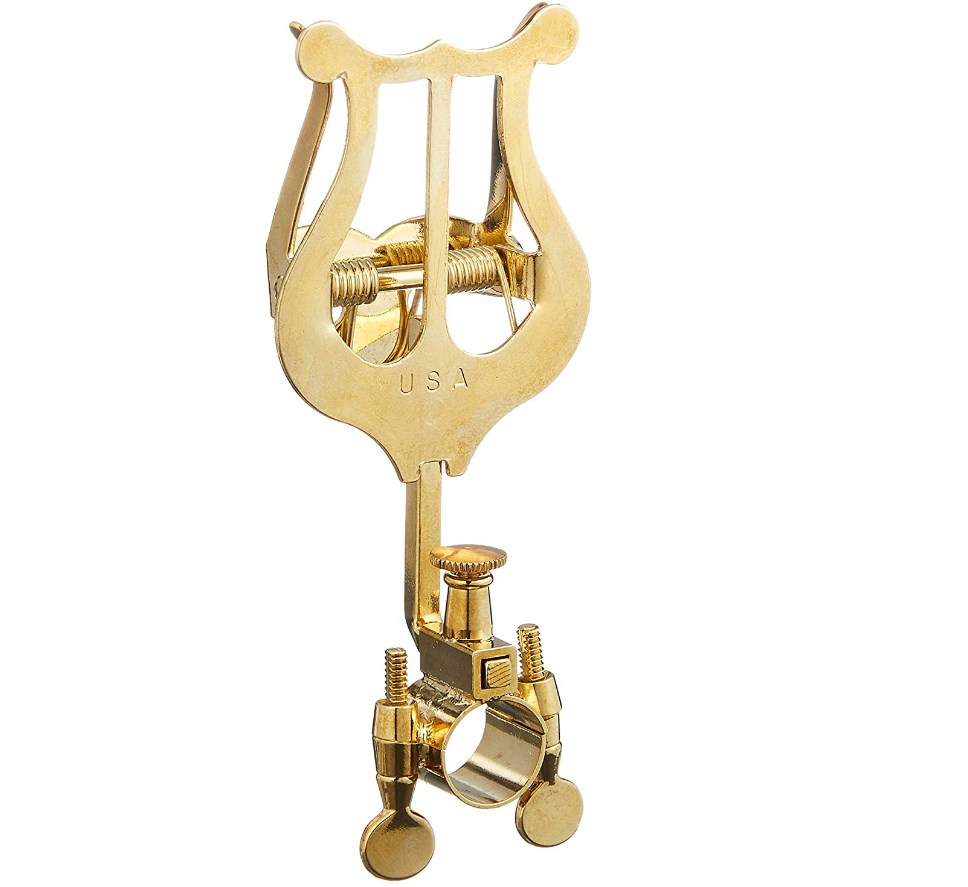 If you want something to hold your music, consider the Bach 1815 Clamp-On Trumpet/Cornet Lyre. The shiny gold makes it look good, and it can match the brass appearance of your cornet. There's a set of screws that allow you to adjust the lyre and put it on your cornet safely. The clamp at the top also makes it easy to add music so that you can start rehearsing quickly.
Because of the design at the bottom, you don't have to worry about the lyre falling off during practice or performance. It will stay in place, and you can use it for a long time.
Pros
Durable

Easy to put on

Looks good
Cons
American Plating Trumpet Marching Clamp-on Lyre
The Trumpet Marching Clamp-on Lyre from American Plating is another fantastic cornet music holder. It's a nickel holder with a clamp at the top for your music, and it can hold any marching flip folder. At the bottom is a screw that allows you to put the lyre on your cornet. The rubber clamps won't scratch your instrument, and you don't always get that with a good lyre.
You can use it on the lead pipe so that your music is close enough for you to see the notes. And it works well on cornets and trumpets from many different brands.
Pros
Easy to put on and off

Won't scratch

Fits on the lead pipe
Cons
Can't hold a ton of music at once
DEG Trumpet Marching Lyre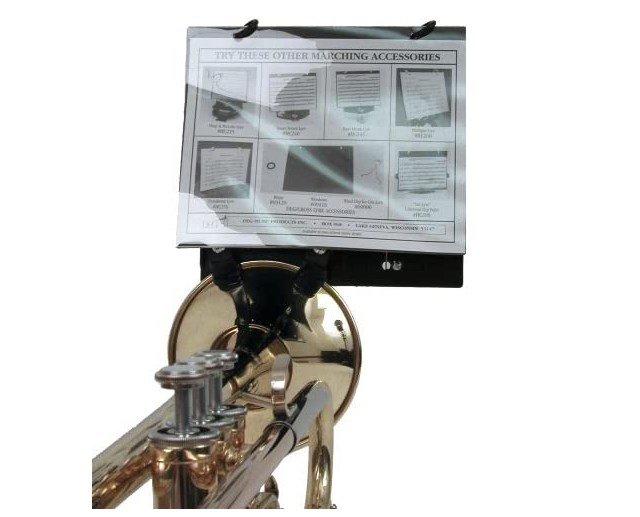 If you want something with a different design, consider the DEG Trumpet Marching Lyre. The lyre uses lightweight aluminum, and it fits on the rim of your cornet bell. It features a slip-resistant cover, which can also keep it from scratching the metal of your cornet. The spring holds up to five windows of music, so you can keep multiple pieces together.
If you also march on other brass instruments, you can use this lyre with them. That can be a great way to save money on your marching equipment.
Pros
Versatile

Good design

Won't scratch
Cons
Placement can make the music hard to see
FAQs About The Best Cornet Holders
Question: Why would you use a cornet stand?
Answer: One fantastic reason to use a cornet stand is to keep the instrument safe when you aren't playing. You may not want to put the cornet in its case during a long rehearsal, and the stand keeps the instrument from falling over.

Another benefit of a cornet stand is that it can facilitate quick instrument changes. That way, you can move between cornet and trumpet without putting on on your lap.
Question: Why would you use a lyre?
Answer: Many marching band members memorize their music so that they can focus on marching during a show. However, it can take a while to learn your music, so a lyre is useful in the first few rehearsals.

It puts the music right in front of you without having to use a stationary music stand. Lyres are also convenient for playing in a pep band or in the audience between a pregame and halftime marching show.
Question: Are cornet stands and lyres expensive?
Answer: You can find cornet stands and lyres at a variety of price points. Some of the best cornet holders do cost a bit more, either because they're of better quality or they have more features.

However, the cheaper stands and lyres are useful for beginners. You can test them out and see if you want to invest more money into either accessory.
Question: Do you need multiple cornet stands?
Answer: You can get away with one cornet stand, especially if you use either model from Hercules. However, you may want to have multiple stands so that one can stay at home, and the other will be in your case when you aren't using it.

I like having multiple instruments stands so that I can use the one that best fits my needs. That way, I don't have to forget a stand at home or at a rehearsal or practice space.
Question: Can you use the same stand for a cornet and trumpet?
Answer: Most trumpet stands will fit a cornet and vice versa. If you want a horizontal mount, you should make sure it's not too wide for the length of the cornet.

However, any stand or holder that keeps the cornet upright should work. Then, you can use the same holder if you later learn the trumpet.
Final Note On The Best Cornet Holders
Whether you're looking to protect your cornet during a long band rehearsal or can't quite memorize the music, you should know about the best cornet holders. They encompass both music and instrument holders.
That way, you can keep your music with you for marching band. And you don't have to set your cornet on the floor or a chair during a rehearsal break.
The best cornet stand is probably the Multi Stand from Hercules, and the Bach lyre is the best music holder. Give them both a try  to see if they work well for you.