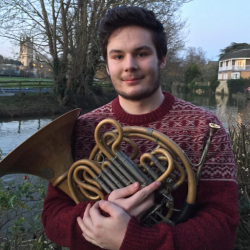 Latest posts by Myrddin Rees
(see all)
The cornet is one of the lesser-known brass instruments, probably because it's not normally part of the orchestra. However, that doesn't mean that it's any less beautiful! In fact, you may already have heard some of the greatest cornet players without realizing (though more on that later…) 
If you'd like to know about the origins of the cornet, or about what makes it sound different to the trumpet, check out the FAQs at the bottom of the article, or our brasswind guide to the cornet here. 
Who Are The Top Cornet Players of All Time?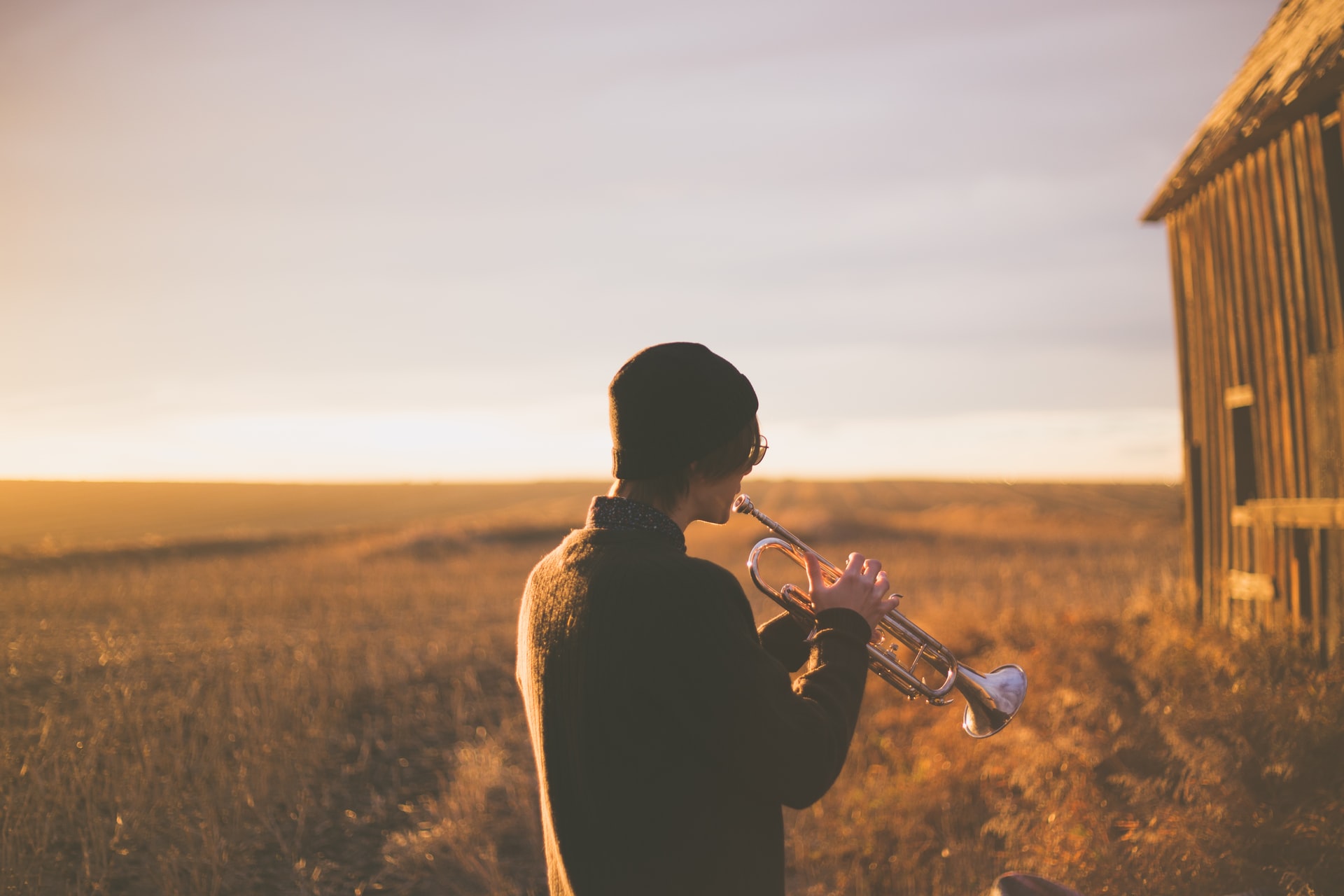 Let's move onto my list of the top cornet players of all time! This is obviously a topic up for debate, and inevitably loads of wonderful players are left off my list. The cornet is used in music of a wide range of genres, and I've tried to take this into account. Some of the names you'll see are orchestral players, others are from the brass band movement, and a couple comes from the world of jazz and swing!
In the end, I chose my list from criteria of; 
Sound
Some musicians are recognizable instantly regardless of what they're playing, just from the sound they make. I love players like this, and for me, it's the key criteria for a cornet player to be considered not just a good player, but a great player worthy of making my list.  
Technique
Just as some players are famous for their sound, other players can tackle pieces with a virtuosic facility that makes the hardest music sound easy. 
Musicianship
A great technique is one thing, but certain musicians make you feel something unexplainable. In my mind, this is the point at which someone goes beyond being just a great player and becomes a great musician. While many play (or played) very differently, everybody on my list is a great musician. 
Impact
It's one thing to play, but some musicians also leave behind them a trail of musicians, whether that's through their teaching, being an inspiration to other great musicians, or making their mark so strongly in the popular consciousness that you can't help but ignore them! 
Louis Armstrong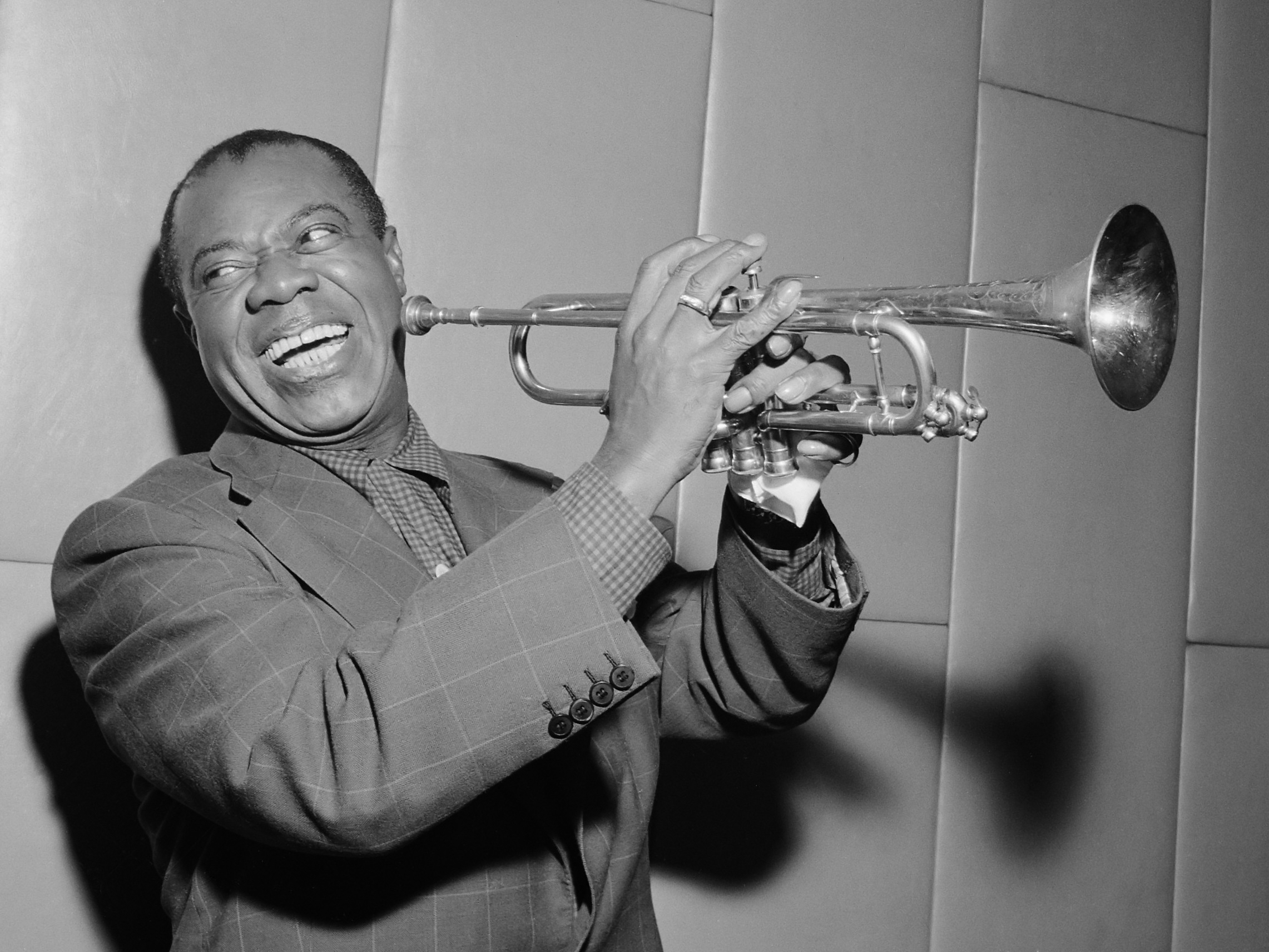 Speaking of the popular consciousness, my first pick and the most famous name on this list is Louis 'Satchmo' Armstrong. Louis took up the trumpet and cornet early in life, allegedly buying one himself for $5 at the age of seven!
While Louis developed embouchure problems (apparently pressing the instrument too hard on the face) that may have slightly impeded his technical abilities, and he certainly never let this get in the way of his musicianship. In fact, although during his early career he was most famous as a cornet and trumpet player, he became more famous as an instrumentalist and singer/songwriter. 
During the course of his career, Louis had 19 top ten hits, and even knocked the Beatles off the top spot in their heyday by releasing 'Hello Dolly' in 1964! There's certainly no cornet player with a greater legacy, as he changed jazz by popularising not only trumpet solos but scat singing (improvised syllables and melodies). 
My favorite track: 'Cornet Chop Suey' is my favorite track that Louis plays the cornet on (as on many later ones he plays the trumpet or just sings), but 'West End Blues' also deserves a mention! 
Alice Raymond
From the most famous cornettist on this list to probably the least! Alice Raymond was one of the most famous cornet soloists in the world at the turn of the twentieth century. Hailing from a musical family in Springfield, Illinois, she began learning the cornet at the age of fourteen and quickly became a superstar.
What makes Alice Raymond all the more special is that she excelled in a time period in which women playing wind instruments was considered unladylike. Although female piano and string players had been celebrated, the demands of wind instruments on the face and lungs were too much for male sensitivities of the time to bear. 
Although inevitably a load of the writing about her from this time reflects too much on her appearance, Alice was certainly held in acclaim as a performer, touted as 'the greatest lady cornet soloist alive', and compared favorably to the leading male cornet soloist of the time, Jules Levy. Herbert Clarke (who features later on this list) considered her one of the greatest players ever to play. 
Even the fact that we still have recordings of her dating back this far is a testament to her quality, as very few recordings of cornet soloists are as well preserved from this era.
My favorite track: 'Swiss Fantasie'. Sadly the quality this is preserved with makes it more of a novelty listen than the one you'll return to, but underneath the crackle of the recording, you can hear that she lived up to her renown! 
Bix Beiderbecke
Bix Beiderbecke was a legend of jazz and, alongside Louis Armstrong on this list, was someone whose musical legacy broke beyond the boundaries of just cornet playing. Born in Davenport, Iowa, Beiderbecke taught himself the cornet at a young age, and his natural intuition for learning instruments and aural skills were something that would shape his career. His improvisations on both cornet and piano have become the stuff of legend.
Beiderbecke lived in the glory days of the jazz age, and not only came into contact with but inspired many of the biggest names of the genre. This included legendary collaboration with Hoagy Carmichael, whose famous song 'Stardust' is based on a Beiderbecke improvisation. 
Today, he's remembered as the epitome of the jazz age. He was a prodigious artist who, after a glorious career, ruined himself by indulging in hedonistic excess, allegedly drinking a pint of whiskey and smoking twenty cigarettes a day. 
The romanticization of Beiderbecke's life eventually made it to the big screen via the adaptation of the novel 'Young Man with a Horn', in which the main character, Rick Martin (played by Kirk Douglas) was loosely based on him. 
My favorite track: 'Singing the Blues'. On this track, part of his earlier work, Beiderbecke breaks into an improvisation that can only be described as effortlessly cool.
Jean Baptiste Arban
If you play the trumpet or cornet (or actually any of the brass instruments), the chances are that at some point your teacher is going to slap a big heavy yellow book onto your music stand. This book, Arban instructional method for cornet (or as it's known by some, 'The Cornet Bible') is one of the most influential teaching texts ever and is still used today as a comprehensive guide and set of studies for playing the cornet. This book can take you right from the beginner level up to a series of challenging themes and variations at the end.
As a player, Arban was the undisputed go-to guy in Paris in the nineteenth century. A professor at the prestigious Paris conservatoire, he was key to pushing developments in the instrument, advocating changes to the shape of the mouthpiece, and helping develop his own model of cornet. 
During this time, he was leading from the front as a world-renowned virtuoso, and because of this was one of the very first musicians in the world to be recorded, on an Edison company phonograph in 1899. 
My favorite track: N/A. Sadly that famous phonograph has been lost, and we'll never know exactly what Arban sounded like. However, check out a recording of someone else (I recommend Russian trumpet player Sergei Nakariakov) playing his 'Variations on Carnival of Venice' for an idea of the kind of studies in this infamous big yellow book! 
James Shepherd
James 'Jim' Shepherd was one of the biggest names in the history of British brass banding. Brought up through the Christian Salvation Army movement, which often includes brass bands in their worship, he became champion cornet soloist of Great Britain three years running during the 1960s. He was a stalwart player in many of the north of England's best bands, most notably the Black Dyke Mills band.
Later, Shepherd founded the 'James Shepherd Versatile Brass' group, which toured the entire world spreading a love of brass band music for over 25 years. This had an inspirational effect, and it is partly thanks to this group that today there are brass bands all over the globe, from Japan and New Zealand to continental Europe and even some parts of Africa. 
My favorite track is 'Pandora' by Damare, which is considered a definitive recording of this classic cornet solo. 
Herbert Clarke
Like Arban, Herbert Clarke is a player more known for his pedagogy and set of challenging studies today than remembered as a performer. However, in his day he was known as a leading cornet soloist, and even had a stint as a trumpet player, becoming principal trumpet of the Met Opera Orchestra in New York.
Clarke was born into a musical family, with brothers who also became professional musicians, but unconventionally came to the cornet. Initially trained on the viola, he decided he would begin to practice on his brother's cornet after hearing cornet soloist Bowen R. Church play a solo.
Practicing on his brother's cornet was evidently enough, as he soon won a job in the Queen's Own Rifle band, despite being four years younger than the minimum joining age. This meant that he finally had his own cornet to play, and from there the rest was history! 
After an illustrious career as a performer, Clarke decided to retire aged 50, claiming that he had heard Jules Levy play past his prime and didn't want to face the same decline. Despite this, he remained active as a teacher and composer and created a legacy that rivals anyone's on this list. 
My favorite track: One of the great things about Herbert Clarke is that he was of the first generation of cornet soloists to be recorded. Therefore you can hear him play his own compositions! While 'Bride of the Waves' is perhaps his most famous solo, I'd recommend 'The Debutante', a jaunty tune that shows off both his crazy technique and wonderful lyricism. 
Maurice Murphy
Although he's not as well known as Louis Armstrong, Maurice Murphy could stake a claim for being the most recognizable cornet player on this list. The loud trumpet top C at the beginning of the theme to Star Wars? That's him. In case that alone isn't enough to secure his status as a legend, that was allegedly his first day as a member of the London Symphony Orchestra, and he didn't miss a single note.
As well as his renown as a trumpet player, Maurice was also a legendary cornet player. Like many of the UK's most famous cornettists, he held the seat of principal cornet of the Black Dyke Mills band. Throughout his career, Maurice was renowned for the sweetness of his cornet sound, but as numerous film scores can attest he was also an incredibly powerful trumpet player. 
This versatility has inspired numerous players to follow in his footsteps. Until recently, the current principal trumpet of the London Symphony was Philip Cobb, another cornet player who, brought up through the banding traditions of the Salvation Army, is famous for the same sweet style.
It's arguably Maurice's legacy that keeps British trumpet players playing the Bb trumpet (renowned for its sweet, cornet-like tone) even though players in America and Europe now often favor the brighter C trumpet. 
My favorite track: You can hear Maurice playing on many classic film scores, from Star Wars to Gladiator. My favorite recording, however, is a slightly obscure one: his recording of the Tomlinson Cornet Concerto with the Yorkshire Imperial Brass Band in 1982. 
Phillip McCann
In my opinion, no one alive really epitomizes the traditional British cornet sound in quite the same way as Phillip McCann. His distinctive sweet sound and lyrical phrasing, coupled with a generous helping of warm vibrato, earn him a place on this list.
McCann stands out amongst his contemporaries; in the 1970s, a time when most other players were moving towards the sound associated with trumpet playing, he continued to preserve the traditional British cornet sound. Allegedly at one recording session, when asked to play with less vibrato to imitate a trumpet, McCann stormed out, telling the conductor to hire a trumpet player for the next day!
My favorite track: McCann's album 'the world's greatest melodies' is a classic, and my favorite track is 'My Love is Like a Red Red Rose'. 
Maurice André
Like his namesake Maurice Murphy, Maurice André was someone perhaps better known for his trumpet playing but is no less deserving of a place on this list. André was born into a coal mining family in France, and even worked in the mines during his teens, but later joined a military band and made his way into the Paris conservatoire, where he won awards on both cornet and trumpet.
Later in life, he became one of the world's most acclaimed trumpet players. Allegedly, he used to practice on the beach into the wind to be able to hear himself in the driest acoustic possible. 
Thanks to his bright, clear tone, André popularised the use of the piccolo trumpet both as an orchestral and solo instrument and inspired much of the wealth of 20th-century French trumpet repertoire.  
My favorite track: André was one of the most recorded trumpet players of the 20th century, but it's a little harder to find a recording of him playing the cornet. However, my favorite track on the cornet is the cornet solo 'Myrto'. There's no clearer comparison of the two instruments than listening to this followed by him playing the trumpet! 
Harry Mortimer
Last but by no means least on my list is the British cornet player Harry Mortimer CBE. Like many other British players, Harry was born into a brass banding family, and encountered many of the biggest names in his youth, being taught first by his father Fred Mortimer and later by William Rimmer.
After an illustrious career in banding (which included, like so many of the names on this list, a time as principal cornet of the Black Dyke Mills band), Harry had a career as a trumpet player, becoming amongst other positions principal trumpet of the Hallé orchestra in Manchester and BBC Northern orchestra.
Harry had a huge impact on brass banding after retiring as a player; he became 'Supervisor of Brass and Military Music' and created a radio program known as 'Listen to the Band', which went a fair way towards popularising brass music on BBC radio. He also was the first BBC commissioner to invite brass bands to perform in the BBC Proms concerts at the Albert Hall, a prestigious music event more usually reserved for the world's greatest symphony orchestras. 
As a result of his services to brass banding (which go far beyond what I could fit into this article), Harry was awarded the prestigious CBE (Commander of the British Empire) in 1984. 
My favorite recording: 'Zelda' by Percy Code. Harry recorded this with the Fodens Motor Works band, a band he had a particular association with.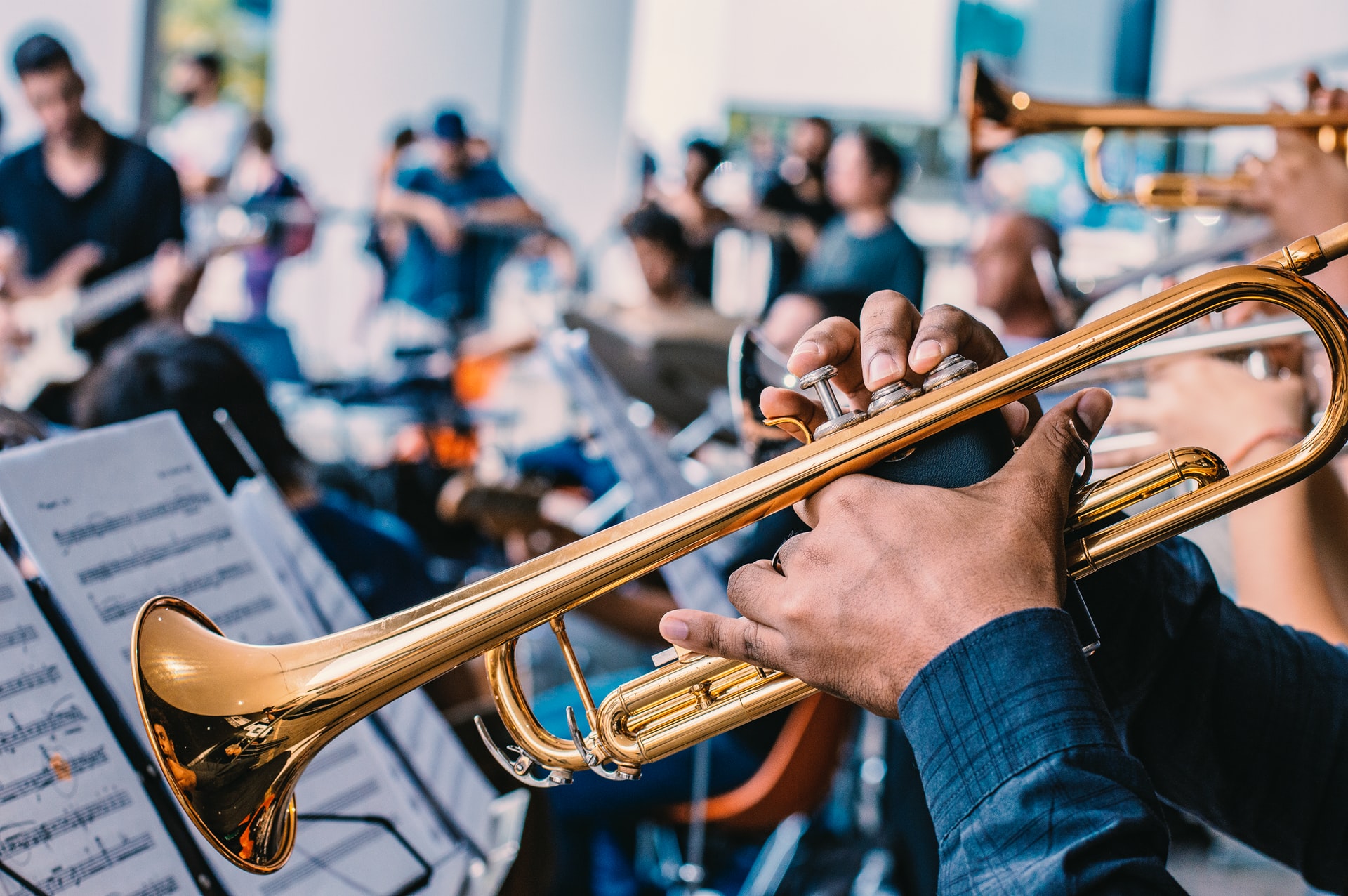 FAQs
Question: What is the difference between the cornet and the trumpet?
Answer: The cornet might be thought of as the trumpet's little brother. While it lacks the trumpet's piercing projection and sheer power, its conical bore lends it a sweeter sound. The more free-blowing nature of the instrument also allows for a more versatile fast technique. 
Originally this meant that composers such as Tchaikovsky or Berlioz used the cornet next to trumpets in an orchestral setting as a lighter alternative that regularly played the faster solos. Famous examples of this are the cornet solos in Berlioz's Symphonie Fantastique and Tchaikovsky's Swan Lake.  
For more details about the history of the cornet and the differences between this instrument and the trumpet, take a look at our guide to the cornet here. 
Question: What kinds of music do cornets play? 
Answer: Over time the cornet has become used in a whole range of settings, from British-style brass bands to jazz and Dixieland music. At one point in the early 20th century, where British-style band contests were actually more attended than soccer games, the most famous cornet soloists became world-renowned! 
Question: Are there famous cornet soloists today?
Answer: While cornet soloists alive today don't have the same acclaim as they might have had a hundred years ago, they still carry a fair amount of respect amongst brass players, particularly in the British brass band system. 
These bands, based mainly in Europe, compete in leagues similar to those of professional soccer. The principal cornet player is, therefore, an equivalent to a star striker, and certain players (such as Richard Marshall of the Black Dyke Mills Band or Tom Hutchinson of the Cory Band) earn reputations to match! 
FAQs
Question: Are Marching High Horns Different from Regular High Horns?
Answer: In the past, a marching high horn was a distinct instrument, but that's not so much the case today. You may find some older marching horns on the used market that have a bell that goes up and to the side.
However, almost all new alto horns have bells that face straight up, whether they're for marching or not. But that means you can use the same instrument when marching and playing in a concert wind band.
Question: Should You Play the Alto Horn or Mellophone?
Answer: If you want to play with groups, the mellophone is probably going to be the better option, especially for modern bands. However, the alto horn is more common in historic marching bands if that interests you.
And if you don't care about playing with others, you should play the instrument you want. That may be the high horn, and you can play pretty much anything you want when you play by yourself.
Question: Should You Play the Alto or Baritone Horn?
Answer: Another instrument to compare to the alto horn is the baritone horn, which is more common in marching bands. The marching baritone horn has a bell that faces forward, and you play it like a bigger trumpet.
However, it is heavier and more expensive, so the high might be a better option. If you don't want to deal with the extra weight of the baritone, the alto is a suitable alternative.
Question: Why are the Best High Horns Expensive?
Answer: Some of the best marching high horns are expensive because they aren't that common. Most manufacturers probably aren't producing them in bulk, which might lower the price per instrument.
They're also a bit expensive because they require more materials than trumpets, for example. The extra materials add to the cost of the high, and the company passes that to you, the buyer.
Question: What's the High Horn Range?
The high horn's range in concert pitch is the A just over an octave below middle C (A2) to the E flat at the top of the treble clef staff (E flat 5). Since the high horn plays in E flat, written notes are a major sixth higher than that.
So the written range is from the F sharp below the middle C (F sharp 3) to the C just above the treble clef (C6). Alto horn music is in the treble clef since the range overlaps so well with it.
Resources
If my list has stoked your curiosity, there's plenty more information out there. All of these players lived fascinating lives that went far beyond what I could fit into this article, and there are also many wonderful players that I've sadly missed off the list. Check out some of these links, which might help you find more information!