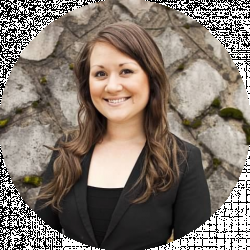 Latest posts by Lacey Jackson
(see all)
If you have ever watched the halftime show, you've probably seen a marching euphonium and not even realized it. I will never forget the first time I saw one:
It was the very last high school football game I was ever allowed to attend because I had gone with my then-high-school boyfriend, and it got unbearably cold. He had packed a blanket, and I had not, so he covered us both up with the same blanket, and a member of our church congregation walked by, waved, and immediately called both of our parents to let them know that we were sharing a blanket.
It did not seem to matter that we were fully clothed, it was freezing cold, and it started to rain, and we were sitting in the middle of a very crowded stadium. His mother marched him over to our house to issue an apology, and my mother told me that I was not allowed to date again until I turned 30.
Incidentally, she called me recently to joke that I had long since passed that 30-year mark, and she forgot to let me know that I was allowed to date again.
She found that to be downright hilarious. 
I did not. 
While both sets of hands were visible on top of the blanket that was being shared, and right before that member of our church sprang upon us and ruined the rest of high school for me, our marching band put on their halftime show, and it was here that I saw the marching euphonium. 
I distinctly remember because one of my friends was playing it, and I asked why they got a new instrument because I knew they loved the euphonium. They joked that it wasn't new; it was just designed for marching band.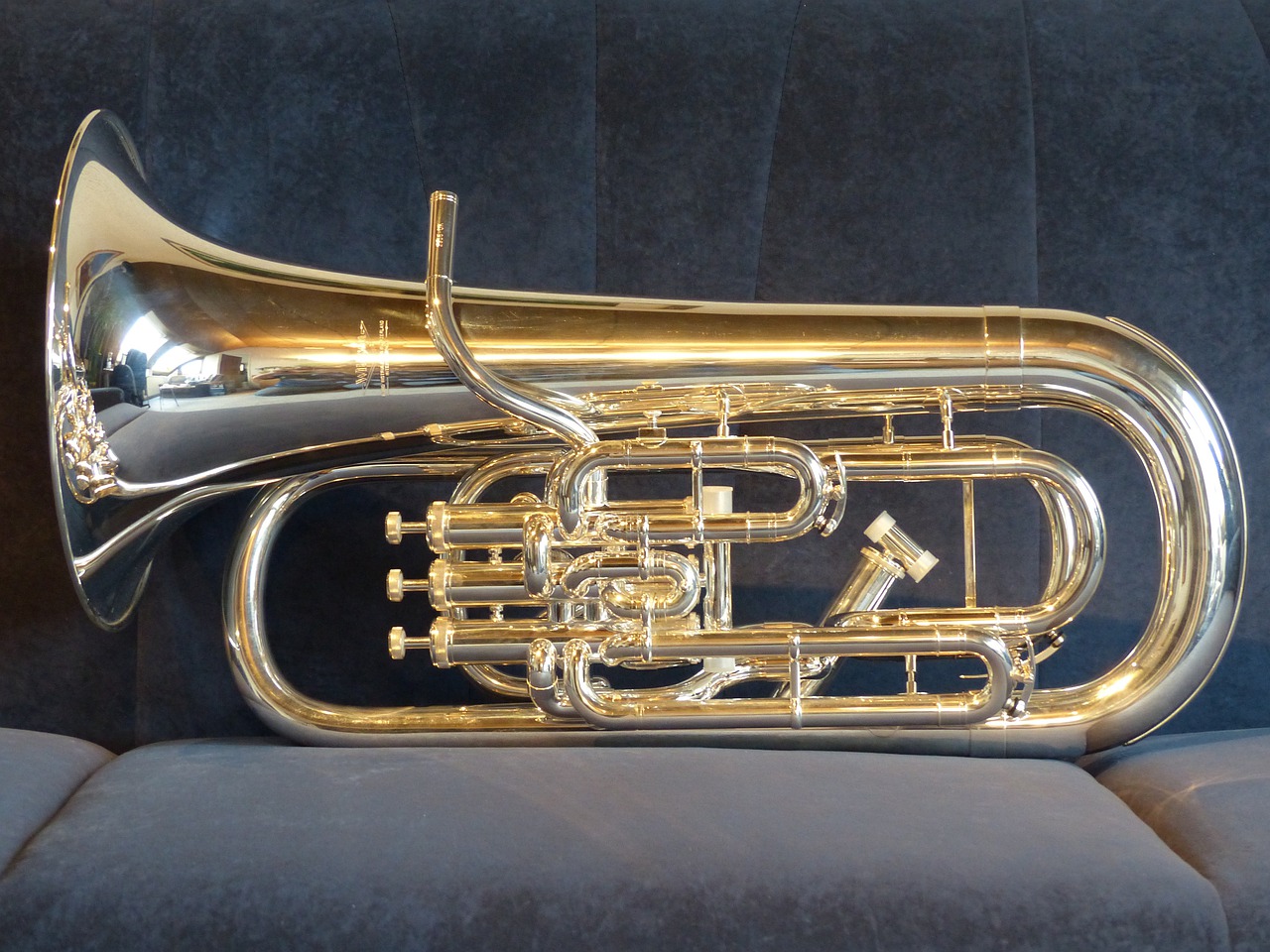 Bottomline Upfront
I recommend Kanstul for a marching euphonium and Yamaha for a convertible. I'll cover this in more detail later, but rest assured that both models give you good residents, are well-balanced, well made, and will last a lifetime.
How to Find the Best Marching Euphonium: What Makes a Marching Euphonium Different
Let's start with the basics. 
A euphonium is a member of the brass family, and when you see it in an indoor ensemble, the instrument is usually played while resting in the musician's lap, with the bell facing upward toward the ceiling. But in a marching band, the marching euphonium obviously can't sit anywhere on a lap because there aren't laps. 
Incidentally, isn't it crazy to think that we have a word for something I can just disappear as soon as we stand up? Where does a lap go when you're walking around?
So, it has to be held upright like a trumpet, and the bell has to face forward.
Other than that, the range is the same, and the mouthpiece and valves are the same. 
If you see an instrument labeled "

euphonium

," that's the normal one that sits in the lap.

If you see something labeled "

marching euphonium

," that means it's the model that has been designed specifically for use while walking.

If you see an instrument labeled "

convertible euphonium,"

that means you can adjust it for both settings.
Personally, I do not like the convertible euphonium because I have found that the more pieces you have on an instrument that are meant to be taken apart and reassembled regularly, the more points of failure you have, and the instruments simply don't last as long. However, there are plenty of people who absolutely love the versatility. 
If price is a concern and you want to have two euphoniums but can't necessarily afford both, consider renting from a local music school or buying used.
Resonance
You don't have walls to resonate against like you would otherwise have in a concert hall. This means you have to get that resonance yourself. 
Balance
Balance is one of the most critical areas when looking at the design. The marching band euphonium has to be well-balanced so that it is more compact with tubing wrapped around itself, without compromising the large bore or bell flare, and still be something you can balance while playing.
Tip: When you are holding one in your hand, you can test the balance by sliding your hand, palm facing down, under the bell, and over the pistons, with your thumb and fingers split around the bell. With a flat palm, the euphonium should rest evenly and equally on the top of your hand.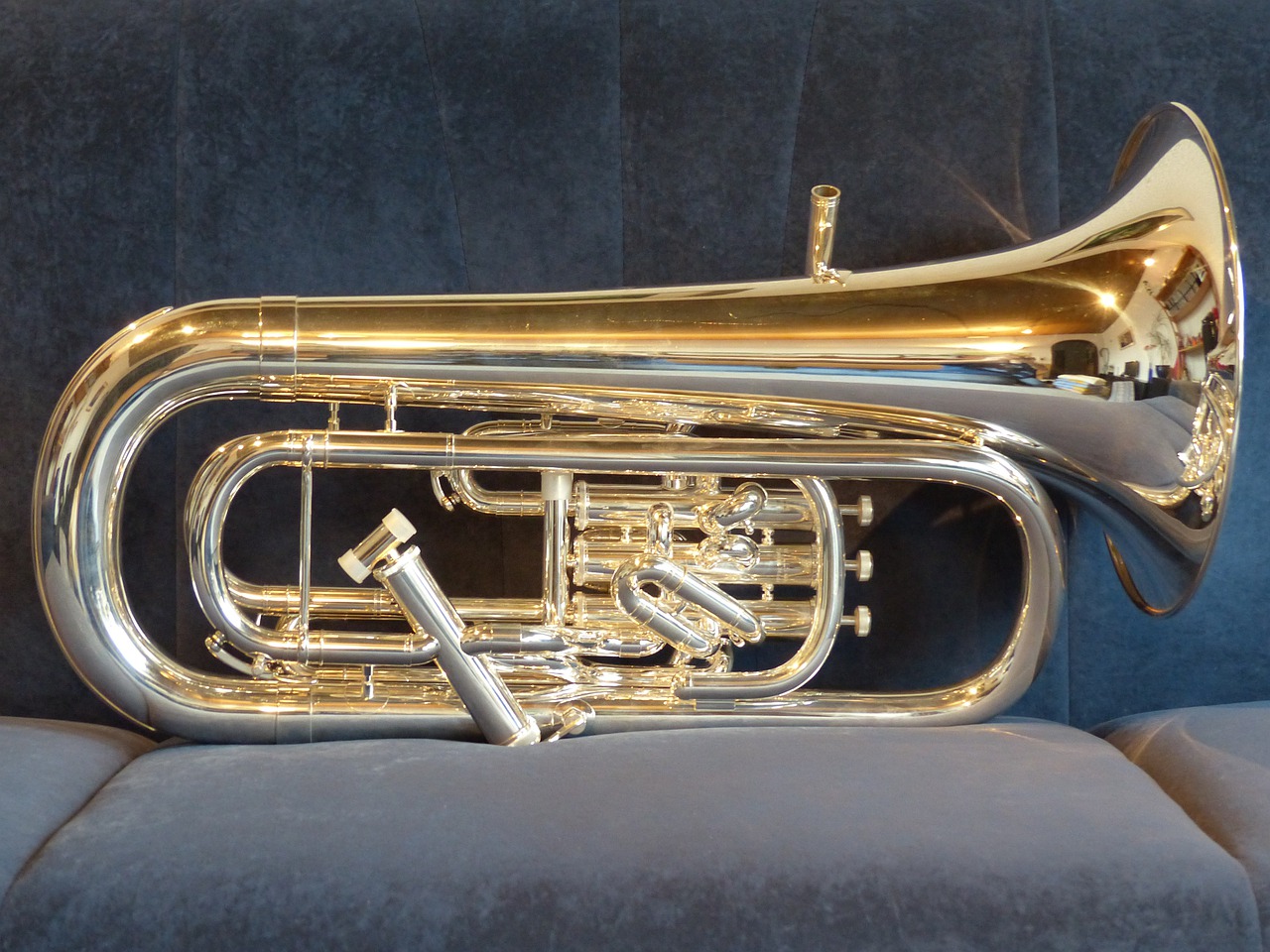 Holding Position
Marching euphoniums are designed differently and more compact, so the way you hold them is a little different. You place your right hand on top of the instrument with your regular finger placement on the three valves and your pinky inside the small pinky hook. Your left-hand wraps around the middle. There is a thumb rest and a circular slide for your ring finger in the center of a marching euphonium.
The instrument should be held upright with the lead pipe and the mouthpiece facing you and your bell facing the crowd. When you are not playing, the bell faces downward, and the mouthpiece faces the sky.
Below is a video of a euphonium marching brass live:
Selection Criteria
When you look at different marching euphoniums, bear in mind that just because something is cheaper doesn't mean it's better. Cheaper instruments might be less money upfront, but they cost you more long-term because you have to constantly repair them. As is the case with all brass instruments, you absolutely get what you pay for. 
That is why I've only included high-quality models made from reputable brands that might cost a little bit more upfront but won't cost you a lot in repairs long-term. 
How to Find the Best Marching Euphonium: My Top Picks
Kanstul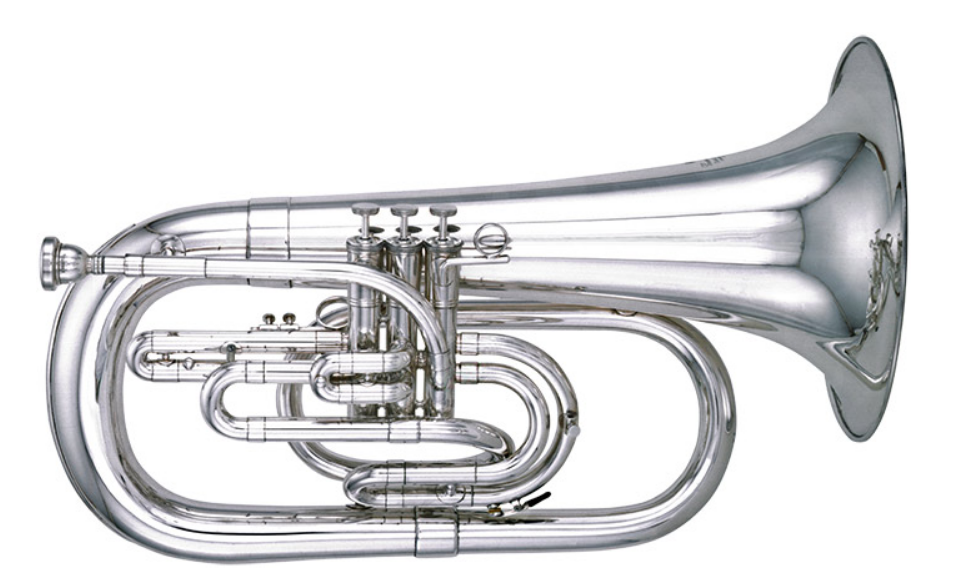 Kanstul is not as popular a brand if you merely conduct an online search, but the founder was the one who was originally asked to design marching band brass instruments. So, the Kanstul family is the family you can thank for many of the marching band iterations of trumpets, mellophones, and euphoniums. 
At a musical conference, the founder's son was sitting around once, just playing with the newly designed marching euphonium, when he called out to whoever was walking past him. Showing off the compact design and balance, the stranger was very intrigued. It turned out to be a euphonium player and the assistant director for the University of Texas Longhorn Band. It is for that reason you will see the Kanstul Marching Euphonium at their games. 
Kanstul has options for you to try before you buy; if you exercise that option, don't forget to test the balance with your hand. 
Pros
It offers outstanding projection. 

You get a well-balanced horn, which many modern manufacturers cannot offer. 

It still has a traditional bell flare and large bore.

It comes with a hard shell case, mouthpiece, and warranty. 
Cons
It comes in a silver plated or lacquer finish, but silver is about one thousand dollars more expensive. 
Jupiter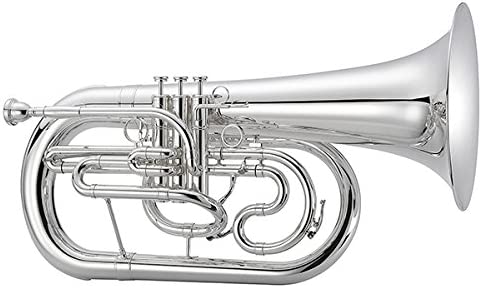 The Jupiter Marching Euphonium is a great pick. It is lightweight and well-balanced. It comes with a wood frame case so you can protect your instrument. I love the agility of the pistons and the stainless steel, silver-plated finish. However, they don't have an option for a brass finish, and that can make you stand out a bit if every other instrument in the marching band is that quintessential brass color.
You can find this model not just on Amazon but in other musical stores with different degrees of warranty options and shipping costs. 
Pros
It is lightweight, at just under eight pounds. 

It is in B flat with a silver plated brass exterior. 
Cons
It is very expensive, but you won't need another model for most of your musical career.
Yamaha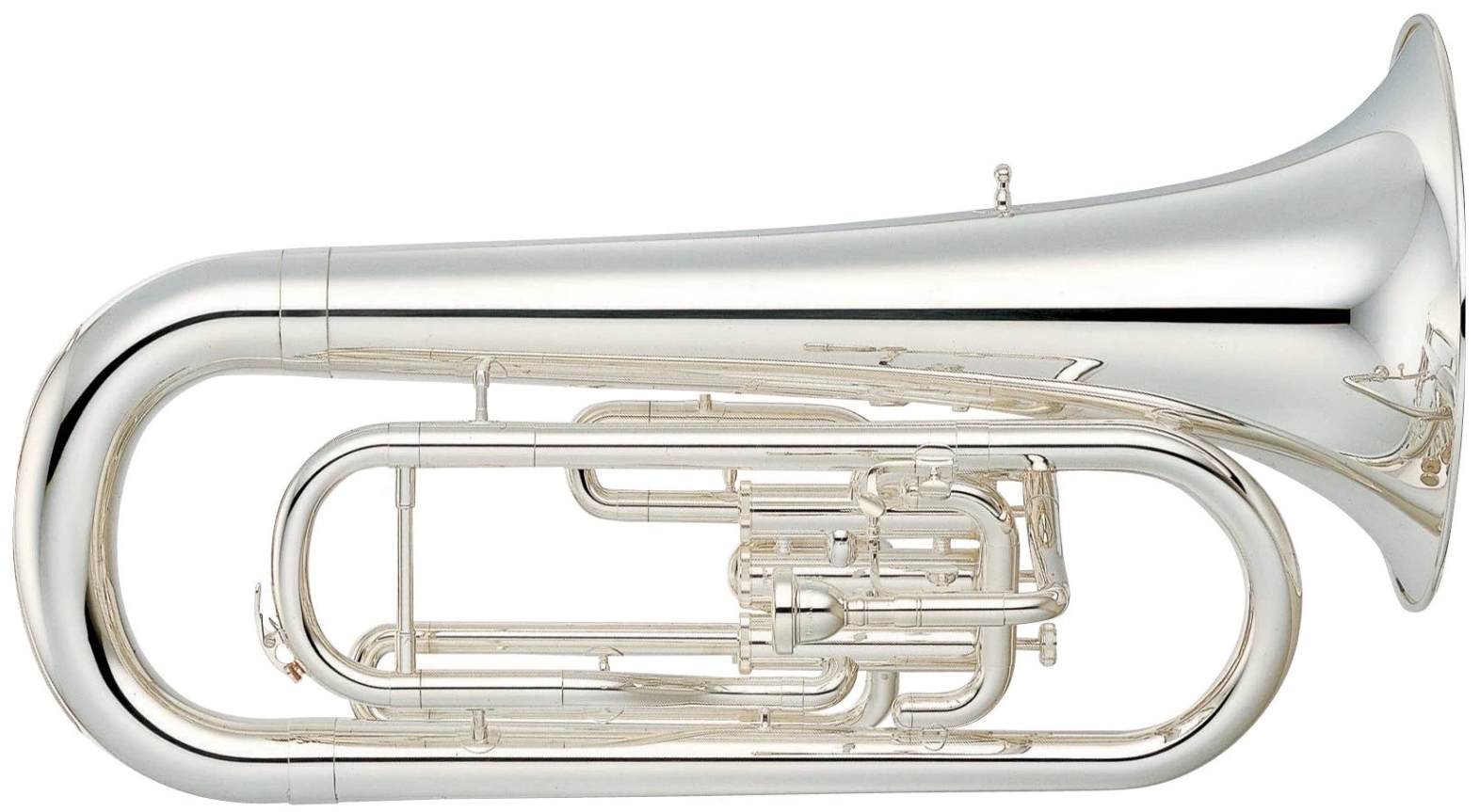 Yamaha has a convertible marching euphonium. This model is very well balanced. If you have a chance to test it in a store, you can use the method I mentioned above to feel the balance on your hand.
All of the tubing is perfectly rounded, so you have smoother airflow. All the valves and slides are hand fitted to improve the intonation. The brass is fused using a high-energy laser, so you get improved vibrations helping you to maximize your resonance when you are Marching.
Pros
You can pick silver or brass plating.

It has a convertible leadpipe, so you can change the configuration for concert halls or marching band. 
Cons
It doesn't come with a case. 

It has heavy bracing, which is good for durability but makes it a bit heavy. 
King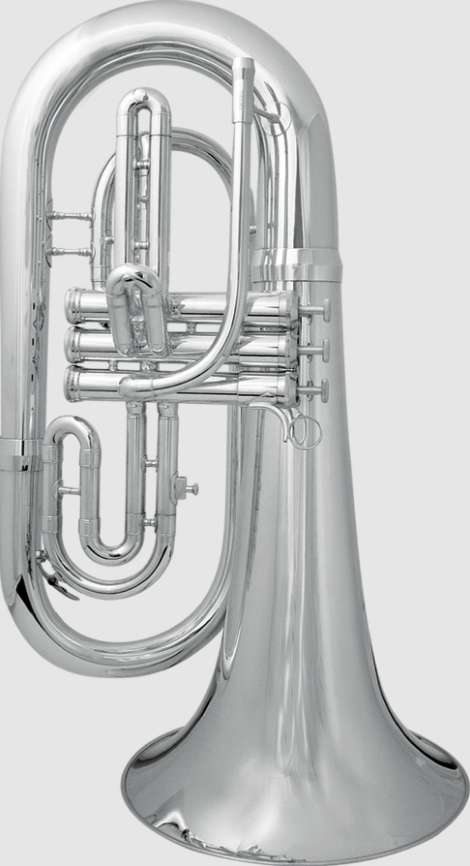 The King marching euphonium is another convertible, like Yamaha. It comes with a heavy-duty case inside, where you can store all the pieces you need to convert your euphonium to the regular concert or the smaller marching band style. 
The convertible nature does mean you can purchase one instrument for a child participating in concerts and in a marching band. This model is very popular because of its flexibility, the quality of its design, and affordability especially compared to having to purchase two instruments. 
Pros
It is very well balanced. 

It has nickel-plated pistons with a silver finish.

You get a warm, mid-to-low sound. 
Cons
As a convertible, there are more places for it to break down over time. 
Adams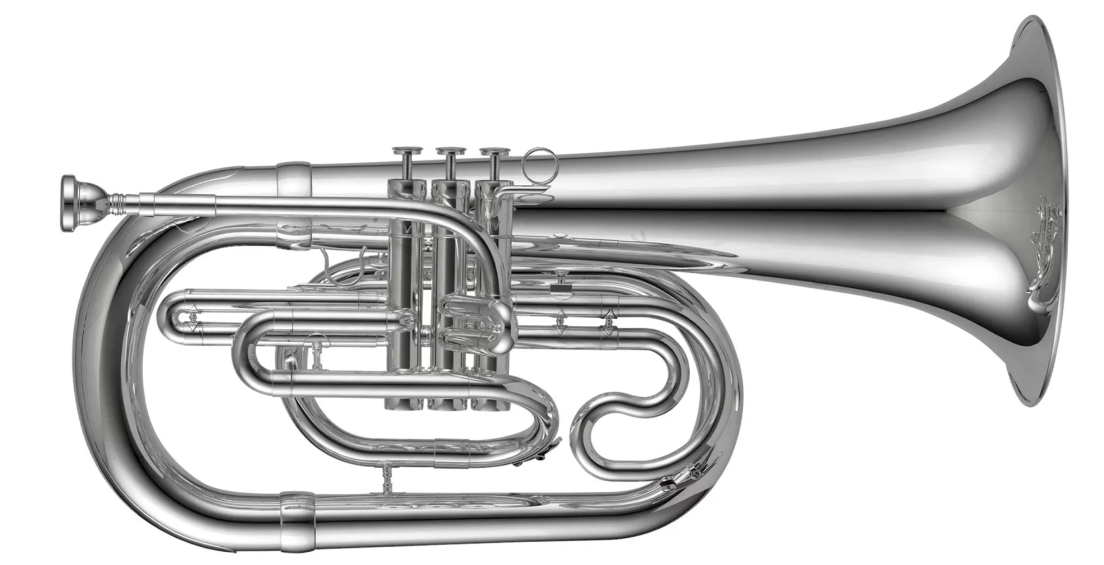 The Adams marching euphonium is about $500 less expensive than the Jupiter model and easier to come by. If the cost is a problem for you, this model can be found through many retailers that offer special financing where you can pay on a monthly basis. This is great for families with a strict budget and buying a marching euphonium for kids in high school.
The Adams company has made top-tier brass instruments since 1970. Originally they started developing flugelhorns and trumpets but today offer a range of high school and college marching band brass. It's constructed with a handmade one-piece bell that also amplifies projection. 
Pros
It is silver plated with a yellow brass body. 

The bell is hand hammered, which helps with the resonance. 
Cons
Shipping takes a while; If you are heavily reliant on Amazon's two-day Prime shipping, I suggest you order this at the beginning of summer so that it arrives before the school year starts.
FAQ
Question: Where is the best place to buy a marching euphonium?
Answer: I recommend buying online from trustworthy instrument suppliers. You can also find a lot of different brands with free shipping through third-party sites like Amazon. 
However, if you are going to use Amazon to find a marching euphonium, I recommend you look into your local music stores and see what they have in stock. This might give you a chance to play the instrument a little bit or at the very least evaluate how it feels before you make a purchase. Then again, Amazon does have a pretty flexible return policy for most things.
Question: What clef is used for the marching euphonium?
Answer: Due to the fact that it covers lower notes like a tuba, you will need to gain experience reading the bass clef. There are, however, adaptable treble clef parts that you can use as you familiarize yourself with new sheet music.
Question: How hard is it to learn the marching euphonium?
Answer: If you already have experience playing any type of valved brass instrument, it will be very easy for you to make the switch. If you've never played before, the musical parts on a marching euphonium are usually less technical compared to other brass instruments like the trumpet, so it's not nearly as difficult to learn as other instruments in the same family.
Question: How much does a marching euphonium weigh?
Answer: On average, they weigh 8 pounds, but if you have a hard case, you can expect the entire unit to weigh around 20 pounds. 
Question: How much is a marching euphonium?
Answer: This depends on whether you get accessories like a case or choose a marching or convertible model. Most of the time, you can expect to pay a few thousand dollars. Anything around $2,000 or higher is more of a professional-grade instrument and will be suitable for college students and above. If you have a child interested in joining their high school marching band, schools usually have a budget to help purchase instruments, or they have nearby music stores where you can do rentals. 

Bottomline
I recommend Kanstul for a regular marching euphonium and Yamaha for a convertible. Both are very well-balanced, provide the optimum resonance, and are well-crafted. It's up to you to decide whether it's worth it to invest in a convertible model or if you only need the exclusivity of a marching euphonium.
Looking for more interesting readings? Check out: