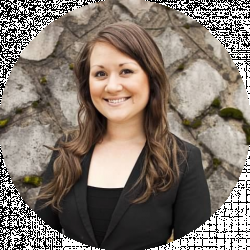 Latest posts by Lacey Jackson
(see all)
I have come to greatly appreciate the euphonium. One of the only people I know in adulthood who plays the euphonium happens to be a close friend whom I greatly respect, so naturally, I gravitate toward the instrument because I associate it with being a productive, helpful, kind human being.
I also really like Yamaha. When I first took piano lessons, I was playing on a Yamaha keyboard at home until someone gifted us an acoustic. I still use an electric Yamaha Keyboard to compose music today with a few of my musician friends, although this one is a much more professional and expensive model.
After some investigation, I've come to find that all the attributes I really like about Yamaha and their line of pianos are easily applied to their line of brass instruments, specifically the euphonium.
Bottomline Upfront
If you are a beginner, the YEP-201 is the perfect student model, especially for younger kids. You can find a marching band version of this if you need a marching euphonium. If you are looking for a professional instrument that you can use while on stage, don't waste your time with anything other than their cream of the crop: YEP-842TS.
About Yamaha
Growing up, I didn't quite understand what Yamaha made because I would see them on motorcycles and pianos. I assumed they couldn't possibly be the same company because that just seemed like an odd combination to manufacture.
I have since learned that Yamaha is a very popular brand, especially for pianos, originally, but they have diversified. They have been around since 1887. They spent most of their first 60 years of business working with pianos, electric organs, motorcycles, and sports equipment. It wasn't until 1965 that they started making wind instruments and then semiconductors. And now offer a wide range of products including brass instruments.
However, they make a lot of different instruments, including brass instruments. The Yamaha euphoniums come with three or four valves and are often available in a clear lacquer or silver-plated finish.
Most Yamaha euphoniums come with a case and a properly fitted mouthpiece. But they do sell other accessories if you need them.
Designations
To make things a little easier, I'm going to go over some quick designations. With almost all of the Yamaha brands, you might see a few different letters at the end and each of these letters designates a specific feature.
M
The letter "M" at the end indicates that whatever model you are looking at is a marching euphonium, so it's meant to be used while marching or walking in place.
S
If you see the letter "S" at the end, this indicates that it has a silver plated finish. For almost all of their models, you will have a regular model number, and then you will have the "S" at the end of another model with the same numbers. This is a fast and simple way to tell if the Yamaha euphonium model you are looking at has a clear lacquer finish or a silver plated finish.
Selection Criteria
Yamaha has quite a few euphoniums, but I narrowed my list based on features, design, and type.
Features
Yamaha has some unique features, like the special trigger system. Many of their models were designed using a brand new prototype, so you get a lot of variety in terms of the number of valves, the bore size, and other features.
Design
Under 'design,' I wanted to include designs that were intended for students all the way through professionals. Some of their most popular models cost around $10,000 and are intended for professionals, whereas the student models only cost a few thousand dollars.
Type
Under 'type,' I wanted to make sure I collected clear lacquer finish and silver finish models without being redundant, so in some cases, you might see me designate that they have both finishes available, but I won't go into detail about both models because they are otherwise comparably the same. However, I did include some marching euphoniums because of their popularity in marching bands.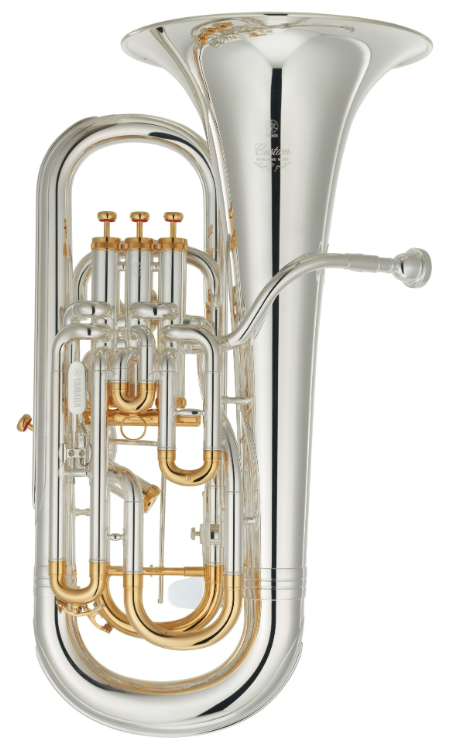 This model is one of their more popular models because of its pitch control. You can thank the new trigger system for that. The trigger system is stronger (weighs a bit more than stock systems), and that design means it lasts longer, has better articulation, and improved tone. It also has a slightly smaller inner tube on the main tuning slide, contributing to increased functionality.
You can what someone playing this model in the video below:
One neat aspect of this adjustable trigger system is that you can change the stroke, position, and angle of the lever plate based on your needs. With a simple hex wrench (it comes with one), you can adjust the angle of the lever plate and its vertical position of it so that it's more comfortable for you to use.
For the main slide system, when you are playing, you can actually press the lever plate, and that will shift your main tuning slide down. This lowers the pitch in a very controlled fashion. You can go back to the original pitch by releasing the lever plate.
Best Features
This euphonium has a special metal cover on the tuning slide, so it never comes into contact with the oils from your hands. This keeps it lasting longer.
It comes with a hard case.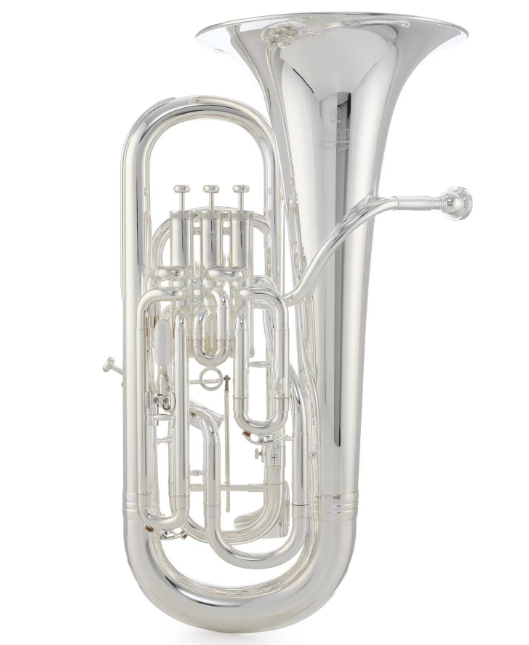 The body design offers improved dynamics across the entire range, so you can project more effectively and have more control over your dynamics. You get powerful high and low notes thanks to the main tubing design and the resistance it offers.
This model has a yellow brass body. You can get it in silver plated or clear lacquer finish. It comes with a hard case. It has a modified hand rest position which simplifies your fingering and makes it a lot easier to perform complicated ensemble passages or very difficult solo pieces.
Best Features
A band conductor and technical staff developed this model, who created a euphonium prototype and redesigned all the components until they had an instrument with a unique sound.
It offers a beautiful tone that is powerful enough with enough color for soloists but also blends well with tenor and baritone horns for those in an ensemble.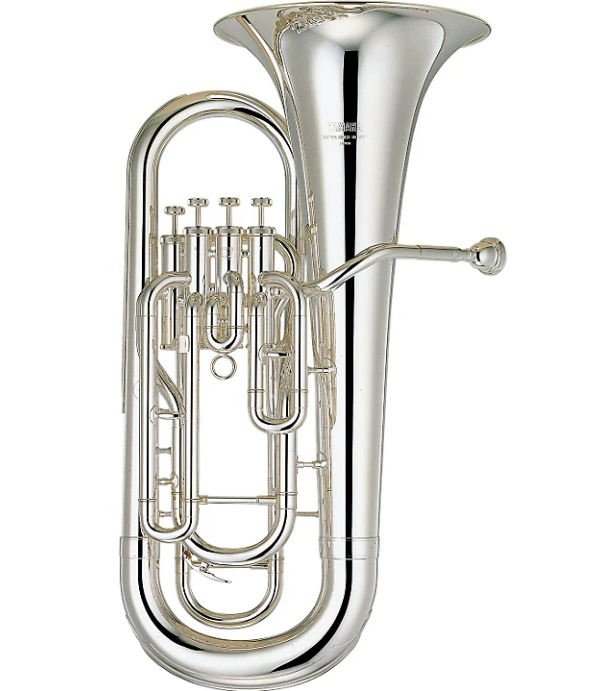 This model is very similar to the previously discussed models, with a slightly smaller bore size and a yellow brass body. Perhaps the biggest difference is that it features a slightly warmer tone and only has four top pistons. However, you can still get it in a silver plated finish or clear lacquer finish.
Best Features
This simple design is perfect for students with a nice, warm tone.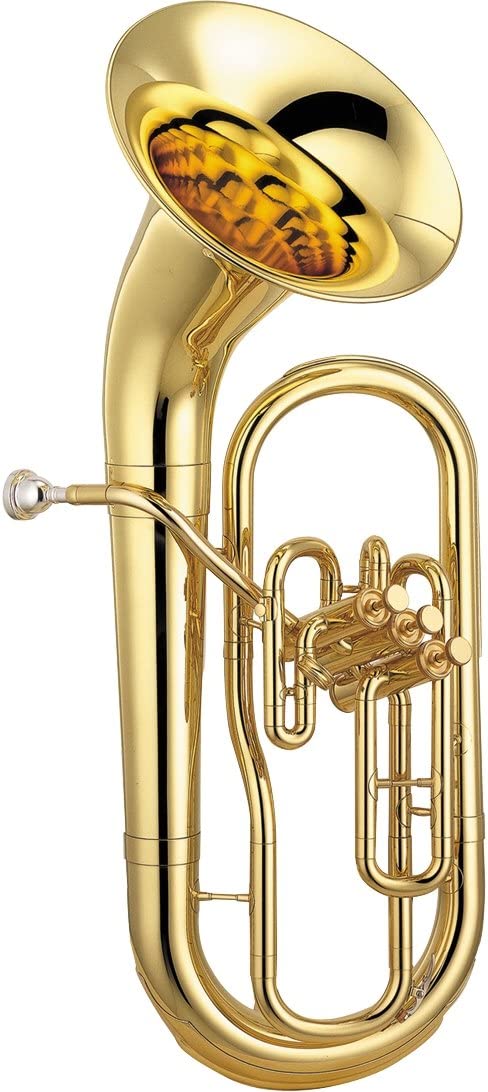 This is their marching band model. It bears inclusion because many students need marching band euphoniums in high school. Of course, you don't need to be in a marching band to appreciate the accurate intonation of the three front pistons and the 14.5mm bore size. It is made of yellow brass and produces a slightly warmer tone.
Best Features
This is a marching band design with the bell facing front with the same easy response to your fingering and big, bright sound.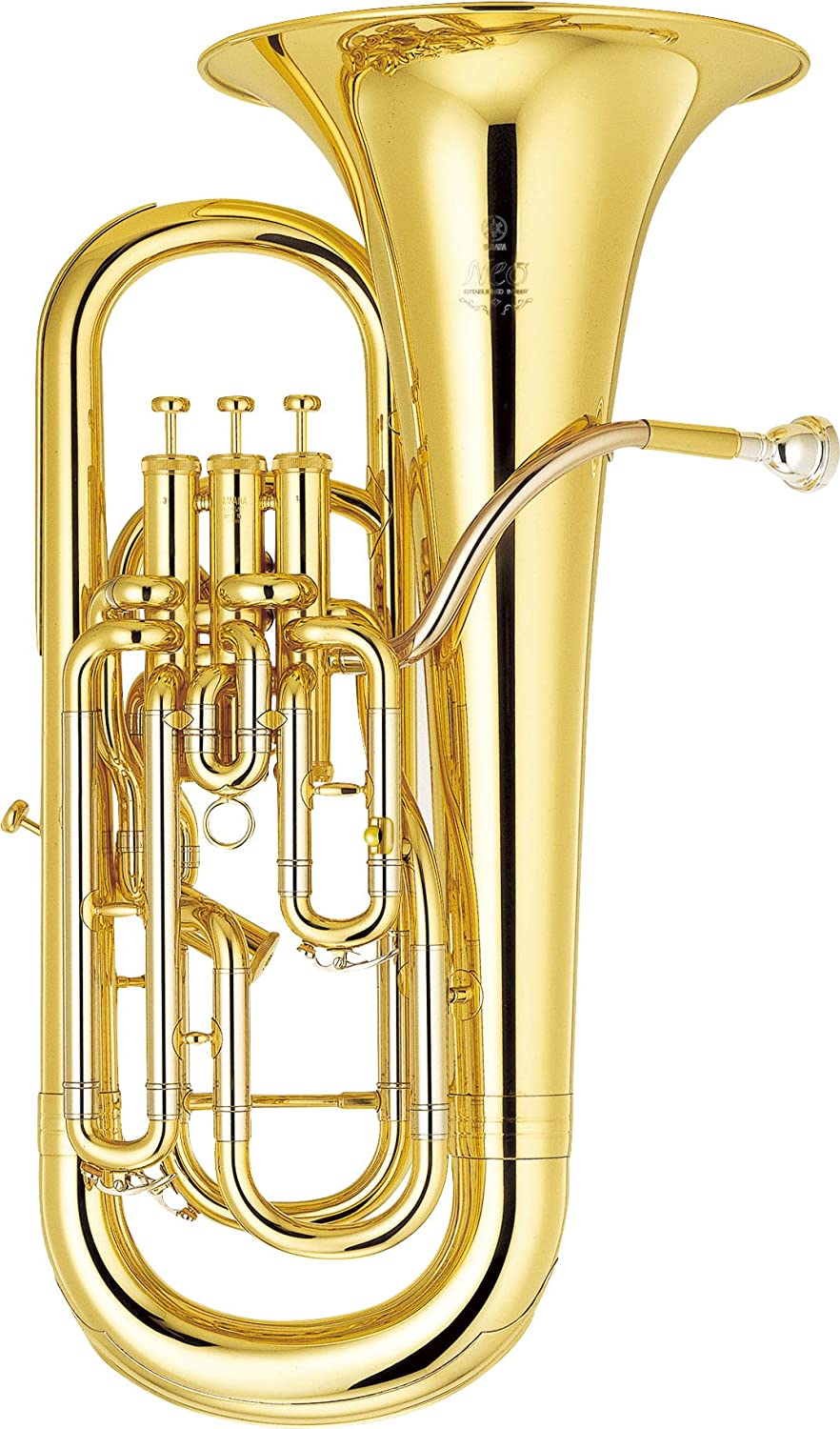 This is a great model for students, or rather, their parents, especially if the family is on a budget. This is a much lighter design making it perfect for younger people. Because it isn't as heavy, it's a lot more comfortable to carry around campus. But it still offers easy responsiveness and full sound with durable construction. This is a standard euphonium with an eleven-inch upright bell. It has a gold brass lead pipe and a yellow brass finish. You can choose this model's silver plating or clear epoxy lacquer finish.
Best Features
It is their most lightweight model, meant for smaller children.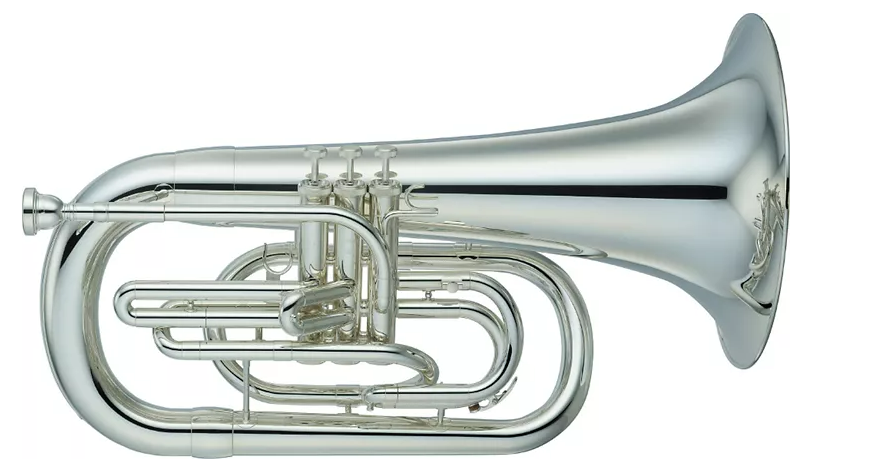 The YEP-202M is another marching euphonium. With this, you get a deeper concert euphonium sound because of the larger bore and bell sizes. This hybrid model has hand-fitted valves with a perfect seal between the slide parts and the valve pistons. This improves the instrument's tone and responsiveness by ensuring smooth action without any sticking and perfect airflow.
The tubing was pressure formed, which guarantees perfectly rounded tubing. This manufacturing feature reduces resistance as you play, making it a lot easier. The bell shares equally pristine features because Yamaha used a high-energy laser to fuse the line so that the bell is seamlessly welded.
It has a gold brass lead pipe and a two-piece yellow brass bell, although perfectly welded. It comes with a lightweight plastic case.
Best Features
This is a student model marching euphonium, so it is meant for younger players and is less expensive.
It uses hand-fitting valves so that you get perfect airflow and smooth action without any sticking, a common problem in beginner models.
It's perfectly well balanced, which is important with a marking instrument.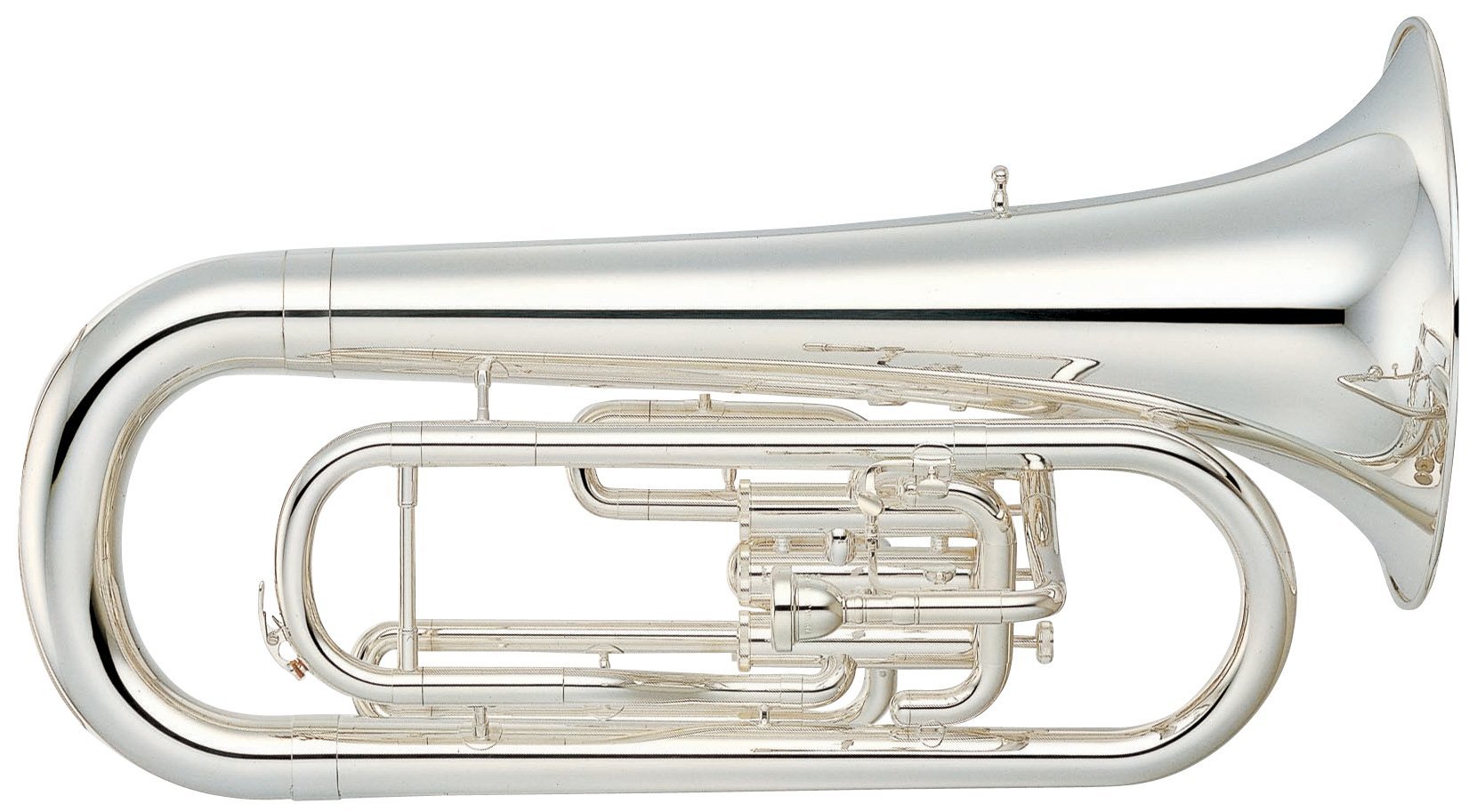 This model is the marching band version of that beginner model. It's actually a little misleading to call it a marching euphonium because it's actually a convertible euphonium. So, if you have a younger student or child looking to join a marching band, this is a very good model.
Convertible euphoniums fall under the category of marching euphoniums but also under the category of normal euphoniums because, as the name suggests, they can be converted into either. The lead pipe can be converted so that you can use it in marching band or in concert situations.
Best features
This model is perfectly well balanced, so it's easy to hold in a concert situation or to hold while marching.
It features heavy bracing throughout the more vulnerable points so that it can withstand all the extra pressure and bounce associated with a marching euphonium. This also means it will last a lot longer, which makes it a better financial investment.
As a convertible, it comes with lead pipes for concert or marching situations.
FAQs
Question: Is the euphonium hard to play?
Answer: The euphonium is a relatively easy instrument to learn especially compared to the trumpet or the French horn. If you have any experience with brass instruments, it'll be easy for you to switch. If you have no experience with brass instruments and, perhaps, you have a smaller number of your family who wants to get started, this is a good instrument with which to begin.
Note, however, that Yamaha makes euphonium models specifically for younger players and beginners. The YEP-211 and YEP-201 are both designed for children and will make it a lot easier to learn how to play.
Question:What accessories do I get with a Yamaha euphonium?
Answer: Every Yamaha euphonium comes with the correct mouthpiece. A few other student models come with some accessories like valve oil, and all of their models come with a case. That case might be a hard case or a plastic case. Any additional accessories you find are not based on the manufacturer but on what the third-party seller decides to offer. This extends to warranties as well.
Question: Are euphoniums and baritones the same thing?
Answer: No, they are not. They might look the same, but their bore size is different. However, they do share some similarities, particularly their size and how easy they both are to learn to play as a beginner. You can read more about euphoniums and baritones and where they differ.
Question: How expensive are Yamaha euphoniums?
Answer: Yamaha euphoniums range in prices like all manufacturers depending on the features and the design. The beginner models for students are much cheaper, costing only a few thousand dollars.
The more advanced models for professionals can cost up to $10,000 or more, contingent upon whether you get the silver plated finish.
Bottomline
If you are buying a euphonium for a beginner, choose the Yamaha YEP-201. It is designed for smaller hands, so it will be physically more comfortable for them as they learn how to hold and play the instrument. There is a marching band version of this, so if you have a younger student who might play another brass instrument but now wants to switch to the marching euphonium, you can get the introductory marching version. As a professional, don't go with anything other than their most popular: YEP-842TS.
Looking for more interesting readings? Check out: