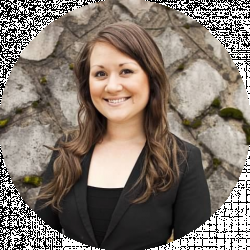 Latest posts by Lacey Jackson
(see all)
Many players don't recognize the importance of the mouthpiece when it comes to generating sound until they have a few years of experience under their belt. I certainly couldn't be bothered to upgrade individual parts to my instrument until I had about two years under my belt.
Now that I have *cough* a few *cough* more years of experience, I appreciate the role individual pieces can play when it comes to helping me make the most out of my time and effort. 
Bottomline Upfront
The Denis Wick Steven Mead line is the only thing I recommend when you are looking for the best euphonium mouthpiece. Yes, it is expensive, especially compared to Yamaha and Cecilio, but the design is worth the money.
I recommend the Denis Wick Classic Series Large Shank Trombone Mouthpiece – 5AL for those who want a classic mouthpiece design. 
There's no point upgrading to something that's only slightly more effective than what you have when, by comparison, you could upgrade to something that makes a world of difference.
In fact, if you look at Amazon or similar sellers online, almost all of the top 25 products in terms of their ratings are Denis Wick Steven Mead varieties.
Selection Criteria
I chose euphonium mouthpieces that were well crafted specifically for the euphonium. Many players try to cut Corners by using mouthpieces for other brass instruments.
While you technically can do it, finding products that fit your mouth shape, size, and your instrument specifically represent a much better investment for you.
Picking Your Mouthpiece Upgrade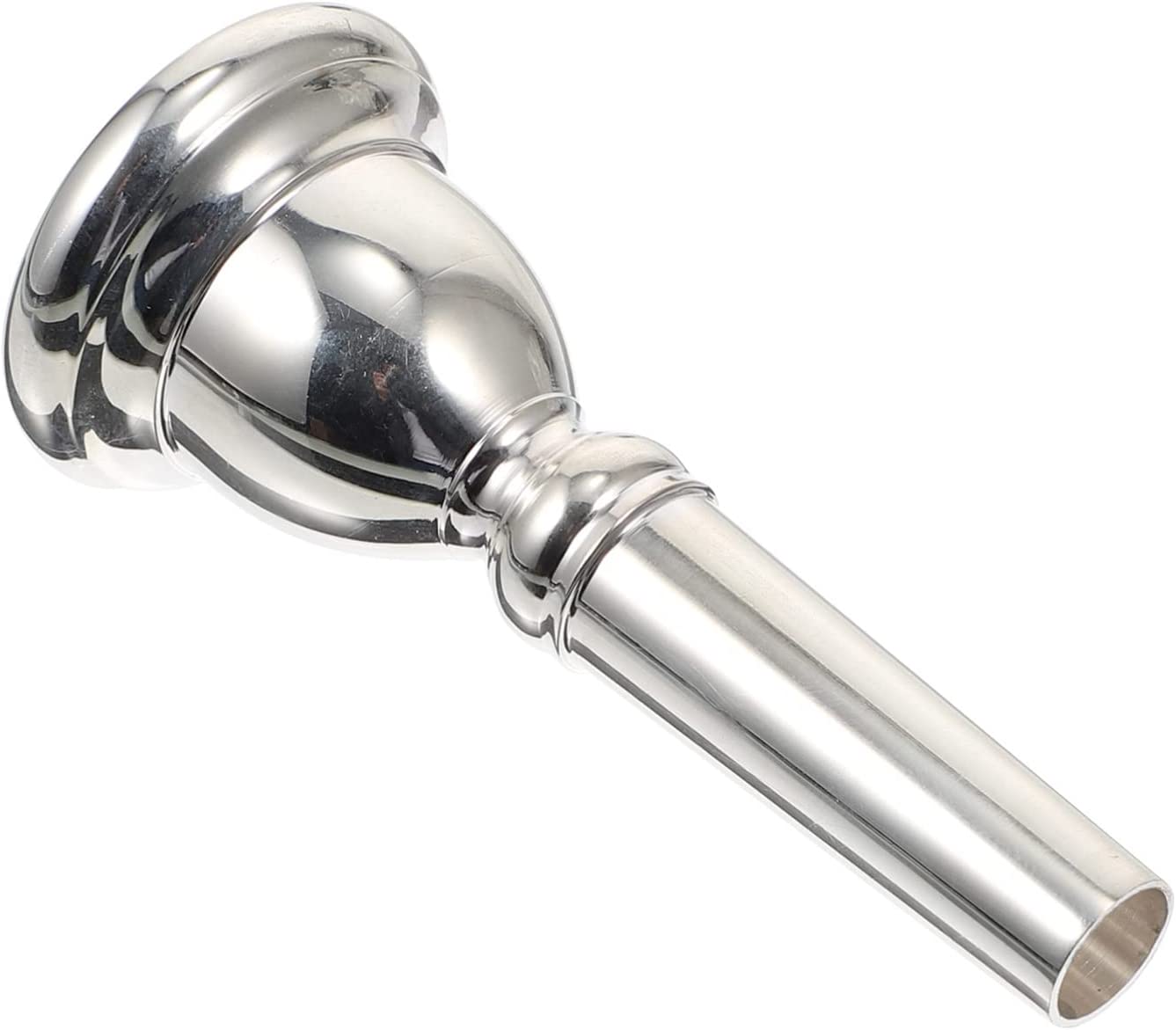 There are so many small aspects to the music you make the mouthpiece can change that. That's why I recommend changing your mouthpiece at least once or twice over the course of your musical career.
If you are a student but you are no longer a beginner, it's time to figure out how to find the best euphonium mouthpiece so that you can upgrade.

If you are an intermediate player and you have better lip strength and technique, it is also time to upgrade. 

If you are now a performer, it is time to upgrade to something that will help you showcase your skills to the audience. 
The best euphonium mouthpiece can't replace practice, practice, and practice, but it certainly makes your practice much easier and more enjoyable. 
A lot of my students ask for recommendations. They don't come to me asking what I think of a particular brand. Instead, they come to me asking me just to tell them outright which brand they should pick.
Apparently, it's a lot easier that way. We all want certainty in the decisions we make, and I am grateful that Decades of musical experience have helped me find my certainty.
When I started as a kid, I had the same mouthpiece that just about every beginner has: the Bach 11c or 6 ½ AL. Why? These are smaller and perfect for generating the right sounds for younger faces. 
As we grow, our faces get bigger (mine hasn't seemed to stop). I found that the smaller mouthpieces became uncomfortable, and they didn't quite help me get the full lip vibrations I learned to produce. So, as I progressed in my talent, I needed a mouthpiece that would help me make the most of it.
Tip: The receivers can be the same as you upgrade, but you can move to small or large shank mouthpieces. 
How to Find the Best Euphonium Mouthpiece: Where to Look
When it's time for you to upgrade your euphonium mouthpiece, you can find a mouthpiece online or go to a store. Music stores will charge you slightly more, but you get guidance from (hopefully) experienced individuals, and you can bring your euphonium in to make sure what you pick is a good fit.
When I was younger, I relied pretty heavily on the expertise of the people working in the music shops. I would bring in my instrument and have them help me.
As I got older, I realized some of the younger individuals didn't necessarily have answers to the questions I was looking for, so it was easier for me to do the research myself, figure out what I wanted, and make a purchase online. Today it's much easier to return something and return it quickly if it isn't the right fit.
How to Find the Best Euphonium Mouthpiece: Learn from the Best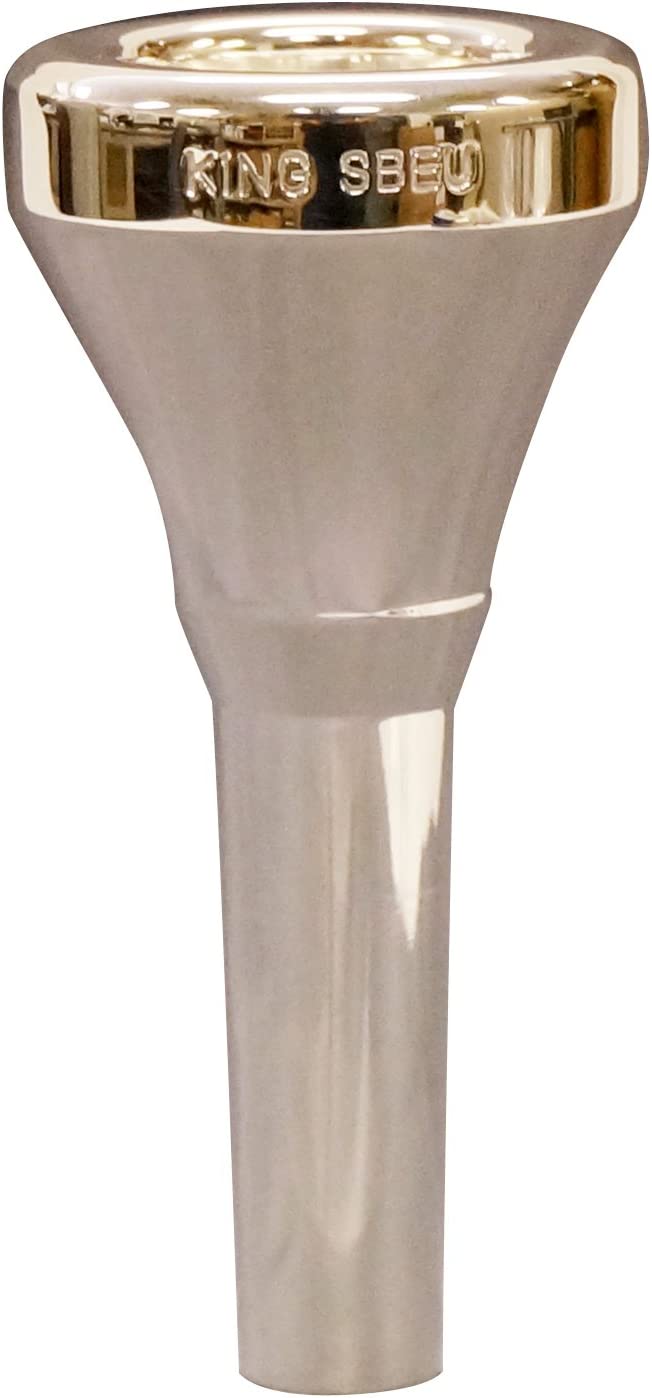 Euphonium mouthpieces come in two forms:
Dedicated euphonium mouthpieces
Dedicated euphonium mouthpieces are what you invest in when it's time for an upgrade. The most popular line is the Denis Wick Steven Mead line.
Mouthpieces that work for other instruments are usually what comes standard with your euphonium and include the Schilke and Bach line. 
Darker Sound
If you want a darker sound, particularly for the lower notes, you can either:
Get a heavier euphonium mouthpiece

Get a plastic mouthpiece

Or invest in a deeper cup
A deeper cup makes it much easier to achieve a darker sound for your lower notes, but it is advised that it will concurrently make it more difficult to hit the higher notes.  
Tip: You can reduce how much of your upper range you lose by changing the diameter of the deeper cup.
Brighter Sound
Choose a shallower cup with a smaller diameter if you want a brighter sound. Having a larger throat gives your euphonium a bigger sound. A shallow, oval cup shape will give you greater responsiveness and a brighter sound compared to deeper, conventional round shapes. 
Any Denis Wick that starts with "SM" is a good bet if you want something specialized. Why?
SM stands for the professional player Steven Mead. He has a line of mouthpieces that are made only for the euphonium. He was the principal euphonium player for the London Symphony Orchestra. He actually played on the original Star Wars soundtrack.
You can watch the Star Wars Medley here
How to Find the Best Euphonium Mouthpiece: My Top Picks
Now that you know why, when, and how to replace your mouthpiece, it's time to look at some of my top picks. If you are ready to upgrade from whatever mouthpiece came standard with your instrument, there are very few top brands to consider.
Denis Wick Classic Series Large Shank Trombone Mouthpiece – 5AL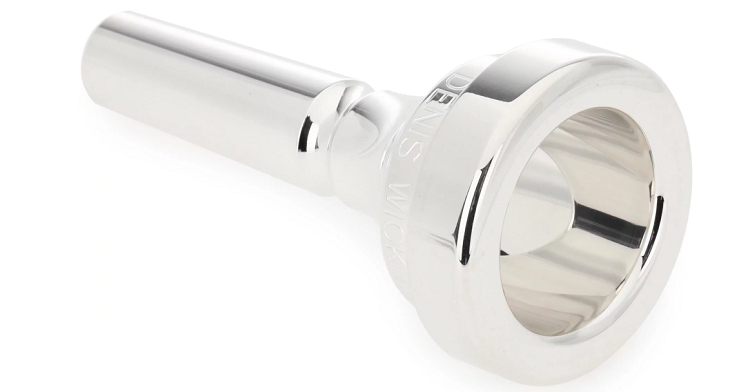 The Denis Wick Classic Series Large Shank Trombone Mouthpiece – 5AL is deeper and has a slightly wider rim compared to the 5AL. This is considered their "ideal" mouthpiece. I think it is one of the best designs for brass mouthpieces. It came from the 1960s and continues to remain a gold standard.
In fact, it was Steven Mead who decided that the Bach line wasn't quite good enough for the London Symphony Orchestra and started to design this model. 
I have played this model for years. This model, like all of the Steven Mead mouthpieces from Denis Wick, has a flat rim. It is slightly curved, but it's much flatter than other mouthpieces. This might initially throw you off, but I don't even notice anymore.
I have tried a lot of trombones and euphonium mouthpieces in this size, like the Shilke 51D or the Bach 5G (which a lot of professionals use), but I always come back to this because it truly is the most comfortable. 
Pros
You get a full sound.

You get trombone quality even when playing softly.

It has a wide rim which helps (me, at least) with endurance. 

It comes with an open throat, so it can take a lot of air and supports that

forte

sound.
Cons
Be prepared to find the flat rim a bit odd at first.
Denis Wick HeavyTop Large Shank Trombone Mouthpiece – 5BL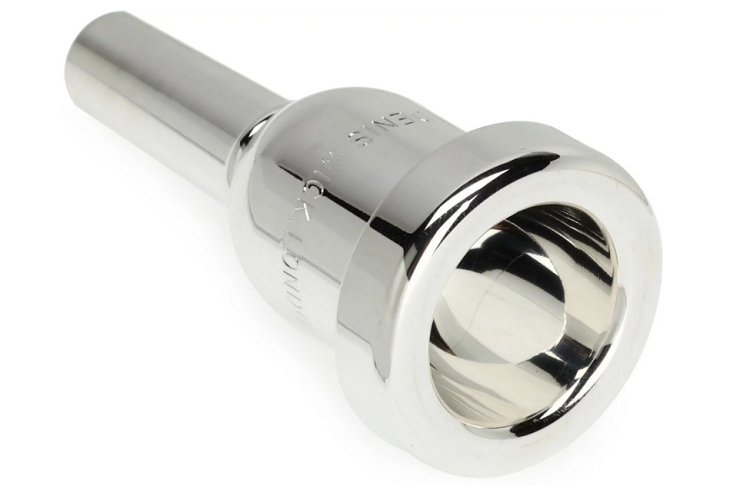 Now, the 5AL is the classic design. That said, Steven Mead has a heavier cup design which is otherwise comparably the same. This is the Denis Wick HeavyTop Large Shank Trombone Mouthpiece – 5BL. 
It is deeper, has a more open throat, and has a wider rim than the classic series. This helps you move more air through your instrument with this mouthpiece. 
Theoretically, the bigger design of the 5AL is to increase projection. Let me be clear, it certainly does that, and anyone who has musical training will notice the difference, but the average listener won't hear a difference.  
As a musician, I feel like you get more feedback on your lips with the heavy top design compared to classic designs. I played with the heavy top mouthpiece for years, trying to improve my skills and technique because of the direct feedback offered. 
Pros
It gives you more projection (but only advanced players will hear it).

It gives you more feedback immediately as you play. 
Cons
Not everyone likes the heavier cup design. 
Denis Wick Steven Mead Euphonium Mouthpiece SM4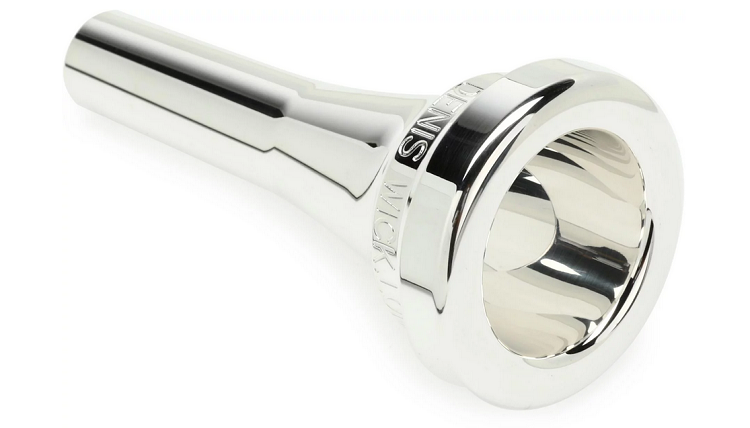 The Denis Wick Steven Mead Euphonium Mouthpiece SM4 is a medium shank, so it is designed to fit a European mouthpiece receiver. SM4 is deeper, so it gives you a velvety sound compared to the 4AL. There isn't nearly as much resistance in the upper register. It's perfect for any wind ensemble.
Pros
It is incredibly comfortable. 

It plays with a full quality of tone, no matter the dynamics.

The endurance is great even with the deep cup, particularly for the upper register. 

You get a 25.73mm diameter which does well to improve tone and projection.
Cons
Not everyone likes the deeper cup or, the wider diameter.
Denis Wick Steven Mead Ultra X Euphonium Mouthpiece – SM3MX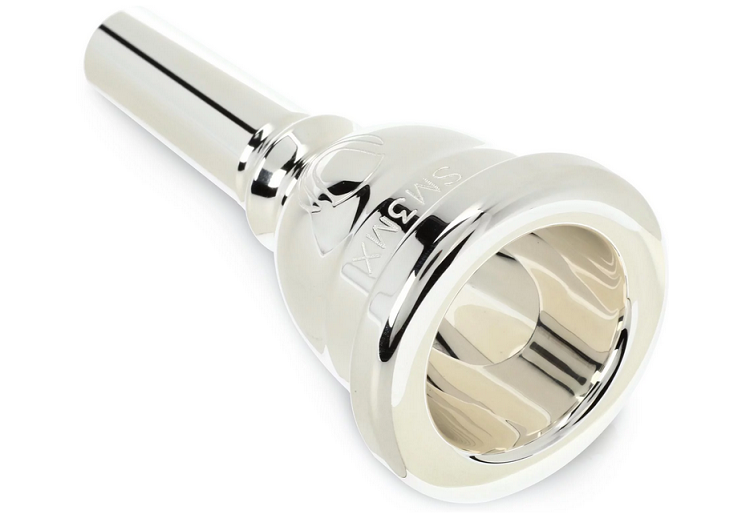 Now, if you thought the SM4 was deep, wait until you get ahold of the Denis Wick Steven Mead Ultra X Euphonium Mouthpiece – SM3MX. The ultra is considered a professional grade. It has a redesigned Bowl shape, a wider rim for better stabilization, and cleaner articulation than you get with comparable models.
Again, this is designed for professionals. This isn't necessarily the upgrade you need to consider if you only have a few years of experience and are trying to find your first mouthpiece replacement. 
Pros
This line has better refinements for professionals. 

The bowl shape has been redesigned compared to the other Steven Mead models. 

You have a wider rim that stabilizes as you play. 

There is clean articulation and a sharper inner edge molding.

It plays equally well on the top registers compared to the bottom. 
Cons
It is meant for professionals, so it isn't something you need as a beginner (especially a younger beginner). 

It is almost double the smaller Steven Mead mouthpieces in price. 
FAQs
Question: How do You Pick a Euphonium Mouthpiece?
Answer: When you set out to find the best euphonium mouthpiece, what you pick is really based on the throat, cup, and rim size. All of these factors can affect the sound you can produce and how easily you can play. This comes down to personal preference and skill.
Question: Can I Use the Same Mouthpiece for a Trombone and Euphonium?
Answer: Yes. You can use the same mouthpiece, but a trombone mouthpiece won't give you the depth of a euphonium mouthpiece. I wouldn't advise it unless you have absolutely no alternative. 
Question: Can You Use a Baritone Mouthpiece for a Euphonium?
Answer: Many euphonium players start with a baritone horn because it is smaller. Yes, you can use a baritone mouthpiece for the euphonium. It's one of the easiest to transfer back and forth because they use the same mouthpiece shape and size.
Question: Are Baritone and Euphonium Mouthpieces the Same?
Answer: Not necessarily. Many baritone horns and euphoniums require a small shank mouthpiece. Small shanks, especially those that are made for a trombone, will fit a baritone horn, and many of them will fit a euphonium mouthpiece.
However, I recommend finding a mouse piece that is exclusively designed for the euphonium, so you don't have any mistakes or improper fitting. I would rather be safe than sorry.
Bottomline
I only recommend the Denis Wick Steven Mead line if you are looking for the best euphonium mouthpiece. It will cost you slightly more compared to a beginner mouthpiece brand like Cecilio, but if you want the best, this is absolutely the best.
Designed exclusively for the euphonium, the Denis Wick Classic Series Large Shank Trombone Mouthpiece – 5AL is the premiere of upgrades suitable for everyone.
Hungry for more? Further, read