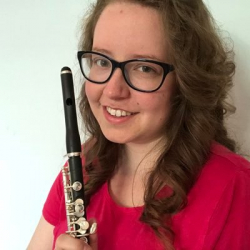 Latest posts by Hannah Haefele
(see all)
Imagine you're excited for your first day of marching band, and you can't wait to transfer your tuba-playing skills to the field. But you realize the band doesn't have a sousaphone for you. So you decide to learn how to find the best sousaphone.
Then, you can own the instrument and use it in future marching seasons without worrying about a lack of equipment. Fortunately, there are sousaphones at different price points, so you can find one that works for you.
How To Find The Best Sousaphone
Whether you're a beginner sousaphone player, an aspiring professional, or are a marching band director, you should know how to find the best sousaphone for your needs. No two players are the same, which can make it particularly difficult to shop.
Band directors have to get the instrument that will suit most players now and for the foreseeable future. Individual players will have an easier time shopping, and getting your own sousaphone can help you learn to play it well.
Consider the following steps to take to help choose a good sousaphone for you.
Sousaphone Vs Tuba
The sousaphone and tuba play very similar roles, but you use them in separate situations. Because of that, you need to make sure that you need a sousaphone and not a tuba. Sousaphones are more common in marching bands and even pep bands. They're easier to hold while standing and walking compared to the concert tuba.
On the other hand, you will probably need a tuba if you're looking to play in a wind ensemble or orchestra. Most other groups where you sit to play or stay in place use tubas instead of sousaphones.
Know Your Purpose
Next, consider why you're looking for the best sousaphone. If you're a player, you'll probably be the only one to use the instrument, so you can be pickier about the features. However, maybe you're a band director, and you're using your band budget to pay for a new sousaphone. You'll need an instrument that's great for beginners and that will last a long time.
That way, your students can use the sousaphone for many years, and you won't have to replace it so quickly. And if you're a tuba teacher, you might have a similar motivation to buy a sousaphone to lend to your students.
Create A Budget
If you're a band teacher, you probably won't have much control over how much you can spend. However, individuals shopping for a sousaphone will have more control and so need to set a budget.
Sousaphones can cost thousands of dollars, and they aren't always available for rent or on the used market. Speaking of which, you should prepare to buy a sousaphone in the late spring or early summer so that it's ready for the marching band season.
If you can't get one by then, you can spend the next year saving up more money. Then, you may be able to get an even better model than you would have if you bought it the prior year.
Practice On A Mouthpiece
If you want to get the best sousaphone for you, you'll need to do some tests. To help prepare for a sousaphone trial, get a good quality sousaphone mouthpiece to practice on. You can use it to learn how to form a proper embouchure and how to blow into the mouthpiece. Once you're ready to test a few instruments, you won't have to worry about that part of your playing technique.
Current tuba players can use their existing mouthpiece since most work on both the tuba and sousaphone. But new players may want to buy the accessory to have time to practice.
Compare New And Used
When you start to look at available sousaphones, consider new and used options. If you only go for one, you can limit your search significantly, and you may not find the right instrument for you.
New instruments tend to be in better condition, but they do cost more than used ones. And even though you may save money on a used sousaphone, it could have some mechanical problems. Think about your budget and the kind of instrument you want or need. Then, you can try both types of sousaphones to help find one that works well for you.
Test Many Sousaphones
Whether you play new, used, or both types of sousaphones, you should test as many as you can. The more you try, the more likely you'll find an instrument that is easy for you to play and works with your playing style. If you're shopping for yourself, you can find a sousaphone that you love and that's in your budget. As a music teacher, you can look for the sousaphone that's the easiest to play overall, even if it doesn't have the best sound.
Be sure to consider your priorities and who will play the instrument. Then, you can make sure you focus on the most important elements when testing and comparing sousaphones.
Play To The Extremes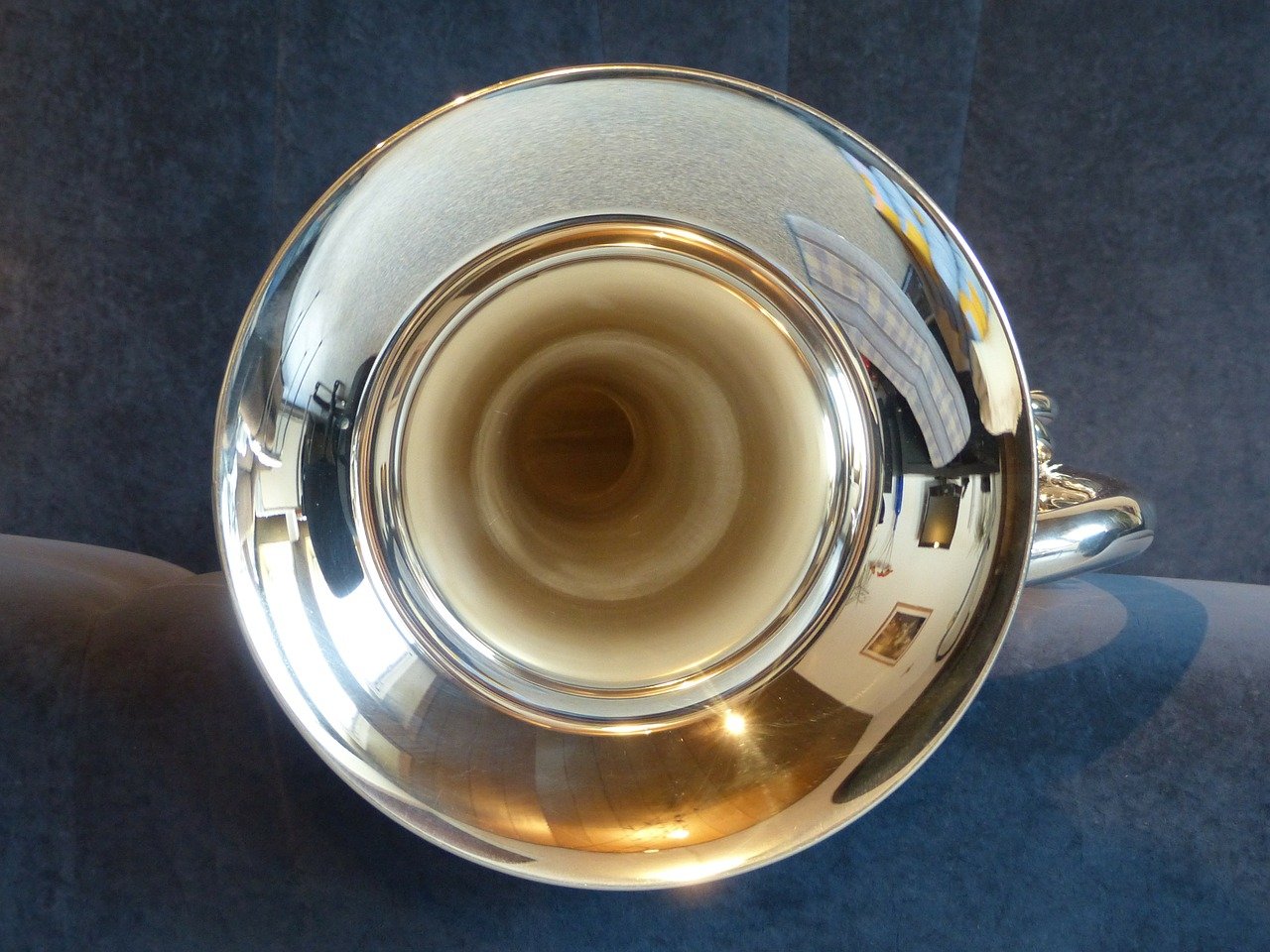 A good sousaphone test should push the instrument to its limits in as many ways as possible. You should play as low as you can go and as high as you can go and see how easy those notes are.
Make sure you also test playing soft and loud and doing both in the low and high registers. And while you'll typically have the bass line, it doesn't hurt to test playing both slow and fast.
You never know what music you might have to play on your sousaphone, so you want an instrument that can handle a lot. If you're a teacher buying a sousaphone for students, stick within a beginner's range of playing to test it.
Keep Tests The Same
Whether you test two sousaphones or two dozen, you want to minimize the differences between each one. An easy way to do that is to use the same mouthpiece on each instrument since it will feel the same on your lips. You should also select some exercises or short pieces to play before your trial session. Play through the same music so that you can test the same parts of each instrument.
If you only play low, slow stuff on one sousaphone and high, loud stuff on another, they'll be harder to compare. Keeping the music the same will help you focus on the instrument itself rather than what you're playing.
Record Yourself
Each time you play the sousaphone, record yourself and label the recording with the brand and model number. Recording yourself means you can listen back to your test after you finish.
You might hear certain things that you didn't notice when you were playing. And you can play recordings closer together without having to take one sousaphone off your shoulder and put another one on, making it easier to compare.
Finally, if you know a sousaphone player and want their feedback, you can send them the recordings. They might help you decide between two or three top choices.
St0p And Start
Another benefit of recording yourself is that it gives you an excuse to take a break during your trial. You can use the break to stretch your arms and neck, and you can relax your lips. While you stretch, listen to the recordings you've taken of the different sousaphones. Consider bringing a notepad or using an app on your phone to write down your thoughts as you listen.
Then, you can get as much information as you need to make the right choice on an instrument. While listening as you play is important, it's easy to miss important details.
Ask For Opinions
Perhaps you've tested as many sousaphones as you can, and you've narrowed it down to two. You listen to your recordings over and over and look at your notes for each one, but you still can't decide.
Consider sending your recordings to other sousaphone players or musicians for feedback. Another person may hear things that you don't, and they can be more objective than a music store sales representative.
The other musician may not be that helpful, but they might offer advice to help you choose. Or they might say right away that one is much better than the other.
The Best Sousaphones
So you know how to find the best sousaphone for yourself or your students. Now, you need to determine where to start your search and which sousaphones to try.
While these aren't the only models out there, they are some of the best sousaphones you can find. Start your instrument trial with some or all of them, and you can expand to more options if necessary.
Jupiter JSP1110S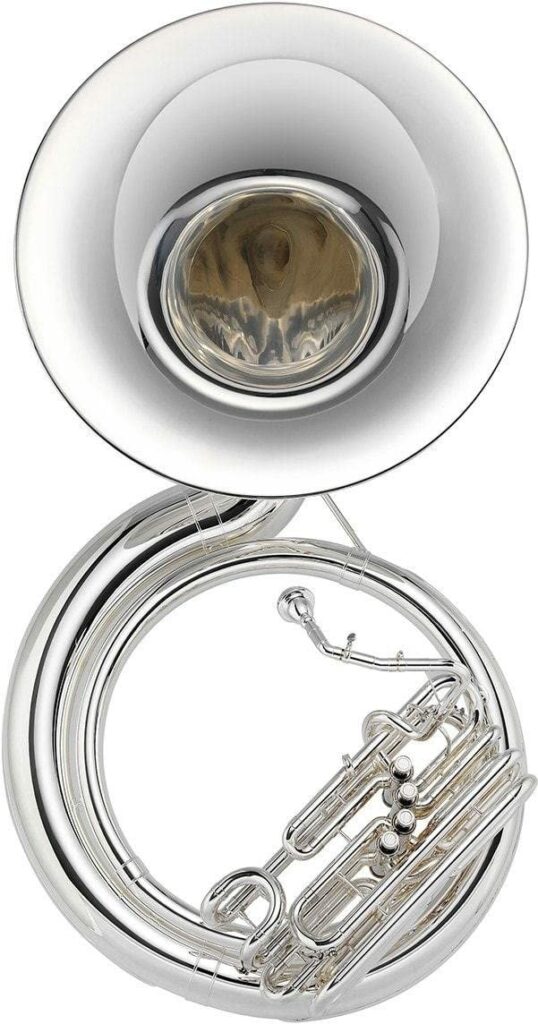 The Jupiter JSP1110S is a silver-plated brass sousaphone that offers a brilliant tone and is easy to play. It features stainless steel piston valves that move up and down smoothly to facilitate more technical passages. You even get four-piston valves, which isn't super common on the sousaphone, so you can play a lot more notes. However, it does weigh about 31 pounds, so it can weigh you down after a while.
Should the instrument need repairs, it has a removable valve section so that you can get to each part of the tubing. Then, you can make the repairs much easier on a repair technician.
Pros
Sounds great
Easy to repair
Smooth playability
Cons
Jupiter JSP1000B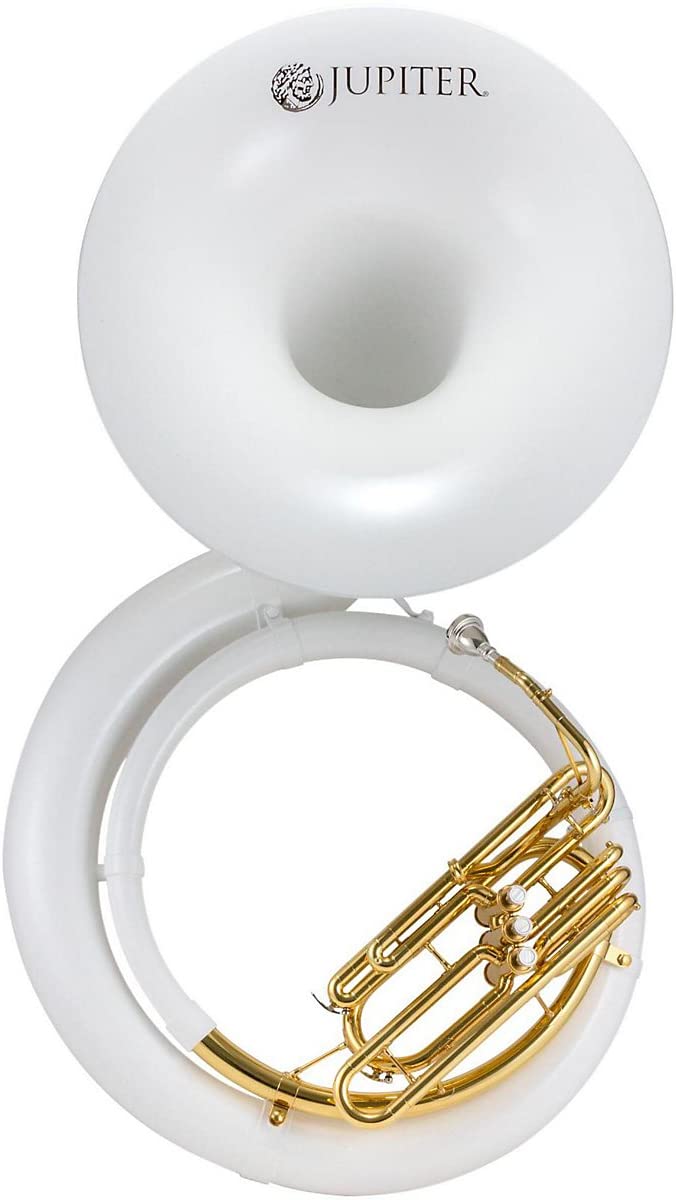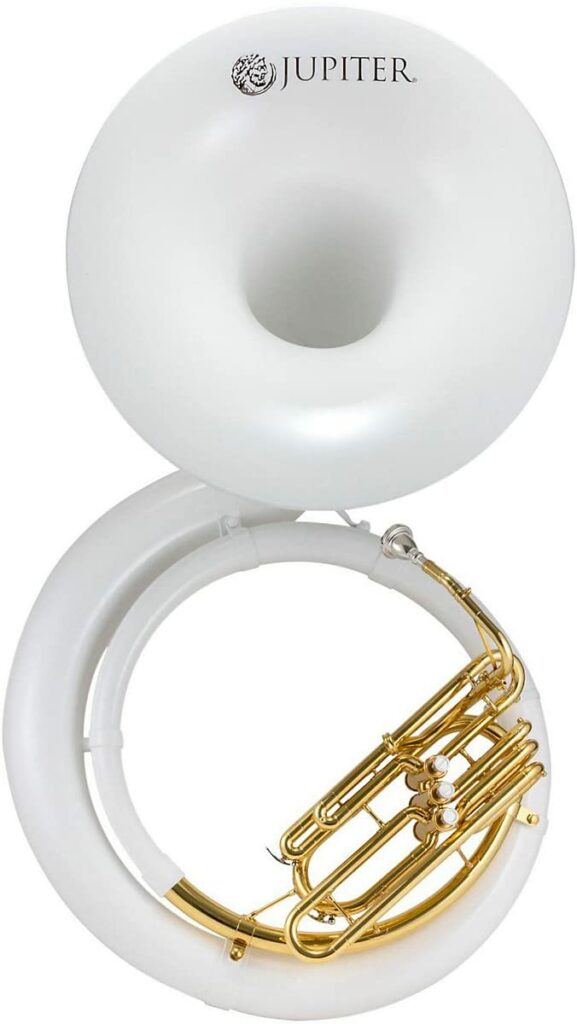 Another fantastic sousaphone from Jupiter is the model JSP1000B. This sousaphone is a fiberglass model, so it doesn't look like your standard brass instrument.
But the fiberglass does make it quite a bit lighter than other models, so it's great for beginners. You can get a nice resonant sound from the instrument, even with a different design. Like the other Jupiter instrument, this one has stainless steel piston valves, but there are three instead of four. And you get a nylon carrying bag to protect the sousaphone during transit.
Pros
Lightweight
Good sound
Easy to play
Cons
Some bands may not want the look of a fiberglass
Jupiter JSP1010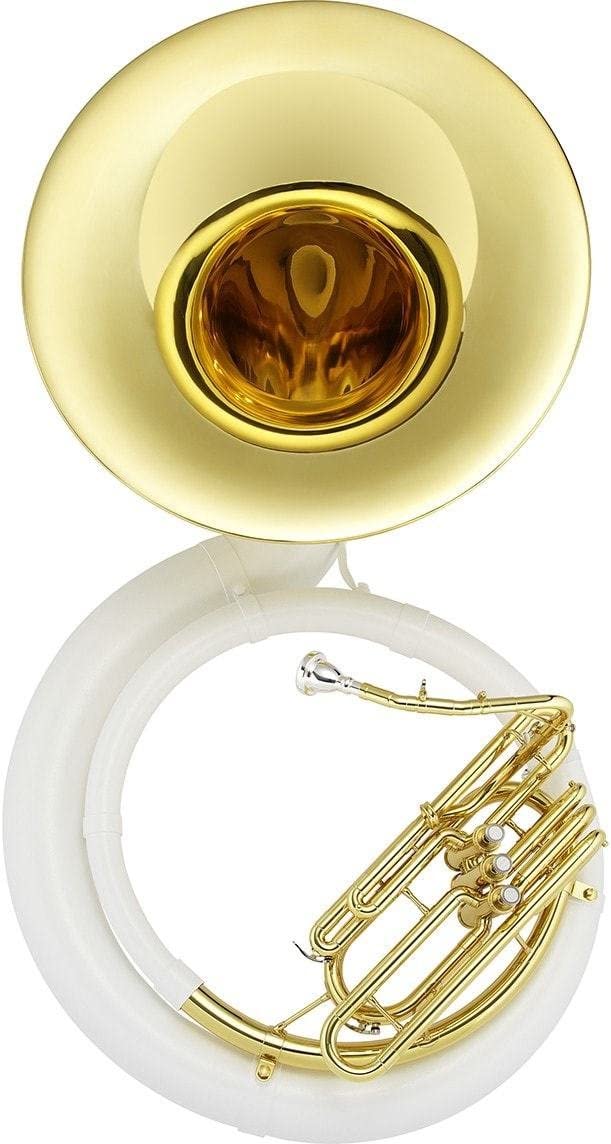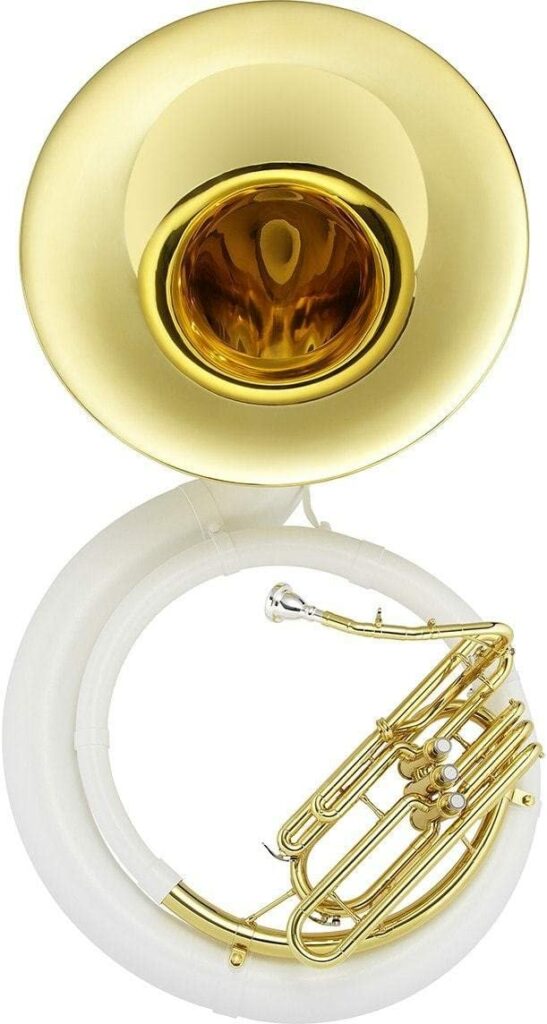 The Jupiter JSP1010 is an excellent compromise between weight, cost, and appearance. It has a fiberglass body with a brass bell, so it sounds like any other sousaphone, and it can look more uniform on the field. You can remove the valve section if you need to repair the instrument and can't get to the area you need to fix. And the piston valves move easily, so you can play fast and slow.
Unfortunately, you don't have a fourth valve on this model. But it's still a great option, and it's not too expensive for individuals or band directors to buy.
Pros
Lighter than some sousaphones
Sounds good
Easy to play and repair
Cons
Queen Brass Sousaphone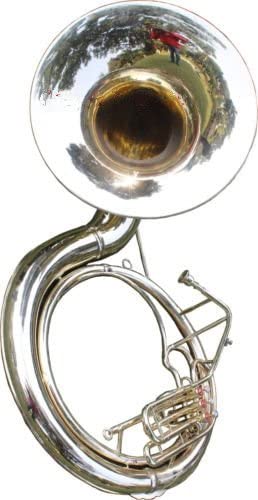 If you're on a super tight budget, you may want to consider the Queen Brass Sousaphone. It's not as common of a brand as Jupiter or some other sousaphone makers. However, the instrument features a brass body and silver plating so that it looks and sounds good. You get the standard three valves, so you can play most of the instrument's range with ease.
Beginners should consider getting this model to try out the sousaphone. Smaller marching bands may also benefit from the lower cost.
Pros
Affordable
Good sound
Nice range
Cons
Yamaha YSH-301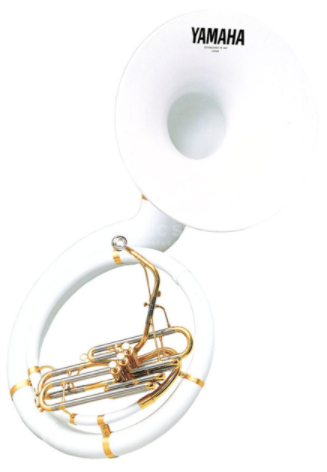 Yamaha is one of the best musical instrument brands, so you can't go wrong with their model YSH-301. It features heavy bracing and has a good balance, so it can stay steady as you march. The pressure-formed tubing is rounder than some, so the air can flow smoothly. That way, you can maintain your intonation more easily, and the instrument has just the right amount of resistance.
Since it's a fiberglass sousaphone, it's lighter than other models, but it doesn't sacrifice the quality. Beginners and professionals should give it a try.
Pros
Lightweight
Nice balance
Sounds good
Cons
Doesn't have the standard look some bands require
Yamaha YSH-411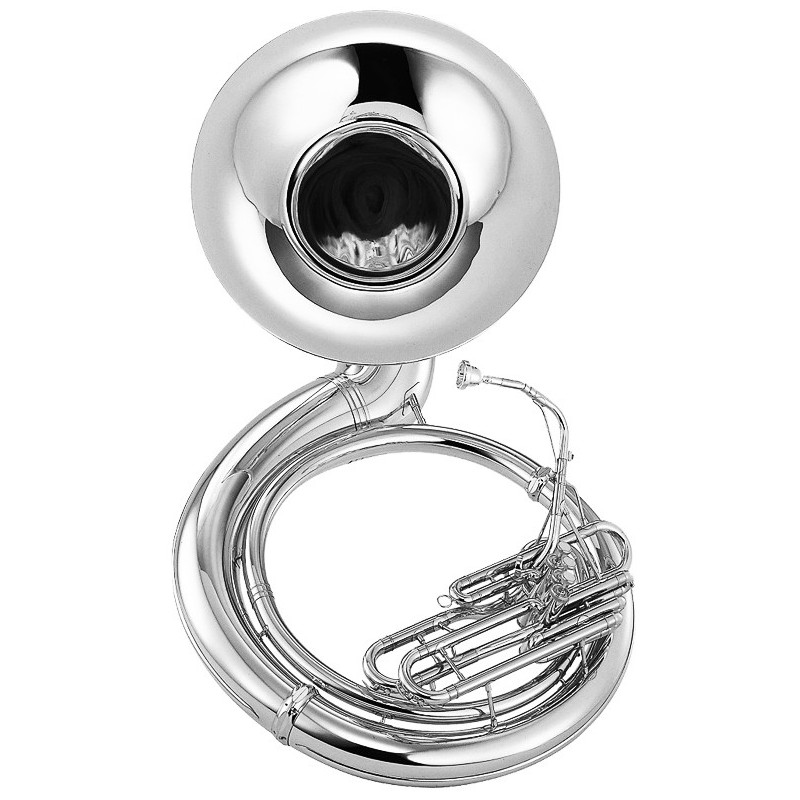 Another one of the best sousaphones is the Yamaha YSH-411, which has a brass body and silver plating. The model is great for anyone who wants a more brassy sound than what a fiberglass model can make. However, that does make it a lot heavier and more expensive. Still, it does look and sound great, and the nickel-plated valves make it easy to switch between notes.
If you don't like the silver, you can get this model with brass lacquer. That can be nice if your brand needs to all have the same look throughout the brass.
Pros
Good sound
Nice quality
Durable
Cons
FAQs About How To Find The Best Sousaphones
Question: Are fiberglass or brass sousaphones better?
Answer: Fiberglass and brass sousaphones have pros and cons. While fiberglass models don't weigh as much, they also don't have the same richness that brass can provide.

A brass sousaphone also costs more than fiberglass, and you might be able to use it in many different marching bands. So consider your preferences and needs to decide which is better for you.
Question: How much does a good sousaphone cost?
Answer: Most good sousaphones cost anywhere between $4,000 and $10,000 if you buy a new one. There are some models, like the Queen Brass instrument, that cost less new.

Buying any model off the used market will most likely cost a bit less. However, used instruments may have scratches or issues that make them harder to play.
Question: Do you need to buy a sousaphone?
Answer: If you're a beginner looking to play in a school or community marching band, you may not need your own sousaphone. As the band director if the ensemble owns sousaphones that people can borrow.

However, if you want to take the sousaphone seriously, it doesn't hurt to buy one for yourself. That way, you don't have to worry if there will be enough instruments for you and your section mates.
Question: How big is the sousaphone?
Answer: The sousaphone has a 26-inch bell, and it stands about three and a half feet tall. If you stretched the tubing out, it would measure about 18 feet long.

Many sousaphones weigh around 20 pounds, but some can weigh up to 50 pounds, depending on the material. Luckily, the wrap-around design makes it easier to hold over your left shoulder.
Question: Who can play the sousaphone?
Answer: Anyone who is big and strong enough can play the sousaphone. If you're worried about the weight, start with a fiberglass model to learn how to hold the instrument.

While many tuba players switch to the sousaphone for marching band, you don't have to play the tuba. Other brass players and even woodwind players can learn the big instrument.
Final Note On How To Find The Best Sousaphone
Whether you're a beginner or a professional, you should understand how to find the best sousaphone for you. There are tons of models on the market, and some are better than others.
Some of the best ones to start with are the Jupiter and Yamaha sousaphones. So give those a try to see which model works with you and your playing needs.