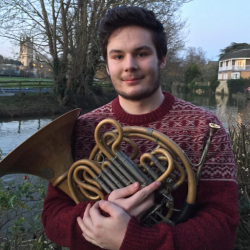 Latest posts by Myrddin Rees
(see all)
One of the most popular makers of trumpets today is the Vincent Bach company. Bach trumpets are played all over the world by players of all ages and abilities across a wide range of musical genres.
If you're curious about getting one yourself, though, it can be a little confusing, as they offer a wide range of choices! Here's our breakdown of all you need to know about the best Bach trumpet models. That's whether you're a student looking for a beginner trumpet or a seasoned player looking for more explanation of the complex Bach Stradivarius trumpet options!
What Is A Trumpet?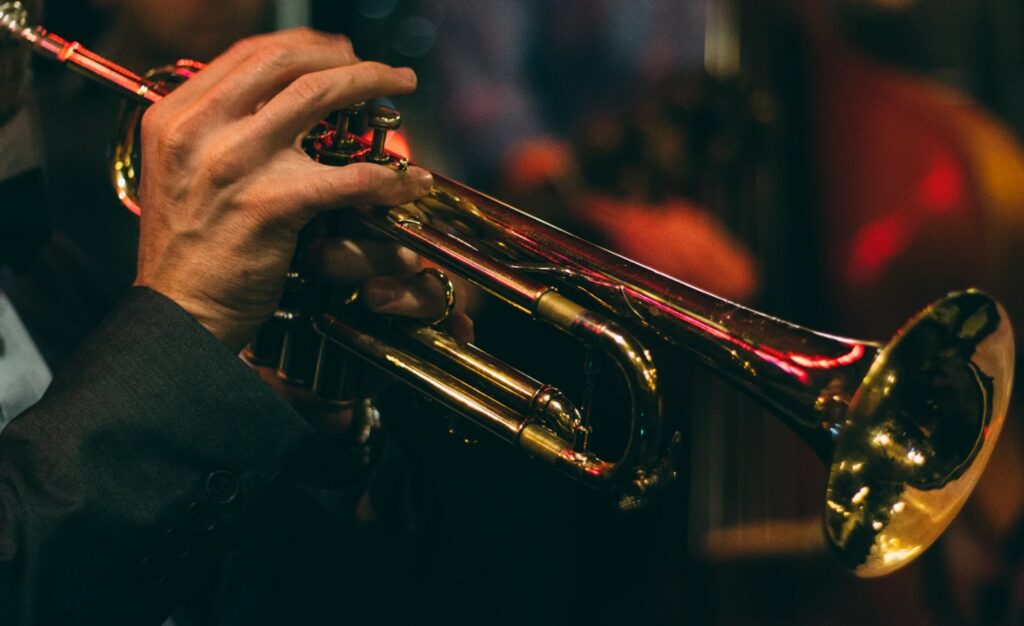 The trumpet is one of the world's oldest musical instruments, dating back at least three and a half thousand years. Today, it's one of the most versatile brass instruments and is heard in a wide variety of contexts, from solo and orchestral playing to popular and commercial music genres. 
If you'd like to find out more about the trumpet, then you've come to the right place — we have a Brassnwind page all about its fascinating history, as well as different types of trumpets, here.
The Vincent Bach Company
The story of the Vincent Bach company begins with the trumpeter Vinzenz Schrottenbach. Vinzenz studied as a trumpet player in his youth and, after studying mechanical engineering, found himself enlisted in the Austro-Hungarian navy. After a short period living civilian life as a lift operator, Vinzenz found himself re-enlisted, this time in the band of the Austrian Marines.
During this time, Vinzenz realized his passion for performing, and so it was that upon leaving the Marine Band, he embarked on a career in Europe as a cornet soloist. However, the outbreak of the First World War caused him problems. As a young man resident in England with a Germanic name and heritage, he was in danger of being detained as an enemy. Instead, he chose to flee to America, changing his name in the process to Vincent Bach.
Vincent had a successful performing career during his first fifteen years in the States, first as assistant principal trumpet of the Boston Symphony Orchestra (despite auditioning on the cornet), and later as principal trumpet of the Metropolitan Opera Orchestra in New York. He was often featured as a soloist and even recorded solos on the Edison label.
Vincent found himself in a predicament whilst on tour when his mouthpiece, sent for alterations, was destroyed by an incompetent repairman. This inspired him to begin investigating making his own mouthpieces.
It wasn't long before that idea had blossomed into a business plan, with Vincent buying a $300 lathe, setting up shop across the road from the Musician's Union in New York, and marketing his mouthpieces as a way to improve at the cornet without practicing. He received $500 in orders and set to work fulfilling them.
Vincent's business quickly grew after earning itself a reputation for quality, at first for making these mouthpieces and later for producing his own designs of the trumpet.
He named these trumpets 'Stradivarius', hoping to compare their designs as artful as the famous luthier that gave them their name. By the second half of the twentieth century, they had lived up to their name, becoming the most popular brand of orchestral trumpet used in professional orchestras across the USA.
In 1961, Vincent sold the business to the Conn-Selmer company (despite other higher offers), as he wanted the company to remain in the hands of a US musical instrument manufacturer renowned for quality instruments.
Guide to Understanding Vincent Bach Model Numbers
The first thing you'll notice when looking for a Bach trumpet online is that they all have different model numbers, which get quite long!. Understanding this number can help understand exactly what the instrument is, as each part of the number has a different meaning.
As an example of what I mean, let's consider the Bach LR190S43B, a standard model available on the Bach website. This intimidatingly long model number means it is a model 190 trumpet, with lightweight reversed lead pipe, silver plate, and #43 bell (in bronze!).
Sounds like a lot of information? Don't worry, I'll run you through a description of the extras. For now, here's the breakdown of how you can decode the model numbers. Generally, the middle part of the model number is the model number, the prefix is the type of trumpet (such as C or Bb trumpet), and the suffix indicates variations on the base model. There's some nuance to this, though!
Here are the current model number prefixes.
Model Number Prefixes
Model Number Prefix

Meaning

No prefix

Bb trumpet.

AB

Artisan collection Bb trumpet

AC

Artisan collection C trumpet

ADE

Artisan collection D/Eb trumpet

AE

Artisan collection Eb trumpet

AP

Artisan collection piccolo trumpet

B

Bb trumpet.

NB a lack of a prefix indicates the instrument is in Bb, as this is the default. This prefix is used for the fanfare trumpet and bass trumpet models.

C

C trumpet

LR

Lightweight reversed lead pipe

LT

Lightweight standard lead pipe

TR

Student/Intermediate Model
Model Number Suffixes
As well as prefixes, several suffixes can appear on the model number.
| | |
| --- | --- |
| Model Number Suffix | Meaning |
| 1 | #1 bell |
| No Suffix | Lacquer finish |
| 43 | #43 bell |
| 72 | #72 bell |
| 77 | #77 bell |
| B | Bronze (this comes after the bell number, so refers only to the bell) |
| CC | Chicago C' trumpet |
| L229 | #229 bell |
| L239 | #239 bell |
| 37 | #37 bell |
| PC | 'Philly C' trumpet |
| S | Silver plate (whole instrument) |
Vincent Bach Serial Numbers
As well as a model number, every trumpet is marked with a serial number, which can normally be found on the second valve casing. Serial numbers are unique to each trumpet rather than just the make. You should always take a note of the serial number, as you will need it to insure the trumpet or to report it stolen in the case of theft.
If you're buying a second-hand trumpet, the serial number is also useful information to help date the instrument. Bach themselves provide a table of serial numbers with dates here, while professional trumpet player David S. Miller has also compiled one here.
If you need to know more about a particular Vincent Bach trumpet, you can always contact the company directly with the serial number, who may be able to provide more information.
Best Bach Trumpet Options
Let's look at some specific trumpet options! Bach split their trumpets into three main categories; student trumpets, intermediate trumpets, and professional trumpets. These trumpets are largely split based on their features and cost.
Student trumpets are cheaper, stronger instruments designed to be easy for a beginner to play. Professional models have more expensive features and offer more variety to discerning players to have a trumpet that meets their exact requirements.
Student Trumpets
The first category we'll look at is student trumpets. Bach makes three models of student trumpet; the TR300, TR500, and TR600. Generally, student trumpets are stronger and more durable than professional trumpets (due to the possibility of children taking less than perfect care of them) and are designed to be easy to play, although the results of playing might not sound as good.
They are made with less expensive materials than the professional trumpets might require. For this reason, student model trumpets are generally the cheapest models available.
Student Trumpets Compared
| | | | |
| --- | --- | --- | --- |
| Trumpet Model | | TR500 ('Aristocrat' Model) | TR600 ('Aristocrat' Model) |
| Bore | .459" | .460" | .460" |
| Leadpipe | Red Brass | Red Brass | Yellow Brass |
| Bell | Yellow Brass 4-7/8″ | Yellow Brass | Yellow Brass |
| Pistons | Monel Pistons | Stainless Steel | Stainless Steel |
| Approximate retail price (New, 2022) | Around $1,300 | Around $1,100 | Around $800 |
At first glance, there isn't too much difference on paper between these instruments. There are, however, some key differences to point out.
The flagship model is the TR300H2. This is my pick for best student trumpet, so check out more info about this in a moment!
The TR500 & TR600 are instruments made by Conn & Selmer using the Vincent Bach brand. These instruments are more similar to other student models on the market and are pitched at a slightly lower price point than the TR300H2. The key differences between them are the material used in the lead pipe and the bore of the instrument. Stainless steel is also a lighter material for the valves.
Ultimately, which trumpet you choose is up to you, and you should always test the instrument first! While the TR300's warm sound is most likely to suit an improving player, all three of these instruments are an excellent choice for a beginner. A major bonus of them over other brands is that they all come with a 5-year warranty, which is likely more than enough for you to progress your playing to the point that you'll be looking for a better instrument.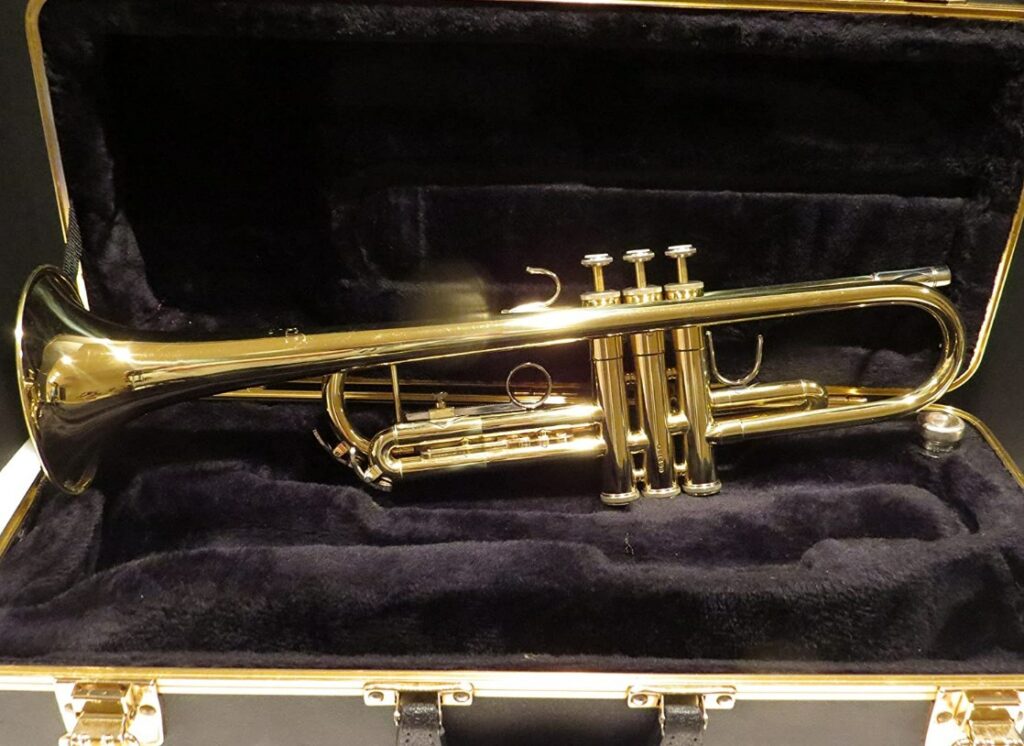 The TR300H2 model is the student model designed by Vincent Bach himself. With a .459" bore, this instrument should be easy to fill with air and make a great sound. It has a reputation for being one of the easiest student models on the market to play and one of the best all-round (although it comes with a price tag to match).
Pros:
Designed by Vincent Bach himself
Has many professional-level features such as Monel Valves
Easy to play
Capable of a good sound
Cons:
Slightly expensive compared to other student models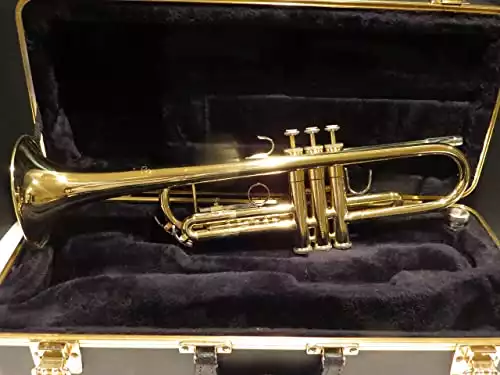 TR300H2 American Student Trumpet Outfit | Amazon
The 300 Series trumpet was designed to help the student find it easier to concentrate on making music rather than struggling with the instrument.
Buy at Amazon
We earn a commission if you make a purchase, at no additional cost to you.
11/30/2023 03:59 am GMT
Best Intermediate Trumpet: The TR200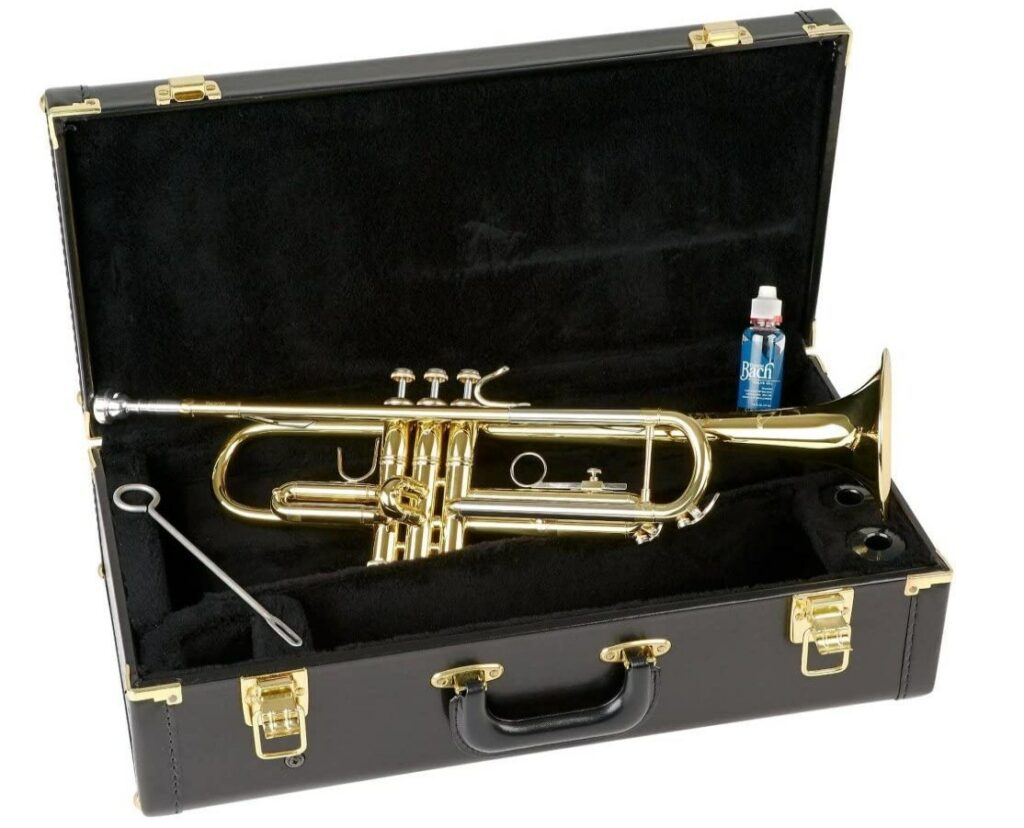 Intermediate or 'step-up' trumpets are something of a compromise, offering some of the quality features of the professional range while keeping costs low. These instruments are a good choice for someone looking for a better trumpet than their student instrument while on a budget that excludes the professional models.
Bach actually only markets one instrument as a 'step up' instrument, the TR200 Trumpet. This is a good choice of trumpet for a player looking to invest in an affordable improvement on a student trumpet.
There are a few key differences between this trumpet and the student models;
The bell
The TR200 features a hand-hammered 4-13/16″ yellow brass bell
This bell is made on a Bach mandrel and is finished off with soldered bell wire — just like the professional model trumpets
The valves
These valves are made with a Stradivarius style casing (as in the professional models) from Monel
The valve guides are made with nylon rather than plastic, which is a more durable material
The appearance
This trumpet features extensive engraving.
Available at around $2000, this trumpet is an opportunity to have some of the features of the Bach Stradivarius trumpets while not quite reaching the $3000 minimum price tag of those instruments.

Bach TR200 Intermediate Trumpet | Amazon
The TR200 Series features a .459-inch bore and 4.9-inch, two-piece bell. Both features create a trumpet with quick response, superb tone and excellent projection.
Buy at Amazon
We earn a commission if you make a purchase, at no additional cost to you.
Professional Trumpets
Onto the trumpets that Vincent Bach is most famous for, its professional trumpets. This category has by far the greatest choice, and while we'll take a look at a few of the standard options, Vincent Bach also offers the opportunity to create custom trumpets with all the features exactly how you require.
At the professional level, Bach offers trumpets in a variety of keys and for various occasions; trumpets in Bb, C, D, and Eb, as well as a fanfare trumpet and piccolo trumpet. These include the Bach Stradivarius 180 and 190 models, which come in many different varieties.
Rather than talking through all the combinations, let's first consider the most typical Bach 180 and 190 models and take a look at the main customization options. From there, it's up to you to combine these, to choose the trumpet that'll suit your playing style the most!
Bach Stradivarius 180 and 190 (typical models) Compared
Here's a comparison of some of the most common models of Bach trumpets. The C180 series trumpets are actually the most common professional orchestral trumpets in the world!
As you can see, these popular models all have similar features but vary a little in price.
| | | | | |
| --- | --- | --- | --- | --- |
| Trumpet Model | | Bach Strad 190S37 | Bach Strad C18037 | |
| Bore | .459" (Medium-Large) | .459" (Medium-Large) | .459" (Medium-Large) | .462" (Large) |
| Leadpipe | #25M | #25M | #25M | #25M |
| Bell | Hand-hammered #37 one-piece bell | Hand-hammered #37 one-piece bell | Hand-hammered #37 one-piece bell | #229 bell |
| Pistons | Monel Pistons | Monel Pistons | Monel Pistons | Monel Pistons |
| Approximate retail price (New, 2022) | Around $3,000.00 | Around $3,500.00 | Around $3,000.00 | Around $3,700 |
The main difference between the 180 and 190 is the valve construction. While the 180 uses a one-piece valve construction, the 190 uses a two-piece method, in which the bottom two-thirds of the valve casing is brass and the top third nickel. This is Vincent Bach's original valve casing method.
In terms of playing, the slight extra weight of this is considered to give the 190 a richer core sound capable of more variety of colors.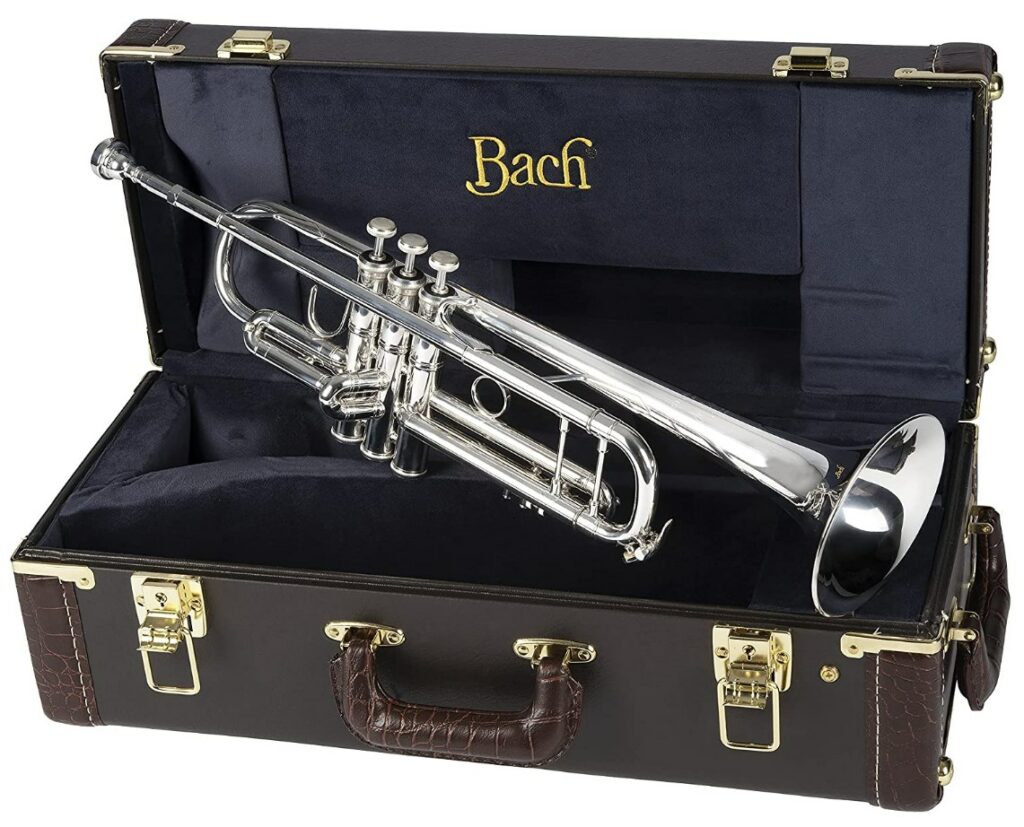 The Bach Strad 180S37 is a classic choice for orchestral trumpet players. In silver plating finish and with a #37 bell, this is a trumpet that won't look or sound at all out of place in a variety of genres, from traditional orchestral playing to jazz.
Pros:
Silver plating
#37 bell
Versatile
Cons:
Perhaps less specialized than other options – playing with the extensive Bach customization options might help you find a trumpet specifically suited to your own playing.

Bach Trumpet-Standard, Silver | Amazon
The Bach 180S37 Stradivarius Series Bb Trumpet is ideal for professional musicians. The one-piece hand-hammered #37 bell allows for the musician to produce a warm sound with optimal projection. The bell makes it possible for the trumpet to be versatile in any musical setting, classical or jazz.
Buy at Amazon
We earn a commission if you make a purchase, at no additional cost to you.
11/30/2023 07:50 am GMT

The most played C trumpet by professional orchestral musicians across the world! This trumpet is a bestseller for a reason, and its distinctive well-projected sound marks it as a great choice for orchestral musicians.
Pros:
Silver plating
L229 bell
Great projection
Characteristic sound
Cons:
Very few cons! This is a popular trumpet for a reason.
Could suit you better if customized to your own playing and preferences.

Bach Trumpet (C180SL229CC) | Amazon
Are you ready for a next-level orchestral performance? History was made in 1955 when Vincent Bach brought six C trumpets to the Chicago Symphony Orchestra. Based on those same designs, the C180SL229CC "Chicago" C Trumpet is highly recommended to professional musicians.
Buy at Amazon
We earn a commission if you make a purchase, at no additional cost to you.
11/30/2023 03:20 am GMT
Instrument material
Bach offers the option of many different materials to make each part of your trumpet from. The lead pipe and the bell are the most common aspects to change. The most common materials are yellow brass, gold brass, red brass, copper, bronze, nickel, and sterling silver.
In general, metals with higher copper content, such as gold brass, red brass, and of course, pure copper, are considered to have darker sound characteristics. Lighter metals are considered brighter and more exciting. While the default model instruments are generally made of yellow brass, if you're looking for a slightly different timbre or appearance, then changing the materials might be a good choice for you.
Bell Variations
Bach offers lots of different bell options for your trumpet. These take into account mostly three different factors; the size, the taper (how suddenly it widens at the end of the trumpet), and the construction techniques.
The number doesn't refer to the size of the bell, but instead the tool that's used to make it. In general, Bach advises that a faster taper gives a brighter sound, while a slower one creates an instrument with a warmer, mellow sound.
If you're thinking of buying a brand new Bach trumpet, try out lots of them with different bell sizes.  If you like, you can contact them to build the trumpet to your exact specifications with the bell that you prefer!
Leadpipe Variations
Although most Vincent Bach trumpets come with a #25 lead pipe, there are a few more options for you to consider. Just like with bells, these are marked by a number that indicates the tooling used to create them. In general, wider bore lead pipes are considered more free blowing. Make sure to try a few different options to nail down your preference!
One specific option is what Bach calls the 'reversed lead pipe.' This means that, where the main tuning slide would normally be inserted into the instrument, the leadpipe is instead inserted into the main tuning slide.
This decreases the resistance of the instrument, which allows air to flow openly. As the effect of this is to make the instrument have a more open, brighter feel, reversed lead pipe instruments also come in lightweight as standard. For a more thorough explanation and playing demonstration, check out this video.
The Artisan Collection
Yet another option you might like to consider when purchasing a Bach Strad is to buy from the Artisan Collection. These instruments are styled more classically, with features such as two-piece valve construction, hexagonal knobs to pull tuning slides, split ring on the tuning slide, and many more features that hark back to the original Bach Strads. You can find a great comparison between standard Bachs and the Artisan collection here.
Final Tips for Buying a Bach Strad
As with any instrument, when you think about buying one, you should try out as many options as possible. Bach can customize their instruments to you, and you can always ask their advice on what equipment they recommend as best for you!
A lot will depend on the style of playing you're doing – whether you're a lead trumpet player, classical specialist, or looking for something that can do everything. Always remember that, as these instruments are handmade, even instruments with the same designation can vary a lot, so make sure you try before you buy!
FAQs
Question: What's the first trumpet I should buy?
Answer: Buying your first trumpet is a huge step to make! If you're looking to buy a beginner trumpet, you'll need to start with a Bb trumpet. There's a huge variety of brands out there, but make sure you're choosing from a reputable dealer (i.e., a specialist music shop, definitely not an e-commerce site).
Ultimately, as long as you choose something from a reputable brand, it will be a great instrument, and as you develop your playing, you'll learn your own preferences!
Question: What's the difference between a Bb and C trumpet?
Answer: Bb and C trumpets are just pitched in a different key. In general, orchestral trumpet sections that use C trumpets play with a bright projected sound, while the Bb trumpet is a darker, mellower sound. There's also some national discrepancy; while orchestras in the USA almost always use C trumpets, in Europe (and particularly the UK), Bb trumpets are far more common.

The vast majority of students begin on the Bb trumpet, as most music is written for this instrument. Once you develop, you'll learn to transpose to be able to play on either the Bb or C trumpet as you prefer.
Question: Does the type of plating make a difference?
Answer: Many people believe that the type of finish on the instrument makes a difference to its playing characteristics. The most common types of finish are raw brass (unlacquered), lacquered, silver plated, and gold plated.
Most beginner instruments are lacquered, as this is a cheap option that protects the finish of the instrument from scratches and other blemishes. Other options may be more suitable for a higher level of player.
As with all the attributes of the Bach trumpets, try out a few of each type to make up your own mind about what you prefer!
Question: Do Bach trumpets come with a mouthpiece?
Answer: Bach beginner and intermediate model trumpets come with a Bach 7C mouthpiece as standard. Stradivarius trumpets come with a mouthpiece of your choice included if you buy it directly from Bach themselves.
Resources
There's plenty more to learn about Bach Stradivarius trumpet options! Here are some of the links that helped me the most when I was compiling this article, as well as some things that can help you learn more about the trumpet.