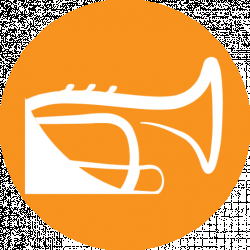 Latest posts by Brass 'n Wind Team
(see all)
The flugelhorn is a brasswind instrument, which shows many similarities with the trumpet. However, it has enough differences to be treated as a substantive instrument. However, the trumpet and flugelhorn are both tuned to Bb. They both have 3 or 4 valves and use the same fingering for the same notes.
The flugelhorn has a conical tubing and a larger bell, producing a warmer, darker, and less direct focused sound. The trumpet's bore is cylindrical, with a consistent diameter throughout the instrument. In contrast, the flugelhorn's conical bore gradually increases in size down the length of the tubing.
Flugelhorn History
Origins of Flugelhorn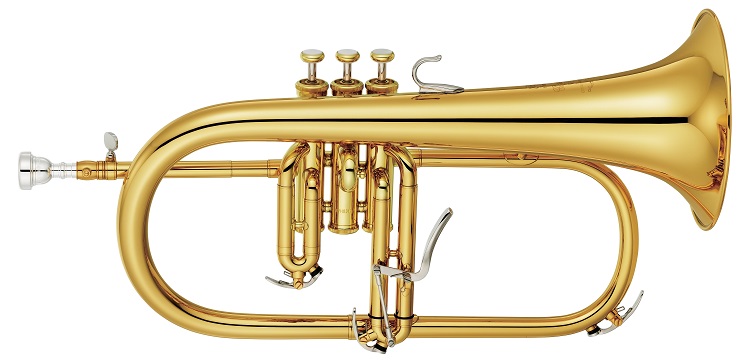 The birth of the flugelhorn happened at the same time when valves were invented at the beginning of the 19th century. Before valves were built into brass instruments, many types and forms of horns or bugles existed. From the early-mid-19th century, as valves were invented and built into horns.
The different kinds of horns owned so many characteristics that they could be treated as different instruments such as trumpets, cornets, flugelhorns, or trombones. The first flugelhorn was probably manufactured by Heinrich Stölzel (who invented his special Stölzel-valves) in Berlin in 1828.
We are also aware of a flugelhorn manufactured by Louis Müller in Lyon in 1840; however, the most similar instrument to todays' flugelhorns was built by Adolf Sax. It is important to mention that these decades are one of the most important ones in the history of brass instruments.
Jean-Baptiste Arban, brass teacher of Conservatoire in Paris, Hector Berlioz, the composer, and Adolph Sax, the inventor, were close friends. They worked together in a workshop to continuously develop, learn, and implement new ideas brass instruments.
"Berlioz was inspired by Sax's work and composed pieces to be played exclusively on the new family of brasswinds he was creating; what would become known as saxhorns.
Originally a development of a valved bugle, the saxhorn would eventually be manufactured in a number of different sizes up to and including bass saxhorns. Their intention was to pave the way for the modern flugelhorn and euphonium."
Although the flugelhorn hasn't become as popular as the trumpet or the cornet. It was used by many composers in many styles, such as in Igor Stravinsky's Threni or in Ralph Vaughan Williams's Ninth Symphony.
Fields of Use
Classical Music
The flugelhorn is a very rare instrument in classical music literature. However, there are some pieces where it has a significant role, such as in Igor Stravinsky's Threni or in Ralph Vaughan Williams's Ninth Symphony.
Sergei Nakariakov, the Russian virtuoso trumpet player, promoted flugelhorn in classical music. Since he recorded and played all concertos for trumpet, he started to make transcriptions of cello and other instrument works for the flugelhorn, which is even more virtuosic than the trumpet pieces he played before.
Marching/Military Bands
Right after the born of the flugelhorn, it became quite popular in brass bands. Since brass bands consist of only brass instruments, they need a wide scale of brass instruments to be able to provide different colors of sounds.
Based on this concept, the flugelhorn is very popular in marching, military bands such as in German/Bavarian/Alpine folk music. Below you can find a beautiful piece played by the world-famous Black Dyke Band, including a flugelhorn.
Jazz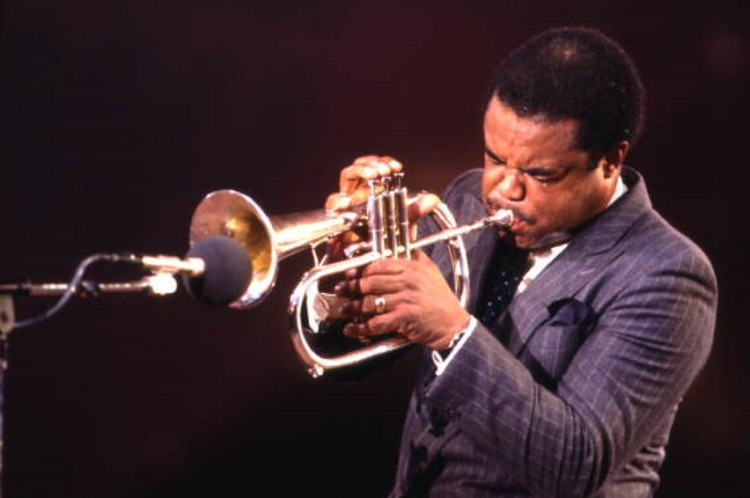 The flugelhorn has become popular in military bands from the beginning of the 19th century to give more colors to the sound of a brass/marching band. From the 1930s, the flugelhorn was also used in jazz as a solo and as a section instrument.
The first noted player who used flugelhorn in jazz was Joe Bishop, who played the instrument in 1936 in Woody Herman's band. Another remarkable big band where flugelhorn was used is the Stan Kenton Big Band.
In the 1960s, Stan Kenton tried to reflect on changes in the music industry and sought new sounds of an orchestra. This intention resulted in the birth of the instrument: the mellophonium.
"We wanted colors that, somehow the moment you hear them on record or hear them in person, you could identify, something that didn't sound like a low trumpet or a high trombone.
We experimented with some German horns, we worked with alto trumpets, we worked with flugelhorns." (Dr. William F. Lee, Stan Kenton: Artistry in Rhythm (Los Angeles: Creative Press, 1980) The Kenton orchestra hired four mellophonium players and asked the C. G. Conn manufacturer to create these special instruments.
The mellophonium section was used from 1960 to 1963 in the band. It caused many personal and musical conflicts because the most players didn't like the instrument.
The intonation was terrible, and it was deafening. This whole story led to the retirement of the mellophoniums and the regular use of the flugelhorns in big bands.
In the second half of the 20th century, it was made an iconic jazz instrument by players like Clark Terry, Freddie Hubbard, or Roy Hargrove.
Pop
From the seventies, a few jazz players were experimenting with the fusion of genres or simply switched from jazz to funk, soul, or pop, just like Donald Byrd or Miles Davis.
That's how flugelhorn got into pop music. Flugelhorn was popular in Burt Bacharach's orchestrations in the sixties. Still, one of the most iconic pop flugelhorn players in the seventies and eighties was Chuck Mangione.
Another remarkable flugelhorn solo is found in George Michael's You Have Been Loved.
Flugelhorn Characteristics
The trumpet and flugelhorn have the same tube length, and a flugelhorn is a Bb pitch instrument just like a Bb trumpet. As described earlier, the flugelhorn has a conical tubing instead of the trumpet's cylindrical tubing and a bigger bell compared to the trumpet.
These main characteristics give a warmer, darker sound to the flugelhorn and require a special mouthpiece as well. It is not impossible to play the flugelhorn with a trumpet mouthpiece (depending on the flugelhorn's receiver type).
Still, the sound profile might change, and playing is less smooth than with a flugelhorn mouthpiece. In this below comparison video, flugelhorn's and trumpet's sound characteristic differences can be heard well.
Flugelhorns basically have three valves, but some of them might have four. Due to the harmonic series literally, the trumpet has no limits in the high register (however, it is harder to play high), but to play deeper than the fundamental note is physically impossible.
To solve this issue, trumpet virtuosos like Sergei Nakariakov and Adam Rapa use 4-valve flugelhorn and trumpet. Nakariakov has already played and recorded everything written for the trumpet and decided to play cello pieces on a 4-valve instrument.
Another flugelhorn specialty is that most flugelhorns are out of tune. If you buy a more expensive (and professional instrument), tuning is more developed.
However, it won't be as perfect as a trumpet's tuning. Players have to get used to their flugelhorns and their tuning, and with time it will improve. The four-valve flugelhorns have more possibilities with alternate fingerings to get closer to the perfect pitch.
A special kind of flugelhorn is called a flumpet, which is an instrument mixing the characteristics of trumpet and flugelhorn. It was invented by Dave Monette for the jazz legend Art Farmer.
Good to Know: Flugelhorn Receiver Sizes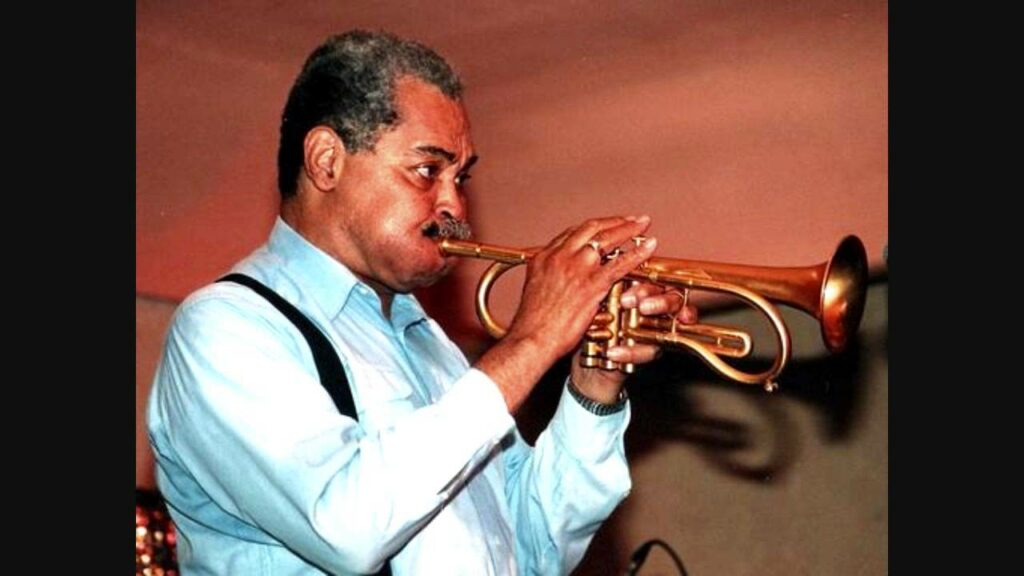 However, Bb trumpet mouthpiece receivers have the same size (except for some special Monette models). The case is much more different by flugelhorn, and that's why players have to be aware of their flugelhorn's receiver size to be able to choose the right mouthpiece shank.
The best way to confirm the proper shank for your instrument is to check with the manufacturer. However, let me include some general guidelines below.
"Flugelhorns are made with receivers designed to fit different mouthpiece tapers. Some receivers will fit more than one taper. For example, a Bach shank will fit in a French receiver, but horns will play best with the shank for which they were designed.
There is a fair bit of confusion about choosing the right shank, partly because some manufacturers use two or even three types of receiver, and some provide more than one leadpipe with their horns."
The Wedge Mouthpiece company provides a detailed description of the different flugelhorn mouthpiece tapers:
"French (No Taper)"
The outer diameter at the tip of the shank typically measures about .388 inches. Compatible with: French Besson, Couesnon, Flip Oakes, Kanstul CCF 925, 725, Miraphone.
Bach (Sometimes referred to as American) Small Morse Taper
The outer diameter at the tip of the shank typically measures about .354 to .358 inches.
B & S, Bach, R, S, Berkeley, Besson Sovereign, Courtois, Eclipse, F. E. Olds, Holton, LeBlanc, Taylor, Kanstul models 725, 1025, and newer 1525, Miraphone, Olds FE, Phaeton, Reynolds, Schilke, Selmer, Taylor.
Standard (Also sometimes referred to as American) Large Morse Taper
The outer diameter at the tip of the shank typically measures about .368 inches.
Adams, Allure, Austin Custom flugelhorns, Benge, Blessing, Calicchio, Callet, Conn Vintage One, Eclipse, Gerd Dowids, Getzen, Josef Lidl, older Kanstul 1525, King, Lawler, Miraphone , Orlando Wind Instruments, Schilke, Stomvi, Thomas Inderbinen , Weril, Yamaha.
German Taper (Very Similar to Trumpet Taper, but Slightly Larger)
The outer diameter at the tip of the shank typically measures about .386 to .390 inches.
Gerd Dowids, some other German rotary flugelhorns. Our trumpet taper shank will work well in most German rotary flugelhorns."
Some manufacturers (Josef Klier, Denis Wick, Arnolds & sons) also offer special adapters for flugelhorn mouthpieces, which help larger mouthpiece receivers to adapt smaller mouthpiece shanks.

Flugelhorn Types
Tuning
As already mentioned, flugelhorns are generally Bb pitched instruments and have 3 and 4-valved versions. Some flugelhorns are in the key of C, but that's very rare.
Valves
Rotary Valves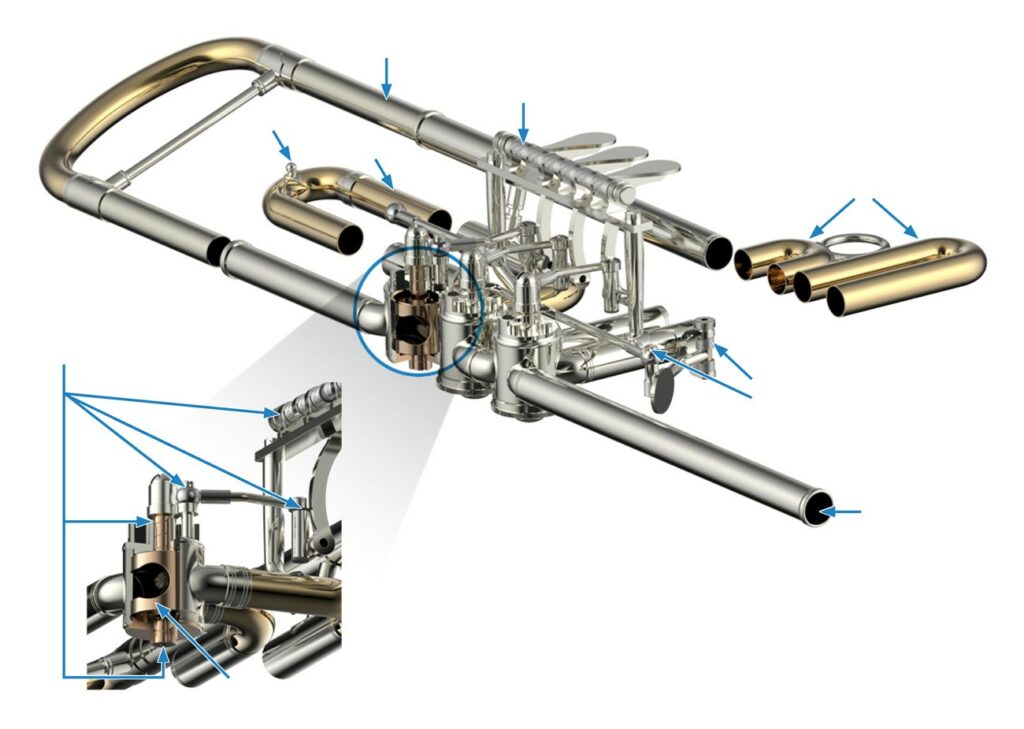 The rotary valve was invented in 1832 by Joseph Riedl, which construction is still in use mainly in Austria and Germany. Flugelhorns for bavarian music or brass bands in these countries are quite popular.
Piston Valves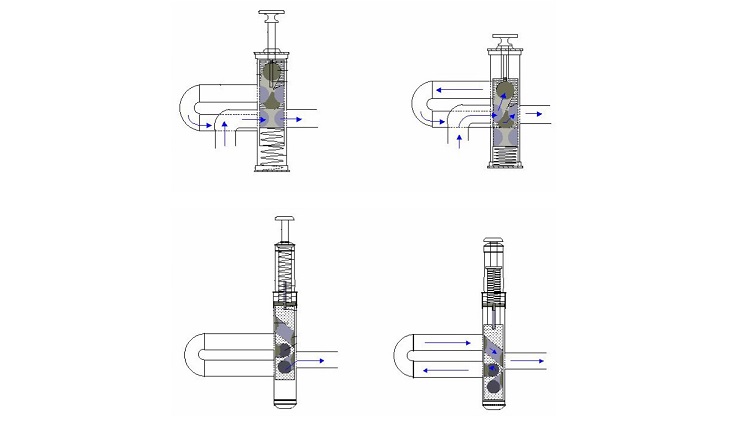 The other type, the so-called Périnet-valve (or piston valve), was invented by Francois Périnet in 1839 in Paris. (The first valve was probably manufactured by Charles Clagget in 1788, but none of his instruments survived, so there is no confident evidence for the existence of his valved trumpets).
This valve type is more common for flugelhorns.
Slides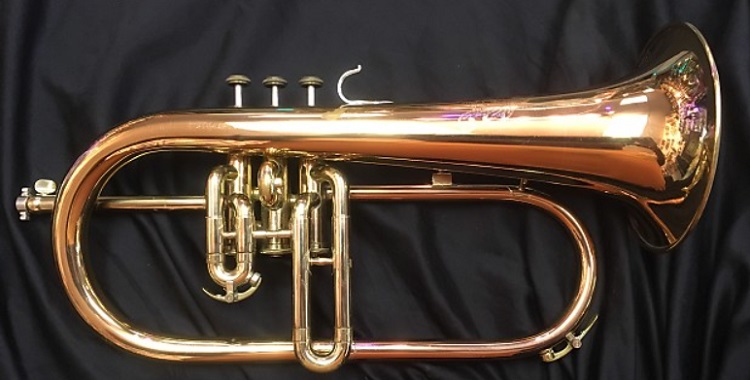 Trumpet-Like Slides
Some flugelhorn manufacturers (usually cheap flugelhorn makers) use the same slide system as the one being made for trumpets. This way, the first and third valve slides are straight and not bent.
These flugelhorns often have a more trumpet-like sound, but you might find some receptions just like the Olds flugelhorn in the below picture.
Bent Slides
As clearly seen in the below picture, most flugelhorns' first and third valve slides are bent, which helps make the flugelhorns sound more round and mellow. This type of slides also make it easier and more comfortable to hold the instruments. At the same time, some trumpet-like-slide flugelhorns can be really uncomfortable.
Aspects of Choice
A thumb rule for choosing a flugelhorn is to get the nicest sound out of the horn as effortless as possible (and preferably clear as possible).
A general rule about flugelhorns is that the player has to make a commitment between different attributes such as sound, ease of playing, loudness.
The most important aspect is the sound. You have the possibility to use alternate fingerings and modify tuning with your embouchure, but the sound is hard to modify. It's a little bit more complex than that because the sounds depend on the player and the instrument.
Great players can produce a sound close to their desired one on every instrument, but that may not be perfect and would need a lot of effort. A good example of playing different sounds with the same equipment is Arturo Sandoval's tutorial on sound:
However, Mr. Sandoval is absolutely right that sound is rather a concept in our head and ears than in the instrument. The physical characteristics of the instrument are very important as well.
And Mr. Sandoval often uses two different types of trumpets in his concerts: one with a darker, mellower sound and one with a brighter sound. So even if the Maestro can demonstrate different sounds on the same instrument, he knows that the perfect choice of instrument for the appropriate sound is essential.
We are now aware of the importance of sound. We should now make the decision of what sound do we require? To decide this, first, we should be aware of what kind of music we want to play.
There are no strict rules of sound and style pairings, but there are some recommendations and traditions which we should be aware of.
Fields of use: jazz, classical, all-round, section playing, solo, brass band,
Music Genres
Jazz
In jazz, you'll play flugelhorn as a solo and as a section instrument as well. If you are using it for solo or improvisation, the darker, mellower sound is preferable by many players.
These rules are always arguable since most flugelhorn players have their own sound, and some of them are brighter, just like Bobby Shews. At the same time, some of them are extremely dark, just like Arturo Sandoval's sound.
When you choose, you have to be aware that the darker the sound, the harder it is to play the instrument and the harder it is to blow it loud and high. (The flugelhorn is basically not created to play it loud, and players have to take care of not overblowing it because that can ruin the nice sound.)
However, if you use it for solo purposes, you'll probably play to a microphone, which can solve the volume problems. If you use it for improvisation, you don't necessarily have to play high, or you can decide when to play high, so easy playing is not the most important aspect in this case.
However, when you play in a big band as a section player, there's a chance that you won't get a mic, and you might have to play high and loud as well.
A special case is when you are a soloist in a big band (generally the second trumpet player), and you have to do both solo and section work. In this case, the so-called overall type of flugelhorns can work fine.
Classical
in classical music, it is more common that players play in sections, but sometimes they do solo works as well. The really dark, airy "fluffy" sound in classical music is usually not the desired one. In classical music, playing in tune is the first priority.
Most classical flugelhorn players choose a brighter-sounded instrument. In the famous recording of Concierto d'Aranjuez in the movie Brassed Off, or in Otto Sauters Ten of the Best, you can hear the flugelhorns are playing the moving lines in a mellow but brighter sound.
Pop, Latin
In pop music, flugelhorn is often expected to play on a brighter sound and sometimes even high notes just like in the below solo, where flugelhorn sounds like a darker sounded trumpet. So for this purpose, a lightweight flugelhorn is much more practical.
Brass Band
In brass bands, flugelhorns often have to play the lead melody, so it requires some high notes and endurance and generally a brighter sound.
Special kind of brass bands like traditional bavarian bands or Anglo-Saxon bands created their unique sounds, and sometimes they require special instruments like the rotary-valved flugelhorn for traditional German brass bands.
So, before choosing the right instrument for yourself, you have to be aware of what kind of music you will play the most and which factors are the most important for that music: darker or brighter sound? Ease of playing, high notes, or technicality?
Fortunately, there are many different manufacturers and types of flugelhorns. Some of them are specialized in appropriate fields. At the same time, some all-round instruments are also available, which try to provide a solution for various musical purposes.
Remarkable Flugelhorn Brands and Models
If we are aware of the purposes we will use our flugelhorn, it's worth knowing a few famous brands and types as a starting point. I will use the following page for this, where a great collection of player and instrument combinations can be found here.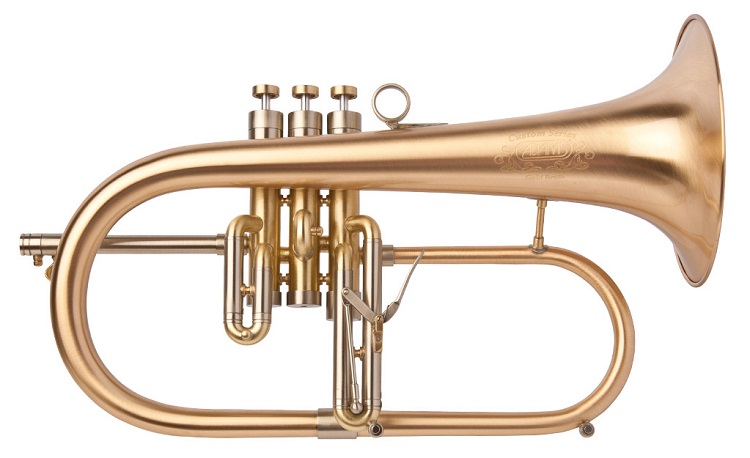 Adams is a Belgium- and Netherland-based instrument manufacturer founded in the 1970s. They make percussions and brass instruments as well. They have produced flugelhorns since 2008. They offer 6 different flugelhorns, 5 professional ones (the F-series), and an intermediate one (Sonic).
In their professional range, they offer 3- and 4-button versions, heavy and lightweight versions as well. Their F1 all-round flugelhorn is quite a popular one. It can be used for many purposes like pop, jazz, classical, solo, or section playing.
Some famous players own Adams flugelhorns like Christian Scott, Michael' Patches' Stewart, Joey DeFrancesco, Frank Greene, or the classical virtuoso, Tamas Palfalvi. Adams flugelhorns are also popular in symphonic orchestras and brass bands.
Adams Flugelhorns | Woodwind & Brasswind
An absolute all-around flugelhorn suitable for every type of player and styles of music. Shop and save on our amazing selection of Adams Flugelhorns at The Woodwind & Brasswind.
Check Prices
We earn a commission if you make a purchase, at no additional cost to you.
Bach is one of the most remarkable and traditional brass instrument manufacturers producing mouthpieces and instruments since 1918. Vincent Bach's original flugelhorn design can be traced back to 1932 with serial number 1002.
These original flugelhorn designs were produced up through 1981 when they were retired in favor of the new contemporary design of the model 183 flugelhorn. These flugelhorns offer in-tune playing, a brighter sound, and balanced performance in all registers.
Bach 183 flugelhorns are usually used by classical players, but you can find some jazz players. Be aware that the Bach FH flugelhorn series is a cheap line with lower quality than the original top-line 183 series.
Besson
Besson is a French manufacturer founded in 1837. Many famous jazz soloists chose Besson flugelhorns due to their dark, fluffy sound, such as Chet Baker, Guido Basso, Art Farmer, and Marvin Stamm. Besson doesn't produce flugelhorns anymore, so if you are looking for one, you need to purchase an old, used one.
B&S is a German company making a variety of different wind instruments. Their Challenger series is used in symphonic orchestras and brass bands and by the acknowledged classical player Malcolm McNab. It's worth knowing that B&S produces one of the best high-quality rotary flugelhorns as well.
"C.G. Conn brings back old-world craftsmanship in the Vintage One series. Developed over a period of a year and a half with input from forty professional players around the world, the Vintage One flugelhorn is both elegant in design and warm and rich in sonority.
Combining the research of classic design and the precision of modern technology, Vintage One is the ultimate in flugelhorn performance." https://www.conn-selmer.com/ This model is beloved by jazz section players such as John Harmer (Stan Kenton's lead player) or Bob Hunt.
Alongside Besson, Couesnon flugelhorns are one of the most popular instruments among jazz solo players.
Donald Byrd, Art Farmer, Tom Harrell, Eddie Henderson, Freddie Hubbard, Roger Ingram, Bill Ortiz, Shorty Rogers played on old, vintage Couesnon models. Some may be hard to play in tune with, but they offer a very dark, fluffy, jazzy sound.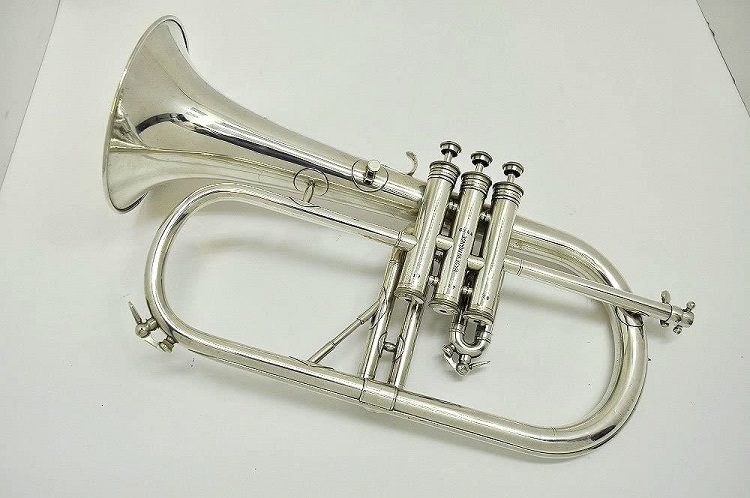 Courtois flugelhorns are played mainly by classical players such as Sergei Nakariakov, Edward H. Tarr. They have small but bright sounds with absolute clear tonality.
Courtois Bb Flugelhorn | Ebay
Great deals on Courtois Flugelhorns. It's a great time to upgrade your home music studio gear with the largest selection at eBay.com.
Check Prices
We earn a commission if you make a purchase, at no additional cost to you.
Freddie Hubbard made the Getzen Eterna model famous. It has a dark, smokey, jazzy sound but gives scope for virtuoso playing and for a quite huge sound. Some used models may be harmed by red rots.
Hub Van Laar
Hub van Laar founded his company in 1990 in Margraten, near Maastricht, on the border triangle to the Netherlands, Germany, and Belgium. Van Laar flugelhorns combine the old, popular French models' dark, fluffy sound with modern requirements such as virtuosity and very clear tonality.
These flugelhorns as used by top-line trumpeters such as Bob Findley, Chuck Findley, Arturo Sandoval, and Ibrahim Maalouf.
Jupiter XO Professional Bb Flugelhorn | Amazon
The 1646 flugelhorn is designed around a .413" bore, a yellow brass body, and a beautifully tapered, handcrafted 6" bell for a focused yet gentle, warm timbre.
Buy at Amazon
We earn a commission if you make a purchase, at no additional cost to you.
Jupiter XO is Jupiter's top series. This flugelhorn model was developed with the help of Roger Ingram and is used by jazz soloists and section players such as Anders Bergcrantz.
Kanstul 1525 Series Bb Flugelhorn | Guitar Center
The Kanstul 1525 is designed to exceed the expectations of the most exacting professional artist. The rich, mellow sound of the 6-1/2-inch, one-piece, hand hammered copper bell makes this instrument ideal for jazz and all-around use.
Check Price
We earn a commission if you make a purchase, at no additional cost to you.
Kanstul makes high-quality instruments. Their flugelhorns are often used by jazz players, who prefer warm and mellow, but not dark sounds like Herb Alpert, Art Farmer, Arturo Sandoval, Doc Severinsen, or Marcus Stockhausen.
Olds
Clark Terry played an important role in making flugelhorn acknowledged and popular in jazz music. His playing was very virtuoso, clear, precise, and musical. He had his own Clark Terry model of an Olds flugelhorn. This model is still very popular in jazz. It provides a mellow but not dark sound.
Some other Olds Models, such as the Super Martin, are also popular by players like Miles Davis or Blue Mitchell. Still, cheaper models are quite good as well.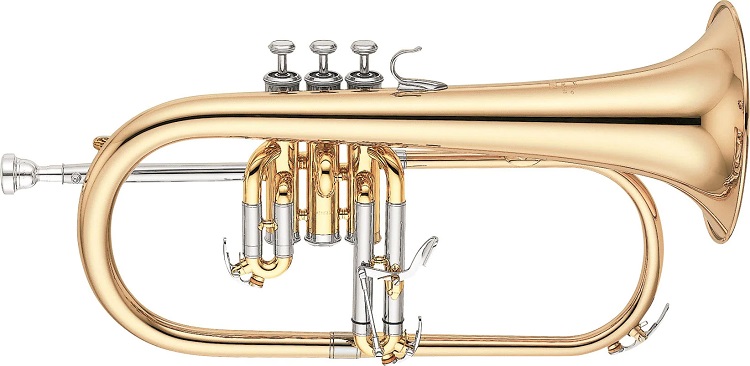 Yamaha provides the highest range of flugelhorns for many fields such as jazz, classical, beginners, and professionals.
Yamaha's jazz flugelhorns (for example 6310) are not like the dark and smokey-sounded old French ones, but they offer clear tonality and mellow sounds, that's why they are used by artists such as Bobby Shew, Till Brönner, while other models are proper instruments for classical music and are used by artists like Jens Lindemann, Rex Richardson, Michael Sachs (731), Marcus Stockhausen, Allen Vizzutti (635), or Ryan Anthony (231).
Yamaha YFH-631G Series Bb Flugelhorn | Amazon
The Yamaha 631G features a gold brass bell for a rich, dark sound that players are looking for in a jazz instrument. The Yamaha YFH631G Flugelhorn includes a case and mouthpiece.
Buy at Amazon
We earn a commission if you make a purchase, at no additional cost to you.
09/24/2023 12:04 am GMT
I hope this summary provided a picture covering many musical fields and purposes. The above-listed instrument pairings with musical styles are not strict rules, but I think we can get some intentions based on our musical heroes' choices.
FAQ
Question: Is Flugelhorn the Same as a Trumpet?
Answer: No, they are two separate instruments. However, they have a lot in common such as tuning, the same fingering combination, and a similar technique for playing. Although they are very similar and every trumpet player can play on the flugelhorn without any former education.
If someone wants to play this instrument professionally, they have to practice it separately from the trumpet as they have nuanced differences, which the player has to get used to.
Question: Are Cheap Flugelhorns Worth Buying?
Answer: It's quite a complex question. Some companies offer cheap flugelhorns, which are in tune. Their sound is not trumpet-like, which are the most important attributes of a flugelhorn. However, the sound of a cheap flugelhorn will never be as good (warm, mellow, musical) as professional instruments.
On the other hand, some cheap flugelhorns can be out of tune, have terrible sound, and can have bad mechanics. So before buying one, please try them out and dive deep into forums for durability experiences.
Question: Should I Buy a New or a Used Flugelhorn?
Answer: It depends on many attributes. Used but professional instruments are usually long-lasting and offer easy playing, nice sound, and in-tune playing. Some players think that buying a used professional instrument is more reasonable than buying a cheap new one.
Question: What Mouthpiece Should I Choose for My Flugelhorn?
Answer: The three main attributes of choosing the right mouthpiece are the flugelhorns receiver type (French, Small Morse, Large Morse, and German Taper), the type of music to be played, and the player's own qualities.
The deeper the mouthpiece is, the darker the sound is, but the harder it is to play high and effortless.
Looking for more interesting articles? Check out: