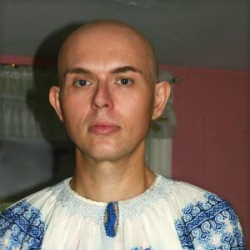 Latest posts by Kenaz Filan
(see all)
Yamaha is the world's largest manufacturer of musical instruments, and Yamaha trumpets are found in clubs, conservatories, and orchestras worldwide. Yamaha trumpets are highly qualified for their reliability and sound. But what is the best Yamaha trumpet for you?
Yamaha's trumpet line ranges from their Student models to Professional and Custom trumpets designed with professional musicians. Musicians can choose between 19 B♭trumpets and many trumpets in other keys. 
Figuring out which is right for you can be challenging, which is why I'm here to offer you pointers on picking the Yamaha trumpet that suits your needs.
At a Glance: Best Yamaha Trumpet Options
| Product Image | Primary Rating / Price | Primary Button |
| --- | --- | --- |
| | | |
| | | |
| | | |
| | | |
| | | |
How I Choose the Best Yamaha Trumpet Options
The trumpet is the most popular brass instrument, and there are trumpets built for every level of player and every genre of music. While some trumpet manufacturers concentrate on the student market and others focus on high-end trumpets for serious musicians, Yamaha offers a variety of high-quality trumpets suited to different uses.
I have tried to point out the trumpet features most suited to various music genres so that you can make your choice based on your playing and performing needs. Professional trumpets are suitable for any genre of music because professional musicians frequently find themselves playing different genres.   
A professional trumpeter could make any of the instruments on this list sound fantastic. But professional trumpeters also want the best trumpet for their particular needs. You can certainly play orchestral music on a jazz trumpet and vice versa. Studio musicians might find themselves playing on anything from country to chamber music.  

Professional trumpeters can get great sound out of just about any trumpet. They know how to adjust their embouchure and blowing to correct off-key tones and compensate for less-than-ideal valve action. A beginning trumpeter has yet to master these skills. Hence, trumpet students must start with the best trumpet they can afford.
You can get a cheap trumpet online for 10% of what a YTR-2330 will cost you. But you will soon discover that you get what you pay for. Used YTR-2330s are widely available, YTR-2330 rentals are. A decent trumpet saves students the frustration of dealing with stuck valves and poor intonation and encourages them to continue practicing.
Durability is an important concern with student trumpets. Young players frequently drop their instruments and neglect needed care like oiling and cleaning. The YTR-2330 is, for the most part, built like a tank. Some players note that the Yamaha softer brass uses on its trumpets gives them a great tone but makes them more susceptible to teeth than some cheaper instruments. 
Give beginning trumpet players to Yamaha professional trumpet, and it will sound in their hands very much like Yamaha student instrument. Give an advanced trumpet player both models, and you will hear a difference immediately. But the YTR-2330 will provide beginners with solid, dependable performance until they reach a level where they will benefit from an upgrade.
While the YTR-2330 lacks some of the features found on higher-end models, it will still serve as an excellent backup and practice horn. The YTR-2330 may not be the best tool for an orchestral pit, but it is certainly more than adequate for the task in a pinch.  
Yamaha YTR-2330 Standard Bb Trumpet Bb Trumpet | Woodwind & Brasswind
The Yamaha YTR-2330 Standard Bb trumpet is the instrument that has assisted in the development of thousands of trumpeters all over the world. The two-piece bell of the YTR-2330 Standard is crafted using state-of-the-art production methods, delivering a consistent, vibrant tone.
Check Price
We earn a commission if you make a purchase, at no additional cost to you.
Pros
Best student trumpet on the market

Will work as a practice/backup trumpet even after you upgrade

excellent resale value
Cons
Softer brass means you will need to take good care of your instrument
Key

: B♭

Bell

: Two-piece, yellow brass

Bell Diameter:

123mm (4⅞ in")

Leadpipe:

Gold Brass

Bore Size

: 11.65mm (0.459") 

Weight

: Medium

Finish

: Gold lacquer (also available silver-plated)

Pistons/ Valves:

Monel alloy

Key Buttons

: Plastic

Mouthpiece

: TR-11B4

Case

: Included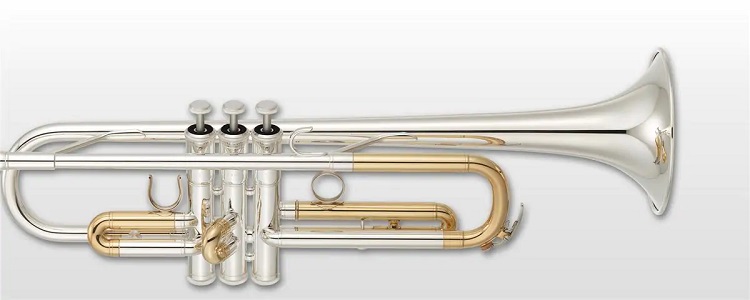 In the early 1930s, mariachi was played with a harp. But harps were difficult to record on the technology of the time. Frustrated mariachi bands added trumpets to make sure their music could be heard on wax. Today trumpet melodies are an integral part of mariachi, and most mariachi bands include two or even three trumpets.
The YTR-5330MRC has a longer tuning slide which supports a greater tuning range for outdoor performances. Its silver plating produces a crisp, lively sound that is well suited to mariachi melodies. And its 2nd and 3rd valves have caps that can alter the instrument's resistance and tone to the trumpeter's personal preference. 
The contrasting yellow brass bell and silver piping make the 5330MRC a showpiece that will attract an audience's attention even before you start playing. And the 5330MRC has the same reverse leadpipe as the YTR-8310Z (listed below).
Though this trumpet was built with mariachi players in mind, jazz performers and classical soloists will enjoy the 5330MRC's projection and clarity. And while Yamaha markets the YTR-5330MRC as an Intermediate level trumpet, it has many of the features found on Yamaha's professional models.  
The YTR-5330MRC will work well in mariachi and marching bands but can also be played in ensembles. Just because you can play it loud doesn't mean you must. The 5330MC is a versatile instrument and one that might well serve you through your professional career.
Pros
Many musicians say Yamaha's intermediate line offers the best price/value ratio.

YTR-5330MRC has many features found in Yamaha's Professional and Xeno lines

Trumpet showpiece that is impossible to miss on stage.
Cons
Impossible to miss on stage, but it might stand out like a sore thumb in an ensemble.
Key

: B♭

Bell

: Two-piece, yellow brass

Bell Diameter:

123mm (4⅞ in")

Bore Size

: 11.65mm (0.459") 

Weight

: Medium

Finish

: Silver plated (tuning slides in yellow brass)

Mouthpiece

: TR-11B4

Case

: Included 
Best Yamaha Professional Trumpet: Yamaha YTR-6345G

When musicians describe the sound of the YTR-6345G, they frequently use words like "lush" and "warm," with comments about the brilliant upper register. Yamaha designed this trumpet to work in just about any professional setting.  
The YTR-6345 G's wide bore makes it easy to play. Trumpets who prefer more resistance can get the slightly narrower but otherwise identical 6335. The 6345 G's valves are tightly machined to avoid leaks and improve the tone. This makes for a better sound and means you need to keep your YTR-6345G maintained to avoid sticking.  
The 6345G is widely used in conservatories and orchestras, and even earlier versions retain a high resale value. If you decide to upgrade later, you will have little difficulty selling your well-maintained instrument for a good price. If you want to hold on to your 6345G, you can rest assured it will serve you well throughout your career.
Yamaha is known for consistency: its instruments are made to exact standards and show less variation than many competitors. This means trumpets buying a 6345G sight unseen can be confident that their 6345G will sound and play like the one they tried at a friend's house. 
While Yamaha's student line is pricier than many competitors, its intermediate and professional lines are known for their high quality/value ratio. The YTR-6345G will hold its own, with trumpets costing ten times as much. As it befits a professional instrument, it gets the job done.
Yamaha YTR-6335 Series Bb Trumpet Lacquer | Musician's Friend
The 6335 Series is a perfect professional instrument for experienced players. The 6335 features a .459-inch bore plus a one-piece 4.8-inch yellow brass bell for superior response and tone. A great choice for concert or jazz work.
Check Price
We earn a commission if you make a purchase, at no additional cost to you.
Pros
Great price to quality ratio

wonderful tone and easy action

Incorporates many features from Yamaha's professional line
Cons
Tightly-machined valves need regular care and maintenance to avoid sticking 
Key

: B♭

Bell

: Gold brass, one-piece

Bell Diameter:

123mm (4⅞ in")

Leadpipe:

Gold Brass

Body Material

: Yellow Brass

Bore Size

: 11.47mm (0.462″) 

Weight

: Medium

Key Buttons

: Mother of Pearl

Finish

: Gold epoxy lacquer (YTR-6345G);

Silver (YTR-6345GS)

Pistons/Valves

: Monel

Mouthpiece

: 14B4

Case

: Included

Jazz trumpeter Bobby Shew became famous for the "trumpet tweak" that involved widening the taper of the leadpipe. When Yamaha hired him as a consultant, Shew added that feature to his YTR-8310Z. The step bore used in the 8310Z provides a faster air stream that offers better response, articulation, and timbre.
The 8310Z has a two-piece valve casing instead of the more traditional one-piece. This helps provide better playing resistance and added depth to the tone. And its French-bead bell rim gives you better projection and provides better feedback.  
The SHEW-JAZZ mouthpiece, which comes with the 8310Z, has a deep and large cup that provides a warm sound, with a tapered throat that helps players keep control and keep up with the fastest bebop changes.  
The 8310's TRC-810E case comes with a backpack strap and a shoulder strap to ensure you can safely and comfortably transport your horn. Its lighter weight will make playing easy: its sound will make playing a joy.
With the 8310Z, you will be able to play Chet Baker ballads, then reach for the stratosphere with some Dizzy Gillespie hot licks. Simply owning an 8310Z won't make you a great jazz trumpeter. But if you are already a very good player, the 8310Z will make you sound your best.
Here's trumpet designer and jazz musician Bobby Shew playing his Yamaha 8310Z.
Pros
Designed by a working jazz musician for working jazz musicians

Warm enough for ballads, fast enough for hard bop

SHEW-JAZZ mouthpiece and step bore make the 8310Z a joy to play 
Cons
Some players find the stepped bore and resistance too tight
Key

: B♭

Bell

: One-piece, Yellow brass

Bell Diameter:

127mm (5″)

Body Material

: Yellow Brass

Bore Size

: Step bore 11.3mm (0.445″)

Weight

: Light

Finish

: Gold lacquer (YTR-8310G);

Silver-plated (YTR-8310GS)

Pistons/Valves

: Monel

Mouthpiece

: SHEW-JAZZ

Case

: Included
Best Yamaha Orchestral Trumpet: Yamaha YTR-9335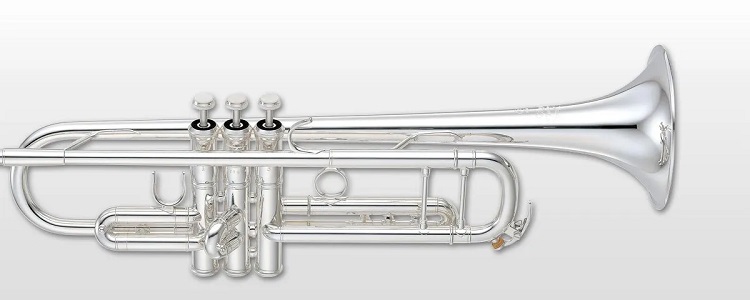 The YTR-9335 features valve casings and lightweight pistons inspired by vintage trumpets. These offer better performance and greater clarity through complicated passages. The 12cm silicone rubber slide stopper holds the first and third valve slides in place and can remain attached during a performance.  
Brass instrument artisan Bob Malone designed the YTR-9335's leadpipe. The Malone Pipe™ offers a rich, brilliant tone with superb projection. The Malone Pipe is thicker than most leadpipes and has a lighter mouthpiece receiver that gives an excellent response and provides ideal blowing resistance.  
The YTR-9335's hand-hammered bell is narrowed near the valve casing. The square-cornered bell bow provides more balanced resistance and better playability in the upper registers. And a square main tuning slide gives the 9335 superb tone and playability. The water key is sealed with a rubber/cork blend that resists deterioration. 
Because professional trumpeters differ in their preferences, Yamaha offers two versions of the YTR-9335.  
The "Chicago" model, the YTR-9335CHS, was designed in consultation with trumpeter John Hagstrom. The 9335CHS features a specially braced first valve slide and an extended 3rd valve slide stopper that helps maintain an accurate low B♭. It also places the tuning slide brace in a position that allows performers to play their B♭trumpet as a C trumpet. 
The "New York" model, the YTR-9335NYS, was designed in consultation with trumpets Robert Sullivan and David Bilger.   The 9335NYS has a more open leadpipe than the CHS, and the tuning slide is shorter more square, and conventionally positioned. The NYS provides slightly more resistance to the player, which some musicians favor.
While the YTR-9335 is aimed at professional orchestral musicians, advanced amateurs, and serious students will be thrilled with its intonation and playability.  
Pros
The last trumpet a serious orchestral musician will ever need

Two models to fit your personal tastes and professional needs

The best orchestral trumpet Yamaha has ever made
Cons
Yamaha YTR-9335 Specs
Key

: B♭

Bell

: One-piece, Yellow brass

Bell Diameter:

123 mm (4′")

Body Material

: Yellow Brass

Bore Size

: 11.65mm (0.459)

Weigh

t: Heavy

Finish

: Silver-plated 

Mouthpiece

: TR-17B4

Case

: Included
Frequently Asked Questions
Here are some frequently asked questions about the trumpet.
Question: Is the Trumpet a Difficult Instrument to Learn?
Answer: The trumpet can be a difficult instrument to learn at first. Getting the embouchure right and learning how to produce notes on a brass instrument can take some time. It will take even more practice before you learn how to get a strong, consistent sound out of your trumpet. But once you learn trumpet, you can use trumpet fingerings on any other brass valve instrument. Trumpets are lighter than most other brass instruments, and a very young student will have an easier time playing the trumpet than a tuba or trombone. And the skills that children master on trumpet will make it easy for them to switch to bigger brass instruments as their bodies grow.
Question: What Key is a Trumpet in? 
Answer: Most trumpets are in the key of B♭, but many orchestras use C trumpets, and some baroque pieces call for trumpets in F or G. Yamaha makes trumpets in B♭, C, and E♭as well as trumpets which, with bell and slide changes, can play in both E/E♭, E♭/D, or G/F. While many musicians own multiple trumpets, professional trumpeters can sight-transpose between music written for different keys and often do so to save time and the hassle of lugging around extra equipment. 
Question: What is Trumpet's Range?
Answer: The range of a C trumpet is from F♯3 to D6. A trumpet will play that same line a step lower (E3 to C6). Using their embouchure, trumpeters can squeeze out higher notes. Most professional trumpeters can reliably play an F6 or G6. Maynard Ferguson's performance of Bill Russo's Titans Symphony featured a sustained C7, a step below the flute's highest note. To hear just how high a world-class trumpeter can blow, here's the 4th movement of Bill Russian's Titans Symphony  (Leonard Bernstein, conductor), with Maynard Ferguson on lead trumpet.
Trumpets can also use their embouchure to produce notes below E3. These pedal notes are produced by lowering your tongue, opening your throat, and blowing slowly to produce the first fundamental of the trumpet's chromatic series. A good trumpeter can get as low as F#2 (sounded as E2).
Conclusion
So what's the best Yamaha trumpet? It depends on your needs.
The YTR-2330 is not just the best Yamaha trumpet for students but arguably the finest student trumpet available. It will make beginners sound their best. That "best" may not be very impressive at first, but it will encourage continuing study and practice so that their best can sound mighty good!
The YTR-6345 will be the best Yamaha trumpet for most trumpet looking to upgrade their student instruments. While it is a big investment, the YTR-6345 will hold its value, serves you throughout your amateur and professional career, and is well suited for multiple genres of music.
The YTR-5330MRC is the best Yamaha trumpet for Latin and Mariachi music. And even trumpeters in other genres might find the YTR-5330MRC's stylish looks and penetrating tone are just what they need to take their trumpet performance to the next level.
The YTR-8310Z is Yamaha's best jazz trumpet. Designed by a working jazz musician, the YTR-8310Z is the perfect tool for everything from Afrobeat to World Music, from chamber jazz to swing bands, from Dixieland to Fusion. Its lightweight and balance will make those long hours of practice a joy – or at least more bearable.
Classical musicians will find the YTR-9335 to be Yamaha's best classical trumpet. Because "classical" covers everything from Scarlatti to Schoenberg, classical trumpet players have different needs. The YTR-9335 will handle them all. And because classical musicians have differing preferences in their instruments, the YTR-9335 lets you choose between two superb models.
Before you choose a trumpet, do your research. Check with fellow trumpeters in your area and online to hear their thoughts. Try your new instrument out before you buy: since Yamaha instruments are widely available, you should have little trouble finding a store that has your chosen trumpet in stock. Whatever trumpet you choose, you won't go wrong buying a Yamaha.
| Product Image | Primary Rating / Price | Primary Button |
| --- | --- | --- |
| | | |
| | | |
| | | |
| | | |
| | | |