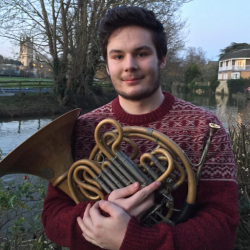 Latest posts by Myrddin Rees
(see all)
Everyone has their favorite musicians! Most can rattle off a whole list of bands at will. But how well do you know your trumpet players? Here at Brass N' Wind, we've got your back and have compiled a list of some of the greatest trumpet players of all time!
What is a Trumpet?
The trumpet is a pretty old instrument, with similar instruments existing from as far back as the Roman period or even being discovered in Tutankhamun's tomb, dating back over 3000 years!
Modern trumpets look and sound pretty different from that kind of instrument, though. While trumpets were initially just one straight tube of metal (so restricted to the notes of the harmonic series), today, they also have valves so play completely chromatically.
These developments have meant that today trumpets can play in a huge range of styles, from classical music to jazz, film scores, and pretty much any genre you can think of!
So who are the greatest trumpet players out there? Keep reading to find out how and who I picked as my favorite players of all time!
How I Chose My Favorite Players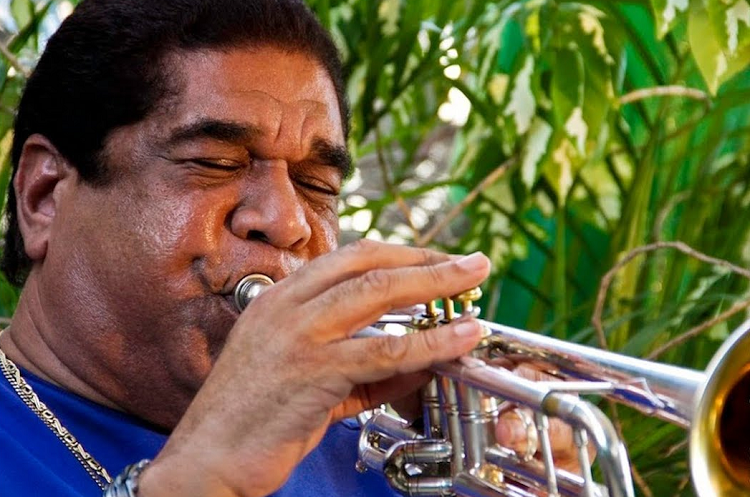 With so many fantastic trumpet players out there, it was a little tricky to choose who to put on a list of the best! In the end, though, I had to choose, so I gave myself three main criteria; sound, technique, and how influential they were (or, in some cases, still are!).
Sound
Some trumpet players are instantly recognizable as soon as you hear them play a note. Whether that's Miles Davis' smooth, airy tone or Maynard Ferguson's screaming high notes, it's something that can set a great player apart from the rest.
Technique
Particularly in the classical genre, some musicians have a technique and virtuosity that seems to let them play almost anything. These artists tend to have careers as soloists across the world, such as Sergei Nakarakov or Tine-Ting Helseth.
Influence
Everyone has their heroes, and trumpet players are no different. Some players are so good that they set the standard for other players to aspire to be. Some of the musicians on this list even go beyond that and have become household names or affected the sound of whole genres of music!
The Top Trumpet Players of All Time
Without further ado, let's get stuck into my list of who I think are some of the best trumpet players you can listen to. My list is by no means exhaustive, and I'm almost sure that I will have shamefully forgotten some all-time greats.
I've split the players into a few categories; classical soloists, jazz trumpeters, lead trumpeters, and orchestral players. Whatever your preference of trumpet genre, hopefully, I've included a couple of icons that you'll appreciate!
Classical Soloists
While they're not often big names in the same way as jazz trumpeters, there are a whole load of classical soloists out there who have been both prolific and influential in their output. The greatest soloists have inspired composers to write music for them, which developed the orchestral trumpet repertoire.
This, in turn, made more work for more soloists, so those more recent players owe a lot to the older soloists on the list! For this reason, I've put these musicians in chronological order.
Maurice Andre (1933-2012)
Maurice Andre is perhaps the most famous French trumpeter of all time. Particularly renowned for his piccolo trumpet playing, he inspired many of the 20th Century's most important pieces of trumpet repertoire.
By the time of his death, Maurice had made over 300 recordings, as well as winning the Geneva International Music Competition and ARD contest, two of classical music's most prestigious prizes.
My choice of recording: Maurice's rendition of the Marcello Trumpet Concerto is a great place to hear his lyrical virtuosity on the piccolo trumpet.
Hakan Hardenberger (1961 – )
Hakan Hardenberger is a modern-day legend, particularly well known as a specialist of contemporary classical repertoire but versatile enough to play across the entire trumpet repertoire. Some of classical music's most well-known living composers have written compositions for him, including Harrison Birtwistle, Arvo Part, and Mark-Anthony Turnage.
Born in 1961 in Malmo, Sweden, Hardenberger studied in Paris and Los Angeles before embarking on his stellar career. He has recorded many CDs with some of the world's most famous orchestras, including the London Philharmonic and Gothenburg Symphony orchestras.
My choice of recording; Peter Maxwell Davies' trumpet concerto, recorded in 1988 with Elgar Howarth (himself a famous British orchestral trumpeter) and the BBC Philharmonic Orchestra.
Reinhold Friedrich (1958 – )
Reinhold Friedrich is a German virtuoso who today is best known as an ambassador of the historically informed performance movement. A former solo trumpet of the Radio-sinfonie-Orchester Frankfurt for 16 years, he now teaches and performs as a soloist worldwide.
Reinhold is well-known for performing on both the baroque trumpet (which is valveless) and keyed trumpet. This is an amazing way of playing older repertoire in the way it would have been originally!
My choice of recording: the Hummel Trumpet concerto with the Dortmunder Philharmoniker. In this recording, Reinhold conducts and performs as a soloist with the orchestra at the same time. Although he plays on a modern trumpet, you can really see his affinity for this type of classical repertoire!
Sergei Nakariakov (1977 – )
Sergei Nakariakov is a Russian-Israeli trumpet virtuoso who is famous for playing both classic repertoires and pushing the limits of what's possible on the trumpet by playing music originally written for other instruments. He became famous as something of a child prodigy, releasing his first cd at the age of just 15!
Nakariakov is also famous for performing on the flugelhorn, a larger trumpet-type instrument with a warmer sound. On the flugel, he has played transcriptions of famously difficult repertoire for other instruments, including cello concerti.
My choice of recording: Haydn's Cello Concerto with the Israel Chamber Orchestra. Nakariakov plays this on the flugel, and it's a great demonstration of his warm sound and virtuoso technique.
Alison Balsom (1978 – )
British trumpet player Alison Balsom is a world-renowned trumpet soloist, whether on the modern trumpet or natural trumpet. She has appeared in performances of all types, whether at the prestigious BBC Proms in London or in music festivals and TV broadcasts.
Alison studied in London at the Guildhall School of Music, graduating with first-class honors and the highest mark of her cohort, and later at the Royal Scottish Academy of Music and Drama and Conservatoire de Paris with Hakan Hardenberger (who you'll recognize from further up this list!). In 2016, she was awarded the OBE (Order of the British Empire) for her services to music.
My choice of recording: her performance of the Haydn trumpet concerto on the last night of the BBC Proms with the BBC symphony orchestra in 2009.
Matthias Höfs (1965 – )
Matthias Hofs is one of the most famous soloists today. Born in Lubeck, Germany, he started playing at an early age, playing with his town's band. After studying in Hamburg, he joined the Berlin Philharmonic Orchestra Academy, graduating with distinction.
This led to a job as the first trumpet of the Hamburg Philharmonic, a position he held until 2000, when he left to become a professor and soloist.
Having worked with some of the biggest names in German Music, including being a member of the legendary German Brass, Matthias has also released seven solo albums of his own, as well as being featured as a soloist on several more.
My choice of recording: this split-screen recording of Stephan Pieffer's 'Trumpet Excerpts – Fantasy' is a great watch, especially if you know your orchestral trumpet repertoire well! Matthias has a fantastic sound in all registers of the instruments and plays lots of different trumpets in this video, including piccolo trumpets, rotary trumpets, and the cornet.
Jazz Trumpeters
Through the twentieth century, in particular, jazz trumpeters were often at the forefront of developing the genre. Two of the most famous names on this list, Miles Davis and Louis Armstrong, are indisputable names and some of the hottest-selling artists of all time!
Miles Davis (1926 – 1991)
One of the most famous names on this list, Miles Davis, was a superstar of the 20th-century jazz scene and is credited with pushing the development of the genre forwards. As a young musician, he studied at Julliard before joining Charlie Parker's quintet.
This was to begin a five-decade career in jazz, during which he took little rest and not only embraced new styles but actively pushed into new ground.
Miles' distinctively smooth trumpet sound was an ever-present characteristic of his jazz; even today, some of his work remains the most revered and iconic albums of the 20th century.
My choice of recording: 'All Blues,' from 'Kind of Blue.'
Dizzy Gillespie (1917 – 1993)
Dizzy Gillespie is another name you've probably heard before. A famous bebop virtuoso, releasing over 100 tracks of his own, he was also a huge influence on other jazz musicians. Dizzy actually taught some of the other big names on this list, including Miles Davis and Arturo Sandoval!
With a distinctive appearance (specifically his puffed-out cheeks and custom trumpet with an angled bell), Dizzy was an icon, seen in the biggest groups of the time, including Duke Ellington, Bennie Carter, and Charlie Barnet's groups.
Over the course of his life, he earned numerous awards, including an honorary doctorate from Berklee College of music, the Golden Plate of the American Academy of Achievement, and the Grammy Lifetime Achievement Award.
My choice of track: 'One Night in Tunisia' is a classic, and today a standard of the jazz repertoire.
Louis Armstrong (1901 – 1971)
Louis Armstrong is almost certainly the most famous trumpet player of all time, not just because of his trumpet playing but also because of his iconic singing voice.
Making the most of a difficult start in life, Louis went on to have an illustrious career in jazz and pop music, recording 19 'top ten' records, including the James Bond song ' We Have All The Time in The World' and knocking the Beatles off the top of the charts with 'Hello, Dolly!'.
My choice of track: 'Someday,' featuring Louis on the trumpet, and also introduced by the man himself and his famous gravelly voice!
Wynton Marsalis (1961 – )
Wynton Marsalis is a huge name in contemporary jazz, as artistic director of Jazz at the Lincoln Centre in New York. In the course of his career, he has won nine Grammy awards and is the only musician ever to have been awarded Grammy awards for both classical and jazz performances in the same year (he also has one Grammy for a spoken word album!).
Wynton was a prodigy, performing with the New Orleans Philharmonic at just 14 and becoming the youngest musician ever accepted into Tanglewood Music Centre at 17. After initially embarking on a career as a classical trumpeter, he later changed his mind to become a jazz musician and the rest, as they say, is history!
My choice of track: if you want to hear Wynton's classical playing, anything from his album 'Carnaval' is a great idea, but I'd recommend 'The Dance we Do,' with the Jazz at the Lincoln Centre Septet as an example of something a bit jazzier.
Chet Baker (1929 – 1988)
'The Prince of Cool,' Chet Baker was a famous (or perhaps infamous) trumpet player, particularly well known within the cool jazz genre. Chet lived a somewhat eventful life, often a little caught up in criminal activity, not least due to his drug addictions.
In fact, in 1966, after a few convictions in various countries, he was beaten so badly that his trumpet embouchure was ruined. This meant that for a while, he was forced to work in a gas station before eventually re-embarking on a musical career and relearning the trumpet.
Professionally, Chet was one of the leading trumpet players on the West Coast scene. Early engagements in LA led to a fully international career, regularly touring Europe with covers of jazz standards as well as his own pieces.
While many on the jazz scene regretted that Chet's personal life got in the way of his music, he was by no means unsuccessful, and many of his compositions remain standards of the jazz repertoire today.
My choice of recording: 'My Funny Valentine' was a piece that followed Chet throughout his career, so much so that it seems impossible to recommend anything else!
Lead Trumpeters
The first trumpet in a big band is often referred to as the 'lead trumpet.' These players are the stars of the big band, soaring above the other players and often famous for their loud, high trumpet playing.
Some of these players are most famous for their own bands; others are legendary studio players who, even if you don't know it, you'll probably have heard on famous soundtracks and records!
Maynard Ferguson (1928 – 2006)
No list of great trumpet players is complete without a tip of the hat to Maynard Ferguson, a man whose physical exertion playing the trumpet and screaming high notes have even been described as gladiatorial (by the Washington Post).
A native of Canada, Maynard was a professional musician by the age of fifteen, playing in dance bands in Montreal. It wasn't long before he came to the attention of American bandleaders, and in 1948 moved to the US with hopes of joining Stan Kenton's band. While he was unable to do so, he came to the attention of others and began a stellar career as a lead trumpeter.
Particularly famous for running his own bands (which gave many up-and-coming trumpeters, in particular, their big breaks), Maynard is credited with making lead trumpet cool, his rock-and-roll image, and covers of popular film scores easily accessible to a younger audience than big bands before him.
My choice of recording: 'Birdland.' This track, named after the Birdland Jazz Club in New York, is classic Maynard, with funky high notes galore!
Arturo Sandoval (1977 – )
Cuban – American trumpeter Arturo Sandoval is another player famous for his high notes, but who came to be in the US via an unusual route! Invited by Dizzy Gillespie to be part of the United Nations Orchestra in 1989, he used this opportunity to defect from his native Cuba to the US, eventually becoming an American citizen in 1998.
Arturo is a household name, and amongst other things, has a film about his life, 'For Love or Country, for which his score won an Emmy.
He has performed across the world in a variety of styles, whether that's Latin jazz, Cuban music, playing at the Super Bowl, or on the classical stage, where he has recorded his own trumpet concerto with the London Symphony Orchestra.
Arturo has received many awards for his work, from Emmys to Grammys and even the Presidential Medal of Freedom, which he was awarded by Barack Obama in 2013.
My choice of recording: Arturo's pre-game rendition of 'The Star-Spangled Banner is something not to be missed!
Derek Watkins (1945 – 2013)
Derek Watkins was a British lead trumpet player most famous for, amongst other things, his work on the soundtracks of the James Bond films, as well as the Beatles' albums. After learning an instrument through the British brass band system that has fruited so many excellent brass players, he became a professional player at the age of 17.
It wasn't long before he was playing lead trumpet in many major bands, including Benny Goodman, Oscar Peterson, and Dizzy Gillespie (who held him in high regard, nicknaming him 'Mr. Lead').
It's his soundtrack work; however, that remains his greatest legacy; even if you don't know his name, you've likely heard him on many soundtracks, including Superman, Chicago, Gladiator, and of course, many of the films of the James Bond franchise, culminating in 'Skyfall' shortly before his death.
My choice of recording: 'MacArthur Park' is an absolute classic.
Wayne Bergeron (1958 – )
A natural successor to some of the names further up this list, American lead trumpeter Wayne Bergeron cut his teeth as a lead player in Maynard Ferguson's big band in the 1980s and later became famous as a session musician, particularly on many modern-day Disney soundtracks.
Bergeron claims that he found trumpet difficult to learn, as his natural register was two octaves higher than that of most beginners. However, this hasn't held him back professionally at all, as his niche of accurate high playing is legendary!
Aside from his session work, Bergeron has recorded his own jazz albums, including the Grammy-nominated Plays Well with Others. 
My choice of recording: it's not technically a released recording as such, but this video of one of the scoring sessions for 'The Incredibles 2' shows off Bergeron's fantastically accurate high register, with some unbelievable section playing (and probably sight-reading!). 
Orchestral Legends
Not all classical trumpeters chose to become full-time soloists. Some prefer to take a job as a principal trumpet in some of the world's greatest orchestras, whether that's on the symphonic stage or in the opera pit.
Winning a job as a principal trumpet in an orchestra is an incredibly competitive process, often involving several rounds of auditions. In some cases, a musician might have to make it through a long trial period which in some orchestras can extend for years!
The musicians on this list all did exactly this, becoming famous as some of the most important players in their own orchestras and tackling the biggest pieces of the symphonic repertoire.
Adolf Herseth (1921 – 2013)
Under Georg Solti, the brass section of the Chicago Symphony was a force to be reckoned with. At its peak, the man occupying the principal trumpet seat was none other than Adolf Herseth, a man famous for his sound but also unusual appearance, often turning right red when navigating particularly tricky passages.
Herseth was the principal trumpet of the Chicago symphony for an unprecedented 53 years, during the course of which he worked with six different principal conductors and saw the Chicago Symphony rise to international renown. This is no mean feat and cemented his status as one of the greatest orchestral trumpeters of all time!
My choice of recording: while the CSO was famous as a powerful workhorse, Herseth was an extremely versatile performer, as you can hear in this recording of Bach's Brandenburg Concerto no. 2.
This piece falls in the extreme high register of the trumpet (in fact, many players include a Brandenburg clause in their contracts that either excludes them from playing it or guarantees a sizeable bonus), but Herseth seems to navigate it with ease.
Maurice Murphy (1935 – 2010)
Long-time legendary principal trumpet of the London Symphony Orchestra, Maurice Murphy, famously set the world alight on his first day at work with the orchestra.
His first note was the top C that opens the (then little known) Star Wars films, and composer John Williams enjoyed his playing so much that he decided to make the LSO his go-to orchestra for many film scores that followed, such as the rest of the Star Wars franchise, Harry Potter, and ET, amongst other scores.
Maurice came from a traditional British brass band background, and as well as holding the principal trumpet seat in the LSO, was also the principal cornet of the Black Dyke Mills Brass Band. Combining the sweet traditional British Bb cornet sound with unrivaled power, Maurice was a legendary figure on the orchestral circuit until his death in 2010.
My choice of recording: has to be the opening credits of John William's score to Star Wars Episode IV: A New Hope.
Thomas Hooten
One of the youngest names on my list is the current principal trumpet of the Los Angeles Philharmonic, Thomas Hooten.
Tom began his career in military service, as a cornet player in the 'President's Own' Marine Band, switching to an orchestral career as assistant principal trumpet of the Indianapolis Symphony in 2004, before winning a principal position first in the Atlanta Symphony in 2006 and finally the LA Philharmonic in 2012.
Today, Tom performs with all of America's major symphony orchestras as a guest principal or soloist, his bright, exciting sound a highlight of much of the orchestral repertoire that these major symphonies play.
My choice of recording: any of the recordings of major symphonies by the LA Phil is always exciting, but to hear Tom as a soloist, I like this recording of Rachmaninoff's 'When Silent Night Doth Hold Me.'
Hans Gansch (1953 – )
Over in Europe, Austrian trumpeter Hans Gansch is one of the biggest names around. Principal trumpet of all of Vienna's major orchestras (including the Vienna Philharmonic from 1982 – 1996), Hans is a mainstay of the Austrian musical scene.
His little brother, Thomas, is also a fantastic trumpeter in his own right, as a classical trumpeter, jazz musician, and the first trumpet of comedy brass troupe Mnozil Brass, who are well worth checking out on Youtube as they combine excellent musicianship and comedy in choreographed shows!
My choice of recording: the virtuoso high technique of his recording of the Telemann Trumpet Concerto in D with the Camerata Academica Salzburg is well worth a listen.
FAQs
Question: Is it Hard to Learn the Trumpet?
Answer: Like any musical instrument, the trumpet isn't necessarily easy to learn, especially if you want to play at a high level. However, with hard work and practice, anyone can become a good trumpet player, and it's pretty fun learning along the way!
I'd definitely recommend learning the trumpet. Even if you might find it difficult at first (some people are lucky enough not to), there are a whole load of benefits, which include the mental benefits of improving at a hobby, the social benefits of playing with other musicians, and of course the fact that it's fun.
It can be pretty healthy to learn the trumpet, too — the deep breathing involved in playing a brass instrument is actually linked with mental health benefits, as well as improving your aerobic capacity, which can help with respiratory issues such as asthma!
Question: How Long Does it Take to Learn the Trumpet?
Answer: How long you take to learn the trumpet will depend on what your goals are and how hard you're prepared to work. If you're looking to get into playing with a community ensemble, it shouldn't take too long, but becoming a virtuoso player takes years of dedication and hard work, just like being an athlete!
If you're interested in learning the trumpet and want to know how long it will take you, it's a good idea to consult a professional teacher. After a couple of lessons, you'll establish clear goals, and a good teacher will have the experience to help you achieve them in a reasonable time, with hard work.
Question: How Much Do You Have to Practice to Play the Trumpet?
Answer: How much you have to practice the trumpet really depends on what standard you are and what standard you want to be. Amateur trumpet players, once they've built up a good technique, don't need to practice particularly hard to maintain their level (though they'll still need to practice tricky music when it comes up).
Professional musicians practice their instruments a lot, as they need to be prepared to play any repertoire. This varies wildly, but as a general rule, most musicians will practice somewhere between an hour a day (during busy periods with rehearsals in the day too) and six or more hours a day (in less busy periods or when a big performance is on the horizon, such as an audition).
Question: What Types of Trumpet are There?
Answer: There a quite a few different types of trumpet. The most common is the Bb trumpet, which is the most common choice for beginners. It's the most commonly used trumpet for jazz and has also been the traditional pitch of orchestral trumpeters for quite some time.
Many trumpet players choose to play on a trumpet pitched in C orchestrally, which is thought to have a brighter tone. To play this trumpet, you'll need to learn to transpose much of the orchestral repertoire, which is normally written in the key of Bb.
In the past, some trumpet players used trumpets capable of playing in the key of A to make certain passages easier, but these are now used extremely rarely.
For higher music, professional trumpet players have a few options. Almost all professional classical players own an Eb or D trumpet, which is a little smaller and higher pitched. Though the sound of these trumpets is less rich than the Bb and C trumpets, they offer more security in the high register.
The piccolo trumpet is an even higher-pitched option (one octave above the usual Bb trumpet) and is often used for music in the extreme high register.
This is regularly used to help play accurately in repertoire from the baroque period, where this type of writing was more common. It's also the type of trumpet played by British trumpet player David Mason on the solo from the Beatles' song Penny Lane.
The D, Eb, and piccolo trumpets don't make high notes easier to play but just make them more secure and precise. For this reason, lead and jazz players tend to prefer the larger Bb and C trumpets, which can offer a more exciting 'screaming' sound in these registers.
There are, in fact, even more types of trumpets out there, including the bugle, bass trumpet, fanfare trumpet, and slide trumpet (amongst other things!). To find out more and understand the nuances of these instruments, check out our article all about different types of trumpet right here on brassnwind.com!
Question: What's the Difference Between the Trumpet and the Cornet?
Answer: Although the trumpet and cornet are similar instruments, with a similar appearance, technique, and sound, they're not quite the same. The cornet is a mellower, more agile instrument but lacks the projection and power of the trumpet.
This is because the bore of the trumpet and cornet are different. While the bore of a trumpet's tubing is fairly constant, flaring quickly towards the end, a cornet is built from a conical tube that flares more consistently from the beginning to the end of the instrument.
Here at brassnwind, we've got plenty more information about the differences between these two wonderful instruments! Check out more of our articles, including the list of the best cornet players of all time and an in-depth look at the differences between the trumpet and cornet.
Resources
There's so much more fantastic information out there about the players on this list, more fabulous musicians, and the trumpet in general! Here's a list of the websites that helped me compile this list, as well as some that hopefully can make a good starting point for your own research;
For more interesting readings check out: