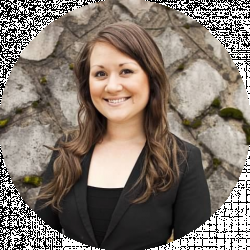 Latest posts by Lacey Jackson
(see all)
When I visited Paris once upon a time, I was excited to visit the Opera House, see where the legend that instigated Phantom of the Opera began, and check out some top-of-the-line Besson manufacturing. 
I was a bit behind the times because I did not realize that Besson, though founded in Paris, had moved to London. Thankfully we were headed to London next. After an awkward delayed train where my mother-in-law exposed herself in order to get to the money belt she had under her three shirts and had worn in lieu of a bra just to pay for lunch, we made it to London, and I got to see some of the most famous brass instruments.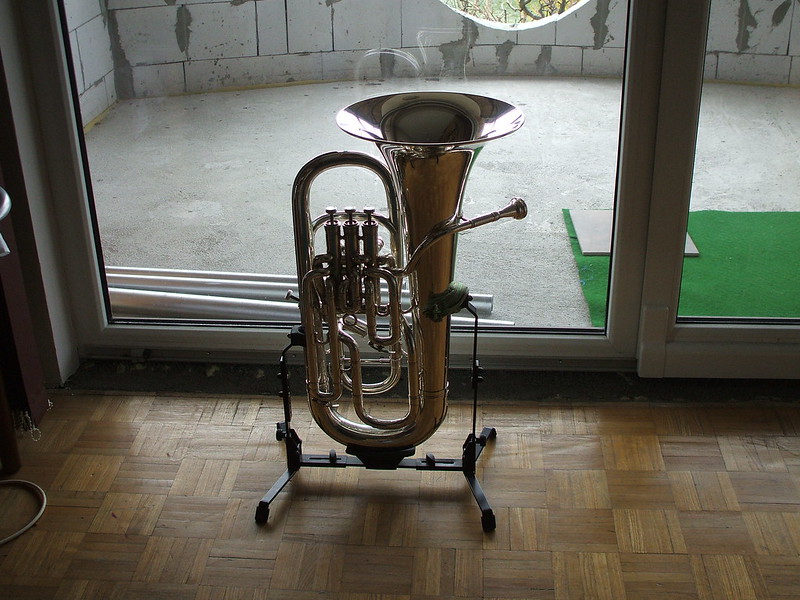 Bottomline Upfront
I love Besson because they were effectively the founders of many brass qualities we take for granted today. Their lines of cornets and euphoniums are highly sought after, yet they put the same care and concern into manufacturing student models as they do their top-of-the-line models. 
Only absolute beginners should start with the first model. If you are a student, start with the Prodige 162/163/164/165. I recommend you start with BE163 and above if you have any exposure to brass instruments. You can stick with this line until you are performing on stage, in which case you can switch to the Sovereign 967/968 or the Prestige 2051/2052. You can play with their cream of the crop for the most advanced, the International 767. 
Besson
I won't go too far into the history of the company because you can read that anywhere, but I will say the brand was founded in Paris in 1837. At the time, it was made famous because of the Cornet developed by Besson. He actually patented over 50 inventions, all related to wind and brass instruments.
By 1948, they had made it through the war end using cutting-edge designs; Besson became the leading brand for tubas, horns, cornets, and the euphonium.
In the eighties, they moved to London and opened a new factory. They continued to use extensive research and manufacturing techniques to churn out some of the best cornets, tubas, tenor horns, and euphoniums. 
In 2006, right after I had seen their London building, they restructured and now produce many of their instruments in Germany. I'm a huge fan of this restructuring because I think German engineering is regularly held to higher standards than other countries, especially the United States, so you are almost guaranteed to get a much better product.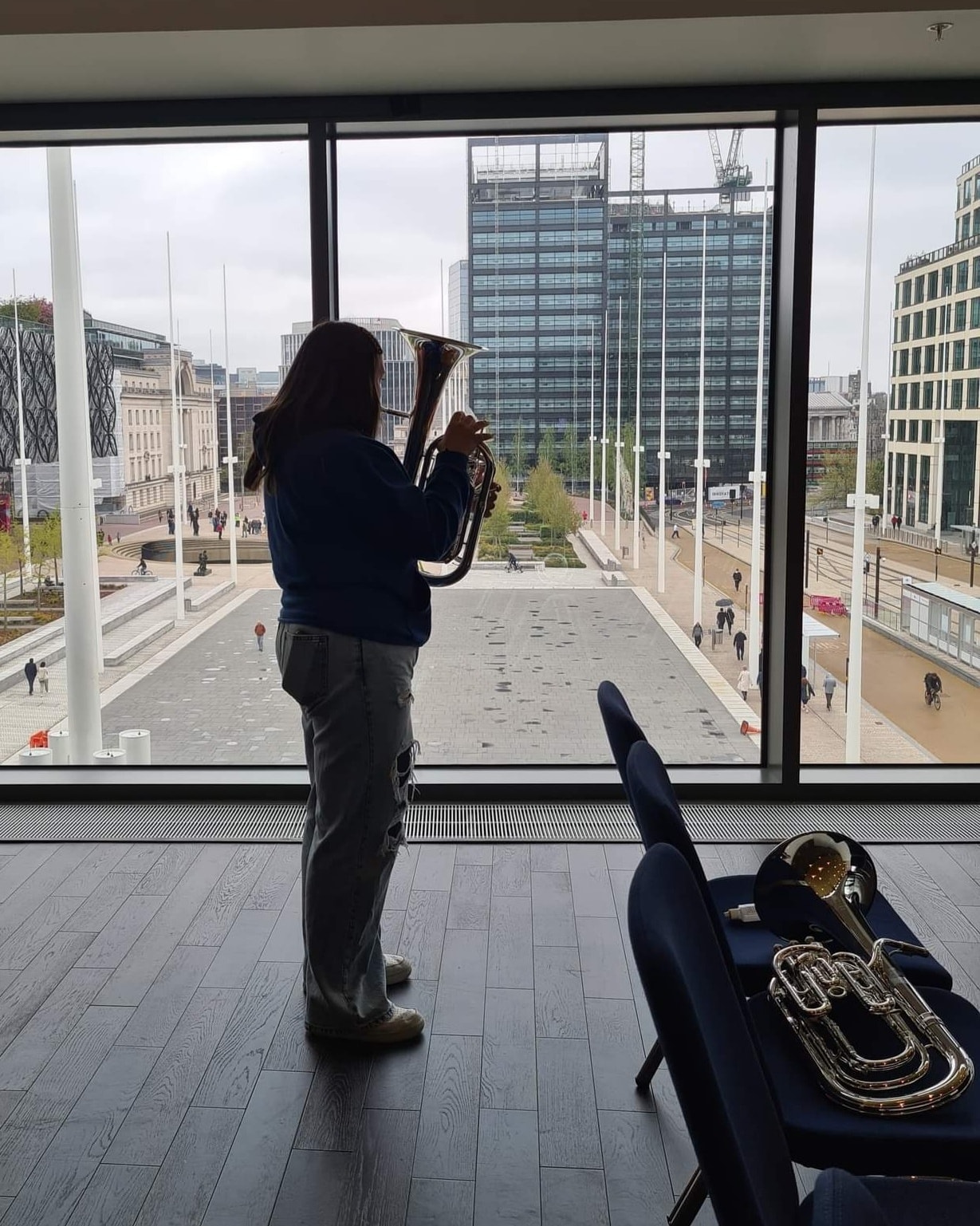 Best Besson Euphonium Models Guide
This company specializes in high-end products, so if you are looking for something as a professional or an advanced performer, you will have many more options compared to beginners. 
What Besson Provides
The sound quality from each of their models exceeds what you find on cheaper third-party sites like Amazon. If you are going for quality over price, and a sound, long-term investment, I strongly advise you to use any of the Besson models. 
In this video, you can hear the differences in the Besson student, professional, and advanced models:
Besson doesn't just stop at high-quality manufacturing. No matter which option you pick out of all the euphoniums they manufacture, you will receive basic accessories.
I cannot stress enough how refreshing it is to find a top-tier company that includes top-of-the-line accessories. Surprisingly, most manufacturers of brass instruments don't even give you a case, let alone all of the other accessories you need to maintain your instrument.
Most of the time, people buy cheaper euphoniums and other brass instruments because the cheaper companies throw in a lot of poor-quality accessories, so you have everything you need in one place.
Besson doesn't cheapen any part of your purchase. 
With every purchase, you get a hard case. Admittedly, the student models are basic hard cases with external zippers, and if you purchase a more advanced professional model from the company, you will get a hand-crafted hard case that is fitted directly to the instrument.
You also get a euphonium mouthpiece so you don't have to go out and buy a new one, valve oil so you can keep everything clean, a cleaning cloth, and for some of the more advanced models, you get bonus accessories.
Let's take a look at each of their top models in turn:
Besson Euphonium Models for Advanced Players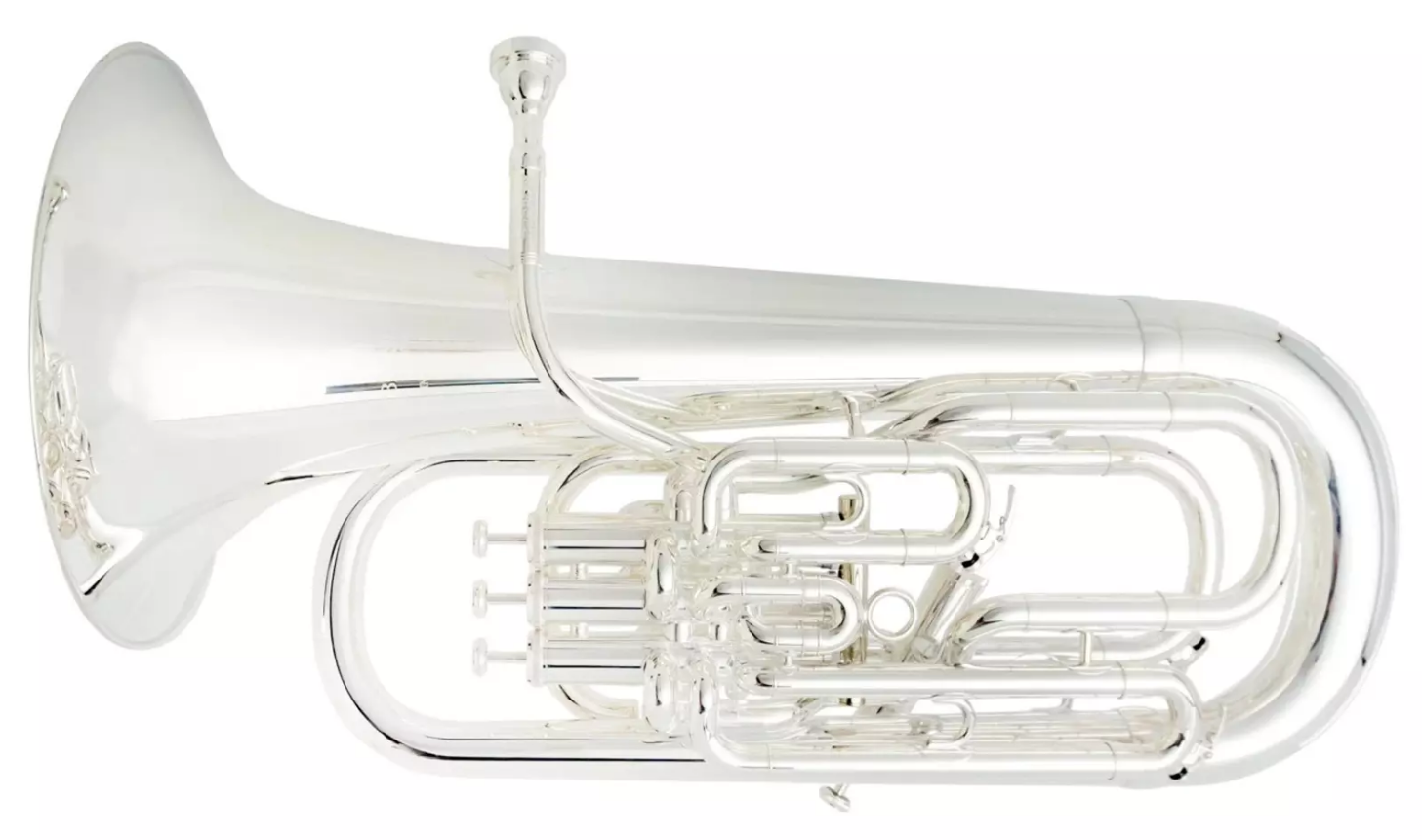 Besson has but one model for advanced players: The International 767. This model weighs less than all of the professional models that Besson manufactures, and it gives an immediate response thanks to the free-blowing feel.
It is in Bb

The bore is .590 or 14.98 mm

It has a handmade yellow brass bell that is twelve inches. 

There are four compensating valves.

You get three water keys. 

You can buy it in a clear lacquer or silver plated finish. 
Note: If you see it labeled with "-1," that means you are looking at the international model with a clear lacquer finish. If you see it labeled "-2," that means you are looking at a silver-plated finish. 
This is their most popular model and of course the most expensive. Some sites have it for over $5,000, not including international shipping.
Best Besson Euphonium Models for Professionals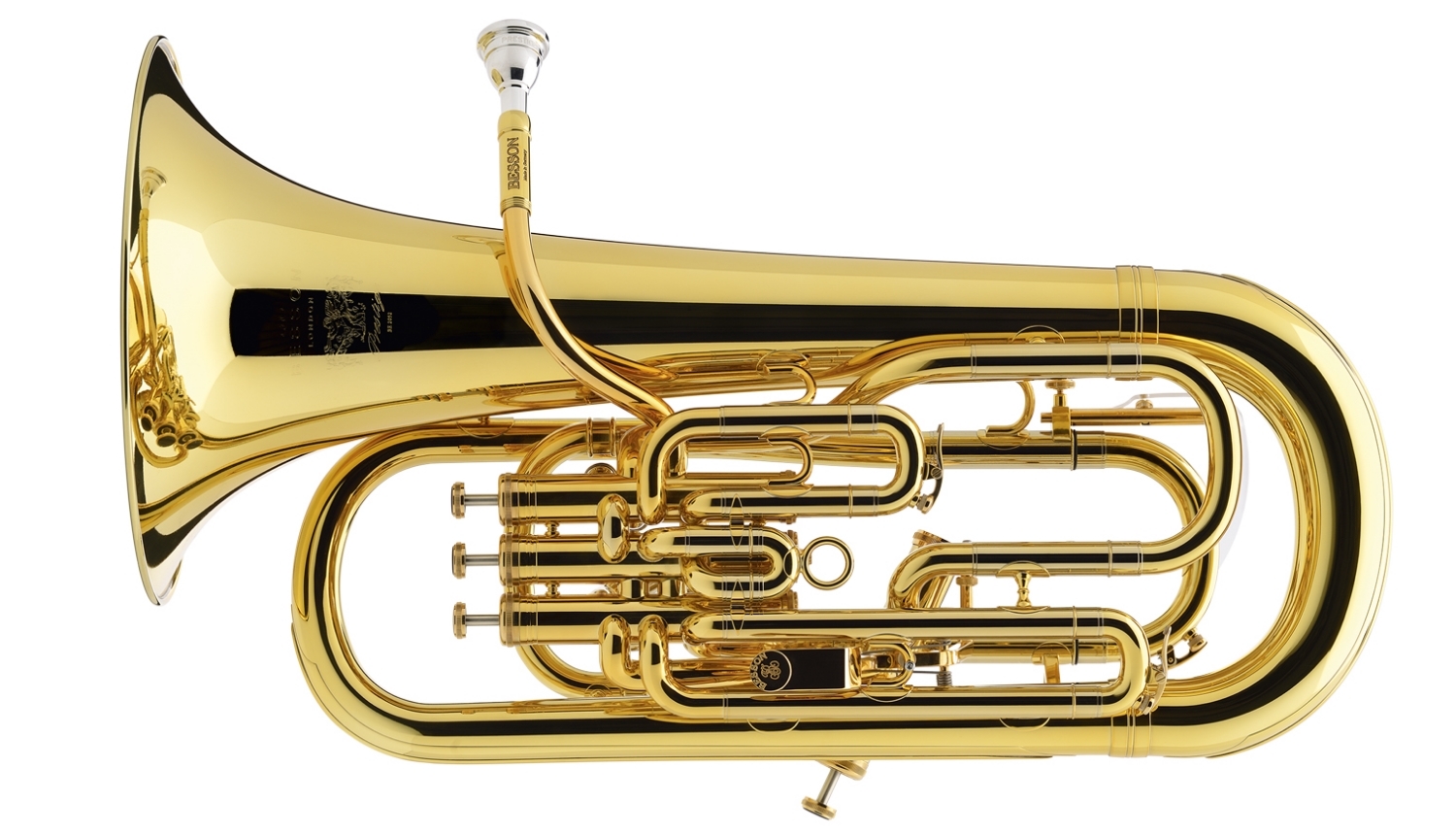 Professionals have more Besson models from which to choose. For starters, the Prestige line has a tuning slide trigger system and unique lead pipe, making it one of the most popular instruments for stage performances. 
As a performer, you get more control thanks to the adjustable main tuning slide trigger. You can control the tone when playing with an orchestra or just in a duet with a piano, like in the video below:
Because of the smaller bell, you don't need as much air in the BE2051 model. It is compact and perfect for taking on the road with you. 
The bell is handmade yellow brass. It is in Bb with a .590 inch, or 14.98 mm bore. 

You get four compensating stainless steel valves. 

There are three water keys. 

These models both weigh 10 pounds and 8 ounces. 
You get a removable water catcher, left-hand thumb action, special valve springs, a removable music lyre, and caps. It comes with a deluxe, shaped case inside of which you can store a microfiber cloth, valve oil, additional gold-plated caps, a mouthpiece, and an external storage pouch. 
The BE2051 has a clear or silver-plated finish with an eleven-inch bell. 
The BE2052 has the same finish options but with a twelve-inch bell and a free-floating lead pipe. 
The BE2052 model with the free-floating lead pipe is better for professionals who perform in large venues because it offers better resonance. 
This model saves you a few thousand dollars compared to the international one. 
Sovereign 967/968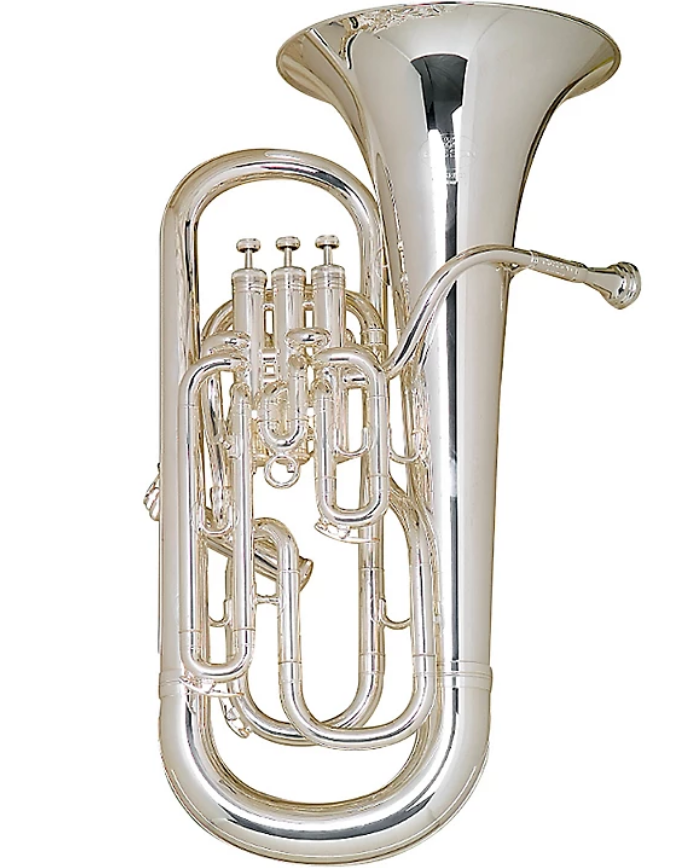 The Sovereign line of Besson euphoniums represents some of their professional instruments known for having outstanding valve action and a lively response but weighing less than the prestige models. Many musicians use the Sovereign line for performances where travel is involved.
These models are manufactured in Germany using high-end valve technology. They are some of the most sought-after models by professionals because of the tuning slide trigger package that gives better control over the color of the tone. 
Both models are in Bb.

They have a .590-inch bore or 14.98 mm. 

The bells are handmade yellow brass. 

They both come with four stainless steel compensating valves and three water keys. 

You also get a shaped hard plastic case that boasts an internal wood frame with a

mouthpiece

, lyre, cleaning cloth, and valve oil. 
The BE967 has a twelve-inch bell with a main tuning slide trigger package. It comes with a clear or silver-plated finish. 
The BE968 has an eleven-inch bell, a clear lacquer finish or silver plated finish, and the main tuning slide trigger package. 
For these models, if you see it referred to with "-1" or "-2" at the end, that is indicative of whether you get ("-1") clear lacquer finish or ("-2") silver-plated finish. 
Best Besson Euphonium Models for Students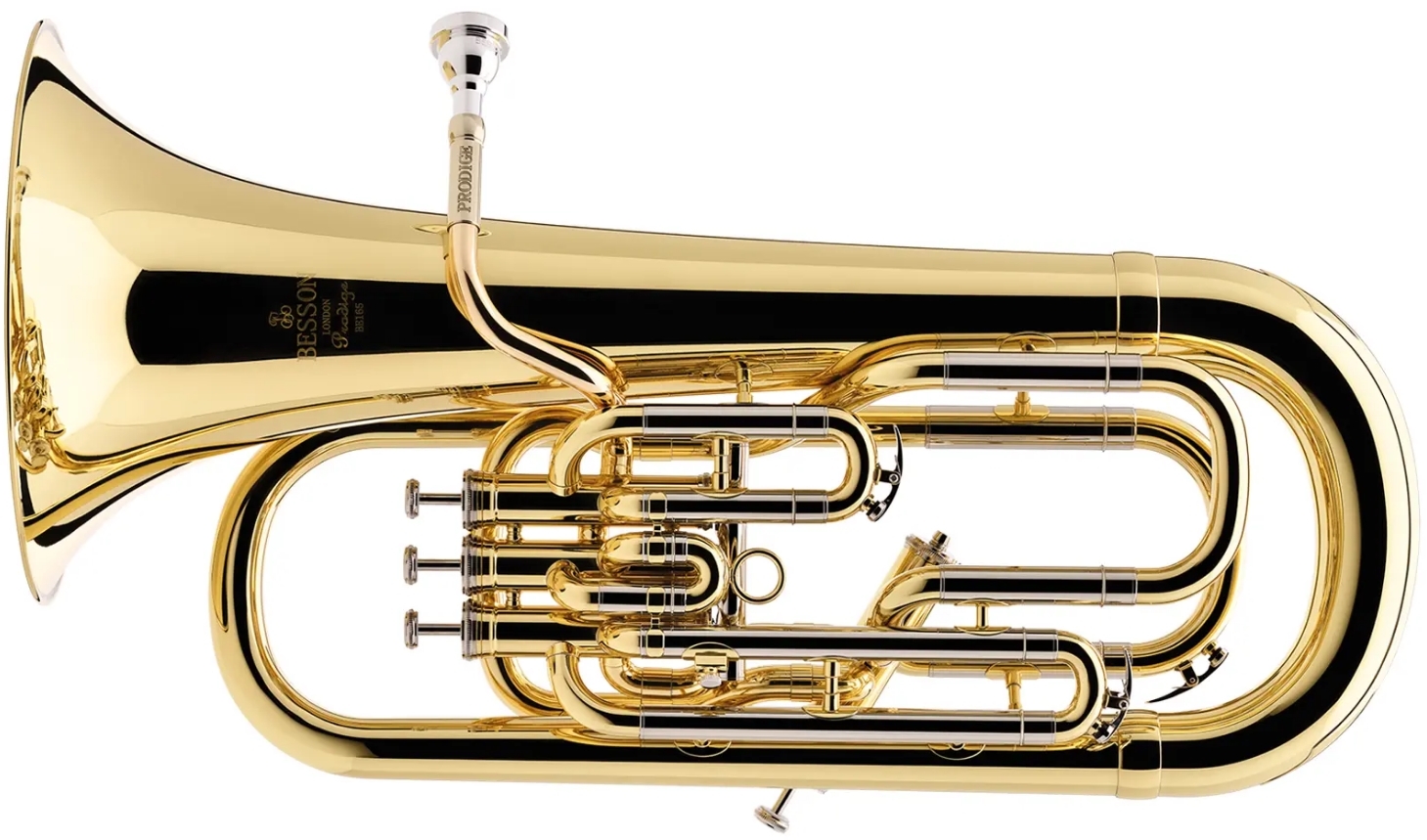 Besson has four student model euphoniums:
Prodige 162

Prodige 163

Prodige 164

Prodige 165
They are all relatively the same, giving you fast valve action that doesn't make a lot of noise, a warm, rich tone, easy fingering, and a lot of basic accessories. What I absolutely love about all four of these beginner student models is the beautiful range of dynamics and vibrant tone you get. 
I have heard a lot of cheap student euphonium models played during rehearsals, and they are just missing something. Whatever that something is, Besson has it. Each note has more depth and richness, and you absolutely hear it. So if you have the money and the time to wait on a lengthy delivery, there's no point in spending money on a cheaper model when you could just invest in the best. 
You can hear a virtual cover of Hey Jude featuring the Besson euphonium and tuba here:
All the student models are in the key of Bb. 

They have a .580 or 14.72 mm bore. 

You get a yellow brass eleven or twelve-inch bell. 

All of these models come with a hard case complete with exterior zippers, a mouthpiece, a cleaning cloth, and valve oil. 
The BE162 models come with a clear or silver-plated lacquer finish. This model comes with two water keys. It has three stainless steel valves. 
You can watch Steven Mead from Besson demonstrate the Prodige 163 in the video below:
The BE163 models have a clear or silver plated finish with a twelve-inch bell and gold brass lead pipe. This model has four stainless steel valves and three water keys. 
The BE164 models have a clear lacquered or silver plated finish, an eleven-inch bell, and four stainless steel valves. You get three water keys on this model. 
The BE165 models have a clear lacquer or silver plated finish with an eleven-inch bell and four stainless steel valves. There are three water keys. 
FAQ
Question: Where can I buy a Besson euphonium?
Answer: Besson has a resource on its site called "Find a Dealer." When you find the model you want, you can click on that button, and it will let you search for dealers based on your location. A big problem with this company is that they are based internationally, so it is difficult to find even their student models readily available in certain places. You will most definitely spend a lot of money on shipping. 
Question: Is Besson a good brand?
Answer: Absolutely. They are one of the best brands when it comes to cornets, tubas, horns, and euphoniums. They have been around since 1837 and patented many of the unique features and accessories you see on all of their euphonium models. 
Question: How expensive is a Besson euphonium?
Answer: Besson models are a few thousand dollars each. Shipping, availability, features, and finish will impact the price. All almost Besson models have the choice between a clear lacquer or silver-plated finish, so this will contribute to the price point.
Question: Where are Besson euphoniums made?
Answer: Today most Besson euphoniums are made and manufactured in Germany or in London. You can check where it was manufactured by looking at the model you purchased.

Bottomline
Besson makes high-quality brass instruments with unique features that are cause for high demand. Thankfully, their production line has options for everyone. If you are a student, start with the Prodige 162/163/164/165. 
I strongly recommend you start with the Prodige as a beginner or intermediate because you'll just get the higher quality that you can use time and again. Until such time as you reach professional performances, you shouldn't need an upgrade. As a professional, make your way to the Sovereign 967/968 or the Prestige 2051/2052. For the most advanced, you can play to your heart's content with the International 767. 
Looking for more interesting readings? Check out: