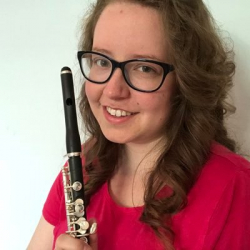 Latest posts by Hannah Haefele
(see all)
After trying various flutes at all levels, I wish I would have had a best Yamaha flute models guide. While I've never chosen a Yamaha flute for myself, I know the brand makes excellent instruments.
I've tried some and have borrowed a few during college. Yamaha might not be perfect, but the company offers flutes for players of all levels, including piccolos and low flutes.
Bottom Line Up Front: The best Yamaha flute model is probably the YFL-222 since many players start on it. However, I prefer the alto flute model A421, so give all of the Yamaha flutes a try.
Best Yamaha Flute Models
Yamaha may not be a flute brand, but the company makes some great flutes. I've known many people who have played models from Yamaha.
I tried some of the models as well, and they sound amazing. To help you shop for the best Yamaha flute models, I looked for more popular options from beginner through professional.
And as someone who also plays the piccolo and alto flute, I included other types of flutes. I stuck with current models so that you can find them new or used.
Here are some of the models I found and would recommend you test out.
Yamaha YFL-222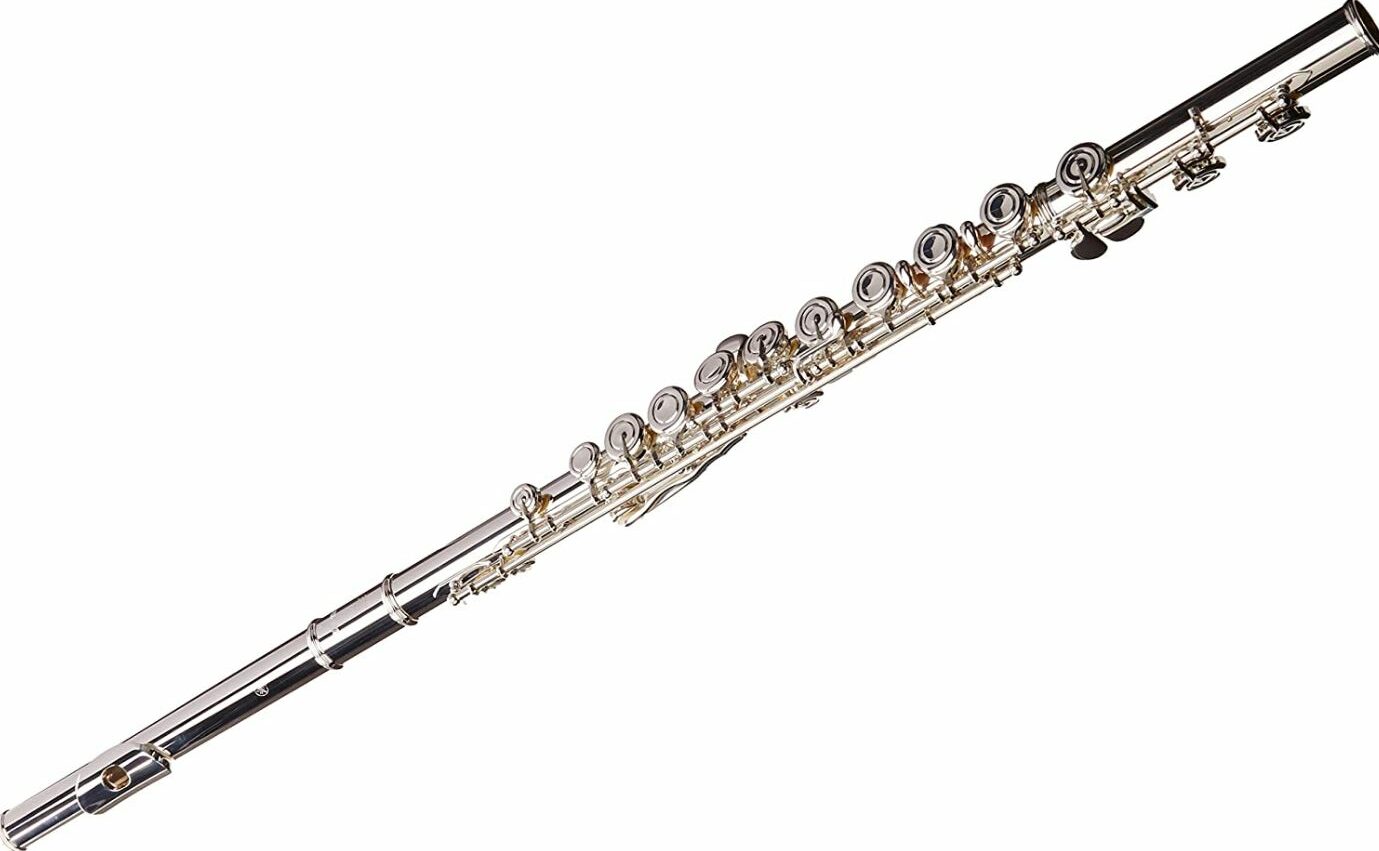 The Yamaha YFL-222 is probably the most popular beginner flute in the US. I actually didn't start on this model, but I know some flute players who did.
It has all of the standard student flute specs, such as silver plating, closed holes, and a C footjoint. There's also an offset G key, so you don't have to strain your left ring finger.
This model is very durable, so it can handle a lot of students who are the most careful. You can also get a great sound out of the flute, which can encourage you to keep practicing.
Pros
Popular model
Good materials
Nice sound
Easy to play
Durable
Cons
Expensive for a beginner model
Counterfeits are common
Yamaha YFL-362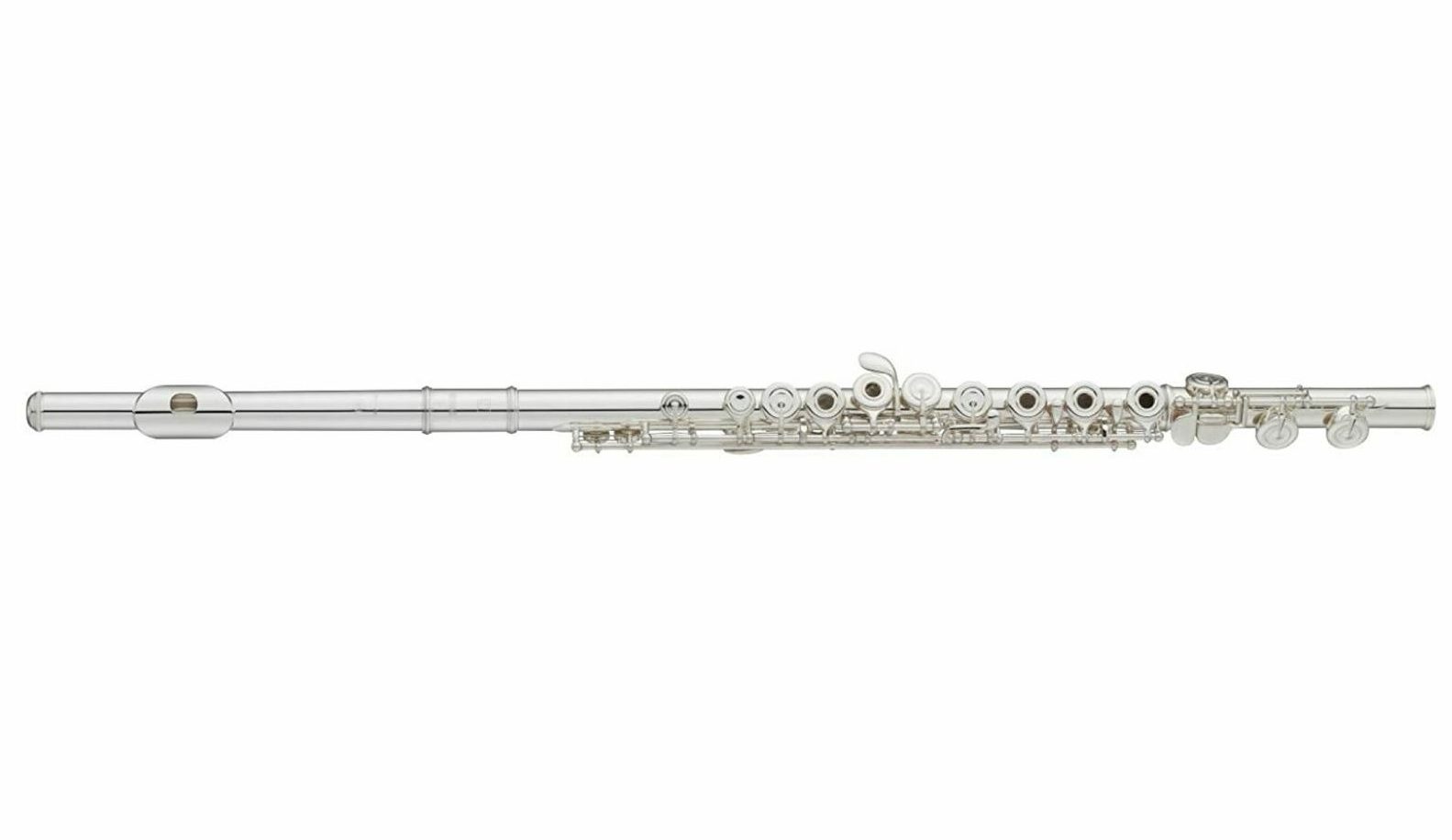 If you want to upgrade from a student flute, I recommend the Yamaha YFL-362. The step-up flute features a solid silver headjoint to help you get a warmer sound.
Meanwhile, the body is still silver-plated but has open holes. You can also get it with a B footjoint, so you can start to play more advanced flute solos.
I like that you can also get a gold lip plate, which is great if you're allergic to silver or nickel. You don't have to worry about having a reaction as you practice or perform.
Pros
Great upgrade
Easy to play
Warm tone
Gold lip plate option
Open holes
Cons
Only a C footjoint
Expensive for what you get
Yamaha YFL-462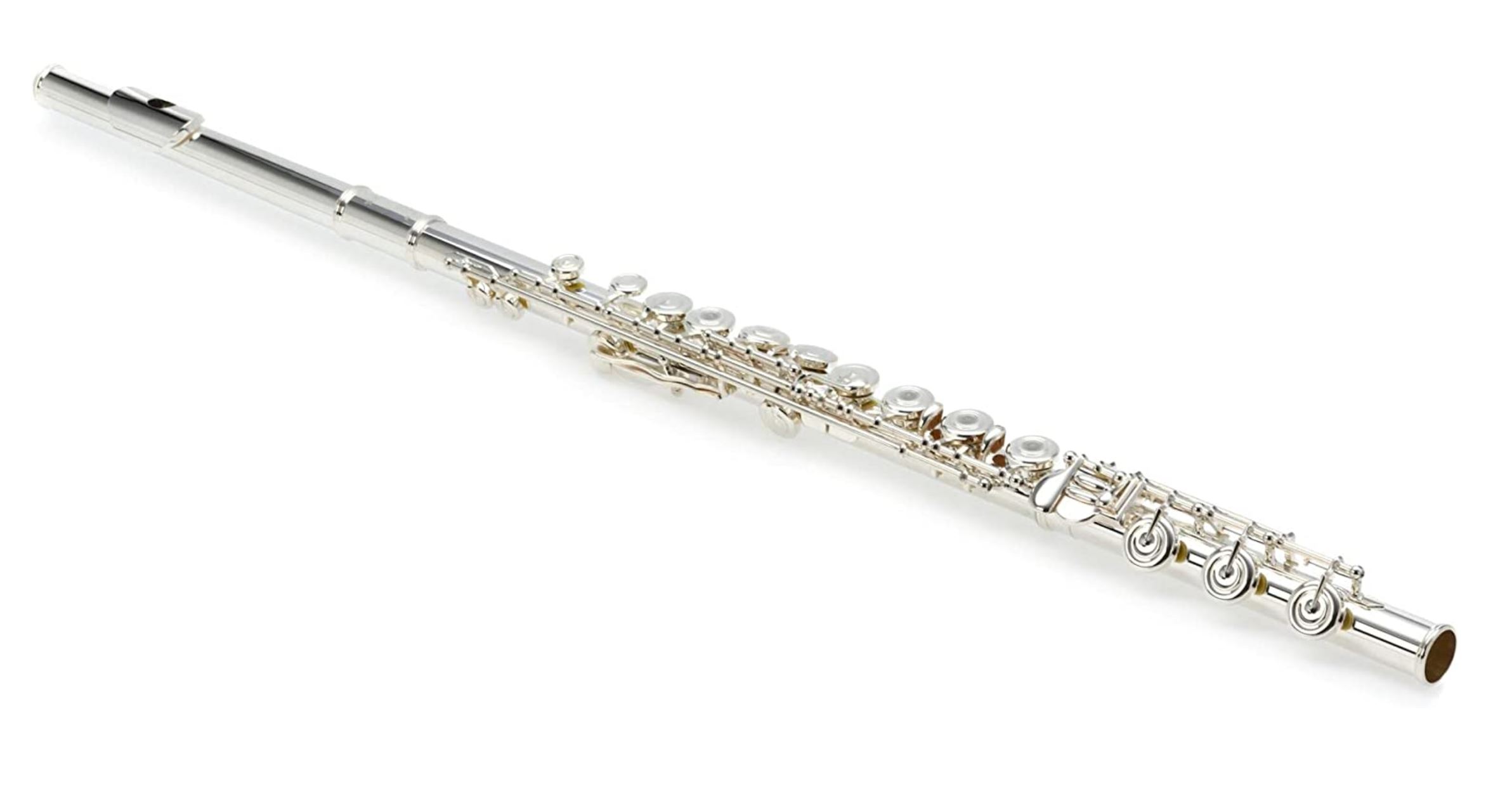 The Yamaha YFL-462 is an intermediate flute with very similar specs to the 362. However, this model features a solid silver headjoint and body tubing, though the keys are still silver-plated.
I like that it has open holes and an offset G, so it's comfortable for you to play. There's also a B footjoint, allowing you to play almost any flute part you'd ever need.
You can get an excellent sound on the instrument, and the silver helps with that. I recommend this flute for advancing students or casual players who don't have a huge budget but need a good flute.
Pros
Affordable for what you get
Open holes
B footjoint
Nice sound
Easy to play
Cons
Not quite a pro model
Not full silver
Yamaha YFL-577

When it comes to professional flutes, the Yamaha YFL-577 is an excellent entry-level model. It has a sterling silver hand-cut headjoint and a silver-plated body so you can get a friendly tone.
There are also open holes and a B footjoint, which are both common on pro models. I love that it has a C# trill key, which can help with trilling to a C# and plenty of other tricky things on the flute.
You also get a split E mechanism, which helps with the high E. But those features aren't standard on all 577s, so you want to make sure you customize your purchase accordingly.
Pros
Professional flute
Good sound
Nice specs
Easy to play
Relatively affordable
Cons
Silver-plated body
Specs aren't always standard
Yamaha YFL-677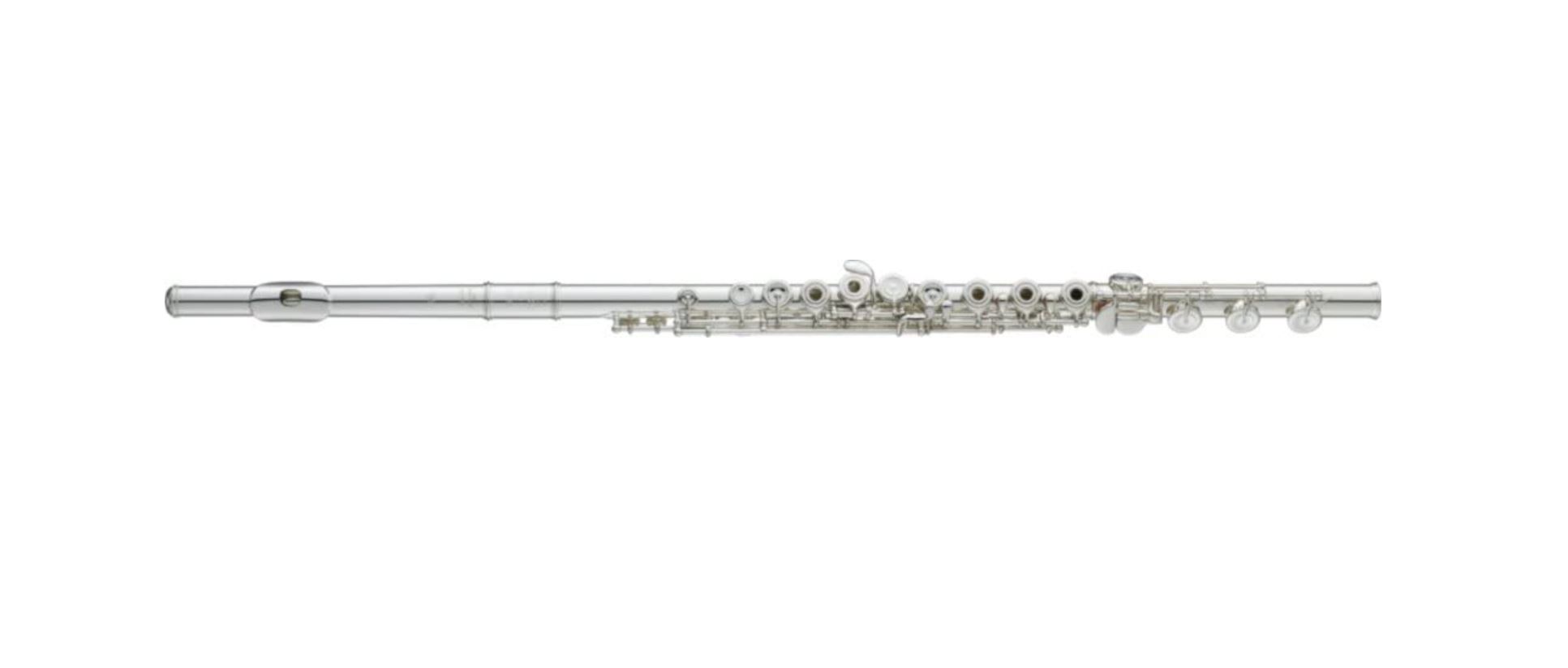 The next model in the pro lineup is the Yamaha YFL-677. It has a solid silver headjoint and body, but the keys still use silver plating over nickel.
You can get all of the same specs here as on the 577, including a C# trill key and split E mechanism. I love those specs, especially since you're probably playing hard pieces if you need an advanced flute.
Also, this flute comes with a B footjoint and a gizmo key. That can help you play the low register without compromising your sound in the high register.
Pros
Great specs
Nice sound
Easy to play
Perfect for professionals
Cons
Not for beginners
Somewhat expensive
Yamaha YFL-777

The Yamaha YFL-777 is another fantastic professional model flute to consider. It uses solid silver throughout the headjoint, body, and keys.
This model features a 0.43-millimeter thick wall, so it's closer to heavy wall models. That can help you get a dark sound even though you don't have any gold in the flute.
You'll also get Straubinger pads, which are some of the most popular for pro instruments. Depending on where you buy it, you can get a C# trill key and a split E mechanism if you're willing to pay extra.
Pros
Professional flute
All silver
Great specs
Warm sound
Cons
A bit expensive
Some specs cost extra
Yamaha YFL-874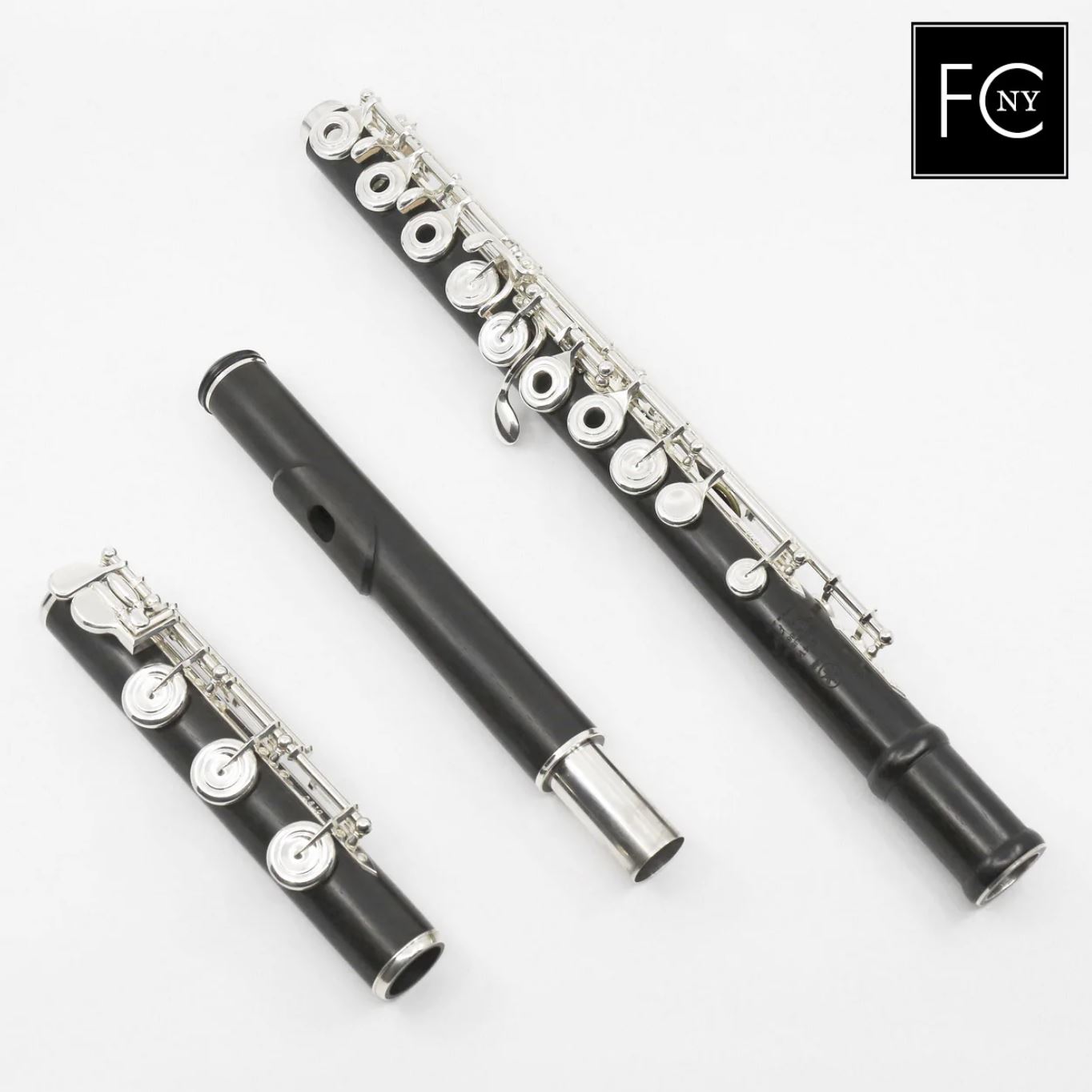 Most flute players play on a silver flute, and even more play on some other metal, such as gold or platinum. However, the Yamaha YFL-874 is an excellent wood flute with a modern mechanism.
If you like the warm sound of wood, such as on your piccolo, you can get that on this flute. It has silver open hole keys, a B footjoint, an offset G, and a split E mechanism.
I haven't tried a wood flute, but I like playing my wood piccolo. If you go with this flute, ensure you warm up the wood with your body heat to reduce the chance of the wood cracking.
Pros
Professional flute
Great sound
Nice specs
Has a carved lip plate
Cons
Pretty expensive
Requires more care than metal flutes
Yamaha YFL-877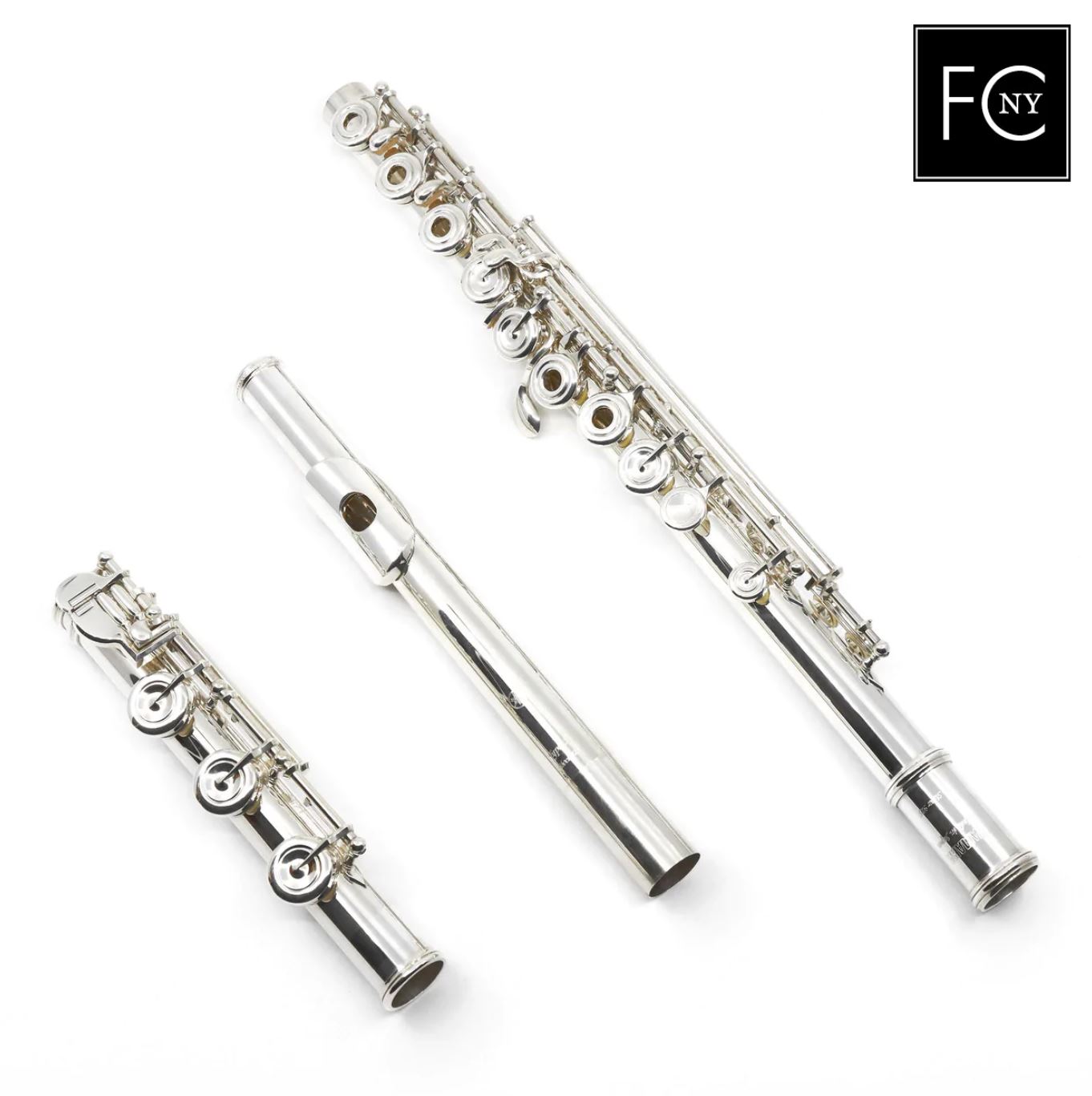 The Yamaha YFL-877 is one of the top flute models from the brand. It features an all-silver body and headjoint so that you can get the standard flute sound.
This model also has soldered tone holes, while most flutes use drawn tone holes. You can choose to get the 877, which has an offset G and split E.
However, there's also the 887 and 897, which have an inline G. The inline G isn't as popular. Still, some players prefer it, especially when they have long fingers.
Pros
Great quality
Nice materials
Different spec options
Multiple headjoint cuts
Cons
Quite expensive
Not for students
Yamaha YPC-32

If you're looking for a piccolo flute, you may want to try the Yamaha YPC-32. The model is one of the most popular beginner piccolos, and it sounds great.
While I haven't played one, I've heard others play them. This piccolo is fun to play with and features a metal headjoint with a lip plate to make learning the piccolo easier.
Meanwhile, the plastic body keeps it from sounding too shrill like some models. You can use it outside, inside, and in various practice or performance settings.
Pros
Easy to play
Great sound
Perfect for students
Nice materials
Cons
A bit costly
Not the warmest tone
Yamaha YPC-62

The Yamaha YPC-62 is a professional wood piccolo that I recommend to many players. It uses grenadilla, which is a common wood for woodwind instruments.
I love that it has a split E since the piccolo frequently plays in the high octave. Plus, the keys are silver-plated to help keep the instrument relatively affordable.
While I can't remember for sure, this might have been the model I borrowed during college. It sounds great, but the low register doesn't have a full sound.
Pros
Wood model
Easy to play
Nice sound
Good specs
Cons
Thin sound in the low register
Yamaha Y421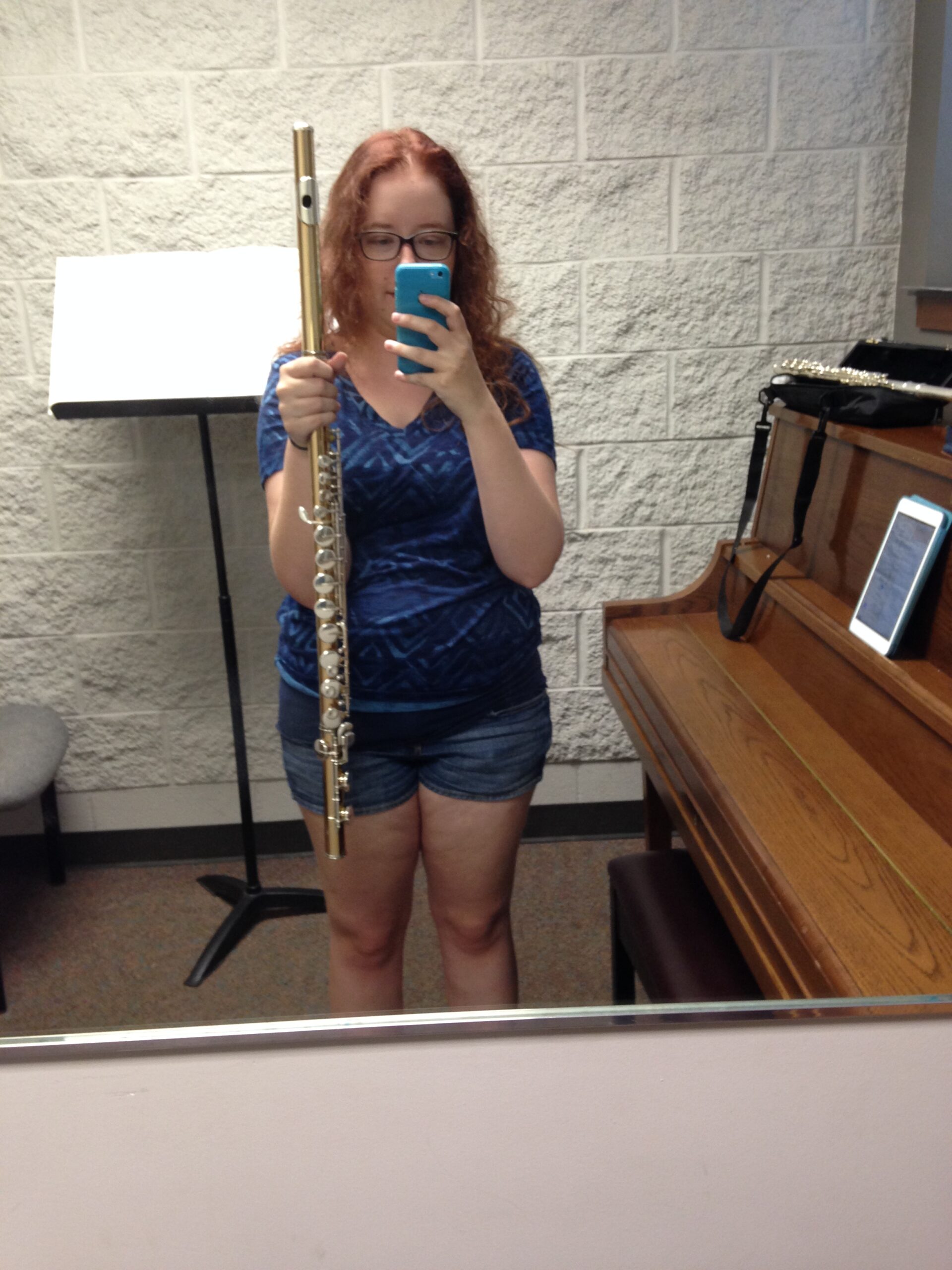 If you play in a flute choir, you may want to get an alto flute, like the Yamaha Y421. I got to play this model during college when I performed a few alto parts in the university flute ensemble.
It uses gold brass, which isn't very common for flutes, so you can get a unique sound. You can purchase the alto flute with a straight or curved headjoint or both.
I prefer using a straight headjoint, so I love the ergonomic left hand. It brings those keys closer to the player so that you don't have to reach as far, making playing more comfortable.
Pros
Good sound
Unique materials
Easy to play
Ergonomic design
Multiple headjoint styles
Cons
Very expensive
Not for beginners
Yamaha B441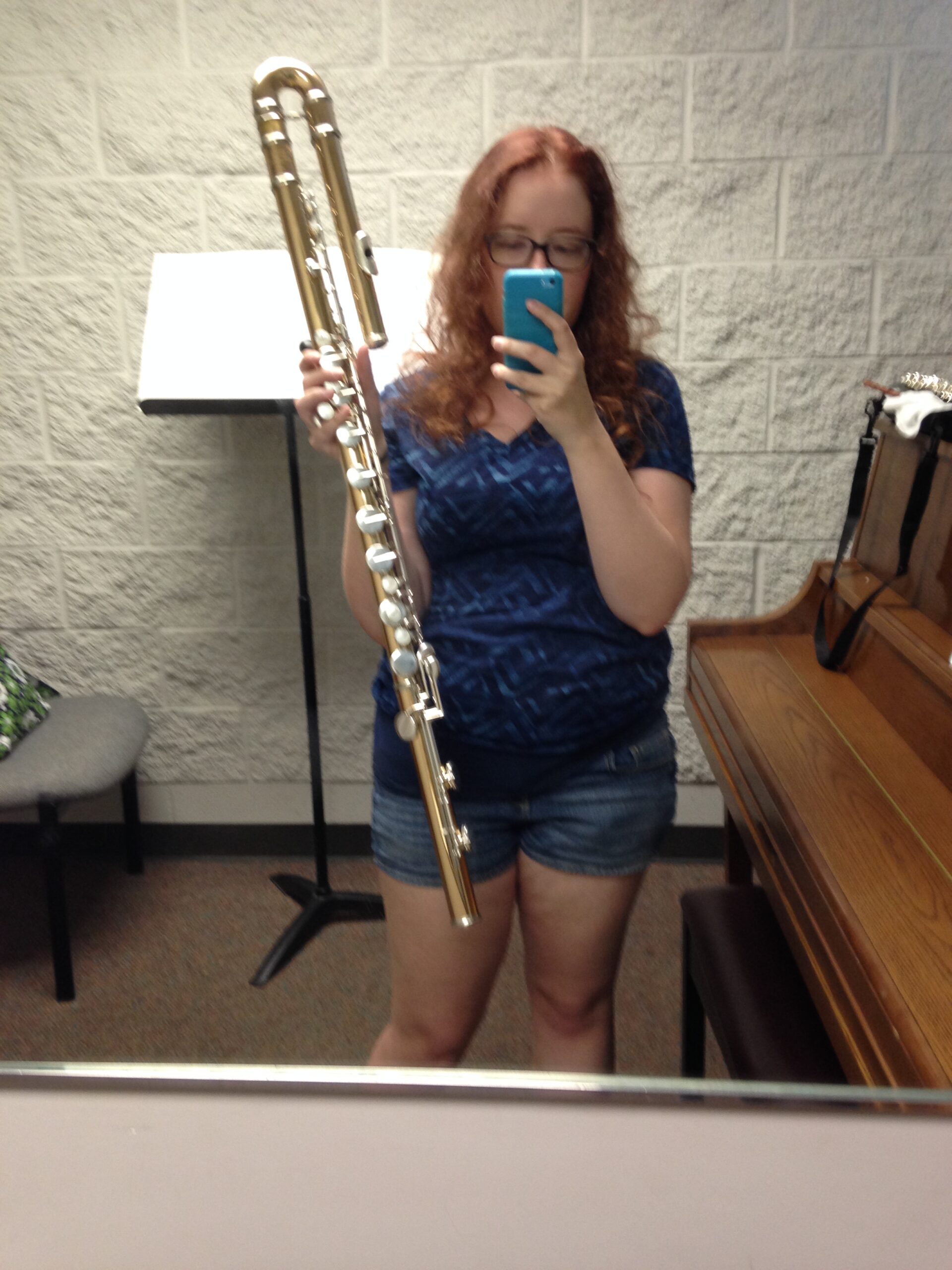 Another low flute you might want to try is the Yamaha B441, which is a bass flute. It uses the same gold brass alloy as the Yamaha alto flute so that you can get a warm tone.
Like other bass flutes, this one only comes with a curved headjoint. The buttons are also in an excellent position to help you reach them easily to play without too much strain.
Unfortunately, it is a bit heavy, so you may want to get support for it. Another problem, at least with my university's bass, was that it would go out of alignment pretty quickly.
Pros
Good sound
Nice materials
Easy to play
Unique look
Cons
Somewhat heavy
Has some maintenance issues
How to Choose a Yamaha Flute
After you look at all of the Yamaha flute models, you have to narrow down your options. For some players, the choice will be clear, especially if you need a beginner flute or an alto or bass.
However, other players will want to compare a few Yamaha models. If that's you, consider the following factors to help decide which Yamaha flute model will meet your needs.
Consider Your Level
First, you should think about your level of flute playing. If you're new to the instrument, you'll want to look at beginner models, all of which are in the 200 series, so that includes the 222 as well as other flutes I didn't include.
When it comes time to upgrade from a student flute, look at the 300 and 400 series models. They have more solid silver content but aren't as expensive as the fully handmade flutes.
And if you're ready for a professional instrument, check out the 500, 600, 700, and 800 series. Then, you can test all of the flutes you can find to see which you like the best.
Think About Auxiliary Flutes
As you get more serious about playing the flute, you may decide to expand your skills and learn the piccolo or a low flute. I love playing other flutes, especially in ensembles, since you can play different roles than you would on the C flute.
Yamaha has a couple of excellent piccolos, including the YPC-32 and 62. Sadly, the company only makes one alto flute model and one bass flute model.
However, I'd still recommend trying them if you want a different type of flute. Then, you can determine if you like how the Yamaha flute sounds or if you should explore other options.
Know Your Budget
Of course, you should consider how much money you can or want to spend on a new flute. When it comes to Yamaha models, you can find some for less than $1,000.
Others will cost more than $10,000. And I didn't even include the gold flutes that Yamaha sells, which can easily top $30,000.
Be sure to consider when you want to buy a flute and how much you can realistically save before then. You can also look into financing through a flute shop or get a loan through your bank to help fund the purchase and pay it off later.
Review the Specs You Want
All of the flutes I shared come standard with an offset G since that's what I prefer. However, I know some players who like using an inline G key.
In that case, you can look for other Yamaha flute models. The various series include models with other specs, so don't just look at the model number.
Consider the model number digits, so look for flutes with 8 as the middle digit if you want an inline G. You should also consider other specs to make sure you can get them standard or as an add-on to whatever flute you buy.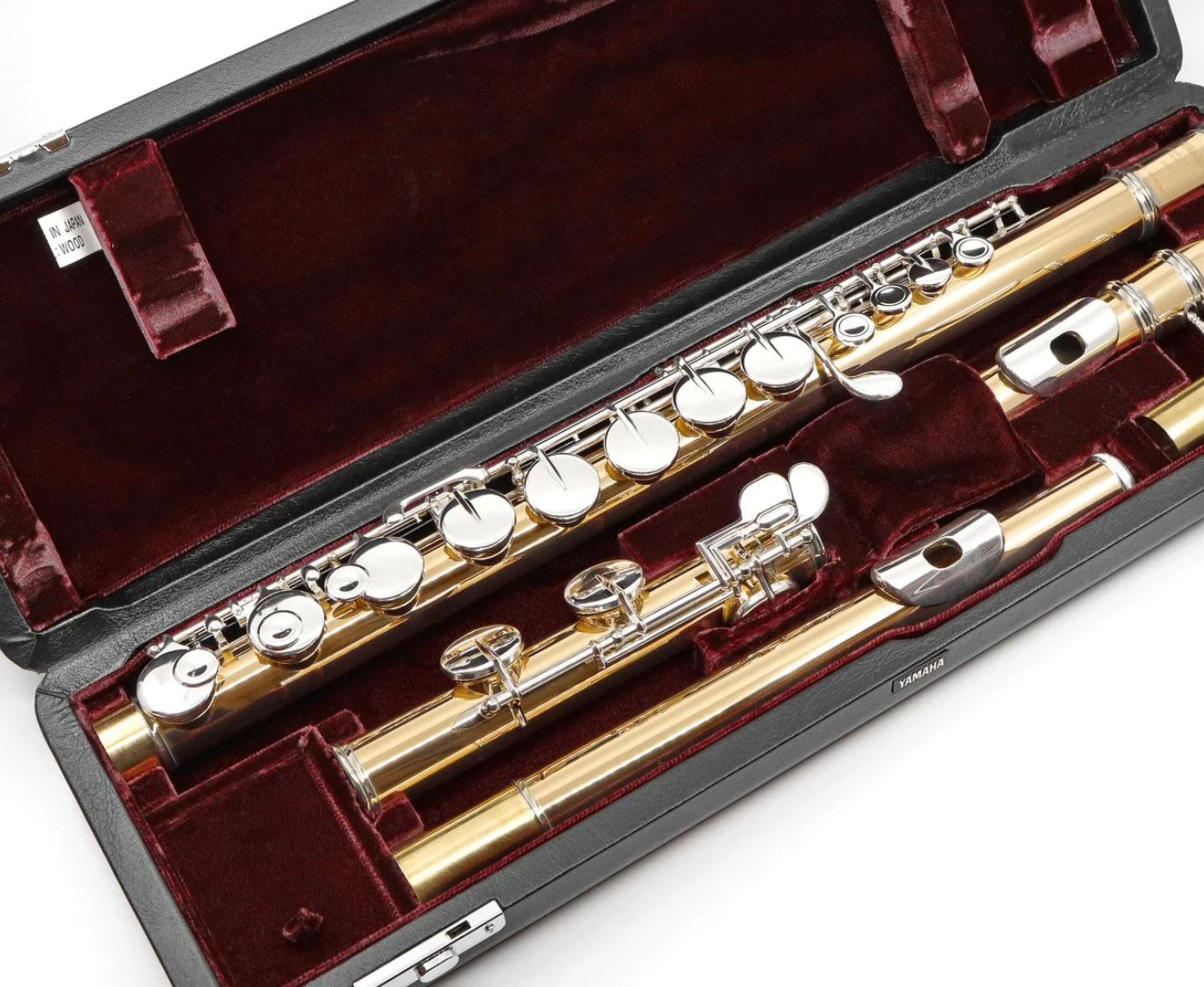 Try Other Flutes
As I mentioned, I haven't played a lot of Yamaha flutes, and I don't currently own any. But that's okay because Yamaha flutes aren't for everyone, and neither are my brands.
Try flutes from other companies to make sure Yamaha is the brand for you. Similar brands to compare include Pearl, Trevor James, Di Zhao, Altus, and Sankyo.
You can also try brands like Powell or Burkart when you're looking for a professional flute. That way, you'll have the largest selection available to help select a flute you love.
Like they say in Harry Potter, the wand chooses the wizard. The same thing frequently applies when you're choosing a flute.
Don't Forget About Used Flutes
I'd also recommend looking on the used market to find a Yamaha flute. Used models tend to be more affordable than their new counterparts, especially at the student level.
You can look on Facebook or Craigslist or check out The Flute Finder. Dana will search for the used flutes you're interested in, so you don't have to spend time doing that yourself.
I can't stress enough how important it is to try a used flute before buying it. You don't want to end up with an instrument that requires expensive repairs to get back into playing condition.
Give the flute a try, or ask a teacher to try it if you're a beginner. Then, you can make sure the flute will work for you without costing extra money.
FAQs About the Best Yamaha Flute Models Guide
Question: Is Yamaha a good flute brand?
Answer: Yamaha is a good flute brand, even though it's not just a flute company. The brand makes flutes for every level, so there's something out there for most flutists.
Question: What do the Yamaha flute model numbers mean?
Answer: The first digit of a Yamaha flute model refers to the series number and level. Beginner flutes start with 2, intermediate with 3 or 4, and professional with 5 or higher.
A flute's second digit refers to if the flute has open or closed holes and if it has an offset or inline G. The last digit simply refers to the flute version, which Yamaha occasionally updates.
Question: Are Yamaha flutes expensive?
Answer: Some Yamaha flutes, like the pro models, can get expensive. However, they're often more affordable than flutes from other brands with similar specs.
The major exception is the beginner model, which costs more than some beginner flutes.
Question: Do you need a full silver flute?
Answer: You don't need a full silver flute to learn or improve your playing. I didn't get an all-silver flute until I bought my professional model a few years ago, and I did just fine.
More important factors include your price range and how the flute you choose responds to your playing style.
Final Note on the Best Yamaha Flute Models Guide
You should consult the best Yamaha flute models guide when shopping for a new instrument. An excellent guide can help you select a flute that meets your needs.
However, I also recommend trying flutes outside of Yamaha. I didn't end up with a Yamaha flute, but I still believe they're at least worth a try.
Compare as many flutes as you can in your budget. If you're a beginner, be sure to include the Yamaha YFL-222 in your search. But professionals should look at the 577 and above.