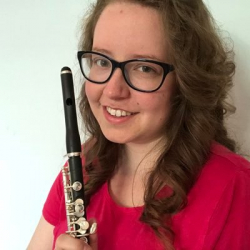 Latest posts by Hannah Haefele
(see all)
Whether you're a beginner or professional, you should know about the best flute solos to play. Some solos have been standards of the flute repertoire for centuries, while others are merely a decade old.
Fortunately, the flute rep is massive, so most players will find a piece they like. However, that can make it hard to choose one or two solos to learn.
Bottom Line Up Front: Some of the best flute solos, in my opinion, include the Chaminade Concertino and Syrinx. Be sure to consider other solos as well to decide which ones you should learn.
Best Flute Solos to Play
To share some of the best flute solos to play, I went through my personal flute music library. I chose pieces that I've either played or have heard others play.
Most of the pieces I chose are standard flute solos, either flute alone or with the piano. However, there are some major flute solos from the orchestral repertoire, so I included a few of those.
I went with solos that I've played or have heard others play, and I chose some music that I learned about in my flute literature class in grad school. Also, I tried to choose solos from a variety of eras, from Baroque to modern works.
This list isn't complete, but you can use it as a starting point. And I did my best to share the pieces in chronological order, but it might not be perfect, though they are in order of the overall era composers wrote them.
Here are some flute solos you should play.
J.S. Bach Partita in A Minor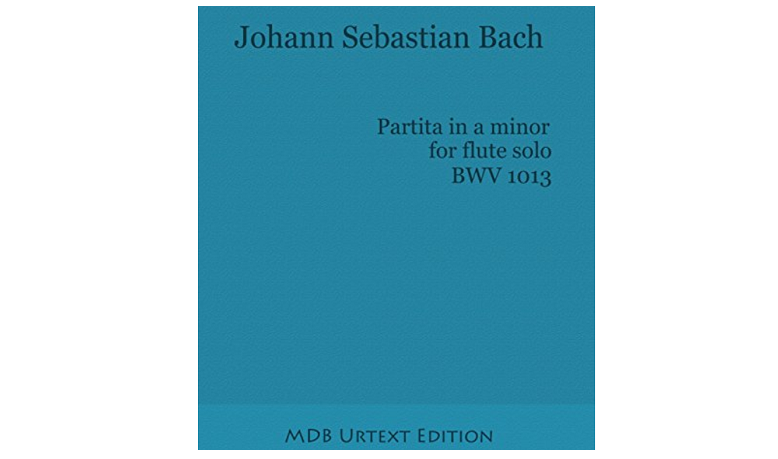 I first learned of the J.S. Bach Partita in A Minor during a flute lesson the summer before my junior year of college. My teacher had a poster of the manuscript in her studio, and we got to talking about it.
This piece has four movements, each based on a dance from a different European country. I love that it's unaccompanied, so you don't need anyone to play with you.
However, it's very challenging, and the National Flute Association (NFA) rates it at its highest difficulty level. I played the piece on my junior recital, and it was hard, so much so that non-musicians could tell, but it was fun.
Still, it's a fun piece to learn. If you can't quite play the first and second movements, the third and fourth are a bit easier. I'd recommend learning those movements first since they're also shorter.
J.S. Bach Sonatas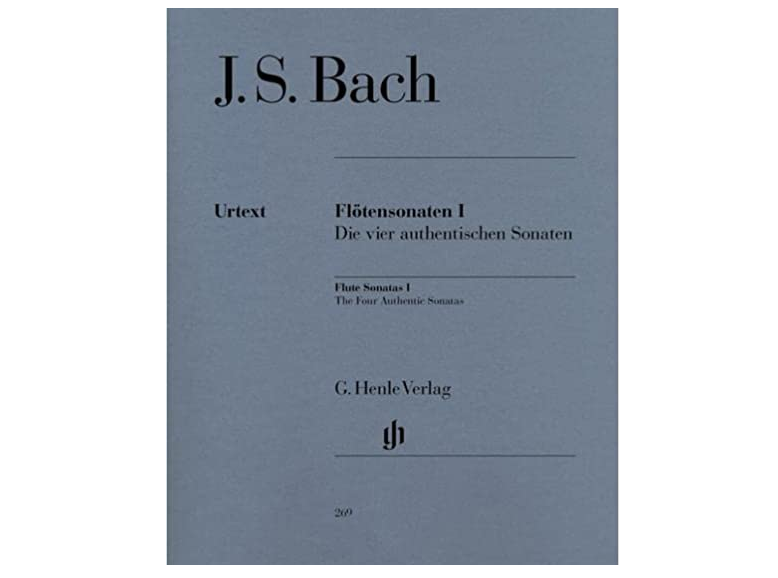 J.S. Bach also wrote seven sonatas for the flute with piano or continuo. Continuo was a Baroque pairing of the harpsichord and an instrument such as the cello.
You can buy the music in two volumes, and the first contains four sonatas. The second contains three sonatas, and you can also buy the digital version through the Henle iPad app, which is what I did.
I played the Sonata in A Major in grad school, and I loved it. If you play that one, be sure your pianist has the same edition because there are some discrepancies since part of the manuscript was lost. Editors filled in that missing section.
A lot of people play the sonata in B minor. But I'll admit that I like to play less popular works when I can so that audiences don't have to hear the same stuff over and over.
J.S. Bach Orchestral Suite No. 2 in B Minor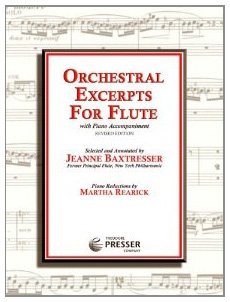 One of the first big orchestral flute solos comes from J.S. Bach Orchestral Suite No. 2 in B Minor. You'll find the solo excerpt for this work in the book Orchestral Excerpts for Flute.
Overall, the piece has seven movements, but you'll need a different edition to get all of them. The two movements that most flute players focus on are in the orchestral book, and they're Polonaise and Badinerie.
I played both movements during my junior year of college and enjoyed them. While I haven't played this piece with an orchestra, I like that there's a piano reduction.
The piano part is easy enough that many flute teachers can play with you, and that's what my professor and I did when I performed the solo.
Telemann 12 Fantasias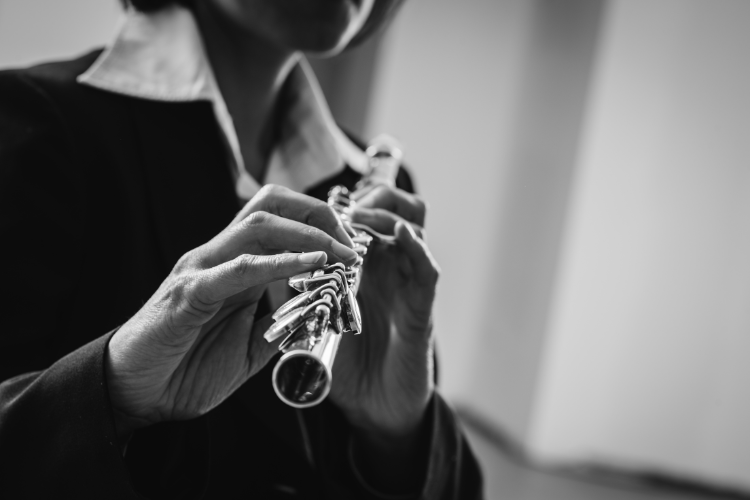 Another collection of Baroque flute solos comes from Telemann and his 12 Fantasias. The pieces are all for unaccompanied flute, so you don't need a pianist to play with you.
I learned a few of the Fantasias in college, but I learned them on the piccolo instead of the flute. I think they work well on both instruments since they don't go too high or low for the piccolo.
However, if you want to stay true to the composer's intent, play them on the flute. The pieces sound great, and I like how they're all in different keys so that you can learn your music theory along the way.
C.P.E. Bach Sonata in A Minor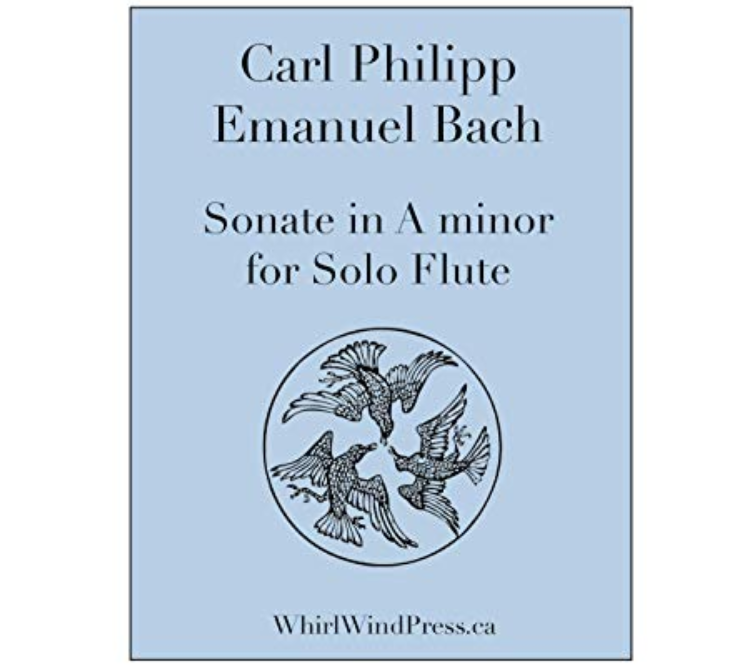 Moving into the early Classical era, there's the Sonata in A Minor by C.P.E. Bach. He was probably the most successful out of all of J.S. Bach's children, and this piece is a big part of the flute repertoire.
I've played the piece but never performed it, though I did see a guest artist perform it when I was in grad school. The piece has some elements of Baroque music, but it's not as ornament-heavy.
If you get this piece, be careful about the edition. I got the International edition, which is fine, but they switched the first and second movements. The first movement should be the slow one, which is different from the standard sonata form.
Mozart Concerto in G Major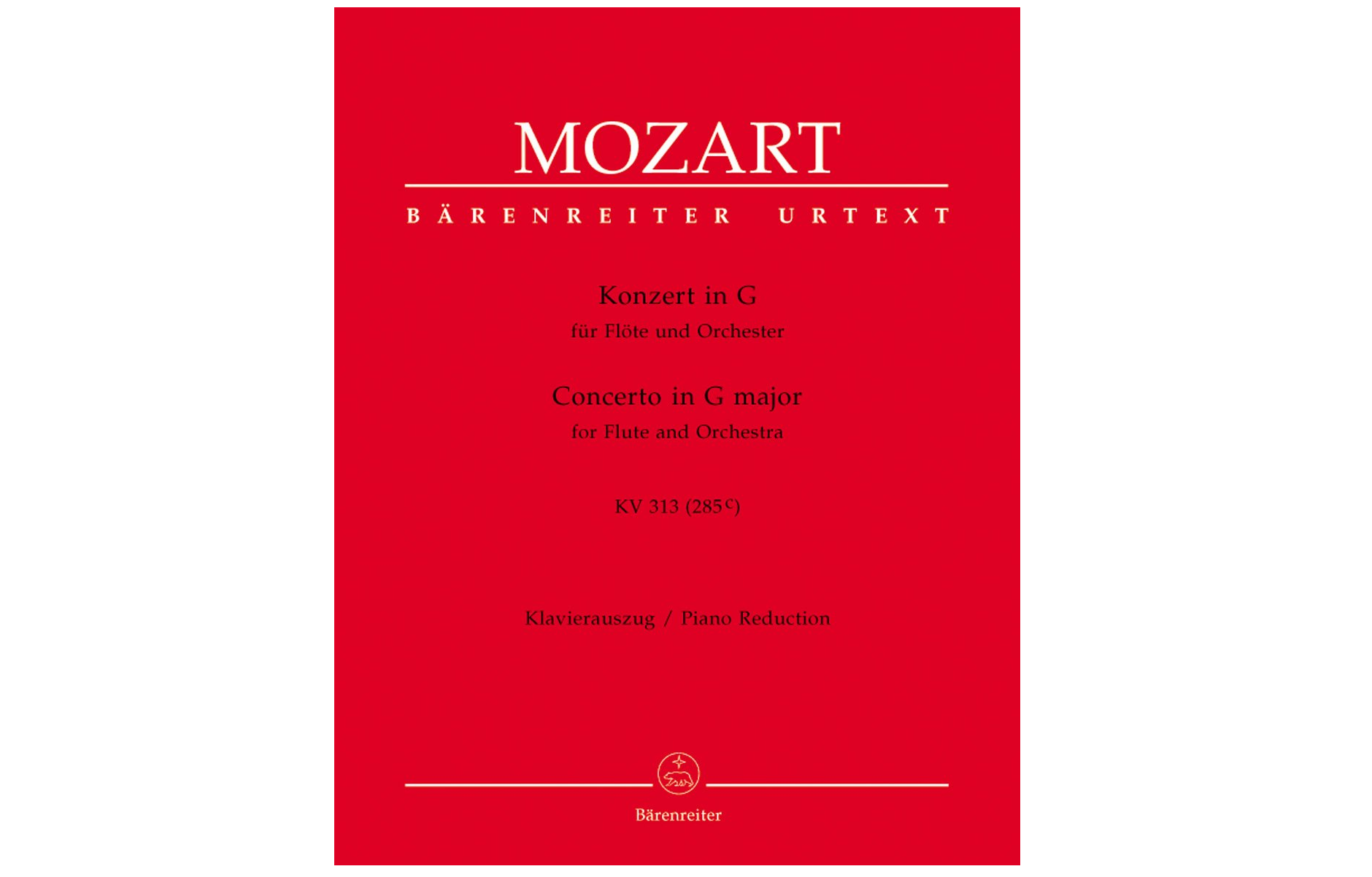 Probably the most famous flute solo is the Mozart Concerto in G Major. This work is a staple of college and professional audition requirements for flute players.
In my home state of Kansas, even high school students play it once every few years for all-state ensemble auditions. It's a big piece, and it's not easy to learn.
There are three movements, but the classical form means there are some patterns. Once you learn it, it's easy to come back to if you ever have an audition or competition that requires it.
Even though it's a big piece, I find it kind of boring. Maybe it's because it's a long work, or perhaps I just prefer more recent works, but it's still good to know about this concerto.
Gluck Menuet and Dance of the Blessed Spirits
Another orchestral solo that you'll find in the orchestral excerpt book is Menuet and Dance of the Blessed Spirits. These solos come from the opera Orpheus by Gluck.
The Menuet is a slow, melodic piece and it's an easy piece so good for early intermediate players. However, the dance has more notes, even though it's still pretty slow.
I first learned this piece early on in college, and it was hard at first. Once you get the hang of it, it gets easier, and you can enjoy playing it alone or with accompaniment.
I love the change from a lyrical melody with longer notes to more flourishes in the dance. It offers a nice contrast, and you get to show off your flute tone.
Chaminade Concertino
The Chaminade Concertino is a massive part of the flute repertoire. For one, it's the first piece to gain popularity that was written by a woman (there are others now).
It was the chosen examination piece for the Paris Conservatoire flute students in 1902. Chaminade wrote more music for the piano, but her flute piece is more well-known today.
I love how a big flute solo comes from a woman, even though she had to hide her identity during her life. Now, we can enjoy the Concertino, and it's exciting to play and listen to.
You can get this and other pieces in the book Flute Music by French Composers. I played the piece as the closer of my senior recital, and it was super fun to learn and put together with the piano.
Faure Fantasie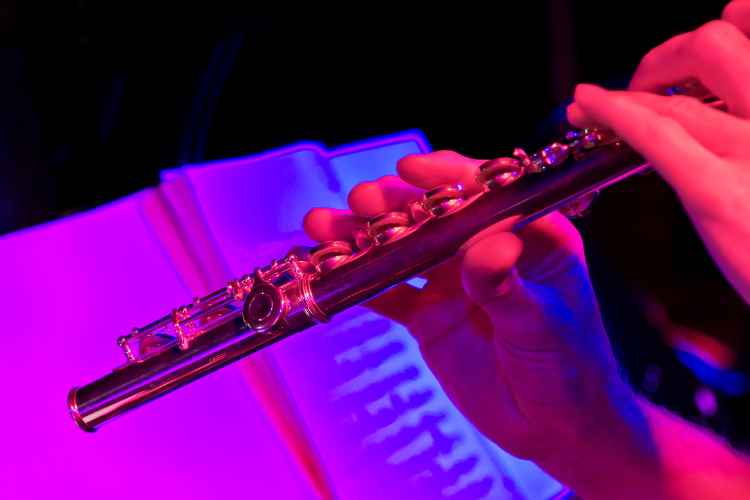 If you buy the French book, you can also learn the Fantasie by Faure. He was another big French composer, and this piece was the Paris Conservatoire exam piece in 1898.
I played this piece on my junior recital, and it was difficult but rewarding to play. It starts off with a nice slow section that almost acts like a movement, but the whole thing is one movement.
Then, you get to move into a faster section with more technical parts. While I played it with a pianist, I love the orchestral version with all of the different sounds each instrument provides.
If you like French Romantic music, you'll probably love playing this solo. I'd recommend just learning the first page if you're at an intermediate level since it's easier than the rest of the piece.
Bizet Carmen Entr'acte
The Entr'acte to Carmen serves as the Prelude to Act III, and it features a flute solo at the beginning. I learned this solo either my freshman or sophomore year of college, and it was good.
It's a nice lyrical piece, and it's not as difficult as some flute solos. You can play it alone or with a piano reduction of the orchestral score.
Of course, if you get to play it with an orchestra, that's even better. But most of us won't have that opportunity, so you can play it in other ways.
I still love getting to play this solo, even if it's on my own. The flute has a lot of fantastic French repertoire, which offers a chance to express yourself.
Rossini William Tell Overture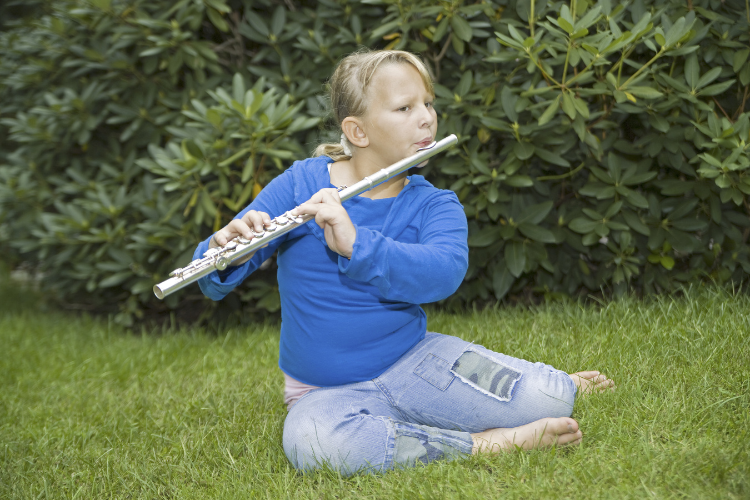 Another big orchestral solo from the 19th century comes from the Overture to William Tell by Rossini. You can get this excerpt from the same orchestral solo book I've shared.
This solo features a couple of challenges, one of which is repetitive sextuplets that are 32nd notes. The other challenge is that you have to fit this solo in with the English horn part.
I had to do that with my flute professor when she played a transposed version of that solo. We played together as part of ensemble placement auditions when I was in grad school, and it took some practice but was fun.
Even if you don't get to play the solo with someone else, you should still learn it. It's an excellent challenge for advanced players, and you can use the rhythmic and theory skills you learn in other works.
Reinecke Concerto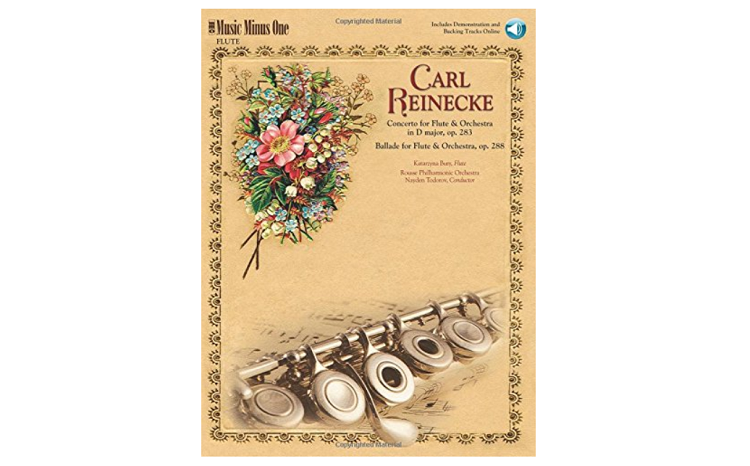 Going back to Romantic era flute works, we have the Concerto by Reinecke. One of my flute friends played this piece, and she sounded amazing on it.
It has multiple movements, and each movement offers a different character. The work makes for a great concerto competition entry piece, so you can play it with an orchestra.
However, the piano reduction is also pretty good, so you can play it with one other person. The NFA rates it at the second-highest level of difficulty.
I love that the composer was German, which is a nice change from all of the French flute music of the Romantic era. While I haven't played this work, it was fun to read through when I first learned of the piece.
Widor Suite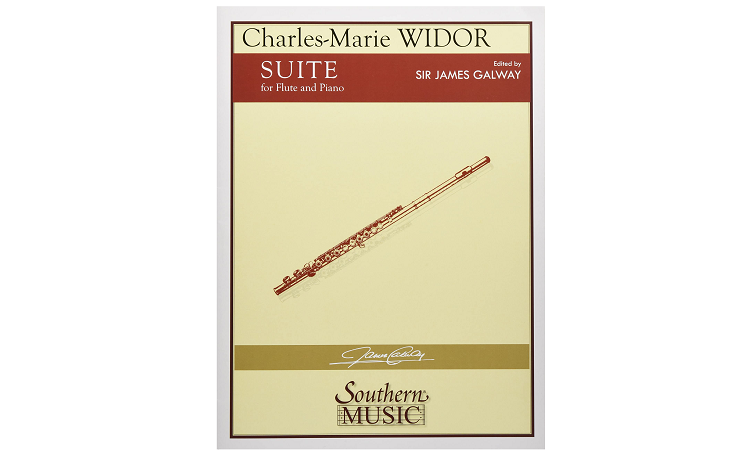 A few years ago, I briefly learned the Widor Suite though I never performed it. You can find one version for free online, but it doesn't have the full last movement.
I bought a better edition from a local music store, but you can also buy it online. The flute virtuoso Sir James Galway edited it, and it has some good markings to help you learn the piece.
Plus, his edition doesn't have unnecessarily awkward page turns. The other edition I have places the first three movements (each of which is only two pages) on back-to-back pages instead of side-by-side.
All of the four movements are a bit different, and it rotates between slow and fast. I'd love to revisit the piece one day and perform it with a piano player, but I can still enjoy playing it myself.
Saint-Saëns Volière Carnival of the Animals
Carnival of the Animals by Saint-Saëns is an excellent piece showcasing orchestral instruments. The movement Volière (The Aviary) shows off the flute, and it's in the same standard excerpt book I've shared.
I learned this solo for a mock orchestral audition at the end of my junior year of college. It's probably one of the most difficult flute solos out there, and I'd be okay if I don't ever perform it with an orchestra.
It's basically all 32nd notes, and the tempo is between 72 and 80 beats to the quarter. Since there are 8 32nd notes per quarter, you have to play about 576 to 640 notes per minute. At least it's almost all scales or arpeggios.
Debussy Syrinx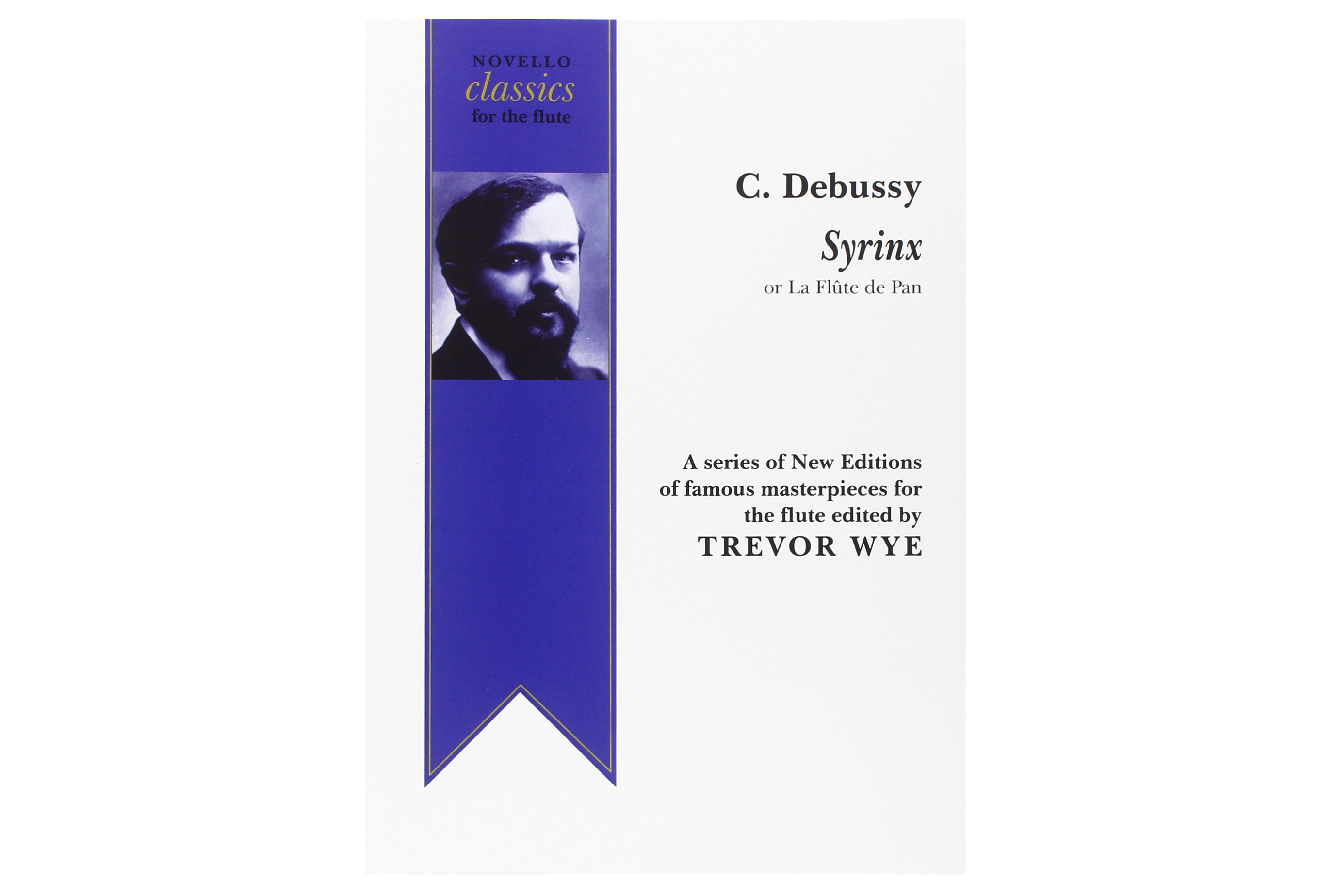 Moving into the 20th century, we have Debussy Syrinx. I first learned this piece during my senior year of college, and I managed to memorize it for my senior recital.
It's an unaccompanied piece, and it's not too long, so memorization was fairly easy and can help tell the story of the work. Debussy based the piece on the story of Pan and Syrinx, who runs away from Pan's love.
Syrinx disguises herself as a set of bamboo in the woods. Pan finds the bamboo and turns it into a flute, but plays a sad improvisation after realizing he essentially killed the love of his life.
Because of that story, I thought it was really important to memorize the piece. That way, you can take on the character of Pan and make the audience feel like you're making up the notes as you go along.
Bozza Image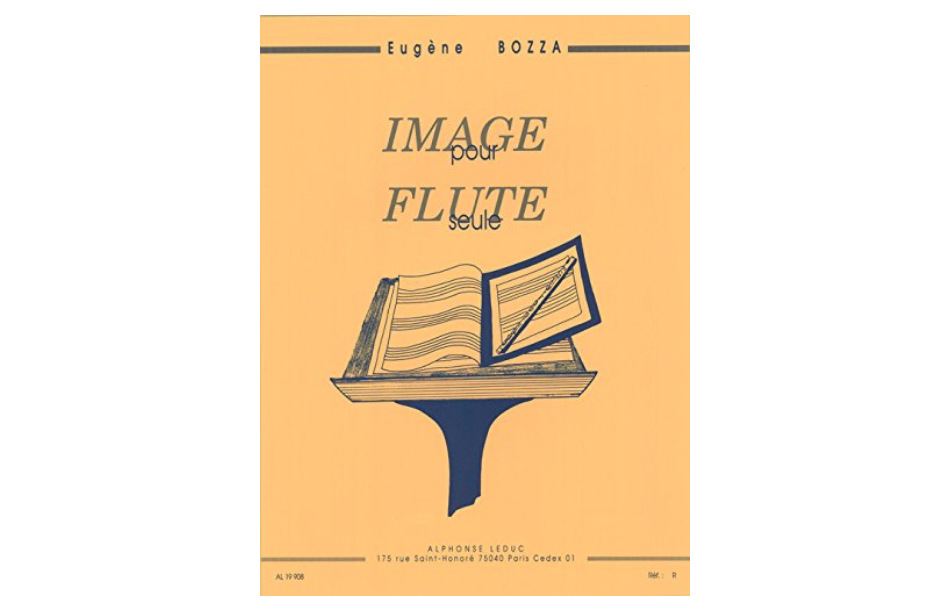 Another unaccompanied solo from the early 20th century is Image by Bozza. I played this piece on my first graduate recital, and it was fun to learn and perform.
It starts off slow and improvisatory, but it soon moves into a more technical section. The middle part is also more lyrical and almost like a love song.
At the end, it returns to the first more technical part with a few small changes. If you play the saxophone, you may recognize some of the melodies from a saxophone piece by Bozza.
I like that there's a bit of flutter tonguing, which is where you roll your tongue or make a growling sound as you play. Despite years of Spanish classes, I can't roll my tongue that well, so I'll growl to do a flutter tongue.
Muczynski Sonata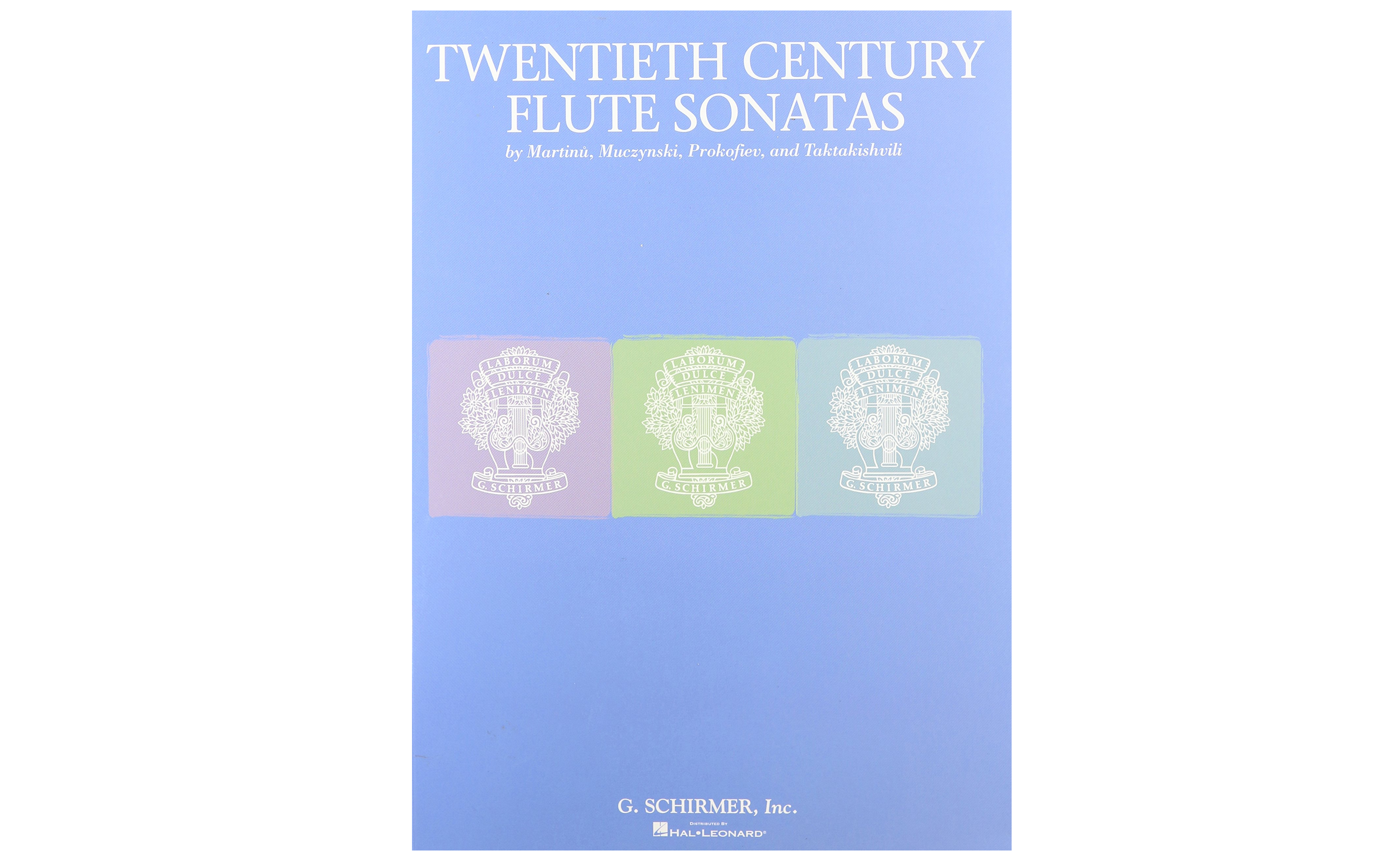 The first big solo by an American composer was the Sonata by Muczynski. I first heard the piece when I went to a recital early on during my grad school program, and it was a cool piece to hear.
Later, one of my flute friends played it on her junior recital, and she did a fantastic job. You'll find this piece in the collection Twentieth Century Flute Sonatas.
It has four movements, so it's one of the bigger sonatas from that century. I like that there are a lot of meter changes, but you need to be good at counting to play this piece well.
Taktakishvili Sonata
Another sonata you'll find in the Twentieth Century book is the Taktakishvili Sonata. I played this as the closer to my first graduate recital, and it's probably my favorite flute sonata that I've learned.
Sometimes called "the Taktak piece," I first learned the slow second movement. The first and third movements are faster, but they aren't too hard to play after a bit of practice.
If you want to learn a piece by a Georgian composer (the country), this is a great option. Taktakishvili took a bit of inspiration from the music of the Caucasus mountains, so it sounds different from a lot of flute solos.
I love how it's not just another random flute piece. You get to experience and share a bit of Georgian culture when you perform the piece for others.
Poulenc Sonata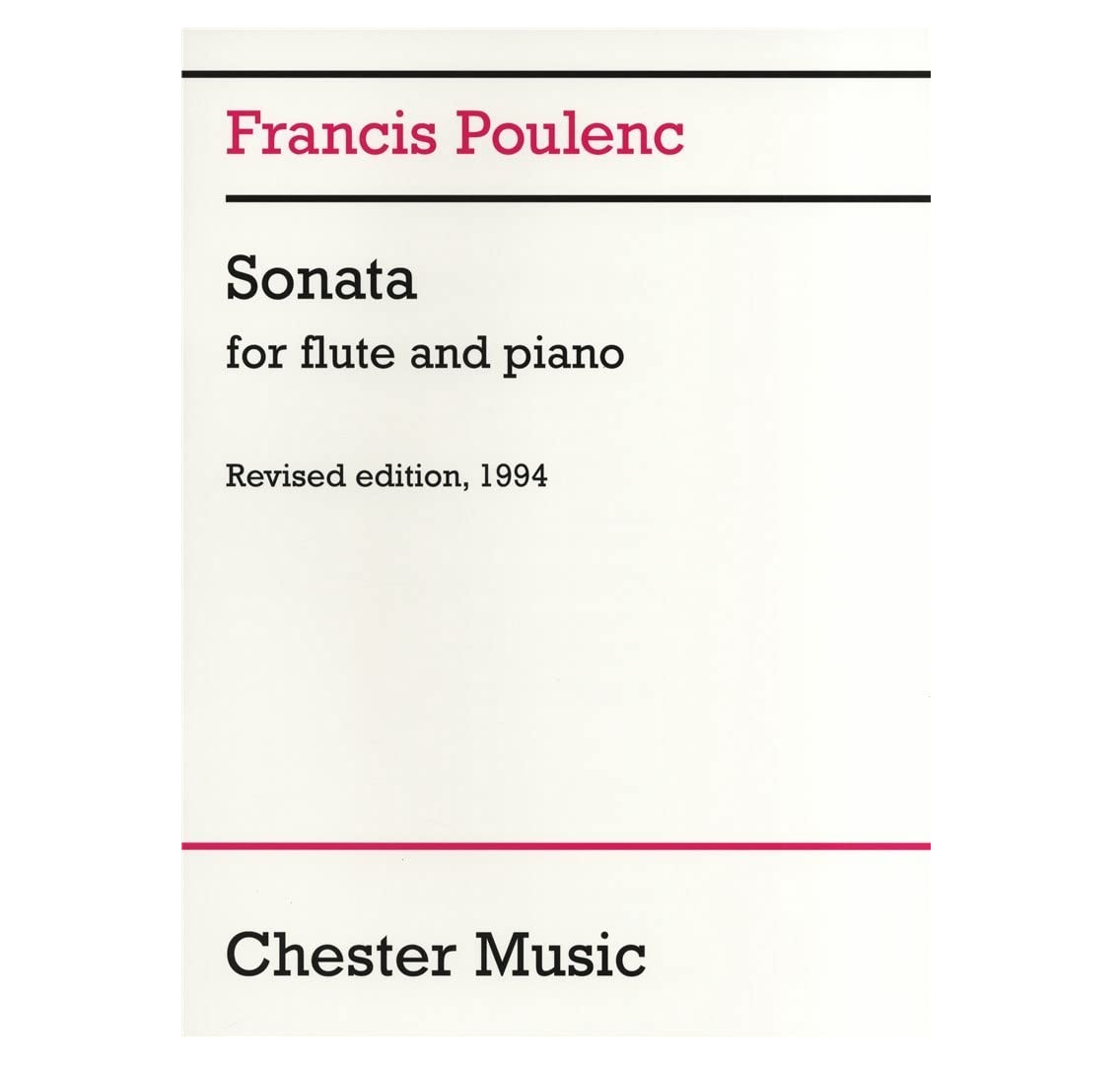 Before I went into grad school for the flute, I spent a bit of time learning the Poulenc Sonata. This is another big flute solo from the middle of the 20th century.
While I haven't performed it, one of my flute studio-mates and friends played part of it. She had a nice sound, and it was good to hear someone else play the piece.
One of my teachers told me that at least the second movement reflects on World War II. I love how you get to feel those emotions when playing the slower section.
According to the NFA, it's at the second-highest difficulty level, so it's best for college or other advanced players. If you have the skills, you can make this piece sound fantastic.
Hoover Kokopeli
Flutist and composer Katherine Hoover wrote Kokopeli for solo flute. Hoover based the piece on her Native American roots, and it's a free-flowing piece.
It doesn't have any measures or bar lines, which can be jarring if you've never played music like that. However, that means you get to be a bit more creative with your phrasing.
My grandmother loved Native American culture, so I'm sure she would have enjoyed this piece. I love that the work has some lyrical parts and some more technical passages.
It's ranked at the level H by the NFA, where K is the highest level. If you don't like this work, Hoover wrote a lot of amazing flute solos and flute ensemble pieces.
Coleman Danza de la Mariposa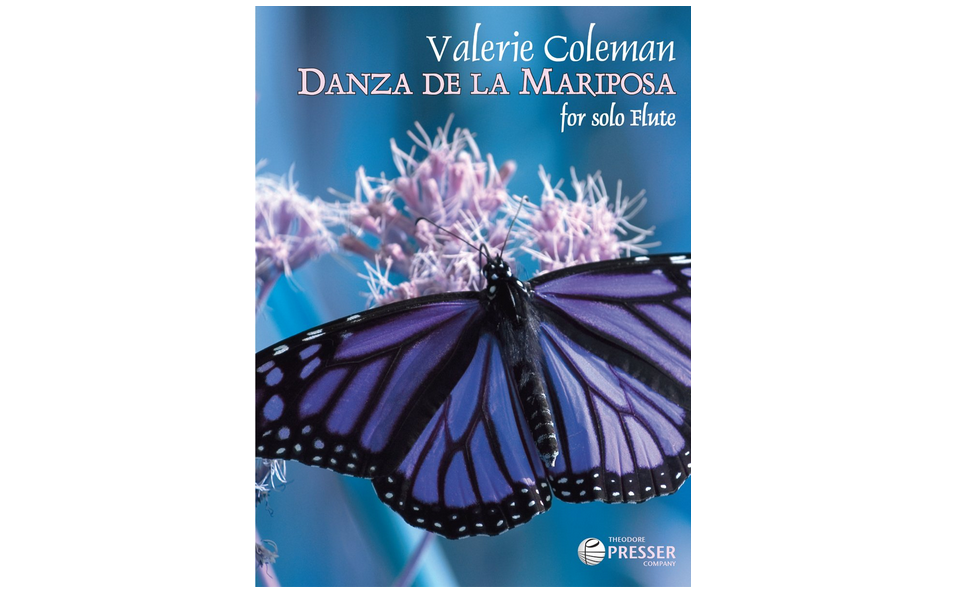 Another flutist and composer who has written a modern flute solo is Valerie Coleman. She wrote the piece Danza de la Mariposa, and it's an unaccompanied work.
It takes inspiration from South America, specifically the continent's butterflies ("mariposa" is Spanish for "butterfly"). I like how the piece has some lyrical sections and more technical parts.
Each part uses rhythms you'd find in South American music, from Peru to Argentina. While I haven't played the piece, I've read through it, and it's hard but sounds great.
If you plan on doing competitions, I'd recommend learning the work. I've seen it pop up on a few repertoire lists, so the sooner you learn it, the more time you'll have to play it well.
FAQs about the Best Flute Solos to Play
Question: How do You Choose a Flute Solo?
Answer: You can choose a flute solo by starting with your current playing level. Choose a solo that will challenge you a bit to keep you from getting bored but that won't stress you out too much.
If you're in college for flute, consider if you have to fulfill any specific repertoire requirements. Then, you can make sure to choose pieces that make sense for you to learn.
Question: Can You Play a Flute Dolo without Piano?
Answer: You can play a flute solo without piano. Some pieces are unaccompanied, which means the only part the composer wrote is for the flute.
Others are accompanied, so they have a piano part or a piano reduction of the orchestral score. While you can play those pieces alone, they might not sound as good as with the full instrumentation.
Question: What if You can't Afford to Buy Flute Sheet Music?
Answer: If you can't afford to buy music, you can ask for it for birthday and holiday gifts. Another option is to stick to pieces in the public domain since you can access them for free online.
Sites like FluteTunes and IMSLP upload pieces that are out of copyright. You can download the PDF and import it into a sheet music reader or print off the file.
Question: How do You Choose the Best Edition of a Flute Solo?
Answer: First, consider the era when the composer wrote the solo. When it comes to Baroque music, you should look for an urtext edition, which will have minimal edits.
In general, it helps to look for editions by flute players or musicians who understand the instrument. If you're buying a more modern piece, the composer's edition is usually the best.
Final Note on the Best Flute Solos to Play
The best flute solos to play depend on your current studies and what you need or want to play. I love solos like the Chaminade Concertino, the J.S. Bach Partita, and Debussy's Syrinx.
However, you may prefer other works, so you should listen to all of the ones in this list. But the great thing about the flute is that there's something for everyone.
Regardless of your preferences, you can decide which solos make the most sense for you to play.
For more interesting readings check out: