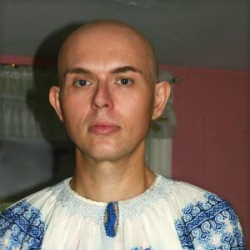 Latest posts by Kenaz Filan
(see all)
While they are most famous for their Bach Stradivarius trumpets, Bach also makes some pretty impressive trombones! Whether you're just starting your trombone career or looking for a new conservatory instrument, Bach has a trombone that will meet your needs. But with all those choices, it can be hard to figure out what is the right Bach trombone for you.
I will explain the differences between the various Bach lines in this article and even talk about Bach's less well-known trombones. Jazz buffs, concert trombonists, and raw beginners will be able to find their perfect Bach trombone. Curious? Read on!
Bottom line up front: While the Bach Artisan A42X is the best instrument for symphonic performers and the Bach Stradivarius LT16M the best choice for jazz musicians, you can't go wrong with any Bach trombone.
How I Chose the Best Bach Trombones
Bach divides its lines into student, step-up, and professional categories. Most of the trombones Bach makes are sold as the "Professional" line. To an untrained eye, distinguishing between the various categories can be very difficult. I have tried explaining what each category offers musicians at various performance levels.
Because professionals have strong personal tastes, Bach offers professional trombones with variations in details like leadpipe, bore, or wrap. I talk about those differences in this article and explain why they are important. Bach's professional trombones are further distinguished by their Stradivarius and Artisan labels. I have listed professional Bach trombones from both lines.
Bach is a highly-regarded maker of brass instruments, but Bach trombones don't come cheap. Fortunately, Bach has instruments at different price points. I have tried to steer readers toward instruments that meet their needs and will give them the most for their money. A Bach student instrument and a Bach Stradivarius trombone are both investments in a musical future. I want to steer you toward the Bach instrument you need and can afford.
Best Beginner Bach Trombone: Bach TB301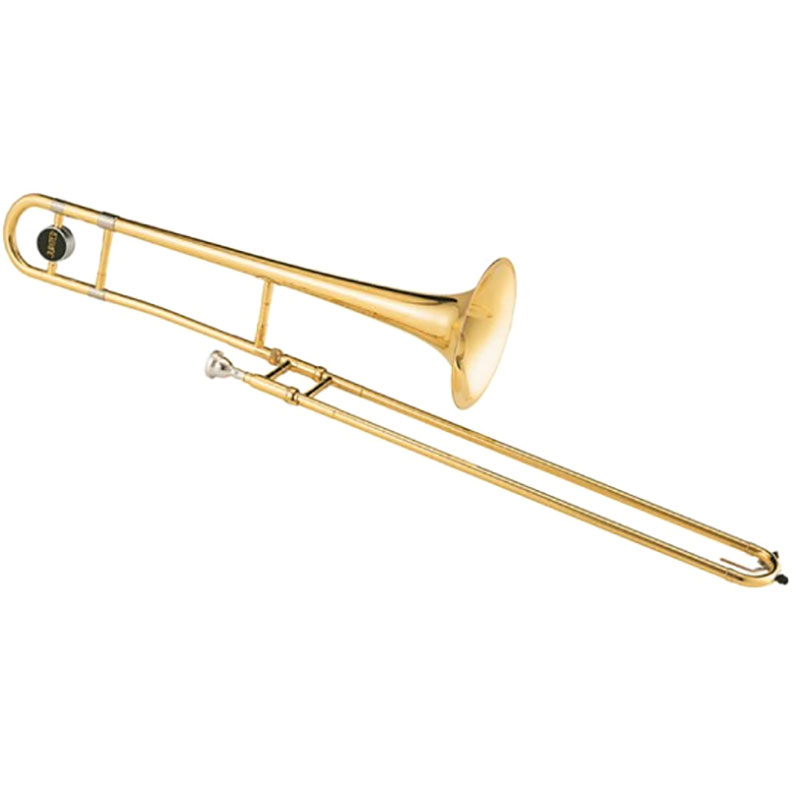 You can get a "student trombone" online for 20% of the cost of a Bach TB301 trombone. But the TB301 is popular with student bands and rental programs for a reason. Many of those cheap instruments have serious quality control issues. They are sold by companies that disappear when you try to get a refund. Bach has been in business for over a century.
The TB301's .500″ bore will be easier to play for younger students than the larger bores common on professional trombones. It also offers enough resistance to help them develop their lungs for a wider, louder trombone. And the 12C mouthpiece is not just comfortable for students: it's also popular with many more advanced musicians.
Like most student instruments, the Bach TB301 is made with thicker brass than professional instruments. This deadens the tone slightly but makes the TB301 less likely to be damaged by rough handling. The TB301 may not have the rich resonances of a professional trombone, but it plays in tune and will sound very good if the student uses proper embouchure and slide control. And if your student decides to take up marimba instead, you'll have no problem selling your well-maintained TB301 for a good price on the used market.
Pros
Music teachers and tutors will be familiar with the TB301
Comes with Bach's popular 12C mouthpiece
Holds resale value well
Cons
Not really suited for professional use
Specs
.500″ bore
8″ bell
Yellow brass outer handslide tubes
Brass outer slide
Chrome-plated nickel silver inside slide
Connecting ring on bell
Clear lacquer finish
Bach 12C mouthpiece
50883E molded case
Best Intermediate Bach Trombone: Bach TB200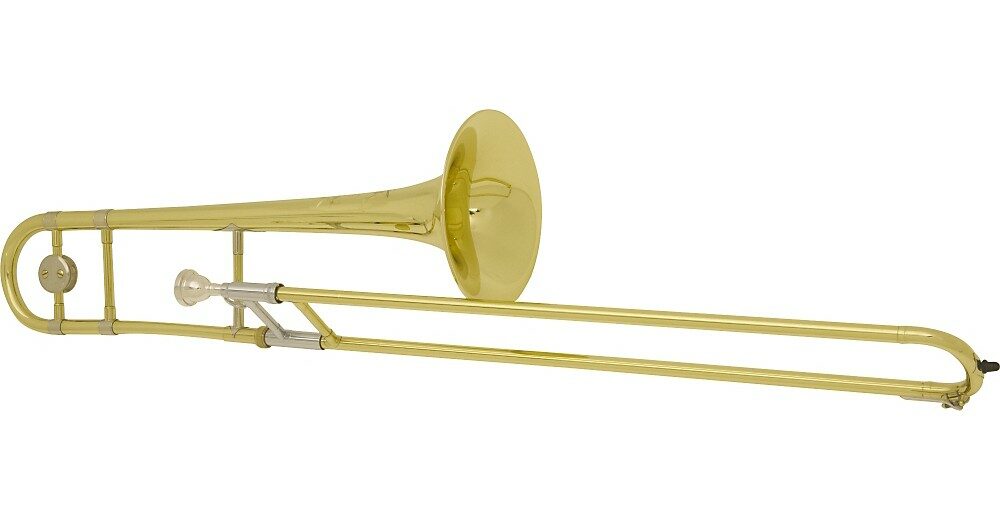 The Bach TB200 has a medium-large .525″ bore that will give players a louder and more forceful sound. An absolute beginner might struggle to fill the wider bore and wind up with bad breathing habits and intonation problems. This is a good trombone for a musician who has already mastered the basics and wants to move up to a better instrument.
The TB200 also ships with the Bach 6½ AL mouthpiece. The 6½ AL is slightly deeper and larger in diameter than the 12C used in the student trombone. This will help give you greater dynamic range and a fuller tone but will require more air and a more precise technique than your student trombone.
The Bach TB200 can also be ordered with a silver plate finish (TB200S) or with an F rotary valve (TB200B). The F attachment adds more range to the horn's lower register, and symphonic trombone players commonly use B♭/F trombones. However, many jazz musicians prefer a "straight" B♭ trombone for its freer breathing. 
If you are an amateur musician looking for a solid horn at a reasonable price, the TB200 might be perfect for you. Bach's intermediate line packs in around 80-90% of the features you find in Bach's Stradivarius and Artisan lines, but at approximately 50% of the cost.
Pros
Colorful, broad tone with the Bach house sound
Quick and responsive handslide action
Very close to professional quality for much less money
Cons
Bach's intermediate line offers fewer choices to musicians than its professional line
Specs
.525″ bore
8″ yellow brass bell
Yellow brass outer slide
Clear lacquer finish
Bach 6-1/2AL mouthpiece
4863 woodshell case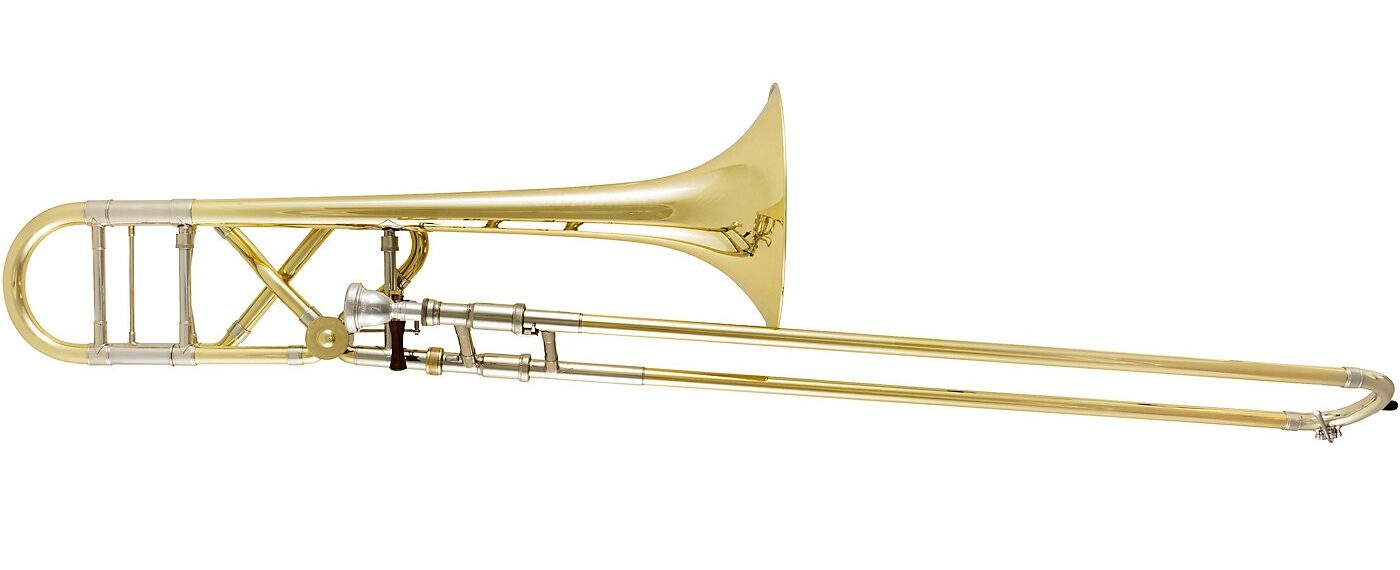 The first thing you will notice about the Artisan A4X trombone is the distinctive "X" tubing. But that X isn't just for decoration. Bach's X wrap design provides balanced resistance and improved air flow throughout the valve section for an even tone when switching between rotors. And Bach uses their proprietary Artisan Rotor for faster action and full power across every register.
To give professionals more choices, almost every part of the Artisan A42X can be swapped out. For example, you can replace the standard 8½" 42 bell with a narrower-flared 47 bell for a brighter sound or an 88 bell with the broad flare of the legendary Conn 88H trombone. You can also use a rose gold brass bell if you prefer a darker sound profile. The A42X also comes with three leadpipes: the 42, 47, and 47O (open). This variety lets you choose your preferred resistance and feedback for different musical genres.
The A42X will set you back well over $5,000 and even more if you take advantage of the modular options to swap out bells or tuning slides. But for your money, you get an impeccably-designed work of musical craftsmanship that will last a lifetime. And if there's something you don't like about the Artisan A42X, check out some of the other trombones in Bach's Artisan series, and you're certain to find one you love.
Pros
Modular design lets you fine-tune your trombone to your personal tastes
Artisan trombones are the best instruments Bach can produce
X Wrap offers many advantages over traditional and open wraps
Cons
Specs
.547 large bore
Modular design
Key of B♭/F
Artisan Rotor valve
Artisan X Wrap
8½" one-piece hand-hammered detachable yellow brass 42 bell
Soldered bell bead with round brass wire
Reverse construction yellow brass main tuning slide

Yellow brass outer slide with threaded leadpipes

Three interchangeable brass leadpipes: 47, 42, 42O (open)
Clear lacquer finish
Deluxe engraving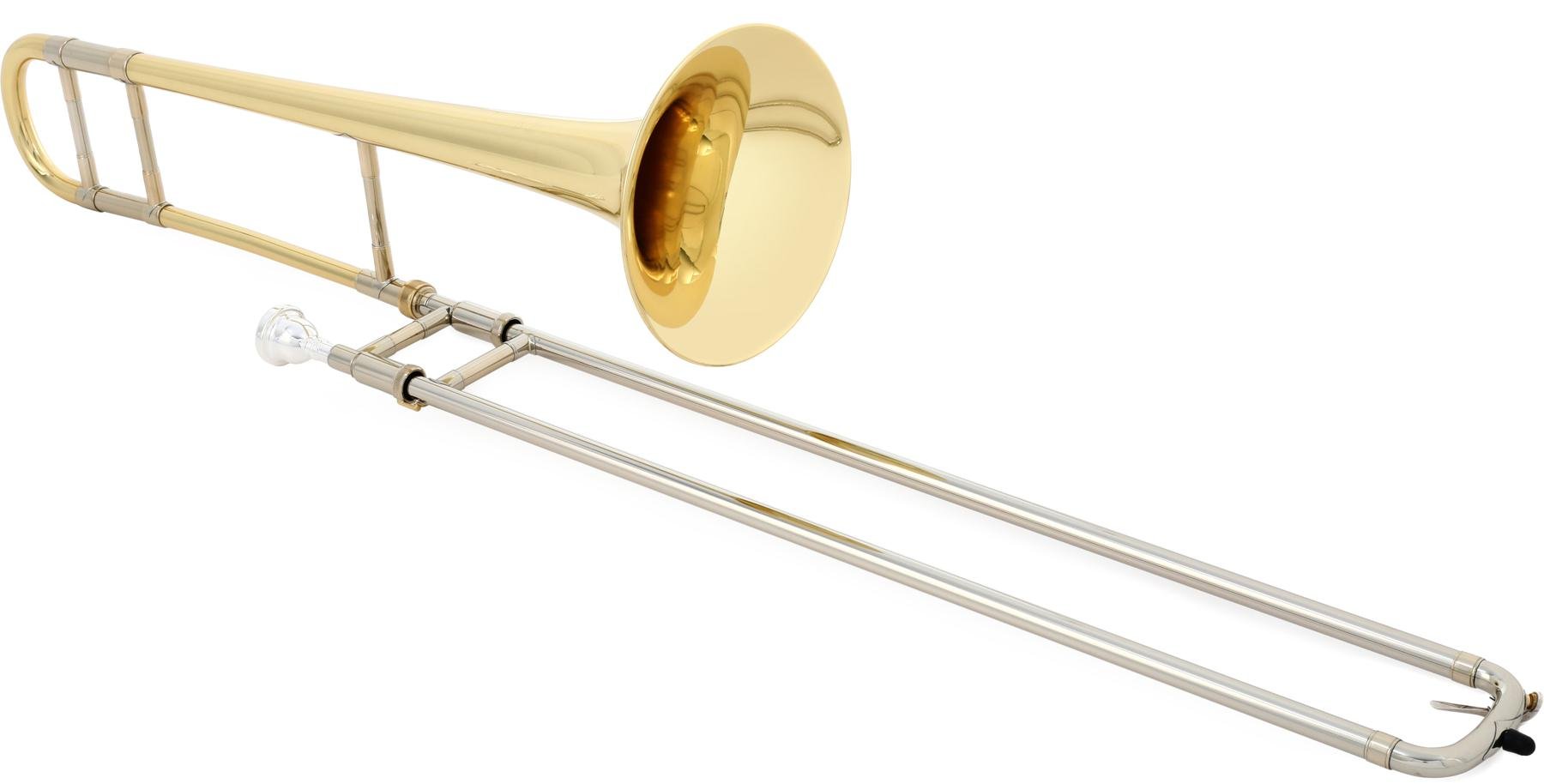 In the 1930s, jazz musicians loved Bach trombones, and today many jazz trombonists swear by the Bach Stradivarius LT16M. The LT16M was designed in consultation with legendary jazz trombonist Bill Watrous. This is a trombone that was literally made for jazz players with help from a working jazz musician.
A smaller .509″ bore and 7½" bell give the LT16M a brighter and more focused sound than symphonic trombones. The LT16M shines in quartets and smaller venues where a large-bore trombone might prove overwhelming but has plenty of power for those moments when you need to play above a big band. And the open gooseneck design makes the LT16M free-blowing so that you can sound sweet during both loud and soft passages.
The LT16M's lightweight nickel-silver outer and chrome-plated inner slides make fast passages a breeze. You'll love the speed and control you play an intricate bebop solo. And you'll love the easy, smooth action during long rehearsal hours or late-night jam sessions. If you want to play at the top of your game, you need a top-of-the-line instrument. And the LT16M is as good as it gets when it comes to jazz.
Pros
Designed by a working jazz trombonist for jazz musicians
Retains the classic resonant and complex Bach house sound
A classic used by many professional jazz musicians
Cons
Some trombonists report tuning issues with the LT16M's 1st or 3rd position B♭
Specs
.509″ bore
7½" one-piece hand-hammered yellow brass bell
Lightweight nickel silver outer slide
Open gooseneck
Clear lacquer finish
Bach 7C mouthpiece
C1867SA woodshell case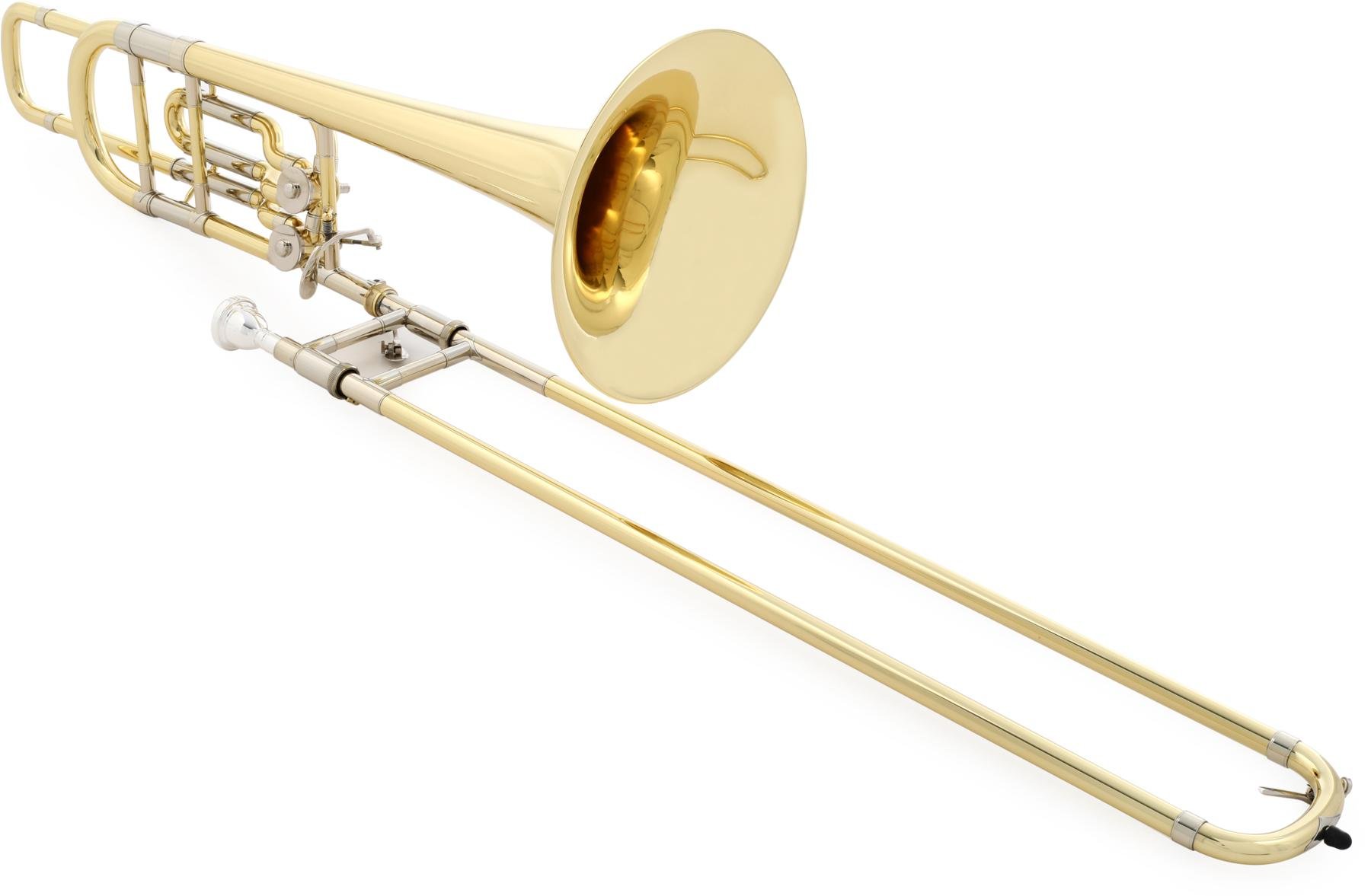 Maybe you've decided you prefer the trombone's lower end to its higher register. Maybe you were seduced by the bigger, beefier sound of the bass trombone. Whatever your reasons, if you are in the market for a bass trombone Bach's 50B2O Stradivarius is the choice of many symphonic trombonists around the world.
The 50B2O's open wrap makes it 50B2O longer than a bass trombone with a traditional wrap, but many musicians feel an open wrap provides better intonation and freer blowing. The F and E♭ attachments allow you to get to a B♭0, the second-lowest note on a piano. The 9½" bell and big .562″ bore give you the power you need (but demand solid lung capacity and breathing technique). And the Bach 1½C mouthpiece has a rounded brim that keeps your lips comfortable even during demanding passages.
You can get this trombone with a traditional wrap as the Bach 50B2 or an extra-large 10½" bell as the 50B2LO. You can also get a single-rotor bass trombone that lacks the second attachment, but some bass trombonists find better tone and playability. And if you are interested in learning more about bass trombones, check out my colleague's article on the best bass trombones.
Pros
A bass trombone that can be found in major symphony orchestras and recording studios
One of the freest-blowing bass trombones available
Bach offers many excellent choices in bass trombones
Cons
Open wrap is prone to denting
Specs
Double dependent rotor system
Key of B♭/F/E♭
.562″ bore
9½" one-piece hand-hammered yellow brass bell
Open wrap F attachment with traditional rotors
Yellow brass outer slide
Clear lacquer finish
Bach 1½G mouthpiece
1845B woodshell case.

Though valve trombones don't get a lot of love in North American and Western European music, they are popular in Latin America, Portugal, India, and Eastern Europe. If you want to play authentic Mariachi music, you need a valve trombone. The Bach Stradivarius V16 is one of the best valve trombones on the market.
The V16 is built on the design of the Bach 16 but uses piston valves instead of a slide to change keys. If you can play a trumpet, you can use those fingerings on a valve trombone, though it will play the notes an octave lower. And because Bach uses the monel valves from its trumpets in its valve trombone, you get the smooth fast action you expect from a Bach instrument.
Many less expensive valve trombones have a stuffy feel and serious intonation issues. The V16 blows like a Bach trombone and has a bright, forward sound that is perfect for Latin jazz. If you are serious about playing a valve trombone, you'll be hard-pressed to find a better instrument than the V16. I gave the V16 very high marks in my review of the best valve trombones.
Pros
One of the best valve trombones on the market
Built by a company famous for both valved and slide instruments
Powerful dynamic range across all registers
Cons
At nearly $4,000, the V16 is one of the more expensive valve trombones on the market
Specs
.485″ medium-bore
7½" one-piece hand-hammered yellow brass bell
Monel pistons
Clear lacquer finish
Bach 7C mouthpiece
1858 woodshell case
Frequently Asked Questions
Question: Where are Bach trombones made?
Answer: While many instrument manufacturers have offshored their production, all Bach trombones are made in the United States. Bach's intermediate and professional trombone lines are made at the Bach factory in Elkhart, Indiana. Bach has been building brass instruments since 1964. while Bach's student lines are made at the Bach factory in Eastlake, Ohio.
Question: Are Bach student trombones worth it?
Answer: While you can find beginner trombones for less money, a Bach student trombone is a solid, reliable instrument that will help beginning trombonists sound their best. And if your student likes the Bach sound, there are many excellent intermediate and professional Bach trombones available as step-up instruments.
Question: What is the best professional trombone?
Answer: Because each professional and advanced trombonist has particular needs and preferences, there is no single "best" professional trombone. The Bach Stradivarius 42 is very popular with orchestral and symphonic musicians, while many jazz trombonists prefer the smaller bell and more focused sound of the Bach Stradivarius 16.
Conclusion
Bach trombones aren't cheap, but they hold their value and, with good care, will serve you through a lifetime of music. Check your local musical store if you're in the market for a Bach trombone. Because Bach is such a popular line, there's a good chance they have a few Bach trombones available for you to try out. While recommendations are helpful, the best way to decide on a trombone is to try a few out and see what you prefer.
Whatever your choice, you should include Bach trombones in your search. They are well-made, have a good reputation and great sound, and come in levels to provide trombonists at all levels with years of happy playing.
Looking for more interesting readings? Check out: