Are you tired of playing the bass line or tenor harmonies as a trombone player? Consider how to find the best alto trombones so that you can play a higher line in a trombone choir or orchestra. Then, you won't have to learn a whole new instrument from scratch, and you can explore a new repertoire. And you can reinvigorate your love of playing music.
Types Of Trombones
When considering how to find the best alto trombones, you should think about if it's the right type of trombone for you. The tenor trombone is the most common type, and we usually refer to it as just the trombone. You can also play the bass trombone, which is bigger than the tenor trombone. It's not as common as the tenor, but it's more common than the alto, so you might not want an alto if you can't play the tenor or bass.
Fortunately, learning one can make it easier to learn the others. You won't have to learn how to move the slide each time you move to a different size, but the alto is best for players with some experience on the trombone.
How To Find The Best Alto Trombones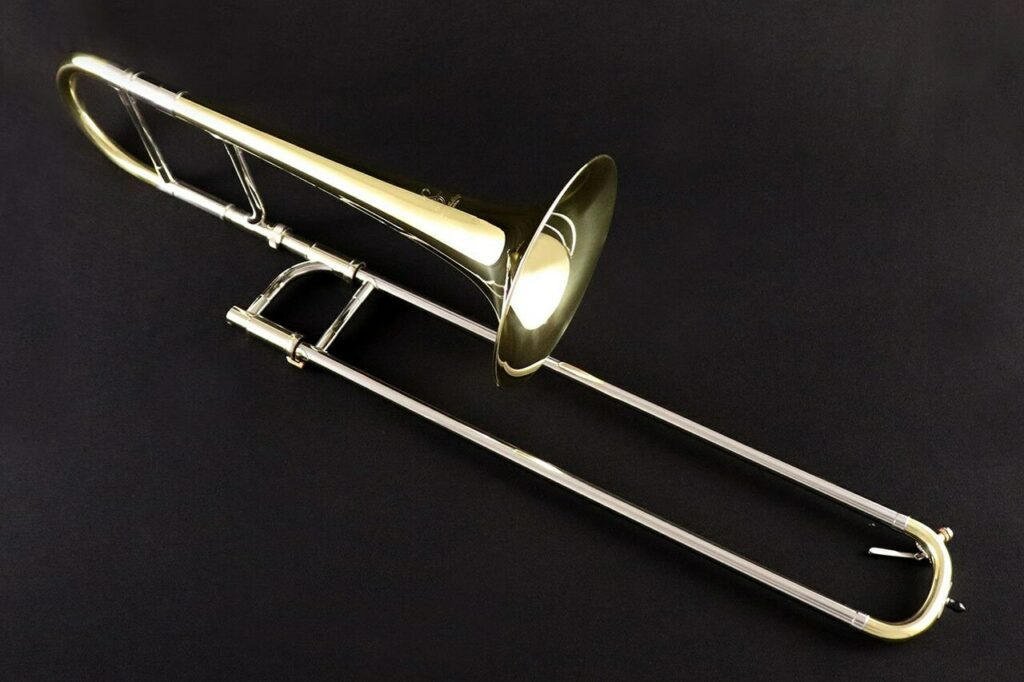 If you've shopped for the best tenor trombone, you can use a lot of the same strategies for the alto. However, there are a few differences that can help you find the best alto trombones for you. That way, you won't have to worry about getting an instrument that you won't enjoy or sound good on. Instead, you can start learning the smaller brass, and you can play music you love.
Play The Tenor Trombone
In some cases, you may be able to start learning the alto trombone first. However, learning the tenor before the alto will give you a good idea of if the trombone is the best instrument for you to play. Tenor trombones are much more accessible and affordable, so it will be easier to find one. Then, you can get started on a smaller budget to make sure you'll stick with playing.
Being able to play the tenor will also grant you access to more ensembles, like an orchestra or trombone choir. Once you know you like the trombone, you can start to shop for an alto.
Try New And Used
When deciding how to find the best alto trombones, it can be tempting to only try new models. They just came from the factory, so you don't have to worry about any damages. However, that can really limit your search and make it hard to find a good instrument. Buying a used model can help you save money, and you may even get more features for the same price as a new trombone.
If you're willing to test new and used models, you'll have access to more possibilities. You may find that your ideal alto is one from a few years ago, and you can save money while getting the sound you want.
Set A Budget
The next step in shopping for an alto trombone is to determine how much you can afford or want to spend. If you're a professional trombone player, you can justify spending more than a student, for example. Sadly, most alto trombones cost a few thousand dollars, but they don't cost much more than that. You may even be able to finance the purchase and make payments over a few months or years.
Either way, consider how much money is worth investing into a new instrument. That way, you won't waste your money and end up with buyer's remorse.
Pick Out Musical Exercises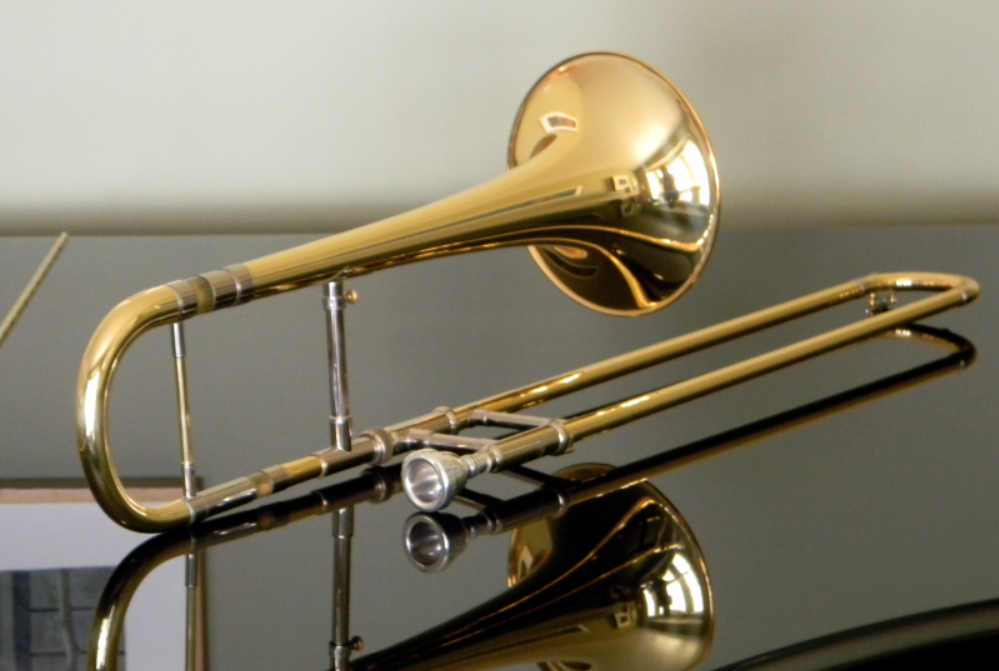 Before you even try an alto trombone, consider what you'll use to test and compare a few models. You can use something simple like a basic C major scale, and you can also choose more difficult exercises and pieces. Make sure the music you use covers the whole range of trombone playing. Choose pieces that are fast and slow, loud and soft, high and low.
If you're new to the trombone, you don't have to do this, but you can have a teacher or advanced player test the instruments for you. They should choose a variety of exercises so that you can get an idea of how your potential trombone will sound.
Research Available Models
You should have a few trombones in mind that you'd like to try. Each model is different, so what works for one player might not be a good match for you. So consider your playing level and the genres of music you like to play. Then, you can look for alto trombones that will offer the sound and flexibility that you need.
You can also use this time to narrow your search if you have a smaller budget. That will keep you from spending time trying instruments that you can't afford.
Compare As Many As Possible
As you look at trombone models, try not to eliminate too many. There already aren't a ton of options on the market, so do your best to keep your options as open as you can. The more alto trombones you can compare, the more likely you'll find one you love. You can compare different models, but you can also compare multiple instruments of the same model.
Especially at the professional trombone level, different physical instruments may not play the same. Any amount of handcrafting can lead to subtle differences, so don't be afraid to ask to try a second or third of the same model.
Check The Tuning
One of the most important things to look at when trying an alto trombone is its intonation or tuning. Bring a tuner so that you can make sure all of the notes are in tune with each other. If they're off, you won't be able to play the instrument alone or with other musicians. Or you might struggle a lot to keep the instrument from going out of tune all of the time.
You can test the alto trombone a bit before you check the tuning. But don't buy one without making sure that it will sound good in a performance or rehearsal.
Record Yourself
As you test some of the best alto trombones, bring a phone or another recording device. Record the audio of you playing each model and then label the recordings with the make and model. If you want to compare the trombones later, you can refer to those recordings. Recordings are also helpful if you want to get a second opinion from someone who isn't with you while you try instruments.
You can also use the recordings to hear what the trombone sounds like to listeners. Sometimes, a listener can hear things that you don't pick up on when playing.
Listen To Others
Another great way to compare alto trombones is to listen to other people play. Of course, you can do this by asking a trombone teacher or advanced player to join you during a trombone trial.
But you can also look for recordings online of people playing alto trombone models that interest you. Then, you don't have to spend time trying models that you don't like the sound of.
Listening to others is a fantastic choice for people who haven't played the alto or even the tenor trombone. You won't have to learn all of the notes and slide positions to hear how the instrument might sound.
Don't Rush
Finally, don't force yourself to choose an alto trombone that's not the perfect fit for you. Sadly, it can take a few trials to find the right model for you. And since the instrument isn't that common in the first place, you may not be able to get a good selection to try. You may only be able to try one or two models at first.
So make sure you get good recordings of each and give yourself time to try multiple models. Take time to make a purchasing decision so that you'll know you made the best choice for you.
The Best Alto Trombones
As I mentioned, looking at a few alto trombone models is a critical step in finding the instrument for you. While there aren't a ton of alto trombones on the market, there are some.
There are also quite a few cheap, low-quality instruments. So consider the following models as you start shopping around. Then, you can save time and money in your search.
Conn 36H
The Conn 36H alto trombone features a dual bore design with dimensions of .491 and .500 inches. That design makes it easy to produce a good tone on the instrument, so it's fantastic for beginners. It has a 7-inch yellow brass bell which offers a great sound, and the Bb rotor makes trills easier. The regular slide means you can use the slide positions to produce different notes.
You don't need to biggest budget to afford this instrument, and you can even finance it depending on where you buy it. That way, you can get started playing without having to save up as much.
Pros
Good sound
Easy to play
Not too expensive
Cons
Slide positions are slightly off
Antoine Courtois Paris

 AC131R-1-0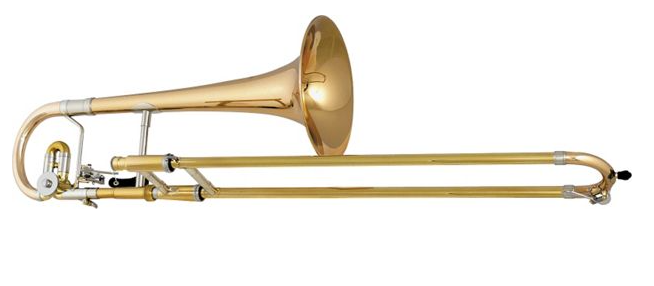 Another fantastic model to test is the Antoine Courtois Paris AC131R-1-0. The trombone has a .464-inch to .492-inch dual bore design, so you can get the best possible sound. You can detach the mouthpiece as well, so you can upgrade the mouthpiece if you want to change the tone. However, the rose brass bell can already give a good, warm sound on the instrument.
It's also a very responsive instrument, so you don't have to work too hard to play it. Everything comes in a sturdy case to help protect your setup when you aren't playing.
Pros
Easy to play
Sounds great
Detachable mouthpiece
Cons
Antoine Courtois Paris

 AC131BR-1-0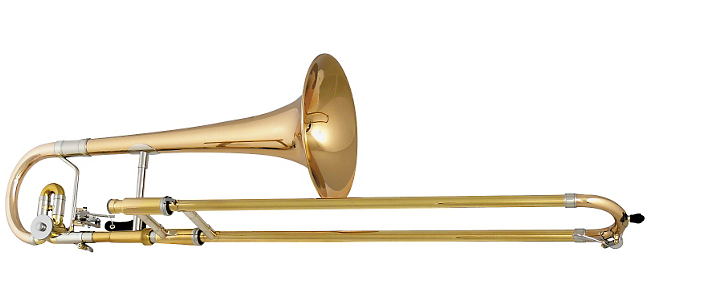 A very similar model you may want to test out is the Antoine Courtois Paris AC131BR-1-0. It offers all of the same features as the other alto trombone from Antoine Courtois Paris, but it has a rotor to facilitate trills. There's the detachable mouthpiece, rose brass bell, and dual-bore design. You can use the instrument to get a good sound, and the rotor can offer a smoother sound during trills and fast passages.
However, there's quite a price increase if you want to get the rotor. This model costs over $1,000 more than the other from the same brand.
Pros
Easy to play
Sounds and looks good
Versatile
Cons
A little overpriced for what you get
S.E. Shires A7LW-Y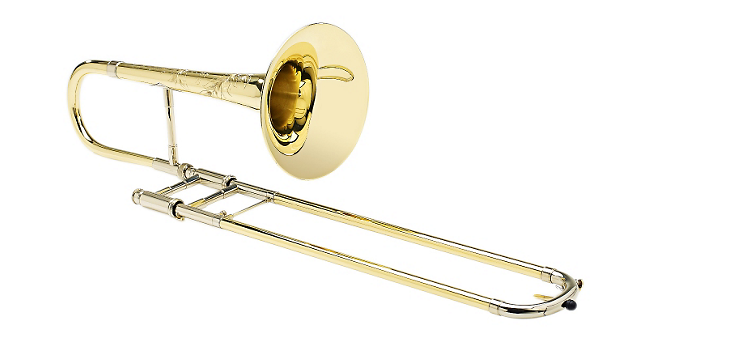 The S.E. Shires A7LW-Y alto trombone is another simple model with plenty of features for beginners. It offers a flexible sound so that you can play it in big orchestras and smaller groups. There's a tuning mechanism in the landslide that offers a continuous taper throughout the tubing. That way, you can get the instrument in tune for long practice sessions and performances.
You'll get a consistent tone across the entire range, so you don't have to overwork yourself while playing. It comes with three interchangeable leadpipes so that you can get the sound you want.
Pros
Versatile
Multiple leadpipes
Easy to tune
Cons
Doesn't come with a mouthpiece or case
S.E. Shires A7GW-G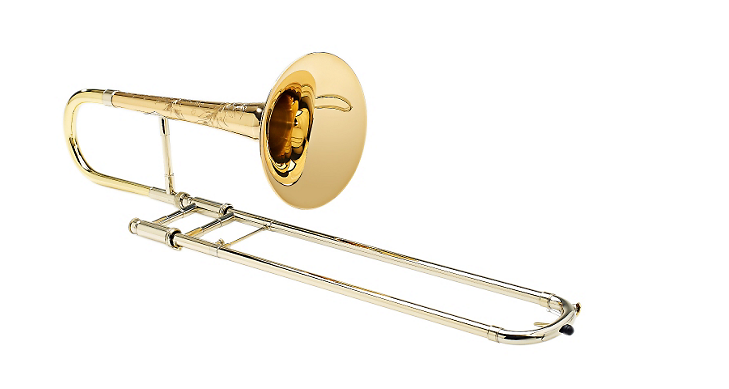 You should also try the S.E. Shires A7GW-G alto if you get a chance. The instrument responds well, so it's fantastic for playing quick passages and slower excerpts. Its fundamental tone is also nice and strong, which is perfect for blending with other instruments. This model features a dual bore design with a gold brass bell and three yellow brass leadpipes that you can change out when you want.
Like the other S.E. Shires model, this one doesn't come with a mouthpiece or case. It also doesn't have a rotor to help with trills, so you may need to practice more to master that technique in a piece.
Pros
Easy to play
Blends well
Flexible
Cons
Yamaha YSL-871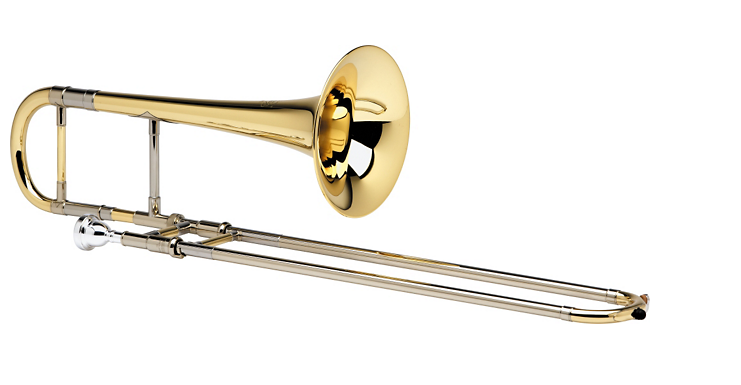 Probably the most affordable new alto trombone is the Yamaha YSL-871. It's a basic model, so there's no rotor to help you trill between two notes. But the trombone does have a dual-bore design and a hand-hammered bell, both of which provide an excellent sound. You can get good slide action even in the sixth and seventh positions.
Yamaha uses pressure to form the tube so that it's as round and smooth as possible. That way, the air can move through easily to help produce a good sound.
Pros
Easy to play
Smooth slide action
Round tubing
Cons
Yamaha YSL-872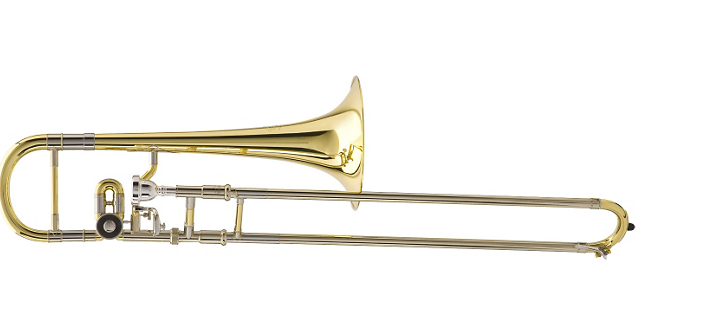 The Yamaha YSL-872 is very similar to the other model, but this one does have a rotor. You get the same .470- and .490-inch dual bore system to help produce a nice sound. It has tubular braces and inner slide stockings that keep the instrument together. That way, you don't have to worry about the slide coming off when playing in the seventh position.
The bracing also makes the instrument easy to hold, so you can play for longer. It's a fantastic choice for students and intermediate players who need a good alto trombone that will last a long time.
Pros
Easy to hold and play
Sounds good
Has a trill rotor
Cons
FAQs
Question: What's the difference between the alto, tenor, and bass trombones?
Answer: The alto trombone is smaller and has a higher range compared to the tenor and bass trombones. It has a more brilliant sound, which can work in a variety of ensembles and solos.
If you like the technique of the trombone and its slide but want to play a higher part, give the alto a try. You may find you like it better than the tenor and bass trombones.
Question: Does the alto trombone read music in concert pitch?
Answer: Like other trombones, the alto trombone does read music in concert pitch. Its range is from the A just over an octave below middle C (A2) to the G at the top of the treble clef (G5).
You may need to read music in bass, tenor, and alto clefs when playing the alto trombone. Then, you won't have to read a ton of ledger lines.
Question: How much does an alto trombone cost?
Answer: Alto trombones cost about $2,400 to $5,000 for new models. You may be able to save a bit of money if you buy a used instrument, but the savings will depend on the seller and the trombone's condition.
Basic alto trombones tend to be cheaper, while ones with rotors cost more. You'll have to decide if that extra feature is worth the increase in the price.
Question: Where can you play the alto trombone?
Answer: You can play the alto trombone in a variety of settings, including symphony orchestras and chamber groups. There are alto trombone parts in famous works like Symphonie Fantastique by Berlioz and Schubert's Unfinished Symphony.
Brahms used the alto trombone in a few of his overtures. Bach used the instrument in a couple of cantatas, and Mozart used it operas and a concerto.
Question: Can you start on the alto trombone?
Answer: Most people should learn the tenor trombone first because it's more common. Therefore, it's easier to find one either to rent or to buy for a much lower price, with many beginner models under $1,500.
However, starting on the alto trombone can be a good option for kids and people with shorter arms. If you can't reach the seventh position on a tenor trombone, you may want to play the alto until your arms get longer.
Final Note On How To Find The Best Alto Trombones
Knowing how to find the best alto trombones is crucial for anyone wanting to learn the instrument. Getting a good alto trombone can be difficult because they aren't that common.
Still, the small number of options include fantastic models from Yamaha, S.E. Shires, and more. Give each of them a try and be sure to avoid no-name brands so that you can get a good quality instrument as you learn and improve.