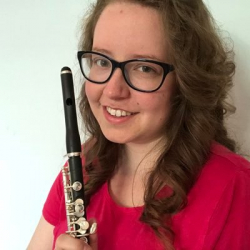 Latest posts by Hannah Haefele
(see all)
Are you having trouble getting the sound you want on your trombone? Before you shell out thousands for a new instrument, consider how to find the best trombone mouthpiece.
Sometimes, a new accessory is all you need to improve your playing. Not only can you save money now, but you may be able to play your current instrument for many more years.
Trombone Mouthpiece Anatomy
One of the first steps for how to find the best trombone mouthpiece is to understand the anatomy of a mouthpiece. Then, you can understand how to compare mouthpieces to choose the right one for you.
While you can find mouthpieces using silver, gold, or other metals, they all have the same parts. Here's what goes into a good trombone mouthpiece.
Cup
The cup is the area of the mouthpiece you blow into when playing the trombone. Smaller cups are great for beginners because they don't take as much stamina to get a good sound.
Bigger cups are more flexible, and they can provide a deeper tone. As you advance, you may choose to upgrade to a mouthpiece with a larger cup.
Rim
Around the cup, you'll find the rim of the mouthpiece, and you can find rims with a flat or rounded contour. Flat rims seal evenly against your lips, and they're comfortable to play with.
However, rounded rims let your lips move more to produce different tone colors. They're better for players with experience because they require strong lip muscles to maintain more pressure.
Backbore
Once your air goes through the cup, it will pass through the backbore before entering your instrument. The shape and size of this part can affect the dynamics and tone colors that you can play.
If you're new to playing the trombone, you should look for a backbore that's not too big or small. That way, you'll get a good about of flexibility and control, but you won't need to work super hard to play.
Throat
Between the cup and the backbore, you'll find the throat of the mouthpiece. Throats don't vary in size that much, but you can find bigger ones that let you play louder.
The main purpose of the throat is to connect the cup and backbore to help offer good projection and tone. That way, you can get a good sound on your trombone.
How To Find The Best Trombone Mouthpiece
Once you understand the trombone mouthpiece's anatomy, you can figure out how to find the best trombone mouthpiece for you. You can find tons of models available, and some may play better for you than others.
So while you can get recommendations, other players may suggest mouthpieces that won't work for you. Instead, follow these steps to shop for and buy the right gear based on your playing.
Know Your Trombone
You should know what type of trombone you have, both in terms of the size and the brand. When it comes to the size, you can make sure to choose a mouthpiece that will fit your instrument.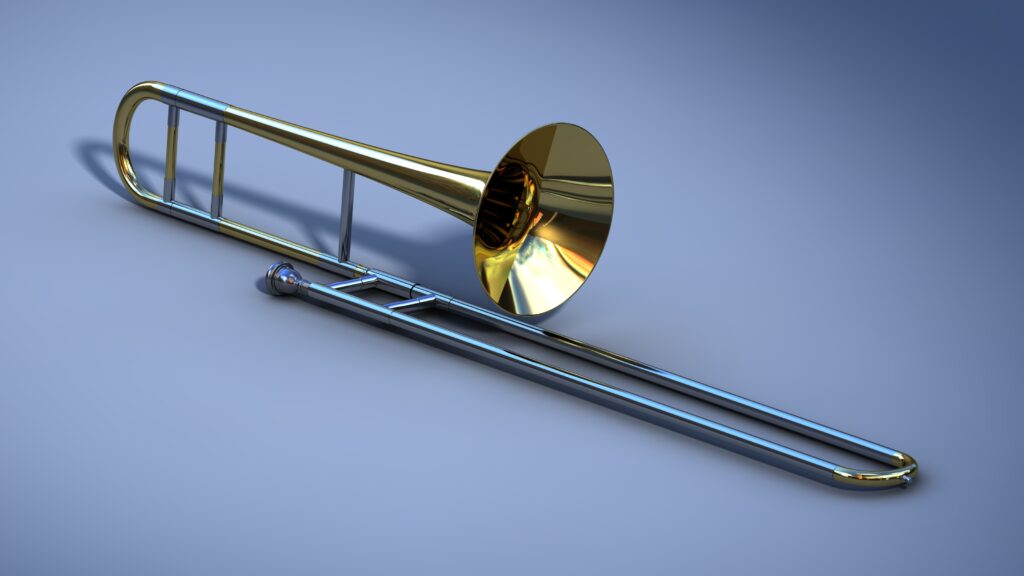 A tenor trombone mouthpiece won't work with a bass trombone mouthpiece or vice versa. But trombone brands can also come into play in finding one that matches well.
For example, if you play a Yamaha trombone, you might want to start by looking at Yamaha mouthpieces. Then, you can look at other brands if that setup doesn't work.
Test Your Current Mouthpiece
Another thing to do before going shopping for new equipment is test what you have already. Consider if you really need a new mouthpiece or if your current one works fine.
Think about if you want to get a different sound or if your current mouthpiece is holding you back in another way. Those are both great reasons to upgrade.
However, if you just want a new accessory to have something new, maybe hold off. Then, you won't pay a ton of money and end up having buyer's remorse.
Consider Your Budget
If you do need to get a new piece of gear, think about what you want to spend. You can find mouthpieces for less than $50 and others for more than $200.
Having a budget can help narrow your search, and it can give you a chance to save up for the purchase. Then, you don't have to finance the mouthpiece or get one that doesn't meet all of your needs.
If you don't like the options in your budget, you can save up a bit more. That way, you'll have more choices, and you can keep looking for the right mouthpiece for you.
Think About The Genre
The trombone is equally popular within classical and jazz music. But each genre requires a slightly different playing style, and having the required equipment can help you play each type of music.
If you only play classical music, you may want to get something with a softer tone. On the other hand, jazz requires a bit more oomph, so you might want a different setup.
Players who perform both classical and jazz can get a mouthpiece that works for both. Or you can consider getting one mouthpiece of classical and another for jazz.
Avoid Cheap Brands
When shopping for music equipment, especially online, you may come across a lot of cheap options. However, these "affordable" models can be a waste of money.
They usually aren't made of the best quality, so you can't expect them to last a long time. Over a few years, you might spend more buying multiple cheap mouthpieces than spending more on one.
Instead, stick to well-known brands, like Bach and Yamaha. That way, you'll know you'll get a good-quality product that will last you for years.
Use Your Trombone
When you're ready to buy a mouthpiece, you should test it out before committing to the purchase. To keep the test of each mouthpiece as far as possible, use your current trombone.
Don't switch instruments to play a different mouthpiece. Doing that will add another factor to the test, so you might not be able to decide which accessory is the best for you.
Using your trombone will also help you understand how you can expect the instrument to play. That way, it will be easier to tell if one mouthpiece is more resistant than another.
Select Diverse Repertoire
Along with using your trombone, you should use some music or excerpts to test and compare mouthpieces. Make sure you use the same pieces with each setup to determine which sound and feel you like the best.
Choose pieces that cover the full range of dynamics so that you can play loud and soft. Look for both fast and low pieces to test how it feels to play technically and lyrically.
You should also test using music that's both low and high. While one mouthpiece might sound good in the low register, playing higher notes could be difficult, and you need to minimize any post-purchase surprises.
Record, Listen, Repeat
Another crucial part of how to find the best trombone mouthpiece is recording yourself. Use your phone or a separate audio recording device while you play each trombone and mouthpiece combination.
Then, you can listen back after each trial to see how the setup sounds as a listener. Take written notes about the sound and feel of each trial, especially if you can't try a ton of mouthpieces back to back.
Record each trial and compare them before you buy anything. That way, you'll have more information to help you choose the right gear for you and your playing.
The Best Trombone Mouthpieces
While every trombonist needs a different setup, you should have somewhere to start when upgrading your gear. There are a few well-known brands with fantastic mouthpiece models to try. We chose these mouthpieces based on availability, customer reviews, affordability, and the quality of the mouthpieces.
Start with those options to get an idea of what to expect from a new mouthpiece. If none of them work well for you, you can find other mouthpieces from the same brands.
Then, you'll be able to find something that you like playing.
Bach 6 1/2AL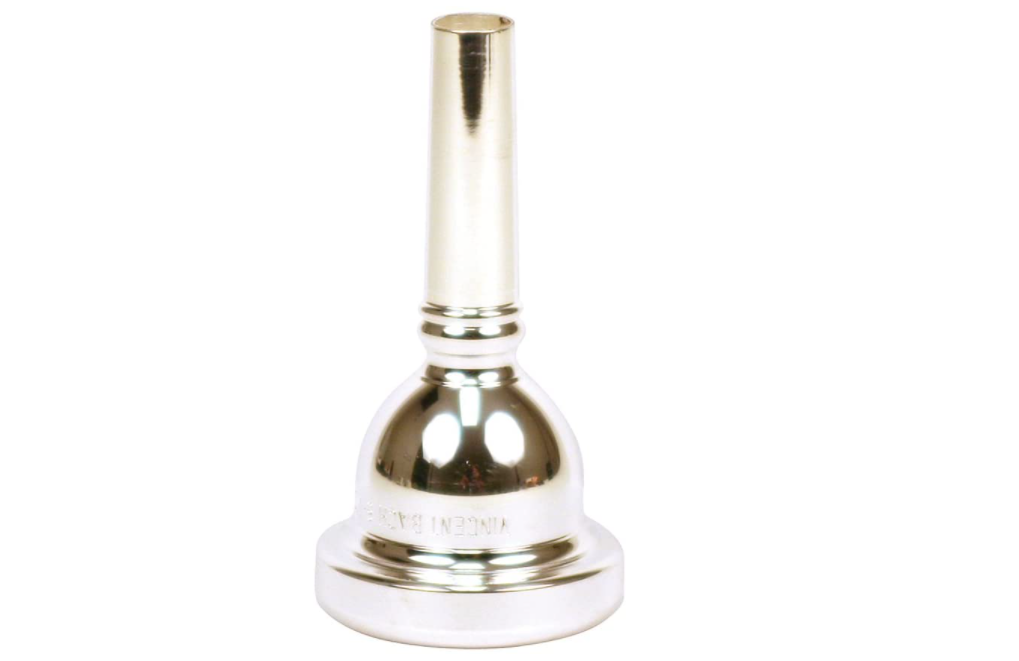 The Bach 6 1/2AL offers a medium-deep cup with a diameter of 25.4 millimeters (mm). This one has a medium-sized, rounded rim, so it's flexible and great for players with some experience.
Its throat and backbore are both standard sizes, so you can use this model to get a lot of different sounds. You'll be able to get a rich tone, and you can play at a loud volume.
This mouthpiece has a small shank, so it's perfect for a lot of tenor trombones. It even works with euphoniums and baritone horns, so you can switch between instruments easily.
Pros
Versatile
Standard sizes
Easy to play
Cons
Schilke 51D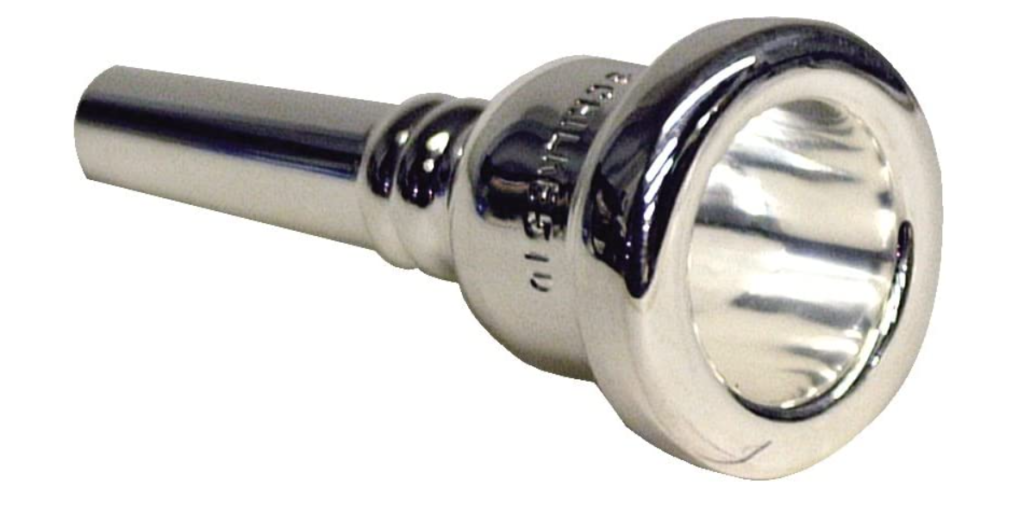 Next, test out a Schilke 51D mouthpiece, which has a large shank, and it's great for a tenor. It's part of a series of mouthpieces, where numbers 40 to 53 are for tenor trombone.
Larger mouthpieces from 57 to 60 are for the bass trombone, so you can get one of each. Each model features a cup, throat, and backbore of a standard size.
The rim sizes differ slightly, so you can choose the one that's most comfortable for you. Then, you can get the sound you want, even if you haven't played the trombone for that long.
Pros
Variety
Easy to play
Decent sizes
Cons
Yamaha 48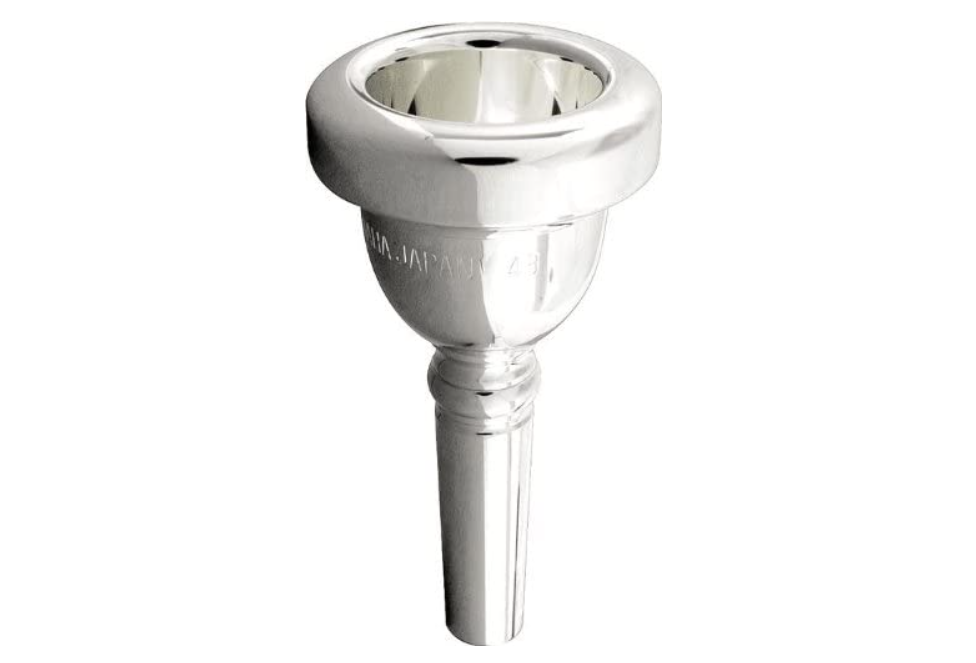 If you want something a bit more affordable, check out the Yamaha 48. This model has a small shank, which is great for a lot of tenor trombone players.
The cup and rim have a good balance, and the cup's diameter measures 25.25mm on the inside. Its backbore is somewhat wide, which can help you project your sound.
You can use it on any brand of trombone, and it will work on baritone horns and euphoniums. So you don't need a Yamaha trombone to make the mouthpiece work.
Pros
Works on a lot of instruments
Easy to play
Good projection
Cons
Conn-Selmer 4CL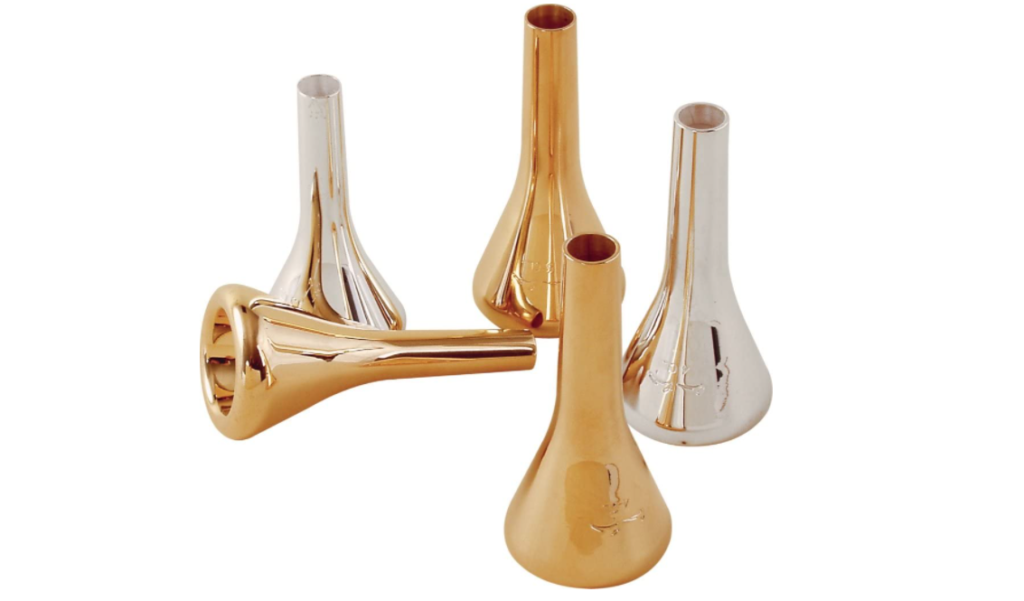 The Conn-Selmer 4CL is a silver mouthpiece with a large shank and a unique design. It doesn't look like other mouthpieces, with a cup and a comparably small throat and backbore.
Instead, it looks more like the design of a French horn mouthpiece, with a smoother flare. You can use it on any trombone with a large shank attachment, whether or not you have an F attachment.
If you need a smaller shank, there's a 10CL, so give that a try instead. Then, you'll find something that will fit your instrument and potentially help you get a good sound.
Pros
Easy to play
Unique design
Large shank
Cons
Denis Wick 6BL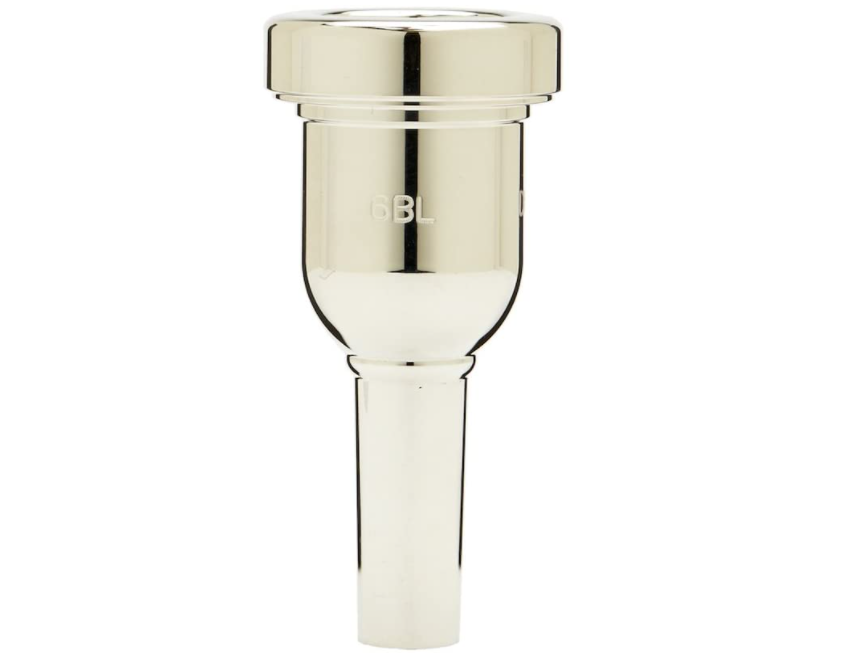 The Denis Wick 6BL trombone mouthpiece is a heavy top, silver-plated option, which can offer extra projection. You can use it to get a stable sound throughout the register of the instrument.
It also comes in most standard sizes, so you can find one that fits your trombone. This mouthpiece sends the sound through to the bell, so you can get a more consistent sound out of it.
The throat isn't too big, which is great if you like playing higher notes. But you don't have to sacrifice a darker low register to get that sound.
Pros
Versatile
Great quality
Easy to play
Cons
Denis Wick 0AL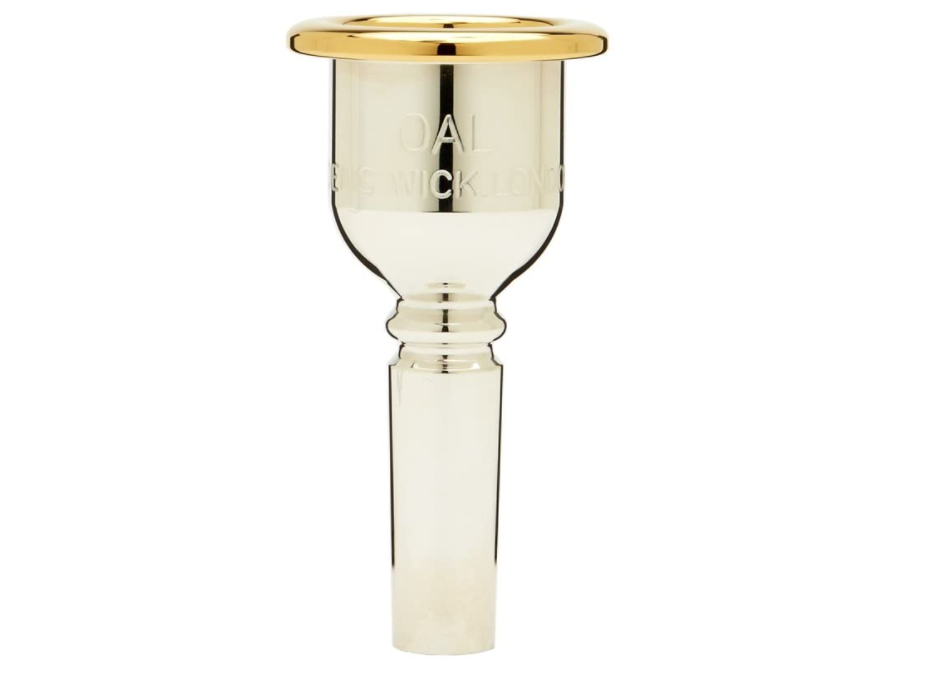 Another mouthpiece from Denis Wick, the 0AL is for the bass trombone. It features the same silver plating with more material at the top as the 6BL, so you can get a good, loud sound.
But the rim is gold plated, which can add a bit of warmth to your tone. You can choose from different sizes to make sure the model fits with your instrument, and you won't have to compromise on a secure fit.
This mouthpiece can offer a clear tone and a better response to your articulations. It's a great choice for playing all styles of music.
Pros
Great for many players
Comes in different sizes
Easy to play
Cons
Yamaha YAC REP
The Yamaha YAC REP is another bass trombone mouthpiece you should try. It's part of the series of mouthpieces that replicate the gear that the famous player Douglas Yeo uses.
This model has a large cup to help you get a big sound to project in an orchestra. The rim has a diameter of 28.72mm, and the rim is semi-thick, so it's pretty flexible to play.
You can use this mouthpiece to get a centered, full tone, and you can focus the core of your sound. Meanwhile, the overtones sound brilliant and have a good definition.
Pros
Fantastic sound
Affordable
Easy to play
Cons
Better in the low register than high
FAQs About How To Find The Best Trombone Mouthpiece
Question: How do you choose a trombone mouthpiece?
Answer: The way you choose a mouthpiece for your trombone depends on a lot of factors. You have to consider the size and type of your instrument, your playing level, and your budget.
Once you determine those things, you should test as many options as you can. Compare them to figure out which you like best, and you can buy that one.
Question: What does small and large shank mean?
Answer: Small and large shanks refer to the size of the end of the mouthpiece that connects to the trombone. You should consider if your instrument can connect to a small or large shank.
Then, you won't waste time or money trying mouthpieces that won't even go into your instrument. Consider asking a teacher or instrument repair technician to help measure your trombone's bore.
Question: Does the mouthpiece really affect your sound?
Answer: Your trombone mouthpiece can have an impact on the sound of your instrument. If you get a bigger mouthpiece, you may have more flexibility, and you can play louder.
But with a smaller mouthpiece, you can get a good sound without having to work too hard. Both offer pros and cons, so consider what you want or need.
Question: Can you use a trombone mouthpiece on other instruments?
Answer: Some trombone mouthpieces also work on other instruments, like euphoniums or baritone horns. If you want a mouthpiece that works on multiple instruments, bring them all when you test out the accessory.
That way, you can make sure the setup will work where you need it to. You can look at the product description, but it's worth testing the gear in real life.
Question: How much does a trombone mouthpiece cost?
Answer: Trombone mouthpieces can cost as little as $40 or more than $150 to $200. The cost depends on the materials, brand, and other factors.
For example, the Denis Wick 0AL has a gold rim, so you can expect that to cost more than a similar model. So don't be afraid to spend a bit more on a quality piece of equipment.
Question: Should you get more than one mouthpiece?
Answer: You may want to have more than one trombone mouthpiece if you play both classical and jazz music. You can dedicate one mouthpiece to each style of playing.
Having an extra mouthpiece is also useful if you ever play in a marching band. That way, you don't have to worry about losing or damaging your good mouthpiece during a parade.
Final Note On How To Find The Best Trombone Mouthpiece
Knowing how to find the best trombone mouthpiece is important for students, professionals, and everyone in between. If you ever need to upgrade, the mouthpiece is much more affordable than a whole new instrument.
Make sure you compare some of the best brands and models, like Bach or Yamaha. Then, you can find the right model for you and your current trombone.