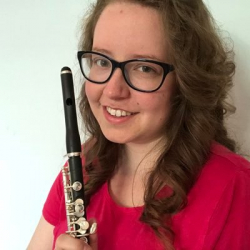 Latest posts by Hannah Haefele
(see all)
Whether you want to learn the Christopher Rouse Trombone Concerto or join a jazz band, you should consider where to get trombone sheet music.
Sheet music is a crucial part of learning music because it outlines a piece from start to finish. Finding good sheet music can seem hard, but knowing where to look will make it easier.
What Is Sheet Music?
Sheet music is the written version of a song, piece, or work. You can use it to learn what notes to play and when, whether you're playing solo or as part of a group.
Trombone sheet music is specifically for the instrument, so it fits within the range of the trombone. That way, you don't have to worry about the notes being too low or too high.
It can be hard to learn to read sheet music at first, but once you learn, you can use it for jazz, classical, and everything in between. Then, you won't have to have a perfect pitch to be able to learn new music.
Where To Get Trombone Sheet Music
You can find trombone sheet music from plenty of different places. Whether you like shopping online or going in person, you should consider where to get trombone sheet music now and in the future.
I've used most of the following resources when looking for sheet music. Some resources are better for some things, so it depends on the music you're looking for.
Without further ado, here are some of the best places to shop for trombone sheet music.
Amazon
If you ever shop online, odds are you have an Amazon account. The website has everything, from home decor to electronics, and they do carry some sheet music.
You can either search for trombone sheet music in general, or you can search for a specific work. Whether you want to learn some duets, solos, or anything else, Amazon is an awesome place to start.
While it can help to have Amazon Prime, it isn't necessary to buy sheet music from there. However, I would recommend avoiding Kindle sheet music. You can't export or print it, so you can't add marks or change the music in any way.
Online Music Retailers
Online music stores like Woodwind & Brasswind (WWBW) carry quite a selection of sheet music. You can search by instrument, so you can narrow your search to the trombone.
Sites like WWBW let you narrow your search by category as well, so you can search for sheet music, jazz charts, and more. That way, you can find what you need.
Whether you want to play classical, jazz, or pop music, online retailers are great. If you can't find something on Amazon, a specialty store might be more likely to have it in stock.
Sheet Music Download Retailers
If you want to start learning music now and don't mind using a PDF, you can look at a sheet music download website. Sheet Music Plus is one of the most popular sites that offer digital sheet music files.
You can search by instrument or composer, and you can filter for digital music. Then, you can download the file within minutes after your purchase.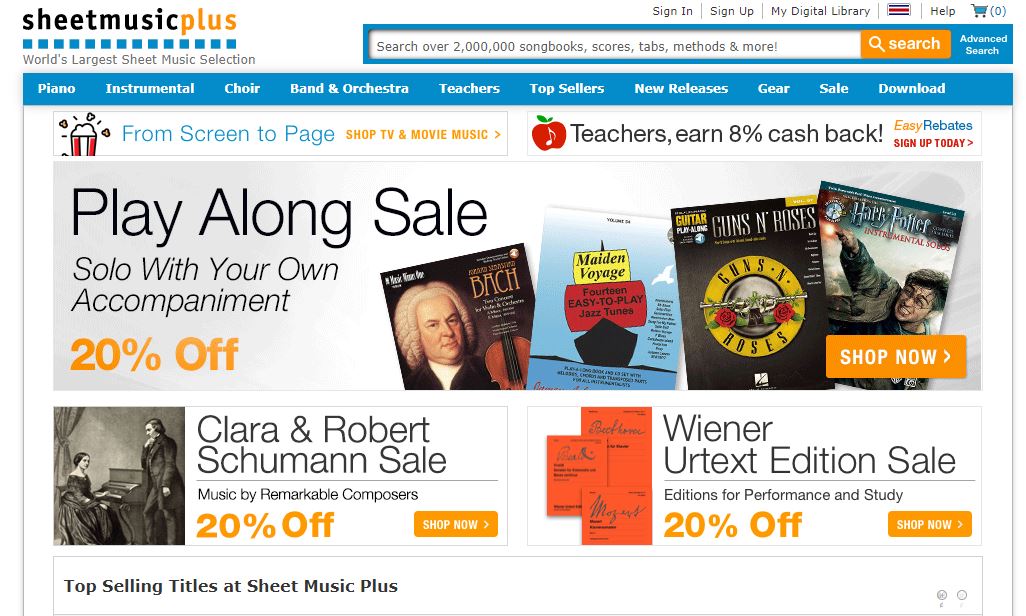 Sheet Music Plus also offers physical copies, so it's a great resource for all types of sheet music. The website also has music for a variety of instrumentations, and there are tons of composers and arrangers who publish music there.
Publisher Websites
Some sheet music publishing companies have websites where they sell their editions. If you know you want to buy music from a specific composer and you know where they publish, that's a great option.
For example, JW Pepper has a big selection of sheet music that you can buy online. The website lets you search by keyword and department, and you can even filter for digital sheet music.
When you go through a publisher, you may be able to save money since they don't have to mark up the price. But it can also be an easy way to directly support your favorite music publishing company.
Composer Websites
The internet has made it easier than ever for composers to become music publishers. If you know of a composer who has a website with sheet music for sale, you can go to that site and buy straight from the creator.
When you want to play music by living composers, see if the composer you want to play has a website. Check it out and see if they sell sheet music, either digital or physical copies.
I've bought sheet music from the composer before, and it's nice knowing that they don't have to split the profits with a publisher or retailer. And it can be a good way for you to save money on your purchase.
International Trombone Association
While the International Trombone Association doesn't have sheet music, they do have a list of where you can get sheet music. And since it's from an instrument-specific group, you can trust that the resources will have trombone parts.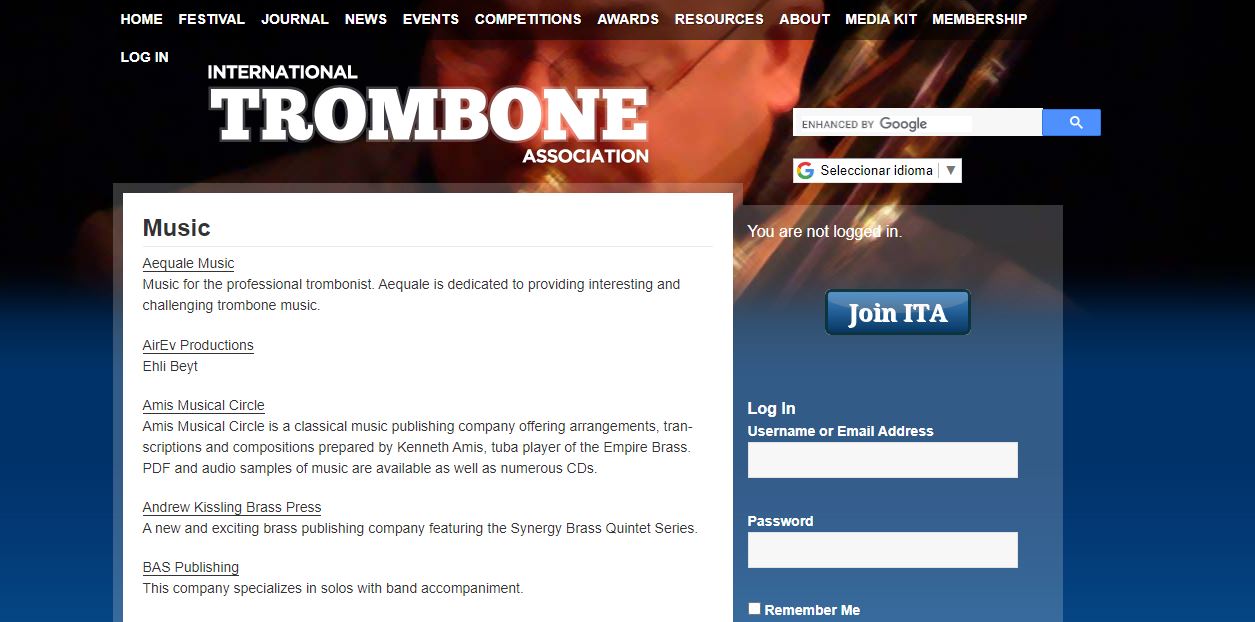 The ITA includes a brief description of each website on their sheet music list. Some sites focus on chamber music, while others are better for contemporary music.
And you don't even need to be an ITA member to view the list and check out each of the resources.
Free Sheet Music Websites
I've mentioned quite a few options for where to get sheet music that you pay for. But you don't have to pay for every piece of sheet music you want to get.
IMSLP is the most famous public domain sheet music library in the world. You can use the browser or mobile app to search for and download music that's no longer under copyright.
You can search by composer, instrumentation, genre, and time period. While you can pay a bit for a membership, you don't have to. But you will need to wait 15 seconds for a download if you don't become a paying member.
I've used IMSLP a lot, and you can find some good stuff on there, but sometimes there are errors. Still, it's amazing to download sheet music for free, and the wait time isn't too annoying.
Local Music Store
Supporting local businesses can make you feel good, and you can get some trombone sheet music in the process. If you live near a music store, you can check it out.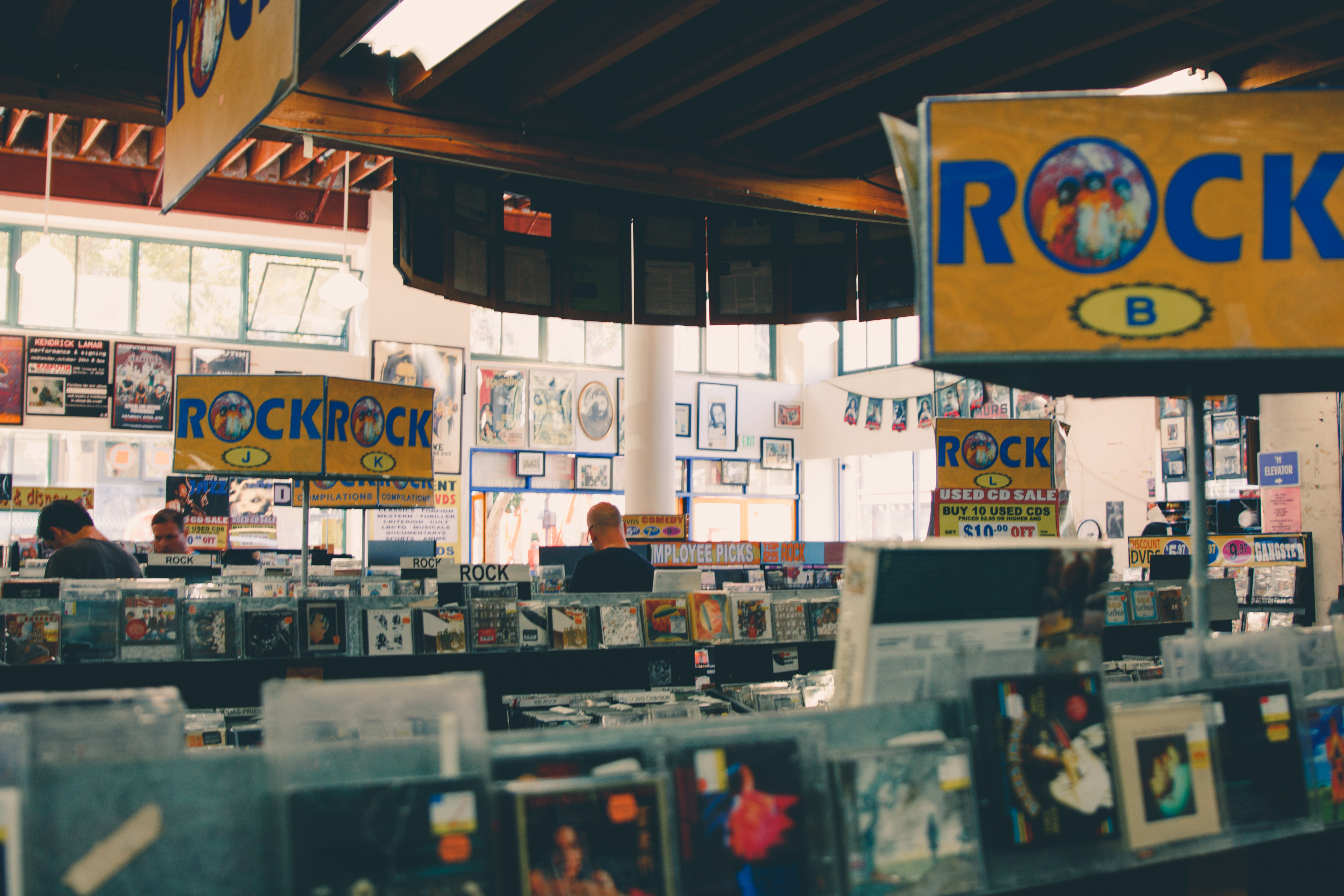 Some music stores focus more on guitars and electric instruments. But other stores have a lot of band and orchestra instruments and music.
Sometimes, I like to shop in a store so that I can view the sheet music before buying it. That way, I can make sure there aren't a ton of awkward page turns or other printing issues.
A Library
If you don't need to buy sheet music but want to borrow a piece, consider your local public or university library. Some libraries have a few pieces of music in stock for the trombone, so you can borrow them for free.
Going to the library is useful if you need music to play for the next month. But you will need to make sure to renew the sheet music to avoid paying late fees.
Depending on where you live, your library might not have much. If you can access a college library, you may have a better chance of finding what you need.
Book Sales
Some libraries have book sales when they need to get rid of some stock. If they don't have the demand for renting out trombone sheet music, a book sale could be a great place to find a good deal.
I've bought some sheet music from book sales, and the music cost much less than what it would have cost new. Sure, there were some marks and other signs of wear and tear.
But if you're looking to save money and want to buy sheet music, a book sale is great. You can usually go in person, so you can see how the music looks before purchasing it, which is super nice.
Garage Sales
Another option for where to get trombone sheet music is at a garage sale. If you know the seller is or was a trombone player, they may have some old sheet music available.
This can take some digging, and it's not the most reliable way to find sheet music. However, it can't hurt to shop around and ask sellers if they might have music for sale.
Like book sales, garage sales typically give a discount on sheet music. It won't be a new copy, but you may find music that's out of print or is otherwise much more expensive.
Music Sales Groups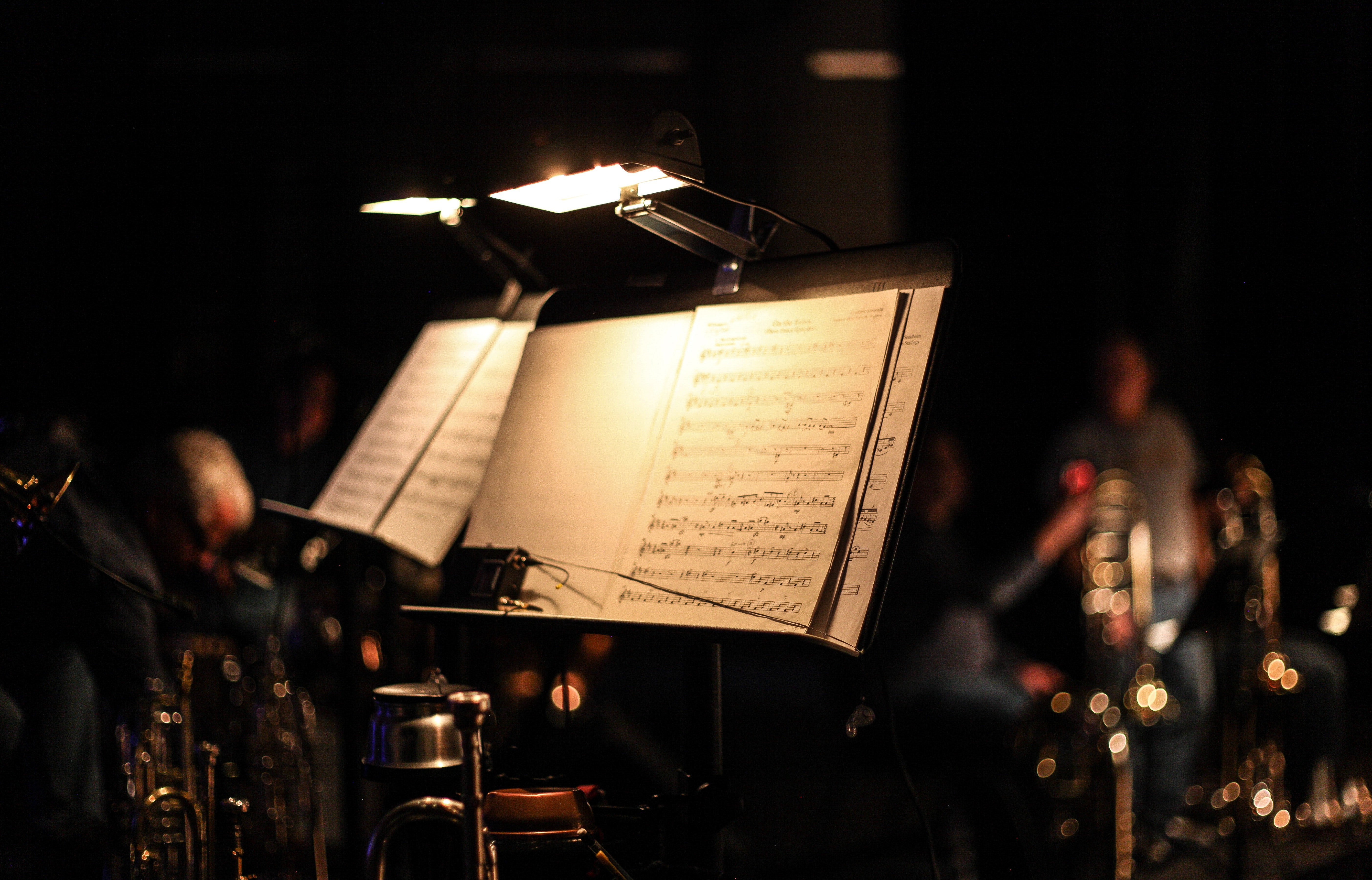 If you're on Facebook, look for music and trombone-specific groups. Some groups are specifically for selling instruments and music, so you can shop from home.
As with book sales and garage sales, the music you buy here is usually cheaper. You can ask the seller to provide pictures and to tell you more about the music's condition.
If they're local, you can even meet up in person to get a better look at the music or book. Meeting up can also save you money on shipping, and you can meet another musician.
FAQs About Where To Get Trombone Sheet Music
Question: How do you read trombone sheet music?
Answer: To read trombone sheet music, you need to be able to read the bass and tenor clefs. If you don't know where to start, a trombone method book outlines how to read notes.

That way, you can learn what notes look like on paper and what different music theory symbols mean. Even if you first played the trombone by ear, it's never too late to learn how to read music.
Question: What key is the trombone in?
Answer: Technically, the trombone is in the key of B flat, but that's not the same as the clarinet in B flat. The trombone is in concert pitch, meaning the notes on the page are the same as the notes you hear.

Because of that, you can play music for the trombone, bassoon, and even cello on your trombone. That can be nice if you want to play pieces for other instruments.
Question: Can you get beginner trombone sheet music?
Answer: There are plenty of pieces available for beginner trombonists. If you shop for sheet music at a music store or go to a music website, you can usually filter by level.

In a store, you can ask an associate where to find easier pieces. And online search bars and categories can help narrow your search.
Question: Should you buy sheet music online or in person?
Answer: Personally, I prefer to shop for sheet music in person. I can look at each page of the edition to see how hard the music will be and what the page turns will look like.

However, buying sheet music online is convenient. Some websites can give you a preview of the music, so it can be like buying music at a store.
Question: Are free sheet music websites legal?
Answer: Free sheet music websites like IMSLP can seem like they're too good to be true. However, free sheet music is legal as long as it's in the public domain for your country.

In the United States, for example, copyright lasts for the life of the author and for 70 years after they pass away. That means you can download sheet music by Bach, Beethoven, and other composers.
Final Note On Where To Get Trombone Sheet Music
Deciding where to get trombone sheet music can be a hard decision for students and professionals alike. Fortunately, there are plenty of online and in-person resources to help you find the music you need.
Whether you're looking for a classical concerto or a jazz fake book, start with Amazon or another online store. IMSLP is perfect for public domain works, while garage sales and sales groups are useful when shopping used.
Give a few of these options a try so that you can buy as much trombone sheet music as you want.