Trombones are great instruments, but they are also fragile. Sprung slides, dented bells, bent tubing — all sorts of things can go wrong with your costly instrument. If you regularly take your trombone out of your house, you need to make sure it doesn't get damaged.
Trombone cases can be expensive and heavy. They take up a lot of space when not in use. But for musicians on the road, a good case is an investment in their livelihood. While many trombones come with cases, few of those cases are up to the rigors of regular travel. Serious trombonists need the best trombone case they can afford.
How I Chose the Best Trombone Cases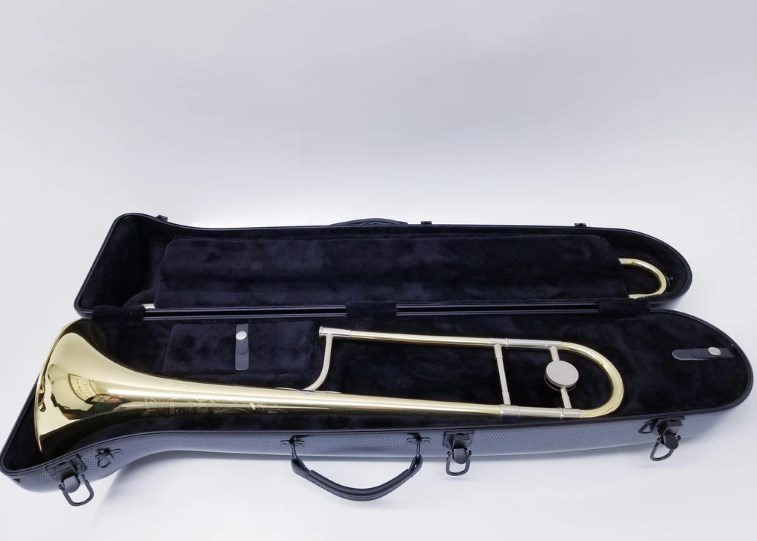 When looking for the best trombone case, a buyer has many choices. Here are some things I looked for in a case. Every trombonist has different priorities when choosing a trombone case, so I have provided cases for different needs.
Soft vs Hard
Hard cases can be made of wool or synthetic materials. The inside has a hard foam interior shaped to fit your trombone and soft fabric padding.  A hard case can be stacked alongside other equipment and instruments when traveling to gigs and offers more protection. But hard cases are heavy and awkward to carry. 
Soft cases usually come with straps and can be carried like a backpack. While most have interior foam padding, they offer less protection than a hard case and will require greater care when you travel with your trombone. 
Weight vs Protection
You want to make sure your trombone is protected, but you also have to carry the case.  Traditionally heavier cases have meant better protection, but the advent of new materials has made it increasingly easy to produce trombone cases that are both durable and comparatively lightweight.  
That being said, I've avoided listing lightweight cases that are prone to cracking and damage or which sacrifice padding to keep the weight down. You want the lightest case that will protect your trombone, but a case that cannot withstand stress is useless.
Compartments
Many of the cheapest trombone cases do not include a zippered or sealed attachment compartment.  This means you have to carry your mouthpiece and oil in a separate compartment or risk having your mouthpiece get loose and damage your trombone's finish.  
The cases I have listed are built for tenor trombones.  If you play an alto or bass trombone, you will need a case designed for that instrument. Most of the manufacturers I have listed also offer cases for other members of the trombone family. Some even offer dual cases where you can carry your primary and secondary trombone together in one case.
With all that in mind, here are some of the best trombone cases on the market today.
Best Budget Trombone Case: Protec MX306CT/CTS Tenor Trombone Case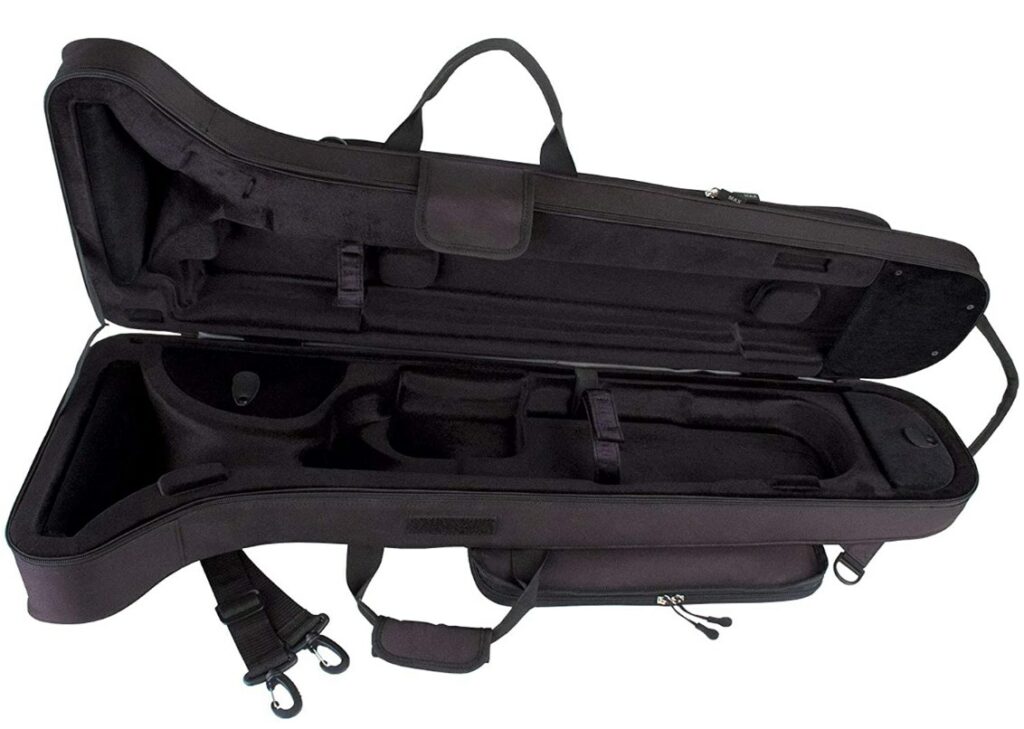 Your old case is falling apart, and you need a new case fast, but you don't have a lot of money. Lots of musicians have been there. The Protec MX306 cases will protect your trombone until you can get one better suited to your needs. If it takes years, the MX306 will hold up until then with reasonable use.
The MC306CT will handle a trombone with an F-valve attachment. If you are using a straight trombone, you may want to order the slightly smaller MC306CTS (also available on Amazon), which will give your trombone a better fit. Too much movement increases the chance of your trombone getting dented.  
The MCT306 trombone cases have a lightweight EPS frame and plush-lined molded foam interior. They will protect your trombone from regular wear and tear and will likely be a big step up from the case that came with your student trombone.  
While the MCT306 cases come with attachment pockets near the water key and the bell. You can only use the water key pocket to hold your mouthpiece, as it has an extra piece of casing that keeps it closed. The bell pocket is less securely fastened, and if you put your mouthpiece there, it may get loose and damage your instrument.
The Protec MX306 cases are not the best trombone cases you can buy. But they offer a lot of value for the money. They will be fine cases for older students (younger students might benefit from a stronger shell) and make excellent storage cases for your trombone between gigs.
Pros
Excellent price/value ratio

Lightweight

Suitable for moderate use
Cons
A mouthpiece can come loose if stored in the wrong pocket.
Best Soft Trombone Case: Fusion Urban Series Gig Bag for 9.5" Tenor Trombone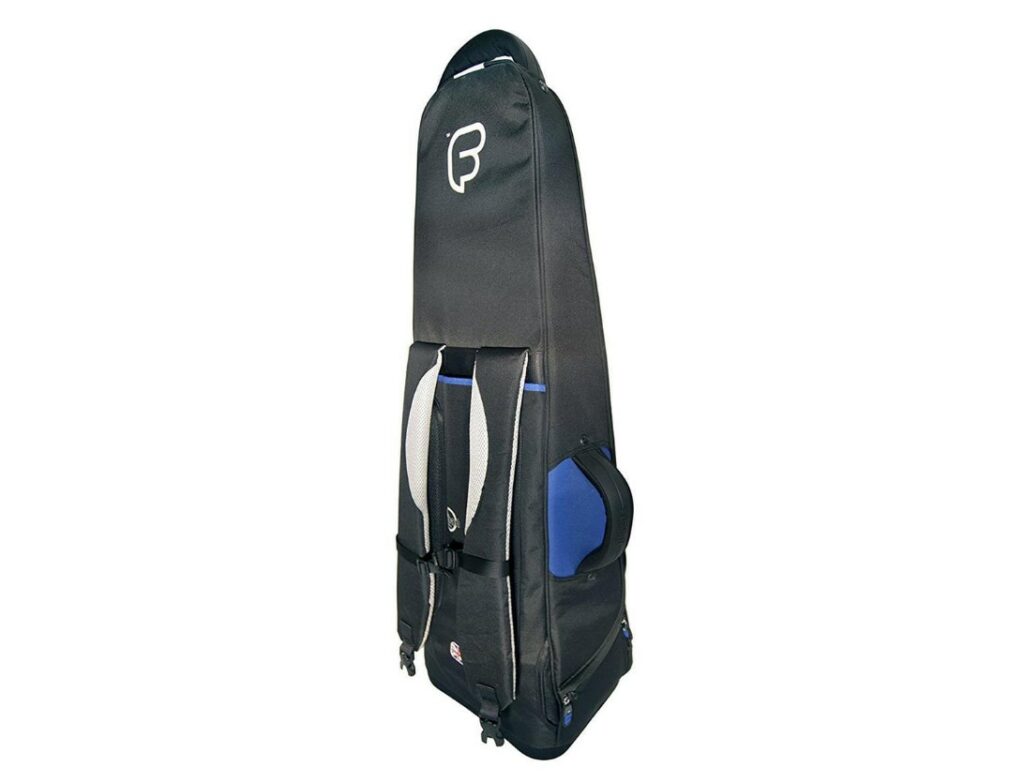 If you regularly travel to gigs in your car, the Fusion Urban Series Gig Bag will provide your trombone with all the protection it needs. The Fusion Gig Bag protects your instrument with 20mm (0.78") of high-density foam padding and a molded base.
The Fusion bag has two pockets on the front, one large enough to carry A4 sheet music. There is room for mouthpieces, valve oils, and anything else you need at a performance or rehearsal. And Fusion's Fuse-On system lets you add extra space if you want to bring a change of clothes for those all-night jam sessions. 
Soft rubber handles, sturdy zip pulls, and backpack straps make the Fusion ergonomically friendly. And the reflective label helps oncoming vehicles notice you when you are crossing the street. Fusion builds its gig backs with working musicians in mind. Getting your trombone across town will be a whole lot easier with a Fusion Gig Bag.
The Fusion Gig Bag is suitable for under-seat or carry-on travel but checks with the airline first to ensure it is not too large. While the Gig Bag will probably be suitable for travel in the luggage compartment, it may not be up to the enthusiasm of airport workers loading and unloading a checked instrument.
Pros
Lightweight and ergonomically balanced

Lots of storage space for mouthpieces, sheet music, and other essentials

Can add extra storage
Cons
Not the best choice for air travel in the luggage compartment
Best Lightweight Trombone Case: Edwards 3K Tenor Trombone Case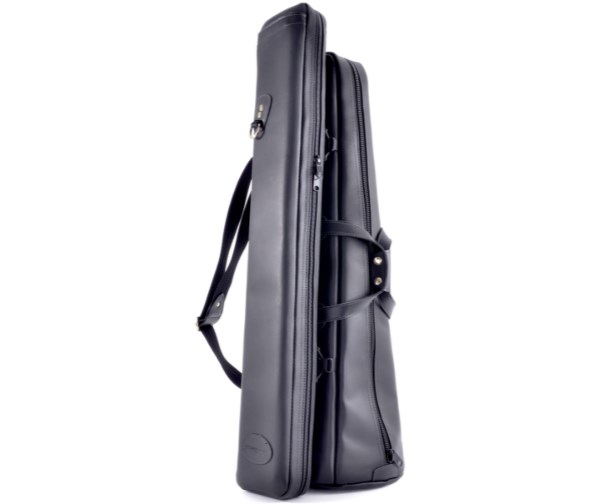 You may not be able to afford an Edwards trombone just yet, but you can carry your trombone in a comfortable, lightweight style with the Edwards 3K tenor trombone case. The slim hard case will fit in the most overhead storage and is strong enough to withstand rough flights and rougher luggage attendants should you check it at the gate.
The "3K" in this case stands for 3K carbon fiber.  Carbon fiber reinforced polymer is used in race cars and jets, and Edwards uses it to keep your trombone safe. Every ⅛ inch (3.2mm) of the 3K's shell is reinforced with 3,000 strands of tightly woven carbon fiber. This case will handle just about anything you throw it at – though, for the price, you'll want to avoid throwing it! 
At 7.15 pounds (3.25 kg), the Edwards 3K won't strain your back. You can carry your trombone using the detachable shoulder straps or with either the top or tail (subway handle).  The padded bell plate helps keep your bell flare undented. And four adjustable foam and two adjustable semi-rigid blocks mean just about any tenor trombone will fit.
Like Edwards trombones, the 3K Tenor Trombone Case carries a hefty price tag. But if your 3K Case is the only thing standing between your expensive instrument and a 15-foot drop, you'll be glad you made the investment.
Pros
The best weight-to-protection ratio on the market

Stylish and easy to carry

Carbon fiber shell will protect your trombone from most impacts
Cons
Best-Looking Trombone Case: Glenn Cronkhite Trombone Bag
If you have (or want) paparazzi waiting outside your gigs, a Glenn Cronkhite Trombone Bag will make you ready for your closeup. Glenn Cronkhite has been making instrument bags since the 1970s, and their cases are tailor-made to suit your aesthetic tastes. 
While Cronkhite has a few bags in stock, most of their instrument bags are made to order. You choose between durable Cordura nylon or leather in a range of colors. Cronkhite's bags are made for small, medium, and large bore trombones. (If you're not sure which fits yours, they list some popular trombones on their website and will happily guide you by e-mail or phone).  
Chronkite bags aren't just pretty. They're lined with an inch (2.5 cm) of high-density foam. This is sufficient for travel in most situations, though you wouldn't want to subject it to too much rough treatment. Many musicians use their Chronkite bag for decades: their craftsmanship is excellent and the materials top-notch.
If you do a lot of traveling with your trombone, you should look at the Glenn Cronkhite Trombone Travel Bag. Cronkhite's Trombone Travel Bag includes a detachable slide case, which lets you keep your slide under your seat while your instrument is overhead. 
Since a bell dent is less critical than a bent slide, this is a nice safety feature in case of a rough flight or a neighboring passenger slamming his heavy suitcase into your trombone.  
Pros
Glenn Cronkhite is the Louis Vuitton of instrument case makers

The case will last for decades with regular use

Made to order, so you get exactly the case you want
Cons
It does not offer as much protection as some other cases.
Best Trombone Case for Frequent Travel: The Tank Tenor Trombone Case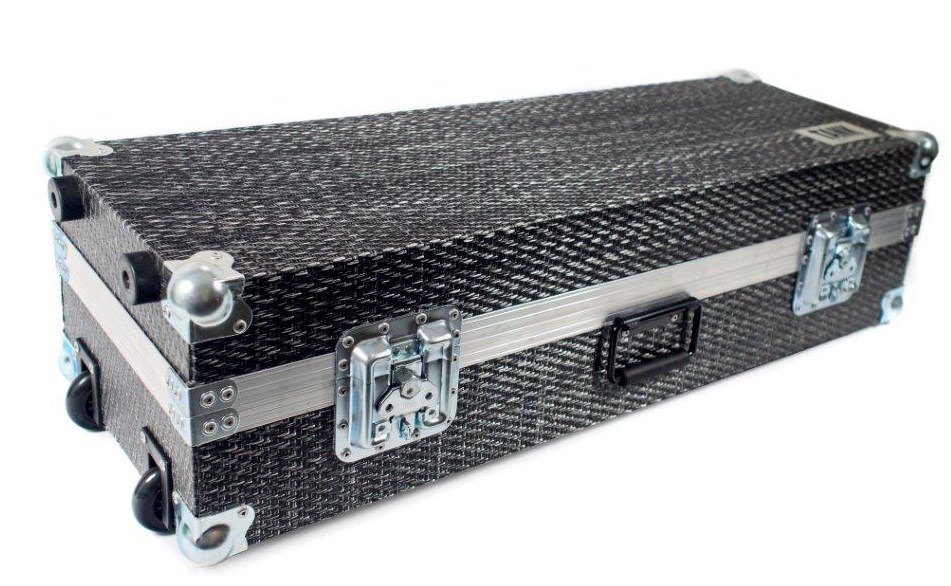 If you want to make sure your trombone will survive even the roughest treatment, the Tank Tenor Trombone case will stand up to the worst handling. The Tank (yes, that's their business name) makes aluminum cases designed to keep professional instruments from damage.  
The Tank's big secret is its Suspension in Place technology. Memory foam cradles your instrument when you close the Tank case. This keeps your instrument still even when the case is jostled. The metal outer case can take a hard blow, and the memory foam absorbs the shock and keeps it from reaching your instrument.  
The Tank has created custom cases for professional studio and orchestra musicians. Charles Vernon of the Chicago Symphony Orchestra has a custom-built Tank Trombone Case that protects his alto, tenor, and bass trombone when the CSO is on the road. 
The Tank Trombone Case isn't just for traveling. If you put your trombone away in a Tank case, you can be assured no harm will come to it from curious children, excited St. Bernards, or falling meteors. And while it's more utilitarian than stylish, your Tank trombone case looks like an anonymous metal box to thieves too.  
At 18 pounds, The Tank Trombone Case is the heaviest case on our list. But that weight comes with the best trombone security you can buy. You spent thousands on your instrument. For $749, you get a case that will survive the worst luggage handler and might even survive a plane crash! 
Pros
The most durable trombone case on the market

Custom options available 

Will keep your expensive instrument safe
Cons 
Frequently Asked Questions
Here are some frequently asked questions about trombone cases.
Question: How Can I Protect My Trombone from Damage in Transit?
Answer: Remove any screwdrivers, valve oil, tools, or anything else that could cause trouble if it gets loose during your trip.  Take your mouthpiece out of the case, put it in a plastic bag, and pack it in your luggage. This ensures nothing can break free in your case and damage your instrument.
Make sure your case is up to the task.  The thin case that came with your trombone may not be able to handle the rigors of travel. A sturdy trombone case may require a hefty initial outlay, but the money and heartache you save on the road mean your investment will pay off soon.
A styrofoam cone wrapped in the fabric will help protect your bell from dents. And if your case is a bit too big for your trombone and your instrument has too much wriggle room, you can use rolled T-shirts or other soft clothes to provide extra padding.
Question: How Do I Get My Trombone Through TSA Security?
Answer: Before you fly, make sure you remove any slide cream or trombone oil from your case.  If you've ever been stopped at the airport over a bottle of shampoo, you know the TSA can be very strict about carry-on liquids or creams.  
Since most trombonists regularly carry lubricant in their case, it can be easy to forget until your trombone triggers a security alert.  
Question: How Do Trombones Most Frequently Get Damaged?
Answer: Because trombones are long and sometimes awkward instruments, trombone bells frequently get dented. While this damage is mostly cosmetic, slide dents are much more serious. A dented or otherwise warped slide may render your trombone unplayable.
A trombone's mouthpiece and slide both need to be snug, but that means they are also prone to get stuck. If your trombone's mouthpiece is stuck, don't reach for the pliers! Take it to a repair shop, and they will be able to get it loose for you.  
If your trombone slide is sticking intermittently, you may have a dirty slide. Take your trombone apart and give it a thorough cleaning, then oil the playing slide. If that doesn't work, your slide is probably bent and will require professional servicing. 
Conclusion
So what's the best trombone case? 
If you carry your trombone to rehearsals and performances in your car, the Fusion Urban Series Gig Bag will be the best trombone case. It will protect your trombone against bumpy roads and the inevitable bumps against walls and floors, while its pockets will give you plenty of storage space.
Are you going to be shipping your trombone in airline storage or crammed in with other instruments on a tour bus? Your best choice is the Edwards 3K Tenor Trombone Case, which will keep your instrument safe within a sturdy carbon fiber shell. 
Do you log frequent flier miles touring with your instrument? Do you own an irreplaceable trombone? If so, the Tank Trombone Case is the trombone case for you.  The Tank will keep your instrument safe from anything short of bullets or nuclear war. 
Whatever case you choose, here are too many long and happy years of trombone playing wherever you go with your instrument!