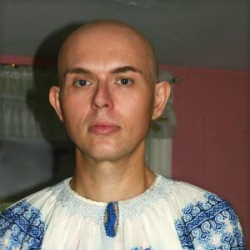 Latest posts by Kenaz Filan
(see all)
Trombones are great instruments, but they are also fragile. Sprung slides, dented bells, bent tubing — all sorts of things can go wrong with your costly instrument. If you regularly take your trombone out of your house, you need to make sure it doesn't get damaged.
Trombone cases can be expensive and heavy. They take up a lot of space when not in use. But for musicians on the road, a good case is an investment in their livelihood. While many trombones come with cases, few of those cases are up to the rigors of regular travel. Serious trombonists need the best trombone case they can afford.
How I Chose the Best Trombone Cases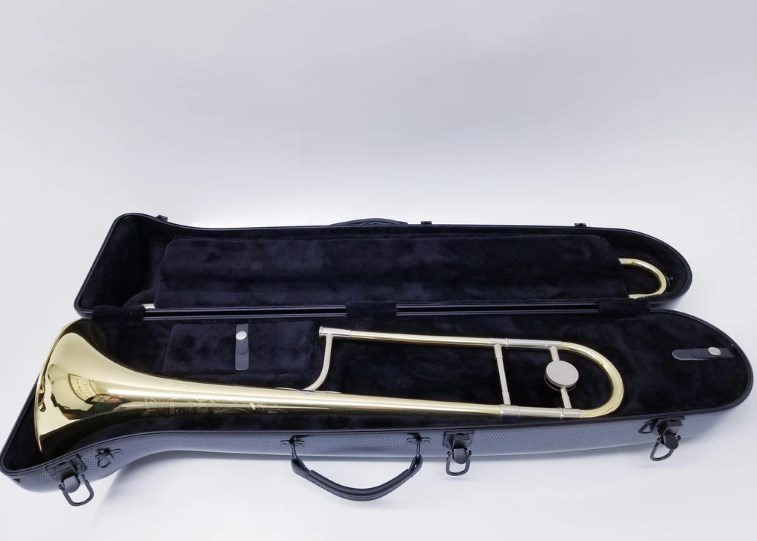 Who Needs a Trombone Case?
Everyone needs a trombone case (assuming they have a trombone–don't try to use one as a storage case for your cats). Your needs change slightly as you progress from beginner to professional, but it all comes down to protecting and storing your instrument in something other than a garbage bag. 
When learning how to play the trombone, your instrument gets handled and stored a lot. 
Your instrument gets transported and handled a lot when playing in school or in a group. 
When performing, your instrument gets shuffled and handled by others and needs extra protection. 
Features of Trombone Cases and Why They Matter
A trombone is a brass instrument known for its distinctive shape. Many parts of the trombone can detach from one another, but they are all fragile. Even if your only travel is to and from school, protecting all of those fragile components with the best trombone case is good.
This video teaches beginners how to assemble and store their trombones:
Knowing how to find the best trombone case means understanding when certain features are important and when you can save money. 
As someone who values saving money, I like to sarcastically point out to my better half that my ancestors walked the same hiking paths my family does now, but they didn't have to spend $650 at REI to get the "right" shoes, poles, water bottle, and backpack, so why should I? Oh right, to be more comfortable and not have to drink out of an animal stomach. 
The same logic applies to trombone cases. People have historically played the trombone with cases that were the equivalent of a cardboard box once upon a time, but you "get" to spend money today carrying a more comfortable case that provides better protection. 
Soft vs Hard
When you are figuring out how to find the best trombone case, the first feature you will run into is deciding on a hard or soft case. To figure out which one is best for your situation, ask yourself questions like:
 How often will I move my trombone from one place to another?
 Will I ever need to travel with my trombone on an airplane or a train?
 How do I plan to store my trombone at home?
Choose a soft case if… You're only traveling a few times per month and only going short distances, usually in a car.
Choose a hard case if… You are traveling across the country regularly for things like marching band competitions or performances, and you might very well use public transportation like airplanes.
Note
Hard shell cases are heavier, bigger, and more expensive, but they protect your instruments long-term. If you plan on playing the trombone or forcing your child to play the trombone for years to come, investing a little extra now might save you from replacing a damaged instrument later. 
However, if you are a parent on a budget, there is nothing wrong with a soft bag until such time as your child becomes talented enough that they can pay for their own replacement case from their performance money.
Weight vs Protection
You want to make sure your trombone is protected, but you also have to carry the case.  Traditionally heavier cases have meant better protection, but the advent of new materials has made it increasingly easy to produce trombone cases that are both durable and comparatively lightweight.  
That being said, I've avoided listing lightweight cases that are prone to cracking and damage or which sacrifice padding to keep the weight down. You want the lightest case that will protect your trombone, but a case that cannot withstand stress is useless.
Compartments
Many of the cheapest trombone cases do not include a zippered or sealed attachment compartment.  This means you have to carry your mouthpiece and oil in a separate compartment or risk having your mouthpiece get loose and damage your trombone's finish.  
The cases I have listed are built for tenor trombones.  If you play an alto or bass trombone, you will need a case designed for that instrument. Most of the manufacturers I have listed also offer cases for other members of the trombone family. Some even offer dual cases where you can carry your primary and secondary trombone together in one case.
Material
Trombone cases are constructed from different materials. If it has a hard frame, it can be made from molded plastic, polyester, nylon, or wood. The materials used are often designed to be lightweight, easy to carry, and shock absorbent.
You might even have padding on the inside, usually high-density foam or EPS with plush lining. This padding aims to protect the delicate pieces of your trombone from any external Force if someone knocks into the case, or you drop the case, or you throw the case at someone you don't like.
Locks and Hardware
On the outside, you might have a wide array of locks, latches, and Hardware. The trombone case you choose should have reliable latches, to prevent your instrument from falling out when you pick it up. Really cheap hardware is more likely to accidentally open when you don't want it. 
If you are planning to travel on a plane for professional purposes or just to perform for your family, you're going to want a case with built-in locks that TSA approves. TSA usually requires hard cases with rigid locks.
Compartments
If we look back to the inside, and sometimes on the outside, compartments might be a feature that is important to you. Extra compartments in your trombone case will make it easier for you to store things like music. There are different varieties, some of which are slide pockets, and others have zippers.
What works best for you is a matter of personal preference. However, if the pockets are on the outside of the trombone case, having some sort of zipper to keep everything in place is very important, whereas if the pockets are on the inside, a slide pocket won't really matter as much as long as the locks and hardware do their job.
Water Resistance
Water-resistance is something to consider too. If you travel a lot and you're living out of Seattle, this might be one of the most important features. A water-resistant or waterproof case will protect your delicate instrument no matter what. Obviously, this will be a little more expensive, but if you regularly visit places where it rains, it's something to consider. If you live in the middle of the desert, maybe not as much. 
Straps and Wheels
A few other features you might consider are backpack straps as well as waist or chest felt. Backpack straps can make it easy for you to carry your case like a backpack. The thicker the straps, the more padding you get and the easier it will be to carry. Of course, if you already have a backpack that you have to carry with you, other straps that allow you to put it over your shoulders or around your waist might be important.
Wheels can, of course, make it much easier to roll your trombone case with you. The wheels allow you to carry it like a small furniture dolly, which might be more important if you are a professional traveling through lots of airports.
Best Trombone Cases
When it comes to knowing how to find the best trombone case, after you know what features are most important to you, the job gets a lot easier. I have arranged my recommendations in order from least expensive to most expensive and, at the same time, from the fewest features to the highest number and highest quality of features.
Best Budget Trombone Case: Protec MX306CT/CTS Tenor Trombone Case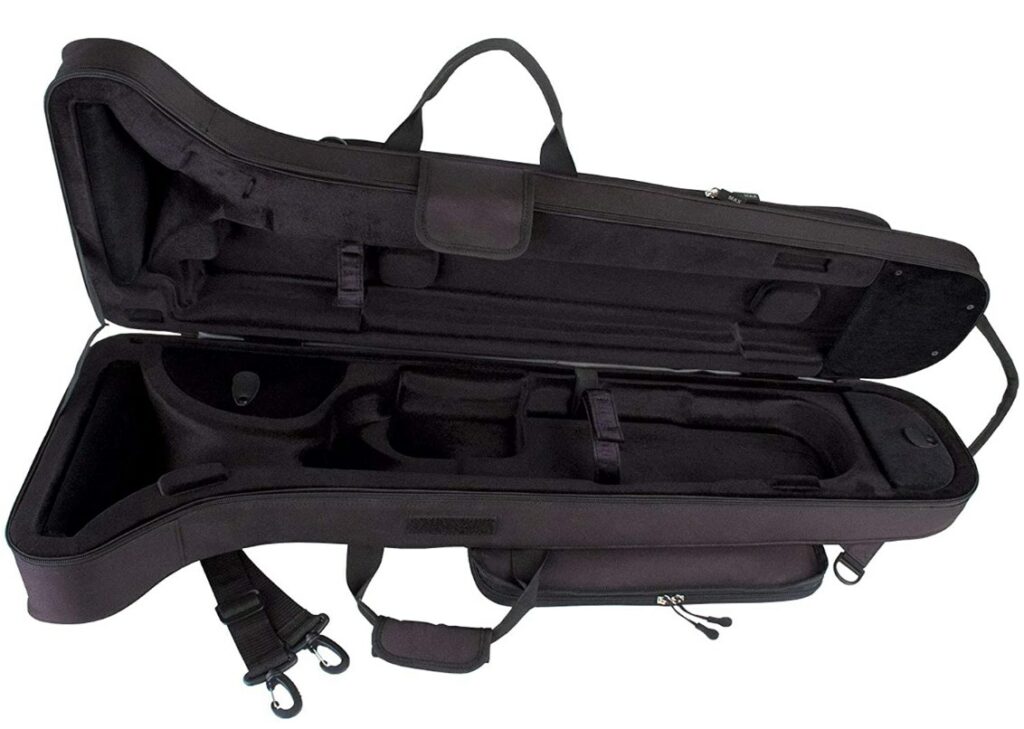 Your old case is falling apart, and you need a new case fast, but you don't have a lot of money. Lots of musicians have been there. The Protec MX306 cases will protect your trombone until you can get one better suited to your needs. If it takes years, the MX306 will hold up until then with reasonable use.
The MC306CT will handle a trombone with an F-valve attachment. If you are using a straight trombone, you may want to order the slightly smaller MC306CTS (also available on Amazon), which will give your trombone a better fit. Too much movement increases the chance of your trombone getting dented.  
The MCT306 trombone cases have a lightweight EPS frame and plush-lined molded foam interior. They will protect your trombone from regular wear and tear and will likely be a big step up from the case that came with your student trombone.  
While the MCT306 cases come with attachment pockets near the water key and the bell. You can only use the water key pocket to hold your mouthpiece, as it has an extra piece of casing that keeps it closed. The bell pocket is less securely fastened, and if you put your mouthpiece there, it may get loose and damage your instrument.
The Protec MX306 cases are not the best trombone cases you can buy. But they offer a lot of value for the money. They will be fine cases for older students (younger students might benefit from a stronger shell) and make excellent storage cases for your trombone between gigs.
Pros
Excellent price/value ratio

Lightweight

Suitable for moderate use
Cons
A mouthpiece can come loose if stored in the wrong pocket.
Best Soft Trombone Case: Fusion Urban Series Gig Bag for 9.5" Tenor Trombone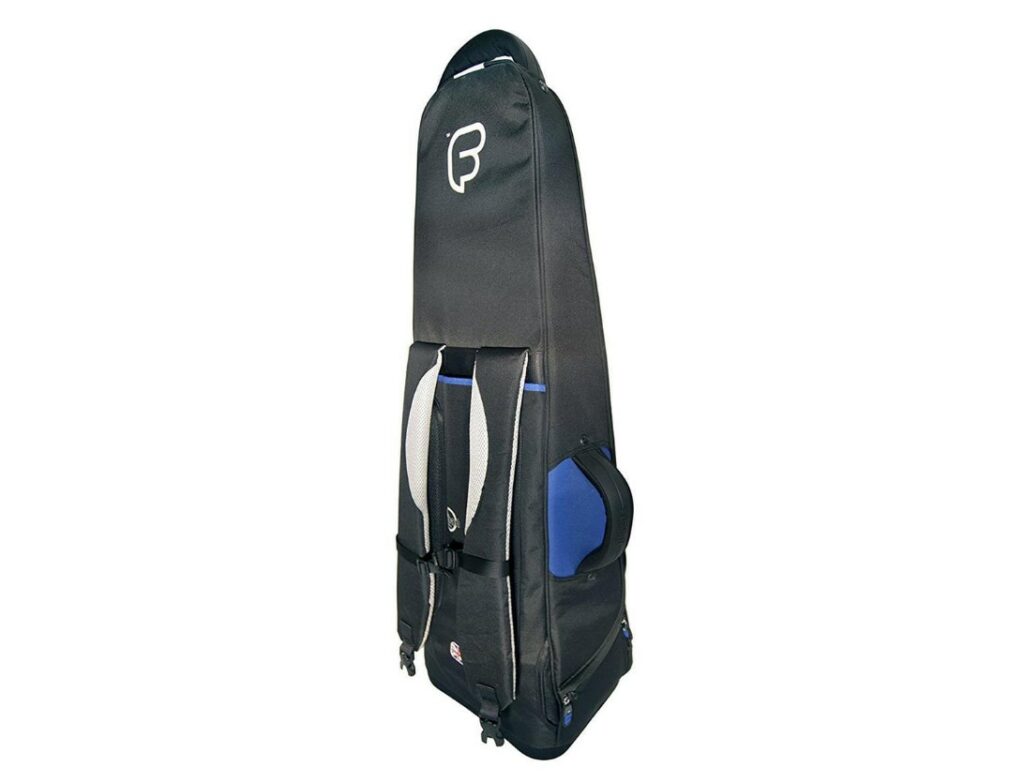 If you regularly travel to gigs in your car, the Fusion Urban Series Gig Bag will provide your trombone with all the protection it needs. The Fusion Gig Bag protects your instrument with 20mm (0.78") of high-density foam padding and a molded base.
The Fusion bag has two pockets on the front, one large enough to carry A4 sheet music. There is room for mouthpieces, valve oils, and anything else you need at a performance or rehearsal. And Fusion's Fuse-On system lets you add extra space if you want to bring a change of clothes for those all-night jam sessions. 
Soft rubber handles, sturdy zip pulls, and backpack straps make the Fusion ergonomically friendly. And the reflective label helps oncoming vehicles notice you when you are crossing the street. Fusion builds its gig backs with working musicians in mind. Getting your trombone across town will be a whole lot easier with a Fusion Gig Bag.
The Fusion Gig Bag is suitable for under-seat or carry-on travel but checks with the airline first to ensure it is not too large. While the Gig Bag will probably be suitable for travel in the luggage compartment, it may not be up to the enthusiasm of airport workers loading and unloading a checked instrument.
Pros
Lightweight and ergonomically balanced

Lots of storage space for mouthpieces, sheet music, and other essentials

Can add extra storage
Cons
Not the best choice for air travel in the luggage compartment
Best Lightweight Trombone Case: Edwards 3K Tenor Trombone Case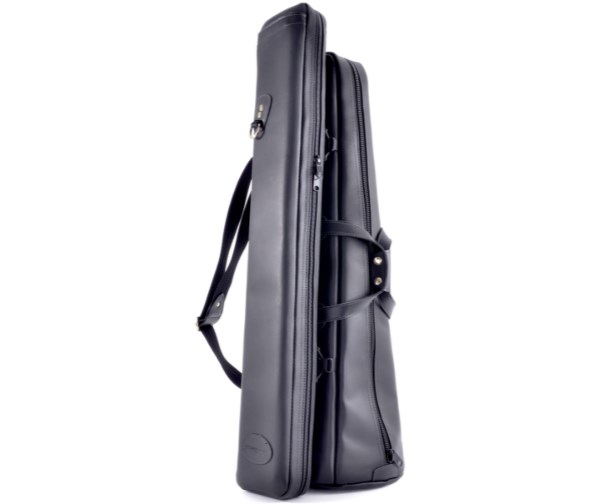 You may not be able to afford an Edwards trombone just yet, but you can carry your trombone in a comfortable, lightweight style with the Edwards 3K tenor trombone case. The slim hard case will fit in the most overhead storage and is strong enough to withstand rough flights and rougher luggage attendants should you check it at the gate.
The "3K" in this case stands for 3K carbon fiber.  Carbon fiber reinforced polymer is used in race cars and jets, and Edwards uses it to keep your trombone safe. Every ⅛ inch (3.2mm) of the 3K's shell is reinforced with 3,000 strands of tightly woven carbon fiber. This case will handle just about anything you throw it at – though, for the price, you'll want to avoid throwing it! 
At 7.15 pounds (3.25 kg), the Edwards 3K won't strain your back. You can carry your trombone using the detachable shoulder straps or with either the top or tail (subway handle).  The padded bell plate helps keep your bell flare undented. And four adjustable foam and two adjustable semi-rigid blocks mean just about any tenor trombone will fit.
Like Edwards trombones, the 3K Tenor Trombone Case carries a hefty price tag. But if your 3K Case is the only thing standing between your expensive instrument and a 15-foot drop, you'll be glad you made the investment.
Pros
The best weight-to-protection ratio on the market

Stylish and easy to carry

Carbon fiber shell will protect your trombone from most impacts
Cons
Best-Looking Trombone Case: Glenn Cronkhite Trombone Bag
If you have (or want) paparazzi waiting outside your gigs, a Glenn Cronkhite Trombone Bag will make you ready for your closeup. Glenn Cronkhite has been making instrument bags since the 1970s, and their cases are tailor-made to suit your aesthetic tastes. 
While Cronkhite has a few bags in stock, most of their instrument bags are made to order. You choose between durable Cordura nylon or leather in a range of colors. Cronkhite's bags are made for small, medium, and large bore trombones. (If you're not sure which fits yours, they list some popular trombones on their website and will happily guide you by e-mail or phone).  
Chronkite bags aren't just pretty. They're lined with an inch (2.5 cm) of high-density foam. This is sufficient for travel in most situations, though you wouldn't want to subject it to too much rough treatment. Many musicians use their Chronkite bag for decades: their craftsmanship is excellent and the materials top-notch.
If you do a lot of traveling with your trombone, you should look at the Glenn Cronkhite Trombone Travel Bag. Cronkhite's Trombone Travel Bag includes a detachable slide case, which lets you keep your slide under your seat while your instrument is overhead. 
Since a bell dent is less critical than a bent slide, this is a nice safety feature in case of a rough flight or a neighboring passenger slamming his heavy suitcase into your trombone.  
Pros
Glenn Cronkhite is the Louis Vuitton of instrument case makers

The case will last for decades with regular use

Made to order, so you get exactly the case you want
Cons
It does not offer as much protection as some other cases.
Best Trombone Case for Frequent Travel: The Tank Tenor Trombone Case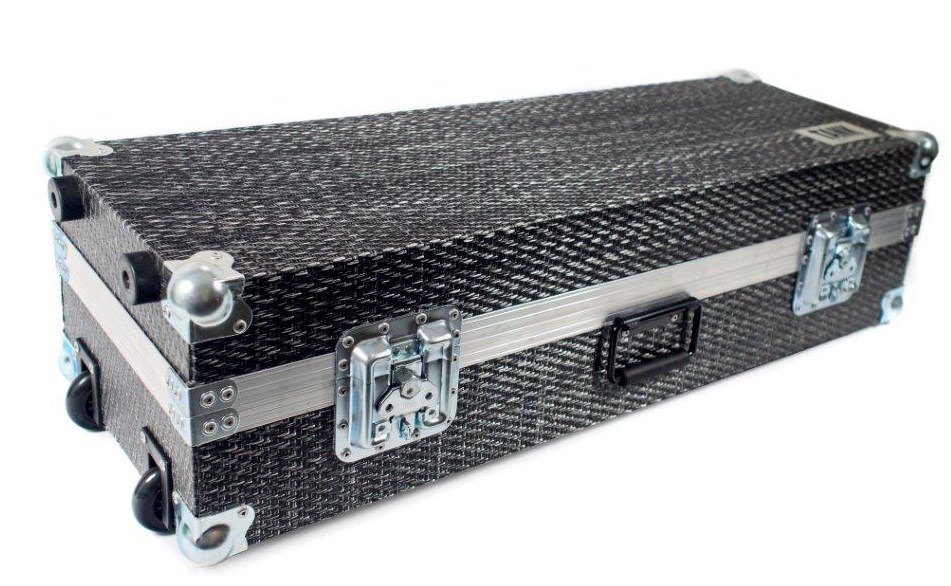 If you want to make sure your trombone will survive even the roughest treatment, the Tank Tenor Trombone case will stand up to the worst handling. The Tank (yes, that's their business name) makes aluminum cases designed to keep professional instruments from damage.  
The Tank's big secret is its Suspension in Place technology. Memory foam cradles your instrument when you close the Tank case. This keeps your instrument still even when the case is jostled. The metal outer case can take a hard blow, and the memory foam absorbs the shock and keeps it from reaching your instrument.  
The Tank has created custom cases for professional studio and orchestra musicians. Charles Vernon of the Chicago Symphony Orchestra has a custom-built Tank Trombone Case that protects his alto, tenor, and bass trombone when the CSO is on the road. 
The Tank Trombone Case isn't just for traveling. If you put your trombone away in a Tank case, you can be assured no harm will come to it from curious children, excited St. Bernards, or falling meteors. And while it's more utilitarian than stylish, your Tank trombone case looks like an anonymous metal box to thieves too.  
At 18 pounds, The Tank Trombone Case is the heaviest case on our list. But that weight comes with the best trombone security you can buy. You spent thousands on your instrument. For $749, you get a case that will survive the worst luggage handler and might even survive a plane crash! 
Pros
The most durable trombone case on the market

Custom options available 

Will keep your expensive instrument safe
Cons 
Zetiling Trombone Bag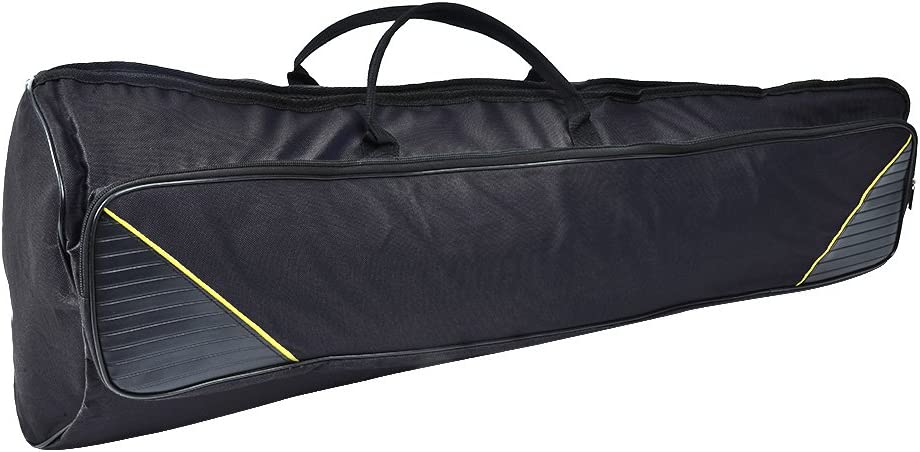 So let's start with the least expensive with the fewest features. The Zetiling Trombone Bag, Trombone Case Portable Soft Oxford Cloth Musical Instrument Protect Bags for Trombone Players(#3) is my top pick for absolute affordability. If you have a student and you are on a budget, this is a soft bag that protects instruments from damage and can be easily worn as a backpack. It's designed for alto and tenor trombones. It's very lightweight, only 1.5 lb, so it won't add to the weight of the instrument much. You can use the carrying straps if you don't want to wear it as a backpack. There are extra zipper compartments on the outside for rolled-up sheet music. 
Pros
It is wear-resistant. 
It has long storage pockets with zippers. 
There are back straps and handles. 
Cons
The straps aren't very thick, but it gets the job done. 
It is such a flexible soft case that it won't necessarily stand up on its own when not in use.
Protec IP309CT Bass Trombone IPAC Case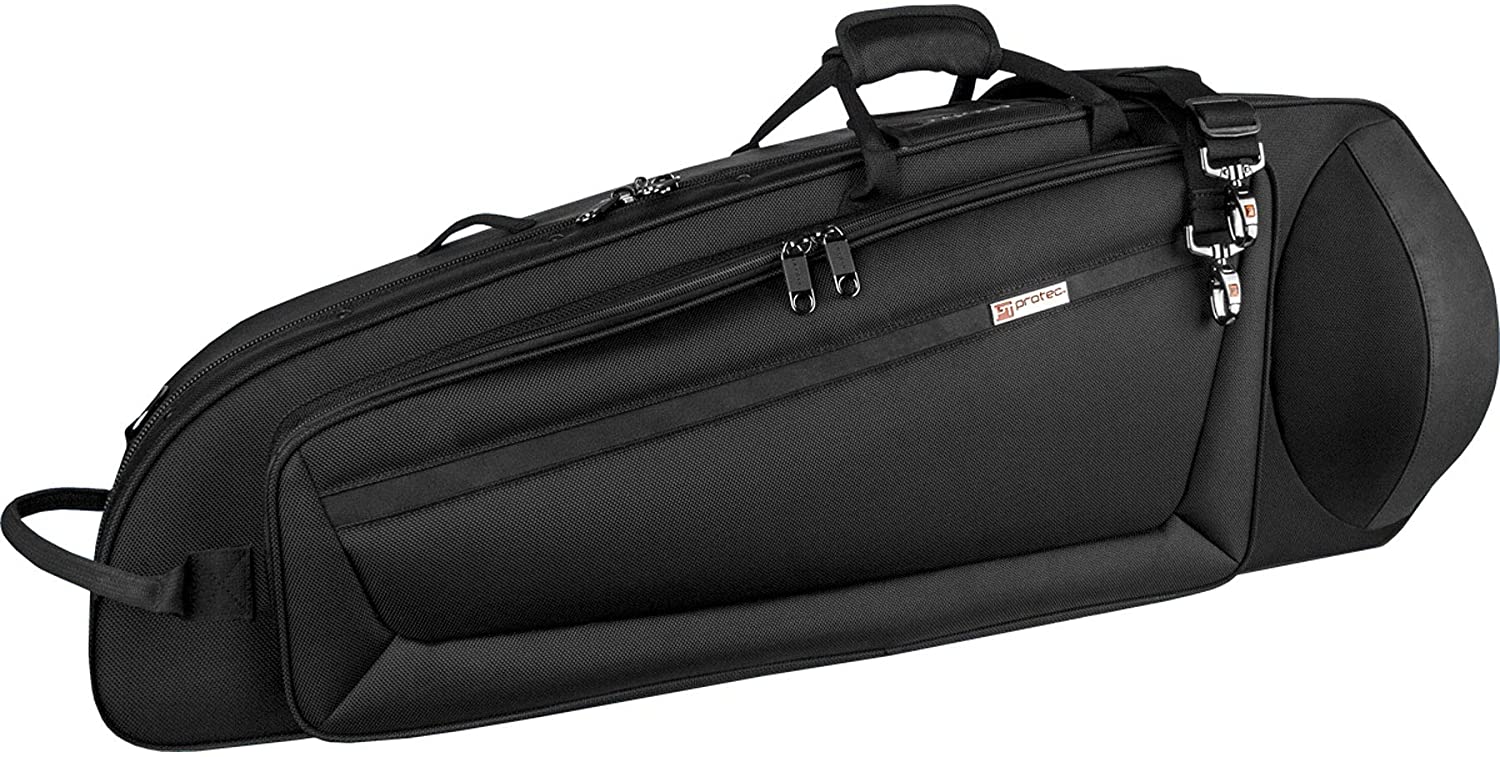 Next on the list is Protec, a reputable brand for brass instrument cases. The Protec IP309CT Bass Trombone IPAC Case is the next level up with regard to soft cases. It is technically a soft case but much sturdier than the Zetiling. It's easier to put your instruments in or out of this bag because the fabric is much thicker and has additional padding on the inside.
I absolutely recommend this one for the hard frame and the water resistance, although it is much heavier than the Zetiling, coming in at 10.5 lbs. The padded handles use the quick-lock design so you can close your empty case without having to zipper the entire thing. This is great when you take your trombone out and you need to close your case, but you don't want to spend the time zip and everything shut.
Pros
It has a hardwood frame. This frame means it can stand up on its own when not in use, and it adds to the protection and durability you get. Even though it isn't technically a hard case and still has a fabric design, the frame increases the security quite a bit. 
It comes with backpack straps and handles. 
It has shock-absorbing wood shell frames with a water-resistant nylon cover, so you don't have to worry about some light rain drops affecting your instrument.
You get an adjustable brace with strong metal hardware and an extra-large accessory compartment inside.
Cons
It's designed for a larger slide and bell. A 9.5-inch bell will fit snugly, but if you have a smaller instrument, make sure you measure to ensure it fits without banging back and forth. 
The case won't fit in an overhead bin, so if you are buying it to take on an airplane, buy something else.
Gator Cases Lightweight Polyfoam Trombone Case with Removable Strap and Rubber Interlocking Carry Handle; (GL-TROMBONE-F)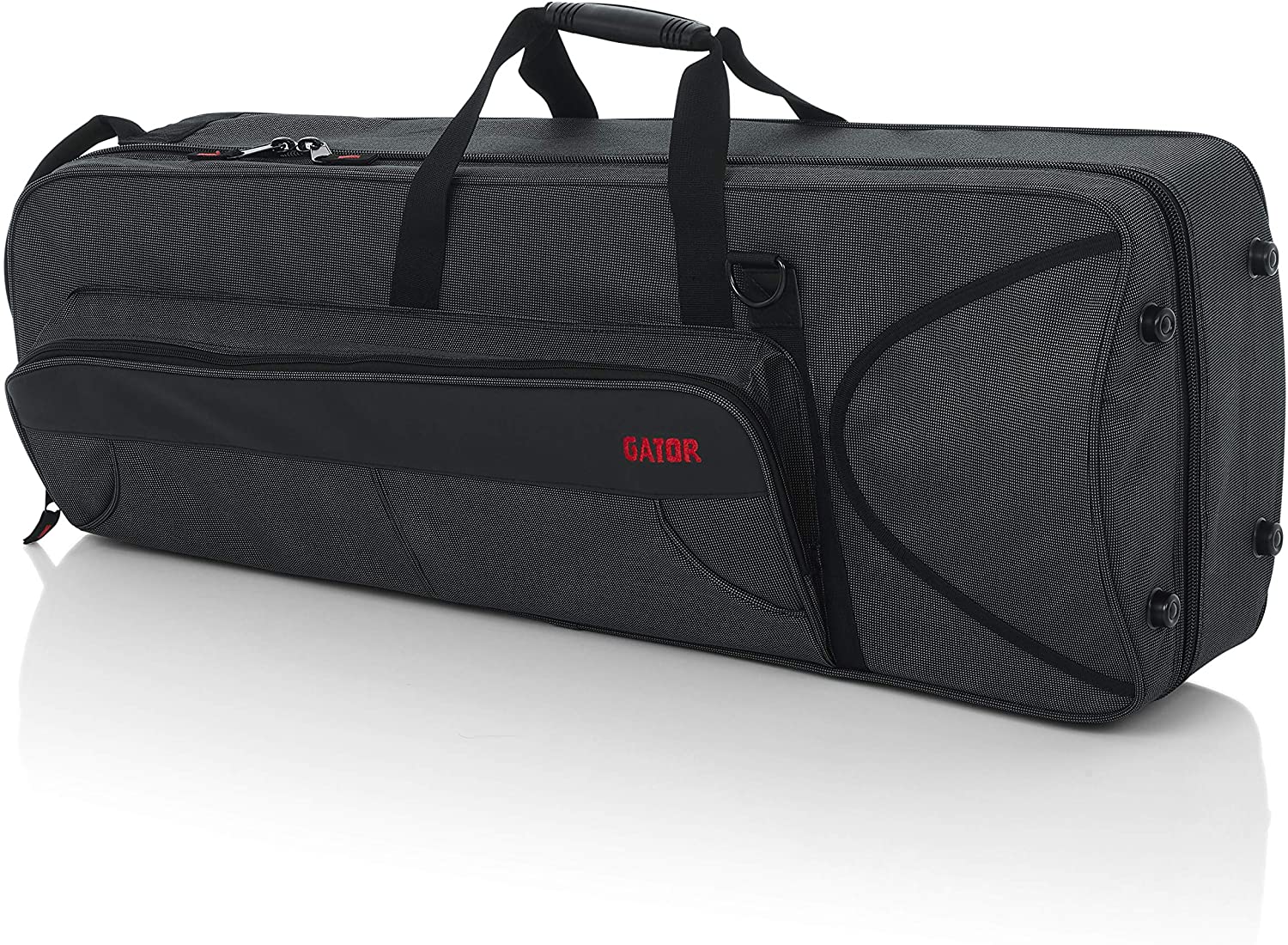 Another reputable brand is Gator. Gator makes a range of hard and soft cases for brass instruments. The Gator Cases Lightweight Polyfoam Trombone Case with Removable Strap and Rubber Interlocking Carry Handle; (GL-TROMBONE-F) is part of their GL Lightweight series. I recommend this if you travel a lot and you want something rugged but not expensive. I use this model for my teenagers.
With this, you get a framed design, so it's strong enough that it can sit on its own when it doesn't have your instrument in it without being a very heavy and expensive hard case. The exterior is durable nylon that can be easily wiped clean. When you get to the inside, you get molded EPS foam with a black lining, so your instrument should fit securely inside and remain safe. 
The hardware that comes with it is metal, so the D rings will last long. If you are sitting it down horizontally or vertically, there are rubberized feet at the ends, so the bag never has to come into direct contact with the ground.
Pros
The technology in this design gives you minimal weight with a lot of durabilities, weighing only five pounds. 
It has interlocking grip handles and adjustable shoulder straps, so you can wear it over your shoulder or carry it by hand.
A large zippered storage pocket on the outside can hold things like brushes and mouthpieces.
Cons
Because of the shape of the instrument, there isn't exactly a storage space for sheet music.
Gator Cases Lightweight Molded Trombone Case with Locking Latch and Plush Lined Interior (GC-TROMBONE)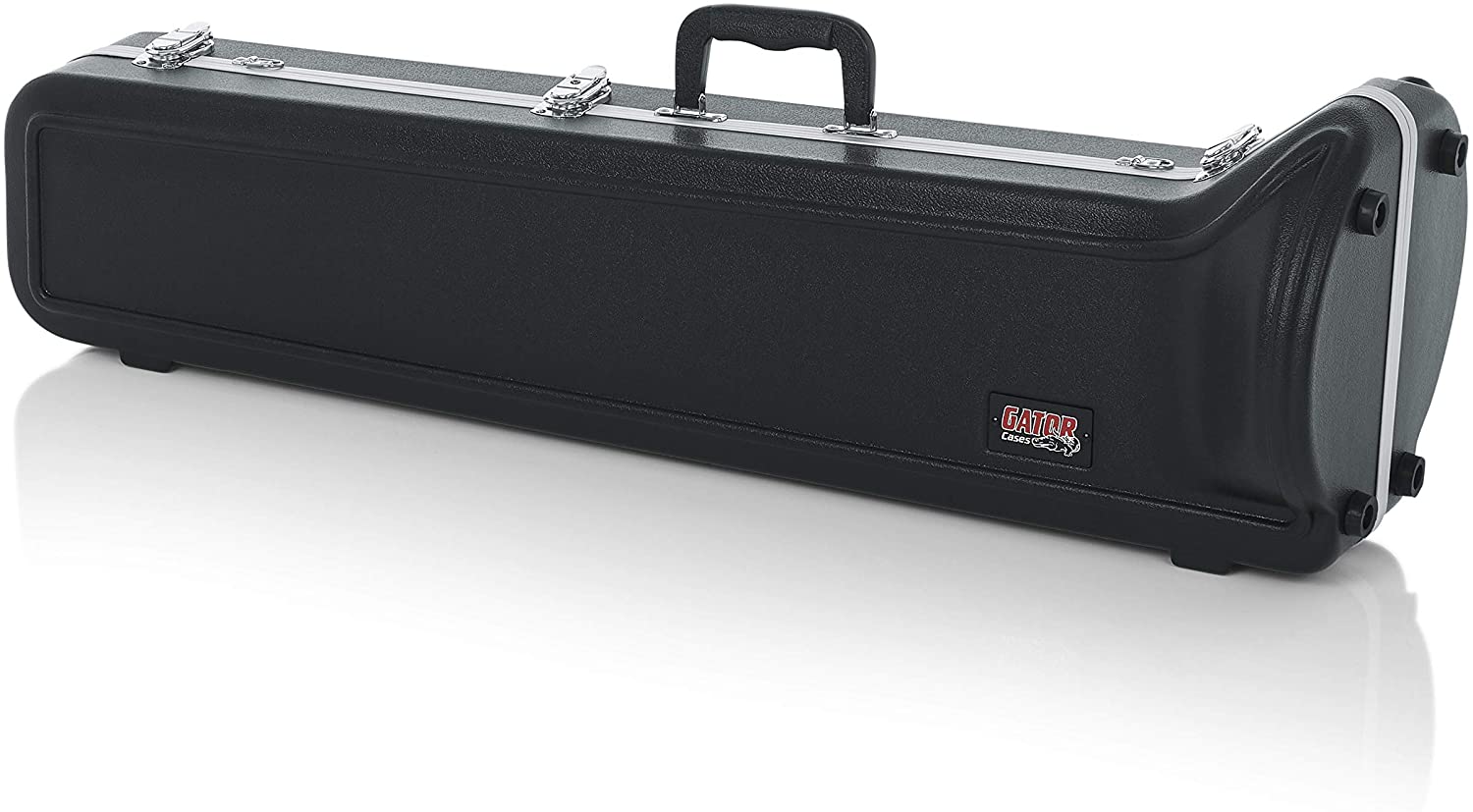 If you do want to spend the money to get a hard case, Gator makes a line of hard cases too. The Gator Cases Lightweight Molded Trombone Case with Locking Latch and Plush Lined Interior (GC-TROMBONE) is really well worth the investment. It is a hard case, and yet it doesn't cost significantly more than comparable Gator models or even the models from other companies. 
This is the perfect solution for professionals, especially those who travel on trains or airplanes and want to ensure they have maximum protection for their instruments. It includes all manner of carrying straps so you can choose how you want to cart around your instrument. Even if you want to pick it up or put it over your shoulder, it weighs only 6 lb, not counting the weight of your trombone. It has the most durable latches and a lock and key section so you can lock everything up once the latches are closed.
Pros
It is made with ABS construction and has heavy-duty aluminum. 
The handle is bolted in place, so it isn't going anywhere. 
The latches are chrome plated and can be put into a locked or unlocked position without risking your case opening when it isn't meant to. 
It weighs only six pounds. 
Cons
Honestly, it isn't much more expensive than the other Gator models or Protec, for that matter, so I guess the only downside is the cost compared to things like the Zetiling. 
Frequently Asked Questions
Here are some frequently asked questions about trombone cases.
Question: How Can I Protect My Trombone from Damage in Transit?
Answer: Remove any screwdrivers, valve oil, tools, or anything else that could cause trouble if it gets loose during your trip.  Take your mouthpiece out of the case, put it in a plastic bag, and pack it in your luggage. This ensures nothing can break free in your case and damage your instrument.
Make sure your case is up to the task.  The thin case that came with your trombone may not be able to handle the rigors of travel. A sturdy trombone case may require a hefty initial outlay, but the money and heartache you save on the road mean your investment will pay off soon.
A styrofoam cone wrapped in the fabric will help protect your bell from dents. And if your case is a bit too big for your trombone and your instrument has too much wriggle room, you can use rolled T-shirts or other soft clothes to provide extra padding.
Question: How Do I Get My Trombone Through TSA Security?
Answer: Before you fly, make sure you remove any slide cream or trombone oil from your case.  If you've ever been stopped at the airport over a bottle of shampoo, you know the TSA can be very strict about carry-on liquids or creams.  
Since most trombonists regularly carry lubricant in their case, it can be easy to forget until your trombone triggers a security alert.  
Question: How Do Trombones Most Frequently Get Damaged?
Answer: Because trombones are long and sometimes awkward instruments, trombone bells frequently get dented. While this damage is mostly cosmetic, slide dents are much more serious. A dented or otherwise warped slide may render your trombone unplayable.
A trombone's mouthpiece and slide both need to be snug, but that means they are also prone to get stuck. If your trombone's mouthpiece is stuck, don't reach for the pliers! Take it to a repair shop, and they will be able to get it loose for you.  
If your trombone slide is sticking intermittently, you may have a dirty slide. Take your trombone apart and give it a thorough cleaning, then oil the playing slide. If that doesn't work, your slide is probably bent and will require professional servicing. 
Question: Is it better for me to purchase a trombone case online or in the store?
Answer: Either way is perfectly fine. There's nothing wrong with purchasing a trombone in the store; the only difference is that doing it online saves you time and effort, is more convenient, and is usually cheaper. If you go to a store, you can physically put your trombone in a given trombone case to see how you like it, but you're going to be paying a little extra at the store for the same thing you could buy online.
Question: Do trombone cases require special maintenance?
Answer: Trombone cases have to be taken care of, but it's pretty easy. Try not to pour colored liquids or sticky juices on your trombone case. Be careful not to throw it at people you don't like. And if it gets anything on it, just wipe it down. Each type of case will have some recommendations for regular maintenance, depending on the material used.
Question: Should I get a warranty on my trombone case?
Answer: Some warranties come standard with the manufacturer. Other marketplaces or sellers like Amazon might offer additional warranties regardless of whether the manufacturer has one. Before you spend money on a warranty, read over the terms and conditions so that you understand what parts are covered.
A lot of warranties for manufacturers only last about one year, and the warranties from marketplaces or sellers like Amazon are often very restricted. It might not be worth it, given how limited the coverage is, especially if you are buying a basic trombone for students.
Conclusion
So what's the best trombone case? 
If you carry your trombone to rehearsals and performances in your car, the Fusion Urban Series Gig Bag will be the best trombone case. It will protect your trombone against bumpy roads and the inevitable bumps against walls and floors, while its pockets will give you plenty of storage space.
Are you going to be shipping your trombone in airline storage or crammed in with other instruments on a tour bus? Your best choice is the Edwards 3K Tenor Trombone Case, which will keep your instrument safe within a sturdy carbon fiber shell. 
Do you log frequent flier miles touring with your instrument? Do you own an irreplaceable trombone? If so, the Tank Trombone Case is the trombone case for you.  The Tank will keep your instrument safe from anything short of bullets or nuclear war. 
Whatever case you choose, here are too many long and happy years of trombone playing wherever you go with your instrument!