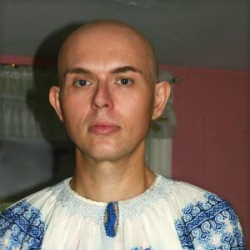 Latest posts by Kenaz Filan
(see all)
There's nothing like the sound of a good marching band, and you can't have a marching band without somebody playing the low end. Marching tubas are impressive sonically and visually. But marching tubas are expensive, so you want to make sure you get your money's worth.
Whether you're buying your marching tuba for a young student or a professional band, there is a marching tuba out there that is just right for you.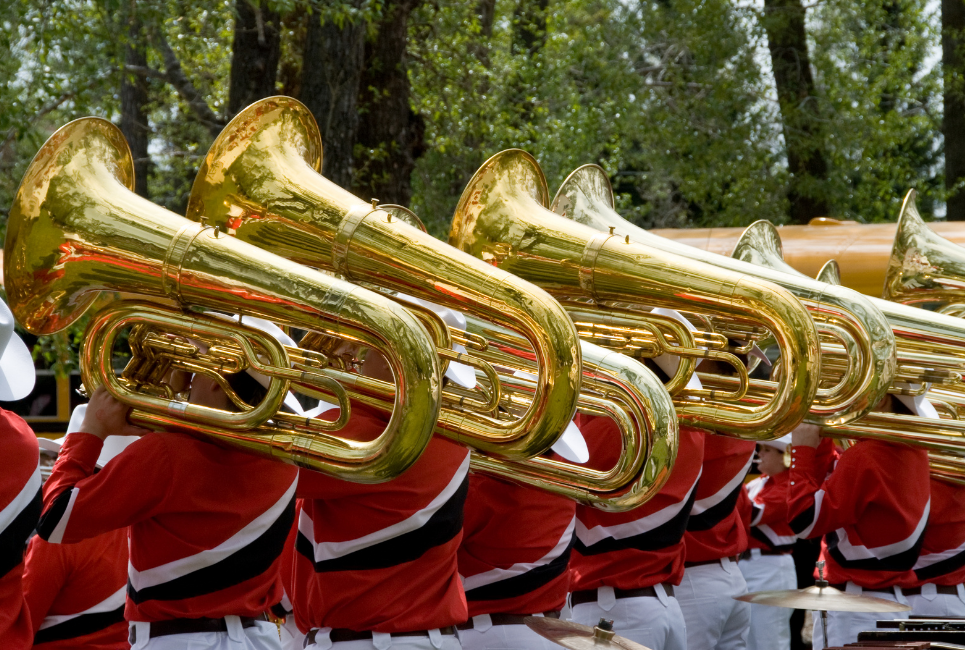 At a Glance: Best Marching Tuba
| Product Image | Primary Rating / Price | Primary Button |
| --- | --- | --- |
| | | |
| | | |
| | | |
| | | |
How I Chose the Best Marching Tubas
A marching tuba is a big investment for an instrument that has a specialized purpose. But if you are going out on the field, you'll find a regular concert tuba is not up to the demands of marching.
While most instruments are suited for the athletic field and concert hall alike, the acoustics of marching means that musicians must project sound forward. A marching tuba is designed to be played horizontally rather than vertically with the bell pointed forward rather than upward.
When possible, I have chosen convertible instruments which can be played both as marching and concert tubas. Convertible tubas have interchangeable leadpipes, allowing a musician to play the instrument in either position. This versatility enables a tubist to get as much use as possible out of their instrument.  
When you get to the highest levels of tuba playing, this becomes more challenging. Convertible tubas do both jobs adequately, but professionals want the best possible tools for their gig, not just an adequate instrument.  
If you spend a great deal of time marching or ordering instruments for a nationally-known marching corps, you will find these marching tubas up to anything in your repertoire. The advanced and professional tubas I have selected are expensive, but they are the best that money can buy.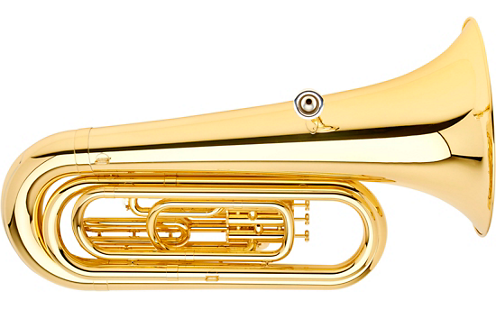 Yamaha is one of the biggest players in the student instrument market. While Yamaha instruments are considerably more expensive than many "student" instruments available on Amazon and eBay, they are far more reliable and have better intonation and durability.
The YBB-105MWC is a ¾ marching tuba which is considerably smaller than a full-sized marching tuba. This makes things easier for young students with smaller hands and less carrying capacity. But though it is smaller, the YBB-105MWC has the tuba's full range and a nice full sound that will carry well through auditoriums and across fields. 
The YBB-105MWC is also convertible. A student can use this tuba both on the field and in recitals. Its smaller size also makes it an excellent traveling instrument. When you're packing instruments on a bus or plane, every cubic inch counts, and the YBB-105MWC takes up a lot less space than a sousaphone. 
The YBB-105MWC has easy action and smooth fingerings. Yamaha's customer service is well-regarded for handling difficulties that arise, and you should have no problem finding an instrument repairman who can service and maintain your tuba. The YBB-105MWC isn't cheap, but it could serve you as a secondary or traveling tuba throughout a marching musical career.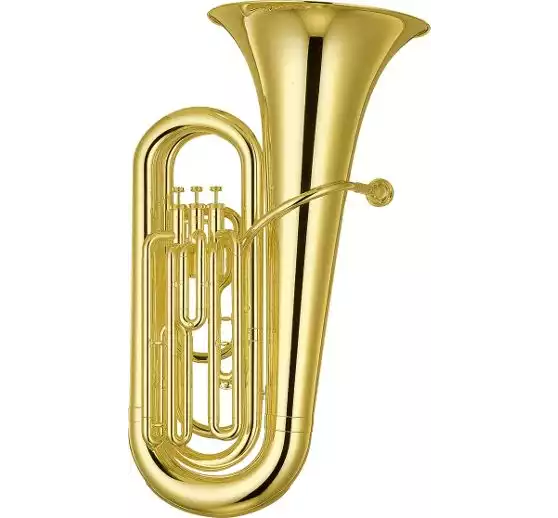 Pros
Smaller size and lighter weight makes it ideal for younger students 

Will serve as a student concert and marching tuba

Yamaha is known for quality control and reliability
Cons
Not as much power in the low and high end as some more advanced models
Specifications
Key:

Bb♭

Size:

3/4

Bore:

0.661″

Bell Diameter:

14 ⅜" 

Leadpipe

: Gold Brass

Body/Bell:

Yellow Brass

Finish:

Clear Epoxy Lacquer; Silver (YBB-105MSWC)

Mouthpiece:

67

Pistons/Valves:

(3) Nickel-plated, front action

Case:

BBC-27M

Options/Included

: Concert and Marching leadpipes included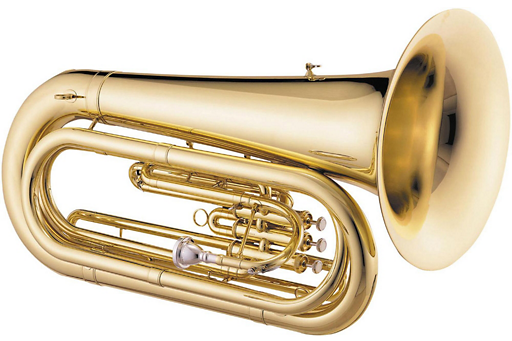 Jupiter marching tubas have a powerful, resonant sound. As one tuba player put it, "You hear a Yamaha, but you feel a Jupiter." If you've got the lung capacity, the JTU1030M will play as loud and clear as you want. The 0.709″ bore makes the Jupiter less likely to produce an overblown blatty sound than narrower marching tubas. 
The 1030M also comes with an ABS-molded wheeled case which protects your instrument without weighing you down too much. This will come in handy when carting your marching tuba around between home, practice, and games. 
By switching between concert and marching leadpipes, you can play the 1030M in an upright or marching position. As your skills improve, you may find that the 1030M's three-valve layout makes more advanced tuba passages difficult, but for most music, the 1030M will do a superb job of filling out the low end.
But all those great features come at a cost. Jupiter marching tubas are notoriously heavy, and many complain they are unbalanced. And while Jupiter's stainless steel piston valves are closely machined, they are also prone to sticking if not meticulously maintained.  
The Jupiter 1030M is an instrument for more advanced players and will require a higher standard of care. If you have the upper body strength and experience to handle a larger, heavier instrument, you may find the 1030M the ideal instrument for your needs.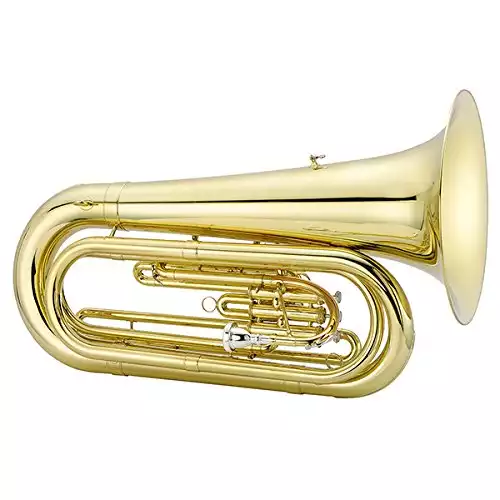 Pros
Excellent warm sound

Difficult to overblow

Great low register
Cons
Heavy 

Mouthpiece not included 
Specifications
Key:

BB♭

Size:

4/4

Bore:

0.709″

Bell Diameter:

15″

Finish:

Clear Epoxy Lacquer; Nickel-Plated; Silver-Plated

Pistons/Valves:

Stainless-Steel

Case:

ABS Case with wood frame and two wheels

Options/Included

: Concert and Marching leadpipes included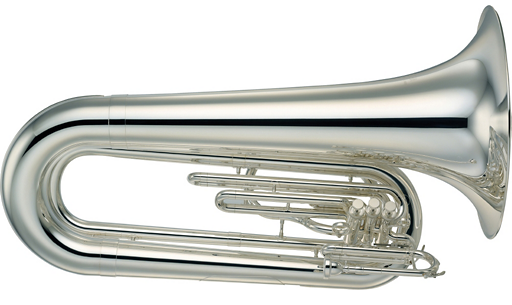 Several of the world's top band corps use Yamaha YBB-202MWC marching tubas. The YBB-202MWC is one of the lightest marching tubas on the market, weighing in at just over 21 pounds. When you are rehearsing in the hot sun, every ounce you carry on your shoulder counts.  The YBB-202WMC makes double-time marching easy … or at least easier.
The large 21″ bell gives the YBB-202MWC a big, bold sound. The slides are hand-lapped, ensuring quick action on fast passages. The 0.728″ bore makes for easy blowing, and the 67C4 mouthpiece provides a sensitive response that lets the player feel the music and adjust embouchure as required.
Yamaha's quality control means every horn in your lineup will have a matching tone. Yamaha's house sound means Yamaha instruments blend dependably. And if you have trouble with your marching tuba, Yamaha's customer service and its wide network of dealers will ensure your problem is solved quickly.
While the YBB-202WMC is expensive, you can find reasonably priced used models on the market at the end of every season. Because many professional corps perform with Yamahas and buy new gear frequently, there is always a steady supply of used Yamaha marching horns. These are generally well maintained and will serve you for many marching seasons to come.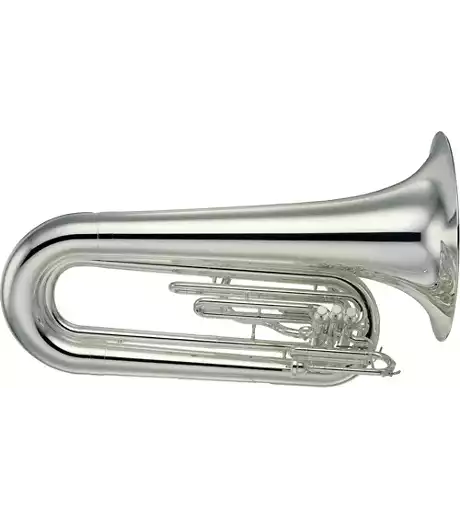 Yamaha YBB-202MWC | Woodwind & Brasswind
The Yamaha YBB202MWC 4/4 Marching BBb Tuba was designed to meet the demands of America's top drum corps. The Yamaha 202MWC features a 21-inch bell for a large sound with excellent projection.
Check Price
We earn a commission if you make a purchase, at no additional cost to you.
Pros
Used by many leading band corps

Lighter weight  

A wide network of dealers means repair and replacement issues get handled quickly
Cons
The lighter weight makes the YBB-202MWC more prone to dents than heavier tubas
Specifications
Key:

Bb♭

Size:

4/4

Bore:

0.728″

Bell Diameter:

21″

Leadpipe

: Gold Brass

Body/Bell:

Yellow Brass

Finish:

Clear Epoxy Lacquer; Silver (YBB-202MSWC)

Mouthpiece:

67C4

Pistons/Valves:

(3) Nickel-plated, vertical action

Case:

BBC-202M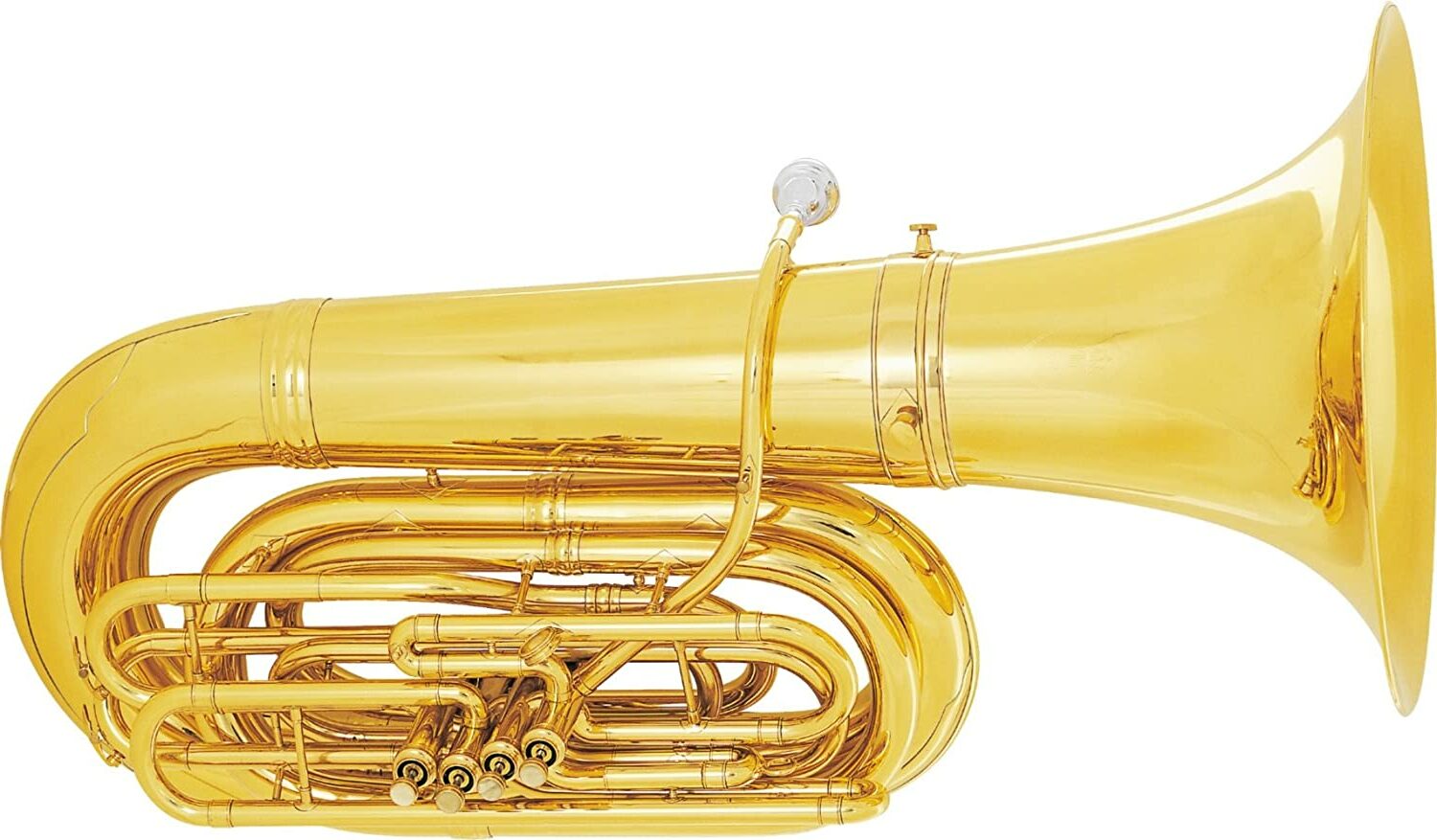 Historically, composers wrote most marching band music with 3-valve brass instruments in mind. Today, as 4-valve instruments have become more widely available, many composers are taking advantage of the extended low range the fourth valve provides. While you can fake it with pedal notes, why not use a tuba that adds an extra fourth to your bottom end?
The K50's fourth valve gives you the same fingering options and improved intonation you get on a four-valve concert tuba. The removable valves are easy to clean, and the nickel-plated pistons give you quick action. The Graduated Tuning Guide technology lets you adjust your tuba with a thumb ring to get exactly the tone you want while you are playing. 
The K50's balanced weight will help keep you in step through fast-paced numbers, and its heavy-duty bracing will support your tuba through performances and parades. And King's patented "see-through" technology arranges the tubing, so your left view is not entirely blocked when holding the K50 on your shoulder. 
King has been making instruments since 1909, and the King 3B is still the world's best-selling jazz trombone. Since 2003 King has been owned by student instrument giant Conn/Selmer (a wholly-owned subsidiary of piano masters Steinway). All that musical experience has helped make King one of the most respected names in marching instruments.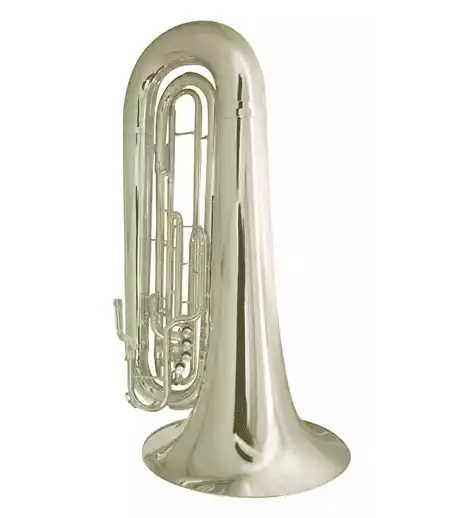 Pros
The fourth valve gives you extended low range and better intonation

See-through technology lets you keep an eye on your left side

King has a long history of making quality instruments
Cons
Specifications
Key:

Bb♭

Size:

4/4

Bore:

0.734″

Bell Diameter:

20″

Leadpipe

: Gold Brass

Body/Bell:

Yellow Brass

Finish:

Clear Epoxy Lacquer; Silverplate 

Mouthpiece:

System Blue SBTU mouthpiece

Pistons/Valves:

(4) Nickel-plated

Case:

7750CSB plastic shell case with wheels
FAQs
Here are some frequently asked questions about marching tubas.
Question: What's the difference between a marching tuba and a concert tuba?
Answer: A concert tuba's leadpipe curves around the bell toward the valves. The tubist most frequently performs sitting down with the tuba resting on their leg or in their lap. Standing tubists generally wear a harness to play while holding their instrument. 
 A marching tuba's leadpipe is curved forward and back, which allows the tubist to carry their marching tuba on their shoulder (typically left, though right shoulder models are available).  
Marching tubas typically have three valves, whereas professional concert tubas have between four and six valves that offer alternate fingerings for better intonation and extended chromatics. 
While you could march with a concert tuba and a harness, you would not be able to do any maneuvers like snapping your tuba up or down. And your bell would be pointing upward, meaning the sound would not project as well as a marching tuba.  
Question: What's the difference between a marching tuba and a sousaphone?
Answer: A sousaphone wraps around the musician, with the bell resting on their shoulder. The concert fingerings are identical, and sousaphones are almost always in BB♭. While many people refer to sousaphones as "marching tubas," they are not the same instrument.
Sousaphones are easier for many players to manage, as they do not have to play their instrument while simultaneously balancing a heavy load on their shoulders. Several manufacturers offer fiberglass sousaphones which are considerably lighter and less expensive than brass sousaphones. (As a bonus, they are more durable since they do not dent).
The sousaphone can also be distinguished by its wide flaring 26″ bell, which provides excellent projection. Many marching bands cover the bell with lightweight fabric emblazoned with their team colors, and a few have even incorporated flash paper to give the audience a fire-breathing spectacle.
Most marching musicians find the marching tuba has a better sound than the sousaphone but requires more upper body and back strength. While the sousaphone will leave your shoulder aching, keeping a marching tuba balanced requires more arm, back, and trapezius strength. 
Question: What's the difference between a marching tuba and a contrabass bugle?
Answer: Bugles are traditionally in the key of G. While the original bugle had no valves and could only play notes within the harmonic series, most contrabass bugles have two or three valves to increase the player's range.
The main difference between a marching tuba and a contrabass bugle is the key: a G tuba is pitched a step above a concert F tuba while a BB♭tuba has the same pitch as a typical concert Bb♭tuba. Contrabass bulges are also more slender than a marching tuba with a more sharply flared and narrower bell.  
Many drum corps musicians call marching tubas "contras." If you are shopping online for a used marching tuba, it will be worth your while to include searches for "contra tuba" or "contrabass bugle." Contrabass bugles are becoming increasingly rare, as many drum and bugle corps have replaced them with marching tubas and baritone horns.
Question: How can I train for marching with a tuba?
Answer: Marching with a tuba requires more than musical skill. It also requires upper-body strength, stamina, and lung power to play an instrument while carrying a heavyweight on your shoulder. To prepare for marching season, try walking at a brisk pace or jogging with a 30-pound backpack.
Weight training can give you the extra arm, trapezoid, and back strength you need to carry a tuba. Don't overdo it: you don't want your strength training to leave you injured before the marching season starts.  The goal here is not to become ripped, but to carry your tuba comfortably without becoming winded.
Conclusion
What's the best marching tuba? The one that best suits the marching tubist's needs.
Marching bands typically perform outdoors or in large arenas and stadiums. The acoustics are far less precise than in a concert hall.  There is much less call for virtuoso passages. You won't be called upon to play anything as challenging as the Vaughan Williams Tuba Concerto or Czardas.
You will, however, be expected to play while moving in intricate synchronized patterns.  What this means in practice is that a lighter, well-balanced marching tuba with a decent but unspectacular tone might meet a marching tubist's needs better than a heavy and awkwardly-balanced tuba with better sound.
For most marching tubists, the Yamaha YBB-105MWC Convertible BB♭ Tuba will be the only marching tuba they ever need.  Its smaller size makes it ideal for younger students and traveling musicians.  While some people prefer the tone of other brands, almost everybody agrees that Yamaha marching tubas, like Yamaha instruments in general, sound very good and hold up to repeated playing.
If you are looking to expand the scope and range of marching brass music, congratulations! We need more good marching bands and march composers! And when you want to push the boundaries of what marching bands can do, you need the best possible tool.  The King K50's fourth valve will make the lowest notes easier and sound magnificent on the high notes.
All the marching tubas listed are excellent instruments, and there are many other fine marching tubas available on the market. Do your research on tuba and marching band forums; play a few different marching tubas and list the things you like and don't like about each.  With a little effort, you'll soon find the marching tuba that's best for you.
| Product Image | Primary Rating / Price | Primary Button |
| --- | --- | --- |
| | | |
| | | |
| | | |
| | | |
Hungry for more? Further, read