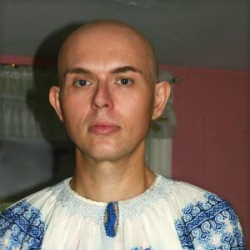 Latest posts by Kenaz Filan
(see all)
Since its 1835 introduction, the tuba has found a place in brass ensembles, marching bands, and orchestras. Every year composers add new works to the tuba repertoire. But despite the tuba's long history, today, even top tuba players struggle to find steady employment. 
The top tuba players of all time beat those stacked odds. They persevered despite the tight job market and the indifference of a public that associates tubas with amusing oom-pah sounds. Today, a new generation of tuba players continue their quest to show modern music what a tuba can do. 
How I Chose the Top Tuba Players of All Time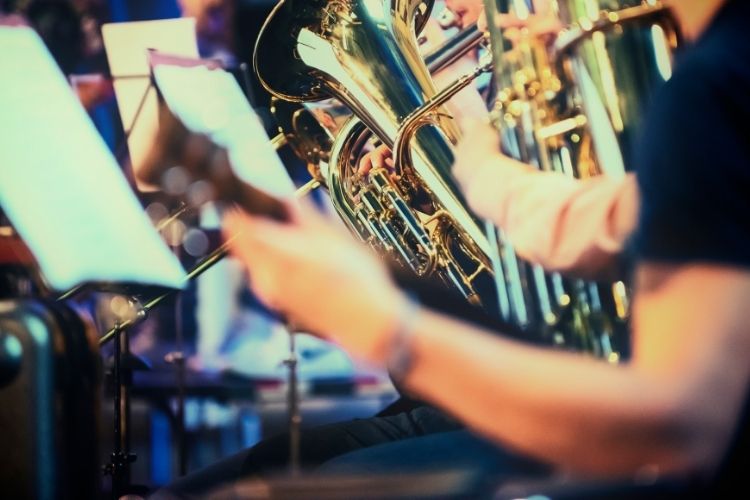 Since jobs are few and demand scarce, only the finest tubists dream of a tuba career. Any tubist with an orchestra seat is a highly-skilled professional with a rare, if not always in demand, talent. Every tuba player on this list has changed the way we listen to the tuba. They have opened doorways for future tubists or introduced tuba into once tuba-free genres of music.  
This list is not exhaustive. Feel free to comment below on any top tuba players you might add, and be sure to include links to their websites or samples of their work! 
Arnold Jacobs
Respiratory problems plagued Arnold Jacobs throughout his life. Asthma and COPD left him with little more than 50% of typical lung capacity.  When you're a tuba player, that's a problem. But Jacobs spent over 40 years (1944-88) with the Chicago Symphony Orchestra and a 1984 article called Jacobs "The Best Tuba Player in the World."
While Jacobs had been fascinated by anatomy as a boy, his failing lungs spurred him to study breathing. With equipment borrowed from physician friends, Jacobs taught himself the physiology and psychology of tuba playing.
His efforts inspired a philosophy he called "Song and Wind" and a regimen focused on conscious breathing rather than "paralysis by analysis."  
Jacobs' exercises and breathing techniques proved useful not only for tubists but for other brass and woodwind players. Upon Jacobs' death on October 7, 1998, tubist Charles Daellenbach of the Canadian Brass (profiled below) said, "[Jacobs was] the kind of legendary teacher that Liszt was for pianists of the 19th century. " 
Jacobs modestly said of his accomplishments, "I can still fool audiences with my playing, and even Solti seems to like it." But while his accomplishments as a tubist would have put him on this list, Arnold Jacobs' work as an educator transformed how brass and woodwind instruments are played today. 
Tuba players will benefit from this interview where Arnold Jacobs explains the perils of playing with too little air:
Roger Bobo
On March 30, 1961, Roger Bobo gave the first solo tuba recital in Carnegie Hall. The lowest note in the tuba repertoire, a C0 (16hz), appears in William Kraft's Encounters II. Bobo premiered that piece in 1966, the first year of his 25-year residency with the Los Angeles Symphony Orchestra. 
Those early achievements might have landed Bobo a place on this list. But they were just the beginning of a long career as a tubist and tuba educator. Bobo commissioned several works for tuba and had several more written for him as gifts by composers.  
Bobo said in 1987 that when he performed the John Williams Tuba Concerto, "I want people to forget that I was playing the tuba and just think of it as music." As a conductor, teacher, arranger, festival director, and founder of the Topanga Philharmonic Orchestra, Bobo has established himself as a giant in the tuba and greater classical communities.
Though he retired from performing in 2002, Bobo still teaches students online and on his blog. If you are a tubist looking to improve your performance skills, you can study with one of the world's greatest living tubists from your home. 
Here's a 1998 recording of Roger Bobo performing Encounters II.
John Fletcher
Given Great Britain's long history of brass bands, it's not surprising that England has produced some world-class tubists. But England's greatest tubist, John Fletcher, nearly wound up a French horn player.
When he showed up at Cambridge for his Natural Sciences degree, there was only room for one tubist in the orchestra, so Fletcher wound up with the horn.
Fortunately, after his graduation Fletcher (known as "Fletch" to his friends) returned to the tuba and, in the autumn of 1964, became the principal tubist of the BBC Symphony Orchestra before joining the London Symphony Orchestra in 1966. Fletch's tuba talents helped take the LSO's brass ensemble to worldwide renown. 
In 1966 Fletcher also joined the Philip Jones Brass Ensemble, England's leading brass group. Brass musician and tutor Andrew Hitz says of Fletcher's work with the PJBE, "If you are a young tuba player and John Fletcher is not one of your heroes, chances are overwhelmingly good that John Fletcher is one of your hero's heroes."
Sadly, Fletcher died in 1987 at the age of 46 from a cerebral hemorrhage. The John Fletcher Memorial Trust continues Fletch's work in helping young and disadvantaged tuba students. Fletcher's recordings with the LSO and the PJBE remain available on CD and streaming services.
Here's John Fletcher's recording of Ralph Vaughan Williams' Tuba Concerto with André Previn and the London Symphony Orchestra.
Bob Stewart
Tubas handled the bass lines in early New Orleans and Dixieland jazz. But after the 1930s, string basses replaced tubas. While tubas occasionally appear in swing and big band jazz, they were generally sidelined or used for comic relief. Yet despite this, Bob Stewart built a lifelong career as a jazz tubist.
During his career, Stewart has played tuba with jazz giants like Dizzy Gillespie, Sonny Rollins, Charles Mingus, Wynton Marsalis, Arthur Blythe, and Jimmy Heath, as well as R&B stars like Chaka Khan and Aretha Franklin. 
Stewart is presently an educational consultant for Jazz at Lincoln Center and helped create the Middle School Jazz Academy curriculum.
He is also the former director of the LaGuardia High School of Performing Arts & Music and Art Jazz Ensemble. Under Stewart's tutelage, a new generation of musicians is helping to bring the tuba back home to jazz. 
Here's Bob Stewart playing tuba on Arthur Blythe's "Lenox Avenue Breakdown." The Penguin Guide to Jazz called Stewart's solo "one of the few genuinely important tuba statements in jazz, a nimble sermon that promises storms and sunshine."
Charles Daellenbach
In 1970 tubist Charles Daellenbach and trombonist Gene Watts formed the Canadian Brass. Since that time, they have released over 130 CDs and DVDs and acquired a library of over 600 compositions written for them. And in 1977, the Canadian Brass became the first Western musicians to tour China since Mao's Cultural Revolution. 
As of 2020, the Canadian Brass had performed over seven thousand concerts. Daellenbach, the ensemble's sole remaining founding member, played at all of them. The Canadian Brass has played with symphony orchestras, made ten appearances on Sesame Street, and entertained the Queen of England at two command performances.
In 2014 Daellenbach became a member of the Order of Canada "for popularizing classical music, notably as a founder of the Canadian Brass." Daellenbach could just as well be praised for expanding classical music through the Canadian Brass repertoire, which ranges from baroque to jazz with many points in between. 
The Canadian Brass became famous for their signature black-tie outfits with white running shoes and Daellenbach's witty onstage banner.  In a scene too often noted for being stuffy and self-important, Daellenbach and the Canadian Brass know how to have fun. Their enjoyment is contagious, and many tuba players list Daellenbech as a hero and influence.
Here's Charles Daellenbach and the Canadian Brass performing Bach's "Air pour les trompettes."
Øystein Baadsvik
You know you've made it as a tubist when you create an extended technique. Norwegian tubist Øystein Baadsvik's "lip beats" feature prominently in his signature tune, "Fnugg," along with (among other techniques) multiphonics, singing into the instrument, and Australian didgeridoo blowing. 
Baadsvik has played with orchestras, including the Taiwan National Orchestra, Warsaw Philharmonic, and Toronto Symphony Orchestra.  He has recorded important works like Kalevi Aho's Tuba Concerto and Christian Lindberg's Concerto for Tuba and Chamber Orchestra. And Baadsvik's 180 bpm version of Carnival of Venice inspired an episode of House.  
While many of the other tubists on this list earn most of their income through academic, band, or orchestral positions, Baadsvik makes his living through private lessons, guest appearances with orchestras, and constant touring.
This makes for a demanding schedule, but Baadsvik continues to win acclaim for his visionary tuba playing and pyrotechnic skills.  
Baadsvik's dedication comes with a bonus for tuba players. His Baadsvik Academy offers courses in tuba playing, many offering personalized assistance. Dave Brubeck had to travel to Paris to take lessons from Darius Milhaud and Nadia Boulanger: today's tubists can learn from world-class players from the comfort of their homes. 
Here's Øystein Baadvik explaining several "Fnugg" techniques to an audience in Houston in 2005. Along with his courses, Baadsvik generously offers free YouTube videos helping tubists master this difficult solo. Imagine a world where Jimi Hendrix helped young guitarists master "Purple Haze."  
Theon Cross
From its beginning, jazz has incorporated popular music. Dave Brubeck did an album of Disney tunes: Miles Davis went from birthing the cool to jazz/rock pyrotechnics. British jazz tubist Theon Cross draws on Caribbean yard and dancehall musical traditions in his tuba playing. 
Cross has recently drawn acclaim for his work with the London jazz group Sons of Kemet. Sons of Kemet produces music that goes from Afrobeat to bebop to trip-hop on a dime, and Cross's mellifluous tuba lines help hold things together. Like mid-20th century jazz, early-21st century jazz is a hot gumbo of musical styles.
London's jazz scene is home to some of the finest players on the planet, and Cross is a leading figure in that resurgence. Cross is to the tuba what Coleman Hawkins was to the tenor saxophone: he has taken his instrument from the back of the ensemble and shown the jazz world its potential as a solo instrument. 
Cross also works with drummer, producer, and longtime friend Moses Boyd in Boyd's ensemble Exodus. Boyd joins saxophonist/composer Nubya Garcia on Cross's headliner debut, Fyah. Here's a great example of Cross's label-defying low-end genius, Fyah's "Radiation."
FAQs
Question: What Key is a Tuba In?
Answer: While tubas come in several different keys, B♭ tubas are most common in school, and brass bands and C tubas are most common in professional orchestras. These are sometimes called BB♭or CC tubas or contrabass tubas. 
For orchestral performances which call on the tuba's higher range, an E♭ or F tuba is often used. These tubas are pitched a fourth higher than the B♭ or C tubas.
Most professional tuba players can switch between tubas in different keys. While Vaughan Williams' Concerto for Bass Tuba was written for an F tuba, John Fletcher recorded it on his E♭.
Question: What is The Lowest Note a Tuba Can Play?
Answer: The fundamental notes of the B♭and C tubas are 29Hz (B♭1) and 32Hz (C1), but advanced players using pedal tones can produce notes as low as an octave below the fundamental tone. These pedal tones are difficult to control and require enormous lung power. 
When Roger Bobo premiered Kraft's Encounters II in 1966, he was considered the only tuba player in the world capable of reliably performing the C0. (To put this in perspective, C0 is the tone of a 32-foot organ pipe and an octave below the piano's lowest C). Since that time, Encounters II has become a staple of the advanced tuba repertoire.  
Question: What is the Highest Note a Tuba Can Play?
Answer: According to musicologist Aaron Michael Hynds, an intermediate tuba player can produce B♭4, an advanced tubist can reliably play an F4, and an expert tubist can consistently hit C5. To put this in perspective, an F4 is an alto flute's bottom note.  
Within a solo or as part of an exercise, a tubist might occasionally hit higher notes. But within the tuba's upper register, the space between the partials grows more narrow.
The tuba's wide mouthpiece makes proper high-pitched voicing difficult. The "highest note a tubist can play" is not the same as the "highest note a tubist would feel comfortable performing on stage."  
Question: What is a Wagner Tuba?

Answer: When Richard Wagner was scoring Das Rheingold in 1853, he originally envisioned a quartet of trombones. But trombones lacked the haunting tone of French horns, and so Wagner commissioned four instruments he called Tuben or "Tubas."  
While it is called a "tuba," French horn players rather than tubists typically play Wagner tubas. The fingerings and mouthpiece on a Wagner tuba are identical to a French horn, and like French horns, the Wagner tuba comes in B♭(tenor) and F (bass) keys.