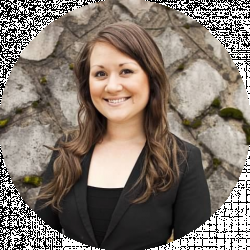 Latest posts by Lacey Jackson
(see all)
Summary: The best tuba sheet music to learn with will help you address the critical skills you need to understand music theory and to read sheet music. As a beginner, you need something that teaches you simple things like fingering, scales, and warm-ups.
The best tuba sheet music to learn with will give you all of the introductory skills required as a beginner. If you are somewhere between a beginner and intermediate musician, you had taken classes before, or you just started the tuba this year with the marching band, then the perfect sheet music will be something that helps you move your skills forward. 
Many people read about top tuba players or see someone perform and decide to play the same instrument. Whatever the reason you have taken up the tuba, the right sheet music can help propel your musical skills forward.
What is Tuba Sheet Music?

Tuba sheet music is a powerful tool. You don't need any advanced music theory to use sheet music. Learning how to read sheet music can facilitate your ability to play tuba solos or collaborate with other musicians and help you figure out what comes next, when to play your notes, and what notes to play.
Nothing is standing between your instrument and performance with the correct sheet music. The best tuba sheet music to learn with will be something that fits your musical literacy.
Musical literacy refers to what all you know about the complex language that is music. Music is a language, and sheet music is the written form. Sheet music contains anything and everything you need to know about a particular song.
Good sheet music starts with the tempo marked in the top left corner so you know how many beats per minute there are, which tells you how quickly or slowly the song's speed should be.

Good sheet music will indicate when a section should be repeated, and if you know to look for the two dots on the staff, you know when to repeat a section.

Sheet music for the tuba will include markers for how quietly or how loudly a particular section should be performed as well as annotations for

crescendo

or

decrescendo,

so you know when to get louder or softer in the middle of a song.
Intermediate and advanced tuba sheet music might have more complex markings than beginner music. The more you know about each of these markings, the notes, or the Italian names, the more sheet music you can play successfully.
What is the Best Tuba Sheet Music to Learn With
When you look for the best tuba sheet music to learn with you, you need to consider what characteristics or features are most essential for you. There are plenty of books and individual pieces available for purchase that may not be the best fit for your situation. 
Not every book is going to have music in the right style (maybe you want to play jazz, but one book is only classical)

Not every book is going to be at the right level (maybe you are a beginner and some books are for advanced musicians only)

Not every book is going to have the parts you need (maybe you want solo pieces, and the books for sale include trios or groups, or vice versa)
Best Tuba Sheet Music to Learn With
While there is a great deal of tuba sheet music available, these are my best picks: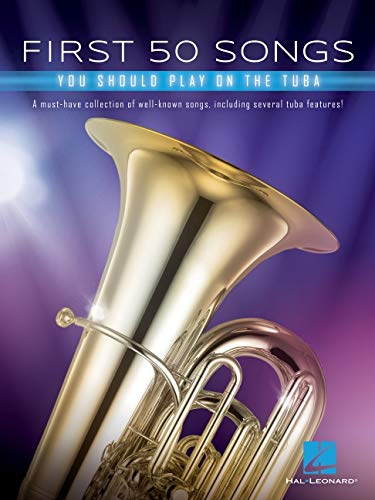 The First 50 Songs You Should Play on Tuba collection has 50 songs for the tuba. This company is well known for producing sheet music books that are titled the first 50 songs you should play, but for different instruments. 
This sheet music book is affordable, less than $15 but with several popular songs. I am a big fan of any sheet music book that contains more than ten songs because I'm very frugal, so this book is an excellent investment giving you 50 pieces of sheet music. This is not something you should turn to as your very first source of sheet music because it doesn't have any instructions on the fundamentals of playing the tuba. However, once you already have those under your belt, you will get 50 popular songs and tuba features you can add to your repertoire.
Pros
Good for beginners and intermediate players

Wide range of popular songs, not just classical pieces, including movie themes and pop songs

A good investment for the cost
Cons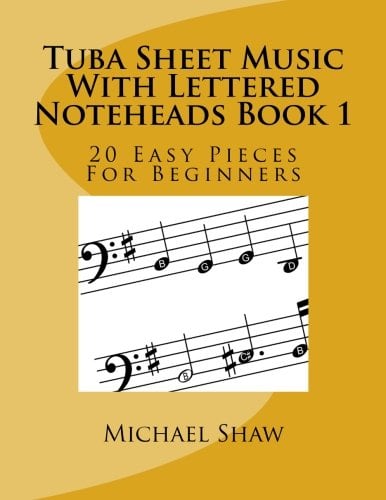 Tuba Sheet Music is another Michael Shaw publication. Many teachers use this, so it's perfect for you to bring with you to tuba lessons or classes, or to keep with you at home if you aren't taking lessons or classes. It includes some essential folk songs and classic songs that instrumentalists learn, along with guided theory and lessons next to each song. You can learn to play things like Home on the Range, Camptown Races, Amazing Grace, and When the Saints Go Marching In. 
Pros
A good mixture of easy, beginner songs

From a reputable publisher

Perfect for beginners, with additional notes on reading music with each song
Cons
Not for intermediate players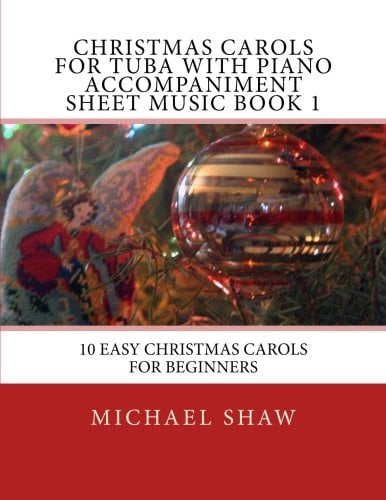 Christmas Carols for Tuba is great for Christmas time. This book gives you Christmas carols for tuba with a piano accompaniment. The sheet music has ten easy songs suitable for a beginner. I love having a set of essential Christmas songs ready for the holiday season, and this is yet another sheet music book from Michael Shaw, a famous author in the music industry.
Pros
Christmas book from a reputable publisher

Comes with piano accompaniment

Perfect for beginners
Cons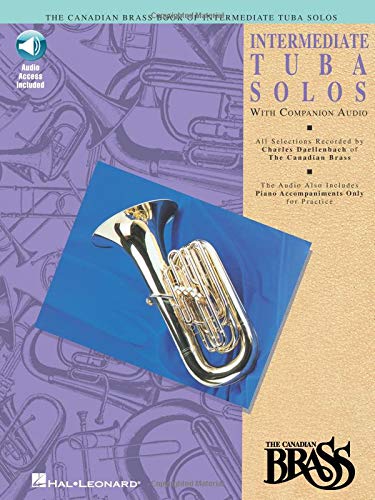 The Canadian Brass Book of Tuba Solos is an intermediate-level book. The sheet music in this book has dozens of songs for the tuba and accompaniments if you want to perform with a piano. This is something preferred by music teachers because they can accompany you while you play the tuba. What I like most is the audio tracks available. The audio files have a playback function so you can slow the music down if it's too fast, change the key, and more. 
Pros
Audio tracks to go with it

Lots of different brass songs with accompaniments
Cons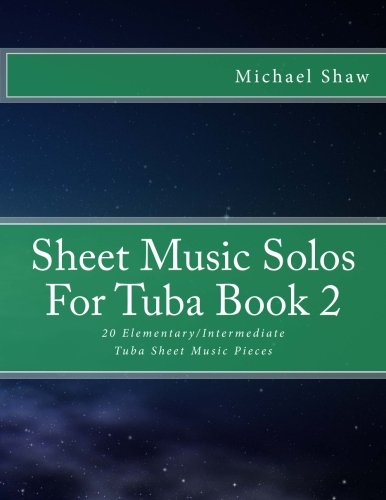 Sheet Music Solos for Tuba Book 2 is the second book in a series meant to guide you through your skill level. Michael Shaw is the author, and Michael Shaw is a very famous author used by many music teachers. This sheet music can be available in an easy or elementary form and medium or intermediate form. This particular book is more of an intermediate collection of 20 tuba solos.
Pros
Used by many music teachers, so perfect if you are learning on your own

Has 20 popular folk tunes, traditional songs, and classical songs

Intermediate level
Cons
Only tuba solos, no arrangements for duets
How to Find the Best Tuba Sheet Music to Learn With
When you try to find the best tuba sheet music to learn with, you need to consider:
Your skill level

The cost

The genres 
This is the criteria I used to make the product recommendations in this guide.
Skill Level
Consider your skill level. All music should state on the outside what level it is meant for, like a beginner, intermediate, or advanced.
Suppose the music is sold as part of a specific learning style or group. In that case, the manufacturer might have multiple books for your instrument laid out in numerical order instead of level 1 through level 5.
This makes it much easier for you to start with level 1, work your way through all the music in that book and then progress to level two.
You always want to start with something basic or introductory when you first learn to play an instrument. Still, as you progress, you can move through specific sheet music set like advancing from Level 1 through level 5, or you can start adding more intermediate music to your collection based on what your personal preferences are.
If you start playing at school or in a group like a professional Orchestra, you might consider choosing music that has sonatas or concertos. These things are meant to be played with a group or an ensemble.
The right sheet music will fit your current musical situation.
Cost
Another thing to consider is the cost. There are so many books of sheet music and lessons and individual pieces of sheet music for sale. Most of the free content might seem appealing, but it is not categorized correctly or organized as well as structured sheet music books. Most of that is based on individual contributions, which means a performer or musician might upload their version of something, and that something could be much harder than advertised or just poorly written.
It is best to set aside a specific budget to know how much you plan to spend on sheet music every month or every year.
I like to space my purchases out over multiple months because it helps me prepare for essential times of the year like Christmas. The last thing you want is to join an orchestra in September and suddenly have to purchase hundreds of dollars worth of sheet music in one month.
I like to have a collection of Christmas sheet music that I purchase whenever there are sales online or in stores; that way, I have a lot of Christmas music to choose from when the season arises. This has helped me a lot when I give multiple performances where some audience might be crossover from other performances. Having a lot of sheet music that I have slowly purchased over the year means that no two concerts are the same.
As a beginner, you don't need to spend that much. You can probably get away with just buying one or two introductory books, especially those recommended by music teachers or music schools, and then add one or two more books as you progress to an intermediate level. 
Genres
When you look at different sheet music, many beginner books have classical songs in them, Mozart and the like. If you are slightly above a beginner and are part of a group like a brass quintet or a band, the type of music you play might be a specific genre like Blues or folk music, or even religious music. In these situations, you should look for sheet music that has songs appropriate to the genre you are playing, not just basic introductory pieces.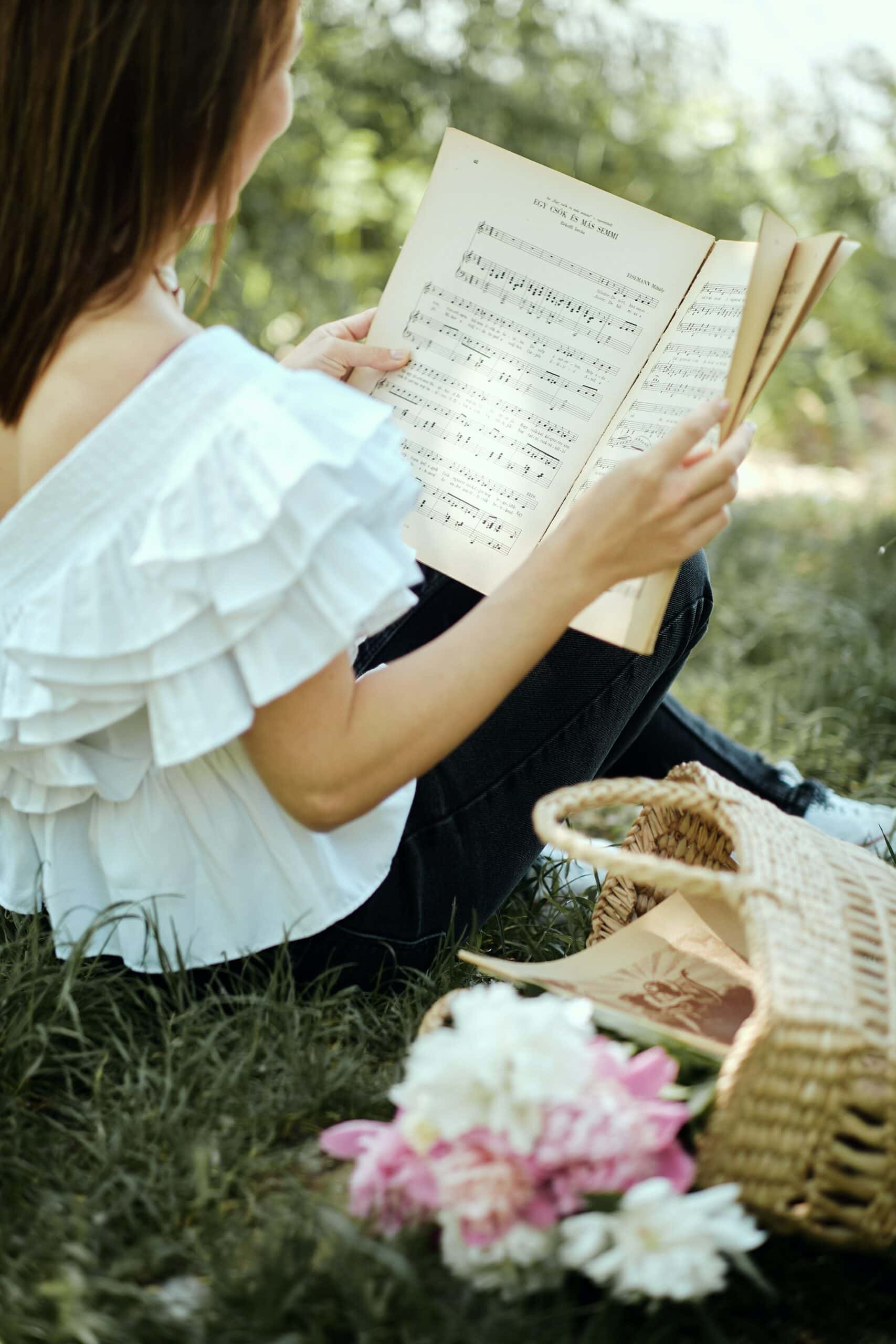 FAQ
Question: Why Does Having the Best Tuba Sheet Music Matter?
Answer: Having good sheet music can help you progress as a musician. If you choose a piece that fits your situation, you will learn to play better and faster. For example, suppose you are a beginner and pick beginner sheet music. In that case, it will likely include lessons in and around the songs you learn to play so that you can develop your musical theory while also learning to read music. If you don't pick the best sheet music to learn with, then you might end up wasting a lot of your time trying to find these foundational concepts from other sources.
Question: Why Do I Need to Learn to Read Music?
Answer: Sheet music will help you learn classical bassoon songs. It will give you a clear idea of any musical direction, like how loud or soft the sound should be when you should hold a note versus cut a note off quickly, and more. Complex music can be better understood with proper sheet music. Beginning sheet music and help you learn indispensable skills like sight-reading and increase your repertoire.
Question: Who Makes the Best Tuba Sheet Music?
Answer: There are many different manufacturers of sheet music, literally hundreds upon hundreds of sheet music distributors for choirs, orchestras, solo artists, and broken down individually by musical level. If you are just starting, your teacher might recommend a reputable name like William Bell, but they might also allow you the freedom to choose anything that fits your musical style or your budget.
Bottomline for the Best Tuba Sheet Music to Learn With
The bottom line is that finding the best tuba sheet music to learn will make it much easier for you to master the foundation of playing any instrument, especially the tuba. You should learn to read sheet music because it is an invaluable skill no matter what you play, and it will help you reach your musical goals faster and more successfully.
Hungry for more? Further, read