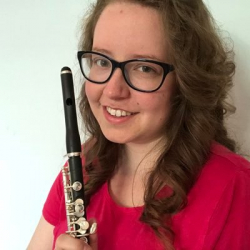 Latest posts by Hannah Haefele
(see all)
If you're a serious flute player, you may know the importance of playing the piccolo. But if you spent all of your money on a good flute, you may wonder if you can get by with a Mendini by Cecilio piccolo.
The brand isn't as famous as Pearl or Yamaha, but it's not all bad. I've tried a Mendini piccolo, and it played better than I expected it would.
Bottom Line Up Front: The Mendini by Cecilio piccolo models are great for beginners without a ton of money. I'd recommend the MPO-EN if you can find one, but the MPO-S is a good alternative.
Mendini by Cecilio Piccolo Models
The Mendini by Cecilio piccolo is more than a single instrument. Mendini makes two different models that you can choose from when starting your journey on the piccolo.
Not a lot of beginners consider this brand, probably because it's not the most reputable. However, it can be worth trying if you're on a tight budget and need a piccolo fast.
Before you buy a Mendini, consider if the piccolos from this company are worth your time or money.
Mendini MPO-S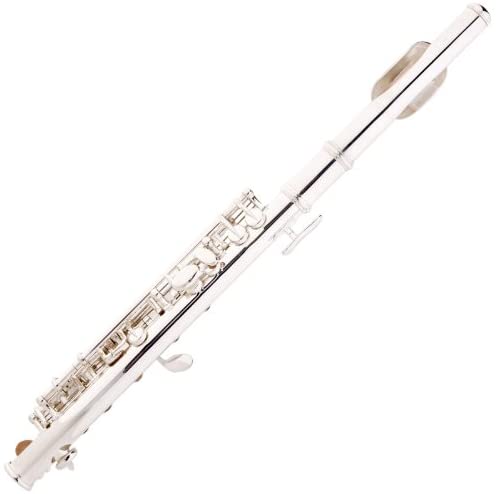 The Mendini MPO-S is all silver-plated, which is somewhat common among all student-level piccolos. While I haven't played this specific model, I have played one with similar specs.
Metal piccolos are great for marching bands and other outdoor performances. The MPO-S features a hand rest on the body so that you don't have to squeeze your left hand to play comfortably.
It appears to have an inline G, which means the left ring finger key is in line with the others. That means you may need to reach a bit to close the hole.
You'll get a cleaning cloth, cleaning rod, gloves, and cork grease as well as a nice case. DON'T USE THE CORK grease because it's unnecessary on the metal tenon.
I'd also move the cloth and rod to the outer pocket of the case for safer storage. However, I like that the piccolo case has a handle and a shoulder strap, which you rarely see.
Pros
Affordable
Good for outdoors
Easy to play
Decent sound
Comes with accessories
Cons
Not the best quality
Not for serious players
Mendini MPO-EN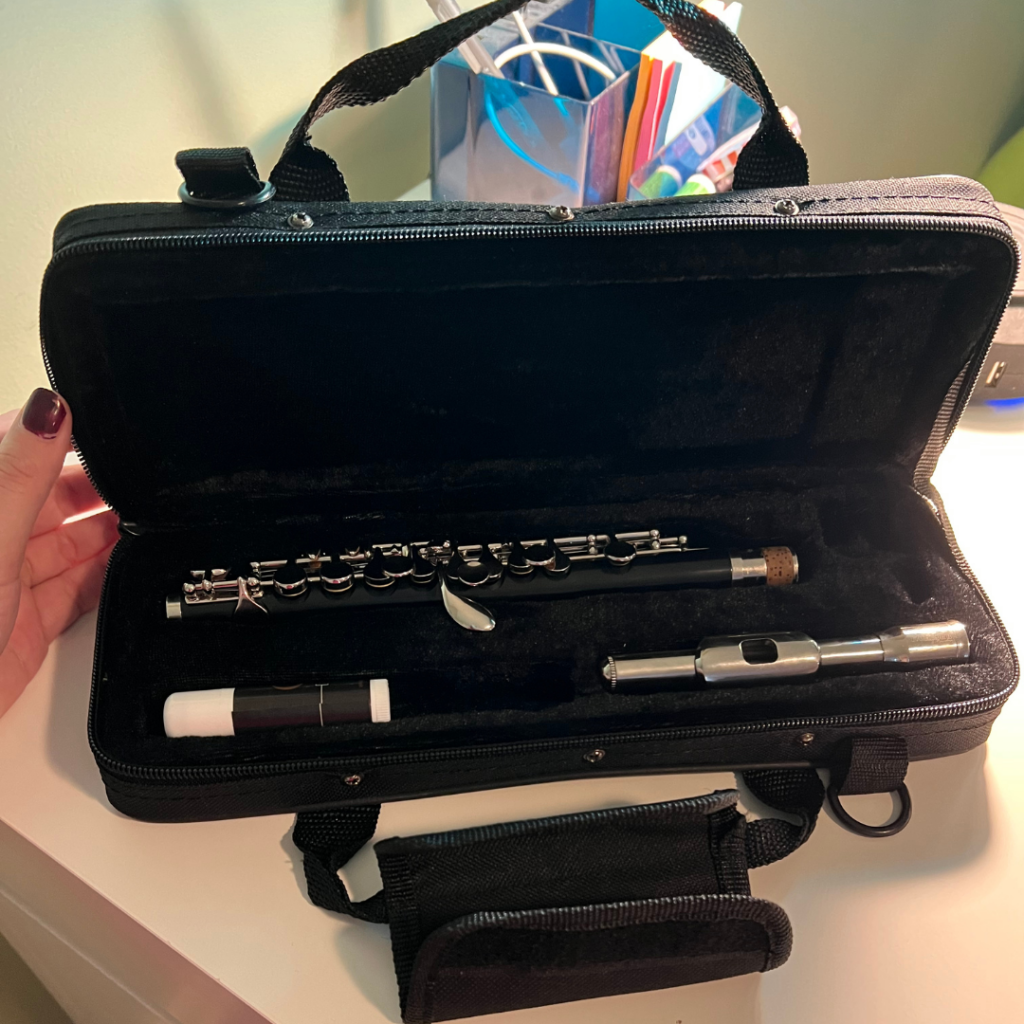 If you want a slightly different option, consider the Mendini MPO-EN. I bought this piccolo to see how Mendini piccolos played, and I chose this one because I already had an all-metal model.
This piccolo has a silver-plated headjoint and a plastic resin body with silver-plated keys. It also has an offset G, which is great if you have small hands and can't reach an inline G.
The piccolo even has a split E mechanism, and some slightly more expensive piccolos don't have that feature. Its trill keys sit a bit low, so they can be hard to find when playing fast.
However, you get all of the same accessories that you get with the other Mendini model. This time, you'll actually want to keep the cork grease since the body tenon has a piece of cork.
I'd still recommend trashing the gloves and moving the cleaning rod and cloth to the outside pocket. You also need to be careful with disassembling the piccolo because the headjoint isn't the easiest to remove.
Pros
Good materials
Easy to play
Nice specs
Plenty of accessories
Decent case
Cons
Thin tone in the lower octave
Okay quality
How to Choose a Mendini by Cecilio Piccolo
Since there are a couple of Mendini by Cecilio piccolo models, you have to choose the best one for you. Maybe you're like me and already had a piccolo with one of the specs.
It's an easy choice to go with the Mendini with a different body material. However, if this is your first piccolo, you have a lot more to consider.
Here are a few things I recommend you think about before you buy a Mendini by Cecilio piccolo. Some are the same as when choosing any type of flute, but others differ.
Consider the Materials
First, you should decide if you want a piccolo with a silver-plated body or a plastic body. Silver-plated models are excellent for playing in a marching band or an outdoor concert band.
However, I'd recommend a plastic body if you need to play indoors, especially in a band or orchestra. It will be easier to blend your sound with other instruments if you have a plastic piccolo.
Now, you'll get a metal headjoint either way, so you don't have to decide on that. But keep in mind that the metal piccolo won't require the use of cork grease, whereas the plastic one will.
Avoid Wild Colors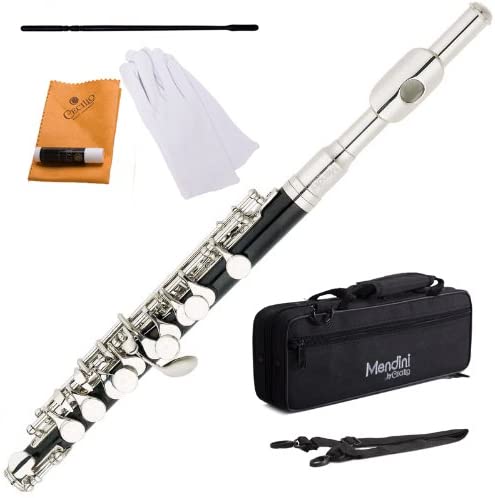 I couldn't find any in stock as of this writing, but Mendini by Cecilio has sold some piccolos in wild colors. Some of the options include blue, red, and black.
That may sound cool, but I think you should avoid them, even if they come back in stock. If you want to play the piccolo in a band, most directors won't allow you to use wild colored piccolos.
It's better to get the standard silver-plated model or the metal headjoint with a plastic body. Those will fit in better with the flute and piccolo section, and you don't have to worry about the color peeling off after a bit of use.
Set Realistic Expectations
Another important step in choosing your Mendini by Cecilio piccolo is to keep your expectations in check. The piccolo isn't going to sound like a $5,000 handmade wood model.
It may not even sound like a $1,000 plastic instrument, and that's okay. You just have to know that the Mendini is a stepping stone in your journey of learning the piccolo.
The models are both relatively affordable, which is great. But you'll have to make some other sacrifices when it comes to starting to play the piccolo without spending a ton of money.
Here are my first impressions of the MPO-EN.

Have a Budget
Both of the Mendini piccolos are pretty affordable, and you can buy them for less than $200 apiece. But that doesn't mean you shouldn't have an idea of how much you want to spend.
Take a look at the current pricing of each instrument to see how they compare. Then, review your savings account to decide how much you're willing to pay for one.
If you can find a new MPO-EN, it will cost a bit more than a new MPO-S. Keep that in mind when deciding which model is the better choice for you.
You should also research the person or company selling a Mendini piccolo. Sadly, you won't find the brand at most local or national music store chains.
Amazon and Walmart are two good options, but you should still vet the seller. Then, you can make sure they aren't trying to scam you by selling you a used piccolo but marketing it as new or using some other scam.
Read some reviews on the listing you want to purchase. That can give you a good idea of how the instrument may play when you receive it, so you can be more confident about buying the piccolo.
Why Play a Mendini Piccolo
With all of the other brands out there, you may wonder why you should play a Mendini piccolo. I wouldn't recommend the instrument to everyone, but some people should try it.
Writing off the brand entirely is a bit classist because many other piccolos cost $1,000 or more. Everyone who wants to should be able to play the piccolo.
So here are a few reasons why it may be the best choice for you.
Affordable
As I mentioned, piccolos can cost thousands of dollars, even at the student level. But the Mendini models are both significantly cheaper, so you can buy five or six piccolos for the price of one more expensive model.
If you're on a budget, you might not have the money for a better piccolo. My first flute was a cheap model from Amazon, but I don't think it was Mendini.
Either way, these brands allow players to get started more easily. You won't have to spend time saving up for a more expensive piccolo and thus pushing off when you can begin learning the instrument.
Accessories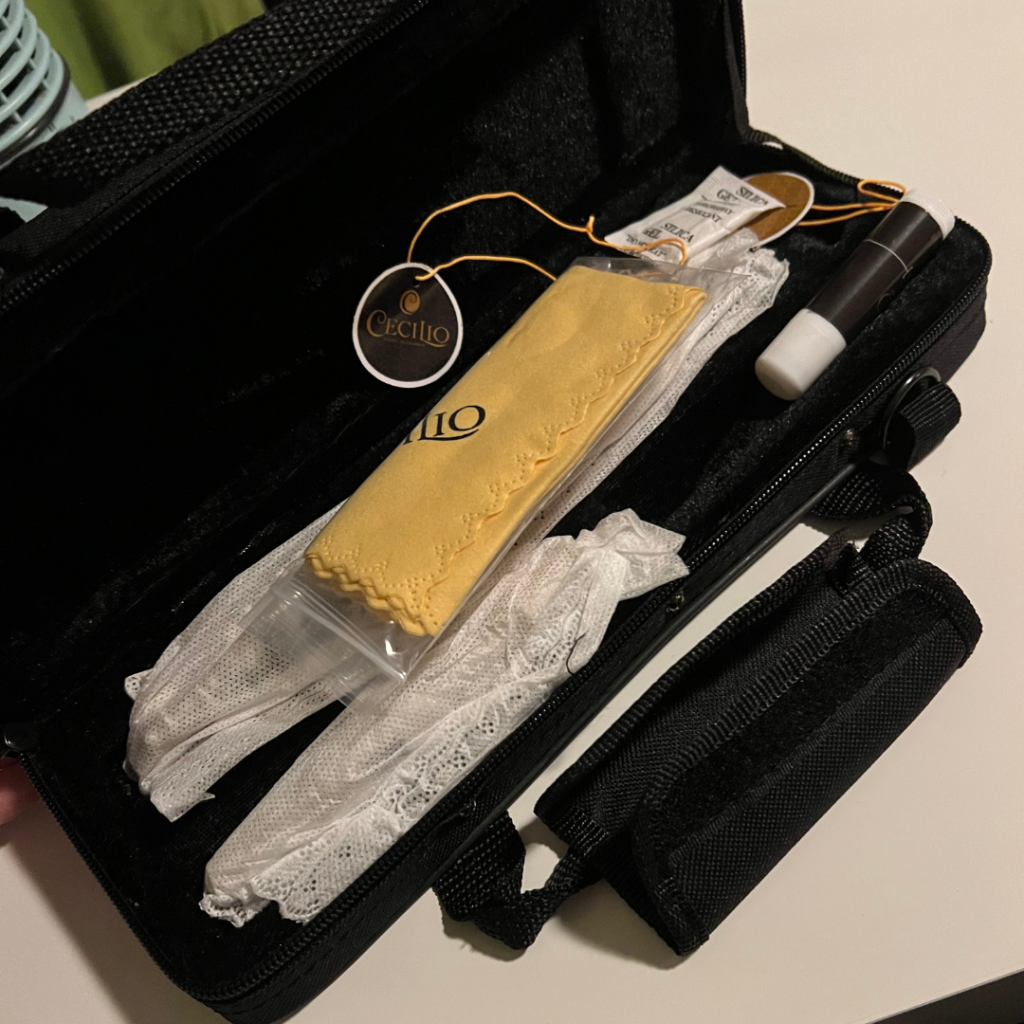 When I've bought other piccolos, I haven't always gotten many accessories. My $5,000+ handmade wood piccolo only came with a cleaning rod and some cork grease. Even then, the grease was a pallet, not a tube, so it's impossible to use without making a mess.
But the Mendini piccolos come with a rod, a cleaning cloth, a tube of cork grease, and a shoulder strap for the case. That means you'll get just about everything you need to start playing.
I also like that the case has room for two headjoints, so you could upgrade to a wood model. Now, that's much easier if you get the plastic body piccolo since wood headjoints don't fit metal bodies.
Start Learning
The Mendini piccolos may not be the best for long-term use, but they allow you to start learning. If you can't rent or borrow a piccolo, you may otherwise need to save a lot of money.
However, the low price of Mendini means most people should have the cash in a month or so. Of course, it depends on your income, but saving $100 to $200 is a lot more realistic than thousands of dollars.
That means you could have the cash for a Mendini piccolo within a few weeks. You can then buy the piccolo and start to learn while you continue saving money for something better.
Other Piccolos to Compare
While a Mendini by Cecilio piccolo may meet your needs, you should still compare other models. Yes, these piccolos are significantly more expensive, but they're often worth it.
You can get a much better sound and even play professionally on some of these models. I chose piccolos that I've played or that I've heard others play and sound great on.
These models all come from reputable brands, so they're nice alternatives to Mendini. They're also useful upgrades if you buy a Mendini to learn piccolo but soon need something better.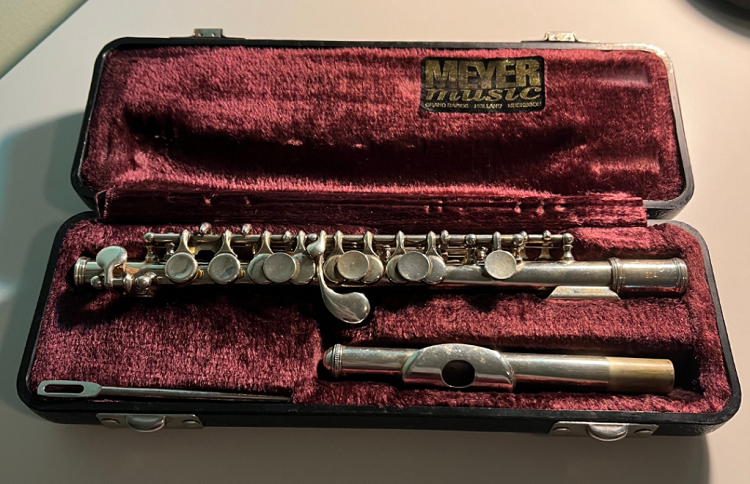 My first piccolo was an Armstrong 204, and I still have the instrument. It's all silver-plated, so it looks very similar to the MPO-S from Mendini.
Like the Mendini, it has a finger rest to help you form a good hand position while you play. The inline G is a bit hard to reach, and at least now, the G# pinky key is close to that G key, so it's easy to accidentally hit it when you don't want to.
This piccolo has some low-set trill keys that are a bit hard to find. However, it sounds great and is easy for beginners to use to learn the instrument.
I got this piccolo used, so it may come with more accessories when new. All I got with it was a metal cleaning rod, which is a bit odd since the rod could scratch the metal inside the piccolo.
Pros
Good sound
Perfect for marching band
Projects well
Easy to play
Nice embouchure hole
Cons
Pretty expensive
Hard to tune
Pearl 105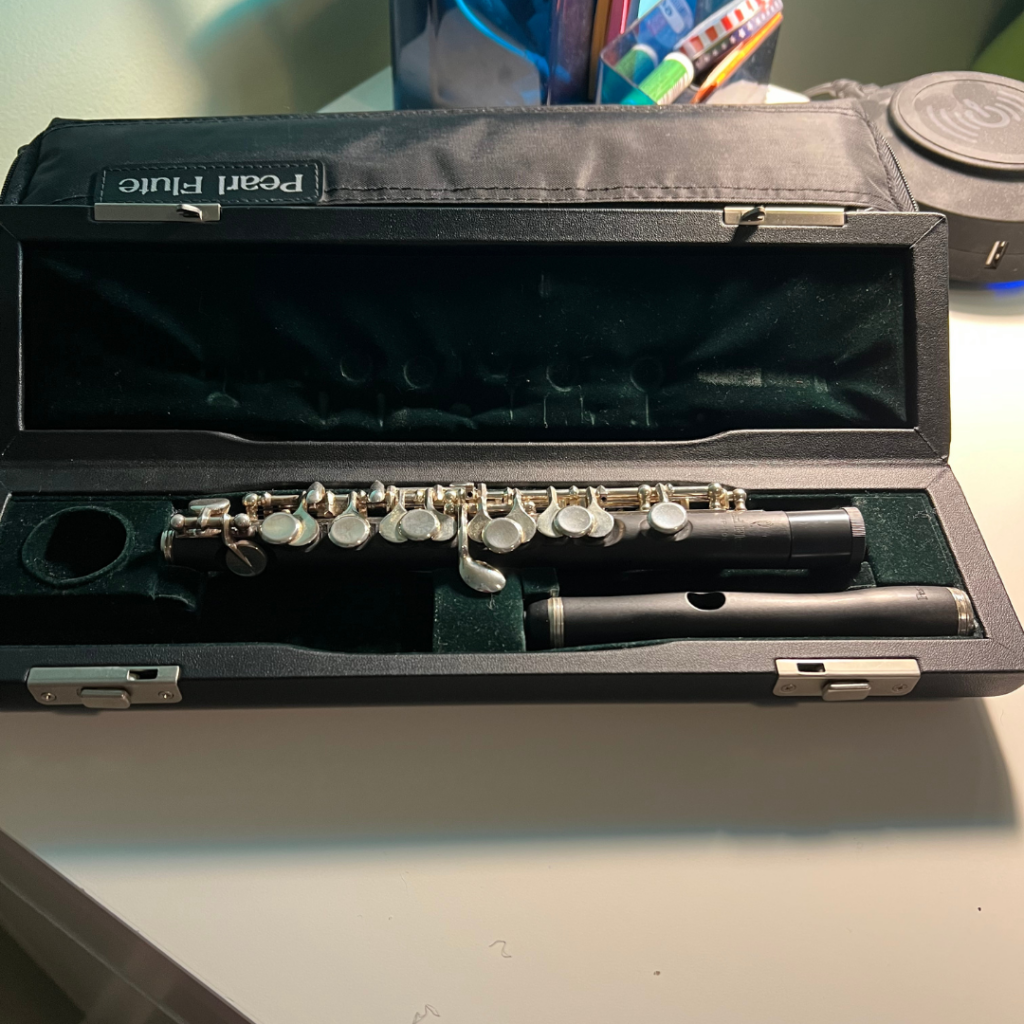 After a few years of playing the piccolo, I bought a Pearl 105. This piccolo was a good upgrade for me, but it can also work as a first piccolo for some players.
It's a grenaditte model, which is a fancy name for a composite wood-plastic piccolo. That means you get the nice tone you get on a wood piccolo but without the risk of cracks.
The trill keys are much easier to find on this instrument, and it has a convenient offset G. Its D and E keys are also offset from the tone holes, and this piccolo is great for people with larger hands.
If I remember correctly, you do get a pallet of cork grease, but I swapped that out for a tube. You can also choose between a traditional embouchure hole or a wave cut, which is great if you put a lot of air through the piccolo.
Pros
Easy to play
Great sound
Composite model
Different headjoint cuts
Nice for big hands
Cons
No lip plate
Somewhat expensive
Yamaha YPC-32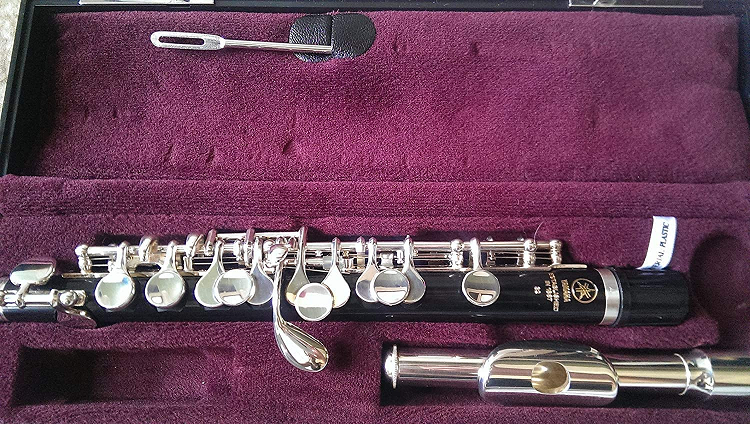 While I haven't played the Yamaha YPC-32 specifically, I have played other piccolos from the brand. Yamaha has a history of making fantastic instruments, so the YPC-32 is worth trying.
Some of my piccolo section-mates played this model in marching band during college, and they sounded great. It has a split E mechanism to help you play the third E well.
The plastic body helps keep the metal headjoint from making the instrument sound too shrill. However, it's still a nice option for marching band as well as orchestra or other ensembles.
This model features an offset G to help you reach the key with your left ring finger. Unfortunately, the Yamaha is a bit expensive for what you get.
Pros
Good sound
Versatile
Easy to play
Nice for doublers
Decent specs
Cons
Somewhat expensive
Not for serious players
FAQs about the Mendini by Cecilio Piccolo
Question: Is Mendini a Good Piccolo Brand?
Answer: Some musicians will tell you that Mendini isn't a good piccolo brand. While I don't entirely disagree, I also don't think you should ignore the brand.
It has a place in the beginner, budget-friendly market. Other piccolos are much more expensive, even when you buy them used, so Mendini might be the only brand you can afford.
Question: Why don't People Like Mendini Piccolos?
Answer: People don't like Mendini piccolos because they're cheaply made, usually in China. The company uses cheap materials and a low-quality manufacturing process.
I'm not sure if this includes the piccolos, but some Mendini instrument parts aren't standard. That means they're almost impossible to repair if something breaks.
Question: Do You Need All of the Accessories that Mendini Includes?
Answer: You do need the case as well as the cleaning cloth and rod. However, you don't need the gloves or even the shoulder strap that comes with the case.
If you buy the MPO-EN, you will need cork grease, but you don't have to use the Cecilio stuff. The MPO-S doesn't need cork grease, and using it on that model could do more harm than good.
Question: Is Mendini by Cecilio a Good Backup Piccolo?
Answer: Mendini by Cecilio can be a nice backup piccolo. You can travel with it if you don't want to risk losing a more expensive piccolo that you have.
It's also useful if you need to send your main piccolo in for maintenance. But I wouldn't recommend performing on the Mendini piccolo if you can avoid it.
Final Note on the Mendini by Cecilio Piccolo
A Mendini by Cecilio piccolo may not land you the piccolo spot of the NY Phil. But it's a good option if you want to learn the basics and are on a tight budget.
I tried the MPO-EN, and while it doesn't sound the best, I believe it fills a need. If you can't find an affordable new or used piccolo, Mendini may suit you.
That way, you can still learn the basics while you save up for a better piccolo.
For more interesting readings check out: