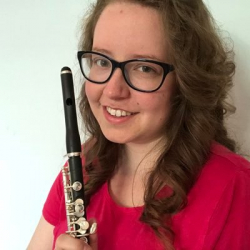 Latest posts by Hannah Haefele
(see all)
Instead of upgrading my alto sax, my teacher recommended I get a new mouthpiece to improve my sound. While he told me about a great model, I wish I'd also had a best alto sax mouthpieces guide.
That way, I could have compared more models and chosen the right one for me. I lucked out with my teacher's suggestion, but that probably won't happen for everyone.
You should know about some of the best mouthpieces so that you can compare them yourself.
Bottom Line Up Front: The Yamaha 4C is one of the best alto sax mouthpieces. However, you should learn about other mouthpieces to help choose the right one for you.
Best Alto Sax Mouthpieces
One of the easiest ways to improve your sound is to upgrade your alto sax mouthpiece. You can find dozens of options online and in music stores, so it can be hard to know what to choose.
I looked at a variety of mouthpieces, and I chose models from good brands. In my search, I made sure to include mouthpieces that use different materials and are at various prices.
Some of the ones I found come with a ligature and mouthpiece cap. Others require you to purchase those separately.
Consider the following mouthpieces when you want to get better at the alto sax.
D'Addario Rico Graftonite

The D'Addario Rico Graftonite mouthpiece is one of the most affordable on the market. It features a large A chamber to help you get a brilliant sound, and it's pitched at A = 440 Hz.
This mouthpiece's facing is 18 millimeters (mm), and the tip opening is 0.070 inches. If those specs don't suit you, you can choose from two other tip openings and chambers.
You can get a warmer tone without a tone of resistance. However, you'll need to buy a ligature and mouthpiece cap since this one won't come with accessories.
Pros
Affordable
Nice tone
Different options
Minimal resistance
Good for students
Cons
No ligature or cap
A bit simple for professionals
Yamaha 6C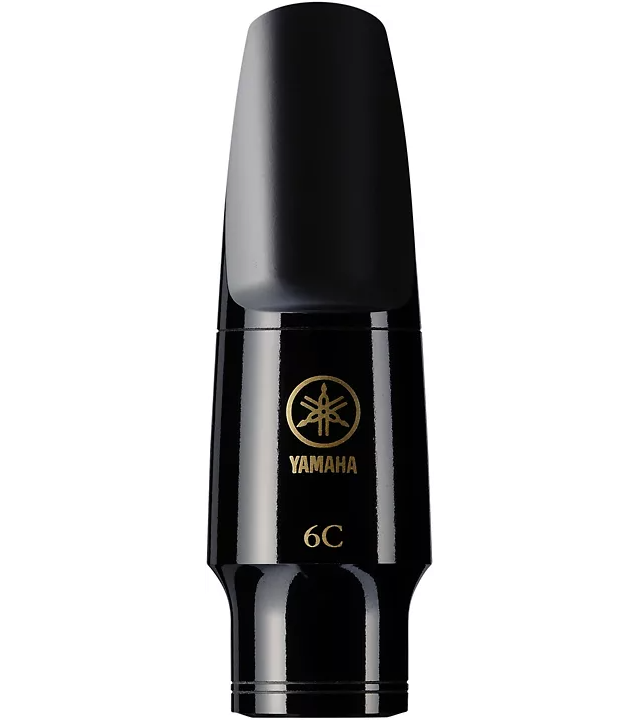 Another excellent model to try is the Yamaha 6C. The tip is nice and open to help you get a fuller sound, and it can help you project your sound over a large ensemble.
Yamaha uses plastic resin to produce the mouthpiece. That makes it durable, so you can get a lot of use out of it as you get better at playing the saxophone.
Now, you will need to practice your embouchure to get a nice lip seal. Only then can you achieve the best possible sound with this mouthpiece.
Pros
Full sound
Easy to project
Durable
Open tip
Affordable
Cons
Requires some practice
No accessories
Yamaha 4C

The Yamaha 4C mouthpiece is what you'll get if you buy a Yamaha sax. However, you can purchase it separately if you have an alto saxophone from another brand.
This size is perfect for beginners, professionals, and everyone in between. You can use the mouthpiece to get a nice sound as a soloist or in an ensemble.
It uses the same plastic resin as the other Yamaha, and the production is fairly consistent. Unfortunately, it doesn't come with a ligature when you buy the mouthpiece without a saxophone.
Pros
Good for beginners
Easy to play
Suits any saxophone brand
Durable materials
Consistent sound
Cons
Counterfeits that can be hard to detect
No ligature included
J & D Hite Artist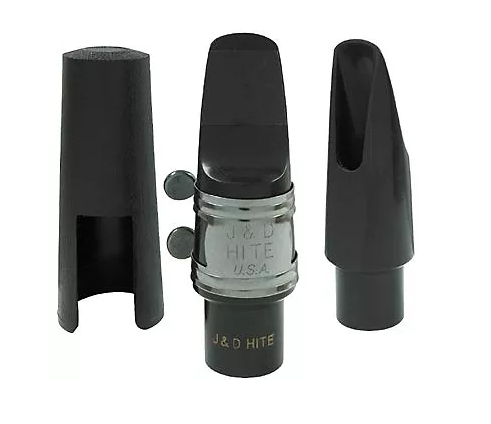 After I'd been playing the alto sax for a while, my teacher recommend the J & D Hite Artist mouthpiece. It was a nice upgrade and helped me get a better sound without needing a new sax.
I love that it came with a ligature and a mouthpiece cap, so I didn't need to get those separately. You can get a full, expressive sound, so it's great for playing solo.
Sadly, it costs a lot more than the mouthpieces I've shared so far. It's not as expensive as some, but you might want to save up for it over a few weeks or months.
Pros
Nice upgrade
Better sound
Suitable for solo use
Comes with a ligature
Expressive
Cons
Somewhat costly
Not for absolute beginners
Otto Link Tone Edge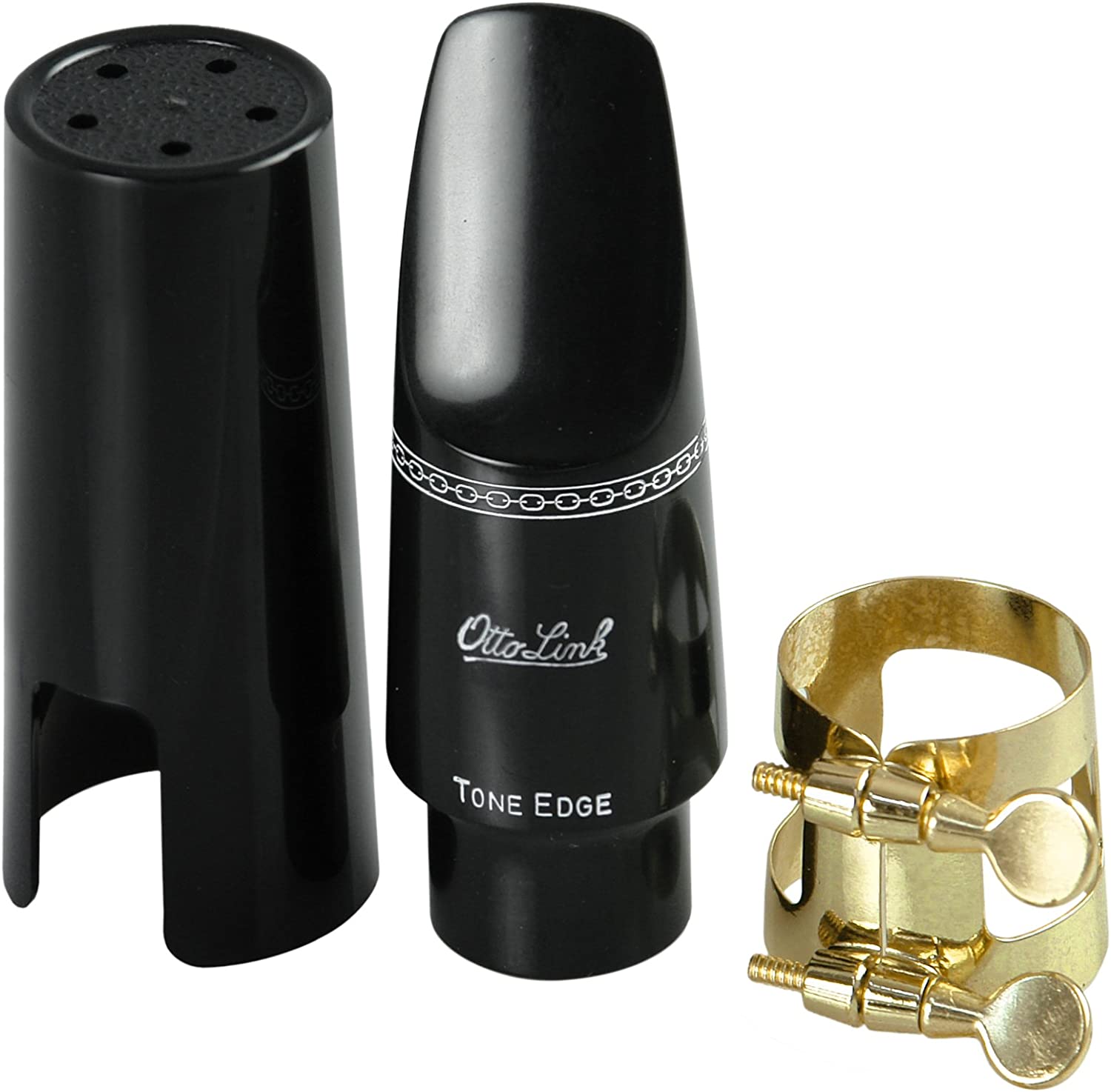 The Otto Link Tone Edge is an excellent mouthpiece for projecting your sound across a huge hall. You can push it without it making your sound too harsh or bright.
It comes with a metal ligature and a plastic cap to help protect your mouthpiece when you aren't playing. The hard rubber is durable and easy to play, and it's perfect for playing jazz.
You can even choose from different styles, depending on where you buy it. That way, you'll get the response that you need to play your best.
Pros
Easy to play
Different styles
Comes with a ligature
Not too harsh
Good for jazz
Cons
A bit expensive
Not for beginners
Vandoren SM711

If you've played the sax for a while, you've probably played Vandoren reeds. Well, there's also the Vandoren SM711 mouthpiece, which you can use with your instrument.
It features a tip opening of 152 (1/100mm), and the facing is medium long. You can get a fantastic classical sound, so it's great for playing in a wind ensemble or saxophone quartet.
I love that you can choose to get it with or without a ligature and cap, in case you don't need accessories. The mouthpiece works the best with Vandoren reeds between strength 2.5 and 4, but you can use it with any reed.
Pros
Small tip opening
Perfect for classical music
Works with Vandoren reeds
Easy to play
Nice sound
Cons
Not the best for jazz
Better for players with some experience
Selmer S-80 C*

The Selmer S-80 C* is an amazing choice for a step-up alto sax mouthpiece. Its tip opening is 1.7, and the facing length is 22; I assume that refers to millimeters, but it's unclear.
There's a square cross section in the chamber to help you get a nice tone. You can play this model in any classical setting and sound great.
I love that it's easy to play in all of the registers, so you don't have to switch mouthpieces often. The model should work with any alto sax, regardless of the brand you play.
Pros
Good small upgrade
Nice sound
Works for classical playing
Suitable in all registers
Fits most alto saxes
Cons
Pretty expensive
Not for beginners
JodyJazz HR

If you prefer to play jazz music, you might like the JodyJazz HR. There are multiple styles that have different tip openings and facings to help you get the sound and response you desire.
Regardless of the style you choose, you can get a nice free-blowing response. The mouthpiece also offers a lot of power and projection, which is great when playing in a big band.
Each mouthpiece is handmade and play tested to make sure it works well. Unfortunately, you'll need to get a ligature and mouthpiece cap separately.
Pros
Suitable for jazz
Projects well
Different styles
Handmade and play tested
Easy to blend with others
Cons
Costly
Hard to play in the high range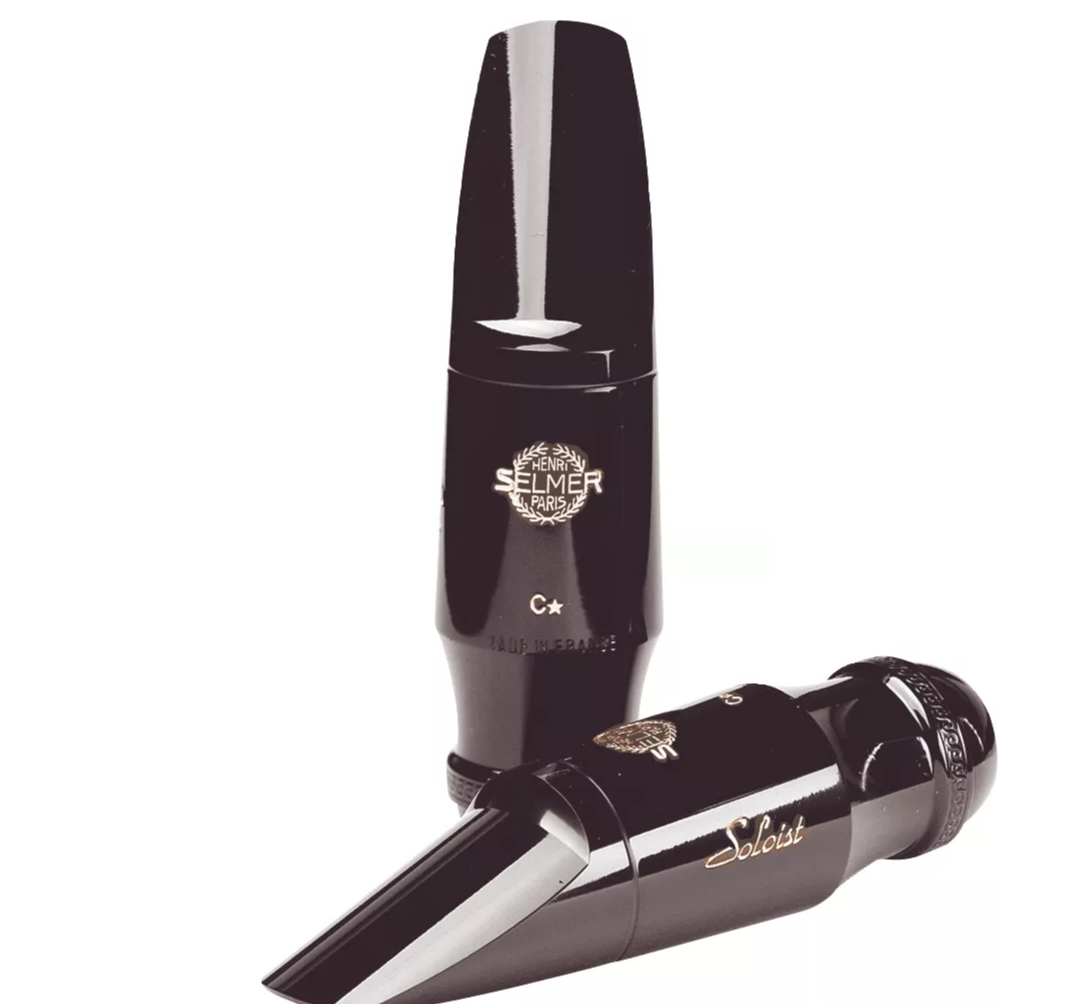 The Selmer Paris Soloist mouthpiece takes its design inspiration from vintage mouthpieces. However, it has some new technology to help you get a sweet yet full sound.
It's an excellent choice for classical players, and it has a bit more edge than the S80 I mentioned earlier. I love that it's easy to blend with other instruments when you play in a concert band or wind ensemble.
You can choose from a variety of facings, but it doesn't say how the facings differ. Still, it can be a good choice for anyone who plays classical music a lot.
Pros
Multiple options for facings
Works well for classical music
Blends nicely
A bit of edge to the sound
Inspired by vintage designs
Cons
Quite pricey
Can lack consistency
Otto Link Super Tone Master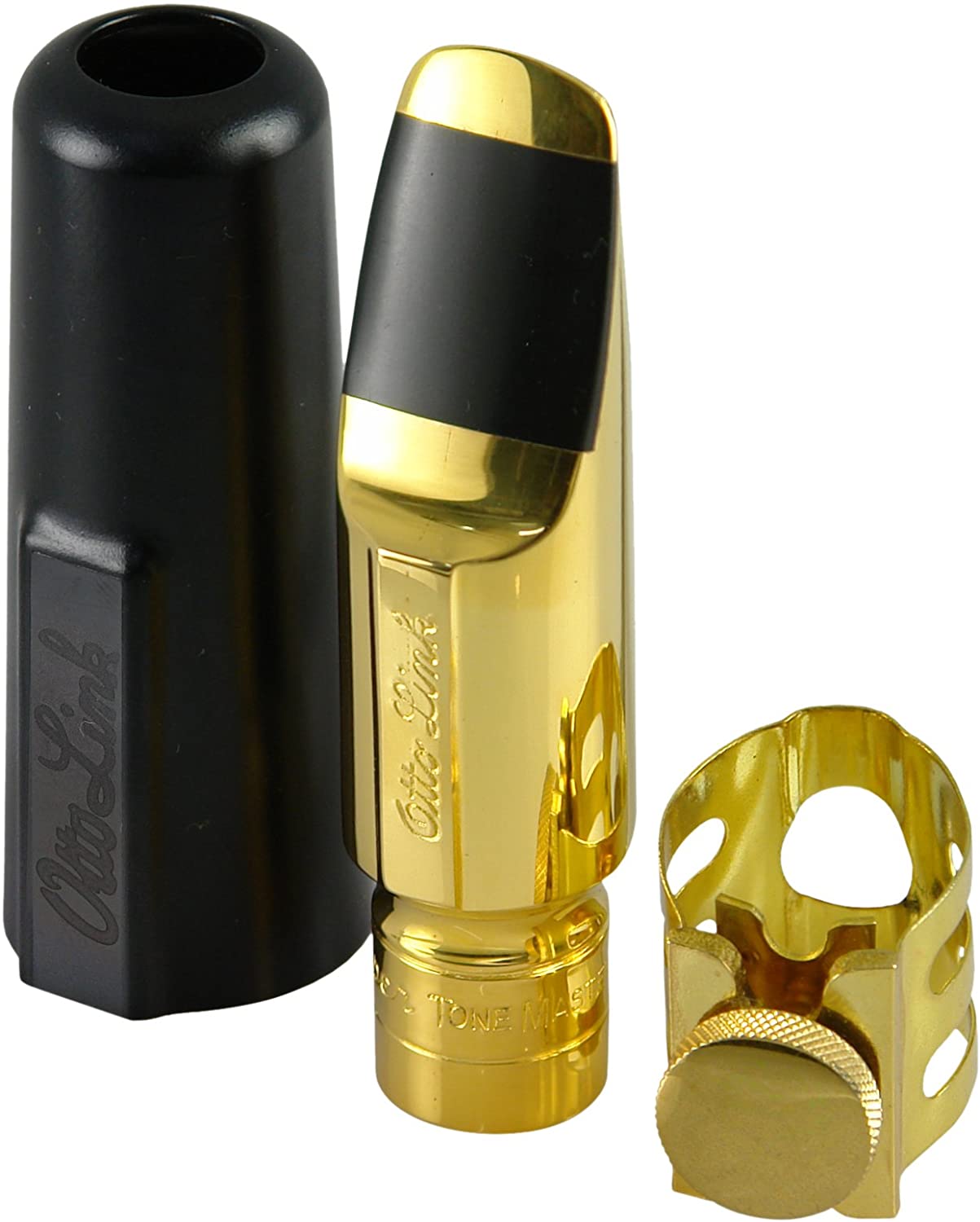 If you're interested in a metal mouthpiece, you might like the Otto Link Super Tone Master. The tip opening is 0.090 inches, which is a bit larger than some, but you can choose other opening sizes.
This mouthpiece appears to be gold-plated, but I can't tell for sure. Either way, it looks great and can help you get a fantastic sound out of your sax.
It's a common choice among professional players, but it's pretty expensive for students. Still, you might want to give it a try when you're ready to upgrade.
Pros
Metal
Good sound
For professionals
Nice upgrade
Various opening sizes
Cons
Very expensive
Not for beginners
Yanagisawa Metal Mouthpiece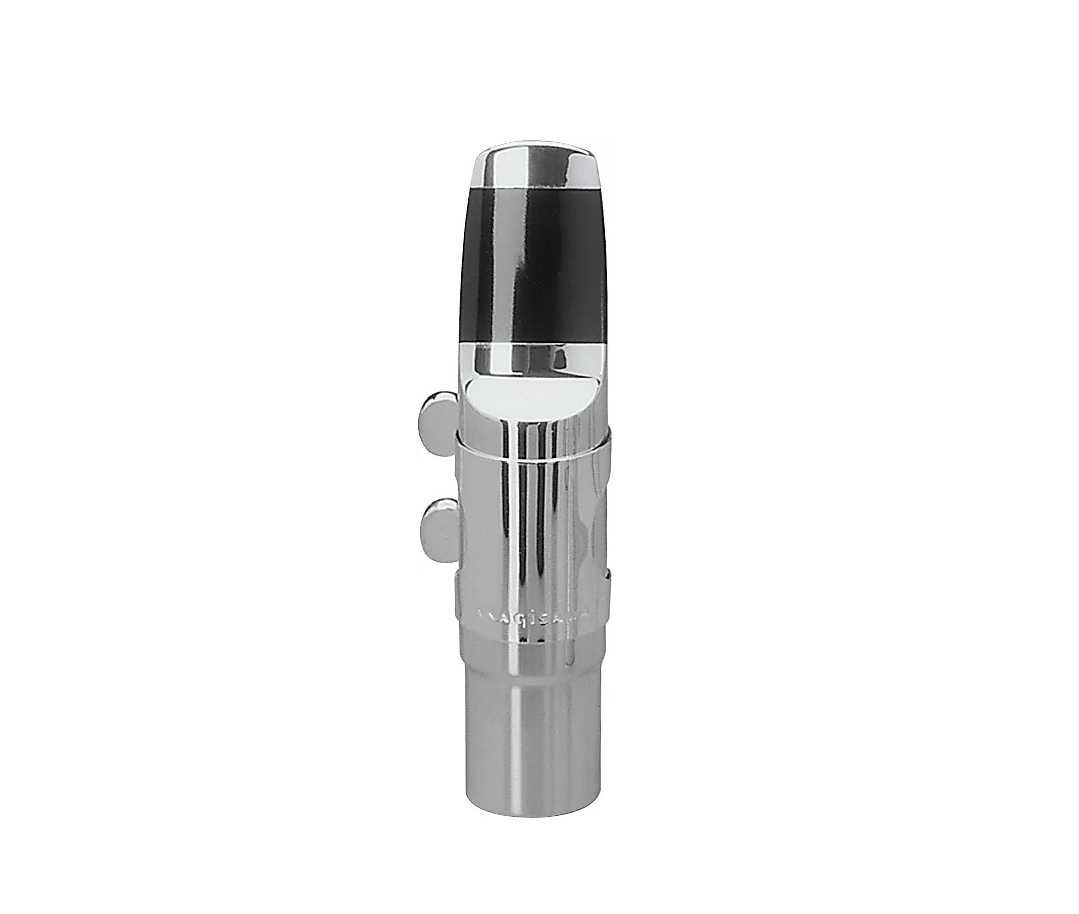 The Yanagisawa Metal Mouthpiece offers a bright and edgy sound compared to other options. It uses brass with a layer of silver plating, so it looks as good as it sounds.
You can choose from three different tip openings, including 85, 95, and 105. Inside, there's a square chamber, and you'll get a matching ligature and mouthpiece cap.
This mouthpiece is best for jazz, but it's not as suitable for classical or rock and pop. Of course, you also have to deal with the potential of tarnish with the silver plating.
Pros
Different tip openings
Nice for jazz
Comes with a ligature and cap
Bright sound
Cons
Not for all genres
One of the most expensive options
Theo Wanne DURGA 5

If you have a large budget, you may want to try the Theo Wanne DURGA 5 mouthpiece. The model uses gold, but I can't tell if it's solid gold or gold-plated.
Either way, you can get a nice, jazzy sound with the gear. It offers more core to your sound compared to earlier versions of the DURGA mouthpiece.
You can sound expressive when playing with this equipment, and it's great for ballads. Of course, I don't love how expensive it is, so you'll want to save up for a while to get this.
Pros
Nice sound
Projects well
Easy to play
Expressive
Cons
Very expensive
Not for classical music
How to Choose the Best Alto Sax Mouthpiece
When you're shopping for the best alto sax mouthpiece, you have a lot to consider. I could recommend my favorite mouthpiece, but that might not matter if your playing goals are different from mine.
It's important for you to know what to look for in a good mouthpiece. Then, you can figure out which option will meet your needs, and you won't have to rely specifically on what other people like.
Here are some factors that come into play when choosing a good mouthpiece for your alto sax.
Genre
First, you might want to consider what type of music you tend to play. A lot of saxophonists focus on jazz, but some play a lot of classical music, and others play rock and pop.
Some of the mouthpieces I found are specific for a particular genre. For example, classical players might like the Vandoren and Selmer gear.
However, jazz players should look at the Otto Link and JodyJazz mouthpieces. Luckily, you can get multiple mouthpieces if you play various genres, and you can switch between them as necessary.
Brand
Next, make sure you stick to mouthpieces from reputable brands. As I was looking on sites like Amazon, I found some mouthpieces without any brand name.
That gear might work, so you could get a good deal. However, I'd choose something from a brand with a good reputation to keep from wasting my money.
You don't have to spend hundreds on a good mouthpiece. Just research the brand if you haven't heard of it to make sure you'll get a good product.
Materials
Another thing to think about is the material of the mouthpiece, which can affect your sound. You can find mouthpieces made of plastic, rubber, and metal.
Metal mouthpieces can offer a brighter tone, so think about what you want. Again, you can get a few mouthpieces to help cover the range of tone colors you want to produce.
Accessories
Some mouthpieces come with a ligature and cap, but others don't. If you already have a ligature you like, you might not want a mouthpiece that comes with one.
However, if you're looking for an upgrade, you might need the whole set. Sure, you can buy a ligature and mouthpiece cap separately, but you'll want to think about how much that will cost.
Tip Opening
The tip opening of a mouthpiece can have a decent effect on how your saxophone sounds. You might want to try the same mouthpiece but with different opening sizes to see what you like.
Not all mouthpieces come in different sizes, though, so you'll need to go with the standard size. But if a mouthpiece you like comes in a few sizes, try them all if you can.
Unfortunately, it can be hard to compare sizes across brands. I found that some companies used different "scales" to differentiate the openings.
Reed Compatibility
You also want to think about how the mouthpiece you buy will sound with the reeds you like. Of course, you can always experiment with reeds to find a new combination that works.
However, if you have your favorite reed, you might not want to change it. For example, I like the Vandoren reeds, so I would probably like the Vandoren mouthpiece since the two work well together.
Now, if you don't like Vandoren reeds, you probably won't like the company's mouthpiece. If possible, bring your current reed stash when you try new mouthpieces to see how everything sounds.
Price
Some of the mouthpieces I found cost less than $50, but one costs almost $700. I'd recommend you look at some options online and get an idea of a realistic budget.
If you're new to the sax, you can get away with something cheaper. However, if you're looking to become a professional, I think you should save at least a few hundred dollars.
Then, you can compare a variety of options in your budget to find the best one for you. And that might mean trying mouthpieces that aren't on this list.
FAQs about the Best Alto Sax Mouthpieces Guide
Question: Does your sax mouthpiece make a big difference?
Answer: Your saxophone mouthpiece can be a difference in your playing. A good mouthpiece will help you produce a better tone than on something super cheap.
The right gear can also help you with your intonation and tuning to help you sound good with others. That way, you can get better and enjoy practicing your saxophone.
Question: When should you upgrade your sax mouthpiece?
Answer: I'd recommend upgrading your mouthpiece when your current setup starts holding you back. If you find it hard to get the sound you want, a small upgrade can be worth it.
Of course, there may come a time when you need a whole new instrument. But until then, getting a nice new mouthpiece might be all you need to overcome a plateau in your playing.
Question: How long does a mouthpiece last?
Answer: You might also need to upgrade a mouthpiece since they only last about two or three years on average. The specific lifespan depends on how much you play the mouthpiece.
If you're a professional, you might need a new one every year or so. On the other hand, a casual player might be able to go multiple years between upgrades.
Question: Can you use the same mouthpiece on multiple saxophones?
Answer: You can use the same mouthpiece on multiple saxophones of the same type. So if you upgrade your mouthpiece but soon want to get a new alto sax, you can use the better mouthpiece on it as well.
However, you can't use an alto sax mouthpiece on your tenor or soprano sax. You'll need to get a mouthpiece that fits on the neck of those instruments.
Question: Should you try a mouthpiece before buying it?
Answer: It doesn't hurt to try a saxophone mouthpiece before you buy it. That way, you can make sure it works well with your reed and the body or your instrument.
If you can't try the mouthpiece, I'd recommend asking your teacher or a player who knows you well for suggestions. They can tell you about a model or two that they think would work well for you.

Final Note on the Best Alto Sax Mouthpieces Guide
When upgrading your instrument, you may want to read a best alto sax mouthpieces guide. The right mouthpiece can do wonders for your sound, and you don't have to get a whole new saxophone.
I'd recommend the Yamaha 4C or 6C for beginners and the J & D Hite for intermediate players. If you're a professional, you should try the Vandoren and Otto Link mouthpieces.
My favorite is probably the J&D Hite mouthpiece, but it's up to you to try it for yourself to see if it works for you.
For more interesting readings, check out: