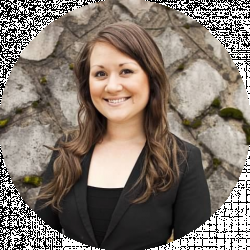 Latest posts by Lacey Jackson
(see all)
Bottom Line Up Front: Finding the best sousaphone case options comes down to whether you need a softshell bag or a hardshell case as a beginner or professional. 
You have spent a great deal of time and effort finding the best sousaphone, so now it's time to protect that investment by also finding the best sousaphone case options. To find the best case for your situation, you need to figure out your needs and which type of case is a good fit. If you are an intermediate player or anyone who has purchased their instrument rather than rented, I recommend the SKB 380 Sousaphone Case because of its hard exterior, interior padding, and wheels. 
Different Types of Cases
When evaluating the best sousaphone case options, you get to choose between one of two main categories:
Soft Cases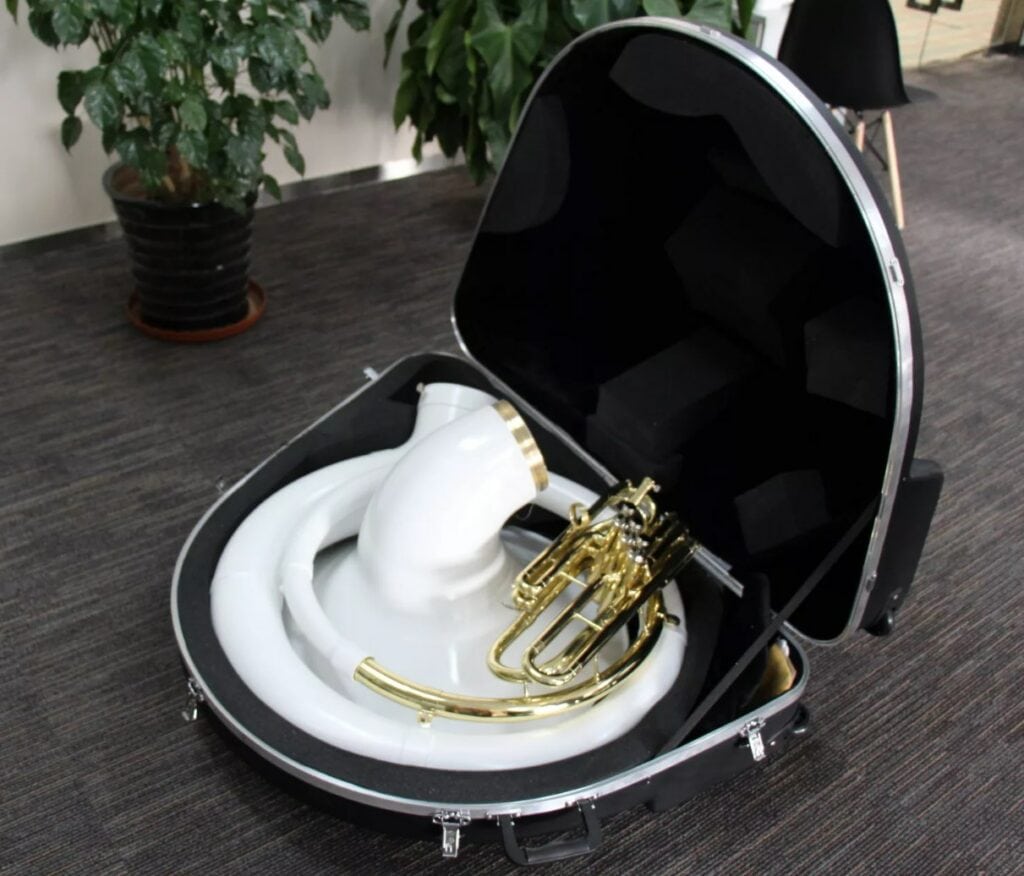 Soft cases, as the name suggests, are soft. They are made from material with very thin lining all around the case to protect your instrument on the inside. These are usually reserved for children or beginners, so they are often riddled with pockets so that any accessories and sheet music for school or lessons can be safely stored with the instrument.
Soft cases are a great place to start for people who just need a little bit of protection or an appropriate place to store their instrument when not in use and protect it from things like dust and pollen. A soft case will not protect your instrument from severe damage if it gets stepped on or falls off a table.
Hard Cases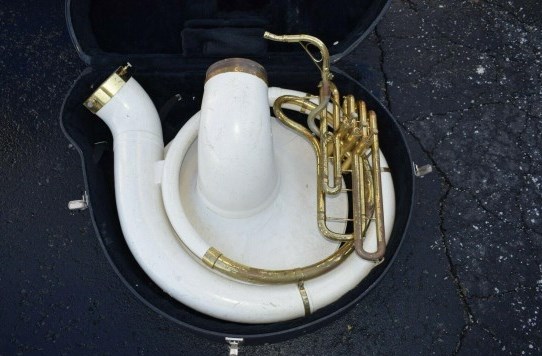 Hard cases, however, will. Hard cases are just that, hard. They are usually made from a rigid plastic polymer, carbon fiber, or wood which prevents any impact from reaching your sousaphone. Instead, if it falls, gets stepped on, or is dropped off a table or conveyor belt, the impact is absorbed by the case (and maybe even dented, but at least it's not your instrument that is dented). 
Hard cases are much more expensive because the material is costly. The design is usually larger with a lot of extra foam padding on the inside that conforms to the shape of your instrument and holds each part in place during transportation. Hard cases give the optimum level of protection for any instrument, including a sousaphone, especially when there is a great deal of interior foam into which each piece of your instrument can rest safely. They usually don't have extra compartments or zippers like soft cases, so you will need to carry your music and accessories in another way.
Needs of Beginners
Beginners have very different needs when it comes to instrument cases. Beginners usually don't take their instrument very far, and if they do, it's only two in from lessons for music classes. If you have children learning to play the sousaphone, they are prone to falling and tripping, hitting their backpacks against every corner in every room. The same is going to be true of their instrument, which is why a soft shell case can at the very least provide some protection against major scratches and dings.
Beginner adults learning to play the sousaphone still need a place to store their instruments to protect them if it gets knocked over or fall off the table. Sousaphone cases also protect against dust and significant sun exposure at the very least. This is why most of the best sousaphone case options for beginners will include:
Softshell cases that are shaped like the sousaphone

Pockets for accessories and music
When I was brand new, I needed a case to protect my instrument from dust and cat hair. I didn't take it anywhere, but I still didn't want it just sitting out, exposed. 
Needs of Intermediates
Sousaphone cases for intermediate musicians don't need to be as heavy-duty and durable as something for a professional. However, they still need to be stronger than a soft shell case for a beginner.
Most of the best sousaphone case options for intermediate musicians will include:
A hardshell design shaped like the instrument

Wheels for easy transport

Small padding on the inside
When I reached the intermediate level, I was traveling more but only in my car, so I never went more than a few hours at a time. Still, I would have to lug my equipment up people's long driveways or across a business center. At this point, I needed something with wheels so that I could pull it behind me like a piece of luggage without being sweaty and out of breath by the time I arrived for every gig.
Note: If the wheels fall off, don't panic. You can replace wheels on a hard case by watching this video:
Needs of Professionals
Sousaphone cases for professionals are meant to be moved and handled by multiple people, the especially backstage crew who may not show instruments as much care as their owners. With dozens or maybe hundreds of different pieces of equipment to set up, professionals need hardshell cases for their expensive fiberglass sousaphones that don't just conform to the shape of their instrument but come in a box form that is easy to stack, transport, and maneuver.
This is why most of the best sousaphone case options for professionals will include:
Hardshell designs made of plywood and shaped like a box

Heavy-duty wheels and hardware

Internal padding customized to fit the instrument
Professionals also need to consider what transportation demands they have. As an advanced musician, I have only begun to perform long-distance within the last few years. Because of that, I needed to change the case. I had to be more structurally supportive and handled by baggage claim and put underneath the airplane.
Cost for the Best Sousaphone Case Options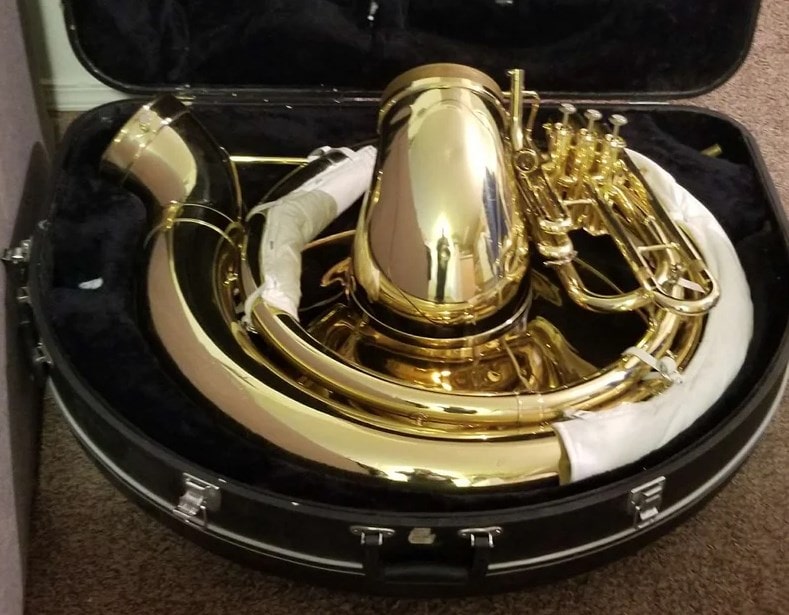 The cost for the best sousaphone case options will vary depending on your needs. As mentioned, beginners don't need the fanciest storage with wheels and casters, removable why wood and metal lids, but professionals do.
| | |
| --- | --- |
| Beginner Soft Shell Cases | $100-$300 |
| Intermediate Hard Shell Cases with Wheels | $500-$600 |
| Advanced Hard Shell Cases with Wheels | $1500-$1600 |
Softshell cases will cost much less than complex shell cases simply because of the material used in construction. Softshell cases cost a few hundred dollars on average, but they don't provide any extra padding, which is why I only recommend them for beginners.
As you progress and start taking more music classes or performing more often, going to gigs with bands, you need to consider investing in a hardshell case. Hardshell cases with wheels will make it much easier for you to transport your sousaphone and offer the extra protection you need when traveling.
I don't recommend advanced hardshell cases unless you are a professional and you are on the road. The way I delineate here is: if you have roadies or managers in charge of your equipment, then you need the advanced hard shell cases, but if you are still the one lugging your equipment around, you can get away with an intermediate hardshell case.
That said, my selection criteria for the best cases include durability, quality in materials, and ease of use.
Best sousaphone case options for beginners
Yamaha Stage Pass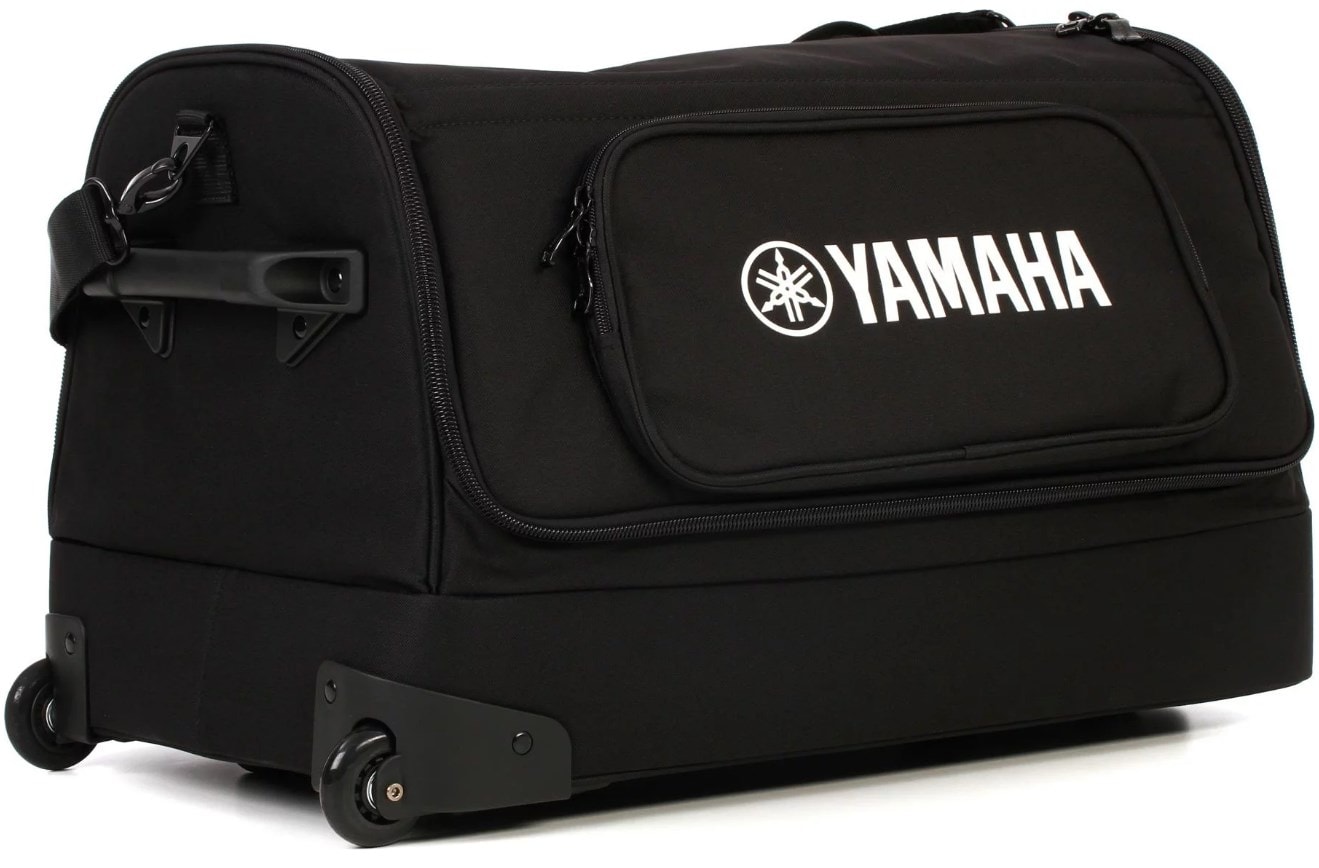 The Yamaha Stage Pass is a soft case for your sousaphone. It has slight padding on the inside with a rolling design. This means you can easily carry it with the handle or roll it like a suitcase. It does a decent job protecting your instrument while in storage, but I would not recommend it for people who travel or are on the road, only for children or beginners who just need a place to store their sousaphone at home. 
Pros
Soft case for beginners

Has wheels and multiple carrying options
Cons
Not a lot of internal padding or storage for music
Protec Sousaphone Gig Bag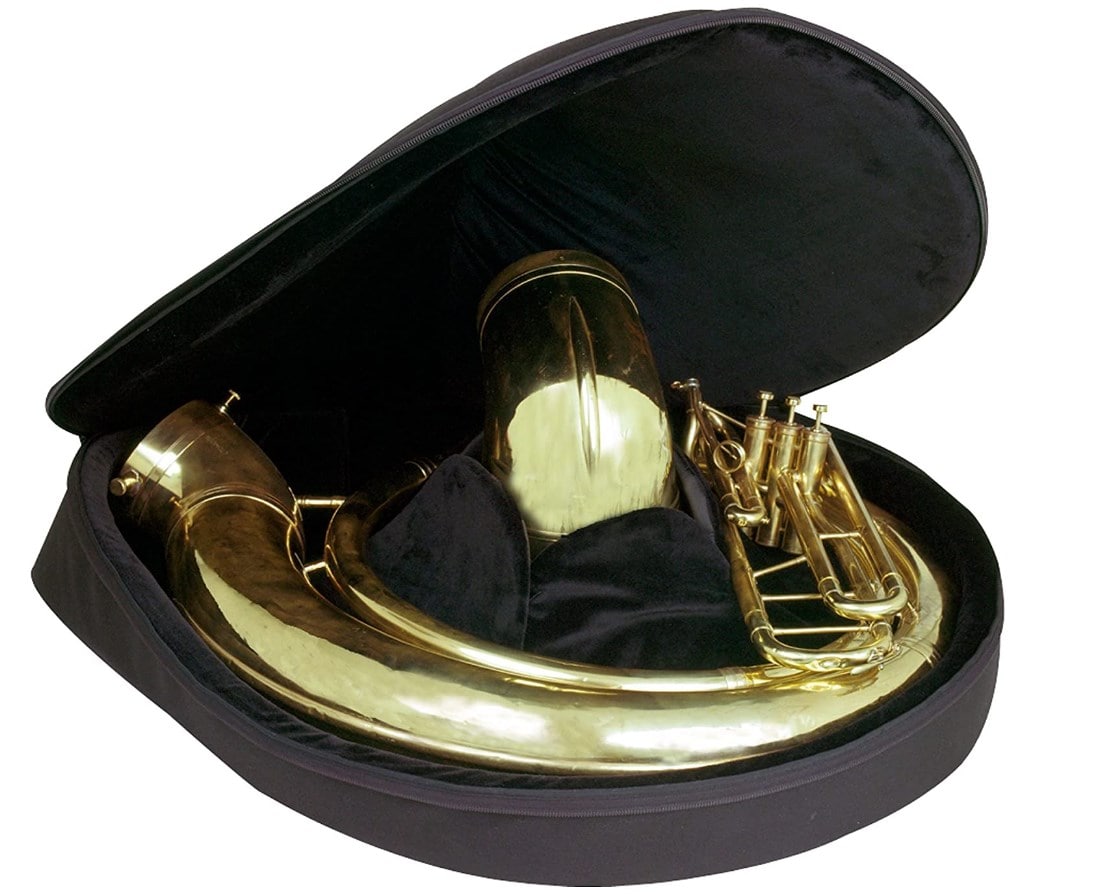 Protec Sousaphone gig bag is another soft case gig bag. The bag is water-resistant and has convenient backpack straps. Weighing only 12 lb, it doesn't contribute a lot of loads if you have a small child or young teenager carrying this to and from music classes. The interior plush lining won't prevent your instrument from getting significantly damaged if you are on an airplane and it gets bumped around. Still, it will certainly protect it from everyday collisions with the side of your trunk.
Pros
Good for beginners

External zipper compartments

Backpack straps 
Cons
No interior foam padding or wheels 
Best sousaphone case options for intermediate
SKB 380 Sousaphone Case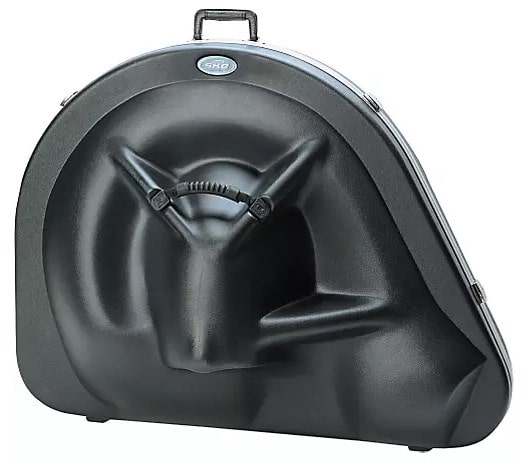 The SKB 380 Sousaphone case has wheels for easy travel and transportation. These cases are designed to fit different models of sousaphones which is what I believe makes them stand out. When you order, you get various pieces of foam, each of which has an adhesive backing so you can add them to the inside of your case and customize the fit for your instrument. It makes it fit perfectly no matter which model you have.
Pros
The best option for intermediate musicians who want a hard case with wheels

Made with ultra-high molecular weight polyethylene

Lightweight 

No sharp corners but a smooth, rounded design
Cons
No extra compartments or spaces to store accessories or music
Best sousaphone case options for professionals
Sousaphone ATA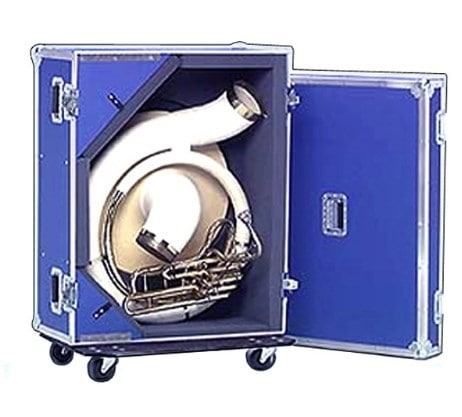 If you are a professional, you want the sousaphone ATA ⅜" Plywood case with wheels. This is the most expensive option, but I absolutely recommend it if you are looking for the best sousaphone case option as a professional who travels and needs to protect and improve their instruments easily. This heavy-duty case is structurally very firm and looks like many gig cases or instrument cases you see people wheeling around a stage because it is. The four wheels on the bottom and the easily removable lid means you can push it across a stage or through an airport, park it in place, unhook the top, and pull out the instrument which has been safely cradled inside. 
Pros
Heavy-duty hardware

PVC laminate exterior and plywood construction

two accessory compartments

Wheels and casters for easy transport
Cons
FAQ
Question: Who makes the best sousaphone case options?
Answer: There are a couple of main manufacturers suitable for beginners who want to invest in hard cases or intermediate players. SBK and Protec are two of the most common soft and hardshell case options. There are many other manufacturers like Yamaha and much more expensive options for professionals, but these two companies are great places to start. 
Question: Why do I need the best sousaphone case options?
Answer: Every instrumentalist needs a way to protect and transport their instruments. If you are a beginner, you don't need to invest in an expensive model like the Sousaphone ATA, but you can get away with a soft case from Protec. As you begin performing and transporting her instrument to and from events, having a hard shell and later having customized internal padding will be much more important. 
Question: How expensive is a sousaphone case?
Answer: The cost of your sousaphone case is based on which option you choose. Softshell beginner cases that don't have any additional lining inside can cost as little as $100 or $200. Intermediate models increase in price to about $500, especially if you get a hard shell with wheels for easy transportation. Professional models can cost a few thousand dollars, representing a fraction of your instrument's cost and a good investment for people on the road.
Bottomline
The bottom line is that finding the best sousaphone case options means finding something appropriate for your level of expertise. If you are an intermediate player or anyone who has purchased their instrument rather than rented, I recommend the SKB 380 Sousaphone Case because of its hard exterior, interior padding, and wheels. But for all of the options included here, my criteria included high-quality materials that won't fall apart on you, durability, and ease of transportation such as having backpack straps or wheels.
The cost will fluctuate between a few hundred dollars to a few thousand dollars based on whether you are a beginner or a professional and whether you want a soft bag that you have to carry on your back or a rugged exterior bag with wheels that you can roll around like luggage. Your needs will change as you progress in skill, so always be ready to invest in the next level as you increase the number of gigs and performances.
Looking for more interesting readings? Check out: