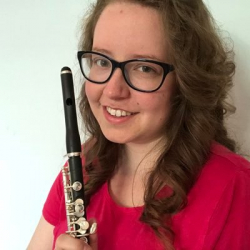 Latest posts by Hannah Haefele
(see all)
Imagine getting a clarinet but never having time to actually play it. Before you quit, consider learning how to find the best electric clarinet.
I love that you can play silently, and you can use headphones to still hear yourself. Also, I find holding a regular clarinet to be quite painful for my right thumb.
Electric clarinets don't weigh as much, and some even have a place for a neck strap to connect. If you want a more comfortable way to play the clarinet, an electric model might be the way to go.
Bottom Line Up Front: The best electric clarinet is the Roland AE-20 since it lets you use real clarinet fingerings. But try other models from Roland or AKAI Professional to choose the best fit for you.
How to Find the Best Electric Clarinet
Whether you want to practice silently or record yourself easily, an electric clarinet can come in handy. But there are more options than you might expect, so choosing one can be overwhelming.
Fortunately, I've done some research on electronic woodwinds. I've learned a lot about the best brands and models, and that includes knowing what to consider.
Here are some factors I suggest you think about before you buy an electric clarinet.
Consider the Fingerings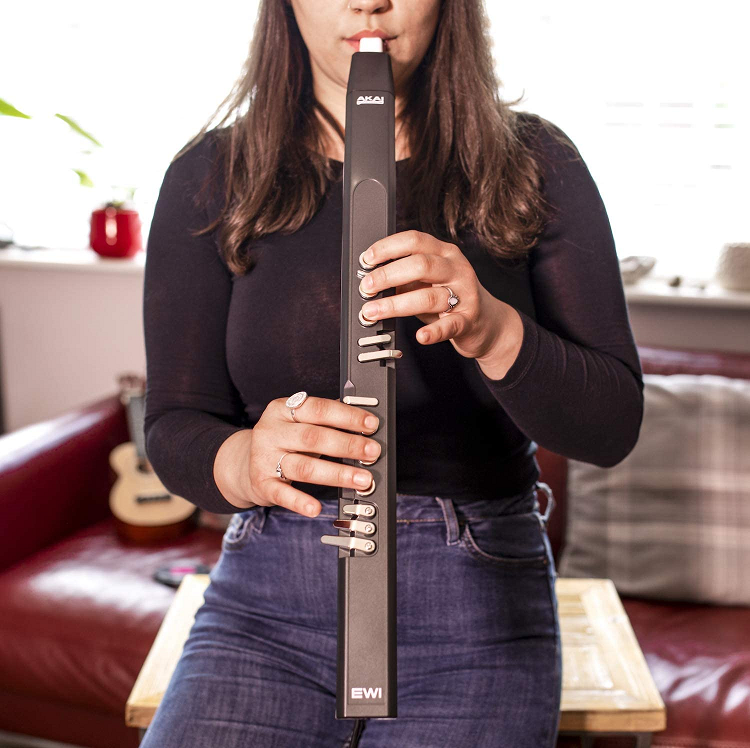 First, you should figure out what fingering system the electronic wind instrument (EWI) uses. Some models only use one fingering mode, such as that of a clarinet, saxophone, or recorder.
Others let you choose the mode, which is nice if you want to control how you play the EWI. While I haven't seen many models that use clarinet fingerings, keep in mind that clarinet fingerings aren't unique.
The second register of the clarinet has identical fingerings to the saxophone. And the fingering system for the flute isn't too different from the clarinet's upper range, so you don't have to change a ton of fingerings with those systems.
Review the Available Sounds
Of course, if you want to play an electric clarinet, you need to make a clarinet sound. Most of the EWIs I've seen offer a clarinet sound as one of the basic options onboard the device.
Even if that's not the case, some let you access a clarinet sound with a coordinating app. Be sure you consider all of the sounds as well as if you can emulate something like a bass clarinet.
One of my favorite things about wind controllers is that you can change the sound without changing the instrument. You can't do that with acoustic woodwinds, and newer EWIs are starting to offer more sounds than before.
Check the Range
When looking at a model, I'd also want to know how large of a range it offers. Unlike on a normal clarinet, you won't use the altissimo fingerings when you change octaves.
But you should consider how many octaves an EWI can produce. I believe my electric woodwind can produce up to three octaves since it has one octave up key and one octave down key.
Playing without pressing either key gives you the middle octave. You can check the range if you're able to test the clarinet, or you can read the product description to learn more.
Test the Ergonomics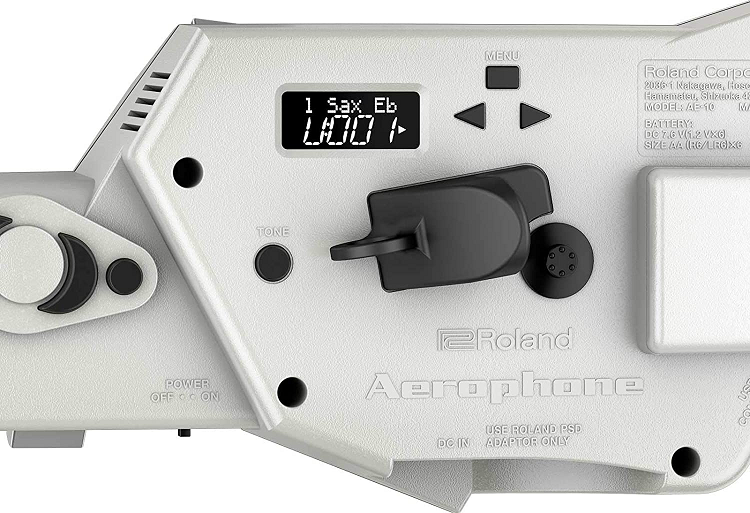 Throughout my time playing woodwinds, the clarinet has been the least comfortable for me. It requires a lot of air and a lot of air pressure to play some of the notes.
Plus, it's not very comfortable to hold, and my right thumb starts hurting within minutes. If that happens to you, be sure to consider how ergonomic an electric clarinet is.
They're usually lighter than regular clarinets, but you still hold them in a similar way. You can't always try an electric clarinet before you purchase it, so test it out within the return window in case you don't like how a model feels.
Think about the Angle
A more specific tip related to ergonomics is to look at the angle of the mouthpiece. Some electric clarinets are straight up and down just like a regular Bb clarinet.
On my electric wind instrument, the mouthpiece is at a slight angle. This matters because it can affect the angle you hold the clarinet at.
When you play a regular clarinet (or an electric one with a straight mouthpiece), you use a 45-degree angle. But if you choose an EWI with a bend in the mouthpiece, you might have to experiment with the angle to find a comfortable position.
Note the Balance
I've noticed that clarinets are pretty equally balanced from top to bottom. That makes them relatively easy to hold and keep steady as you play.
However, my electric clarinet is bottom-heavy, which can make it harder for my right hand to support. The power supply has to go somewhere on an electric wind instrument.
For some models, the balance may be a bit more even up and down or side to side. If possible, I'd recommend holding a few different electric clarinets to see what feels best to you.
Add a Neck Strap
Luckily, you don't have to worry too much about the ergonomic issues if you have a neck strap. You can use the same neck strap you use for your regular clarinet or get a separate one.
Either way, some EWIs have a hook or something on the back, or at least my Roland EWI does. If you have a neck strap, you can place the hook in it when you want to play.
The strap can take some of the weight off your right hand. That can make playing more comfortable, and you might feel like you can move your fingers more easily.
Pick Your Price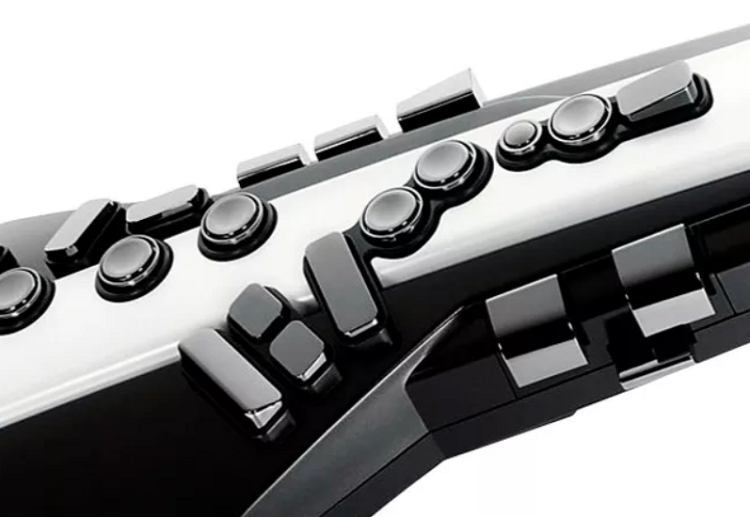 I've seen electric clarinets at a variety of price points, so you should consider your budget. If you've never played an electric wind controller, I'd suggest sticking to a smaller budget to make sure you like it.
On the other hand, if you already know you'll use the model a lot, you can spend a bit more. Another thing to consider with the price is what sort of features you want.
Some of the more affordable options come with fewer sounds or options, for example. I'd suggest researching the available models to see what features exist, and you can settle on a realistic budget from there.
Know the Connections
When it comes to any electric instrument, you should know how it will produce a sound. I've found that electric clarinets can produce sound in one or more of the following ways:
Directly through speakers on the instrument
Through a headphone jack
Using Bluetooth to connect to a computer or tablet
As a MIDI controller through an audio program
If you want to mainly use the electric clarinet to practice silently, you'll want a model with a headphone jack. On the other hand, you might want a MIDI controller option if you want to record clarinet music.
Determine If You'll Need Batteries
I'd also suggest looking into the power source for whatever electric clarinet you choose. Some use a rechargeable battery, in which case you'll need to set aside time to charge the device.
However, a lot of other models use regular batteries that you put into the clarinet. You use it until the batteries run out, and you replace the batteries.
If that's the case, consider how many batteries the clarinet takes and what type. Then, you can stock up on the right kind of battery, especially if you think you'll use the instrument a lot.
Best Electric Clarinets
Before I got my electric woodwind, I looked into a variety of models. I found a couple of brands that make most of the best EWIs on the market, and I chose a brand and model that I thought would work for me.
However, I realize that the model I selected isn't the perfect fit for everyone. To help you choose the clarinet for you, I looked at the two top electric wind controller brands.
I chose a few models from each to include in this list. And I found a new-to-me brand that makes a model that looks intriguing, so you might want to check it out.
Here are the brands and models I found and would recommend.
Aodyo Sylpho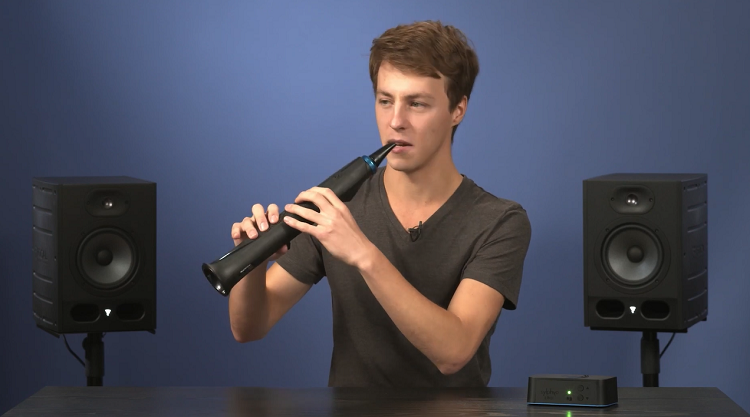 The model I recently came across that looks like a good electric clarinet is the Aodyo Sylpho. You can choose from a variety of fingering systems based on different wind instruments.
I love that you can customize the settings to help it respond to your breath and other movements. That way, you'll get the tone you want as you play.
It's easy to play from the speakers or through headphones, so you can practice whenever. You can also connect it to a MIDI program on your computer or iOS device.
Pros
Easy to hold
Customizable
Different playing options
Small size
Rechargeable
Cons
Somewhat expensive
No neck strap hook
Roland AE-01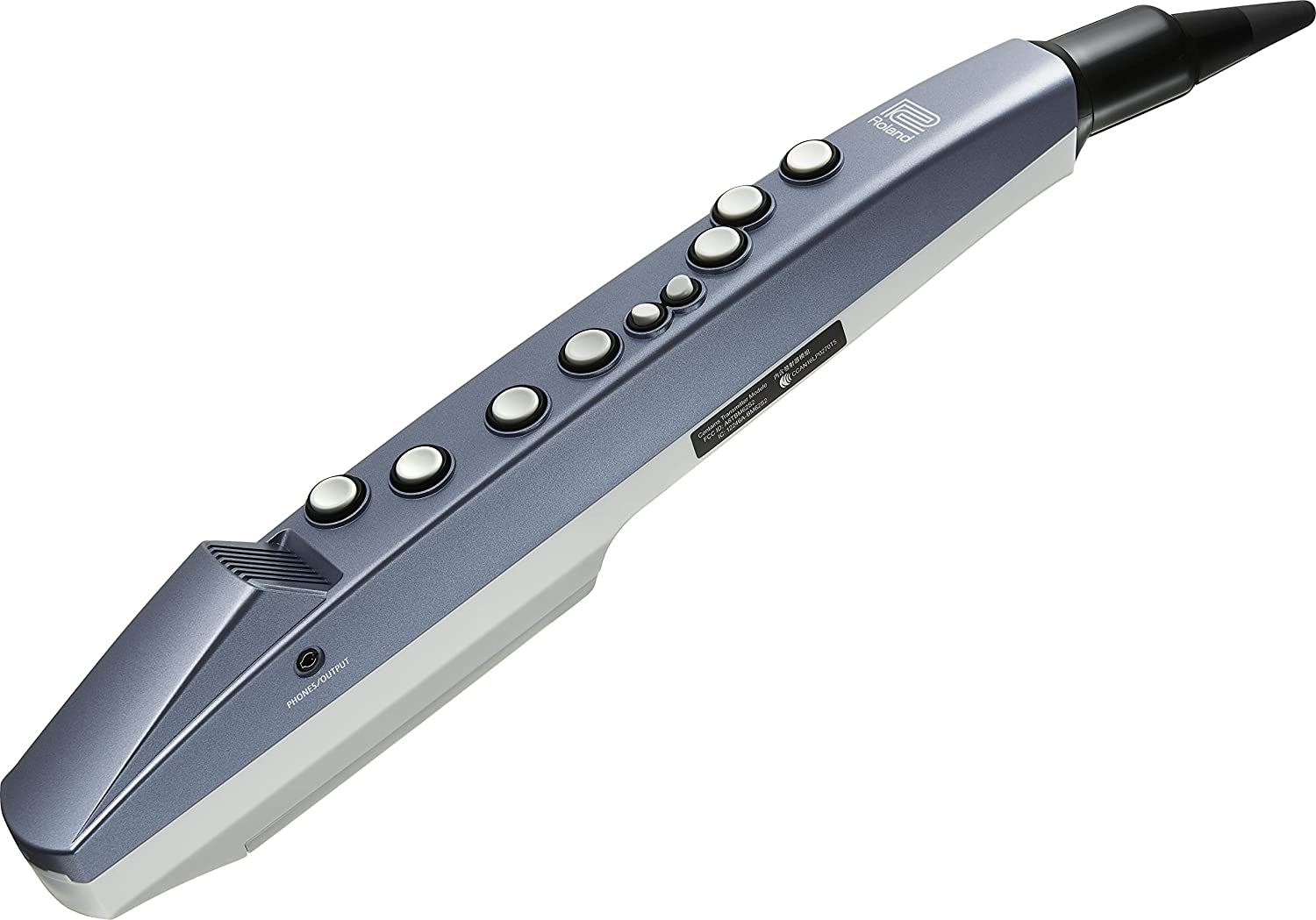 The Roland AE-01 is the electric wind instrument that I own. It's a mini version of the other Roland models, so it's more affordable and good for beginners.
You'll get six sounds onboard the controller, including a clarinet sound. I've also used the Aerophone Mini Plus app to connect to even more sounds on my iPad.
This model works with headphones and also has an onboard speaker. It takes batteries, so you can play wirelessly and still get a good sound.
Pros
Affordable
Easy to play
Good size
Clarinet sound available
Works with Bluetooth
Cons
Uses recorder fingerings
Right thumb can get uncomfortable
Roland AE-05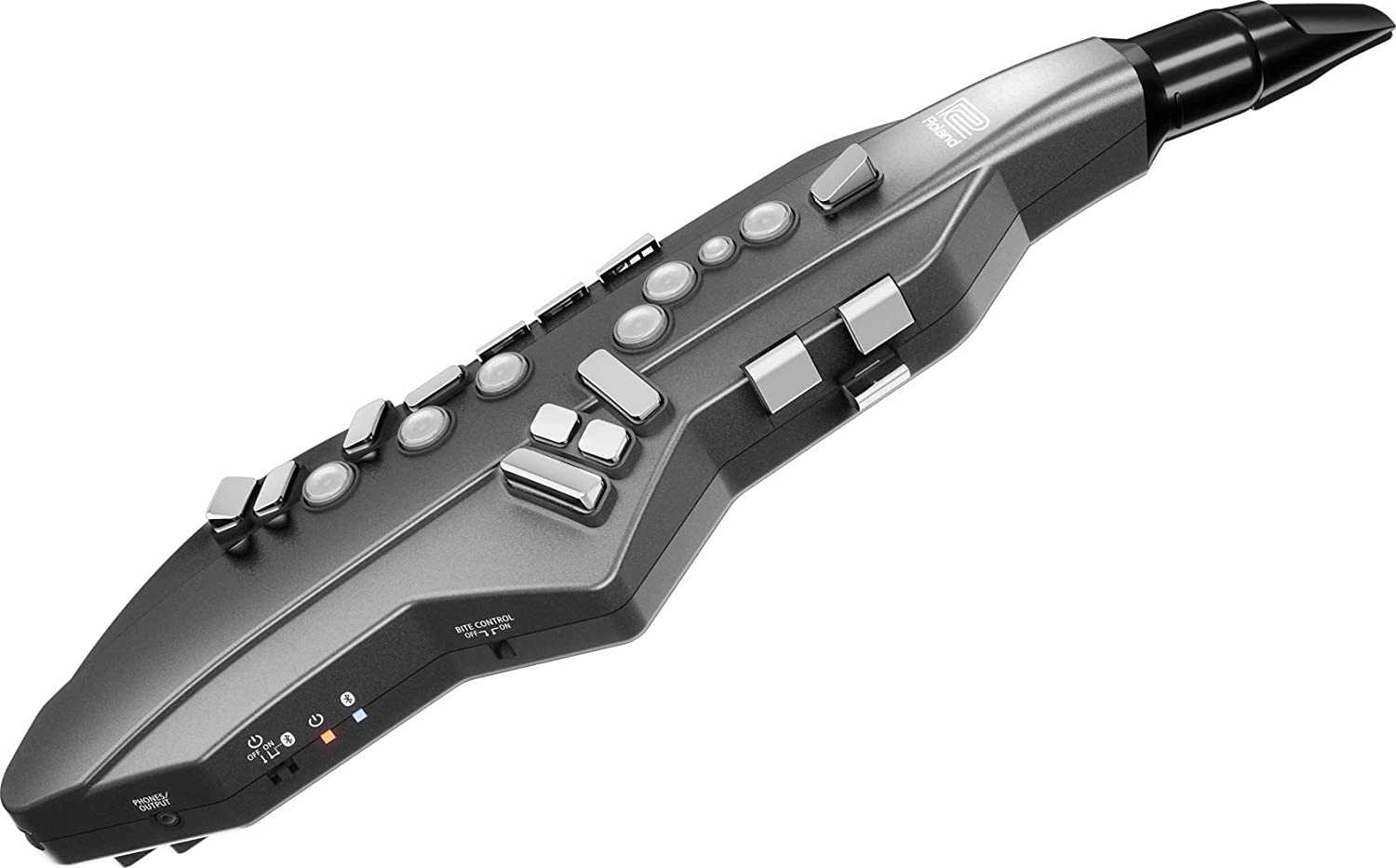 If you have a bit more money to spend, consider the Roland AE-05. The device offers 11 sounds onboard, from clarinet to flute to saxophone.
Like the other model, this one has a coordinating app to access more sounds. You'll need to use four AA batteries, which means you don't need to charge the controller.
When you want to practice silently, you can plug headphones in so that you can hear yourself. The model uses saxophone fingerings, which are closer to clarinet fingerings than some systems.
Pros
Tons of sounds available
Easy to use
Works with headphones
Saxophone fingerings
No need to charge it
Cons
Requires four batteries at a time
A bit bulky
Roland AE-10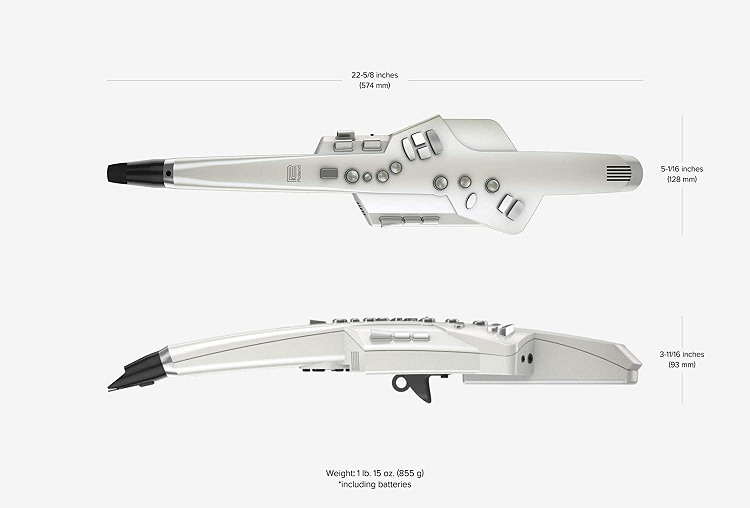 The Roland AE-10 defaults to saxophone fingerings and the sound of a saxophone. However, you can change the sound so that it emulates a clarinet.
I love that the mouthpiece has a breath sensor, so it can respond similarly to a clarinet mouthpiece. There are speakers on the instrument, but you can connect headphones to keep the device silent.
Connecting a neck strap is easy to help you play the electric instrument comfortably. The sounds aren't quite the same as acoustic instruments, but they come pretty close.
Pros
Variety of sounds
Connects to headphones
Works with a neck strap
Uses saxophone fingerings
Cons
Somewhat expensive
Kind of bulky
Roland AE-20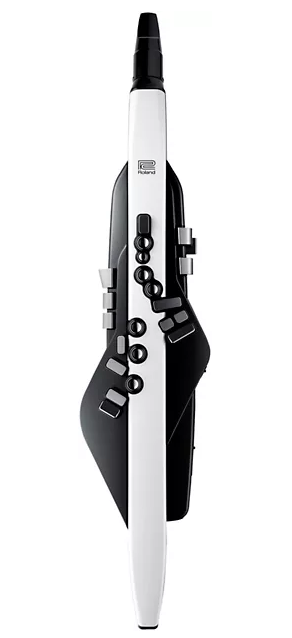 The Roland AE-20 is similar to the AE-30 (which I'll share next), but it's slimmer in design. You can choose from different fingering systems, including clarinet fingerings.
This model also offers dozens of different sounds so that you can play clarinet tones or something else. It connects to your computer with Bluetooth or a MIDI cable, and you can use the speakers or headphones to play it by itself.
You will need to buy batteries, and you only get about six hours of use per set. So it's not the best option for people who want to play it all of the time, but it can suit casual players.
Pros
Clarinet fingerings
Tons of sounds
Multiple input and output options
Good for casual players
Slim design
Cons
Short battery life
Somewhat expensive
Roland AE-30
The Roland AE-30 is the company's top EWI model. You can choose from more than 300 instrument sounds, including electric and acoustic options.
It features ergonomic controls, so you can remain comfortable as you play. This model works using Bluetooth or with a USB cable, and batteries power it if you want to use the speakers or headphones.
You'll use saxophone fingerings, but those are similar to clarinet fingerings. Of course, the controller is quite a bit more expensive than some other models.
Pros
Easy to use
Hundreds of sounds
Ergonomic controls
Saxophone fingerings
Cons
Very expensive
Not for beginners
AKAI Professional EWI Solo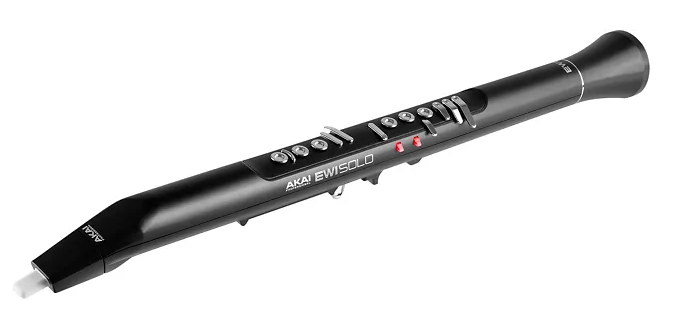 The AKAI Professional EWI Solo is a very slim electric clarinet and looks like a regular clarinet. You'll get access to 200 sounds right on the instrument, so you can get the sound you want.
This model works with saxophone, flute, or oboe fingerings. While none are the same as clarinet fingerings, they're all very similar, so you can choose a mode that works for you.
You can connect to headphones or even to a full PA system, and it works with a USB cable. Plus, it features a range of five octaves so that you can play almost any note you'd need to.
Pros
Easy to play
Slim design
Different fingering modes
Multiple connections
Rechargeable
Cons
Not for beginners
Somewhat costly
AKAI Professional EWI 5000

If you want a different model from the brand, try the AKAI Professional EWI 5000. It uses a rechargeable battery, but you can also use the USB to connect it to your computer.
I love that you can switch between flute, oboe, and sax fingerings, but it'd be nice if clarinet was an option. Still, you get access to tons of sounds to experiment with your playing.
This model is a bit thicker than the other AKAI model, but it's still less bulky than some of the Rolands. It's also not as expensive as some other EWIs.
Pros
Slim design
Multiple connection options
Rechargeable battery
Hundreds of sounds
Choice of fingering system
Cons
A bit expensive
Not for beginners
FAQs about How to Find the Best Electric Clarinet
Question: Why Would You Play an Electric Clarinet?
Answer: You would play an electric clarinet if you want to practice without disturbing others. Another excellent use is if you want to record yourself but don't have a mic since you can usually use a MIDI connection.
I love that you don't have to deal with reeds either, and you can play with different sounds. That can make practicing a bit more fun if you're bored of playing your regular clarinet.
Question: Is an Electric Clarinet Expensive?
Answer: Some electric clarinets can be expensive, but others are much more affordable. I've seen models ranging from around $300 to $1,600.
Be sure to set a good budget based on your financial situation. Then, you won't overspend on your electric wind instrument.
Question: Can Beginners Learn on an Electric Clarinet?
Answer: Beginners can learn on an electric clarinet, but I'd recommend against it. You should learn to play a regular clarinet so that you can learn about breathing and air control.
You'll also be able to learn the regular clarinet fingerings more easily. After a while, you can add an electric model to your practice rotation.
Question: How Do You Mic Up a Regular Clarinet?
Answer: I've seen composers, such as George Crumb, call for electric instruments when all they mean is that you should add a mic. To mic a clarinet, you really need two mics.
Put one of the mics near the bell of the instrument so that it captures the lower notes. The other mic can go near the middle of the clarinet to pick up notes where you don't close as many keys.
Final Note on How to Find the Best Electric Clarinet
If you're tired of not practicing clarinet as much as you want, consider how to find the best electric clarinet. That way, you can plug in some headphones and practice whenever without disturbing others.
I'd recommend the Roland AE-20 since you can use clarinet fingerings. But be sure to consider other options that might fit your budget a little better.
For more interesting readings check out: