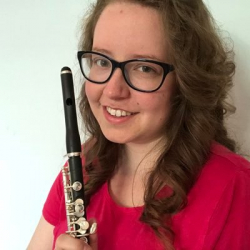 Latest posts by Hannah Haefele
(see all)
Do you want to explore the bass line in your local flute choir? You should learn how to find the best bass flute so that you get an instrument that meets your needs.
The bass flute sounds an octave lower than the regular flute, and it can be super fun to play. I got to play the bass flute a bit in college, and it was fun, but I quit playing it because it was so heavy.
However, I've learned of some bass flutes that are less heavy. So I might look into trying the bass flute again.
Bottom Line Up Front: The GUO New Voice Tenor Flute (really a bass) is the best bass flute model. It's lightweight and much more affordable than other instruments, but try as many models as you can to choose the one for you.
How to Find the Best Bass Flute
If you like the low register of the C flute, you may want to learn how to find the best bass flute.
While I prefer the alto flute when it comes to low flutes, it does require you to transpose your part. The bass flute is in the same key as the C flute, so you don't need to worry about that.
However, you should consider some things to choose the right bass flute for you. Like any instrument purchase, selecting a bass flute is very personal.
Luckily, you can use the following tips to help narrow your search for your new bass!
Start with Your Budget
Since the bass flute is quite large, it can quickly get to be very expensive. The cheapest bass flute I've seen from a reputable brand costs more than $2,000.
And it only goes up from there since most other models start at $3,500 to $4,000. Some bass flutes cost more than $10,000, so you'll need a lot of cash for those models.
Having a budget can help you narrow your search for the best bass flute on the market. Then, you can make sure to get an instrument that works without draining your bank account.
Stick to Reputable Brands
If you go on Amazon, you can find some good bass flutes, but you can also find some cheap models. As much as I'd love to get a bass flute for less than $1,500, I know it's probably not going to last long.
A lot of really cheap instruments can go out of adjustment easily. Sure, you could take them to a repair tech, but most techs won't work on them.
Some cheap flutes use parts that are a different size from most models. In other cases, the cost of the repair far outpaces the value of the bass flute, so it makes more sense to replace it.
Save yourself the trouble, and splurge a bit more on your new bass flute to get the most out of it.
Know where You'll Play It
Another thing you should consider is in what situations you'll use the bass flute. The most common setting is a flute choir, which uses flutes from the piccolo down to the bass or contrabass, and that's where I played the bass.
But I know there's also the Claude Bolling Suite for Flute and Jazz Piano Trio. If I remember right, one of the movements is for bass flute, so you can play it as a soloist.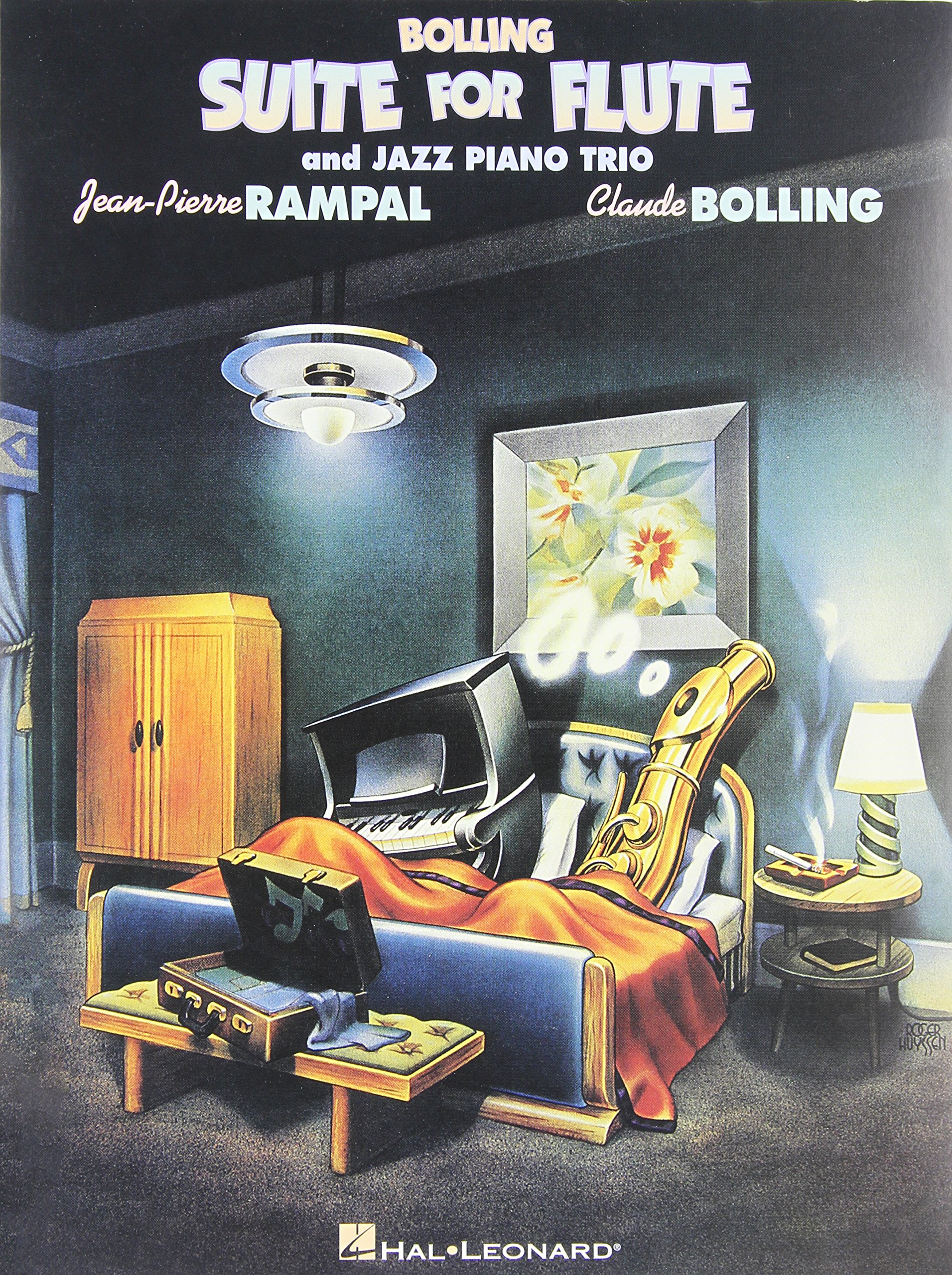 I'd recommend knowing how you'll use the bass to help choose a model. If you plan to do a lot of solo stuff, you'll need a bass that projects well, but a flute choir bass flute should blend in well with the other low flutes.
Compare Materials
The vast majority of bass flutes are primarily silver-plated. Solid silver would make the instrument a bit too heavy, though some models feature a solid silver lip plate or a full silver headjoint.
However, you can also find bass flutes made of a gold-brass alloy, with black nickel plating, or even of plastic. All of those materials can affect the weight as well as the sound.
If you're like me, you might want to avoid silver plating. At least on my old C flute, the silver plating wore off, and I think that had to do with me since it doesn't happen to everyone.
Also, materials will have an impact on how much a bass flute costs. So make sure to compare the different models in your budget to decide which material you want.
Make Sure there Are Trill Keys
A lot of good bass flutes have trill keys, but not all models do. I've seen low flute specialist Chris Potter recommend you get a bass with trill keys since they have multiple uses on the bass.
Yes, you can use them for trills between C or C# and D or D#. However, you may need to slightly open one or both trill keys to help with the intonation or response of some notes.
Odds are, you'll use the trill keys for that purpose more than for fast trills since bass flutes usually have the bass line. Either way, it's good to have those keys if you can afford it so that you can play better.
The bass flutes I played had trill keys, and it's just nice when you're used to having them on smaller flutes.
Consider a B Footjoint
Another spec you might want to get is a B footjoint, which has become standard on the regular flute. A low B isn't as common on low flutes because it does add extra weight to the instrument.
However, having one allows you to play a half step lower than on a flute without it. That can come in handy when you're playing the bass line.
Without a low B, you'd need to leave the note out or play it an octave higher. Neither situation is ideal, so if you can handle the weight and can afford it, go for the low B.
Just make sure you have a plan for how to support the bass flute. It can be almost too heavy for some players. I'd only get a B foot if I were to buy a vertical model or a plastic model.
Think about Your Flute Brand
I'd recommend looking at the brand of your C flute and (if you have one) your alto flute. A lot of companies that make a bass flute also make other types of flutes.
Using myself as an example, I play a Pearl C flute and a Pearl alto. That means there's a good chance I'd like the Pearl bass flute since that brand works well for me.
But maybe you currently play a Trevor James flute or alto, so you might prefer that brand for your bass. You won't always want to stick to the same brand, but it offers a good starting point for bass flute shopping.
Decide on the Orientation
Most bass flutes have the standard orientation in that you hold the bulk of the flute off to the right. However, I've seen a couple of brands that make vertical bass flutes, and I love that.
My flute professor in grad school managed to buy the studio an upright bass flute for flute choir. I didn't get a chance to play it, but it looks like it would be a lot easier to hold.
It has a floor peg similar to a bass clarinet. That means you just have to keep the instrument in place, and you can adjust the peg to sit or stand when playing.
If I were to buy a bass flute, I would want to try a vertical bass since the regular ones are a bit uncomfortable for me.
Don't Ignore Used Models
Since bass flutes can be costly, I'd suggest looking at used models as well as new ones. I see Dana from The Flute Finder list used flutes of all types on her website and social media.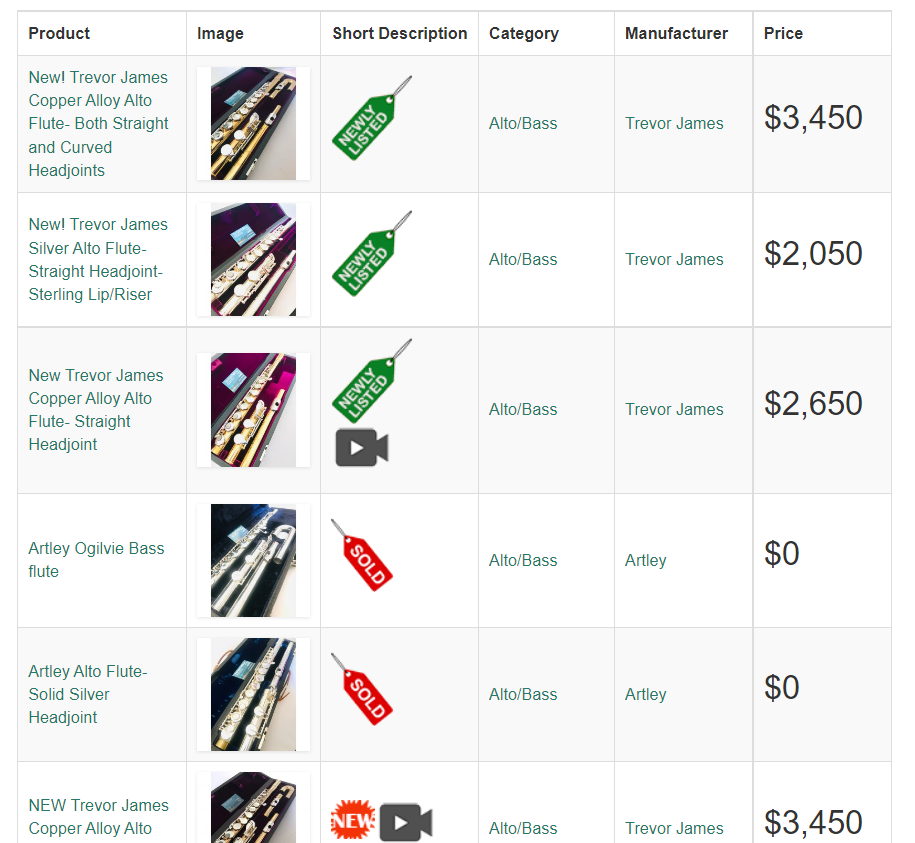 She can also help you look for a used bass flute if there's a specific model you want to try. In most cases, used models cost less than they do new, so you can save a bit of money.
That way, you can get a better bass flute without having to expand your budget. Plus, you'll open yourself up to more bass flutes than the new ones that you can find.
Try the Bass Flutes
If you only follow one of my tips, let it be to try a bass flute before you buy it. Trying regular flutes is important because your playing is different from everyone else.
But when it comes to low flutes, trying the flutes yourself is even more crucial. Bass flutes aren't as standardized when it comes to the key layout and spacing.
You could buy a bass flute, but you might risk getting one that is uncomfortable for you. Trying the bass allows you to make sure everything feels good to you.
Even if I recommend a particular model, you may find it doesn't work well. That's okay, so you should find the perfect model for yourself.
Experiment with the Angle
Now, before you decide that you don't like how a bass flute feels, experiment with the headjoint. All bass flutes have a curved headjoint, and it can take a while to find the angle you prefer.
Some players will place the lip plate side at the same height as the flute body. Others will hold the body lower and right under the headjoint.
A third group of players will use some angle in between. So with each bass flute you try, test out different angles to see what feels the most comfortable for you so that you can enjoy playing the bass.
I can't remember what orientation I used, but I would try a ton of options with each bass flute you test out.
Best Bass Flutes
I can share all of my best tips for how to find a bass flute. However, you still might not know which models to try, so here's a quick rundown of the best options.
To find models, I considered the brands that I've tried in the past and enjoyed playing. I also found instruments at a variety of price points and of different materials.
That way, there's something for everyone to try.
GUO New Voice Tenor Flute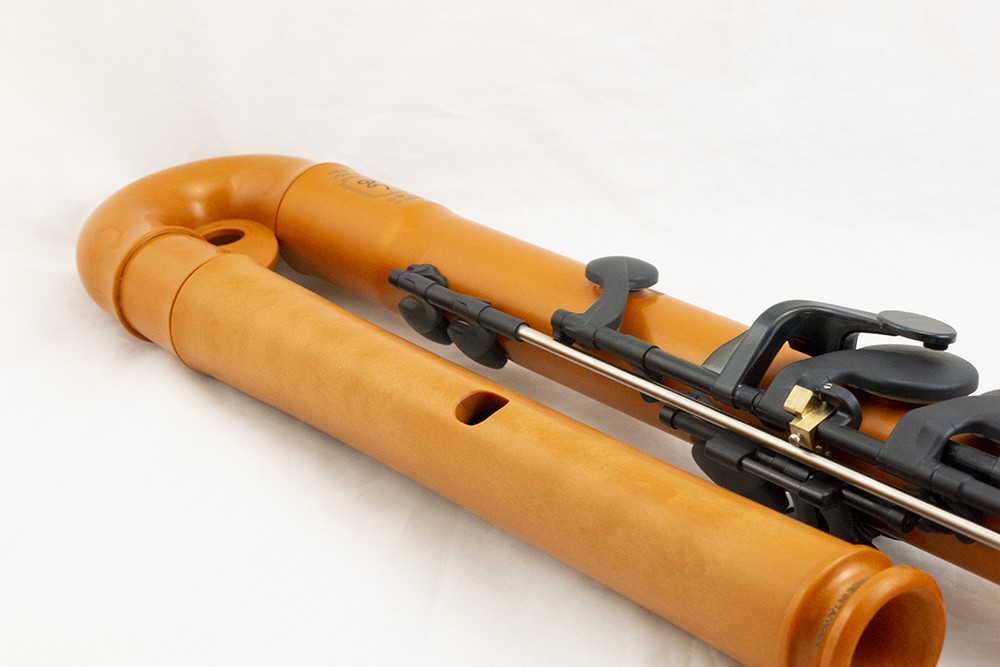 Despite its name, the GUO New Voice Tenor Flute is basically a bass flute. The flute uses some sort of plastic, so it's much lighter compared to a lot of other models (2.1 pounds compared to an average of 4.5 pounds).
It's also the most affordable model that you'll find from a reputable brand. There's a handcut embouchure hole to help you get a good sound, and you'll have a low B footjoint.
I love that the flute comes in fun colors, including pink, brown, and white. It also comes in gray, which can help it blend in with other metal basses.
While I haven't played it, I've seen a flute choir that had it, and I don't think it stuck out very much.
Pros
Affordable
Lightweight
Great sound
Easy to play
Low B
Cons
Pearl PFB305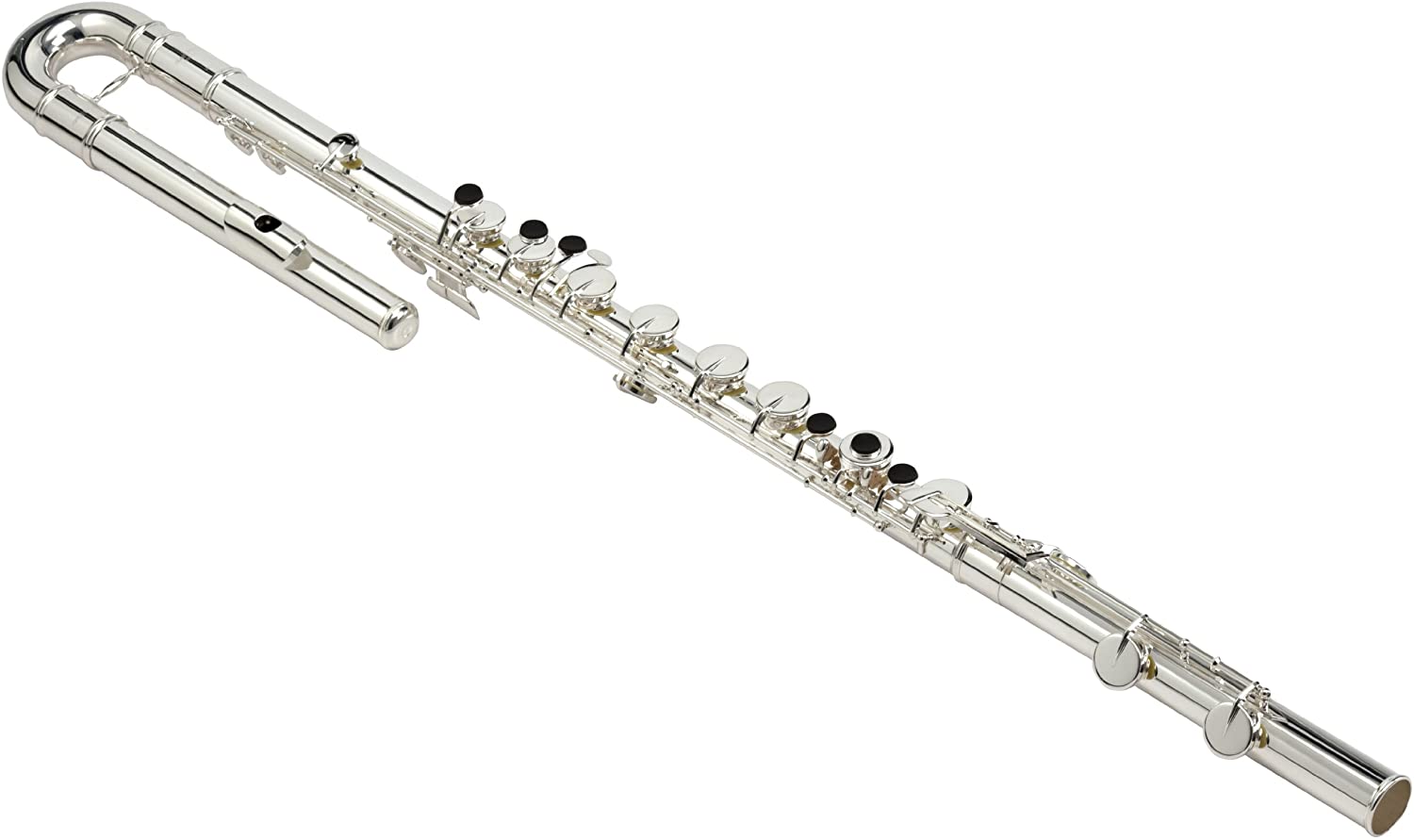 The Pearl PFB305 is an excellent silver-plated bass flute model. It comes standard with a C footjoint, but you can pay extra to get a B foot as well as a split E mechanism to help play the third-octave E.
I love the look of the wooden touchpads, and they may make the flute comfortable. You'll also get Pearl's signature pinless mechanism, which makes it easier for technicians to work on your flute.
One of my fellow flute choir members plays this model, and she sounds great on it. Since I play other flutes by Pearl, this may be a good fit for me, and it's not terribly expensive.
Pros
Different spec options
Pinless mechanism
Sounds great
Easy to hold
Cons
B foot makes it heavy
Not the most affordable
Jupiter JBF1000

I believe the Jupiter JBF1000 was one of the models my undergraduate college had. It's another silver-plated instrument, so it can blend in visually and sound similar to other basses.
The flute comes with an adjustable crutch to help your left hand keep from being too tense, but I remember the clutch wasn't the most comfortable. I like that it has a C foot, so it won't be too heavy to play.
If you've played a Jupiter flute, piccolo, or alto, you may like this bass. It's not the most expensive but also not the most affordable either.
Now, Jupiter isn't one of the more common flute brands. But their low flutes sound good and can work well for students.
Pros
Comes with a left-hand crutch
Easy to play
Nice sound
Not too heavy
Cons
No low B option
Expensive for what you get
Trevor James Bass Flute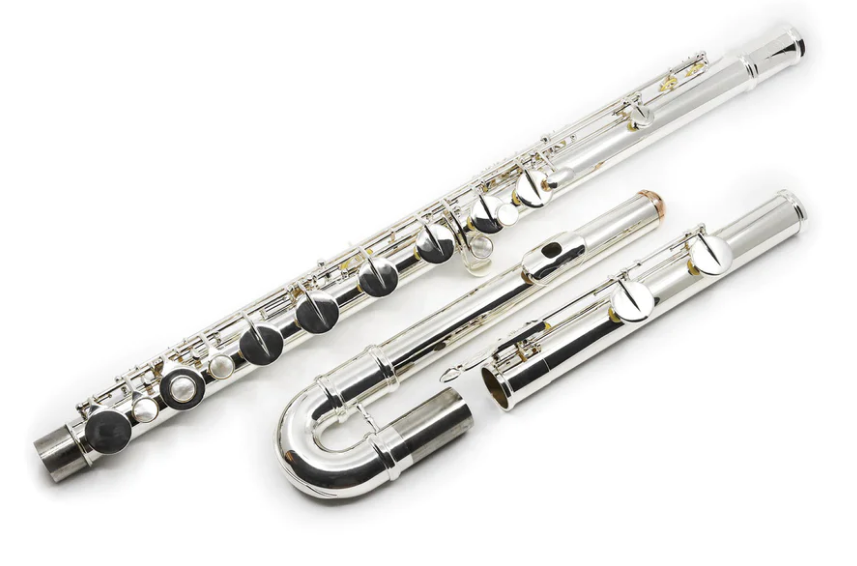 Another fantastic bass flute to consider is the Trevor James Bass Flute. One of my fellow flute choir members recently purchased one and sounds great on it.
Trevor James is well known for their altos and basses, and they're a great value. While they aren't the most affordable, you can get a nice sound and a good response.
I love that the bass flute comes standard with a C foot, so it's not too heavy. Sadly for you vegans out there, it does use mother of pearl finger buttons, but most flutes use pads made of skin from fish bladders anyway. The buttons are just the icing on the cake.
Pros
Great sound
Easy to play
Decent value
Not too heavy
Cons
Not for beginners
Not vegan
Di Zhao Vertical Bass Flute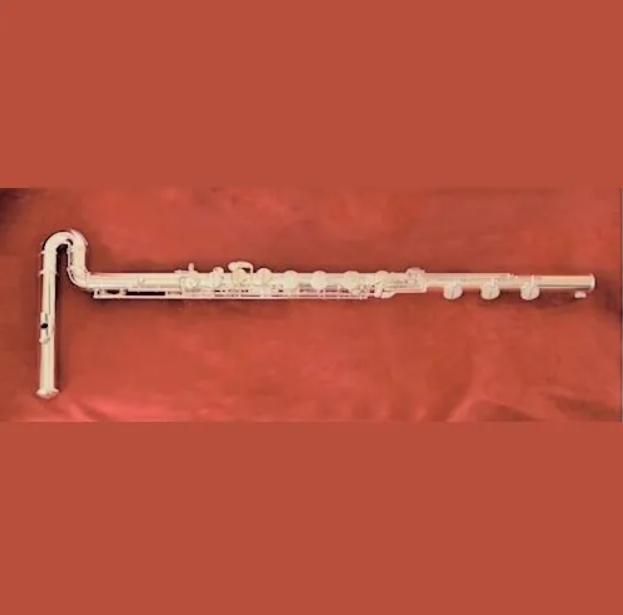 A couple of years ago, my university got a Di Zhao Vertical Bass Flute for flute choir and other ensembles. It has the same curved headjoint as other basses, however, the body goes down instead of to the side.
I love that because I remember struggling to hold a standard bass flute comfortably. While I haven't gotten to play this model, the flute student who did play it sounded amazing as a soloist and in flute choir.
This model comes with a floor peg to help support the instrument, and it can have a low B without the weight problem. But the case is much larger than other bass flute cases.
The case does come with multiple straps so that it's easy to carry. Just be careful, because I remember the backpack straps broke after a year or so of use.
Pros
No weight issues
Low B footjoint
Easy to play
Great sound
Cons
Large case
Available only via special order
Yamaha YFL-B441

The Yamaha YFL-B441 is an excellent bass flute, and I got to play one in college. It uses a gold-brass alloy, so it looks and sounds different from most other basses.
It has the same C foot you'll find on a lot of bass flutes, so it has the standard range. The trill keys also make it easy to help correct for sound issues.
I love that it has a plastic crutch for your left thumb to make playing more comfortable. However, at least the model I got to play was always going out of adjustment, so it required a lot of maintenance.
But that may have just been that one bass, and you might not have the same problem. You will need a pretty big budget to get this bass flute though.
Pros
Great sound
Unique appearance
Plastic crutch
Nice materials
Cons
Quite expensive
Can go out of alignment
Altus Bass Flute 823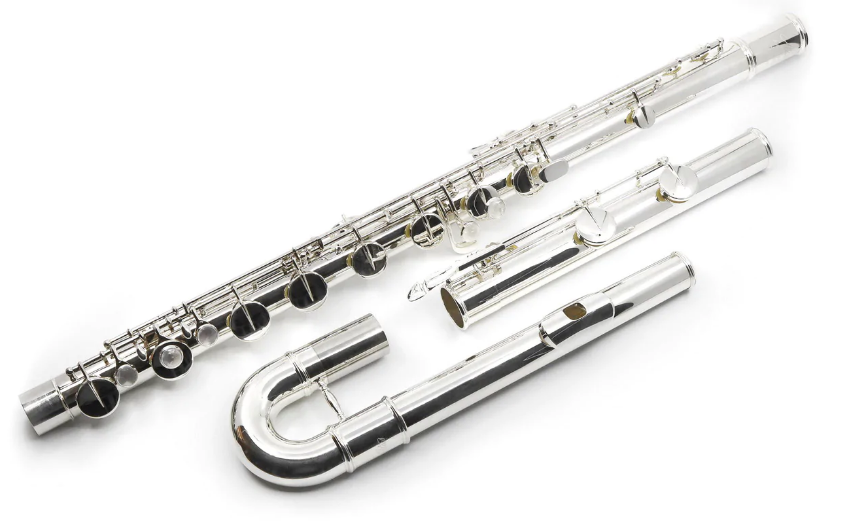 If you're looking for a professional model, consider the Altus Bass Flute 823. It features a sterling silver riser and lip plate, but the rest of the instrument is silver-plated to keep the weight down.
Like the Trevor James, the Altus has mother of pearl finger buttons. This model also has a soldered C# tone hole, but I'm not totally sure how that affects your sound.
You can play down to a low C, so you don't have a B foot. I imagine this model is handmade because it's a lot more expensive than other bass flutes with similar specs.
Altus makes excellent C flutes, so their bass flute is probably up there in terms of the quality.
Pros
For serious players
Good sound
Nice materials
Quality
Cons
Very expensive
Not for beginners
Kingma Bass Flute

When talking about the best bass flute, I have to mention the Kingma Bass Flute. Eva Kingma is a low flute maker, and she makes her instruments by hand.
This model has a solid silver headjoint and a silver-plated body. That means it's going to be more expensive and a bit heavier than most basses.
However, it comes with a Wiseman case, and Wiseman cases are usually pretty compact so great for travel. When ordering, you can opt for a C or B footjoint.
Also, Kingma is in The Netherlands. That means you'll have to pay a lot for shipping and import taxes if you live in another country, like the US.
Pros
Great for professionals
C or B foot
Comes with a good case
Nice sound
Cons
Very expensive
Hard to find
FAQs about How to Find the Best Bass Flute

Final Note on How to Find the Best Bass Flute
Understanding how to find the best bass flute may seem simple if you know how to find any other flute. But there are some special considerations, like the materials and weight.
I'd recommend trying the GUO New Voice or Di Zhao Vertical models if weight is an issue. If money's the bigger problem, GUO is also great as well as the Pearl bass flute, and I'd love to try those models myself.
Like other flutes, though, bass flutes are very personal. The model that works for me might not work as well for you and vice versa. Try the models yourself to make sure you get the one for you.
For more interesting readings check out: