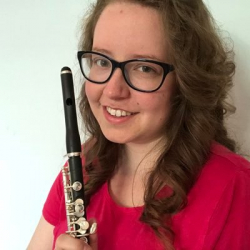 Latest posts by Hannah Haefele
(see all)
I've played the flute for over a decade, and the first flute I called my own was a cheap model from Amazon. However, I quickly learned it was from one of the top flute brands to avoid.
Not all flutes on Amazon are of low quality, and I even bought a piccolo off the site. Still, I've learned a lot about which brands are reputable and which ones aren't.
For a while, I thought these brands were always bad. I still somewhat stand by that, but I know that it's classist to say cheap flutes are always bad.
If possible, do what you can to avoid certain brands. You can look for a rental program or a used flute from a better maker.
Bottom Line Up Front: You should do your best to avoid flute brands such as Glory, Eastar, and Jody Blues. If you have to get a cheap flute, I'd recommend looking for a used model from reputable brands like Yamaha.
Top Flute Brands to Avoid
I've played on five flutes over the last 11 or so years, and they're all from different brands. Now, some flutes are better for me than others, and the same is true of you and your playing.
However, I've found quite a few flute brands that everyone should avoid if possible. When it comes to these brands, the problem doesn't have to do with the type of sound you get.
Instead, it has more to do with the build quality of the actual instrument. I looked for some flute brands that I would never recommend to others, and I stuck to cheap models since cost usually correlates to quality.
Here are some brands you should avoid at all costs.
Conductor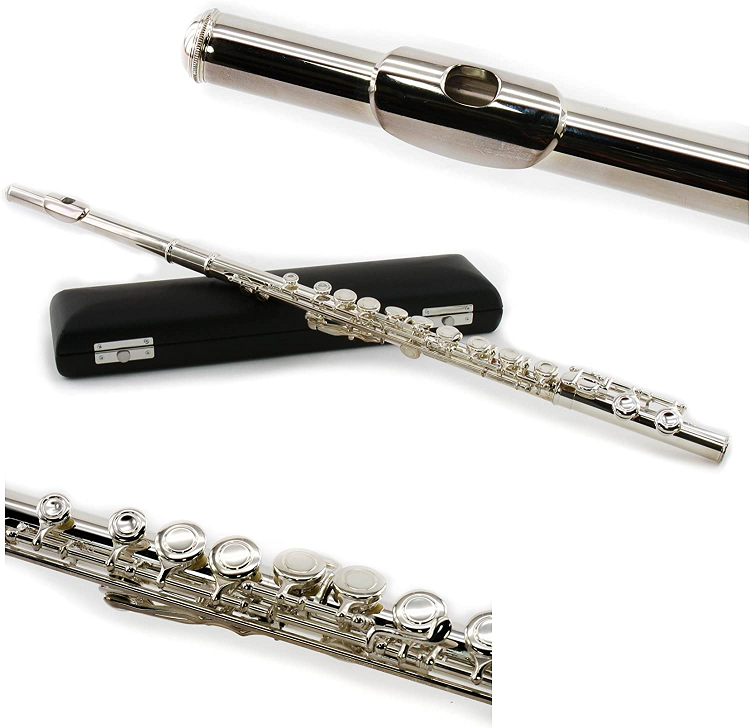 When I was in high school, I started playing a flute that my band director owned. After a while, my parents decided to buy me my own flute, and it was a Conductor model.
You can't get this brand anymore, but I think that's a good thing. It was a very cheaply-made instrument, and I had to upgrade about nine months later.
I was able to get a decent sound out of it, but it wouldn't have helped me play much better. Sure, it has a split-E, which isn't on all beginner models, but the springs can come out of place easily and make playing harder.
Pros
Decent design
Silver-plated
Good for beginners
Affordable
Cons
Not available anymore
Didn't last long
Cecilio
The Cecilio flute is another brand I'd highly suggest you avoid. It has a C footjoint and closed holes, which are pretty standard specs for beginner models.
However, it doesn't sound as good as some other flutes for students. It's also very cheap compared to reputable student flutes, so the company probably has to cut corners to manufacture the instrument.
Plus, it comes with a case, cleaning cloth, gloves, and flute stand. All of that costs money, so the value of the flute is lower than the list price.
Pros
Comes with accessories
Decent price
Standard specs
Suitable for beginners
Cons
Cheap materials
Price is too good to be true
Eastar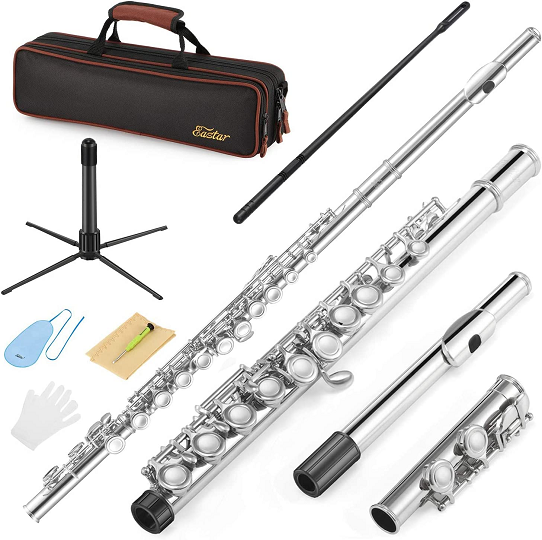 No, I didn't misspell "Easter." There's actually a flute and musical instrument brand by the name of Eastar, and it's one of the brands you should avoid.
This flute comes in silver or nickel, but it also comes in crazy colors that no flute should be of. The listing mentions the use of elastic sheep casings, which aren't a thing on other flutes.
Now, you do get some accessories, such as cleaning supplies and a flute stand. But it also comes with gloves and a screwdriver, which you don't need to play the flute.
Pros
Comes with accessories
Cheap
Silver and nickel options
Cons
Weird colors
Use of elastic sheep casings
Doesn't sound good with other flutes
Glory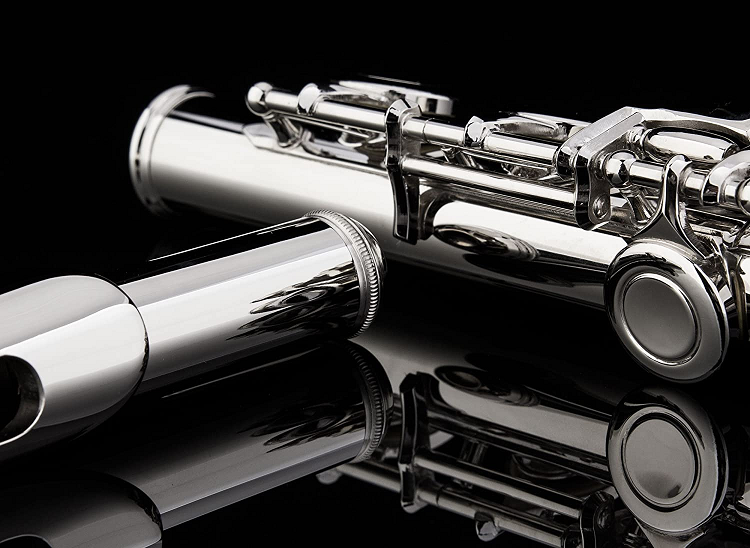 The Glory flute is probably one of the cheapest options I've seen. My first issue with it is that they claim to use leather pads, whereas most flutes use bladder pads (leather is used for saxophone pads, though).
It also uses cupronickel, which is a very cheap material. Any good flute will use standard nickel or nickel silver if the flute isn't made of solid silver or another precious metal.
That means if you dent the flute, it can be almost impossible to fix. It also comes with joint grease, which you don't need to use on a metal flute.
Pros
Cheaper than others
Okay for students
Piccolo is available as well
Cons
Low-quality materials
Unnecessary accessories
Impossible to repair
Herche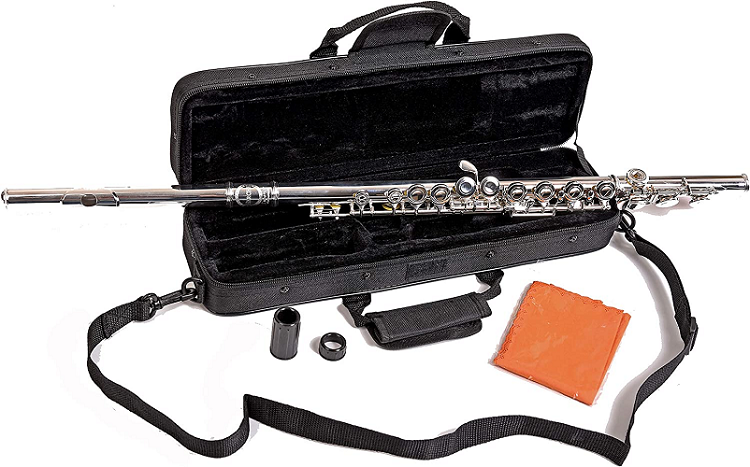 I found the brand Herche in my search for flute brands to avoid. It supposedly uses nickel silver, which is better than some other cheap flutes.
This model costs more than some of the flutes I found, but it also claims to be a professional flute. As someone who has shopped for and bought a pro flute, a good one costs at least $5,000, not less than $300.
Sure, you get a nice case and a cleaning cloth to protect the flute. However, the listing has to mention how great the flute is, and an actually good flute brand doesn't need to do that.
Pros
Decent materials
Not too expensive
Comes with accessories
Cons
Not actually professional
Hard to play
Low-quality
Jody Blues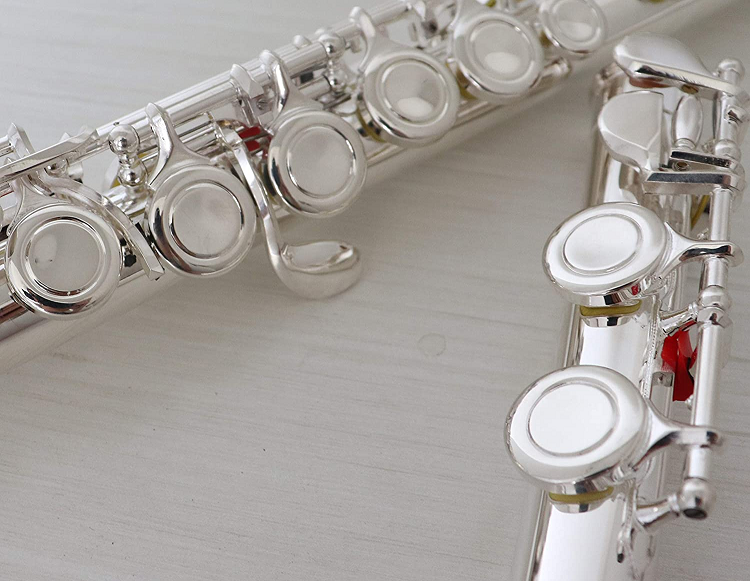 The Jody Blues flute brand is another super cheap option. It has a copper body with nickel silver plating, which is probably what makes it so low-cost.
You get some cleaning accessories and a case to store the flute in. I saw that it claims to have a detachable split E mechanism, which sounds great, but it's expensive on reputable flutes so might not be true.
Like so many other cheap flutes, it comes with joint grease that you don't need. And of course, all of the accessories cost money, so they're probably of low quality as well as the instrument.
Pros
Cheaper than some
Comes with accessories
Silver plating
Cons
Unnecessary accessories
Low-quality
Plays too sharp
Lazarro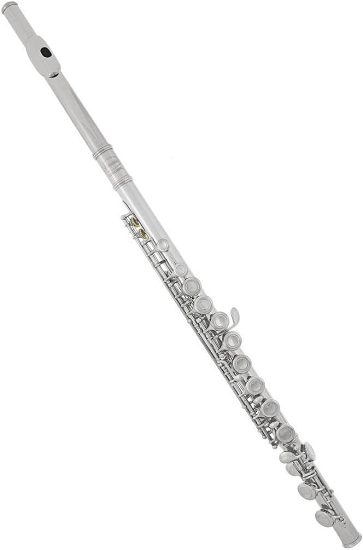 If you want a cheap professional flute, Lazarro claims to have what you want. But as I mentioned earlier, none of these flute brands are anywhere close to professional, even if it's in the product title or description.
This model uses cupronickel, which is a very cheap material that won't last long. Plus, you can choose wild colors, and you just won't have that option with reputable brands.
Of course, it also comes with cleaning supplies including the very unnecessary joint grease. I also don't like how it has a hard case, so there's nowhere to put your accessories without stuffing them in or on top of your flute.
Pros
Relatively affordable
Made in the USA
Comes with cleaning supplies
Cons
Cheap materials
Low-quality
Nowhere to store your accessories
EASTROCK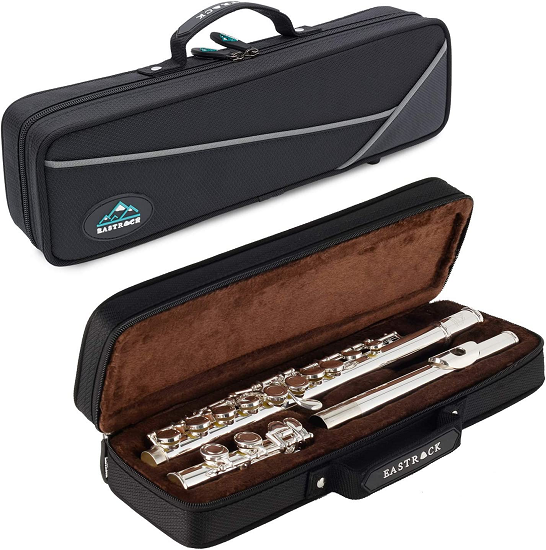 The EASTROCK brand is another one that all flute players should avoid. Like many other cheap brands, this one comes in various colors that you just don't need.
It also uses cupronickel, so I can't imagine the flute will last very long. The listing claims they use professional pads, but I highly doubt that considering a set of professional pads alone costs $20 to $90+.
Now, I do like that it has a split E key since that can help you play the high E. And at least it doesn't come with joint grease (from what I can tell).
Pros
Affordable
Split E key
Worthwhile accessories
Cons
Cheap materials
Not the most accurate description
Not for serious players
Vangoa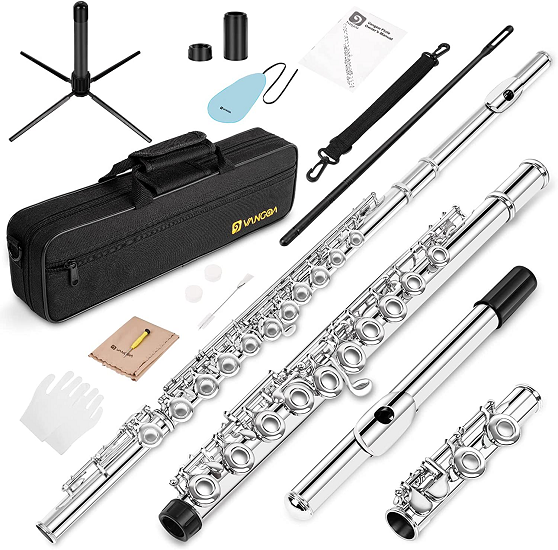 Another brand you should do your best to avoid is Vangoa. This flute brand may have a good-looking price tag, but that cost comes with some drawbacks.
I like that it has a square embouchure hole, which can be more forgiving for beginners. However, it has a cupronickel body so can't be of great quality.
This flute comes with a variety of accessories, including a case, flute stand, and cleaning supplies. But the listing says it's "band director-approved," which makes me question if it actually is since they have to say so.
Pros
Forgiving embouchure hole
Decent accessories
Affordable
Cons
Cheaply made
Doesn't last long
Not for kids
VANPHY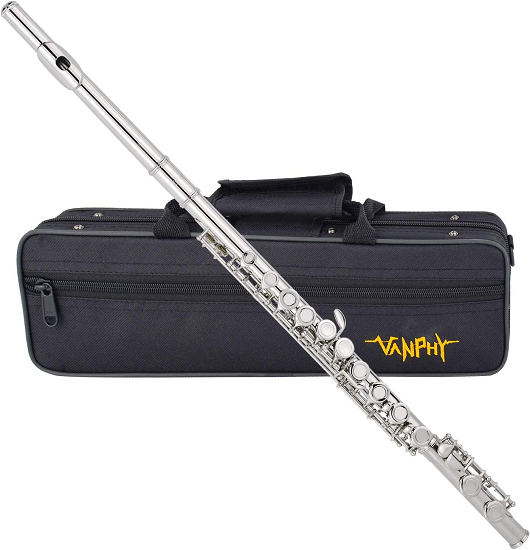 The VANPHY flute is also very cheap, but that means it's probably not well made. It claims to feature a "separate E button" which isn't the proper way to note a split E key.
Of course, it has to come with joint grease, and I can't stress enough how much you don't need it. I do like that they offer a two-year warranty, but that makes me wonder if their flute lasts a couple of years and then breaks after the warranty ends.
As with many other brands on this list, the flute uses cupronickel, so it's probably not very durable. It also claims to have elasticity, which you don't want in a flute.
Pros
Decently cheap
Comes with accessories
Nice case
Cons
Low-quality materials
Inaccurate description
Doesn't always include all accessories
Ebriche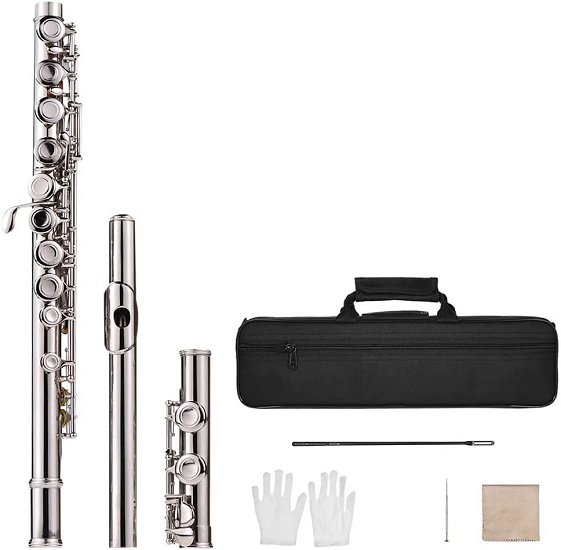 Out of all of the flute brands I found, it looks like Ebriche currently has the lowest price. Of course, it uses cupronickel, which probably contributes to the low cost.
You'll get some accessories, such as cleaning supplies but also unnecessary joint grease. It looks like the flute also has a split E key, which can help the third octave E respond better.
As I read the description, I noticed some grammatical errors. Sure, that's not a huge deal, but it tells me that the brand isn't very professional.
Pros
Cheapest flute I could find
Comes with cleaning supplies
Split E key
Cons
Some unnecessary accessories
Cheap quality
Not a professional brand
Aisiweier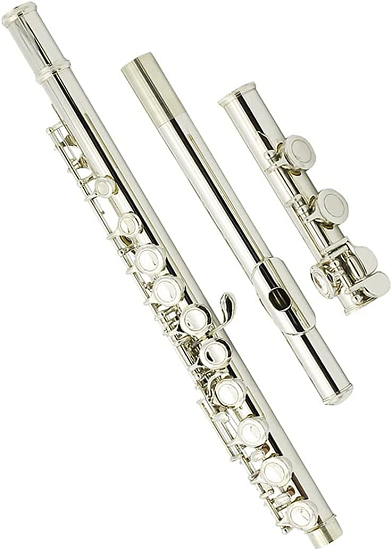 Aisiweier is yet another one of the flute brands you should avoid. The model I found is very low priced, which sounds good, but it has all of the hallmarks of a cheap, low-quality flute.
It claims to be for professional performance, but most professional flutes cost 40 or 50 times as much as this one. I also wouldn't trust any flute brand that lists the number of keys in the description.
Some people have said that it's difficult to tune, so it's not good for students either. It does come with some good accessories, but you don't need gloves to play or clean the flute.
Pros
Good for absolute beginners
Affordable price
Decent materials
Cons
Low quality
Not for professionals
Incorrect terminology
How to Know If You Should Avoid a Flute Brand
I can't imagine I included every cheap, low-quality flute brand in this list. So I want to share some things you can look for to determine if a company is worth buying from.
Here are a few signs you should avoid a flute brand, even if I didn't mention it specifically.
Where It's Available
The most significant thing to note is where you can buy the brand. If you find it on Amazon or eBay, that's not necessarily a bad sign.
I bought my second piccolo from Amazon, and it's from a good company. However, consider if the flutes you find on Amazon or eBay are also available from flute shops.
Look at Flute Center of New York, FluteWorld, and Carolyn Nussbaum Company. Flute Specialists and Flutistry are also excellent choices, and UK flute players can shop at Just Flutes.
If you can't find a brand at those major flute shops, you should probably avoid it.
Materials
You might also want to consider the materials of the flute as well as the plating material (if applicable). A lot of the cheap flutes I found use cupronickel, which is a soft material that can bend easily.
Most decent student flutes use nickel silver as the base material with silver plating. Of course, a lot of pro models use solid silver or even solid gold.
Colors
Along with the materials, consider if the flute comes in strange colors. Reputable brands don't make blue, pink, or purple flutes, so you can count on silver or perhaps gold.
You can watch a few videos from Katie Althen where she tests a cheap pink flute. She can show you how cheap these flutes can be.
Price
Another excellent aspect to consider is how much a flute costs. All of the flutes I included in the list of brands to avoid cost less than $300.
When it comes to reputable flutes, they'll start closer to $500 when new. Sure, used flutes cost less, but they'll still usually cost a bit more than many cheap brands.
Description Terms
A good flute brand doesn't need to convince you it's a good flute brand. If you see terms like "high-quality," "band director-approved," or "professional," run the other way.
Using my Pearl piccolo as an example, the listing only has to include the basic specs. The brand doesn't have to try and get you to trust that they make good instruments.
I'd also avoid any flute that lists the number of keys. That comes in handy for ethnic flutes or Baroque flutes, but good modern flute brands don't share the number of keys the model has. If anything, they might say it has a C foot or B foot.
Incorrect Spec Names
Another red flag to look out for is how the brand lists certain specs. The biggest mistake I found was VANPHY calling a split E mechanism a "separate E button."
For one, that's confusing, because even flutes without a split E have a separate key to play the note E. But it also tells me as a pro flutist that VANPHY doesn't know what they're talking about.
If they can't get the specs right, why should I believe they know how to make good quality flutes?
No Model Name or Number
I'd also hesitate to buy a flute from a brand that doesn't also have a model name or number. Some reputable flute brands only have one model piccolo or one alto flute.
But at least when it comes to C flutes, most good companies have at least two models. That means they have to have a model name or number to distinguish between the flutes they sell.
FAQs About the Top Flute Brands to Avoid
Question: Why aren't all Flute Brands Good?
Answer: Some flute brands aren't good because they use cheap materials and low-quality manufacturing processes. Because of that, the flutes the company makes won't last as long as a flute should.
I've heard of flutes from Haynes or Gemeinhardt lasting decades. But my cheap Conductor flute didn't even meet my needs for a whole year.
Question: Why Should You Avoid Cheap Flute Brands?
Answer: You should avoid cheap flute brands because they can break easily. Repair technicians probably won't fix the problem since the repair cost often outweighs the value of the instrument.
These cheap flutes are also harder to learn on due to the low quality. And as odd as it seems, you could waste money since you'd need to upgrade to a better flute in a few months anyway.
Question: Is There Ever a Time to Try a Cheap Flute Brand?
Answer: I'll admit that there are two instances where I would recommend a cheap flute. The first is for a beginner looking to try the flute who can't justify buying a better model but also can't afford a rental program.
Another scenario where a cheap flute is nice is if you travel often. As long as you don't need to perform on your travels, you can bring a cheap flute to practice on. Losing it won't be as devastating as losing your good flute.
Question: How Much Does a Good Flute Cost?
Answer: A good beginner flute will start at around $500 or so. Intermediate models start at $1,200, and professional flutes cost anywhere from $4,000 or $5,000 to $87,000.
Most players can get away with a flute for $10,000 or less, especially if you don't plan on playing flute professionally.
Final Note on the Top Flute Brands to Avoid
You should avoid certain flute brands that use cheap materials or that include unnecessary accessories, such as joint grease. However, I understand that not everyone has $500 to spend on a flute.
If you have to get a cheaper model, I'd recommend the one from Conductor. I was able to get into a college band on that flute, so it might play better for you than some of the other top flute brands to avoid.
Looking for more interesting readings? Check out: