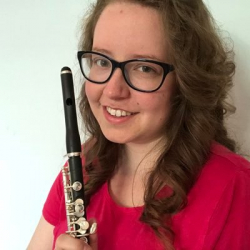 Latest posts by Hannah Haefele
(see all)
In the 11 or so years I've played the flute, I've tried dozens of brands, including Armstrong. When I was shopping for my first flute, I wish I had a best Armstrong flute models guide to read.
I didn't end up playing an Armstrong flute, but I did get an Armstrong as my first piccolo. The brand makes fantastic flutes of various sizes and at reasonable prices.
Had I known about these options, I might not have had to play a cheap, no-name flute for a few months. Read on so that you don't make the same mistake I did.
Bottom Line Up Front: The Armstrong 104 is the best flute for beginners, while piccolo players should try the Armstrong 204. But you should consider other models from Armstrong and its competitors to choose your perfect flute.
Best Armstrong Flute Models
Armstrong has had a long history of making flutes in the USA. The company started as a repair shop but then turned into a flute maker as well.
Tons of flutists have played an Armstrong flute. Even if Armstrong isn't the brand of your current model, you might have played one in the past.
While it's not as popular as it once was, it's still an excellent brand to consider. To help choose the best models, I looked at new and used choices.
I also compared student and intermediate models as well as flutes of different sizes. Here are some of my favorite Armstrong flute models that I'd recommend.
Armstrong 104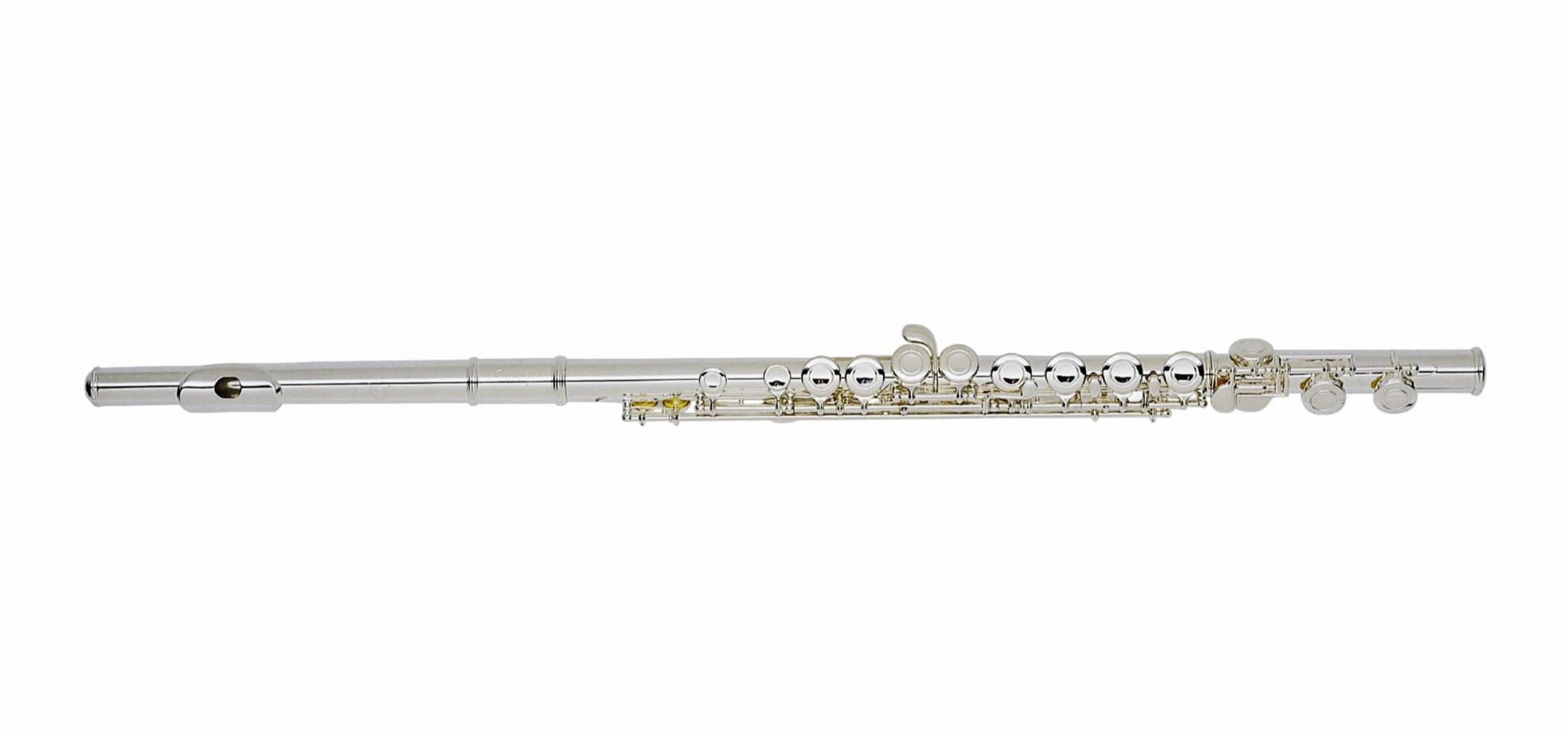 The Armstrong 104 is a classic student-level flute, so it's a fantastic choice. Like most student flutes, it features closed holes, so you don't have to worry too much about where to place your fingers.
It also features a C footjoint to keep the cost and weight down. I love that the whole thing is silver-plated, so it looks and sounds good for beginners.
You'll get good-quality pads that can last a while as you learn the flute. Sadly, this model is more expensive compared to student flutes from other brands.
Pros
Good sound
Easy to play
Nice embouchure hole
Standard specs
Decent pads
Cons
Armstrong 102
A similar model is the Armstrong 102, and it's also good for beginners. I like that it uses silver plating to keep from being too expensive, and there are closed holes like on most student flutes.
You'll get an offset G so that your left ring finger doesn't have to reach as far. The flute is a nice choice for many beginners, but it's a bit more expensive than the 104.
From what I can tell, the only difference between the models is that this one has top mount adjustment screws. I'm not a flute tech, so I don't know what that means or if they're worth the extra cost.
Pros
Good specs
Nice sound
Easy to play
Decent quality
Cons
Armstrong 800BOF

When it comes to intermediate models, you should try the Armstrong 800BOF. This flute features open holes, which means you'll need to have a good hand position to close the keys fully.
I love that the headjoint and body are both solid silver, so you can get a better tone than on a student model. But the keys are silver-plated to help keep the flute from being too costly.
The description says it has inline keys, but the picture appears to have an offset G key, so I'd want to see it in person first. It does come with a low B footjoint so that you can play most flute parts, and you get a slim case to protect the flute.
Pros
Affordable
For advancing students
Nice tone
Easy to play
Cons
Not for beginners
Some unclear specs
Armstrong Heritage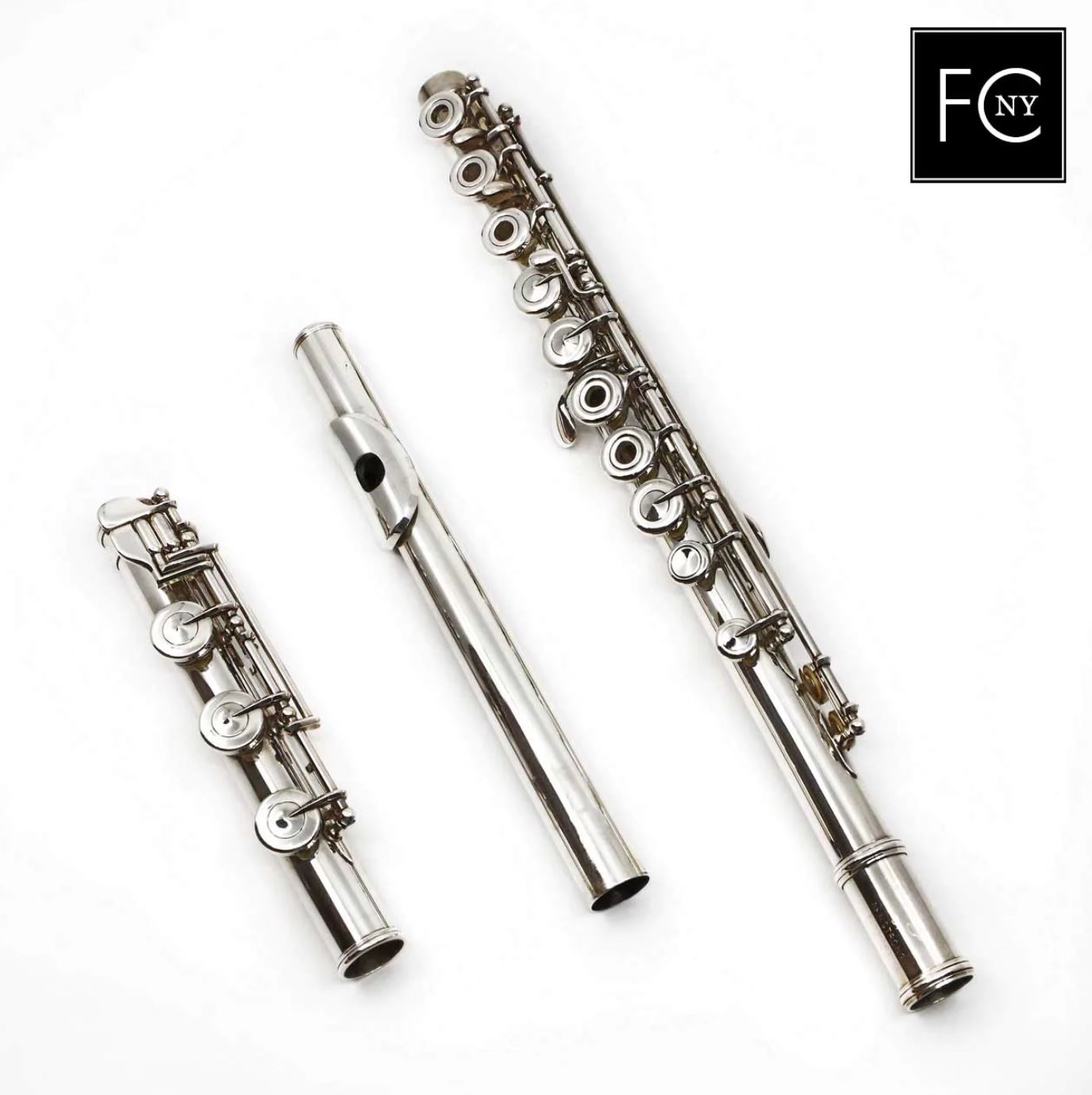 The Armstrong Heritage is an excellent introduction into the world of older flutes. I don't believe Armstrong makes this model anymore, so you'll need to find a used one.
This model features a solid silver headjoint, body, and mechanism to help you get a good sound. I love that it features open-hole keys, but I'd have trouble reaching the inline G since my ring fingers are short.
Still, you can get a good sound out of the flute, and you can plug the G key to make closing it easier. If you buy this flute from somewhere like Flute Center of New York, you can get it in like-new condition.
Pros
Good materials
Fun to play
Perfect for collectors
Full silver
Cons
Not available new
Not for beginners
Armstrong 204

The flute family is more than just the regular C flute, and Armstrong understands that. That's why they make the Armstrong 204 piccolo with all silver plating.
I got a used one as my first piccolo, and I loved getting to play it. The piccolo has an inline G, so it can be a bit awkward to play, but it sounded great in my college marching band.
It's a nice first piccolo since it has a lip plate to help you transition from the flute. The bore is also cylindrical like a C flute, so the tuning is similar.
But the full metal design means it can sound a bit shrill. I ended up having to upgrade when I struggled to get the piccolo to blend well with an orchestra.
Pros
Great for beginners
Easy to play
Nice specs
Projects well
Cons
Hard to blend with other instruments
Can sound shrill
Armstrong 307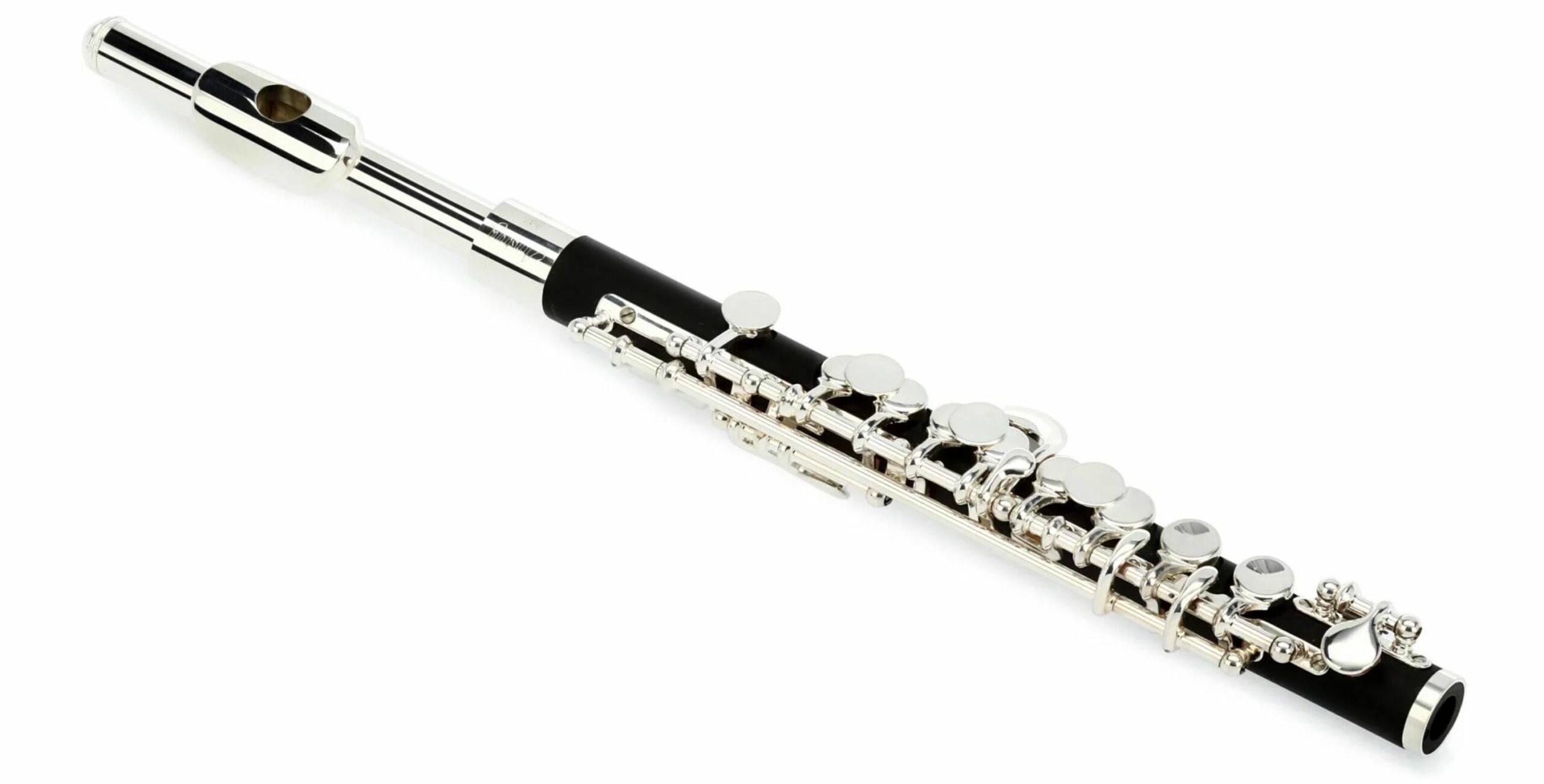 The Armstrong 307 is another fantastic piccolo for students. It features a metal headjoint with a lip plate, but the body is plastic, so it can sound less shrill than the 204.
I haven't played this model specifically but have played others with similar specs. Plastic bodies tend to be durable, so this piccolo would be great for indoor and outdoor use.
You can blend more easily when playing in an orchestra. However, you can still project the sound and not worry about playing a wood piccolo outside.
Pros
Versatile model
Easy to play
Good specs
Nice sound
Cons
Armstrong 308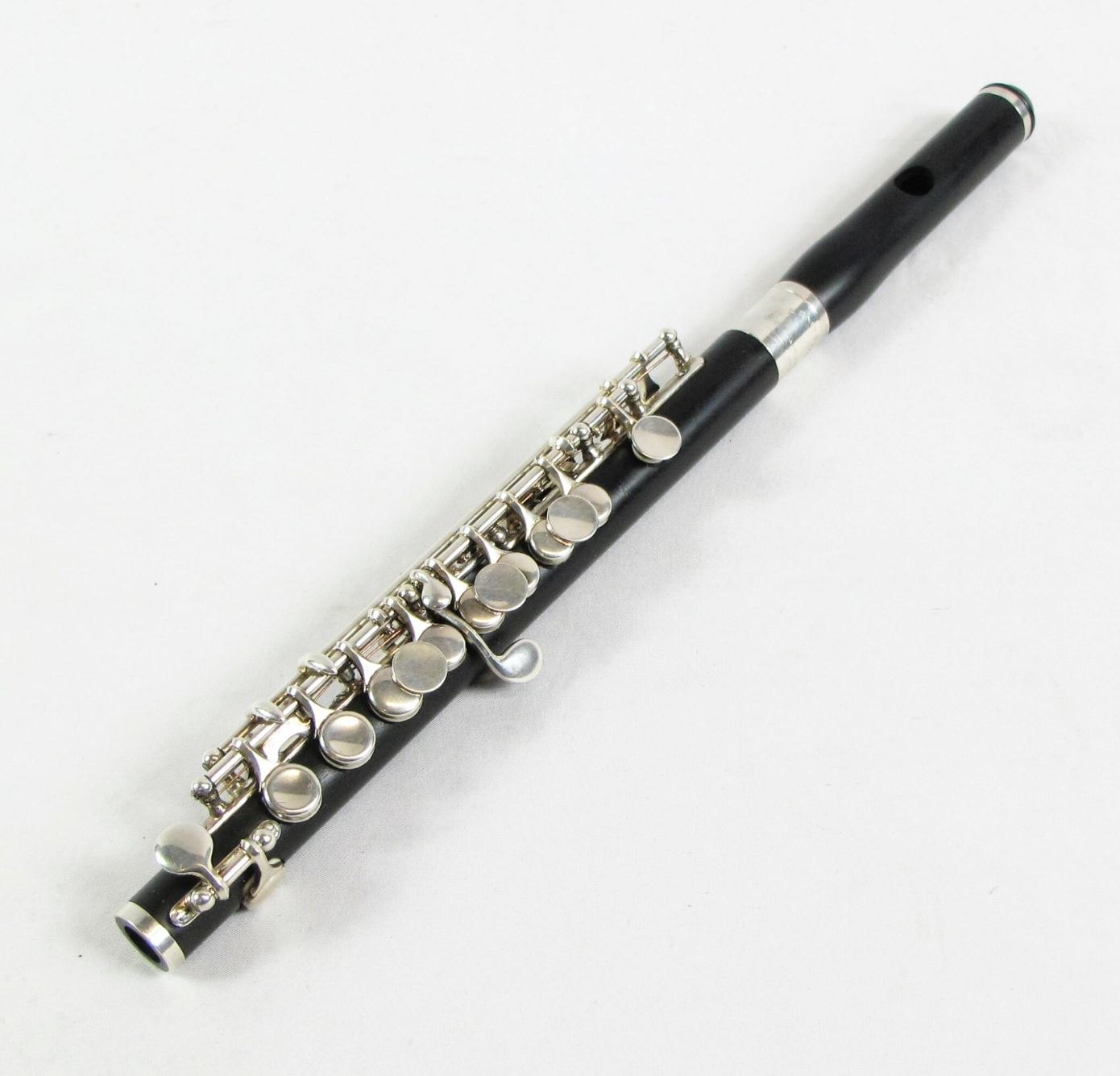 When I was in college, I briefly borrowed an Armstrong 308 from my university music department. The piccolo is all plastic except for the keys, so you don't get a lip plate.
But I don't think you need a lip plate to play the piccolo well. Plastic blends well with other instruments, so you can play this in a large ensemble.
Unfortunately, I could only find it available used. If you can find a 308, it might be a good piccolo model for your first few years of playing the instrument.
Pros
Good materials
Easy to play
Nice for beginners
Blends well
Cons
Hard to find new
Not for professionals
Armstrong Eb Flute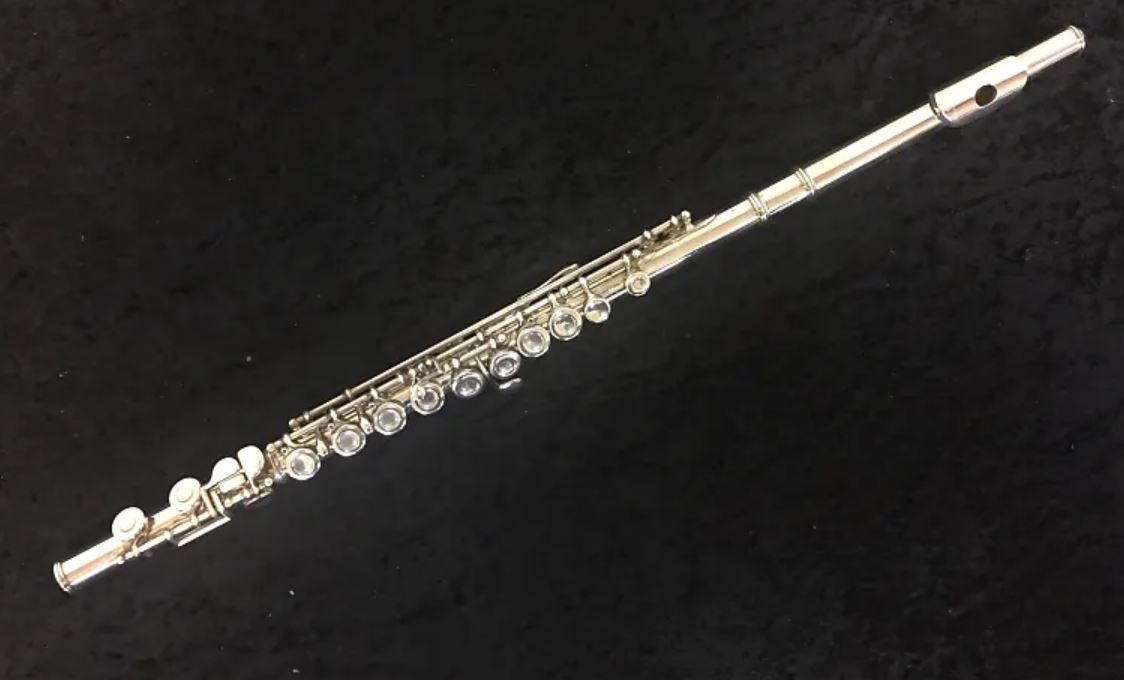 The Armstrong Eb Flute is one of only a few models of a flute between the C flute and piccolo. This flute plays a minor third higher than written, so it looks like a small regular flute.
Like some of the other models, I couldn't find a new one. But I like that you can find used ones for sale, so you can get the Eb flute if you want to expand your playing.
This model is all silver-plated, but I couldn't find a price for it. If you can get ahold of one, you may be able to use it in some flute choir pieces. I know there's an arrangement of Ravel's Ma Mere L'Oye that has an Eb flute part.
Pros
Rare flute
Silver plating
Nice sound
Fun to play
Cons
Not for beginners
Hard to find
Armstrong Alto Flute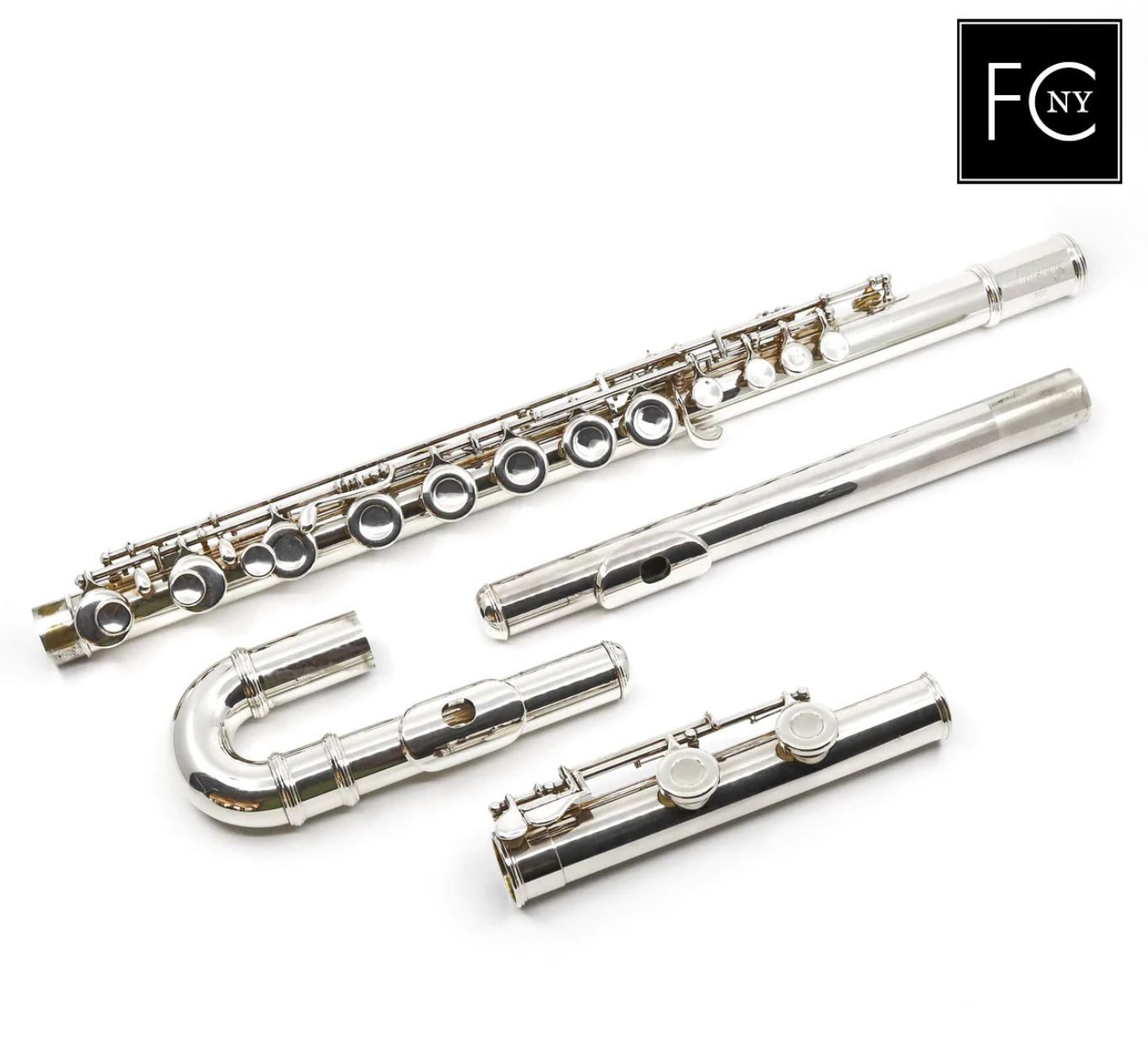 If you prefer lower notes, you might want to try an Armstrong Alto Flute. I believe I tried one a few years ago, but it could have been from another brand.
This model uses complete silver plating to keep the weight and price down. You'll also get a curved and a straight headjoint, so you can decide which one is more comfortable for you.
I love that this model features an ergonomic left hand design that brings your left hand closer to you. That way, you don't have to overstretch and cause tension while you play.
Pros
Comes with two headjoints
Good materials
Nice sound
Ergonomic design
Cons
Hard to find new
Not for serious players
How to Choose the Best Armstrong Flute Model
If you're looking at Armstrong flutes, you need to know how to choose the right model. Sure, the brand might work better for you than others.
However, that doesn't mean all Armstrong flutes will meet your needs. Whether you're a total beginner or have some playing experience, you should think about a few factors.
That way, you can choose an Armstrong flute you'll love to play.
Consider Your Level
First, you should think about your current level of flute playing. If you've never played the flute, I'd recommend the 104 or 102 since those are both beginner models.
Students who are ready for an upgrade might want to look at the 800BOF or the Heritage models. At this level, you should be able to try and compare flutes, so test both for yourself.
I haven't found any true professional-level flute from Armstrong. Some might have the title attached, but there are other brands that are better for more advanced players.
Review the Specs
Another thing that can help you is looking at the specs of different Armstrong flutes. The two beginner models are almost the same, but consider the three piccolos.
One uses all silver plating, while one uses all plastic for the body and headjoint. Meanwhile, the third combines a metal headjoint with a plastic body.
The right specs can affect how your instrument sounds and responds to you. In some cases, it can even affect your comfort if you have to reach too far to close a key.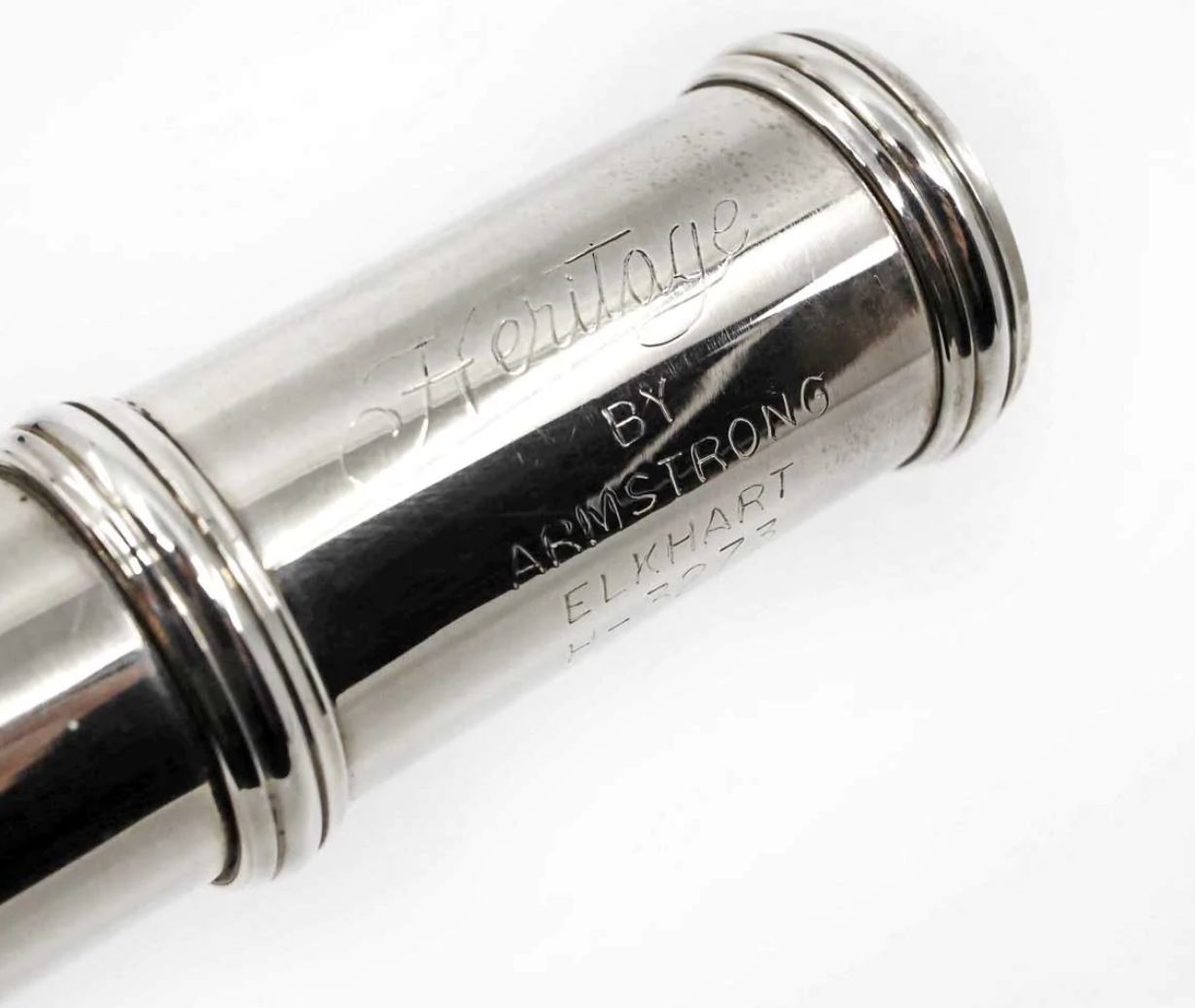 Think About Types of Flutes
Maybe you already play the flute and have a model you love, but you want to try the piccolo. In that case, you should try the 204, 307, and 308 to help choose a good model.
I've tried different types of flutes and enjoy playing them in their own settings. For example, I love playing the piccolo in an orchestra, but I prefer playing the alto flute in a flute ensemble.
Consider what type of flute you want and if that might be something other than a C flute. Then, you can consider the available models from Armstrong and other brands.
Decide on a Budget
Most of the Armstrong flutes I found cost less than $2,500. That means you can get a good flute without having to spend thousands of dollars.
However, some of the models cost more than others, so you'll still need a budget. Take a look at your bank account and decide if you want to pay for the flute in full or finance it.
I'd also recommend deciding when you want to buy the flute. That way, you can determine if you have enough money for it now or if you'll need to save up.
Research the Seller
Another thing I highly suggest is researching the company or person selling an Armstrong flute. There are scammers out there, and it's easier than you think to stamp the Armstrong logo on a low-quality flute.
I also mentioned that a lot of the Armstrong flutes you'll find are used. Used flutes are great, and I loved my used Armstrong piccolo, but you never know what the flute's condition will be like.
So make sure you buy from a company or person that you trust. I got my Armstrong piccolo from my flute and piccolo technician, so I was pretty sure it would be in playing condition.
Try the Specific Flute
If possible, try the specific model of Armstrong flute that you want to purchase. Then, you can make sure you like how it responds and sounds.
Sure, you might know you want a full silver flute from playing one from another company. But every company is different and follows its own manufacturing process.
I've even heard that some players prefer American makers, while others prefer Japanese makers. So maybe you like a Yamaha (Japanese) flute, but you could hate Armstrong or vice versa.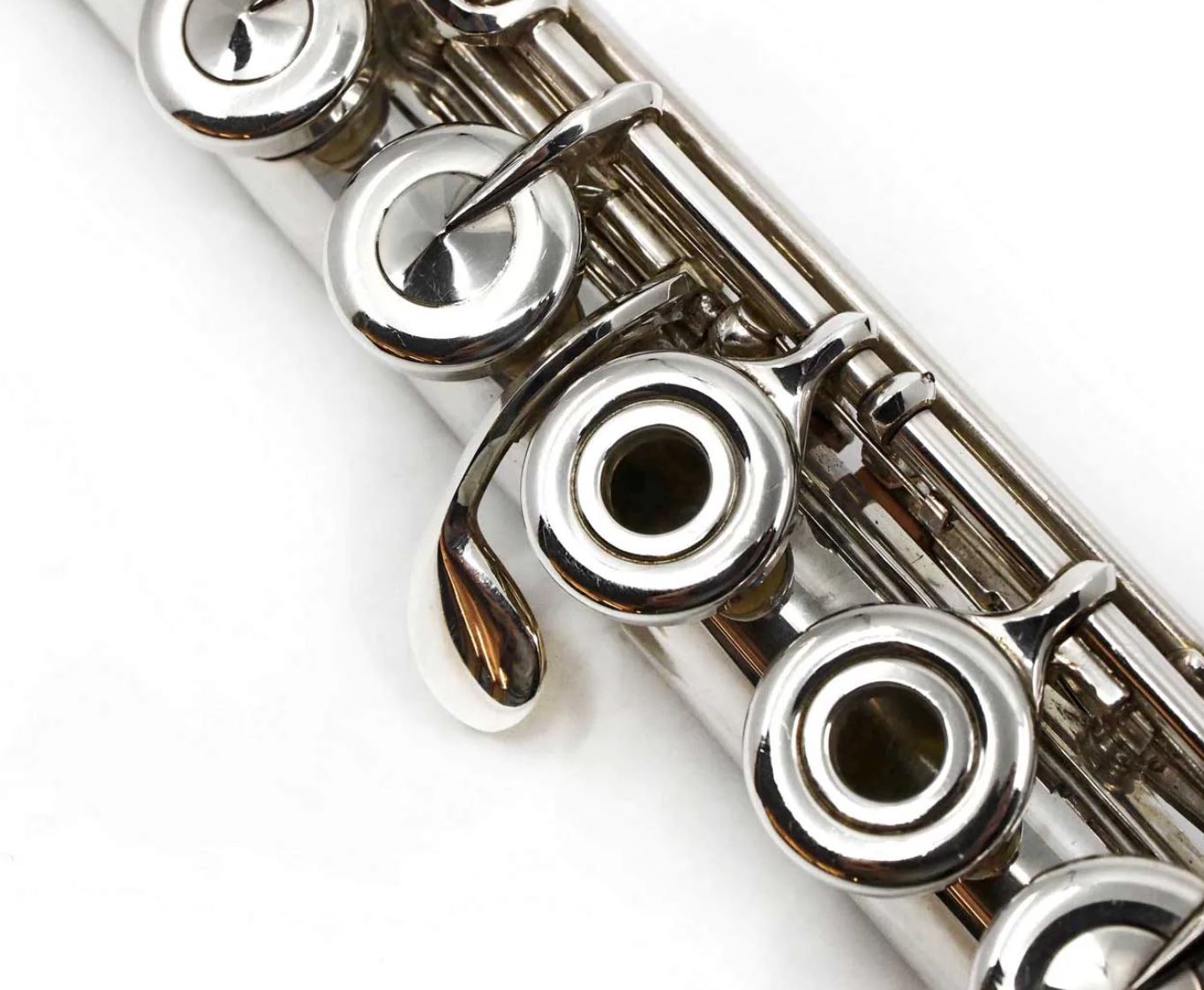 Include New and Used
To help expand your search for the best Armstrong flute for you, consider new and used options. Not all Armstrong flutes are available new, so you might have to buy a pre-owned instrument.
On the other hand, only trying used models can also limit your options. Including both types of flutes in your search can increase the chances that you'll find the perfect flute for you.
Just make sure you can try the flutes to make sure they don't need expensive repairs. If you're a beginner, you can also ask a private teacher to test the flutes for you.
Compare Other Brands
You might luck out and love the first Armstrong flute you try. It happened to me when I tried and got my Armstrong 204 piccolo, but that won't always happen.
As I mentioned, some brands aren't for every flute player. You could try all of the available Armstrong flutes but not like any of them, and that's okay.
In case that happens, you should try some other brands. Specifically, look for flutes with similar specs to the Armstrong models you tried to help minimize the different factors in your flute trial.
FAQs About the Best Armstrong Flute Models Guide
Question: Is an Armstrong flute right for me?
Answer: An Armstrong flute might be right for you, but you have to try the flute to find that out. Every brand responds to every player differently.
If you're a fan of Harry Potter, think of it like the quote "the wand chooses the wizard." You need to test various flutes to determine which one suits you the best at this stage in your flute playing journey.
Question: Does Armstrong make professional flutes?
Answer: I don't believe Armstrong makes professional flutes, or they don't anymore at least. The closest model would probably be the Heritage, which you can find on the used market.
If you're looking for a professional model, try brands such as Altus, Miyazawa, Sankyo, Pearl, Burkart, and Powell. I love my professional Pearl flute, and the other companies specialize in professional and intermediate models.
Question: Are Armstrong flutes expensive?
Answer: The student flutes from Armstrong are comparatively expensive. Both of the beginner models I found cost over $1,000, but there are other brands that sell student flutes for as little as $500 to $600.
However, the intermediate models are more affordable than other flute brands that offer the same specs. Overall, the Armstrong flutes are a good value, so they're worth trying out.
Question: What are some similar brands to Armstrong?
Answer: Similar brands to Armstrong include Gemeinhardt, Jupiter, and Emerson. Gemeinhardt and Jupiter are fantastic alternatives if you want new flutes since they make a lot of models.
Emerson is a good brand to compare if you want to try older used flutes. But you can compare all of them when searching for your perfect flute.
Final Note on the Best Armstrong Flute Models Guide
When you're looking for a new flute, you might want to consider a best Armstrong flute models guide. I started playing piccolo on an Armstrong, and it helped set me up to be the flute player I am today.
If you're a beginner, be sure to try the Armstrong 104 C flute. New piccolo players should try the Armstrong 204 since it sounds great and is easy to find.
Either way, make sure you also try flutes from other brands. Then, you can determine if Armstrong has the perfect instrument for you.
Hungry for more? Further, read