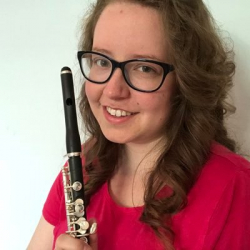 Latest posts by Hannah Haefele
(see all)
I knew I wanted to play the saxophone after watching a movie where one of the characters played it. Since I didn't have a best Jupiter saxophone models guide, I had to rely on what my local music store recommended to me.
Sure, the model I got worked out well, but it would have been nice to have options. If you're looking into playing the saxophone, you should consider Jupiter instruments.
They're one of the best brands for students and intermediate players, but they're not for everyone. It's up to you to determine if Jupiter has the perfect sax for you.
Bottom Line Up Front
Jupiter saxophones, such as the 669GN alto, are some of the best on the market. Be sure to compare the options to figure out which suits your playing.
Best Jupiter Saxophone Models
Jupiter doesn't sell as many saxophone models as some brands. However, they have enough to cover the four most common saxophones from soprano down to baritone.
The brand also makes saxophones for beginners and advancing players. That means most saxophonists can find at least one model to try that could work for them.
I included some version of almost every Jupiter sax available. Some have slightly different specs, so I omitted those to keep from being too repetitive.
My selections also include student and intermediate models as well as various saxophone sizes. Here are some of the best Jupiter saxophones out there.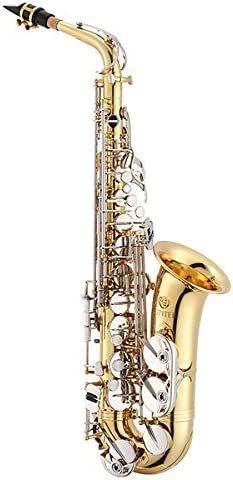 The Jupiter 669GN is a student alto saxophone with a lacquered brass body, which is pretty standard. It also features nickel-plated keys that look and feel good while you play.
The left-hand table keys have a contour that makes them more comfortable to play. Those keys are also flexible and can help you play faster passages.
I can't tell if it goes up to a high F or F#, but you can use an alternate F# fingering if necessary. That way, you can play most alto saxophone parts you'd ever need to play.
I'd recommend this instrument to beginners, especially since the alto is a nice first saxophone. But you can advance quite a bit on it before needing to upgrade.
Pros
Good materials
Comes with a case
Easy to play
Comfortable design
Nice specs
Cons
Expensive for what it is
Not for advanced players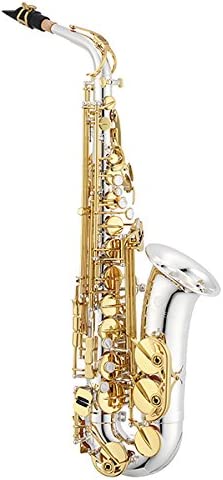 For just a little more cash, you can get the Jupiter JAS1100SG. It's an intermediate alto saxophone model with a silver-plated neck and body.
The neck is a silver-plated Sona-Pure neck, and it has a vintage, dark sound. You'll get the same contoured table keys as on the other alto model, so you can play comfortably.
I love that you'll get a case with the saxophone, and it looks like you'll also get a mouthpiece. If you don't like the look or sound of silver plating, you can get the JAS1100, which features a gold lacquer instead.
This saxophone series is perfect for advancing players who need a better model than a student sax. It's not too expensive, which makes it great for college players.
Pros
Multiple lacquers/platings
Vintage tone
Comfortable to play
Good for serious students
Includes a case
Cons
Silver can sound a bit bright
Not for absolute beginners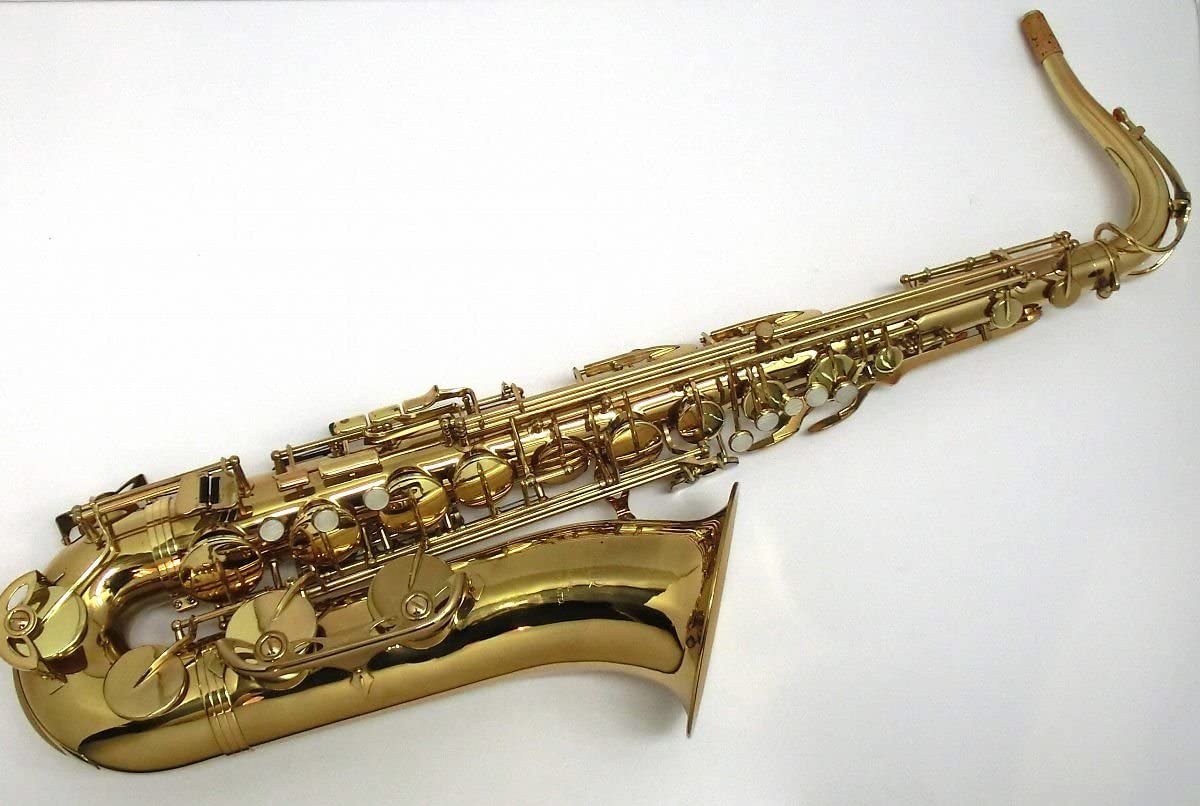 The Jupiter 787GL is the brand's entry-level tenor saxophone model. It uses a brass body with gold lacquer over the body and keys so that it all looks cohesive.
You'll get a mouthpiece, ligature, and case with the instrument, so you just need to buy reeds. I love that it can play up to a high F# without needing to use altissimo fingerings.
That makes it the perfect instrument for a tenor I player in jazz band. It can also come in handy when practicing your scales and other fundamentals.
The table keys have a similar tilt as the alto models, so you don't have to stretch as much to reach them.
Pros
High F# key
Comes with accessories
Good for students
Easy to play
Nice sound
Cons
A bit expensive
Not for professionals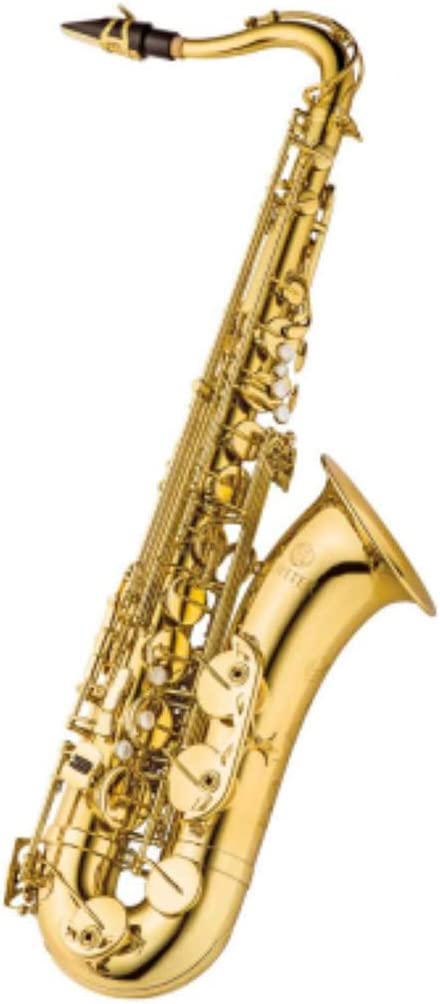 A similar tenor saxophone to try is the Jupiter JTS1100, which is actually cheaper. It has the same Sona-Pure neck as the JAS1100, so you can get the same vintage and dark tone.
This model also has metal tone boosters that make the sound a bit brighter than it would have been. The boosters also help the keys seal well so that you can play the correct notes.
I love the look of the gold lacquered brass body, and that includes the keys. You'll get the same tilting table keys as the other Jupiter models, and you can play up to high F#.
The saxophone even comes with a case to protect your investment when you're storing or transporting it.
Pros
Good materials
Nice sound
Easy to play
Ergonomic design
Decent range
Cons
Somewhat heavy
Not for beginners

The Jupiter JSS1000 is an excellent introductory model to the soprano saxophone. Like many Jupiter models, this one has a brass body with gold lacquer on the top.
You can play up to a high G on this model with the straight neck. The plastic thumb rest is also adjustable so that you can make the sax more comfortable to hold.
I love that this instrument comes with a mouthpiece, case, neck strap, and care supplies. This model is a fantastic choice for woodwind doublers or saxophone specialists.
Pros
Good for beginner soprano players
Large range
Easy to play
Comfortable
Includes accessories
Cons
Not for new saxophone players
A bit difficult at first
6. Jupiter JSS1100

After you've played the soprano for a while, you may choose to upgrade to a Jupiter JSS1100. The brass body has a layer of gold lacquer, and the instrument offers a nice scale to help you maintain good intonation.
You'll get the same metal tone boosters that some other Jupiter saxes have. That way, you can get a nice bright tone and not have to press hard to get the keys to close completely.
It has a straight neck, which is pretty common for soprano saxes. You can play up to a high G easily, and the table keys feature a tilt that makes them easier to reach.
I like that this one comes with the Sona-Pure saxophone neck to help get a vintage sound. It's an excellent choice for jazz band and other genres.
Pros
Nice materials
Vintage tone
Easy to play
Ergonomic features
Good upgrade
Cons
A bit costly
Not for beginners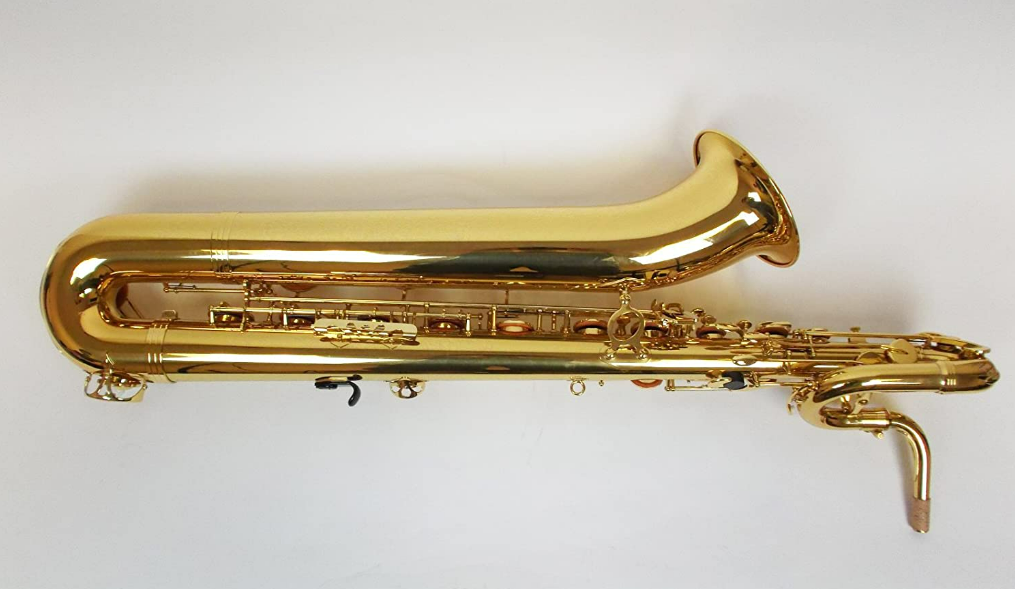 The Jupiter JBS1000 is an amazing choice for a first baritone sax. It features a low A key, so you can play almost any bari sax part you'd need to play.
There's also a tilting Bb spatula key to help you reach the lowest notes. Overall, the instrument has a gold lacquer, including on the keys, so it looks and sounds great.
You can play up to a high F, and you'll get a mouthpiece, ligature, and case for everything. All you have to buy separately is some reeds and a neck strap or harness.
I love how the sax features a kickstand so that you can rest it on the floor as you play.
Pros
Ergonomic features
Good range
Great materials
Comfortable
Nice first baritone sax
Cons
Decently expensive
Not for new sax players

Another bari sax to try is the Jupiter JBS1100SG, which has a brass body and silver plating. The silver plating plus metal tone boosters offer a bright tone.
However, the Sona-Pure neck keeps the sax from sounding too bright. You can use the neck to sound like saxophone players from back in the day, so it's great for jazz.
I like that you can also get this model as the standard JBS1100, which doesn't have silver plating. If you don't want a bright sound, you can still enjoy this intermediate instrument.
Either model you select is going to be expensive, though. Make sure you'll play the bari sax a lot so that you can get your money's worth.
Pros
Good sound
Vintage tone
Silver and gold finishes
Nice upgrade
Suitable for jazz
Cons
Quite expensive
Not for new players
How to Choose a Jupiter Saxophone
The selection of Jupiter saxophones can be overwhelming. Knowing the best models is great, but that doesn't always help you choose the sax for you.
I've shopped for saxophones and other woodwinds multiple times. Over the years, I've learned what you should look out for to select an instrument that you'll want to play.
Here are my best tips to consider when deciding which Jupiter saxophone to buy.
Start With the Size
First, you should determine what size of saxophone you want to play. If you've never played the saxophone before, you should start with the alto or tenor sax.
Kids should start with the alto due to their size, but adults can choose between alto and tenor. I wouldn't recommend starting with the soprano sax since it requires a firmer embouchure and is less forgiving than other saxes.
Now, if you have saxophone playing experience, you can choose from more options. For example, an alto player might learn the soprano, while a tenor player could choose the baritone.
Think About Your Level
Next, you should consider your level of playing when it comes to the saxophone. Once again, experienced players will have more options than beginners.
I'd recommend the 1000 series as well as the student alto and tenor saxes for beginners. If you've played for a while, you can look at the 1100 series of instruments.
Unfortunately, Jupiter doesn't sell saxophones for professionals, but the intermediate models can work great. The saxophones have many professional features but don't cost as much as pro instruments.
Play Your Current Sax
Assuming you're looking for an upgrade or to expand your sax skills, play your current instrument. Think about what you like and dislike about the saxophone.
Maybe you wish you could get a darker sound, or perhaps you struggle with the high notes. Write those things down, and keep them in mind as you shop for a Jupiter saxophone.
If you have trouble playing high notes, you might look for a model with a high F# or high G key. Then, you won't need to use altissimo fingerings.
Of course, if you're completely new to the saxophone, you can't play it. In that case, listen to some players, and write down the qualities you like about their playing to help choose the model for you.
Set a Budget
Saxophones can cost anywhere from around $1,000 to $8,000 or more. That means you need to go into your saxophone shopping experience with a budget.
If you're a beginner, you can get away with a smaller budget. The same is true if you're looking at soprano and alto saxes since those almost always cost less than tenor and bari saxes.
On the other hand, you should save up a bit more money for an intermediate or low saxophone. That way, you'll be able to try as many models as possible from Jupiter and other makers.
Consider the Materials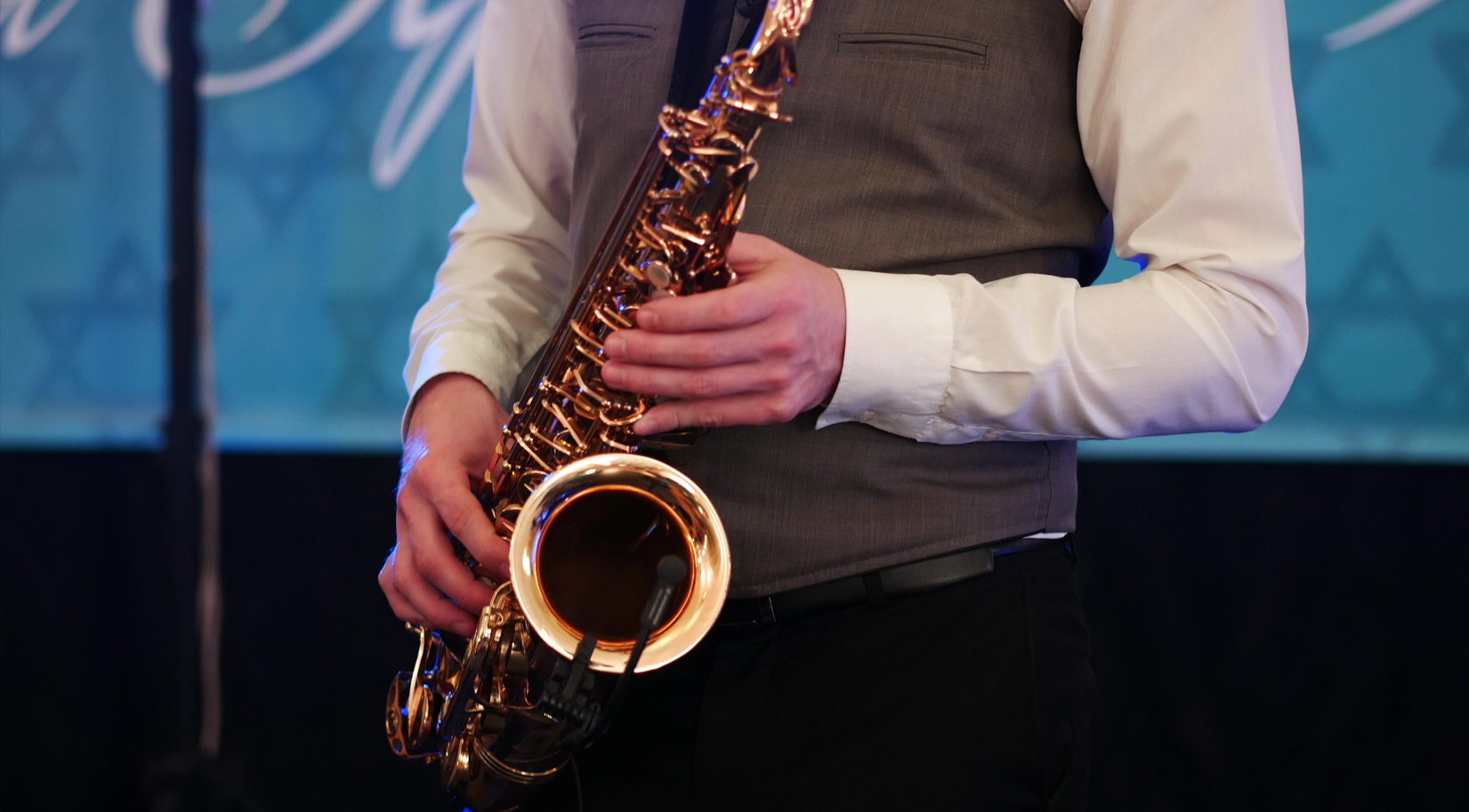 Next, think about the materials of the saxophone and how they affect the sound. As you test different models, consider if they have brass or gold lacquers or if any have silver plating.
The materials may not have the biggest impact on the sound, but they do matter. If your search comes down to two models, the materials could make a difference.
In general, silver can help you get a bright tone, while gold and brass are more mellow. Be sure to record yourself and listen back to help determine which material works best for you.
Compare New and Used Options
An easy way to save money on a saxophone is to shop on the used market. Especially when it comes to student models, used saxophones don't hold their value that much.
That means you could save a significant percentage if you buy a used instrument. So while new saxophones cost thousands of dollars, a used one may only cost a few hundred dollars.
Of course, the specific price depends on the condition of the sax. Sometimes, a sale price may be too low for the sax to be in playing condition, so you'd need to spend way more on repairs.
Know What Accessories You'll Need
When comparing Jupiter saxophone models, consider what accessories you'll get. Many saxophones will at least come with a mouthpiece, ligature, and case.
Some also come with a neck strap and cleaning supplies. In my search, none of them came with reeds, so you can expect to buy a set of reeds in addition to the instrument.
Knowing what accessories you'll need to purchase is essential. That way, you can buy that gear with your new purchase so that you'll have everything you need when the saxophone arrives at your door.
Test the Models
Once you narrow your search to a few models, set up a trial if possible. Some music stores will order models to your nearest location so that you can go in person to test them out, and I've done this.
Other stores will let you request a few models, and they'll ship them to your door. Either way, you should try the saxophones that you're considering buying.
If possible, try them back to back so that you can figure out which is the most comfortable. Another option, if you have the cash, is to buy one sax at a time and return it if it doesn't work.
Don't Rush the Process
You might luck out and find the perfect Jupiter sax for you during your first shopping trip. However, it might take a few sets of trials to find one that works for you.
If you can't find a good saxophone, don't settle for one that's just okay. Sure, it means you get an instrument sooner, but you may have to struggle more to get it to sound good.
It's better to wait and buy the perfect fit than to force something to work. That can even mean expanding your search past Jupiter to include Yamaha, Selmer, or other brands.
FAQs
Question: Are Jupiter saxophones good?
 
Answer: Jupiter saxophones are very good for beginners and casual players. They can also work for advancing students and woodwind doublers.
However, most saxophone players will eventually outgrow the brand. Jupiter doesn't sell pro saxes, so you'll need to look at other makers.
Question: How much does a Jupiter saxophone cost?
Answer: In my search, I found Jupiter saxophones that cost anywhere from $2,000 to $8,000. Those prices reflect new instruments, so used saxes may cost significantly less.
Also, the alto and soprano saxophones cost closer to $2,000 to $3,000. On the other hand, baritone saxes cost around $5,000 to $8,000.
Question: Can you upgrade parts of your Jupiter saxophone?
Answer: If you find that you like a Jupiter saxophone but it's not quite right, you can make small changes. Easy upgrades include getting a new mouthpiece and ligature or swapping out the reed.
When comfort is a bigger issue, you can also look at different neck straps and harnesses. You might also want to get a different saxophone neck.
Question: Are Jupiter or Yamaha saxophones better?
Answer: Jupiter and Yamaha make great saxophones, so the better brand depends on the player. Some performers prefer Jupiter instruments while others sound great on Yamaha.
I will say that for professionals, Yamaha is the better choice. The maker has professional saxes, whereas Jupiter doesn't make instruments for that level of playing.
Final Note on the Best Jupiter Saxophone Models Guide
Whether you're a beginner or not, you may want to consider a best Jupiter saxophone models guide. The brand doesn't make dozens of saxophones, but it makes enough for the search to be confusing.
If you're a beginner, I'd recommend the Jupiter 669GN, which is an alto sax. Otherwise, you should think about the type of saxophone you want and test out multiple models in that category.
Looking for more interesting readings? Check out: