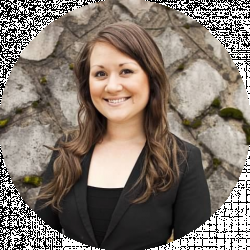 Latest posts by Lacey Jackson
(see all)
It was five years into my musical career before I realized plastic trumpets weren't just toys. I had grown up with friends and extended family members buying plastic toy versions of real instruments for their children, which invariably littered the living room floor only to be stepped on in the middle of the night.
It wasn't until I directed a local Christmas program with a brass quintet as one of our guests that I realized plastic trumpets could be legitimate instruments. One of the musicians had a plastic trumpet he brought with him to rehearsals. It was the one he kept in his car for practice purposes or whenever the mood struck.
I have a whole new appreciation for just how legitimate a sound you can generate from plastic trumpets. It also means that the trumpet is one of the few brass instruments you can learn to play without having to spend money on brass materials.
Figuring out how to find the best plastic trumpet means finding a much cheaper version of a brass instrument while still getting close to the natural brass tones.
Bottomline Upfront
The plastic trumpets I included on this list are real instruments. They might be made of durable plastic, but they have a sound that replicates natural brass finishes without the price tag. I prefer Kaizer because they integrate internal brass components but if you want completely plastic models, turn to the pInstrument from the original manufacturer of a completely plastic trumpet.
Why Use a Plastic Trumpet
Figuring out how to find the best plastic trumpet is important if you have very small children or if you are starting the trumpet as an adult. There aren't a lot of plastic trumpet models from which to choose, and picking the right one can mean the difference between a toy trumpet and a legitimate instrument just made from plastic. 
What I love…
I love the fact that plastic trumpets are inexpensive. Even most beginner trumpets still put you out a few hundred dollars. If you are trying to take care of a family with multiple kids, all of them want to play a different instrument that might be a few hundred dollars you can't afford.

On that note, I love that the replacement parts are easy to find and relatively inexpensive.
What I don't love…
I don't love that plastic trumpets are often mislabeled, so you might think that you are getting a beginner trumpet when in reality you are getting a toy, and vice-versa, so pay particular attention.

I also don't like that plastic trumpets don't necessarily have the same sound as a metal trumpet (although they can be quite close), so don't expect to use them in a professional orchestra or band setting.
Who Should Learn How to Find the Best Plastic Trumpet?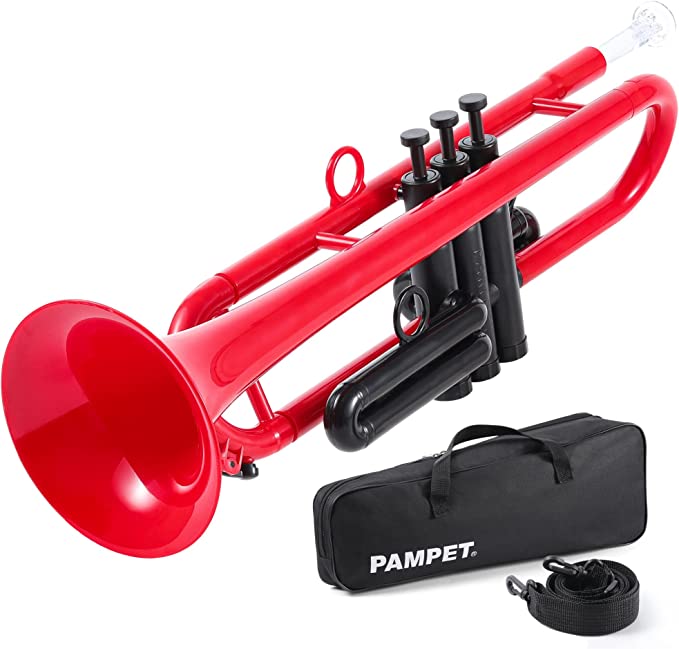 The plastic trumpet is good for very young kids or as a practice tool for older adults, but it isn't really suitable for anyone who is participating in a band, an orchestra, or a musical group professionally.
| | |
| --- | --- |
| Young Kids | Yes |
| School-Aged Children and Teens | No |
| Adults | Yes and No |
Young Kids
The plastic trumpet is a great investment for young kids, especially kids who aren't yet in school. The plastic trumpet is a great place to start if your child is in elementary school because it still opens them up to the beginning techniques they will need to cultivate without the financial investment of a more legitimate instrument.
School-Aged Children and Teens
Once your children reach middle school and join things like middle school or high school band, you will have to invest in a brass instrument to replace the plastic model. Most School bands perform in school theater or at sports games, so they need everyone to have the same student model brass instruments.
Adults
Adults who are not participating in any type of band or another music group can get away with a plastic trumpet just fine. It's a great tool for practicing around the house and figuring out if you actually like the instrument. 
Of course, in adulthood, it might not be what you take with you when you perform, but it can be a viable practice tool to have as a second instrument. 
Tip: I know a lot of amateur and professional performers who keep a plastic trumpet as their travel tool. They take it when they go camping, spend a day out on the lake, or go on vacation because it's a great way to still practice without having to risk damage to their primary instrument. 
How to Find the Best Plastic Trumpet: What Matters Most
In order to find the best plastic trumpet, you need to know a few things that matter most.
Check the Seller
When you set out to find a plastic trumpet that isn't a kid's toy, you have to be careful about where you are purchasing. Buying a plastic trumpet directly from a music manufacturer or at a music store can eliminate any miscommunication or mislabeling.
Consider this: If you walk into a store and they call something a plastic trumpet, you can hold it in your hand, play it, and really get a sense for the fact that it is a legitimate instrument. By comparison if you are only buying online, you have to be more diligent about who the seller is. 
If the seller is that same brand you found in the store, then it's a perfectly reputable instrument. But if the seller is an odd third-party with no real business name, they might sell cheap, mass produced toy models and call them a plastic trumpet without trying to be misleading. So, you order thinking you're saving a lot of money and then a toy arrives in the mail.
There's nothing necessarily bad about third-party selling online, but there can easily be miscommunication with the term 'plastic trumpet' if you aren't careful.
Know the Prices
Knowing the typical price range for a legitimate plastic trumpet can easily differentiate between legitimate models and toy models even if you don't know who the seller is. You can expect to spend between $500 and $2,000 on a legitimate plastic trumpet. So if you see something selling for $100, it's probably a toy.
Be Able to Identify the Parts
You don't necessarily need to be an expert to know that there are a few parts that are very important on the trumpet. One of those parts is the bell. The bell is at the end of the trumpet, responsible for the projection. The size and shape is important because it determines the projection and the tone.
So, on a legitimate plastic trumpet under the features or characteristics, a seller will tell you the size and shape of the bell. If you can't find information on this, then it's probably a toy and you should steer clear.
Selection Criteria
Each of the items I included was vetted based on how easy it is to find and order. There's nothing worse than reading an online review only to click on a broken link or see that shipping takes two weeks. That isn't the case with any of the items here.
I also verified how well manufactured the plastic versions were. None of the items here are kids' toys; they are real trumpets that you can use for real practice.
How to Find the Best Plastic Trumpet: My Top Picks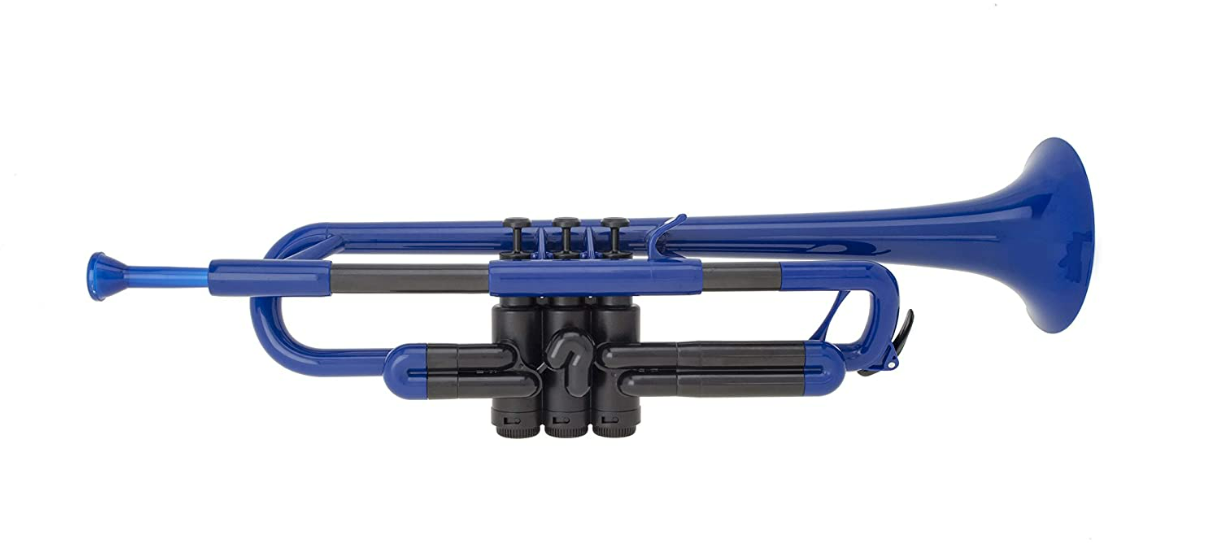 The pBone plastic trumpet is one of the most popular plastic trumpets. It earned that popularity by being the first completely plastic trumpet ever designed. It comes from the UK, and it has no metal pieces, which makes it easier to get through airport security, in case you were wondering (unless you have a dad like me who says inappropriate things too loudly like "it's not like you have a bomb in there so why are they making such a fuss" earning an extra pat down in a side room). 
It has a soft bag, but your instrument is also pretty durable. Two acrylic mouthpieces in 3 c and 5c sizes come with it in addition to the carrying bag. You can read more about the different trumpet parts if you are unsure which one is best.
Tip: The mouthpieces can be swapped out for standard metal mouthpieces if you prefer. 
You can hear this model being played in the video below, where you hear just how smooth and even the tones are:
This is the only plastic trumpet you will find that has a completely plastic valve system. The patented lead-pipe technology gives you a much more focused sound though it does still sound slightly different than a brass instrument. This isn't something a new player or child will notice, but you'll start to hear it as you move up in skill. 
Pros
It only weighs two pounds. 

You get a soft gig bag with it.

It comes from a reputable brand and is 100% made of plastic.
Cons
This model is only available in bright colors: blue, orange, and yellow.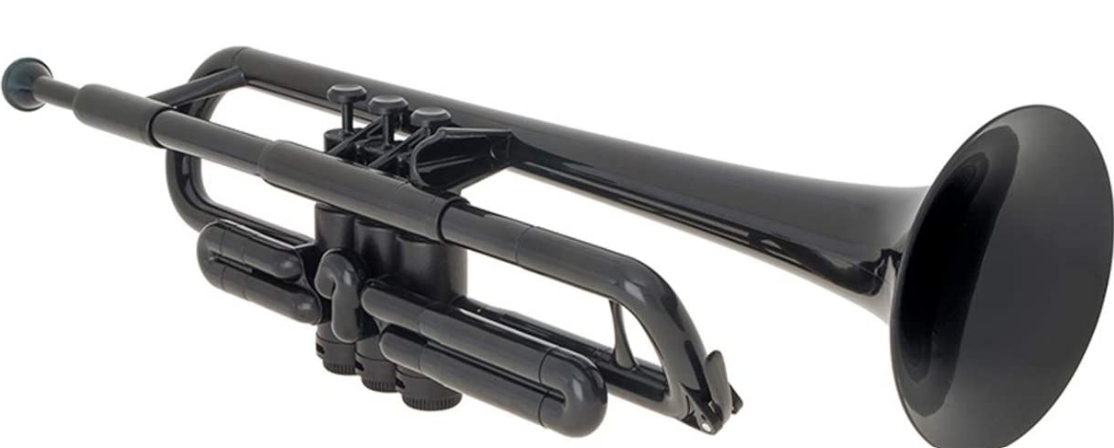 The pInstrument plastic trumpet comes from an award-winning manufacturer. It has antimicrobial protection built into the recyclable ABS plastic. I've heard some of my students use this, and it sounds beautiful, almost the same as authentic brass instruments. I strongly recommend it for elementary school children or adult beginners who don't want to spend that much.
They provide resources to learn how to play the trumpet after you buy it. The manufacturer highlights the fact that the ABS plastic is completely recyclable, so it's better environmentally compared to brass, but kids will love the bright colors and how light-weight they are.
Pros
This model has eight different colors available. 

It is made with ABS construction and has an ergonomic grip. 

It is easy to maintain without the need for accessories like valve oil and gloves.

It is about one-third the cost of a brass equivalent. 

It comes with two mouthpieces and a carrying bag. 

It plays quite loudly.
Cons
They don't recommend it for children younger than eight.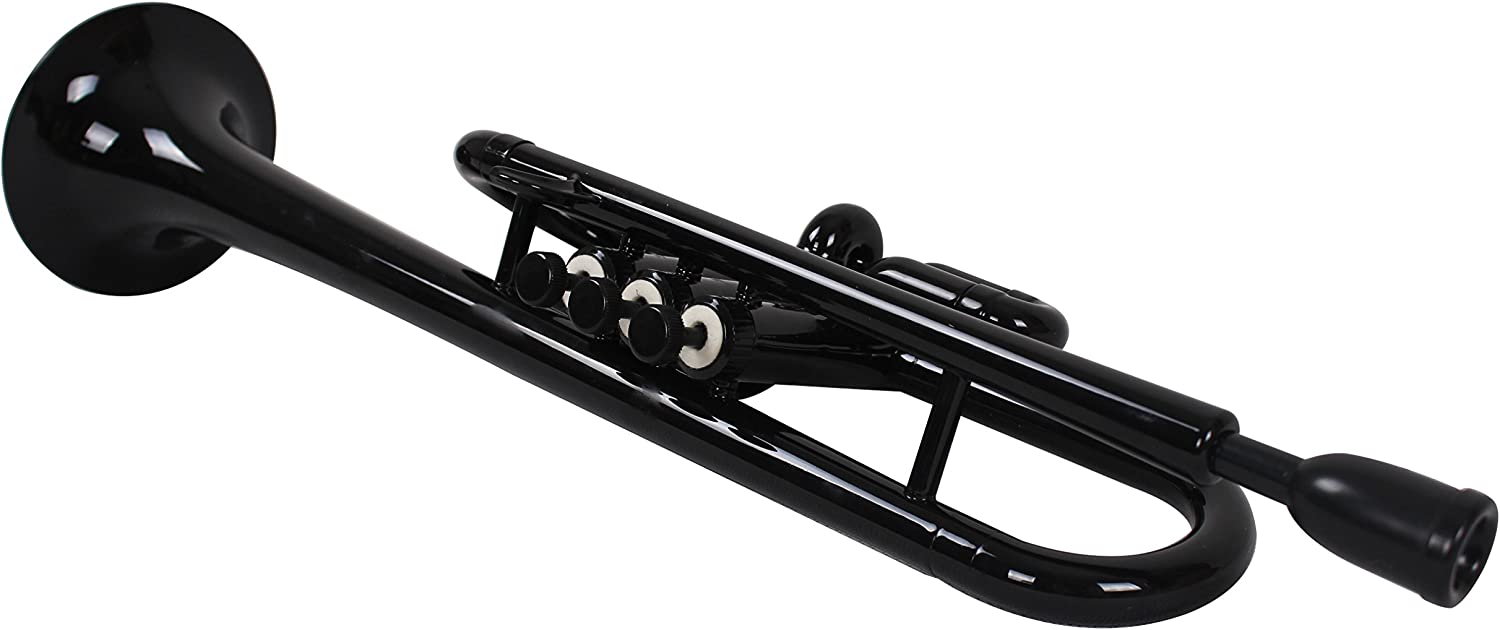 The PAMPET plastic trumpet caught my eye because they sell the basic black plastic version but have an even cooler transparent one. It looks futuristic and cool, almost like an instrument you would expect to see in the background of a Star Wars movie. I don't know any other manufacturer who offers a transparent plastic trumpet. 
Warning: Even though I really like the steampunk, futuristic design of the transparent plastic, some customers have found it untenable because you actually see your spit inside.
Pros
You can reach out to them when you order and customize the color of your transparent trumpet. 

It has strong friction resistance and stainless steel springs. 

Customers love how well the valves work and the outstanding projection brought about by the flared design.
Cons
It only comes with one mouthpiece.

Kaizer has a handful of plastic trumpets. This model is the Blue 1000 series. This is one of the more expensive plastic trumpets, but I put it on here because it comes very highly reviewed in large part because of the design.
When I look at instruments, I don't always see a reason for something costing much more than its competitors, but with this model, the reason is pretty clear: it's made of plastic for the body, but the valves and the inside sleeves of the valve casings are made with brass, so you get the same sound replicated in a cheaper, plastic model.
Note: If blue isn't your thing, Kaizer has the same series in Orange or Purple. They also come with a case and accessories. 
Pros
The valves are made of metal with brass sleeve inserts. This helps you get a more authentic sound without the weight or cost. 

There are lots of colors from which to choose. 

You get a mouthpiece and a soft travel case with each trumpet. 

It has a bore of 0.456″ and a 5″ bell.
Cons
It is only available in bright colors, so if you were thinking about sticking to a plain black model, you wouldn't find it here. 

Your instrument will suffer discoloration if you leave it exposed to direct sunlight. 
Tip: If you order directly from their website, you get a 45-day free trial.
FAQ
Question: Is a plastic trumpet quieter?
Answer: No, they are generally not quieter than a regular trumpet. This is what makes them a good consideration for brand new beginners who need to replicate the sound of a brass instrument without necessarily investing the cost of a brass instrument. 
Question: Do I have to buy a plastic trumpet only for kids?
Answer: No. Plastic trumpets work just fine for adults and for kids of all ages as a lightweight and inexpensive alternative to solid metal. I recommend considering a plastic trumpet if your kid wants to play the trumpet, but you aren't certain they will continue with it. 
Question: Are plastic trumpets really that good?
Answer: Plastic trumpets are good when used as a practice tool for children or beginners. It's particularly good for children because the plastic makes it much more lightweight, so kids can support the weight of their instrument while they are learning how to play. You can find full-sized, standard trumpets that beginner adults can use.
It's a great way to learn how to position your mouth and get your fingering up to snuff without having to spend a few hundred dollars on a metal trumpet.
Question: Will a plastic trumpet be easier to play?
Answer: Plastic trumpets are designed to be easier to play compared to regular trumpets. The lightweight design of the plastic means you can support the weight of your instrument without getting tired. The shape is otherwise the same, so you get a feel for how the valves work and how to position your mouth to get the right sound.
Question: How much cheaper are plastic trumpets?
Answer: It depends on the brand and type of brass instrument to which you are comparing the plastic trumpet. Beginner student models might cost between 200 and $400, whereas the plastic equivalent might only cost around $100. Intermediate-level brass trumpets can cost between $400 and $1,000, while plastic equivalents still only range between $100 and $200.
Bottomline
The plastic trumpets I included on this list are real instruments, not toys, so if you are looking for something for your child or yourself, I prefer Kaizer because they integrate internal brass components. This is a great investment, especially if you plan to continue with the trumpet. But if you want something that's 100% plastic with no brass pieces, go with the pInstrument.
Looking for more interesting readings? Check out: