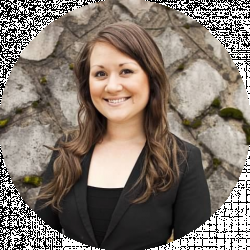 Latest posts by Lacey Jackson
(see all)
Nothing is more frustrating than buying a beginner instrument and realizing that the brand was a bit misleading in their marketing efforts, or that the trumpet is just poor quality. I distinctly remember ordering a cheap trumpet on Amazon, thinking that it had all the components I needed so I could budget for this one expense.
Then it arrived, and I couldn't believe that pieces were already falling off and the metal was thinner than aluminum foil. Thankfully, Amazon has a forgiving return policy, so I could send it back because the quality was lower than I expected. In the end, I had to adjust my budget for something a bit more expensive.
Thankfully I've now learned the top trumpet brands to avoid and which brands you can consider as a viable alternative, and I'm going to share them with you in this guide. 
Bottom Line Up Front
While I understand that every brand might serve a distinct purpose like saving you money or giving you lots of accessories, avoid Mendini and Eastrock if you are looking for anything with decent quality that won't fall apart. Avoid Jean-Paul and Taylor if you don't want your trumpet valves to stick, and avoid Lätzsch if you are not a professional. 
What Makes a Trumpet Brand Bad?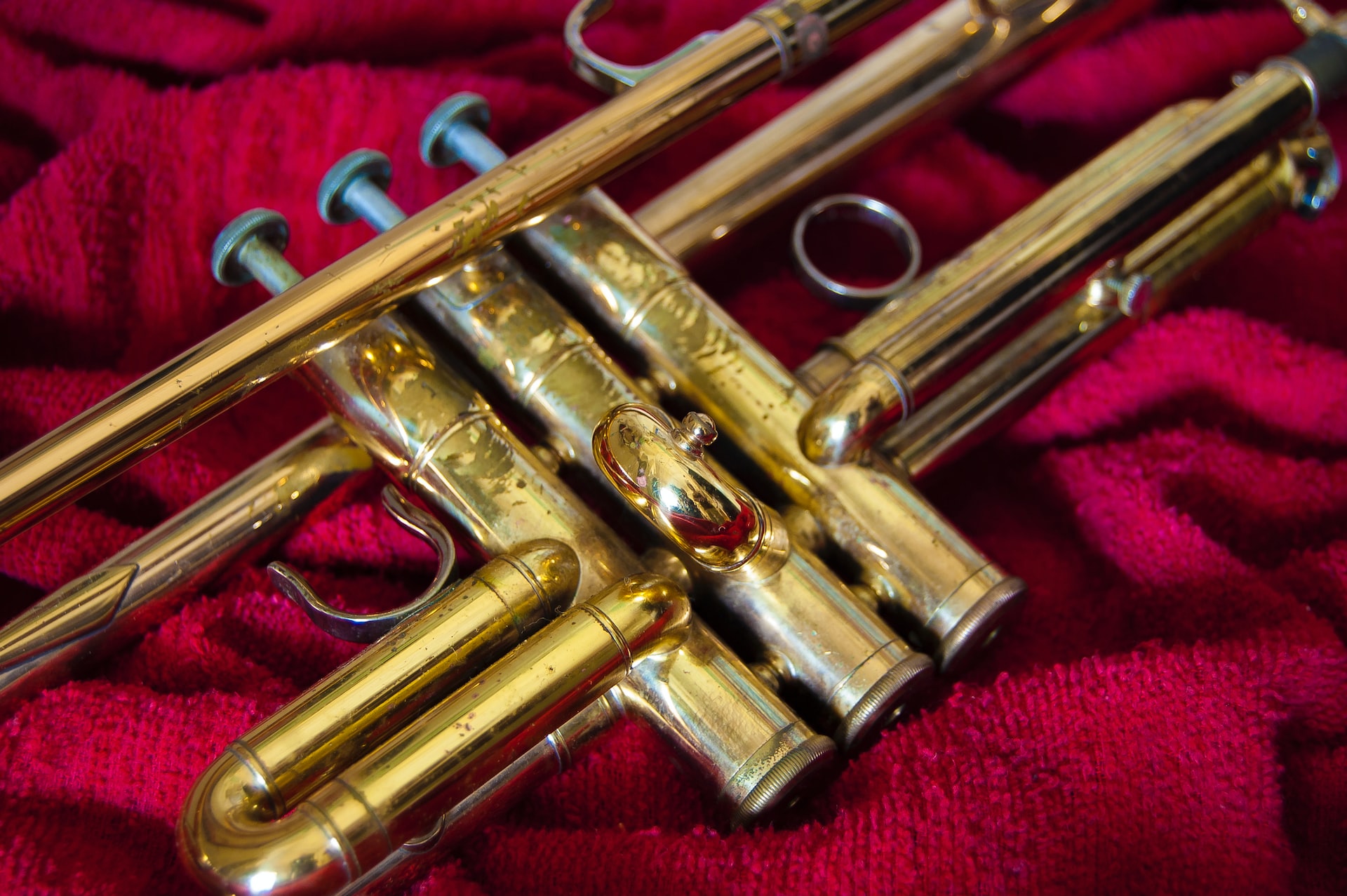 When you look at different trumpet brands, there are some you might consider avoiding. But why? What makes them so bad?
I don't want to say that some brands are bad and others are good because I believe that every brand out there serves some purpose, even if that purpose is providing a rudimentary instrument for a family that can't afford anything else. 
However, there certainly are some trumpet brands to avoid if you can afford the extra investment and want to purchase a quality trumpet one time instead of buying a replacement every couple of years.
I evaluate a few key features when deciding which brands are worth an investment.
Thin Metal
The first is the quality of the metal. A trumpet is supposed to be a brass instrument, but just saying something is brass doesn't mean it's good quality. If you have ever looked at furniture, you know that solid wood is a better investment for durability and strength than plywood.
Similarly, if you've ever purchased aluminum foil from the dollar store, you've probably noticed that it is much thinner and even so much as looking at it sideways means it will tear apart in your hand. By comparison, more expensive brand names like Reynolds Wrap produce much thicker foil made from more layers that give extra protection and strength.
The same thing applies to the construction and materials for a trumpet. If you are getting a brass instrument, you want it to be good quality, thick, and not something that will rust or break apart quickly.
Toy vs. Plastic Trumpets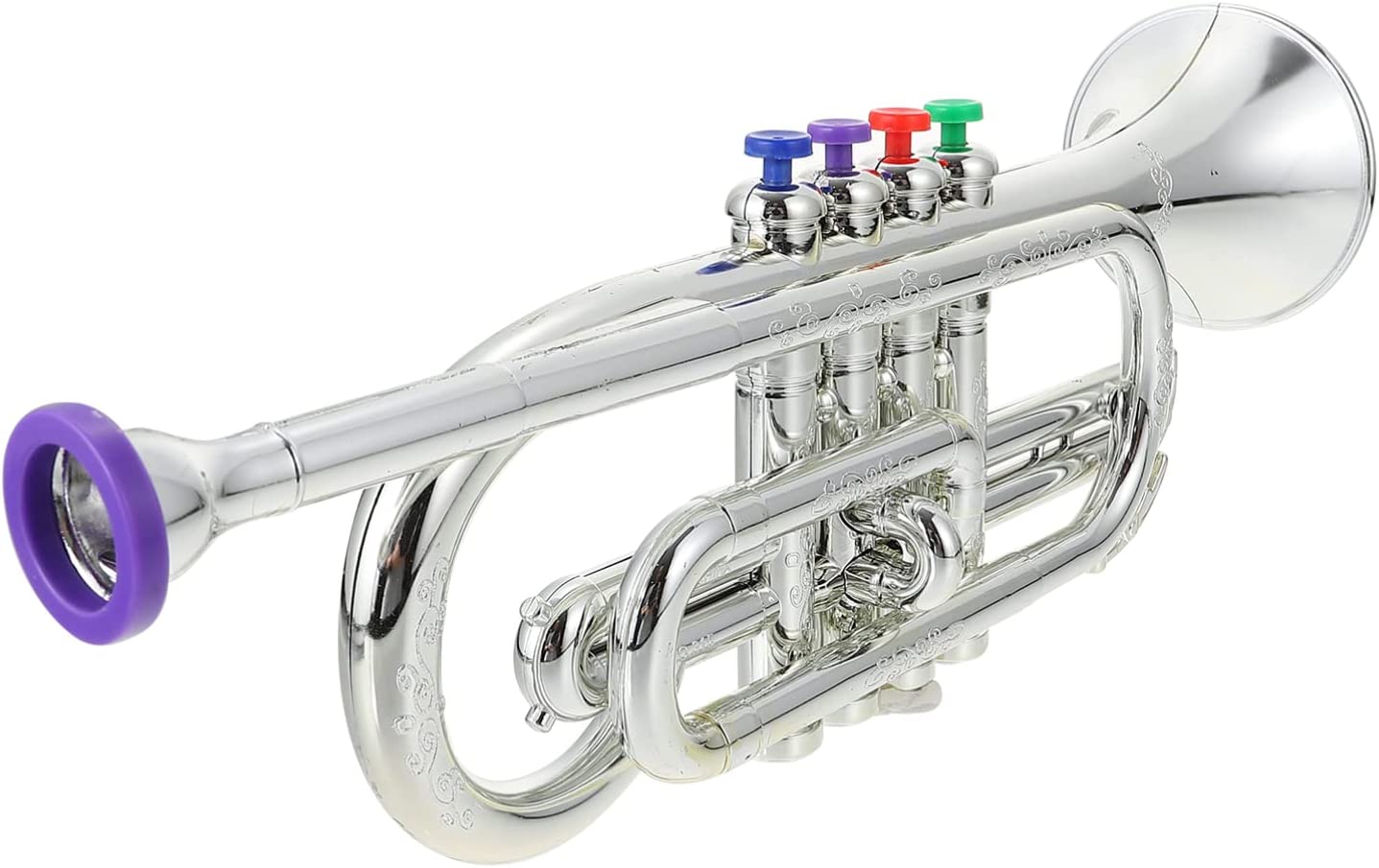 Now, having said that, you might consider a plastic trumpet. Some people prefer plastic trumpets, especially as something portable. However, plastic trumpets are legitimate instruments that may or may not contain brass pieces.
Some brand names like Exceart make toy trumpets that they call plastic trumpets. This is very misleading, and I would avoid any brands like this. Instead, consider the leader in plastic trumpet manufacturing, Pampet.
Poorly Constructed Valves
Thin metal is not the only area where you might have trouble. The valves are another part of the construction where you might run into poor craftsmanship. Poorly crafted, cheaper models might have valves that start sticking almost immediately. This means they don't compress as they should and don't spring back while you play.
Poorly designed valves make it next to impossible for you to play the trumpet well because you're always stopping to fix a piece that is stuck. This is a manufacturing issue that you see a lot in beginner brands like Mendini.
Top Trumpet Brands to Avoid
Knowing who to avoid is only half the battle. You also need to know which brands you can trust for a legitimate investment. So, I've compiled a list of the top trumpet brands to avoid and which brands make a good substitute. 
Avoid: Mendini by Cecilio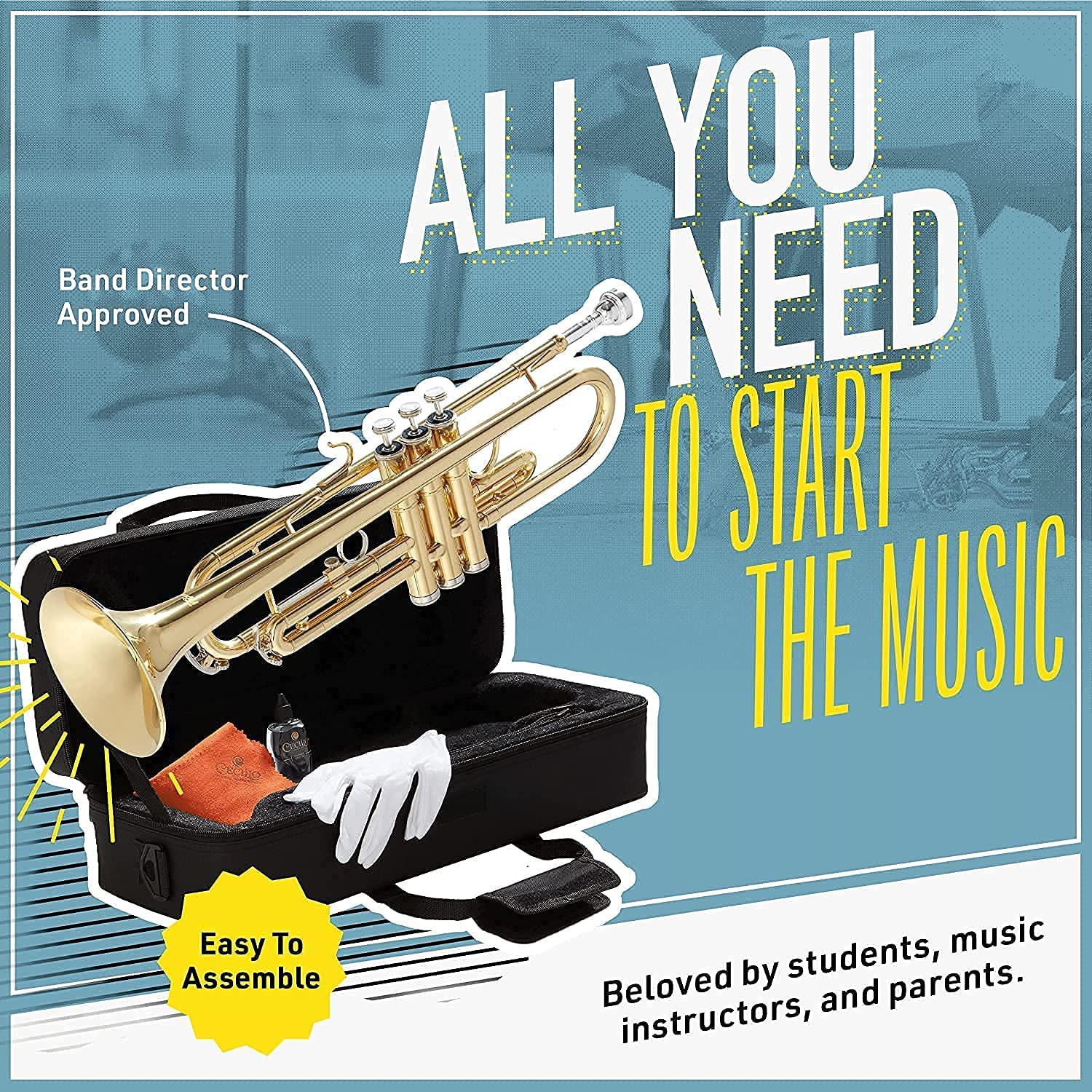 Avoid Mendini by Cecilio trumpet brands if you are not buying for a child. This company is highly recommended amongst all musicians because they provide beginner instruments with hard cases, cleaning materials, and all the necessary accessories.
However, they are not intended for intermediate or advanced players. They really shouldn't be considered for adults who are just beginning either. The last thing you want is for your instrument to break down after a few years, be a little too difficult to play, or not give you the right sound; this will make it difficult for you to keep up with your practice and master the trumpet. 
The Mendini trumpet has a few positive reviews, but in general, you will read dissatisfaction from customers about cheap quality and construction. After about one day of practicing with the new trumpet, things like the valves start sticking.
So why do people turn to Mendini? Because of the price. I have used the Cecilio brand, the parent company for Mendini, for stringed instruments, but Mendini is the cheaper, low-quality version of a cheap, low-quality company. 
Avoid: Eastrock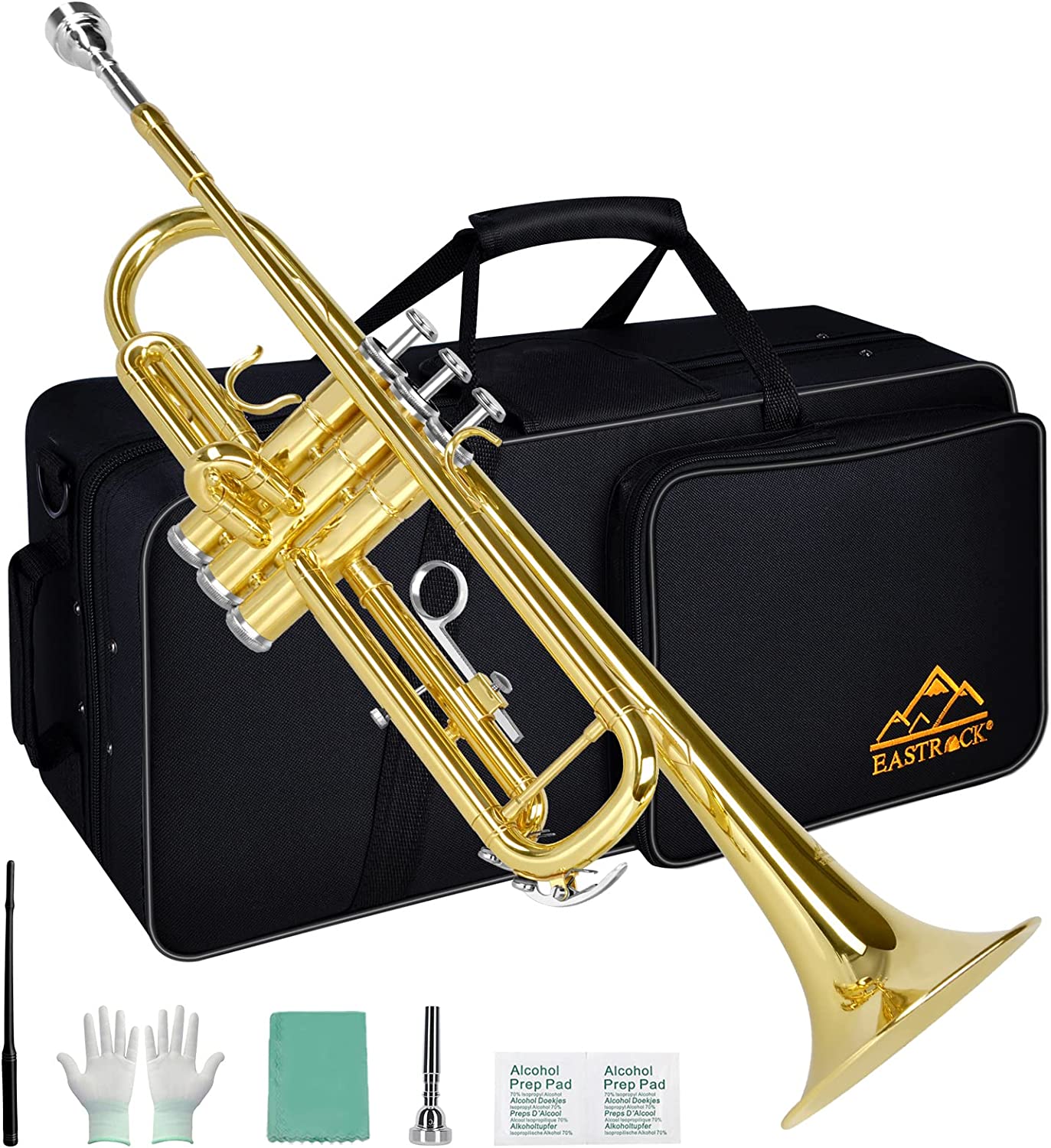 Eastrock is another company known for producing low-quality, inexpensive instruments. I have seen many students use the Eastrock brand for string and brass instruments. Mendini is considered one of the cheapest at about $200 for a beginner trumpet, but Eastrock is only $140, so a lot of people think it's a much better option because of its price.
The problem is that this is usually purchased as a beginner trumpet for a student (read: a child). So the parent might leave a review that makes it highly rated and says it's good value for the money. In fact, 74% of the reviews on Amazon are five-star reviews, but out of the hundreds of Amazon reviews, the positive ones almost exclusively have to do with the price and what's included for that price.
Adults who purchase this trumpet brand are the ones who leave less than 5 Star reviews specifically because of the quality of sound and the way in which the parts stop responding properly after a few practice sessions. 
Substitute: Yamaha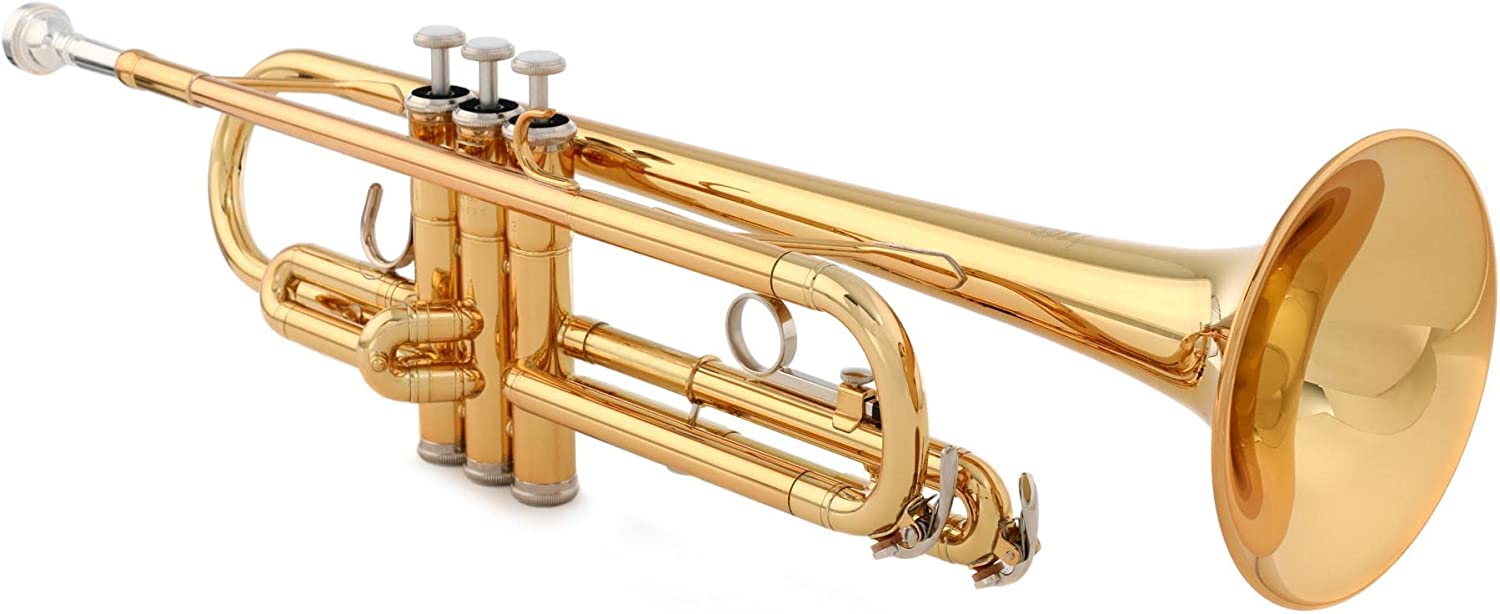 To that end, if you are looking for a beginner model but you want to avoid the Mendini or Eastrock version, consider Yamaha trumpets. 
Yamaha is a slightly better beginner option, particularly for brass instruments. I recommend Yamaha for brass instruments and pianos for beginners. They have been in business for over 50 years, it's a Japanese-run company, and you simply get better quality.
Yes, you will find that the beginner version is a good $600 to $700 more expensive compared to the Mendini. You also don't get the kit with all of the beginner tools. However, for an extra $30, you can get the beginner tools you need to take care of your trumpet, and you can forego investing in a case short-term while you enjoy the better quality in terms of construction, durability, and sound with the Yamaha.
Pros
It has beautifully designed very responsive springs. 

The brass is durable and thick. 

It is comfortable to play. 

The Yamaha brand is meant for all levels. 
Cons
If you are reading the instructions, you had better take a Japanese class (the company is Japanese, and the parts are made in China, but the instructions are in Japanese). 
Avoid: Jean Paul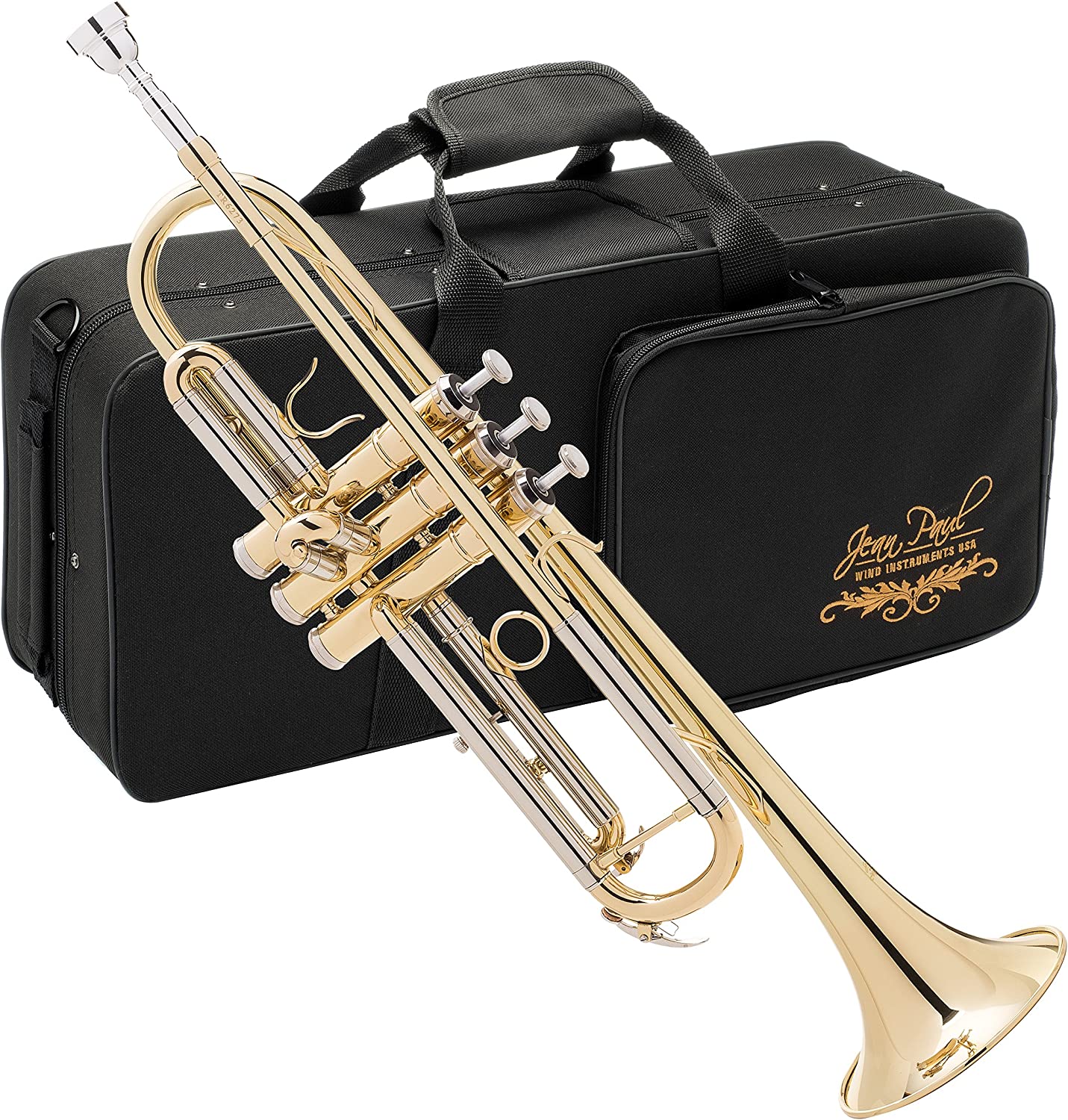 Jean Paul has two options: the starter trumpet or the starter trumpet with a kit. The kit in question has a hard case, gloves, and some basic accessories. Now, the price is the most attractive thing about it; it is even cheaper than the Mendini. 
However, that means it is made with thin metal and poorly constructed valves. The valves are one of the biggest areas where corners are cut, so it's also one of the most prominent places for customer complaints in cheaper models. 
The valves simply aren't flexible, so a lot of customers have invested in this cheaper model and lost hundreds of dollars because the valves make it next to impossible to play. They keep sticking, they don't work as they should, and instead of learning how to play the trumpet, you're learning how to troubleshoot construction problems.
Jean Paul, like Mendini, manufactures their trumpets in China. The end result is a lot of machined parts and low-quality control. You might luck out and get a trumpet that works beautifully, but if the reviews are anything to go by, chances are you're going to be rolling the dice with that particular risk. 
I know — I rolled those dice. Once, my beginner model was just fine, but it was complete garbage another time. 
Avoid: Taylor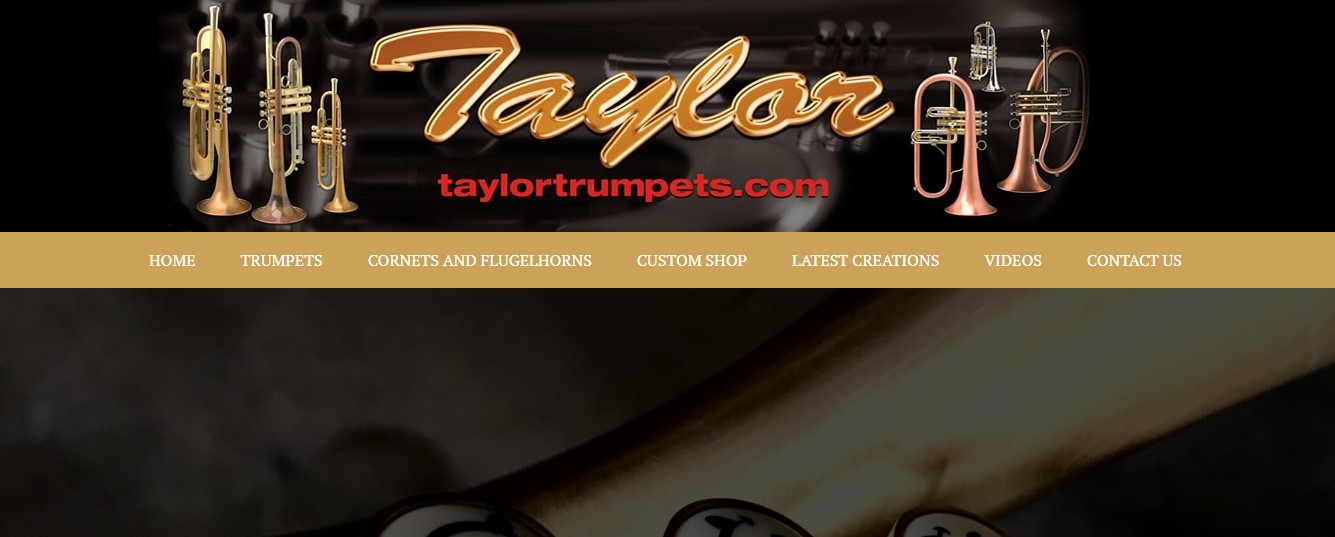 Taylor makes handcrafted trumpets, but a lot of people have complaints regarding the heaviness of the material. A heavy brass instrument is difficult to support. You don't want yourself or your child to get physically worn out after just five minutes of practice. 
The trumpets also don't have comfortable grips. Their mouthpieces are a challenge for beginners. If the mouthpiece doesn't work well, you'll find it next to impossible to sustain a note. If you can't sustain a note, there's really no point in even learning how to play the trumpet.
Substitute: Harrelson

I like Harrelson as a substitute for Jean-Paul. The company has a wide range of different trumpets for beginners all the way through to professionals. They are very popular because of the nice sound you get from their instruments. You won't break the bank, and it's perfect for beginners and intermediates who don't necessarily want to spend $3,000 on a Bach but don't want to roll the dice with something made in China.
Pros
It offers better quality. 

The construction is held to higher standards. 

You get a consistent tone. 
Cons
It isn't really as great a fit for professionals but works well for beginners or intermediates. 
Avoid: Lätzsch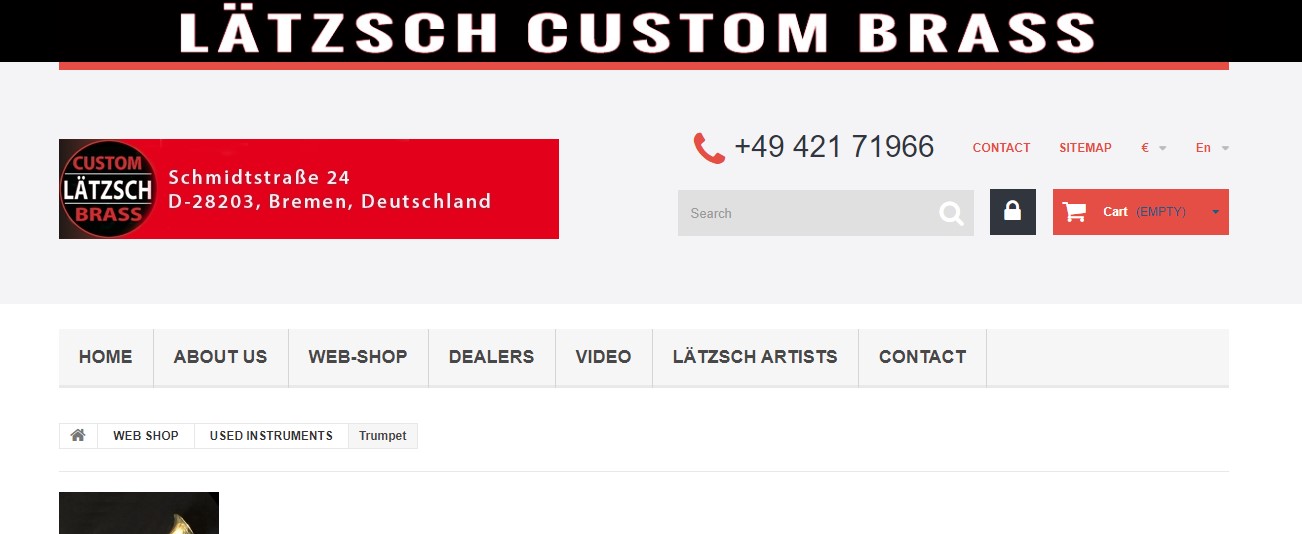 As a beginner, steer clear. As a professional, pass Go and spend several thousand dollars. 
Lätzsch is a German brand. Anyone who knows me well knows that I usually love German brands. German brands are often held to a much higher manufacturing requirement, so the quality you get is often much better than what you would get from an American counterpart.
In this case, I haven't changed my mind. I still think the Germans produce a great product, but that high level of manufacturing comes at a cost. And unfortunately, that cost is absolutely not worth it for a beginner or intermediate instrument.
The brand is known for their trombones, but they also make a French horn and a trumpet here and there. They cost thousands of Euros each, so when you translate for the current exchange rate, I would avoid spending a lot of money on a trumpet unless you are a professional.
Also, this brand is not easy to play. Higher craftsmanship means slightly more challenging instruments. As a beginner, that is not what you want. In fact, even professionals struggle to get the feel of this trumpet.
What is the best substitute?
Substitute: Bach

The Bach costs more than the German model, yes. However, if you are a professional, you will find that like-minded individuals have a lot more to say about this model. It offers clear, beautiful tones with incredibly delicate high notes. The high-quality brass means you won't have to buy more than one trumpet.
Pros
It is durable. 

It is one of the best trumpets for professionals. 

It offers excellent sound quality. 

The brass material is thick and reliable. 
Cons
It is expensive (like, a mortgage payment expensive). 
FAQ
Question: How much is a good quality trump it?
Answer: Trumpets range between $500 and a few thousand dollars depending on the quality. Trumpets for professionals can cost $3,000 or more, while trumpets for an intermediate or beginner might only cost $800 through $2,000. 
Some of the much cheaper models that you can purchase for a few hundred dollars are on my list of the top trumpet brands to avoid simply because the quality isn't there, so you're going to struggle while you play, and you won't get the sound that you deserve.
Question: What is a good trumpet brand for beginners?
Answer: This depends entirely on your circumstances, but I would recommend Yamaha for beginners. As I mentioned, I would avoid Mendini for brass instruments because it's one of the cheapest companies on the market. Eastrock is the same. With the parts mass-produced in China, there's no quality control, so it's truly hit-or-miss whether your trumpet will be worth playing.
Question: When should I replace a trumpet?
Answer: You shouldn't replace your trumpet unless you have a beginner model and you're now transitioning into an intermediate or professional level; you want something very specific, like a plastic trumpet you can take with you on the road; or something in your trumpet is broken, like the valves.
Question: How long does a trumpet last?
Answer: A good quality trumpet should last your entire musical career so long as you take care of it. If a trumpet like a Bach is well taken care of, it can last 60 years easily and be played regularly that whole time. There is a reason people sell used vintage Trumpets from the 70s, fetching a price similar to a new trumpet today.
Bottom Line 
Avoid Mendini and Eastrock if you are looking for anything with decent quality that won't fall apart. Avoid Jean-Paul and Taylor if you don't want your trumpet to be a burden to play as a beginner or intermediate. Avoid Lätzsch if you are not a professional. Remember, each of these brands serves its purpose. If you are on a strict budget and have absolutely no other options, Mendini is perfect for a small child, but if you have played for more than a week, you probably want to invest in something that will be a little more long-lasting like the Yamaha brand. 
Looking for more interesting readings? Check out: